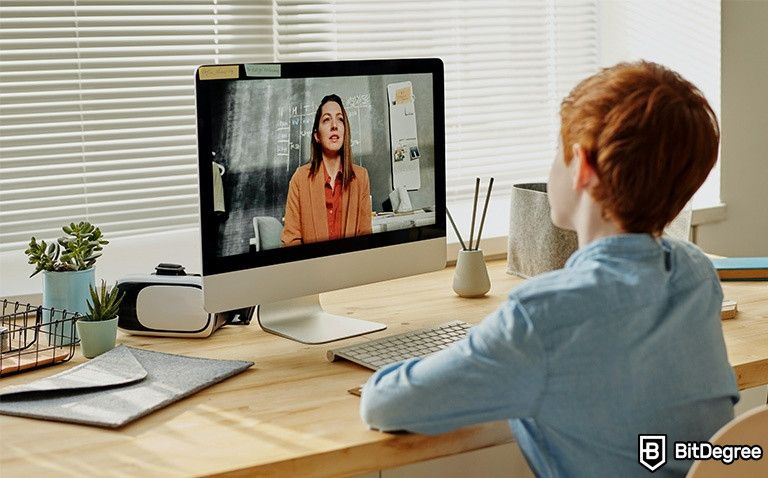 Education has seen quite a few changes in recent years. Switching back and forth between remote and in-person learning, developing new hybrid learning strategies, adopting more and more technologies, revamping exam systems… Change has been everywhere.
Among all these novelties, you might've seen a couple of terms pop up. Remote, distance, digital, virtual, hybrid, blended — all followed by "learning". Education seems to be a maze of terms and methods. And new ones appear to pop up every couple of months.
Well, let's try to find a way out of this maze. In this article, we'll be answering a few questions, like "what is hybrid learning?", "what is blended learning?" and "is there even any difference between the two?".
We'll also take a look into what gamification is, and how it works to make learning more fun. Lastly, I'll share some online projects you can do to gamify your learning progress.
So, let's dive right in.
Hybrid Learning vs. Blended Learning — What's the Difference?
The blended and hybrid learning definitions have been around for a few years. But it's only thanks to the COVID-19 lockdowns that they've suddenly appeared everywhere. As schools keep switching between remote and in-person learning, it's turned into sort of a hybrid – hence the name.
Latest Udacity Coupon Found:
SAVE 75%
Udacity Black Friday Offer
The best time to save on Udacity courses is now - follow this coupon to access 75% Udacity Black Friday discount on all courses & enjoy top-quality learning for less!
Expiration date : 10/02/2023
3,176 People Used
Only 97 Left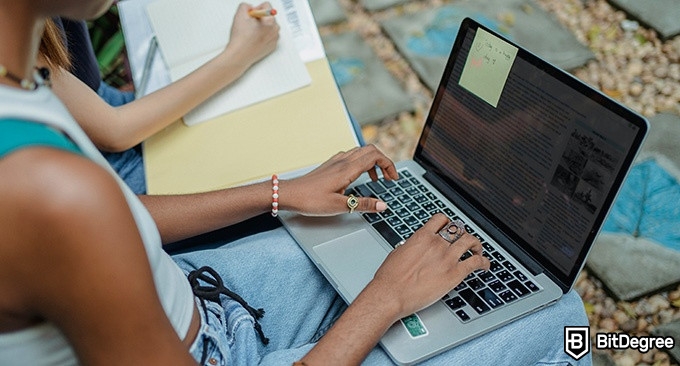 This new trend is everywhere – from schools to universities. There are even hybrid models for workplaces. In trying to find a balance between safety and convenience, it seems that a mixed model is the most optimal one.
If you try looking up the hybrid learning definition, you might get a little confused. Some sources say it's the exact same thing as blended learning. Others point out that they don't completely overlap. So, let's take a look at some of the differences.
Hybrid Learning
To start off, what is hybrid learning of its own accord? What makes it such a unique method? Is it really that useful?
Hybrid learning is a learning model that brings digital technologies to traditional education. It allows some students to take their classes from the comfort of their homes while others still attend them in person.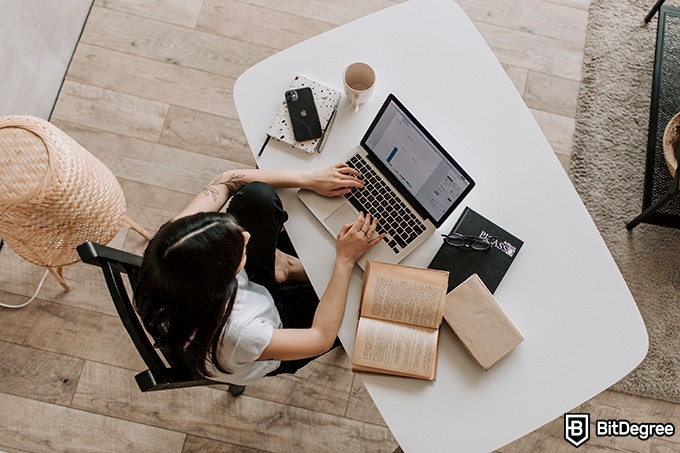 Hybrid learning takes different forms. It doesn't always have to be live – a student might watch a recording of a class that others attended in person. It can make studying easier since students can rewind, forward or pause as they please.
Although it's not a new concept, it started gaining popularity amidst the COVID-19 pandemic. As schools worldwide were adjusting to the new normal, hybrid learning was among the most popular strategies for safe yet competent learning.
At first, it seemed only possible to adapt hybrid learning for theory. However, nowadays, it's a pretty widespread method. Some universities even send out "lab in a box" kits to students who can't access the laboratories for any reason.
You'll come across the hybrid learning definition for any kind of studying that isn't purely online or purely in-person. It makes sense since hybrid learning heavily leans on digital tools. However, it's its own thing and shouldn't always be compiled with blended learning.

Pros
Simplistic design (no unnecessary information)
High-quality courses (even the free ones)
Variety of features
Main Features
Nanodegree programs
Suitable for enterprises
Paid certificates of completion

Pros
Huge variety of courses
Easy to navigate
No technical issues
Main Features
Huge variety of courses
30-day refund policy
Free certificates of completion

Pros
Easy to use with a learn-by-doing approach
Offers quality content
Gamified in-browser coding experience
Main Features
Free certificates of completion
Focused on data science skills
Flexible learning timetable
Blended Learning
So, if it's not interchangeable with hybrid learning, what is blended learning exactly? What are its standout qualities?
For starters, blended learning is a learning model where digital tools are used in class along with traditional methods. Unlike with hybrid learning though, what matters is that the students all engage in the same activities at the same time.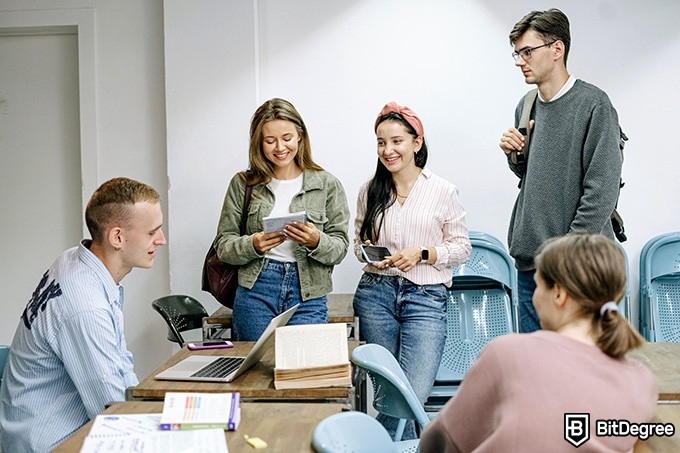 This is the key difference between the blended and hybrid learning definitions. The hybrid method can even be seen as a kind of blended learning[1].
Blended learning can often be seen as integration with IT[2]. It can take various forms – from watching movies in class to taking tests on computers and tablets. This type of e-learning is great for teamwork because it teaches students how to communicate using digital tools.
Unlike hybrid learning, blended learning has been on the rise for a few years. However, with technologies adapting to the COVID-19 requirements for convenience, it's also been gaining even more popularity.
Blending doesn't have to be limited to just learning in class[3]. It can also be things like writing emails, using forums and social media groups for communication, creating interactive presentations or researching online. So, blending can encompass many areas, from social to technical.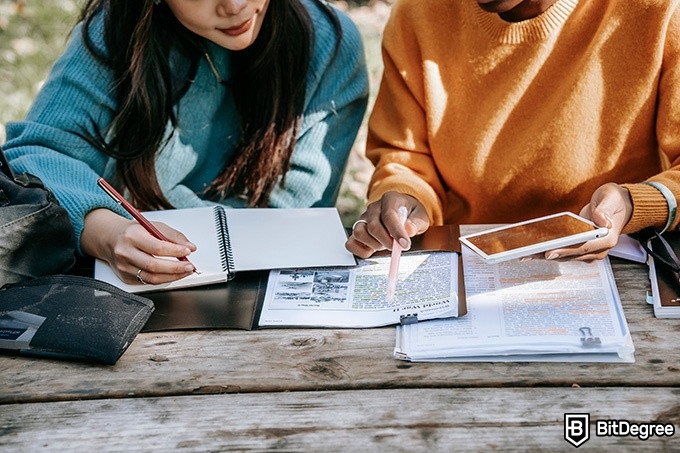 To simplify, the answer to the question "what is blended learning" is "learning, amplified with various digital tools". Meanwhile, the typical hybrid learning definition is in-person and remote learning brought together by online technologies.
So, technology is the chain linking hybrid and blended learning together.
In fact, the tools for both learning models are practically interchangeable. You can use online quizzes just as efficiently[4], whether you're sitting in a small group in the classroom or learning from the comfort of your home.
It's common to use less interactive digital tools for learning — reading articles, watching videos or listening to the news. However, one of the big perks of online technology is that you can interact with it. Taking an online course, adding a live quiz to a presentation, joining a video call — all of this is made possible thanks to technology.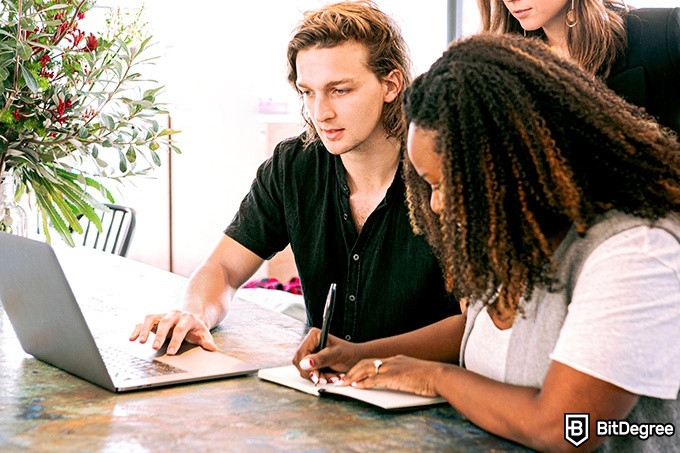 Now that we have the hybrid learning definition cleared up and compared to blended learning, it's time to explore one particular kind of interactivity that bears impressive results. It's fun, engaging, and makes learning feel more like a game than a chore. Even its name suggests its playful nature.
Let's take a look at gamification in education.
Gamification
Blended learning makes room to switch around boring, theory-ridden classes. Thanks to digital technologies, a new method of learning is gaining popularity. Let me introduce you to gamification.
Gamification is the process of adding game-like elements to a task. This is common not only in the learning process but also to make training more engaging. Gamification helps boost motivation and get that dose of serotonin when you succeed.
The goal of this process is to make learning more accessible for learners of all ages. However, the most notable feature of gamification is that it's tied strongly to digital tools. It's one of the many ways to engage in e-learning. The process of adapting playing into learning is called "gamifying".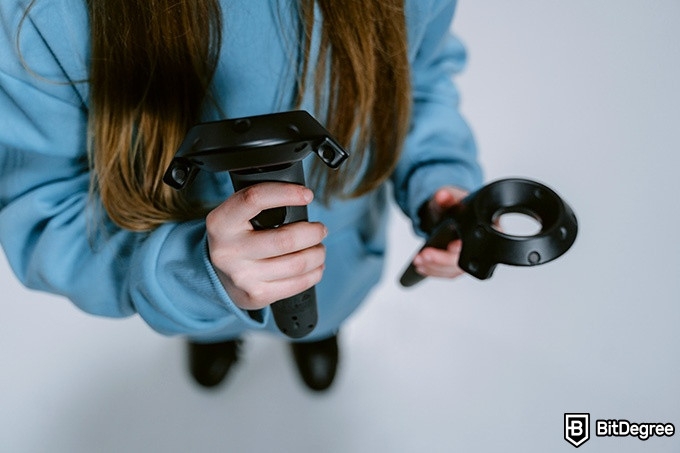 There is a wide range of tools used to gamify learning. From VR glasses being adapted to show how the Great Wall of China was built to Kahoot! quizzes replacing usual tests in classes.
Games provide excitement and pleasure, and gamifying education leads to improved motivation and better performance in class[5]. And gamification is pretty universal. Pretty much any subject can be taught through blended learning — from math to P.E.!
Of course, probably the easiest subject to gamify is IT. It already involves learning with digital tools. Now it's all about making them fun – especially if you're learning something as complex and programming. So, why not embrace digitality and turn hybrid learning into a game?
DataCamp Projects
One exciting way to introduce hybrid learning to your students is through digital projects. By completing projects, they'll get to both have fun and gain practical skills. It's a kind of learning that doesn't feel like learning at all!
But it can be hard work trying to come up with gamified projects of your own – and making sure they're exciting enough. Thankfully, you don't have to do it all by yourself. All you need to do is join DataCamp.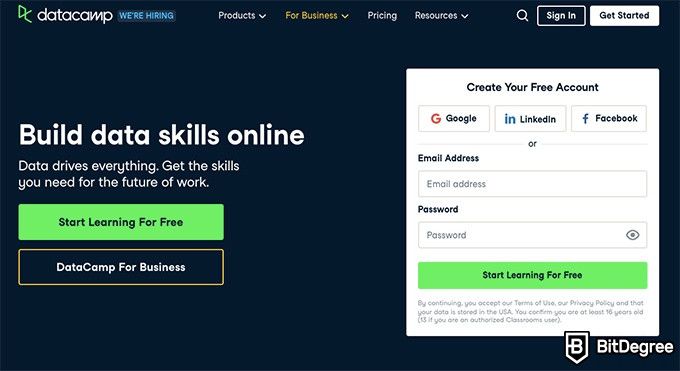 DataCamp is an online learning platform focused on programming and data management. It offers a unique learning experience thanks to its gamified interactive design. It can take your hybrid learning experience to the next level (pun intended).
While we're on the topic of experience – one of the most unique features of DataCamp, compared to other MOOC platforms, is the experience you gain. Literally. As learners finish chapters and projects, they earn experience points (XP) and level up.
This method of leveling up is a very practical application of some of the gamification theories. Seeing that little XP bar fill up motivates you to keep going and learning more. For a group of learners, it can build a competitive spirit and start a race among them.
You earn experience not only by taking the courses, but also by completing projects, finishing assessments, and doing the daily tasks. So, just by finishing four simple tasks, you can earn 250 XP a day, every day!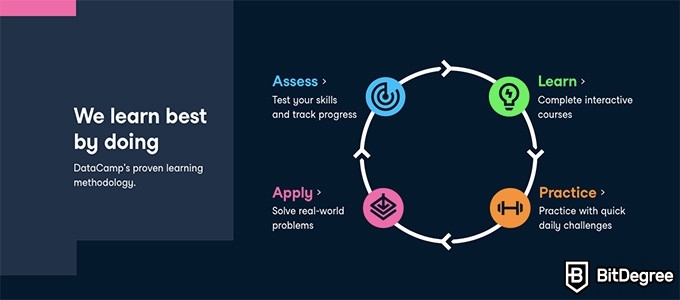 DataCamp offers its users over 350 data science courses and 12 specific career tracks. The first chapter of all courses is free, letting you have a taster of the platform and how it works. Afterward, you can choose from one of the several personal and business plans.
If you're an educator who's interested in gamifying your classes, DataCamp is an excellent choice for you. You can sign up for their Classrooms program. It'll grant you six months of free access to their courses and projects. You can create your own assignments and track the progress of your students.
And if you're a student, you can get the Premium Student Plan for just $99 a year! You'll be able to access the entire course catalog and more than 10 000 exercises – including daily challenges and projects.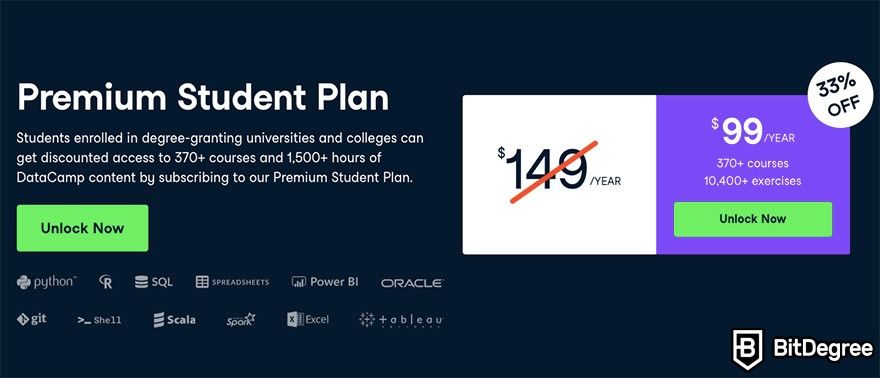 However, we're not here to look at everything it offers in-depth. If you want to learn more about DataCamp, you can read our review over here. Instead, we'll take a look at a few specific courses and projects DataCamp has to offer.
Before we dive into the DataCamp Projects, I'm going to assume you already know a little bit about Python, R, and SQL. But, in case you don't, first, let's find out what they are and how they work. After all, you'll need them to work on the projects.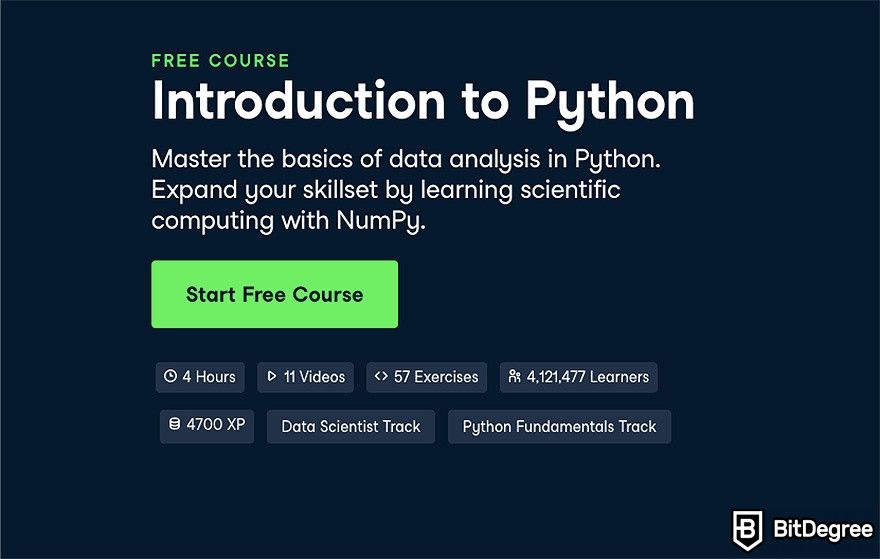 Platform: DataCamp
Offered by: Hugo Bowne-Anderson
Duration: 4 hours
Price: FREE
Certificate: No
Level: Beginner
Where to apply? HERE
Python is a general-purpose programming language. It stands out for its simplicity, code readability, and straightforward syntax. Thanks to these qualities, it's the perfect entry-level language for new programmers.
It's considered to be a multi-purpose language. Python can be used in both front-end and back-end development, data science, and even artificial intelligence. It's not solely useful for gamification, either. It has high market demand, so you can turn your knowledge into a fully-fledged career.
DataCamp's Introduction to Python course will show you even more practical uses of this language. This course will guide you through the first steps of programming. You will learn all the essentials, from creating lists to applying data science in practice.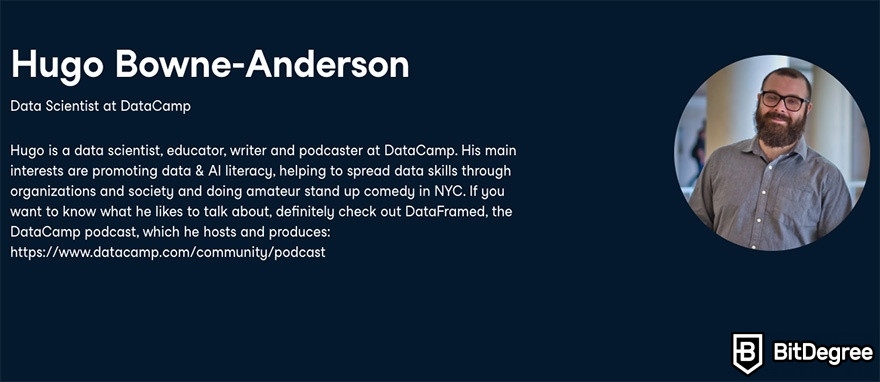 Introduction to Python was created by Hugo Bowne-Anderson, a data scientist and Python expert. He's interested in data & AI literacy and is sharing his own personal knowledge and experience on this course.
The course is split into four chapters:
Python Basics
Python Lists
Functions and Packages
NumPy
While the course should take you about four hours to complete, it's self-paced for your convenience. And as you study, you earn experience points – so even your steps towards implementing gamification are gamified!
You can access the Introduction to Python course completely for free. It's one of the six free courses offered by DataCamp. If you want to access the rest of the catalog, you'll have to subscribe to one of the DataCamp plans. However, this is nothing outrageous – the Standard plan will grant you access to all courses at just $25 a month!
If you want to find out more about Python and the best learning strategies, you can read our article here. And if you simply want to start learning now, here's where you can get started.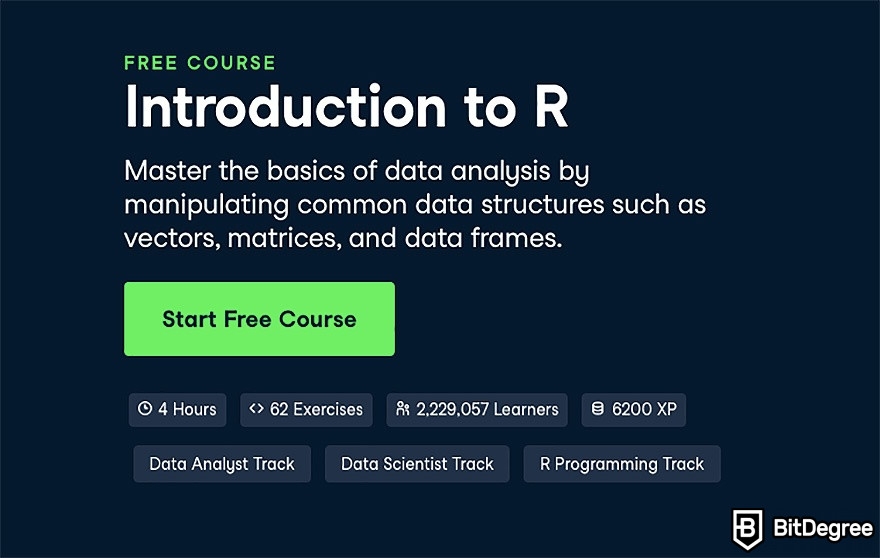 Platform: DataCamp
Offered by: Jonathan Cornelissen
Duration: 4 hours
Price: FREE
Certificate: No
Level: Beginner
Where to apply? HERE
If you're interested in statistics, knowing R is essential. It's an open-source programming language used for data analysis. Have you ever wondered why it has such a strange single-character name? That's because it's based on the first name letter of the guys who created it, Robert Gentleman and Ross Ihaka.
Normally, you need to install additional software to use R. However, DataCamp's editor allows you to learn directly on the website. If you're looking into using R later on and want to know how to use the official tools, DataCamp also offers a software guide on its community page.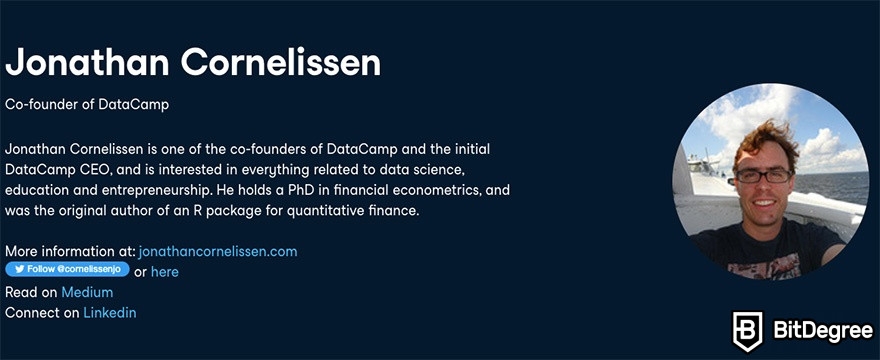 This brief, four-hour course is split into six chapters. In this course you'll learn about:
Variables and the basic data types in R
Creating, naming, and selecting vectors
Matrices and how they work in R
Factors and how to use them in practice
Creating and sorting data frames
How to create lists and where to use them
As Jonathan Cornelissen, the co-founder of DataCamp and your instructor for the course, says in the description, there were over 2 million R users worldwide in 2012. And that number has been steadily growing by about 40% each year. So you can imagine what a massive community of users (also known as useRs) you're joining.
DataCamp offers you an opportunity to get your R basics covered for free. But subscribing to DataCamp and getting access to the full catalog is a worthwhile investment. Not only will the Premium plan let you become a budding R expert (perhaps even an expeRt) — you'll be able to access numerous R-based projects that DataCamp has to offer.
So, there's no point in stopping only a few steps in. Pick a plan now, take a look if any of the discounted plans, like DataCamp Classroom or Student Premium, apply to you, and start your jouRney today!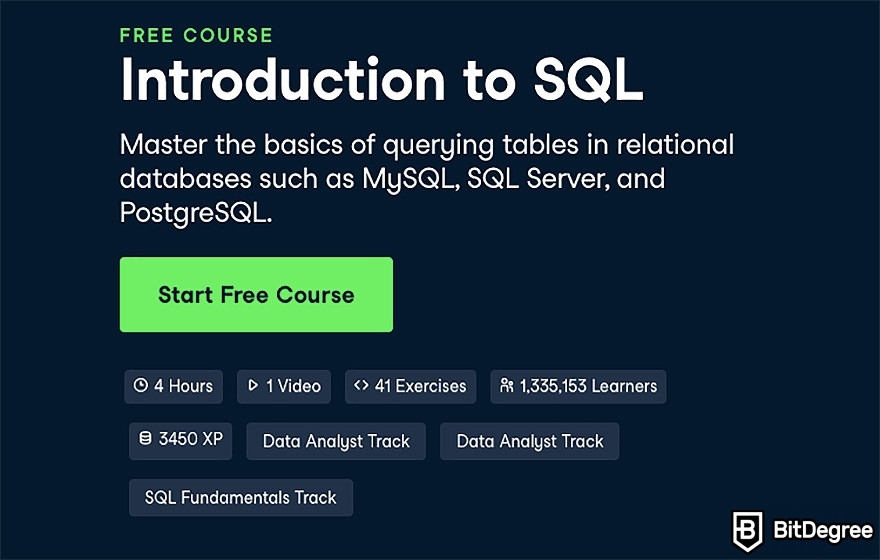 Platform: DataCamp
Offered by: Nick Carchedi
Duration: 4 hours
Price: FREE
Certificate: No
Level: Beginner
Where to apply? HERE
SQL is a language you might come across if you work with data management. It stands for "Structured Query Language" and is used when working with raw data. Lately, it's been gaining popularity among programmers and data scientists alike.
Technically it's not a programming language but rather a structured query language. You do need some technical skills before you jump into SQL, so it's not the best option for complete beginners.
However, if SQL is the next name on your programming checklist, you should give DataCamp's Introduction to SQL course a go. Not only will you learn more about what SQL is, but you'll also get to see how it can help you manage your data in practice.
The course was created by Nick Carchedi, DataCamp's product manager. He's bringing his experience of tutoring data science into this course.

Over the four chapters of content you will:
Go through the onboarding process
Learn the database lingo
See how filtering tables for rows based on specific criteria works
Start using aggregate functions
Learn to sort and group your results
In just four hours, you'll master the essentials of SQL and be able to use it for your own data management needs. This course will be impactful for your progress too. It's worth 3450 XP, so you'll get to level up pretty quickly.
You can take the Introduction to SQL course completely for free. But if you want to access every course DataCamp has to offer, you can subscribe to one of DataCamp's plans, starting at just $25 a month. You'll gain access to more than 50 skill tracks and unlimited practice challenges.
So, don't hesitate and start learning SQL on DataCamp today. And if you want to learn more about how SQL works, check out our article by clicking here.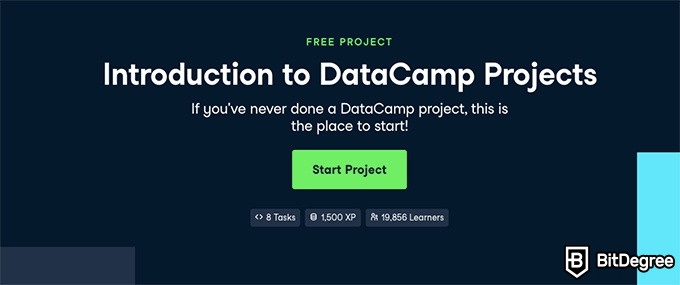 Platform: DataCamp
Offered by: Rasmus Bååth (Python, R), David Venturi (SQL)
Price: FREE
Level: Beginner
Where to apply? HERE
Now that we have the basics of programming and data management covered, it's time to see how the DataCamp projects work. And there's a perfect place to start.
As the name suggests, Introduction to DataCamp Projects was designed as a tutorial for the whole project system. It'll help you get the hang of how the Projects environment works.
You can choose what type of project you want to try first – Python, SQL or R. And if you've taken the intro courses, you'll probably already know which one interests you the most.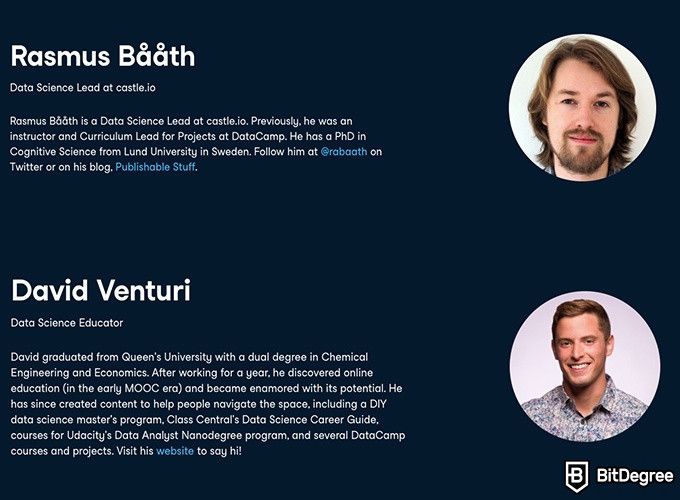 The course was crafted by two authors. The Python and R projects were created by the data scientist Rasmus Bååth, while the SQL project is offered by data science education David Venturi.
This project is guided. It means that as you work on it, you'll get hints and explanations. You'll also be introduced to the Jupyter notebook – it's where all your projects will take place! The layout is very user-friendly and easy to figure out.
All three courses follow the same structure — you're guided through the functions of the Jupyter notebook as the main programming interface. At the end of this introduction, you should be comfortable enough to work with the other projects DataCamp has to offer.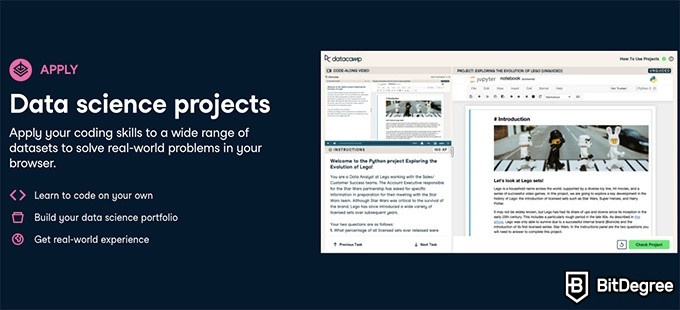 And here's the best part — this project won't cost you a dime. So there's absolutely no reason not to try it. But if you want to explore the rest of the DataCamp projects — check out the Premium plan for just $25 a month. You'll get access to all other perks the platform has to offer.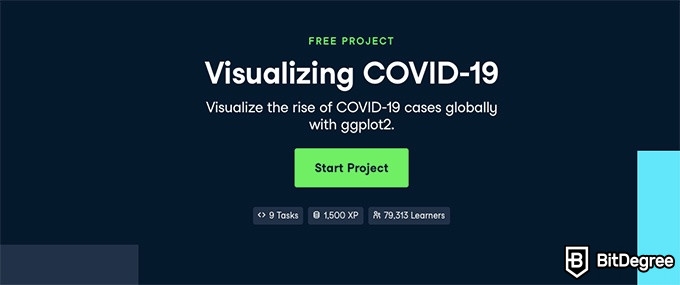 COVID-19 has been one of the biggest pushes for hybrid learning to become what it is today. It has helped shape a unique, half-digital, half-contact learning landscape. And apparently, even a pandemic can be used for gamified education.
As it turns out, a pandemic is a massive source of raw data. Infection rates, contact tracing, recoveries, deaths, vaccinations. Not only can (and must) all of this data be collected, it can also be visualized.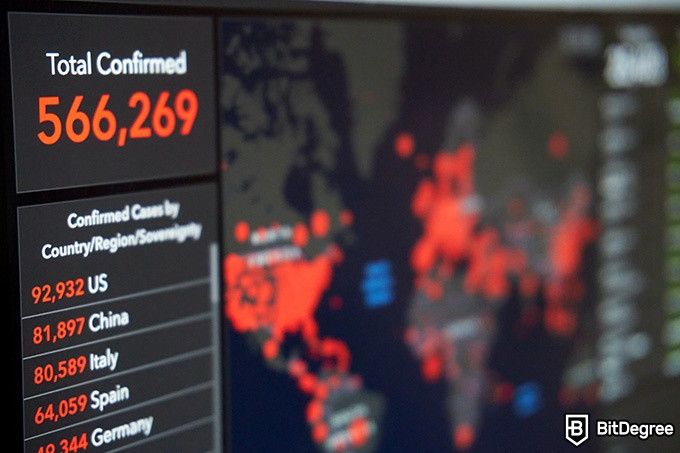 The Visualizing COVID-19 project will help you do exactly that. By using R, you will be able to process the data from the early months of the pandemic. Watch as numbers turn into a visual display before your eyes.
Over the course of this project, you'll have to complete nine tasks:
From epidemic to pandemic
Confirmed cases throughout the world
China compared to the rest of the world
Let's annotate!
Adding a trend line to China
And the rest of the world?
Adding a logarithmic scale
Which countries outside of China have been hit hardest?
Plotting hardest-hit countries as of Mid-March 2020
These tasks are worth 1500 experience points once you complete all of them. And that'll be a pretty significant boost to your skills! You'll go over factual data that was gathered at the very start of the then-epidemic, and see how real scientists work to make sense of all this information.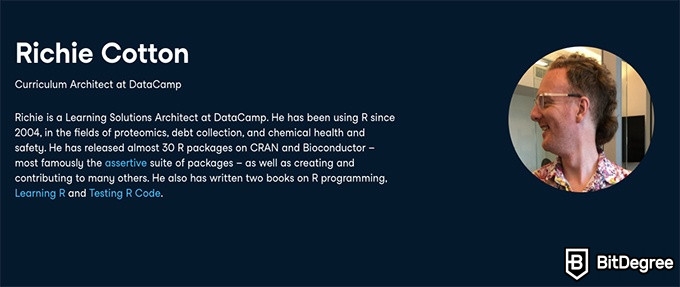 This project was created by Richie Cotton, DataCamp's learning solutions architect. He has years of experience working with data in the health sector, and has contributed more than 30 R packages to the user base.
One of the best things about this project? It's completely free, whether you have the Classroom program or are learning on your own. So, there's no reason not to become one of the 78 000 participants working their way through the visualization process.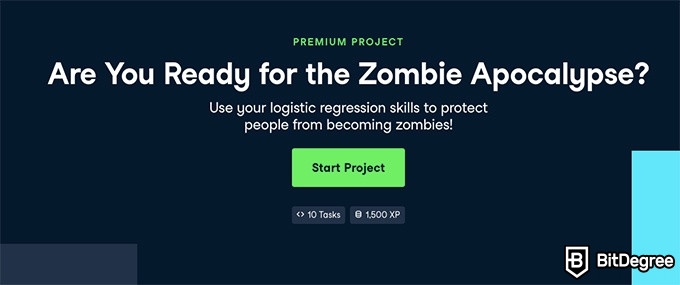 Platform: DataCamp
Offered by: Jenine Harris
Price: from $25/month
Level: Pre-intermediate
Where to apply? HERE
Working directly with data that concerns an ongoing pandemic might be a bit too realistic. Well, there's a project that offers a very similar goal — with a spooky twist.
Have you ever wondered what you would do in a zombie apocalypse? Would you hoard resources and fend for yourself? Or would you rather find a group of survivors to stick with? Is your neighborhood zombie-proofed?
Well, you can try and answer all this and more by using data to visualize a possible zombie apocalypse scenario. The Are You Ready for the Zombie Apocalypse? project throws you right in the middle of an ongoing outbreak. Using variables like age, sex, and available supplies, you can calculate who's more likely to get bitten – and how fast.
This unique course uses real-life factors, like emergency preparedness recommendations, for its dataset. It consists of 200 observations and 14 variables. So, put yourself in the shoes of a CDC scientist and try to prevent a zombie outbreak before it's too late!

Just take a look at some of the intriguing tasks of this project:
Compare Zombies and Humans
Selecting variables to predict zombie status
What is your zombie probability?
And finally, this project will answer the question — are you really ready for a zombie apocalypse?
This exploration of a possible zombie apocalypse is brought to you by Prof. Jenine Harris. She's a lecturer of biostatistics who co-founded the R-Ladies chapter at her university which supports women in STEM.
This course is a fun combination of real-life data and fantastical scenarios. It's worth 1500 XP. It can make for a perfect blended learning challenge — get your class into teams and see who can do the best job preventing the end of the world.
You can access this course by choosing the Premium subscription plan for $25/month. But if you happen to be a student or a teacher, you can get one of the special deals.
The Student Premium plan will grant you unlimited access to everything DataCamp has to offer. And the Classroom plan will allow the entire class to try the project out and simulate their own zombie apocalypse – for free!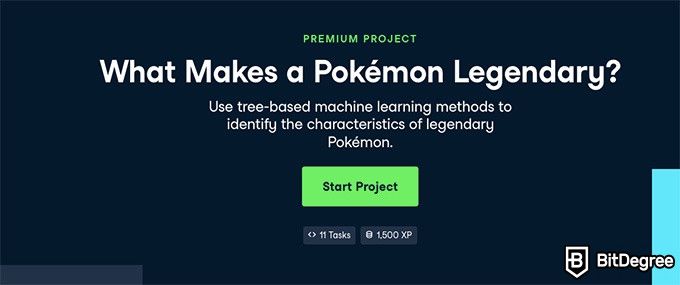 Platform: DataCamp
Offered by: Joshua Feldman
Price: from $25/month
Level: Intermediate
Technology: R
Where to apply? HERE
Let's be honest — it's hard to find a child (or a millennial) who hasn't heard of Pokémon. Whether we're talking about the games or the show, it's known and beloved by millions around the world.
I don't know about you, but some of the fondest memories I have from school were playing the card game and seeing who has the strongest Pokémon. Those were our first practical applications of math. And that was before we knew about anything like gamification!

Now, one of the most popular games in the world can become a tool to learn about data. Joshua Feldman's project will show you how to use tree-based machine learning to predict what makes a Pokémon legendary.
Here are some of the tasks you will take on your journey to find out what exactly makes a Pokémon legendary:
Find out the total number of legendary Pokémon
Sort them by height, weight, type, and fighting stats
Create a training/test split
Fit a decision tree
Fit a random forest
Assess model fit
Analyze variable importance
By the end of this project, you will know exactly how a legendary Pokémon stands out. This is the kind of project that's fun for all ages — anyone and everyone who's passionate about the game. It's also going to be a great practice for your programming abilities. You'll get to put your R skills to the test.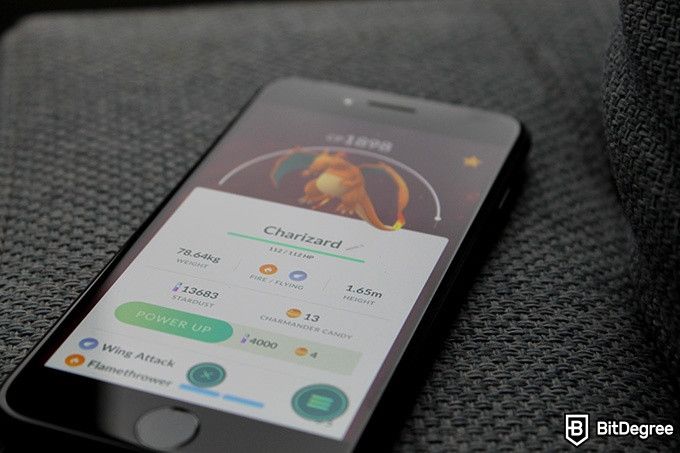 You can start this project by choosing the DataCamp Premium plan for $25 a month. But if you happen to be a teacher, you have the opportunity to access this project, along with the rest of DataCamp projects, assessments, and courses, by choosing the DataCamp Classroom plan.
Conclusions
So, today we answered three very important questions: what is hybrid learning, what is hybrid learning, and how do they differ? In case it still seems kind of confusing, here's a brief summary:
Hybrid learning happens when some students are in the classroom with the teacher while others are connected online. It's about where the learning happens.
Blended learning happens when the students and the teacher are all using digital tools to learn. It's about how the learning happens.
Online tools are the most important aspect of both blended and hybrid learning.
And once technology is part of learning, there's absolutely no reason for it to be boring. Learning can be fun. If your knowledge is tied to good experiences, you won't forget it that easily.
DataCamp can achieve exactly that. It helps keep your education interactive, modern, and fun. Whether it's programming basics that let you see your experience grow in real time, or a learning project that lets you transport yourself into a what-if scenario — DataCamp has your gamification needs covered.
Gamifying your education will make it more engaging, unique, and will show you how to apply the theory in practice. Interested in making learning fun? Check out one of the DataCamp Projects mentioned above — and don't forget to take a look at the rest of their catalog.
See the future of education for yourself today.
Scientific References
1. Stefan Hrastinski 'What Do We Mean by Blended Learning?'
2. Charles Dziuban, Charles R. Graham, Patsy D. Moskal et al. 'Blended learning: the new normal and emerging technologies'
3. M. G. Moore and G. Kearsley 'Distance education: A systems view of online learning'
4. Nikolaos Vernadakis, Maria Giannousi, Vassiliki Derri et al. 'The impact of blended and traditional instruction in students' performance'
5. Polyxeni Kaimara and Ioannis Deliyannis 'Why Should I Play This Game? The Role of Motivation in Smart Pedagogy'
Leave your honest feedback
Leave your genuine opinion & help thousands of people to choose the best online learning platform. All feedback, either positive or negative, are accepted as long as they're honest. We do not publish biased feedback or spam. So if you want to share your experience, opinion or give advice - the scene is yours!