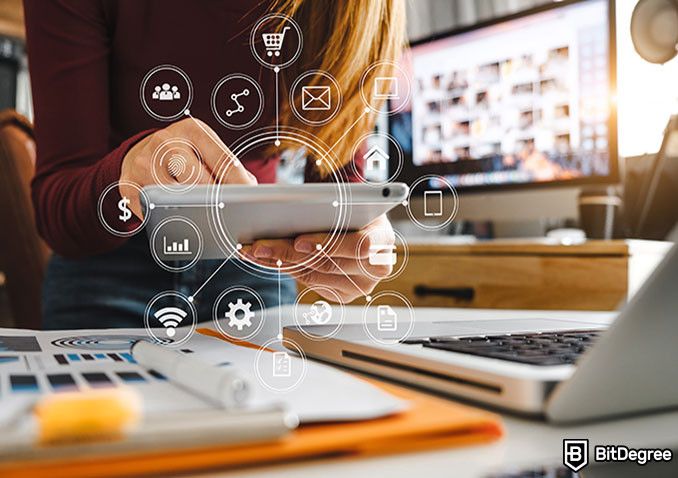 Are you preparing for a career in digital marketing? Want your product to reach new heights? Or perhaps have a business idea you want to lift off the ground? Whatever it is - you've come to the right place, because I'm about to tell you everything about the best digital marketing courses you can take and get ahead of the market in no time!
Digital marketing is "the component of marketing that utilizes internet and online based digital technologies to promote products and services" and it has a tremendous impact on the success of many businesses.
Did you know that 90% of searchers haven't made their mind up about a brand before starting their search? That's only one example why digital marketing matters.
Digital Marketing Courses: Why Study Online?
If you're still unsure as to whether taking digital marketing classes online is a good idea, you might find this information useful.
Latest Udacity Coupon Found:
SAVE 75%
Udacity Black Friday Offer
The best time to save on Udacity courses is now - follow this coupon to access 75% Udacity Black Friday discount on all courses & enjoy top-quality learning for less!
Expiration date : 05/12/2022
3,176 People Used
Only 97 Left
First of all, online digital marketing courses are a lot more affordable than any on-campus degree or program. The best thing is - just because they cost less doesn't mean their quality is not as good.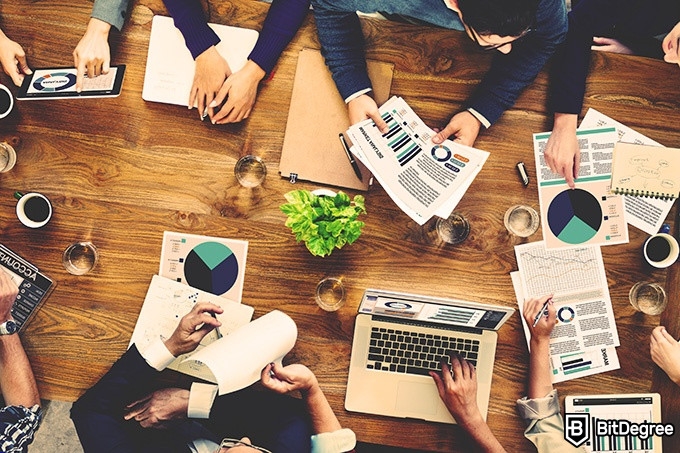 In fact, the digital marketing courses I'll tell you about today are all provided by well-known universities and experts in their field on e-learning platforms that have been reviewed by experts and students alike. So, why not enjoy high-quality education for less?
Not only do they cost less - you can actually access courses on edX and Coursera for free! Don't worry, I will tell you all about free digital marketing courses in a minute.
Apart from being less expensive, online digital marketing courses are more flexible, take less time to complete and provide a bigger variety of options to choose from.
Common Types of Digital Marketing
Digital marketing has become a vital part of any business, not only for those that are online. Since the Internet came into our lives in personal computers, smartphones and all the electronic devices that we have at our disposal today, companies have found a new way of access to their customers.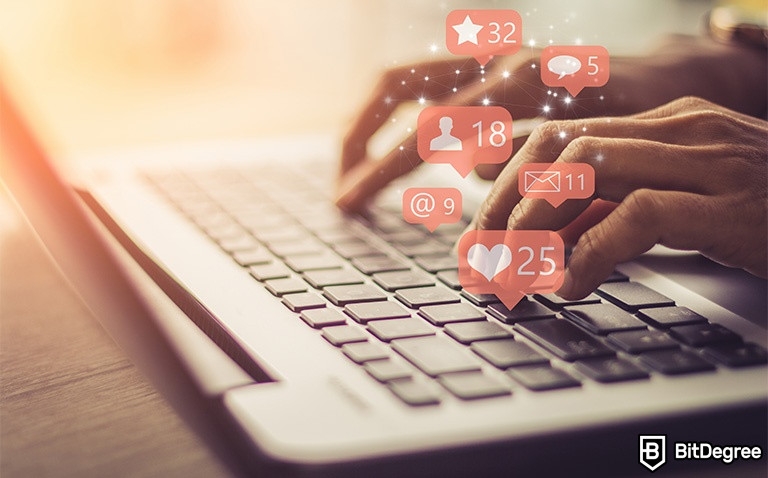 The most common types of digital marketing:
Pay-Per-Click (PPC)
SEO (Search Engine Optimization)
Social Media Marketing
Content Marketing
Whatever kind of digital marketing we choose to talk about, one thing is for sure: it offers many benefits that traditional marketing does not.
What are they? Let's have a look.
Digital Marketing Benefits
Companies use offline media such as radio, print and television, to present their advertisements to a wider audience, which can be effective, although it also comes with a high cost.
Plus, this type of marketing doesn't care about establishing a relationship with the audience, it just wants to get the message across. On the other hand, digital marketing is all about the online world. There, any online channel becomes an opportunity to reach a brand's target audience.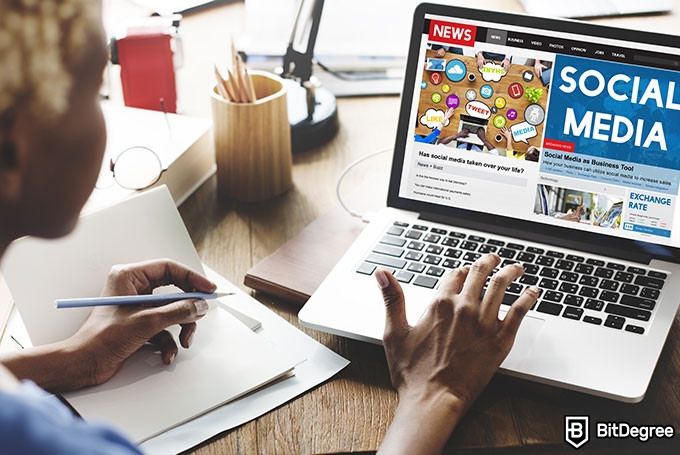 Social media, corporate blogs based on an inbound marketing strategy, email marketing, organic traffic - the options are endless. In the case of digital marketing, establishing a relationship with the audience is also key to success.
Here are some of the benefits of digital marketing:
Digital marketing allows you to "move" your business anywhere on the planet. It's the easiest and most cost-effective way to create an internationally recognized brand, because it removes geographical boundaries on your product, no matter what size of business we're talking about.
Compete with Large Corporations
Digital marketing enables small businesses and even startups to compete with large corporations by growing the business on online platforms and putting in place marketing strategies that have minimal costs but high results.
Of course, that is if the digital marketing strategy is done well. A careful analysis of the market needs and your product is needed before you can put the right strategy in place. In the online environment, it's no more about the space but customer attention.
Marketing Strategies Are Easily Adjustable
For example, if you launch a new strategy, you can constantly monitor the results and simply optimize whatever is needed without having to wait until the campaign is finished.
It's More Cost-Effective Than Traditional Marketing
The wide variety of digital marketing channels and tools allows you to choose those strategies that best suit your budget. Content marketing, affiliate marketing, inbound marketing, social networks, email campaigns or SEO positioning are just some examples of strategies that you can use to increase your visibility and reputation on the Internet.
Less Intrusive Than Traditional Marketing
Have you ever received a call in the middle of something that was simply to advertise a certain product? How did it make you feel? That's exactly my point. Aggressive marketing is often just straight annoying.
Digital marketing is different, because users only click on an ad or open an email if they want to. If not, they can just ignore it. At least most of the time.
In addition, thanks to segmentation, most of the people who see your campaigns will have searched for something related to your products or services, so the chances of gaining sales are higher.
Improves Customer Relationship
Digital marketing (especially content marketing and social media marketing) are an amazing way to build trust with customers. Why? Well, now when information is so easy to access, customers like to learn more about the company whose products they're interested in.
Through content, they can learn more about the business and other marketed products or services. They see what it's all about, and they can follow the company's profiles on social media like Instagram or Facebook, where they can engage with that content.
Therefore, people can connect with your business on a deeper, more personal level, leading to improved customer relationships.
Best Digital Marketing Courses 2022
Whatever your motivation to pick up the digital marketing classes is, these courses will teach you some valuable lessons that you can apply in the real-world!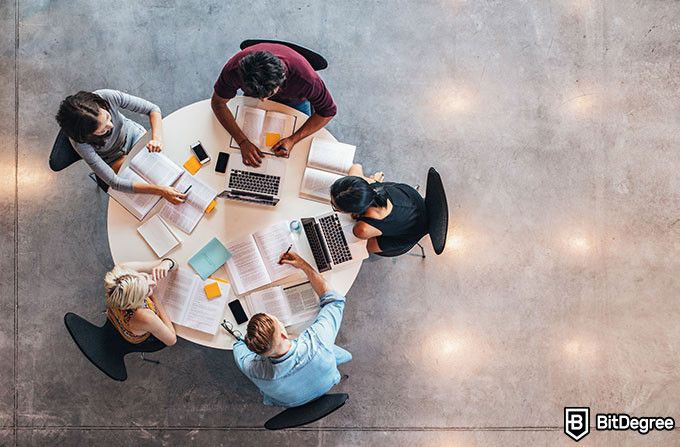 Keep an eye out for free digital marketing courses and discounts for full access to selected courses.
Ready? Let's get to it!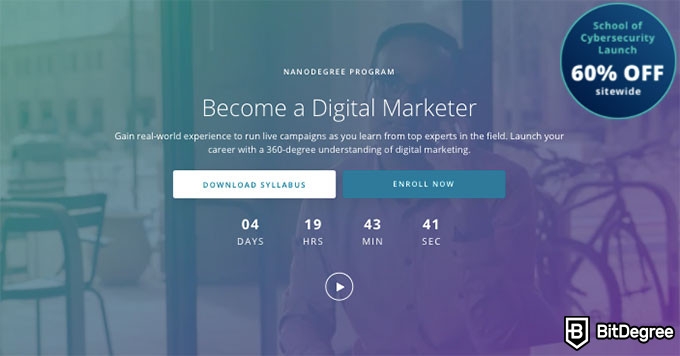 Platform: Udacity
Duration: 〜 3 months
Price: Check the description below
Certificate: YES
Level: Beginner
Where to apply? Here
This Nanodegree is a combination of digital marketing classes designed to equip students with job-specific skills. So, the idea is that (if you work hard), you should possess the necessary skills to tackle real-world challenges in the market and take on digital marketing projects by the time you complete all the courses within the program.
Plus, you actually get to create your very own digital marketing portfolio!
You'll be taught by three instructors: Anke Audenaert, Daniel Kob and Julia Aspinal.
To enroll in this program, no prior experience in digital marketing is required. Though you should have a Gmail and a Facebook account which you'll need to use throughout the courses.
It is an extensive program that includes many digital marketing classes:
Marketing Fundamentals
Content Strategy
Social Media Marketing
Social Media Advertising
Search Engine Optimization (SEO)
Search Engine Marketing with Google Ads
Display Advertising
Email Marketing
Measure and Optimize with Google Analytics
As you can see, this nanodegree really does cover a wide range of topics, which is why it takes slightly longer to complete - about 3 months. Of course, it might take you more or less, depending on the type of learner you are.
Udacity Pricing
These digital marketing courses are not free. On Udacity, you need to buy a subscription if you want to get full access to the courses. There are a couple of options you can choose from, the most popular being the "3 Months Access" plan.
You can check out all the available plans in the image below: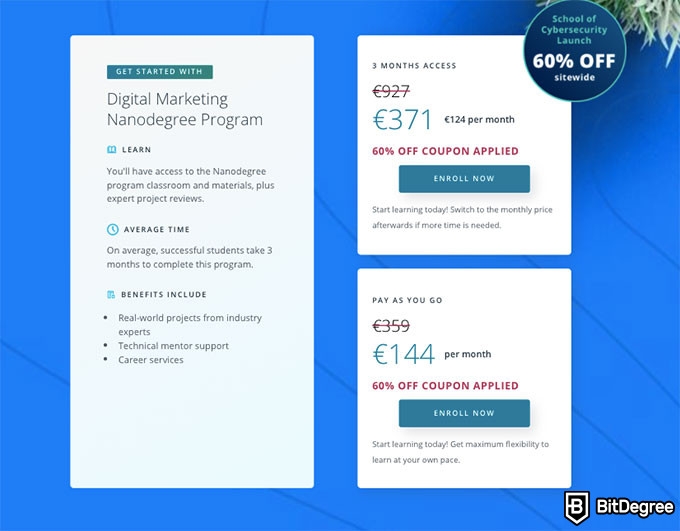 To receive a discount, click on the coupon below:
Udacity Deal Active Right Now:
SAVE 75%
Udacity Black Friday Offer
The best time to save on Udacity courses is now - follow this coupon to access 75% Udacity Black Friday discount on all courses & enjoy top-quality learning for less!
Expiration date : 05/12/2022
3,176 People Used
Only 97 Left
Now, I know free digital marketing courses sound very tempting, so your instinct might be to skip this one, but there's something that might make you change your mind. If you ask me, I think this program is certainly worth getting full access to.
This nanodegree comes with many benefits for you as a student.
You get to complete real-world projects from industry experts and access expert project reviews, technical mentor support, and even career services, such as resume support, Github review, and LinkedIn profile optimization.
Unique Projects
One of the best things about this nanodegree is the unique projects you get to complete at the end of some of the digital marketing courses. For example, in the first project "PrePare to Market", you will have to prepare for "working" as a digital marketer, just like you would in real life.
You'll have to choose a B2B or B2C product to market, define a business model of your company, and communicate your objectives clearly. Also, you'll work on developing a target persona.
These kinds of projects really help you engage with the content and also gives you an opportunity to apply all the newfound knowledge in a practical way - this unique training that you can access right now!
Other projects in this nanodegree include Market Your Content, Evaluating a Facebook Campaign, Search Engine Optimization (SEO) Audit, Evaluate Google Ads Campaign, Evaluate a Display Advertising Campaign, Market with Email and Creating Your Own Digital Marketing Portfolio.
This program has a 4.7 rating from over 1500 students.

Platform: Udemy
Duration: 〜 30 hours
Price: $155 (pre-discount)
Certificate: YES
Level: Beginner
Where to apply? Here
12 digital marketing courses in 1? Sure thing! That's what this extensive course on Udemy is offering! Created by Rob Percival and Daragh Walsh, this ranks as a #1 in the best digital marketing courses on the platform, taken by over 563,020 students so far.
The content you'll find here is suitable for all types of businesses including digital product, physical product, service, B2B, and B2C.
This lengthy course includes 23.5 hours on-demand video, 36 articles, 10 downloadable resources, and full lifetime access to all the content from your laptop or even a mobile device. There's a udemy app that allows you to access courses via phone.
After completing the course, you'll have the knowledge in how to grow a business online from scratch, land a high-paying job in digital marketing, make money as an affiliate marketer or work from home as a freelance marketer!
Topics covered:
Introduction
Market Research
Make a Website
Email Marketing
Copywriting
Search Engine Optimization (SEO)
Youtube, Facebook, Twitter, Quora, Marketing
Google AdWords / Ads
Google Analytics
Instagram, Pinterest, LinkedIn Marketing
Facebook Ads
App Marketing
Old Content
So, if you're looking for digital marketing courses that cover a wide range of marketing channels - this is it. While it doesn't include many case studies for you to apply your knowledge, you can learn a lot of valuable lessons for your business or career.
In fact, one student even left a comment on Udemy saying that he learned so much from this course he actually managed to build an online company that generated 13k in a month!

Udemy Pricing
Many students find Udemy's pricing a bit tricky. Prices for similar courses can vary greatly, which confuses the users. However, the reason why the prices are so different is because those who create the courses are the ones who set the prices for them.
What Udemy does to make all the courses, including digital marketing courses available to more students is launch huge discounts quite often, which is when you can purchase courses at lower prices (up to 90%)!
Alternatively, you can always check out whether there are any learning deals available for your selected courses. They can save you tons of money while giving you full access to all the course content.

Platform: Udemy
Duration: 〜 8 hours
Price: $155 (pre-discount)
Certificate: YES
Level: Beginner
Where to apply? Here
If you're looking for digital marketing courses that focus on social media - this course on Instagram marketing is something you might want to look at. After all, Instagram is the 6th most visited website and more than 1 billion people use it every month!
Unlike the nanodegree digital marketing courses, this is a much shorter course that specializes in one specific subject - Instagram marketing. The course is designed and taught by Benjamin Wilson and the Entrepreneur Academy.
Course content includes 7.5 hours on-demand video, 1 article, 9 downloadable resources and of course full lifetime access on the computer, as well mobile and TV. You also receive a certificate upon completing the course.
Topics covered:
Introduction to Instagram Growth Marketing 2022
Instagram Power Account to Skyrocket Conversion
Understanding the Bias of the Instagram Algorithm
Instagram Influencer and Off Platform Marketing
Instagram Content Creation and Processes
Instagram Ads for 1k Followers
Additional Instagram Growth Tools and Features
Monetizing Your Instagram Audience
This is definitely one of the best digital marketing courses that will teach you the ins and outs of Instagram marketing!
Over 146,157 students have already taken this course. Join them right now and start making it happen!

Platform: edX
Offered by: The University of Edinburgh
Duration: 〜 8 weeks
Price: FREE
Certificate: YES (paid)
Level: Intermediate
Where to apply? Here
Remember I told you about those free digital marketing courses available? This is it! You can access this course and all the teaching content for free. You do have an option of purchasing a verified certificate later for $199.
The great thing about taking digital marketing courses online is that you can use these coupons that will give you discounts and save you tons of money on selected courses while giving you full access to the course and certificate.
Plus, another reason why it's worth purchasing the full access is that you also get instructor support and feedback as well graded assignments.
This course is part of the professional certificate program in Digital Marketing which I'll tell you about in a minute.
This course is taught by two charming instructors from the University of Edinburgh, Ewelina Lacka and Antonia Gieschen.
Topics covered:
Week 1: Why digital matters?
Week 2: The impact of digital on product
Week 3: The impact of digital on value proposition
Week 4: Changes in technology a marketer has to be aware of
Week 5: Digital policies
Week 6: The persona and its journey
Week 7: Competitor analysis
Week 8: Final Project: Digital Marketing Strategy development
Like most online courses, it's divided into different sections by topics. Each section contains a few short video lectures plus other teaching resources. This sort of "chunking" of information instead of having long lectures in one sitting actually helps students process and retain new information. It's the key to effective learning.

Platform: Udemy
Duration: 〜 4 hours
Price: $155 (pre-discount)
Certificate: YES
Level: Beginner
Where to apply? Here
"Content marketing" is the hot phrase of today. More and more businesses are realizing its importance. According to Hubspot[2], 70% of marketers were actively investing in content marketing already in 2020, and 24% said they would like to invest even more in it in the future.
Plus, content marketing is a lot more cost-effective than traditional marketing. In fact, it has been estimated that it can cost around 62% less than outbound marketing[1].
This is one of the best digital marketing courses that focus solely on content marketing, created by Brad Merrill, the CEO of Merrill Media.
It includes 3.5 hours of on-demand video, 12 articles, and full lifetime access, as well as a certificate of completion.
Here's another fun fact for you: 70% of people[3] would rather learn about a company via an article than an ad. So, if you're looking for a window of opportunity to open - wait no more! In 2022, quality content is almost as important as the product or service you're offering.
This course covers all the fundamentals in content creation, writing, and execution. It's absolutely suitable for beginners, though those who already have experience in marketing will also benefit from what it has to offer.
Topics covered:
Classic Marketing Fundamentals
Content Marketing Essentials
Web Design
Generating Content Ideas
Copywriting
Types of Content
Content Formats & Repurposing
SEO (Search Engine Optimization)
Content Promotion
If you want to create effective content strategies and gain skills in content writing but aren't sure what medium you want to choose to promote it, this might be a more suitable option for you than other digital marketing courses.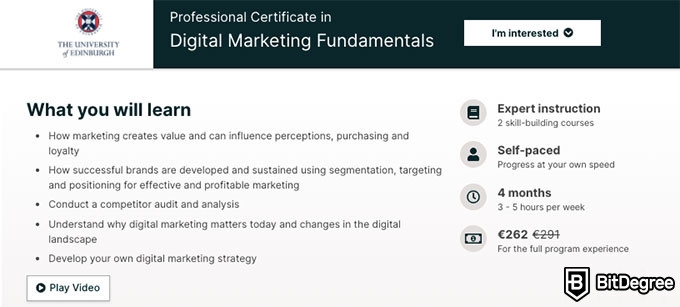 Platform: edX
Offered by: The University of Edinburgh
Duration: 〜 4 month (3-5 hours per week)
Price: $313 (post-discount)
Certificate: YES
Level: Beginner - Intermediate
Where to apply? Here
Offered to you by the University of Edinburgh, this professional certificate program includes a combination of digital marketing courses that are going to help you build professional skills. Get ready to hit the market in 4 months!
Or less, it's a 100% self-paced course, so you can go as fast (or as slow) as you like. Although I highly recommend taking enough time for each new subject and let the information sink in before you move onto the next chapter.
If you want to land a high-paying position in digital marketing, this is your #1 choice.
Achieving a professional certificate will serve as a proof of your skills to your potential employers and get you one step ahead of the rest of the candidates.

Pros
Simplistic design (no unnecessary information)
High-quality courses (even the free ones)
Variety of features
Main Features
Nanodegree programs
Suitable for enterprises
Paid certificates of completion

Pros
Huge variety of courses
Easy to navigate
No technical issues
Main Features
Huge variety of courses
30-day refund policy
Free certificates of completion

Pros
Easy to use
Offers quality content
Very transparent with their pricing
Main Features
Free certificates of completion
Focused on data science skills
Flexible learning timetable
Free Courses
Now, you can purchase the full program experience, complete both digital marketing courses within it and achieve a professional certificate or you can take these single courses individually for free!
You can access all of the teaching content for free, no hidden fees! Later, you can purchase a certificate if you need one but it's not a rule.
This Professional Certificate Program includes two digital marketing courses:
I've already talked about the Digital Marketing Strategy Course, so let's look at the Introduction to Marketing in more detail.

Platform: edX
Offered by: The University of Edinburgh
Duration: 〜 6 weeks (2-3 hours per week)
Price: FREE
Certificate: YES (paid)
Level: Beginner
Where to apply? Here
If marketing is a completely new subject for you - I highly recommend taking this course, whether as a part of the Professional Certificate Program in Digital Marketing or simply by itself.
You can access all the teaching material for free, so the only thing it will cost you is your time and effort. It's a course by the prestigious University of Edinburgh that is free!
Whatever you choose to do after, Introduction to Marketing is a great way to gain in-depth knowledge in the fundamentals of marketing and acquire some practical tools you can use to create value and competitive advantage for any business.
Topics covered:
Week 1: Role of Marketing
Week 2: Consumers and Consumption
Week 3: Segmentation, Targeting and Positioning
Week 4: Designing Products and Services
Week 5: Pricing and Channels
Week 6: Communicating and Engaging
The course is taught by three enthusiastic instructors from the University of Edinburgh: Ewelina Lacka, Malcolm Kirkup and Asanka de Silva.
No prior knowledge in marketing is needed for you to enroll and be able to follow the course easily. Join the other 15,920 students who have already enrolled and start your marketing journey with the University of Edinburgh!
Also, because you can access it for free, it might be a good idea combining this course with another more specialized one, such as the Instagram Marketing 2022 or Content Marketing Masterclass course.
Conclusions
Overall, we looked at the most common digital marketing types and the benefits it can bring for small as well as large businesses. Then, we explored the best digital marketing courses you can take to build in-depth knowledge and gain practical skills so you can start applying them in real life!
These are the best digital marketing courses and programs right now:
All of these courses can be found on top e-learning platforms. They're all designed by experts in their field, who have years of experience working. Have you ever wanted to study at a prestigious institution? Now you can achieve a Professional Certificate in Digital Marketing Fundamentals from the University of Edinburgh online!
For free digital marketing courses, choose the single courses within the professional certificate program. For big discounts on paid courses, use these coupons. You're welcome!
Now, what are you waiting for?
The market is constantly moving and evolving, go gain that knowledge and rock the marketing world!
Scientific References
1. Content Marketing Institute: 9 Stats That Will Make You Want to Invest in Content Marketing
2. Hubspot: Marketing Statistics 2021
3. Business Harvard Review: The Content Marketing Revolution
Leave your honest feedback
Leave your genuine opinion & help thousands of people to choose the best online learning platform. All feedback, either positive or negative, are accepted as long as they're honest. We do not publish biased feedback or spam. So if you want to share your experience, opinion or give advice - the scene is yours!