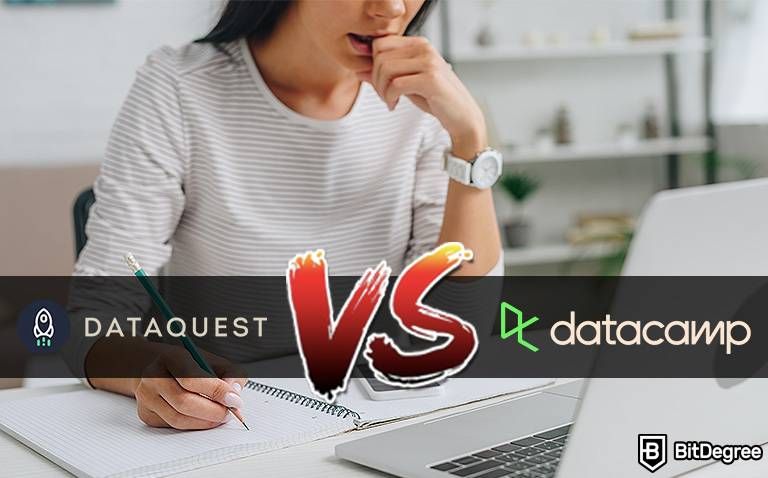 If you're interested in data science and analysis, you're probably on the lookout for extra learning resources and ways to improve your skills. The internet is full of online learning platforms that are created by field experts to help learners who want to develop at their own pace – and we'll be looking at two of them today. This time, we'll be having a Dataquest vs DataCamp face-off and see how the two data science learning platforms stand against each other.
We'll cover a range of criteria, like the quality of the courses, how well they work based on your learner level, and, of course, how much they cost. Once you've got all the facts in one place, it's up to you to decide whether DataCamp or Dataquest will suit your needs better on your path to becoming a data science expert.
You might've already come across the two platforms in your search, leading you to the final DataCamp vs Dataquest debate, but here's a short introduction nonetheless. DataCamp is an interactive data science learning platform that was launched in 2013. Dataquest was founded two years later, in 2015, and focuses on providing real-life skills for up-and-coming data scientists.
Without further ado, let's take a look at how this Dataquest vs DataCamp match-up goes.
Dataquest vs DataCamp: Comparison Criteria
Before we begin the Dataquest vs DataCamp comparison, we need to take a few things into account. For one, the catalog variety and size of many e-learning platforms, including Dataquest and DataCamp, are going to differ. So, to keep things fair and even, we'll be using a specific system for our evaluation.
Latest DataCamp Coupon Found:
CLAIM 50% OFF
DataCamp Cyber Monday Deal
DataCamp Cyber Monday special is here! Enjoy a massive 50% off on DataCamp plans. Subscribe now and redefine your data and Al skill set for the better!
Expiration date : 06/12/2023
5,324 People Used
Only 36 Left
This system consists of five different criteria that cover the essential assets of the two platforms. To make the evaluation process clear and transparent, we'll look at each of the criteria one by one.
Course Quality & Variety. This is perhaps the most important aspect to take into consideration when you're selecting your learning platform. Is the program created by reputable industry professionals? What topics do they cover? Some online learning platforms offer certification programs that consist of several courses. Others provide learning paths to hone in on one particular skill. So, we'll see what range each of the platforms offers in terms of catalog variety.
Accessibility. This category is twofold and will address two different aspects – the course levels and the ease of use. Are you a complete beginner in the field, or are you looking to build on the foundation that you already have? We'll take a look at what course levels are offered. We'll also compare how easy to navigate the platforms are for new users.
Available languages. English is perhaps one of the most widely used languages on the internet. However, it's not everyone's native language, and not all learners feel comfortable understanding what they're studying in only one language. While you'll probably do a lot of your data work in English, it helps to have the instructions explained in your mother tongue. So, we'll see what languages the two platforms offer to help foreign learners. We'll take a look at things like subtitle languages and the interface.
Certification. If you're taking online learning courses, you're probably looking to earn certification as proof that you've gained these new skills. Sometimes, learning platforms offer accredited certifications, especially if the course is provided by a university. However, even non-accredited certificates can help make your CV look more polished. In this Dataquest vs DataCamp certificate comparison, we'll see what learners can earn for finishing their courses.
Pricing. Last but not least, we have to look at the price. Education can be expensive, and online courses often act as a more affordable alternative. We will see what payment systems the two platforms offer – is it course-by-course or a subscription model? We'll also take a look at discounts and special offers, as well as whether you can find free trials or even courses you can take without needing to pay.
At the end of the day, you'll be able to get a general look at the DataCamp vs Dataquest differences and decide which platform can give you a learning experience that you would find more useful and enjoyable.
So, let's take a look at how DataCamp and DataQuest compare.
Dataquest vs DataCamp: The Comparison
Each of the five criteria will be explored and analyzed in the order that was provided in the description above.
Course Quality & Variety
Course quality is something that can usually be determined quite objectively. You can take a look at the customer reviews or, sometimes, just get a feel for it while learning. However, you probably don't want to put your money into a product if you're not sure whether the quality is actually worth it.
When it comes to the Dataquest vs DataCamp debacle, I have good news for you. Both platforms are reputable for self-learners – especially those just getting started. As far as reviews are concerned, users have spoken positively about the beginners' courses, saying that they provide a good foundation for data sciences.
As far as the Dataquest vs DataCamp catalogs are concerned, the latter comes out on top. DataCamp offers over 390 courses at levels ranging from beginner to expert, compared to Dataquest's 80. However, both platforms offer a similar model of skill and career paths which we'll be exploring more in-depth in the Accessibility section.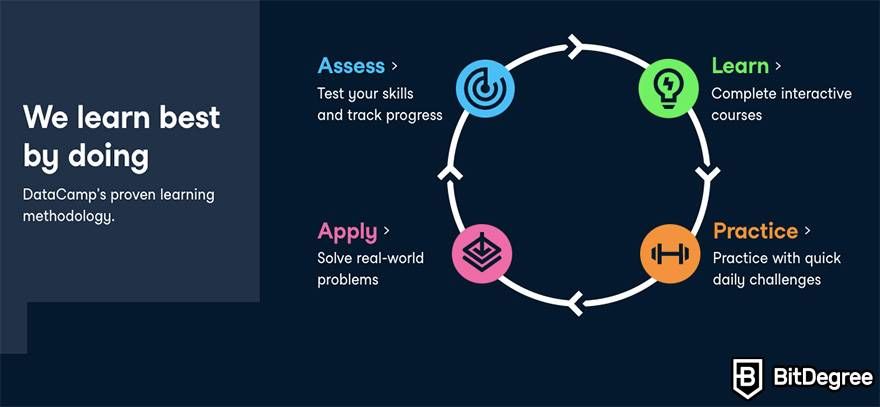 Whether you're looking at the DataCamp or Dataquest course catalogs, there's a common thread – all courses are focused on data science technologies, like programming languages and business intelligence (BI) tools.
Both platforms focus on the fundamentals of three programming and data management languages – SQL, Python, and R. In both catalogs, you will find general introductory courses for the programming languages, as well as more niche, industry-specific lessons.
Due to the difference in available courses, DataCamp provides more niche opportunities and career-focused classes. However, Dataquest's catalog consists primarily of career development-driven content, some of which does not overlap, so it can be more difficult to advance through a single skillset gradually.
Looking deeper into the course structure and descriptions, the content on both platforms is prepared and taught by industry professionals and academics. This means that you will access not only the necessary theoretical knowledge but also learn about industry insights. This makes the courses useful for those that are looking to put the skills to good use in the professional field.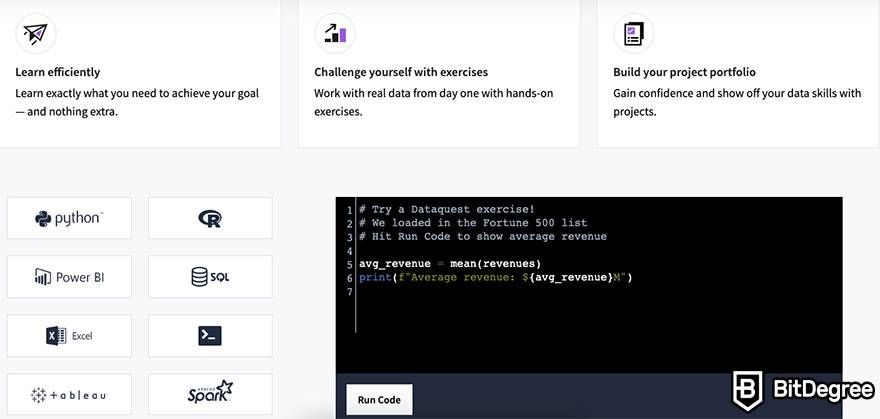 Browsing through the catalogs, DataCamp's course instructors include data science professors, developers, and software engineers. Additionally, many courses have been developed by DataCamp's team, including in-house data scientists and curriculum managers. This way, the learners' feedback has a more direct impact on the course development process.
Dataquest course instructors have similar expertise, with professionals representing companies like Twitter and Amazon. This provides the courses with a taste of the real-world experience. In fact, both platforms provide learners with real-world data for projects and classes, allowing them to use tangible examples to master the new skills they're acquiring.
DataCamp supports user-submitted content. While Open Courses are not considered an official part of the DataCamp course catalog, they're offered by the learning community sharing its experience with programming and data science. Additionally, the DataCamp team frequently posts new webinars and case studies that you can use to expand your technical and field knowledge.
Let's take a better look at each of the platforms individually. To get a clearer example of what the courses look like, we'll compare the Dataquest vs DataCamp data analyst range.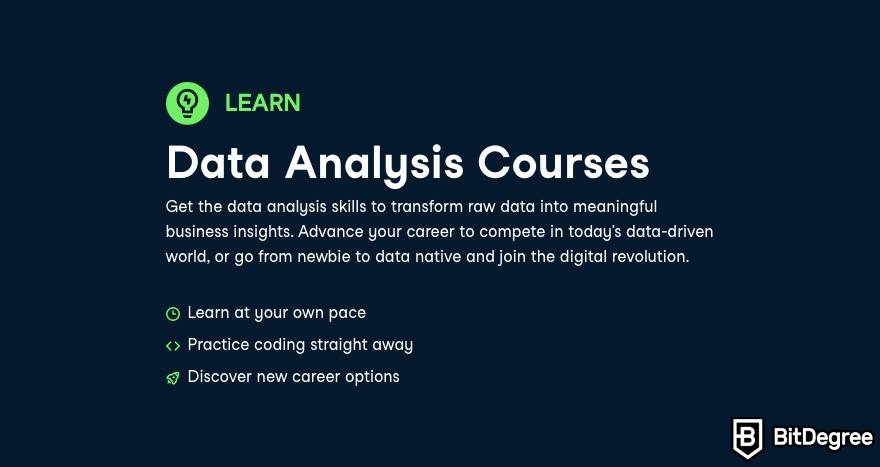 In total, DataCamp offers over 40 different courses for data analysts. This accounts for more than half of the entire Dataquest course catalog. The levels vary from beginner to expert, allowing you to advance progressively. In many cases, the courses are taught by the same instructors at different levels, so the progression is consistent, and you'll build directly on the skills you've already acquired.
When you search for "data analysis courses" on Dataquest, you receive more than 20 results. While this is only half of DataCamp's range in the field, proportionally, it makes up about a fourth of all courses on Dataquest. There's also a good range of courses for different learner levels, and many instructors can be seen heading the classes at different stages.
So, if you're looking for field-specific courses, both platforms offer good quality, specialist classes. However, you will likely find a broader range of courses and skill tracks on DataCamp vs Dataquest.
Accessibility
When it comes to accessibility, we have two aspects to discuss – how well the courses on Dataquest vs DataCamp are adjusted for different learning levels and how easy the platforms are to navigate overall.
For starters, let's take a look at the registration process.
Whether you're making an account or DataCamp or Dataquest, the process is similar. The registration prompt is available on the homepage, and all you need is an e-mail and a password (as well as your name if you're creating a Dataquest account).
Once you've made and verified your account, a similar process follows – you get to select what your learning focus is going to be. Comparing Dataquest vs DataCamp, the Onboarding questions show the different directions of the platforms.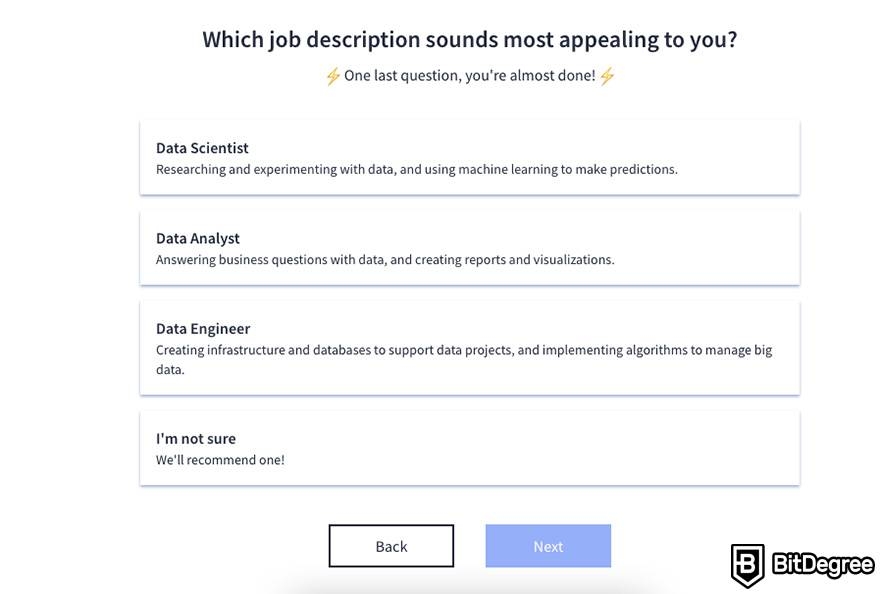 On Dataquest, the first question asks you to describe your learning experience – whether you're a current or aspiring data professional or want to learn new skills for other reasons.
Then, you get to choose your preferred starter programming language out of R, Python, or SQL. Finally, the platform asks you which job description of the three options sounds the most appealing. Your options are data scientist, data analyst, or data engineer. The "I'm not sure" option is available for the latter two questions. Once you've completed the questionnaire, Dataquest will recommend your first course based on the answers.
As you can see, from the time you sign up, the platform is career-oriented. The recommended course infobox provides relevant information, like the number of lectures and projects in the course, as well as which skills you'll be working on.
On DataCamp, the Onboarding process starts a bit differently. Here, you first select one of the three programming languages – R, Python, or SQL. If you're not sure which choice you prefer, you can take the Understanding Data Science course, which covers the essentials of what a data scientist does.
Once you've selected the programming language, you'll be recommended a beginner track. If you want something more specific, each onboarding recommendation also provides a list of skill tracks, like Machine Learning and Data Visualization, where you'll be able to get hands-on experience.
So, when it comes to beginner-friendly learning, the Dataquest vs DataCamp match-up goes hand in hand.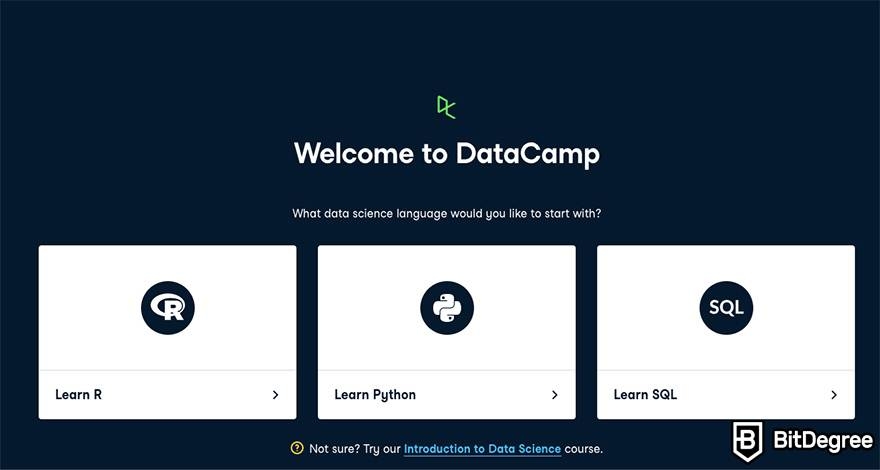 The presentation of the courses differs quite a bit on the two platforms. Dataquest uses exclusively written classes. According to the team, the platform had tested video content but found that it didn't deliver the desired results. However, it's not all pure text – the lessons come equipped with various charts, tables, and diagrams to make the learning more engaging and the content easier to understand through examples.
DataCamp has chosen a different strategy. The platform leans heavily on gamification, and the courses are built as a complete audiovisual experience. Between video guides, exercises on the Jupyter Notebook, and cheat sheets, the learning experience is heavier on the visual side of things.
What about the course catalog? How easy are the platforms to use? Well, both platforms do quite well in this regard – the course descriptions are clear, the learning paths provide detailed information about your performance, and you can choose between learning a single course or following through a learning path.
However, finding courses that will help you learn step-by-step is somewhat easier on DataCamp. Let's take the DataCamp vs DataQuest data analyst courses as an example again. The DataCamp menu lists Data Analysis as one of the highlight topics on the menu, making it easier for you to find everything you need in one place. The search bar also automatically suggests the recommended data analysis courses.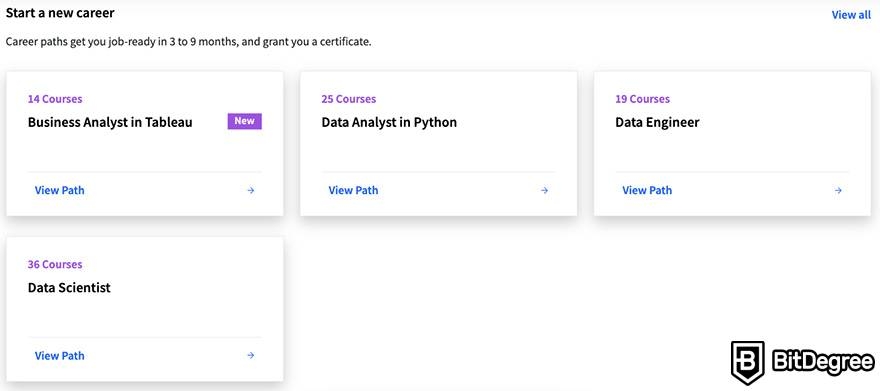 Dataquest, on the other hand, only allows you to search once you're on the full catalog page. Its advantage is that it instantly puts the Data Analysis skill paths on top, with other, broader courses listed below. The "Take a course" section of the search page is more chaotic, as the courses are not listed by their level of difficulty. However, this is a minor issue in the grand scheme of things, as you can simply select the full skill path and start learning from there.
So, course-wise, the situation is quite clear – both platforms provide good access to courses, although DataCamp might be easier for beginners to navigate thanks to its extensive menu categories.
There's more than just what you as an individual learner can find, though. If you want to prepare your enterprise via shared training, DataCamp for Business is the service to do it. It can support teams ranging anywhere from 2 to 10,000 users and offers customizable solutions to suit the needs of your workplace. DataCamp for Business comes equipped with reporting tools to observe the overall growth of the learning team.
Finally, let's take a look at the accessibility from a technical point of view – in a Dataquest vs DataCamp comparison, how mobile is the learning experience? If you're short on time and prefer learning on the go or simply find working on your phone more convenient, having an iOS or Android app might be essential. Here's where DataCamp takes the cake.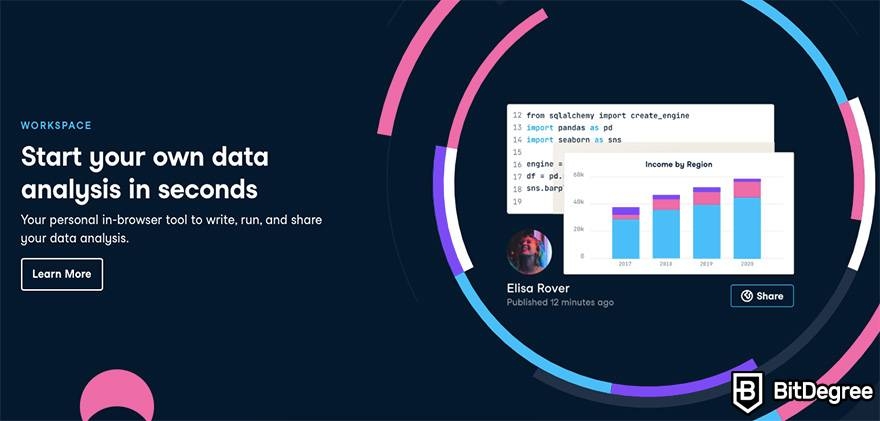 DataCamp users can access the entire course catalog on the mobile app. Additionally, the app offers daily programming challenges. So, even if you're in a rush, you can get a few minutes of programming done every day. All progress is synchronized between the app and the desktop platform.
Although Dataquest can be accessed on mobile browsers, there is no separate mobile app for learners. According to the Dataquest Help Center, the platform was built with the desktop experience in mind, as this is the setting of most in-market programmers. So, while Dataquest loses some accessibility points in this regard, it gives a good example of what data science work looks like in the real world.
As you can see, the two platforms are on a similar level in terms of accessibility, with DataCamp taking a slight edge over Dataquest. With this section out of the way, let's see how they compare in terms of language.
Available Languages
English has become something of a standard in programming spaces. While you can find projects like Qualb, the programming language that can be written entirely in Arabic, most of the tutorials and commands that you'll come across are going to be in English.
However, while the English code is probably not as difficult to use, some learners may not find it as easy to also read and listen to instructions that aren't in their native language. To alleviate this, many online learning platforms offer localized websites and courses that are subtitled or even completely dubbed in other languages.
So, what's the case with DataCamp vs Dataquest?
Well, DataCamp is the clear victor here. Although the website itself is only available in English, you can find community-built courses that were translated or fully developed in other languages, including German and Italian.
However, the video content is where the foreign language support is the strongest. All DataCamp course videos come equipped with subtitles that are available in more than 15 languages, including Simplified Chinese, Thai, and Italian. So, you can easily follow along.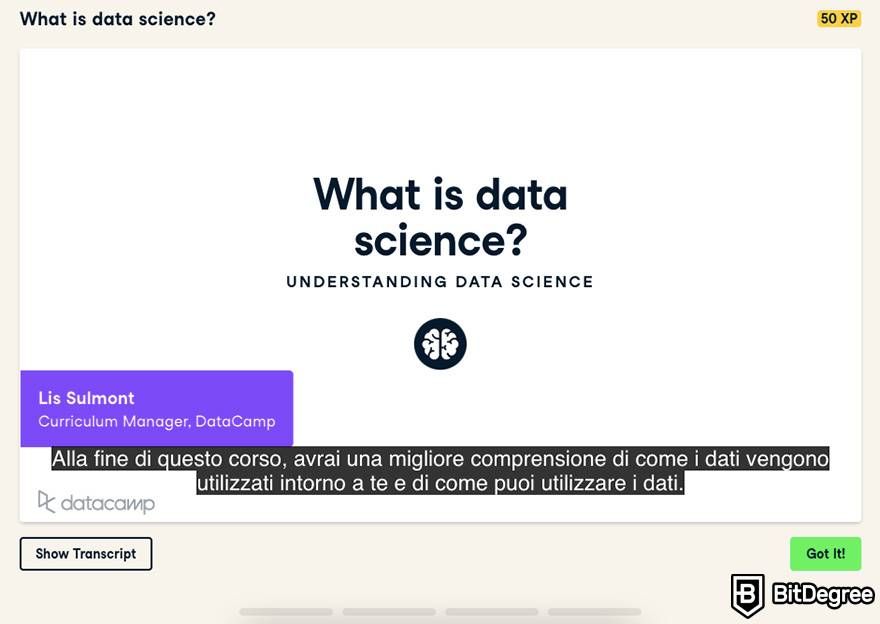 The videos can be slowed down or sped up, so if you need some time to take the information in, you can adjust it. You can also access the transcripts of every video, although these are only available in English.
Dataquest, on the other hand, does not appear to have any foreign language support. A lot of the content is also text-based. While it doesn't use very difficult terminology, it could still be a lot for a non-native English speaker to get through without assistance.
However, this is only the case temporarily – according to the Dataquest Help Center, the company has plans to introduce localized content in a number of languages in the future.
Of course, this leaves room for improvements from both platforms. There is no full foreign language support for either website, which can make the platforms inconvenient for learners that aren't very confident in their English skills.
Nonetheless, in a DataCamp vs Dataquest language face-off, DataCamp is the clear victor.
Certification
When you're studying at a college, one of your goals is likely to graduate with a diploma that reflects all of your achievements. It's often a similar case with online learning courses – once you've completed all assignments, you want something to show for it (and maybe even hang on a wall, or just add to your LinkedIn profile).
So, certification of course completion can play an important role in your choice of a learning platform. Bonus points if it's accredited – meaning that it has some affiliation or backing from an academic institution, like a university.
So, what's the case with DataCamp vs Dataquest certificate distribution? Can you get them, are they accredited, and what does obtaining one grant you?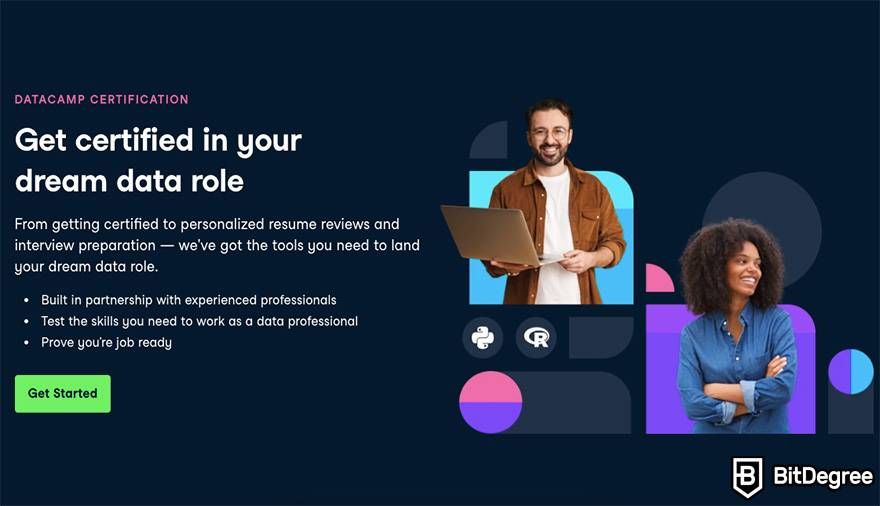 In the case of DataCamp, it's not the same across the board for courses and learning tracks. In fact, the platform has two separate rewards – certificates and certifications. It seems easy to get the two mixed up at first, so allow me to elaborate.
Certificates are what you receive for completing single courses. Essentially, it's a reward for your learning achievements and motivation. These certificates are issued by the institutions and organizations behind the course. So, their accreditation and issuance might vary. These rewards do not have an expiration date and can be shared on LinkedIn or other platforms.
Certifications, on the other hand, are career-track-focused rewards. At the time of writing, it's considered a relatively novel feature on DataCamp, as it was only introduced in 2022. However, it's already been rated as the #1 Data Analytics certification by Forbes.
Career tracks are extensive learning programs on DataCamp designed to help you qualify for a specific data science field. These programs typically take several months to complete and are focused on developing practical skills in two fields – data science and data analysis.
Users that take either the Data Scientist or the Data Analyst career track must pass the final exam to obtain their certification. Unlike the certificates, the certifications expire after two years, and the user must pass further assessments to maintain their credentials.
At the time of writing, the DataCamp Certification scheme is still in beta. So, it's very likely that the rewards are going to be expanded in the future, as new career tracks are added to the platform.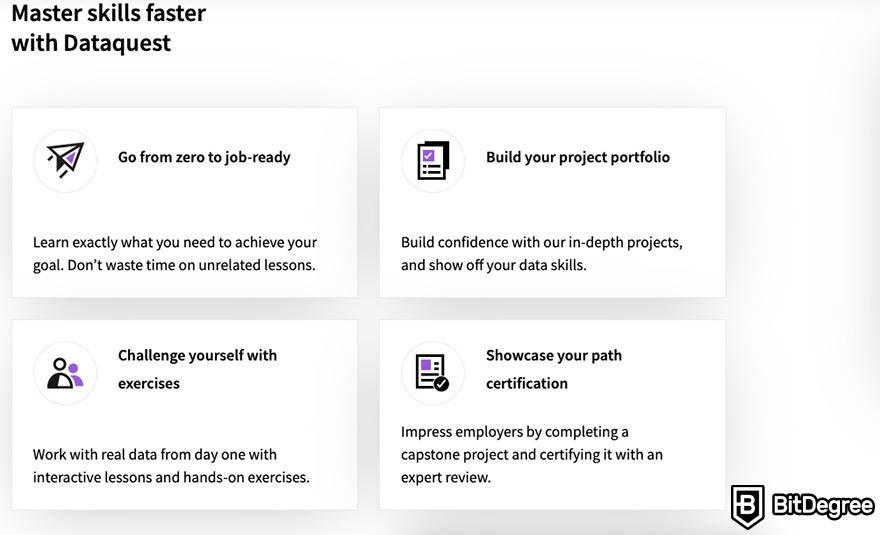 When it comes to Dataquest, you receive a certificate of completion for each course that you successfully finish. These rewards are granted automatically and appear on your profile. From there, you can download the files and share them online.
However, Dataquest also offers unique and unconventional certifications that are granted by the staff. These are community-based rewards that you can receive by participating in the alpha/beta testing of new platform features or becoming the Dataquest community's Tier 3 Learning Assistant.
Dataquest certificates are not accredited by educational institutions. So, if you're looking at the weight of the DataCamp vs Dataquest data analyst certifications, the former may be more impactful. However, you need to make sure that you keep up with the career track skills and renew the DataCamp certification in time.
With the DataCamp vs DataQuest certificate comparison out of the way, there's one last aspect we need to cover – the costs of each platform.

Pros
Easy to use with a learn-by-doing approach
Offers quality content
Gamified in-browser coding experience
Main Features
Free certificates of completion
Focused on data science skills
Flexible learning timetable

Pros
High-quality courses
Nanodegree programs
Student Career services
Main Features
Nanodegree programs
Suitable for enterprises
Paid certificates of completion

Pros
A huge variety of courses
Easy-to-navigate interface
Over 600 free courses
Main Features
A huge variety of courses
30-day refund policy
Free certificates of completion
Pricing
The price can be the make-or-break-it criteria when it comes to making the final decision on which learning platform to choose.
There's one important similarity between the two platforms – if you're unsure where you want to try DataCamp or Dataquest first, you can choose the free plan on both. So, really, you don't need to make an immediate decision – you can try a taster of both first and see for yourself which one you prefer.
The features offered by the free plans are also similar. Both platforms have free-to-learn introductory courses. DataCamp also grants access to the first chapter of every course, while on Dataquest, the first three lessons of each skill path are available. So, the free perks of Dataquest vs DataCamp are pretty similar.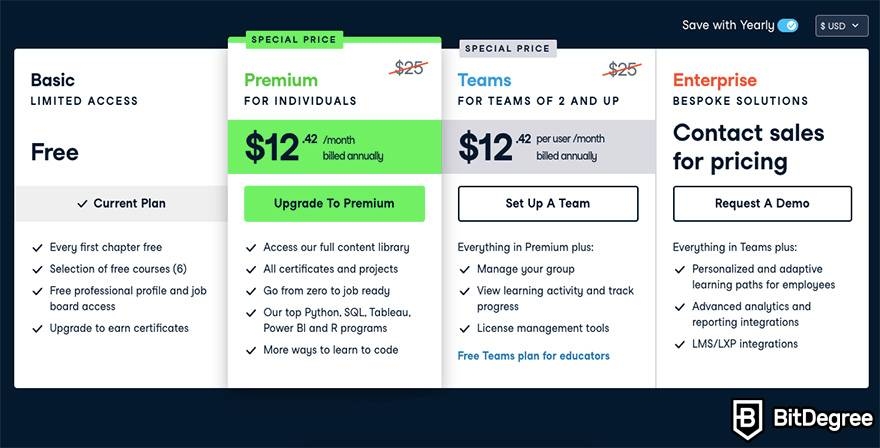 However, for those who want to access the entire catalog, the platforms offer different pricing plans.
On Dataquest, the monthly Premium plan starts at $49. However, if you choose the annual plan, the costs are reduced to $24.50 a month. This fee is renewed annually. You can also opt for the Lifetime Premium plan for a one-time fee of $470.40. Regardless of the selected plan, you receive a 14-day money-back guarantee.
Additionally, business and academic institutions are eligible for special plans. Industry users can receive a custom quote by contacting Dataquest about the Teams plan. Teachers can join the Dataquest Academic Program, which provides free access to all learning materials for one semester.
The DataCamp Premium plan starts at $25/month. Customers are billed annually. This plan offers access to the entire catalog, as well as the career tracks. The Teams plan allows small-scale teams of at least two people receive all DataCamp features, as well as the group management tools. You can also find special DataCamp discounts and coupons here.

Like Dataquest, DataCamp offers special, personalized deals for enterprises and academics. Educators can request access to the free DataCamp Classrooms program with the entire course catalog and assessments that can be added to the curriculum. Enterprise Bespoke Solutions offer extensive management tools. Businesses can ask for a demo, as well as custom rates for this plan.
So, in terms of pricing plans and free features, the rates that DataCamp vs Dataquest offer are quite a similar match. Both platforms also offer good opportunities for in-class teaching and industry workshops.
Conclusions
With all the comparison criteria covered, this wraps up our Dataquest vs DataCamp face-off. Let's quickly recap the outcomes.
For starters, both platforms offer high-quality, beginner-friendly data science and data analysis courses. However, DataCamp's course selection is nearly five times larger than Dataquest's. So, while Dataquest is great for niche courses that support career-driven development, DataCamp has the edge over it.
Both platforms employ different learning materials and strategies, so whether you find the Dataquest or DataCamp teaching style more effective is up to your personal preference. Unfortunately, both platforms are somewhat lacking in the availability of languages other than English, although DataCamp offers various video subtitles.
The certificates – and certifications – that you can earn are shareable and can prove your credentials as an up-and-coming data science professional. Whether you're more interested in the DataCamp or DataQuest data analyst courses, both platforms offer proof to show off your skills.
So, now it's up to you. Now that you have all the facts at hand, all you need to do is make the final decision – or check out the free trials offered by both DataCamp and Dataquest, and see for yourself what works best.
Good luck and happy programming!
Leave your honest feedback
Leave your genuine opinion & help thousands of people to choose the best online learning platform. All feedback, either positive or negative, are accepted as long as they're honest. We do not publish biased feedback or spam. So if you want to share your experience, opinion or give advice - the scene is yours!