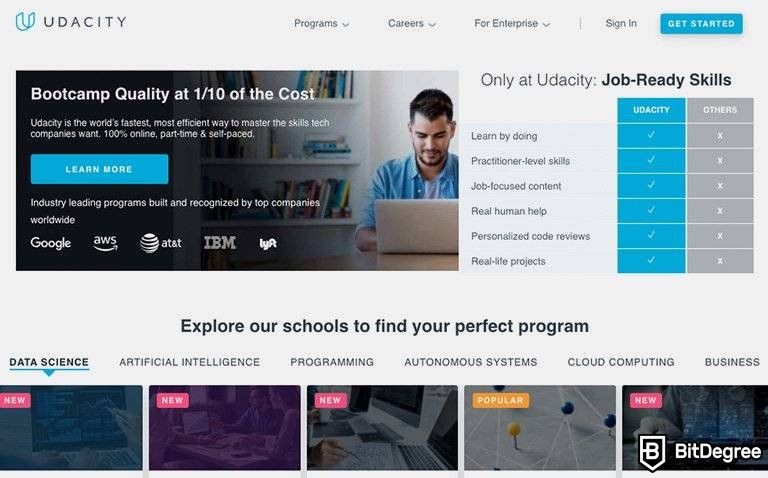 Did you know that more and more people switch traditional studying for online learning? According to Statista, 52% of American graduate students consider online college-level education better than classroom learning. If you want to join those students, the best Udacity courses might be one of the options.
The best Udacity courses are also suitable for those who want to take their career to the next level. Have you been dreaming about changing your work sphere, but you're afraid that you lack skills? Or are you just looking for new ways to improve yourself?
If you found yourself answering at least one question by nodding your head – go on and read more about Udacity best courses.
In this article, I will present Udacity best courses that you may want to try.
The Best Udacity Courses for Online Education
Do you want to know why so many students choose to learn online over studying in traditional institutions? Based on statistical data[1], most students prefer online learning because they can manage their time easier. There is no commitment to attend a class on time, no pressure to keep up with the deadlines.
Latest DataCamp Coupon Found:
CLAIM 50% OFF
DataCamp Cyber Monday Deal
DataCamp Cyber Monday special is here! Enjoy a massive 50% off on DataCamp plans. Subscribe now and redefine your data and Al skill set for the better!
Expiration date : 06/12/2023
5,324 People Used
Only 36 Left
There are different ways to master new skills that will bring lasting benefit your way, and one of them is learning on Udacity. The Udacity platform's been working since 2011 and is still going strong. The best Udacity courses may really help you meet your professional goals.
Before moving straight to the best Udacity nanodegree courses, I would like to introduce you to the platform.
What is Udacity?
Udacity is a MOOC platform, which stands for Massive Open Online Courses, offering to study and develop new skills online. If you never heard of Udacity before, you can find out more about the platform by reading our previous review.
I will describe the main aspects of Udacity later, so you can get a clear vision of what it is. All in all, the platform has a lot of benefits.
What Do People Think About Udacity?
First of all, the platform's usage is very simple and clear, even for a newbie! The user interface is really comfortable and easy to navigate.
Also, each course has a detailed description that students find very useful. They know exactly what they are going to learn and if this is the right course for them among all of the best Udacity courses.
Another benefit is that the best Udacity courses are made by collaborating with industry professionals. Giant corporations like Google and AWS (Amazon Web Services) help create Udacity best courses to teach students the necessary knowledge that could help them to get a job.
Moreover, Udacity provides career coaching, including expert interviews, support from mentors, and instructors for live tutoring. Not to mention the platform's whole usage, where a user can set personal study reminders and sync it with calendar software.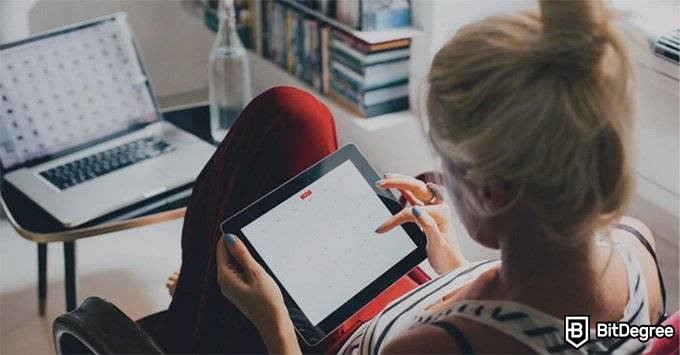 It works with Apple iCal, Google Calendar, Yahoo Calendar, Microsoft Outlook. That is beneficial for users to manage their time and keep track of the study.
Most of the courses are focused on digital careers. You can get the best Udacity nanodegree in these different areas: artificial intelligence, autonomous systems, data science, programming, and development.
Don't know what a nanodegree is?
Nanodegree is a Udacity certification program. Some people compare it to traditional degrees, but it's not the same as a university degree. Udacity is not giving credits while you're studying, the way that universities or other educational institutions do. However, the certificates are still beneficial and valued by businesses looking for new talents to hire.
Remember, nobody hires a diploma. Companies hire people, and the skills that these people master or are willing to learn.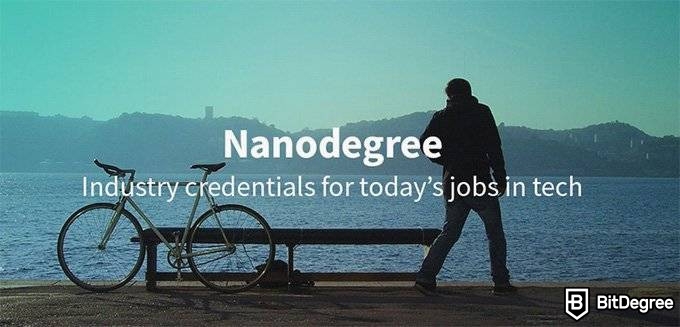 The primary goal of nanodegree courses is to teach students the essential skills for an entry-level job. By doing that, learners also complete various projects. Later, they use those projects to build their portfolio and then show it to future employers at job interviews. Udacity claims that completing the course and getting a certificate may help the platform's graduates get that dream job.
However, there are also a few drawbacks when it comes to Udacity.
Udacity changed its pricing model from fixed payment to a subscription-based model. Therefore, now users have to subscribe to the course monthly until they finish it.
Some people try to finish the course faster, so they don't have to pay for another month. By doing that, you can save some money, but don't push yourself if you need more time to learn.
In the end, knowledge is more precious than money.
Also, there are some negative comments about the customer service. Some say that they never get an answer from customer support or wait too long for it. On the contrary, others say that Udacity provides all the necessary information - this just goes to show that every case is different.
Best Courses on Udacity
Okay, let's find out which are the best Udacity courses.
I know that because of the variety of courses on Udacity, it is hard to choose the right one to start. Let me make it easier for you to help you choose the best Udacity nanodegree class. After all, choosing the right course is the most important part of the process.
I concluded the information based on Udacity students' reviews and summarized them all into this article. So, everything you need to know about the best Udacity courses will be laid out here.
Here are the TOP 7 Best Udacity Courses today:
Become a UX designer
Machine Learning Engineer
Front End Web Developer
Data Analyst
Deep learning
Self-driving Car Engineer
AI Product Manager
Furthermore, you'll get to know what are the main points and what you can learn from each of the courses. So, let's dive deeper into the best Udacity courses, shall we?
Become a UX Designer
Key points:
No prior experience required
From basics to interactive designs
Learn to make a prototype
Build and maintain a portfolio
Based on the Onward Search[2] guide, the UX designers take second place on a list of "Most in Demand Talent" when it comes to job search. So, if you're hesitant about whether or not you'll get a job – don't stress.
If you'll put a lot of effort into gaining the right skills, you should easily get a job. This is especially true when you're passionate about designs and the creation of the best user experience!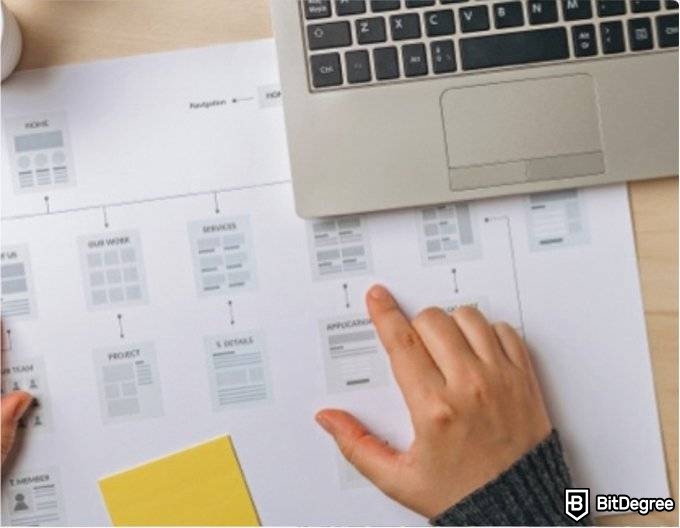 According to the opinions of the students who took this "UX Designer course", this is one of Udacity best courses. Students who already took this course were surprised by the consistency of it. They said that it teaches everything from scratch.
In more detail, it teaches the fundamentals of the design research, basic design principles, user identification, and the development of solutions. Moreover, you will be able to explain the differences between UI and UX – just in case your friends ask what it is that you do.
Machine Learning Engineer
Key points:
Intermediate knowledge of Python and machine learning is required
Real-world exercises
Practical usage of Amazon SageMaker to deploy models to a presentation
Advanced knowledge of machine learning
If you're interested in machine learning, this is the course where you raise your knowledge to a higher level. By that, I mean, you will learn the advanced level of machine learning techniques and algorithms.
Furthermore, in this course, students can learn software engineering fundamentals and machine learning in production. Here, learners apply their knowledge to complex models and case studies.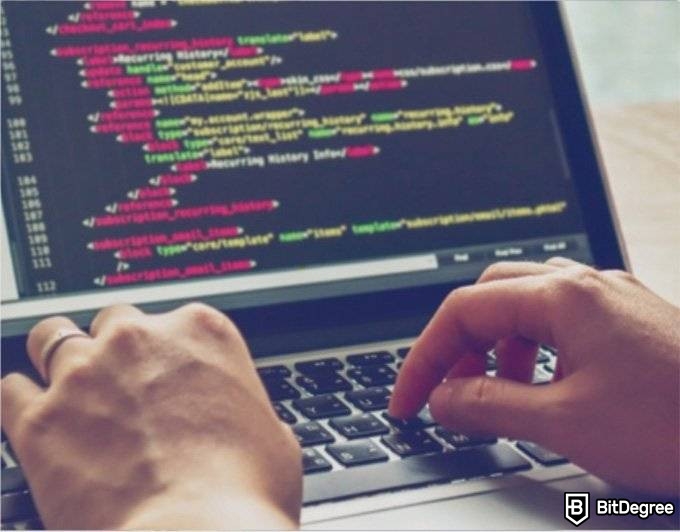 Before starting this "Machine Learning Engineer" course, it's highly recommended that you already have some understanding of machine learning and Python programming skills.
For those students who are really drawn to machine learning, it will not be a problem. However, those who never heard about it before should first take the "Intro to Machine Learning".
Front End Web Developer
Key points:
Experience with HTML, CSS, and JavaScript is required
Practical, real-life tasks
Deepen knowledge of HTML, CSS, JavaScript concepts
Skills to create and develop websites and applications
Before enrolling in this "Front End Web Developer" course, it is required to have background knowledge, that includes knowing how to work with HTML, CSS, and JavaScript. If you do not have mentioned skills, Udacity suggests trying "Intro to Programming", "Version Control with Git", and "Intro to HTML and CSS" courses on the platform.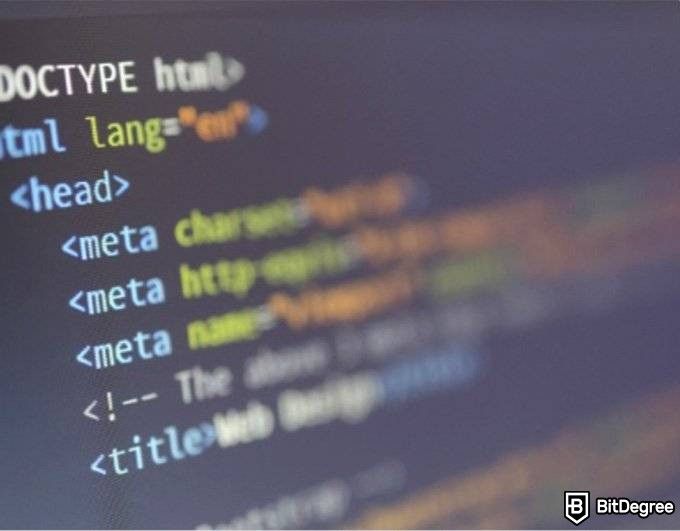 In this course, you will be able to create full working websites by exploring them in exercises. For website building, you will use CSS, Flexbox, CSS Grid, and for UI applications – JavaScript and HTML.
From zero to a hero, right?
It's hard to learn without knowing your mistakes or strengths. This course is considered one of the best Udacity courses for its given feedback to students about all projects. Some students shared that the feedback helped them to improve their projects.
Data Analyst
Key points:
Previous experience with Python, NumPy, Pandas, and SQL is required
Learn different concepts of Data Analyst like Data Wrangling, Pandas & NumPy
Learn from the real-world projects designed by industry experts and professionals
Turn data sets into useful reports
Learn new job-ready skills
Every company that wants to grow and be efficient needs a data analyst. I bet that you don't know a company that doesn't want to succeed. Therefore, people who know how to turn raw data into problem-solving insights are highly needed.
Before you start going deeply into data analysis, you should have experience working with Python, NumPy, Pandas, and SQL. If you don't have any of it, there are courses like "Programming for Data Science" on the platform, to help you catch up.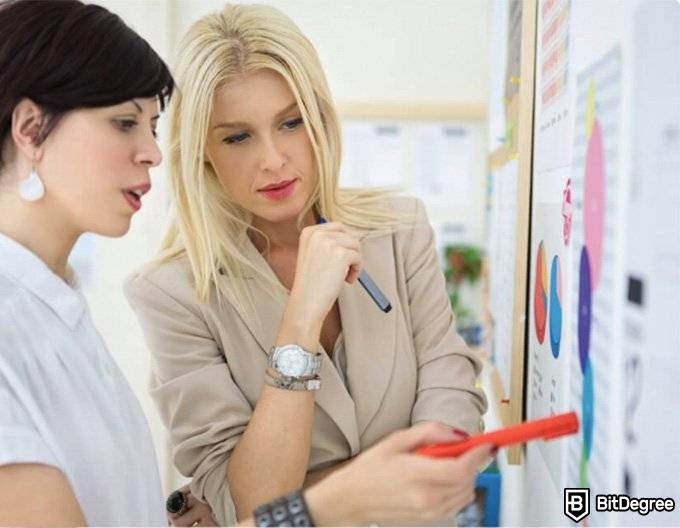 "Data analyst" is a project-based learning course. While doing projects, you will learn how to apply inferential statistics in real-life cases, that will be required to create data-driven decisions. Meaning, you will be able to find solutions for business problems.
After mastering the skills needed to work with data, you will be able to develop a successful data analyst career.
Deep Learning
Key points:
Python knowledge is recommended, but not necessary
Easy to follow content
Learn the basics of neural networks
Learn to build neural networks practically
Use modern deep learning framework and analyze real data
Deep learning architectures are deep neural networks, deep belief networks, recurrent neural networks, and convolutional neural networks applied to many different fields.
For example, computer and machine vision, speech and audio recognition, natural language processing, social network filtering, and more. In some cases, the results exceed even human expert performance.
This course is for those who strive to get into the deep learning or AI field. Also, for those who want to get some practice and learn to create neural networks.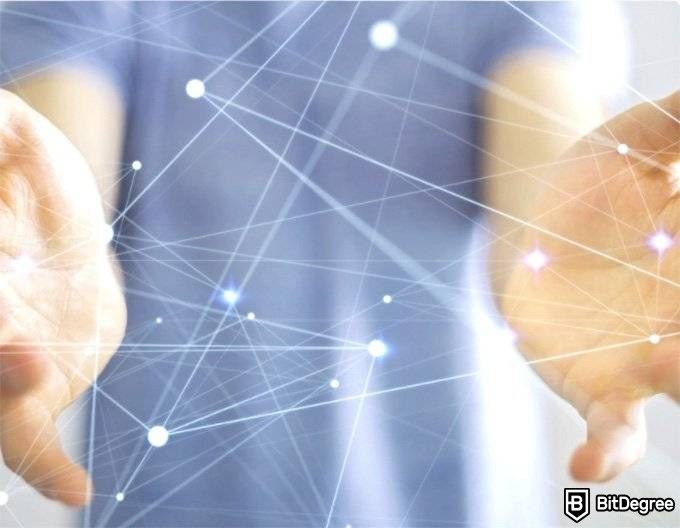 This "Deep Learning" course is designed for beginners. However, knowing Python programming, NumPy or Pandas will make it a little bit easier. Understanding of AI, machine, or deep learning will also be helpful. You don't have to be an expert in the field, knowing the basic concepts is enough.
The content is described as "easy to follow" by students. Each topic is followed by a mini exercise to test your knowledge. Moreover, users described that all the concepts are taught in detail. With the support of other learners, studying the topic becomes a pleasure.
Self-driving Car Engineer
Key points:
Fundamental knowledge of Python, C++, Linear Algebra, and Calculus is recommended
Learn deep learning for automotive applications
Learn how convolutional neural network works and how to implement it
Learn to solve a moderately open-ended problem
Do you know that self-driving cars are the future? One day we might not even have to drive, our cars will take us to the places that we desire to go to. This course may be a step forward in your self-driving car engineer career. The program targets industry needs and is designed to help you get a job in this field.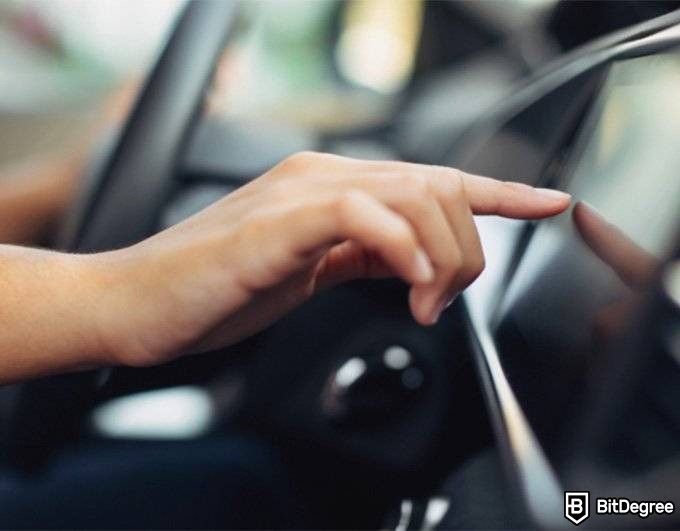 "Self-driving Car Engineer" course is evaluated as one of the best Udacity courses. It combines practical examples based on engineers' daily workflow. Enrolling in this course is extra helpful if you see yourself as a future self-driving car engineer. Here learners can take a peek into their future career.
Needless to say that, in this course, you can learn the techniques that are required by the self-driving car companies. This course covers main concepts such as self-driving cars, computer vision, deep learning, sensor fusion, localization, planning, control.
For a clearer understanding, real-life examples are used. So, people who try to learn in this course won't get lost through the process.

Pros
Easy to use with a learn-by-doing approach
Offers quality content
Gamified in-browser coding experience
Main Features
Free certificates of completion
Focused on data science skills
Flexible learning timetable

Pros
High-quality courses
Nanodegree programs
Student Career services
Main Features
Nanodegree programs
Suitable for enterprises
Paid certificates of completion

Pros
A huge variety of courses
Easy-to-navigate interface
Over 600 free courses
Main Features
A huge variety of courses
30-day refund policy
Free certificates of completion
AI Product Manager
Key points:
No prior experience required
Learn how to use AI in product development
Learn to analyze data
Easy to follow for a non-technical person
This course is made for those who work in the business sphere. More specifically, for those wanting to learn how to use AI in product development.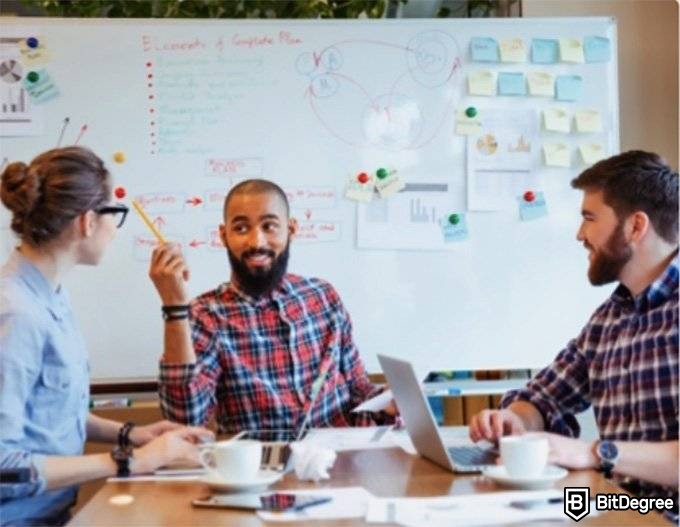 This is one of the best Udacity courses on AI for a non-technical person. It explains the basics of how AI works and how it can be used to solve problems in the business world. With its real-life tasks, it provides an understanding of real-life experience.
This "AI Product Manager" course is more practical than theoretical. Also, according to student reviews, they liked this course's assignments more than the theory.
Conclusion
So, these are the TOP 7 best Udacity courses today. These courses include real-life projects for learning, and each of them also gives feedback from experienced industry experts. Project reviews make it easier to understand the mistakes that students make and help them improve.
By doing that, students learn new beneficial skills for a specific job sphere. Besides, in all the best Udacity courses, students have an opportunity to use career coaching services.
Therefore, if you want to spend your time efficiently by improving yourself – go ahead and start learning. I've prepared the list of the best courses on Udacity and now it's up to you to choose the most attractive one.
If you're still unsure which course to choose or lack specific skills, pick the one with the most interesting subject, or a course that doesn't require any preparation beforehand.
Scientific References
1. Bastrikin Andrej: 'Distance Learning Statistics: Online Education Trends'
2. Onward Search: '2019 SALARY GUIDE Digital, Creative & Marketing'
Leave your honest feedback
Leave your genuine opinion & help thousands of people to choose the best online learning platform. All feedback, either positive or negative, are accepted as long as they're honest. We do not publish biased feedback or spam. So if you want to share your experience, opinion or give advice - the scene is yours!