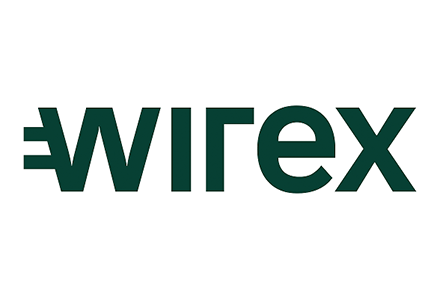 Crypto trading has become an activity that more and more people around the world partake in. That is why it's more important to find a reliable and trustworthy crypto exchange platform now than ever before! In this Wirex review, we'll be looking at one of the more interesting examples.
Even though Wirex might not be as well known as some other large names in the industry, the Wirex app and card still has a pretty good variety of features that it can offer to its users.
That said, though, is it worth using when there are other, more well-known alternatives? Well, read my Wirex review, weigh all of the pros and cons of the platform in question, and make the right decision for yourself!
Pros
Crypto debit card + WXT cashback through Cryptoback™ Rewards
24/7 customer support
Crypto exchange and wallet functionality
Reasonable fees
X-Accounts and other earning models
Cons
Requires to pass KYC instantly
Wirex Review: PROS
We'll start off our Wirex review by discussing some of the most prominent benefits that you can expect by choosing Wirex as your preferred crypto solution.
That being said, though, we should probably define the lines here, and provide a proper introduction of the platform that we'll be discussing in the rest of the article!
Wirex can actually be considered a veteran in the scene. It was founded all the way back in 2014, and is based in the UK. Besides, it's trusted by over 6 million users and has received various awards, including the Greater London Enterprise Award for being the "Crypto Payment Innovator of the Year".
Additionally, it's worth noting that Wirex is licensed and regulated by the Financial Conduct Authority (FCA) and the Monetary Authority of Singapore (MAS).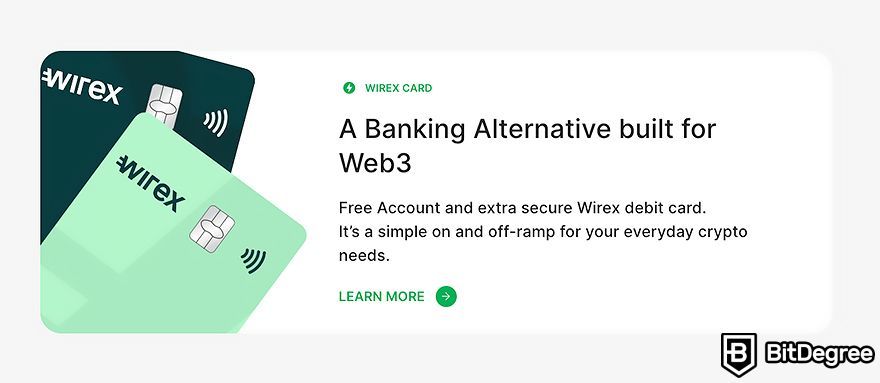 Primarily, Wirex is a crypto and fiat money account that allows you to store different currencies on it, trade and exchange them, and utilize the services of a dedicated card for all of your shopping needs. Put simply, Wirex provides its users with a wide array of services that involve both fiat money, as well as cryptocurrencies.
The aforementioned card is actually a Wirex-specific debit card. We'll be sure to check it out and discuss whether or not it's worth ordering one in the Wirex review ahead, but it's worth mentioning that Wirex is actually one of the few crypto platforms on the market that offer crypto-related debit cards! Also, note that, so far, Wirex is the only crypto-native company in the world to secure Principal Membership with Visa and Mastercard.
With that said, though, let's take a look at all of the different features of Wirex, and highlight the best ones!
24/7 Customer Support
No matter what sort of product or service it is that you provide to your users (customers), customer support is always going to be one of the more important aspects of a successful business. Naturally, as you can probably imagine, this is even more true when it comes to crypto.
Thankfully, this is also something that the Wirex wallet and exchange have covered pretty well.
Proper customer support is something that the crypto industry appears to struggle with quite a bit. It's not simple to find an exchange platform that would provide swift and actually-helpful customer support, let alone it being available all around the clock.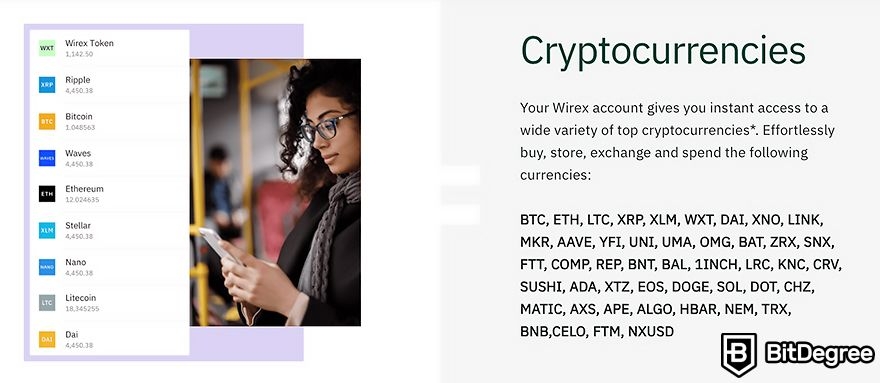 User Wirex reviews, however, will tell you that the company in question has 24/7 customer support. That's amazing.
What it means is that, no matter what type of an issue you might be facing (Wirex Bitcoin withdrawal, debit card issues, coin storage, or else), you will be able to reach Wirex's support team at any given point in time, and receive assistance with your problem.
The only negative point here is that, depending on your inquiry and account status, live customer support might not be available - instead, you'll have to submit a ticket via the company's official website, and wait for someone from the support team to get back to you via email. That said, users report that the response times are rather quick, which is great to know!
Latest Deal Active Right Now:
$300 + 40 DOGE BONUS
Huobi Black Friday Limited-Time Period
Huobi Black Friday & Cyber Monday 2023 period offers great bonus for new users - sign up & earn up to $300 + 40 DOGE bonus!
Expiration date : 14/12/2023
3,817 People Used
Only 31 Left
Crypto Debit Card Available
One of the more unique features that must be mentioned in this Wirex review is the crypto debit card offered by the platform. Not something that many other exchanges can boast of!
Once you start using the platform, you'll be able to order the Wirex debit card completely free of charge! Upon arrival, you will then be able to use it anywhere Mastercard or Visa is supported - quite frankly, depending on where it is that you live, that would include the vast majority of marketplaces and shops out there.
The card can be based in EUR, GBP, or USD and is fully supported in almost 40 different countries (you can find the full list here). There is no balance limit, and users can spend any currency they want, fiat or crypto (crypto will be converted at the time of the transaction). On top of that, there are no FX fees when you spend money abroad!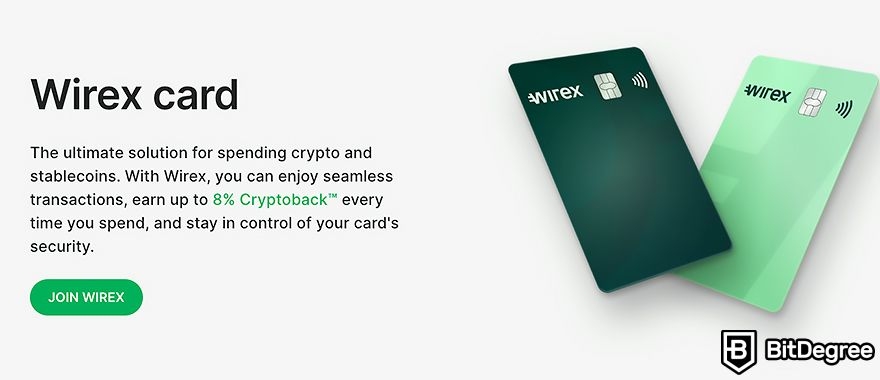 Regarding the security of the Wirex Card, rest assured, it offers top-tier protection. Wirex prides itself on world-class security, encompassing robust measures like two-step verification and instant card freeze.
Now, what does this card have to do with crypto, you may ask? Well, I haven't mentioned the best part yet - you will receive up to 8% cashback in WXT through Cryptoback™ Rewards whenever you decide to use the Wirex card as your preferred payment method!
Speaking strictly from the customer side of things, this is awesome! What it means is that you'll be able to add to your Wirex token balance without actually actively trading or exchanging WXT coins. Reading through user Wirex reviews left online, it's evident that most users are rather excited about this particular feature.

By the way, WXT is the native token of Wirex. It's a multi-chain crypto asset that powers the entire X-tras rewards program (I'll elaborate a bit more on that later). Though, besides that, it can also be used to access a variety of DeFi ecosystems.
Getting back to the Wirex Card, the Cryptoback™ program is not its only benefit. You can also get exclusive offers, including various discounts and great deals. Additionally, the Wirex Card has no annual or foreign exchange fees and no ATM fees when withdrawing up to $200.
It's important to note that the fact that the platform does actually allow users to acquire a Wirex debit card is a unique feature that furthers one of the company's main missions - to promote new financial industry trends, and the adoption of crypto, as a whole.
X-Accounts and Other Earning Options
When talking about benefits, many Wirex reviews mention its earning possibilities, and I'm not referring only to the Cryptoback™ program.
First of all, it's important to note that Wirex offers an extensive X-tras royalty program, which consists of the aforementioned cashback feature, increased X-Accounts rewards (which I'll talk about in a minute), and Savings Bonuses. Though, keep in mind that there are different plans in this program (Standard, Premium, and Elite) that yield different rewards.
While you already know about the cashback program, the Saving Bonus feature allows you to earn up to 16% annual bonus on the positive WXT balance in your Wirex wallet.
Now, X-Accounts is a user-friendly earning product that allows to generate up to 20% APR on various crypto and fiat currencies (also referred to as savings accounts). The compound interest is counted daily and paid weekly, but you can withdraw it free of charge, anytime. Then, there's also the X-Accounts Plus feature, which allows you to earn up to 6% extra if you deposit your funds for 30 days.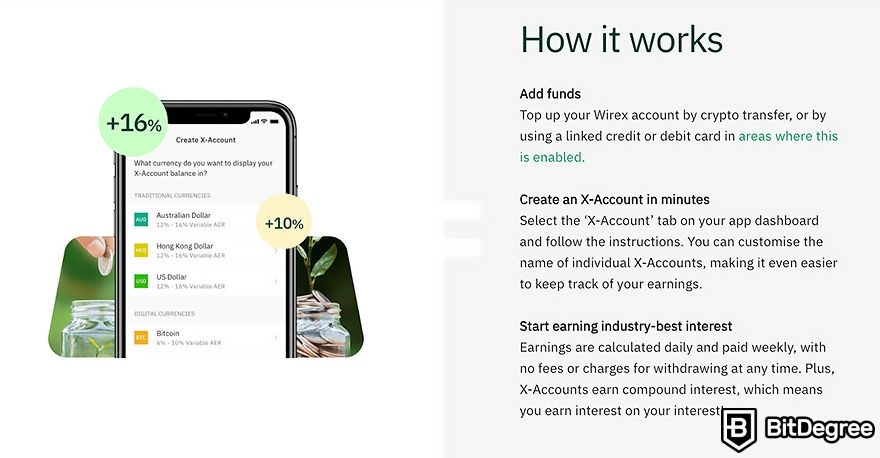 Another earning feature offered by Wirex is DUO, a dual-asset investment tool with guaranteed returns. It allows you to earn up to 400% APR with zero fees. You just have to pick a trading pair, invest the currency of your choice, and determine the length of your staking plan (from 12 hours to 7 days).
DUO enables you to generate returns by tracking price fluctuations between two cryptocurrencies over a selected time frame, with rewards paid out in one of the two coins. It's a fee-free service, and the greater the amount you lock for the shorter locking period, the higher the potential APR you can earn.
Additionally, keep in mind that if your first DUO deposit is worth at least $100, you'll get a 200 WXT bonus.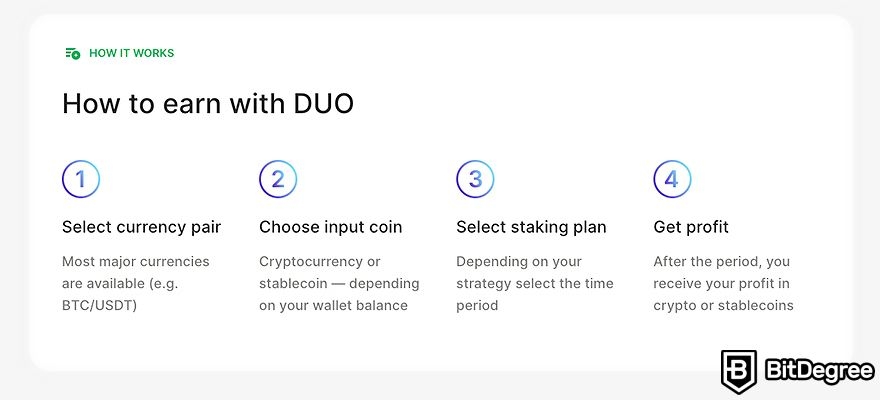 Lastly, there is Wirex Multiply, which allows you to extract profit from market volatility in both directions (UP or DOWN) quickly and easily.
Multiply combines the best of both crypto exchanges and traditional trading platforms into one. A simple and intuitive interface, convenient trade management, and decent multiplier.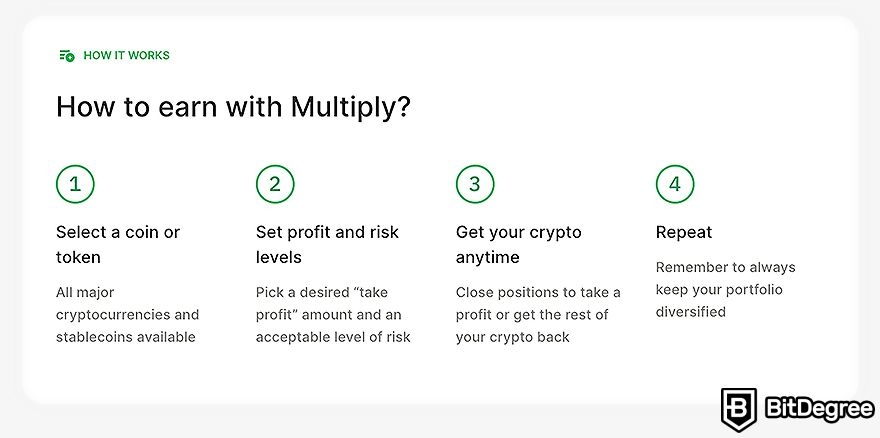 Do keep in mind, though, that both DUO and Multiply are higher-risk investments compared to X-Accounts.
As a side note, speaking of loans, Wirex also offers a borrowing service called Wirex Credit. It allows you to open a credit line using BTC or ETH as collateral. You can borrow up to 70% of your collateral value in NXUSD, USDC, USDT or DAI. You can then use these borrowed assets the same way you would use your own, and you can pay it back whenever you want.
Fully-Functional Crypto Exchange Features
On top of other great features that Wirex promotes, the main point of attraction to many crypto traders and hodlers (and simply enthusiasts, in general) is the exchange functionality of the platform.
Whether you were to use the Wirex app or simply utilize its debit card-related features, having built-in exchange functionality is a huge deal! For starters, you don't need to venture out to some other exchange, purchase your desired crypto there, and then perform some tedious transferring processes - all can be done from the comfort of a single interface!
Convenience is really the key point here, too. If you're just starting out with crypto, reside in one of the countries that Wirex operates in (keyword "reside" - there were some issues with, say, Wirex USA in the past that we'll get into in a minute) and are reading through various user Wirex reviews to check and see whether the platform is the right choice for you, the convenience factor is surely going to be significant!

It allows crypto newbies to start off slow, and participate in the crypto scene without needing to spend a lot of time researching and looking for an exchange or wallet alternatives (although that's always very strongly advised).
Talking about Wirex USA, if you've read some of the more outdated Wirex reviews, you might have noticed their claim that Wirex cannot be used in the States. While that *was* true at some point, it's not anymore. Since February 8th, 2022, Wirex is fully supported in the United States. So, no more "Wirex USA doesn't exist" rumors!
As for other outdated information you might notice in some reviews, Wirex didn't support a huge list of crypto coins at first. However, you can now trade and exchange over 250 cryptocurrencies, including Wirex Bitcoin and many other assets, at some decent fees. Speaking of which, let's tackle this aspect next - it's actually one that requires a bit of an in-depth look to fully understand and appreciate.
Reasonable Fee Model
Fees are, understandably, a contentious topic - whenever you'll come across discussions and various crypto exchange reviews online, fees are always going to be one of the main points covered, analyzed, and debated upon.
With the Wirex card / wallet / exchange platform, the fee situation is rather interesting. Naturally, since the platform offers a pretty wide array of features and services to its users, there are going to be many different fee models in place, too!
Let's start with Wirex card fees.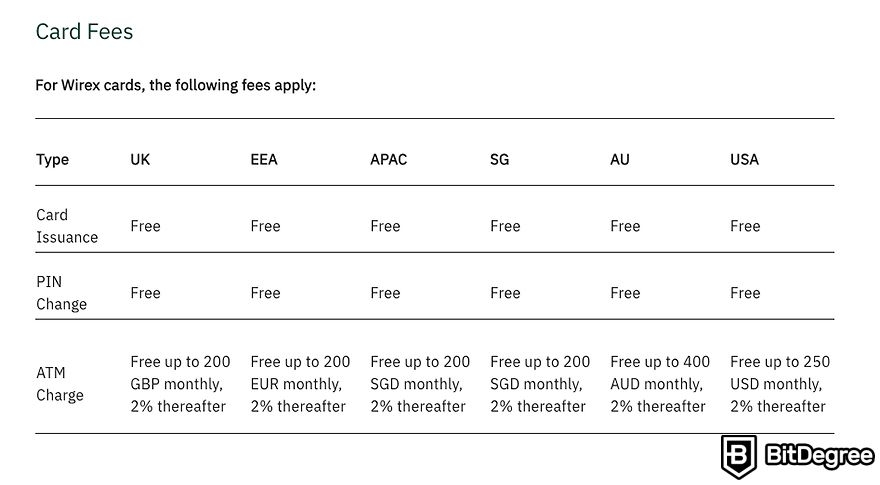 Card issuance is free, no matter where you were to reside in the world. As far as your account and card are concerned, the only fees involved are going to be those that relate to ATM withdrawals over the set limit and card delivery. However, some user Wirex reviews will tell you that they don't really apply in some areas, either.
When it comes to ATM withdrawals, you'll have to pay a 2% fee when withdrawing more than $200 (or GBP, EUR, SGD, or AUD). As for card delivery fees, it all depends on where you live and the delivery type you choose. If you live in the US, for example, you won't have to pay any delivery fees. If you live in the Asia-Pacific region, however, delivery fees can go up to 34.99 SGD.
Card top-ups are redundant - you don't need to top up your Wirex card. Instead, it can be connected to multiple different accounts (both fiat, as well as crypto). This way, you can easily choose the currency that you'd like to pay in.

Now, when it comes to exchange fees, it gets a bit pricey.
If you were to use Wirex Bitcoin buying services, you can expect to pay a fee of 1,5%. Compared with some other exchange platforms, this is actually a bit high. Though, there is no fee if you exchange fiat or fiat-backed stablecoins
That said, the trade-off here is all of the additional functionality that Wirex offers - be it the debit card, Wirex wallet services, X-Accounts, or else.
The right way to look at it is actually pretty simple - if you'd like to use all (or most) of the features that Wirex provides, then purchasing crypto on the exchange in question might be a feasible option!
Latest Binance Coupon Found:
SECURE $600 BONUS
Binance Christmas Sale
Sign up on Binance and claim up to $600 worth of rewards for completing simple tasks during this Binance Christmas sale. Use our Binance referral code (49316610) to activate the offer while it's still valid!
Expiration date : 14/12/2023
2,935 People Used
Only 67 Left
Wirex Review: CONS
Now that we've looked at all of the most prominent benefits of the Wirex wallet and crypto exchange, we still need to discuss some of the less-ideal features of the platform.
Truth be told, there aren't all that many notable issues with Wirex! So, let's look at the most commonly-discussed one - the instant mandatory Know Your Customer (KYC) process.
No KYC, No Access to the Platform
Let's begin with the basics – what is KYC? Simply put, KYC is a way for businesses to confirm who their customers are. The objective of KYC is to prevent illicit activities like money laundering, fraud, and terrorism financing by ensuring that businesses have adequate information about the individuals or entities they are dealing with.
This process typically involves collecting personal information, verifying identity documents, and assessing the risk associated with a particular customer. In other words, customers usually have to provide their names and surnames, addresses (and proof of it), phone numbers, or even a selfie and a photo of their IDs.
Now, it makes sense that Wirex requires KYC verification in order to allow you to store, trade, and exchange cryptocurrencies - there's nothing wrong with that, and you'll find that this is the situation with most other high-end crypto exchanges, too. On top of that, KYC with Wirex will usually take you only around 2 minutes to complete.
Unless you're looking for a platform with complete privacy (which is hardly possible with centralized exchanges), it's not the issue I'm referring to.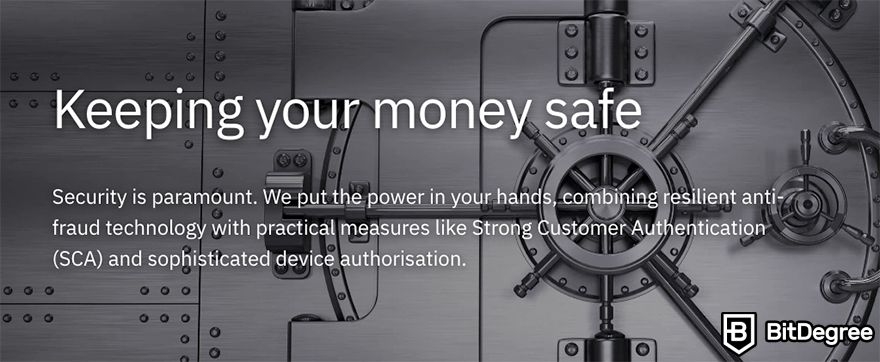 What I am referring to, however, is that you can't pass KYC later - you have to do it immediately during your registration process. If you try to skip it, you'll be logged out. So, basically, if you don't pass it, you can't get access to your account and the platform itself.
This is a major gripe for many crypto purists - a lot of other exchanges often allow you to pass your KYC checks at any given point in time before making a purchase, and will provide you with the opportunity to try out the platform for yourself, first.
While this might not be an issue for everyone, I personally want to have a test drive (or at least see what the platform looks like from the inside) before providing it with sensitive personal information.

Did you know?
A Mobile-Oriented Cryptocurrency Exchange / Wallet
Before we get into the meat and potatoes of how to use Wirex, we should also address the main functionality point of the platform. And, to be fair, it's definitely oriented towards the mobile market!
Once you've read through all of the user Wirex reviews, decided that it's the right platform for you, and registered on it, you'll be redirected to the dashboard of your account. While we'll discuss this in detail a bit later on in the article, you'll basically be performing all of your actions from this specific dashboard.
If you're using mobile, the dashboard is easy to navigate, and pretty simple to use. It's very simplistic, and allows you to perform all of the essential actions that you might need.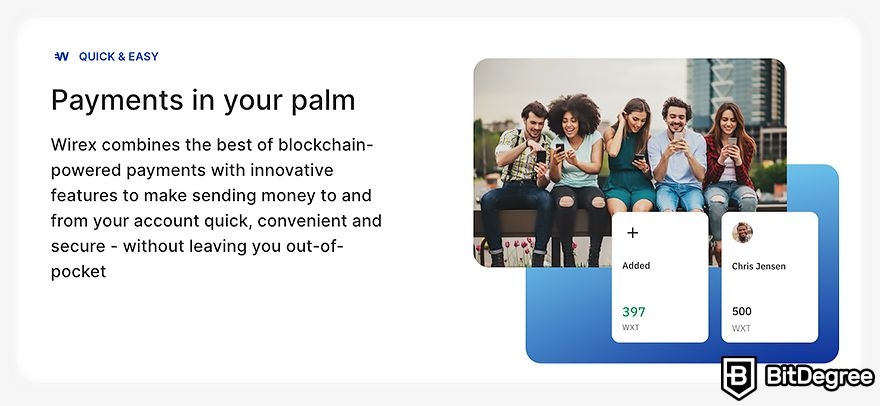 However, if you were to access the same dashboard via a desktop or laptop device, you would likely see that it's rather evidently designed for mobile users!
This is, once again, something pointed out on other user Wirex reviews, too. It would seem that quite a few Wirex customers truly do prefer to use the platform (and all of its features) via the official award-winning app.
This does, however, extend to the functionality and feature part of the Wirex platform, too. You see, most of the high-end exchanges on the market are going to possess a wide array of different features - namely, exchange-related features and graphs. Wirex appears to choose not to burden its users with that, and takes a more simplistic, mobile-first approach.
On the other hand, it does offer you the ability to instantly purchase or sell select cryptocurrencies for fiat money (GBP, EUR, USD, and others), and also the ability to store your coins on the Wirex app. To many of the beginner crypto enthusiasts, this might perfectly well suffice!
How to Use the Wirex Exchange?
Now that we've figured out all of the most notable pros and cons of the Wirex app and exchange platform, the final thing left to do is to figure out how to use the site, credit your account, and purchase the crypto that you'd like.
We'll take it from the top, and discuss the registration process first.
How to Register on Wirex?
The vast majority of the user Wirex reviews found online will tell you that the platform in question is really simple to register on, and that the process takes but a few minutes to do. Well, let's check and see whether that's really the case!
Step 1: Visit Wirex's official website, and press "Join Wirex" at the top-right corner of the screen.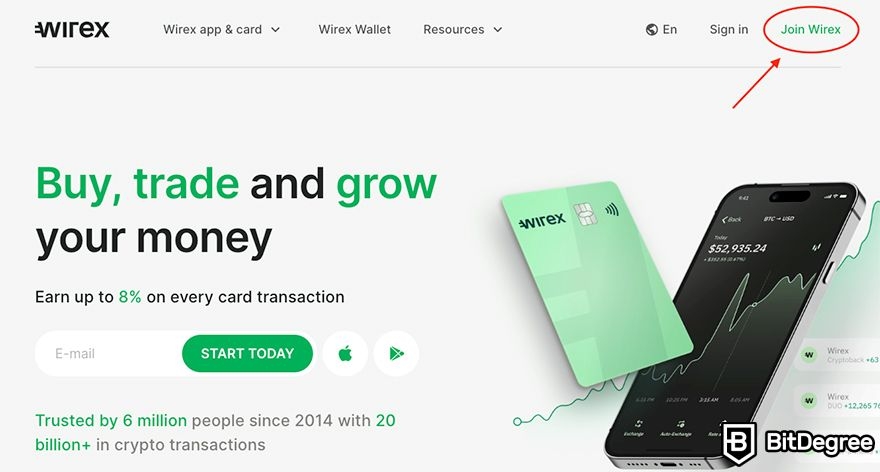 Step 2: You'll now have to pick a country of residence, enter your email address, and also create a password.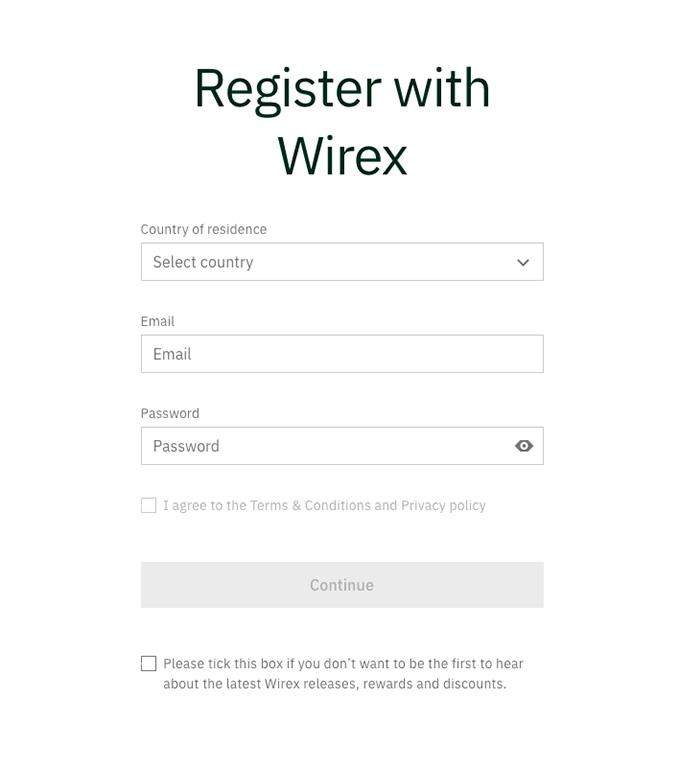 Step 3: Next comes the email verification stage - visit your inbox, and verify your email address.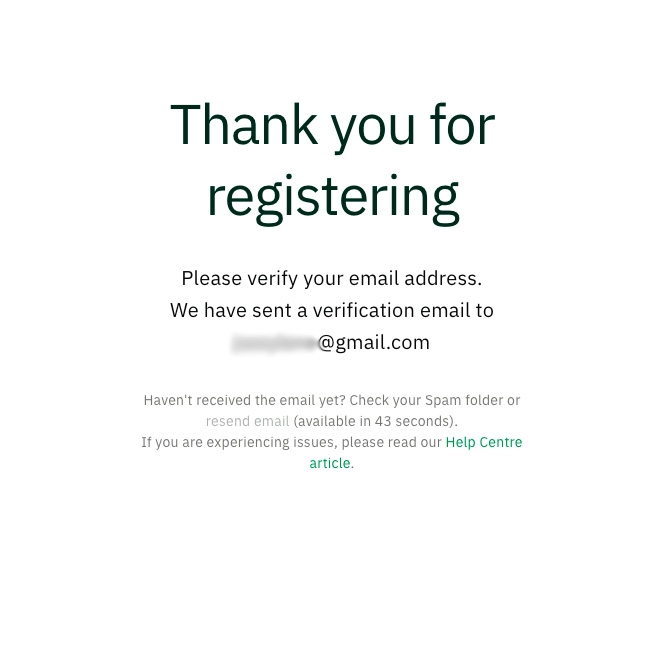 Step 4: Following your email confirmation, you'll just need to click "Confirm Email" button on the received letter. The extra security measures are surely appreciated!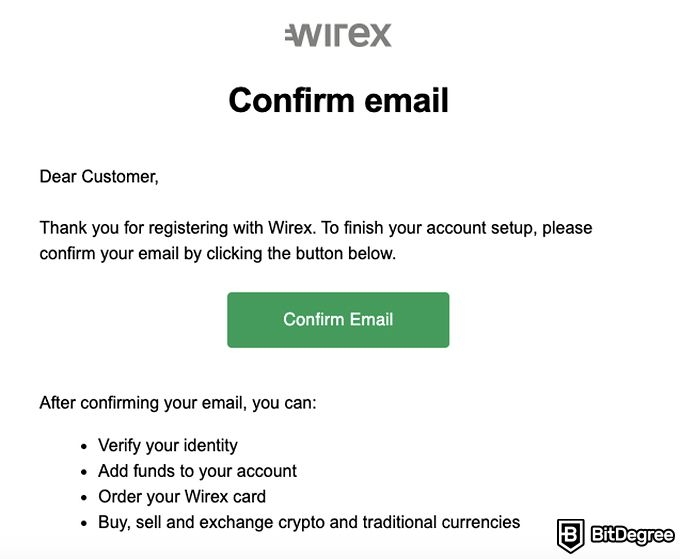 Step 5: Upon logging in, you will then be prompted to pass some KYC verification checks. As mentioned before, you cannot access the platform without passing it immediately, if you press the "Continue Later" button at the top-right corner of the screen, you'll be automatically logged out.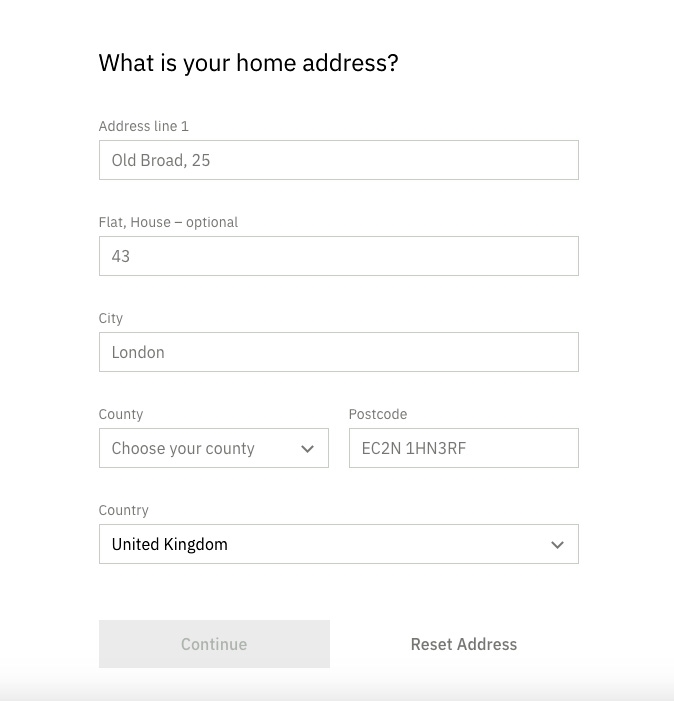 Step 6: Once you've passed all of the verifications and KYC requirements, and confirmed your email address and phone number, you'll be redirected to your dashboard - that's it! You can now start trading cryptos on Wirex.
Now, I have to say - the registration process wasn't as painless as it was made out to be! Everything was fine and quick right up until the point that the platform requested mandatory KYC. Though, to reiterate the point I made earlier - there's nothing wrong with KYC, it's just really annoying to be asked to pass it before even getting to try the platform out.
If this isn't a big deal to you, great - you can pass all of the registration processes in a fluid and straightforward manner, and be done with it forever! Next, let's move on to the actual account funding / crypto exchanging part of the Wirex review.
How to Buy Cryptocurrencies with Wirex?
Buying crypto coins on Wirex is, admittedly, much simpler than registering on the site. This is mostly due to the fact that, at the point that you are allowed to buy cryptos, you'll have already passed all of the KYC verification checks, and be allowed to trade without restrictions.
There are several ways of how you can fund your account, and start exchanging different cryptos - by directly funding it via a bank transfer, a credit / debit card, or via a cryptocurrency exchange.
Following the first route, you'll first need to go to the "Accounts" section, select the currency you want to fund your account with, and click "Add Funds." Then, just select the "Secure bank transfer" option, enter the amount you want to add, check if everything is okay, and proceed with the transaction.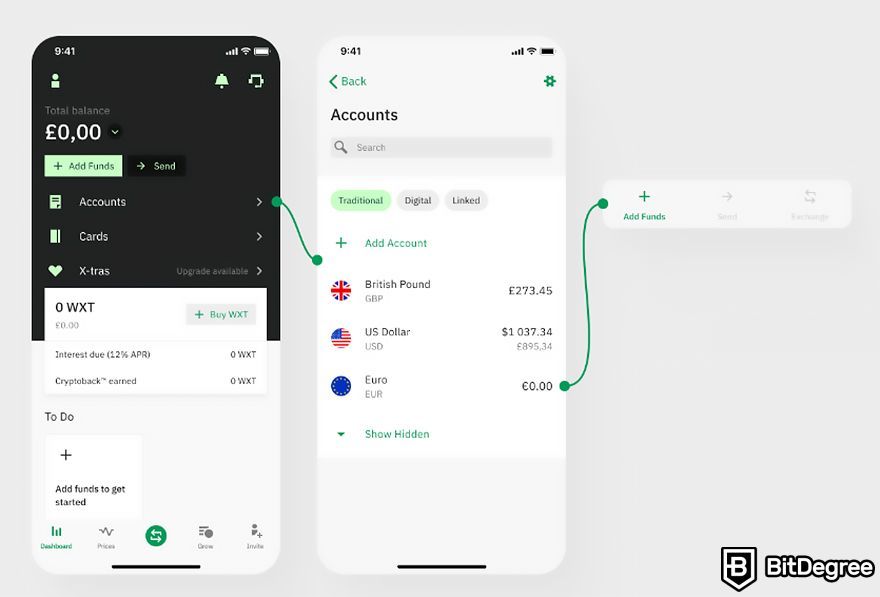 It's actually but a simple bank transfer - if you've ever made a payment on any other platform via your bank, you'll know exactly what to do! Upon funding your account (waiting for the payment to go through), you'll be able to exchange fiat to crypto, without any further hindrance.
User Wirex reviews will tell you that exchanging your funds is ever more straightforward. If you want to make a crypto-crypto exchange, though, you will need to already have some crypto assets in one of your Wirex accounts.
Exchanging one cryptocurrency for another is as simple as clicking a few buttons! Select the crypto that you want to exchange, and then the one that you'd like to exchange it to - you'll be provided with details of the transaction, and then all that'll be left to do is confirm it.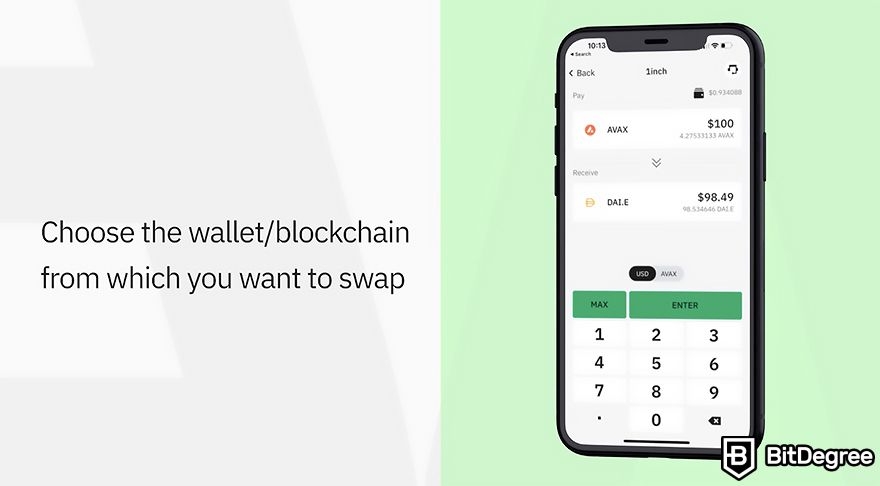 The only thing left to say here is that you should be wary of the exchange rates on the platform. You should always check to see if the rates are beneficial to you.
User Wirex reviews do note, though, that the convenience factor of the platform in question is superb - that's also something to take into consideration! Paying a bit more money in fees isn't really the end of the world, if you are guaranteed quick transaction speeds, good security measures, and some straightforward exchange processes. All of this is available with Wirex!
Wirex Card and X-Accounts Competitors
Wirex Card and X-Accounts are the two features that stand out in most Wirex reviews, which is not a surprise as they are pretty cool, right? The question is, however, are they the best on the market compared to similar services offered by other crypto giants? Well, let's see.
Wirex VS Binance
Binance, one of the most popular crypto exchanges, provides users with the Binance debit card, which is accepted everywhere Visa is. It also offers up to 8% cashback on purchases, but it is paid out in BNB, Binance's native token. Besides that, it has no ATM withdrawal or foreign transaction fees, but only within Europe. However, it does support way fewer cryptocurrencies than the Wirex Card does, and it cannot be accessed by US residents.
Speaking of features similar to X-Accounts, Binance does have a feature called Simple Earn, which allows one to earn passive income from savings and staking. It allows you to either lock up your funds for a specific period or participate in various staking programs. Depending on your choice, you can earn up to 20% interest rate per annum, similar to Wirex's X-Accounts. Though it only works with cryptocurrencies, while Wirex also allows to use fiat.
BINANCE
WIREX

The main advantages of a certain crypto exchange.

A very well-known crypto exchange platform
More than 500 different cryptos available
Two-factor authentication
P2P trading option
Emphasis on security and KYC
Supports fiat-crypto acquisitions

Crypto debit card + WXT cashback through Cryptoback™ Rewards
24/7 customer support
Crypto exchange and wallet functionality
Reasonable fees
X-Accounts and other earning models

The main disadvantages of a certain crypto exchange.

Might be a bit difficult for beginners

Requires to pass KYC instantly

Score based on the quality & advantages you get for a certain price.

Score based on genuine user reviews & opinions about the crypto exchange.

Visit site
Read review
See TOP10 Brands
Read review
Table: Wirex VS Binance
Wirex VS Coinbase
Coinbase is another Wirex competitor. The Coinbase Card is a Visa debit card that is known for its strong security measures (just like the platform itself) and the fact that it's accessible to users all over the world, including the US. Besides, it supports a few more cryptocurrencies than the Wirex Card does. However, it offers only up to 4% cashback, which is half of what Wirex offers, and the reward rate changes often, which means you might not even get that 4%.
As for any earning features, it does allow users to earn through staking their currencies, which is somewhat similar to X-Account. However, you can only use your crypto assets for that, and the maximum earnings you can generate is 10% APY.
COINBASE
WIREX

The main advantages of a certain crypto exchange.

Fiat currencies - accepted
Simple to use
Accepts only the most trustworthy cryptocurrencies
Very secure

Crypto debit card + WXT cashback through Cryptoback™ Rewards
24/7 customer support
Crypto exchange and wallet functionality
Reasonable fees
X-Accounts and other earning models

The main disadvantages of a certain crypto exchange.

Not available in all countries
Some of the less-known coins aren't supported

Requires to pass KYC instantly

Score based on the quality & advantages you get for a certain price.

Score based on genuine user reviews & opinions about the crypto exchange.

Visit site
Read review
See TOP10 Brands
Read review
Table: Wirex VS Coinbase
Wirex VS Bybit
Lastly, we have Bybit, mostly known for being one of the biggest derivatives trading platforms. It also offers the Bybit Card, which is a Mastercard debit card with great security measures set in place. It has zero transactions and annual fees, but it does have a foreign exchange fee and a crypto conversion fee. Besides, its fiat and crypto support is definitely scarce compared to Wirex's, and it has a Loyalty Reward program instead of a cashback program.
Considering features similar to Wirex's X-Accounts, it has the Bybit Savings option, which also allows you to earn interest on your assets (again, only on crypto assets, though). You can either choose flexible or fixed-term earning, and generate pretty high APRs that differ based on the asset in question. However, it doesn't provide compound interest like Wirex does.
BYBIT
WIREX

The main advantages of a certain crypto exchange.

Very low trading fees
Exceptional functionality
Mobile trading app
Helpful customer support
Up to 100x leverage

Crypto debit card + WXT cashback through Cryptoback™ Rewards
24/7 customer support
Crypto exchange and wallet functionality
Reasonable fees
X-Accounts and other earning models

The main disadvantages of a certain crypto exchange.

Might have a steep learning curve

Requires to pass KYC instantly

Score based on the quality & advantages you get for a certain price.

Score based on genuine user reviews & opinions about the crypto exchange.

Visit site
Read review
See TOP10 Brands
Read review
Table: Wirex VS Bybit

Pros
A very well-known crypto exchange platform
More than 500 different cryptos available
Two-factor authentication
Main Features
Over than 100 different cryptocurrencies available
Strong security
Small withdrawal fees

Pros
Secure and reliable
Low fees
A good amount of fiat currencies accepted
Main Features
Reputable exchange
Multiple fiat currencies are accepted
Relatively low trading fees

Pros
Anonymous trading
Secure
Supports a variety of cryptocurrencies
Main Features
Easy to use
Low fees
Good security
Conclusions
So, that's it - we've reached the end of our Wirex review!
In this article, we've discussed all of the main pros and cons of the Wirex wallet and exchange platform, and also took a look at how you should go about registering on the site, and then using the main features of it.
As you've probably noticed, the general sentiment surrounding the exchange online is rather positive! User Wirex reviews stress the benefits of the platform - everything from the convenience factor, all the way to such unique features as a crypto-based Wirex debit card, X Accounts, and even up to 8% WXT cashback through Cryptoback™ Rewards!
Naturally, the platform does have some quirks that are worth keeping in mind, too, especially considering the pretty annoying registration process. However, when you consider the actual benefits and features that Wirex does have, most of its shortcomings become rather trivial.
So, is Wirex worth using? I'd say - definitely! If you're interested in what the platform has to offer, make sure to check it out!
All of that said, thanks for reading, and until next time!
The content published on this website is not aimed to give any kind of financial, investment, trading, or any other form of advice. BitDegree.org does not endorse or suggest you to buy, sell or hold any kind of cryptocurrency. Before making financial investment decisions, do consult your financial advisor.
About Article's Experts & Analysts