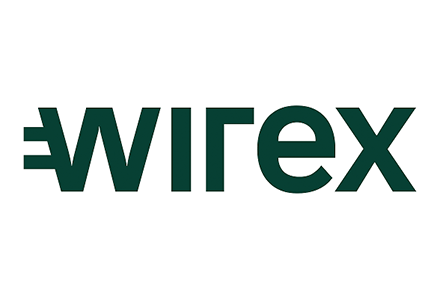 Crypto trading has become an activity that more and more people around the world partake in. That is why it's more important to find a reliable and trustworthy crypto exchange platform now than ever before! In this Wirex review, we'll be looking at one of the more interesting examples.
Wirex isn't a well-known platform in the crypto scene - it gets overshadowed by exchanges such as Coinbase or Binance. However, even though that's the case, the Wirex wallet and exchange still has a pretty good variety of features that it can offer to its users.
That said, though, is it worth using when there are other, more well-known alternatives? Well, read this Wirex review, weigh all of the pros and cons of the platform in question, and make the right decision for yourself!
Pros
Crypto debit card + BTC cash back through Cryptoback™ Rewards
24/7 customer support
Crypto exchange and wallet functionality
Reasonable fees
Cons
Small number of supported cryptocurrencies
Wirex Review: PROS
We'll start off our Wirex review by discussing some of the most prominent benefits that you can expect by choosing Wirex as your preferred crypto solution.
That being said, though, we should probably define the lines here, and provide a proper introduction of the platform that we'll be discussing in the rest of the article!
While Wirex may not be as known as some other crypto exchange giants out there, the company can actually be considered a veteran in the scene. It was founded all the way back in 2014, and is based in the UK.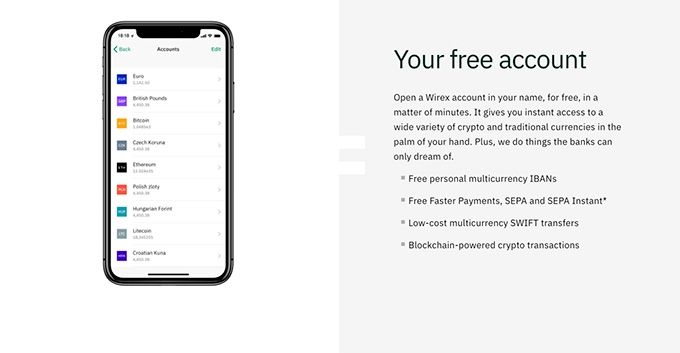 Primarily, Wirex is a crypto and fiat money account that allows you to store different currencies on it, trade and exchange them, and also utilize the services of a dedicated card for all of your shopping needs. Put simply, Wirex provides its users with a wide array of services that involve both fiat and cryptocurrencies.
The aforementioned card is actually a Wirex-specific debit card. We'll be sure to check it out and discuss whether or not it's worth ordering one in the Wirex review ahead, but it's worth mentioning that Wirex is actually one of the few crypto platforms on the market that offer crypto-related debit cards!
With that said, though, let's take a look at all of the different features of Wirex, and highlight the best ones!
24/7 Customer Support
No matter what sort of product or service it is that you provide to your users (customers), customer support is always going to be one of the more important aspects of a successful business. Naturally, as you can probably imagine, this is even more so true when it comes to crypto.
Thankfully, this is also something that the Wirex wallet and exchange have covered pretty well.
Proper customer support is something that the crypto industry appears to struggle with quite a bit. It's not simple to find an exchange platform that would provide swift and actually-helpful customer support, let alone it being available all around the clock.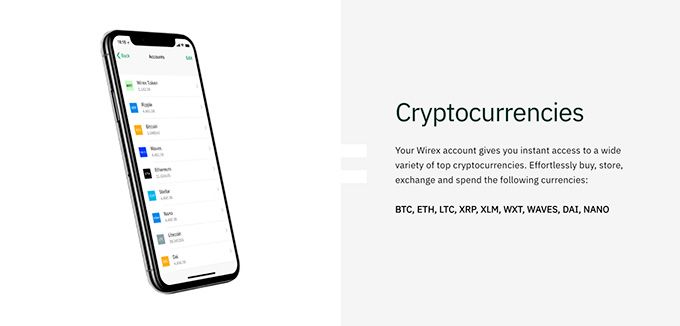 User Wirex reviews, however, will tell you that the company in question has 24/7 customer support. That's amazing.
What it means is that, no matter what type of an issue you might be facing (Wirex Bitcoin withdrawal, debit card issues, coin storage, or else), you will be able to reach Wirex's support team at any given point in time, and receive assistance with your problem.
The only negative point here is that, depending on your inquiry and account status, live customer support might not be available - instead, you'll have to submit a ticket via the company's official website, and wait for someone from the support team to get back to you via email. That said, users report that the response times are rather quick, which is great to know!
Bitcoin Debit Card Available
While in this Wirex review we're mostly focusing on the exchange part of the company, it would be impossible to discuss it without mentioning one of the more unique features of the brand - the fact that it offers its customers a Bitcoin debit card.
Not something that many other exchanges can say!
Once you start using the platform, you'll be able to order the Wirex debit card completely free of charge! Upon arrival, you will then be able to use it anywhere where Mastercard or Visa is supported - quite frankly, depending on where it is that you live in, that would include the vast majority of marketplaces and shops out there.
The card is going to be based in GBP, and fully supported in almost 40 different countries (you can find the full list here). On top of that, the maximum balance that you can transfer to the card is actually pretty significant - £15,000 (or the equivalent in your currency).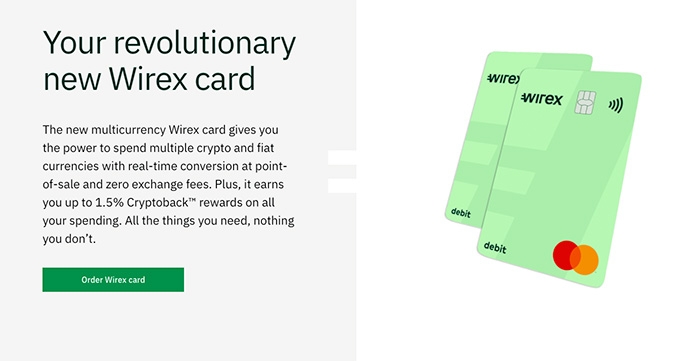 Now, what does this have to do with crypto, you may ask? Well, I haven't even mentioned the best part yet - you will receive up to 1,5% cashback in BTC through Cryptoback™ Rewards whenever you decide to use the Wirex card as your preferred payment method!
Speaking strictly from the customer side of things, this is awesome! What it means is that you'll be able to add to your Bitcoin balance without actually actively trading or exchanging BTC coins. Reading through user Wirex reviews left online, it's evident that most users are rather excited about this particular feature.
It's important to note that the fact that the platform does actually allow users to acquire a Wirex debit card is a very unique feature that does further one of the company's main missions - to promote new financial industry trends, and the adoption of crypto, as a whole.
Fully-Functional Crypto Exchange Features
On top of other great features that Wirex promotes, the main point of attraction to many crypto traders and hodlers (and simply enthusiasts, in general) is the exchange functionality of the platform.
Whether you were to use the Wirex wallet or simply utilize its debit card-related features, having built-in exchange functionality is a huge deal! For starters, you don't need to venture out to some other exchange, purchase your desired crypto there, and then perform some tedious transferring processes - all can be done from the comfort of a single interface!
Convenience is really the key point here, too. If you're just starting out with crypto, reside in one of the countries that Wirex operates in (keyword "reside" - there are some issues with, say, Wirex USA that we'll get into in a minute) and are reading through various user Wirex reviews to check and see whether the platform is the right choice for you, the convenience factor is surely going to be significant!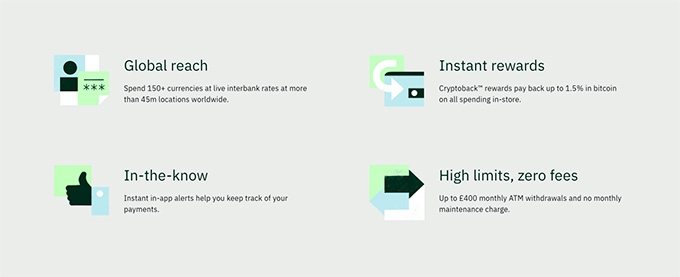 It allows crypto newbies to start off slow, and participate in the crypto scene without needing to spend a lot of time researching and looking for an exchange or wallet alternatives (although that's always very strongly advised).
While Wirex doesn't really support a huge list of crypto coins (we'll get to that, too), you can still trade and exchange some of the main assets, at some decent fees. Speaking of which, let's tackle this aspect next - it's actually one that requires a bit of an in-depth look to fully understand and appreciate.
Reasonable Fee Model
Fees are, understandably, a contentious topic - whenever you'll come across discussions and various crypto exchange reviews online, fees are always going to be one of the main points covered, analyzed, and debated upon.
With the Wirex card / wallet / exchange platform, the fee situation is rather interesting. Naturally, since the platform offers a pretty wide array of features and services to its users, there are going to be many different fee models in place, too! Since this Wirex review is mostly concerned with the exchange part of the site, though, we'll glance at other fees, but focus on the ones that interest us the most.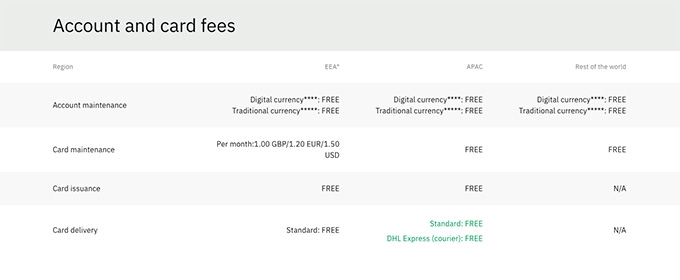 Account maintenance, card issuance, and card delivery are all free, no matter where you were to reside in the world. As far as your account and card are concerned, the only fees involved are going to be those that relate to card maintenance. However, some user Wirex reviews will tell you that they don't really apply in some areas, either.
Card top-ups will be completely free when it comes to fiat currencies, too - namely, you will be able to top-up your debit card with EUR, GBP, USD, or any other supported currency free of charge. Here, however, Wirex Bitcoin and other crypto asset fees come in - a top-up with one of the crypto assets supported by the brand will cost you around 1%.
Now, when it comes to the actual exchange fees, this is where it gets a bit tricky.
Put simply, if you were to use Wirex Bitcoin buying services, you can expect to pay a fee of anywhere from 1,5% up to 2,5%, depending on a few select factors. Compared with some other top-tier exchanges on the market, this is actually quite high.
That said, the trade-off here is all of the additional functionality that Wirex offers - be it the debit card, Wirex wallet services, or else.

The right way to look at it is actually pretty simple - if you'd like to use all (or most) of the features that Wirex provides, then it might be a good idea to purchase all of your cryptos from the platform in question. However, if a Wirex card is the only thing that interests you, or you're only looking for an exchange and nothing else, then there are alternative options out there.
On top of that, though, it's also worth mentioning that you can utilize WXT tokens - the native utility tokens of the Wirex platform - to help mitigate some of the fees. The tokens can be used for a few different purposes, but their main usage case is still fee reduction.
Latest Binance Coupon Found:
CLAIM $600 BONUS
Exclusive $600 Binance Offer
Don't miss this limited-time deal that's only available for our readers. Follow the Binance referral code link & receive up to $600 in rewards and bonuses!
Expiration date: 01/04/2023
7,847 People Used
Only 49 Left
Wirex Review: CONS
Now that we've looked at all of the most prominent benefits of the Wirex wallet and crypto exchange, we still need to discuss some of the less-ideal features of the platform.
Truth be told, there aren't all that many notable issues with Wirex! Let's look at the most commonly-discussed one first - the platform's lack of support for US-based customers.
Not Supported in the United States of America
Arguably the biggest gripe that people have with Wirex is the fact that it isn't supported in the US.
There's actually a lot to unpack here, so let's take it one step at a time.
Searching "Wirex USA" on Google or some other search engine will reveal various different headlines - some claiming that select states have started supporting the wallet-exchange, while others debunking these claims. While the actual reason for the lack of Wirex's presence in the country isn't very clear, one could speculate that it has to do with the SEC.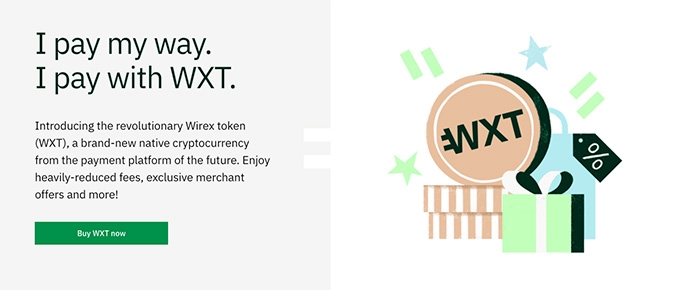 SEC abbreviates as "Securities Exchange Commission". It's the main institution that takes care of all of the crypto-related activity within the US (naturally, its reach extends much further than that of crypto, but that's the part that interests us in this Wirex review).
If you've spent any time researching different crypto exchange platforms already, you might have noticed that a significant number of them do not allow US-based crypto traders to create accounts and exchange crypto coins and other assets on them. In the vast majority of cases, SEC is behind these restrictions.
The institution is very aggressive towards foreign (overseas) crypto exchanges and brokerages. There are a lot of regulations that need to be met and followed, and everything isn't always as simple as it may seem at first glance.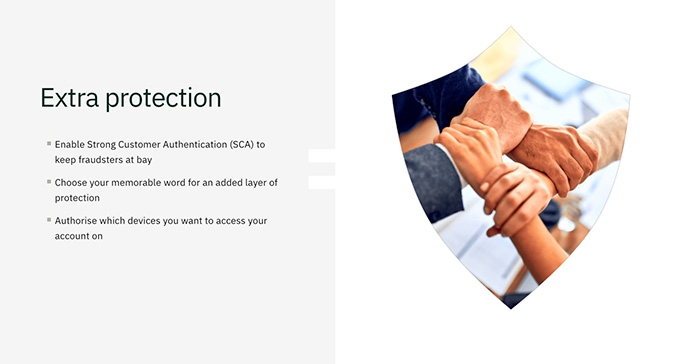 Whether this is the main reason why Wirex USA isn't supported or not, is unknown. However, the fact that this particular platform allows users to trade and even store cryptocurrencies surely does enforce this theory quite a bit.
Now, if you're a citizen of the US (or currently reside in the US, and pay taxes there), you should know that there are other exchange platforms for you to pick from and use. You can find the list of the best crypto exchanges here.
Update 2022:
Starting from February 8th, 2022, Wirex is now officially supported in the United States! Wirex will be working together with Visa - if you're based in the States, you'll be able to use this crypto service!
Supports a Small Number of Cryptocurrencies
Another complaint that you'll likely come across in quite a few user Wirex reviews has to do with the fact that the platform does actually support but a small number of cryptocurrencies.
Well, THAT, and also that the cryptos that Wirex does support are rather niche - at least a big part of them.
Here's a list of the assets that Wirex supports:
Waves
Dai
Wollo
Wirex native utility token
Wirex tokens aside, the platform allows users to trade and store 9 different cryptocurrencies. While that is better than just having the ability to exchange BTC, it's still a pretty small number of coins, especially when you compare it to some other exchanges out there.
It's worth emphasizing that you will have the ability to trade and exchange the most popular coins, though. Bitcoin, Ethereum, Litecoin, and XRP are all available on Wirex - a big number of crypto enthusiasts will likely be satisfied with this selection of coins, and a couple of other, alternative cryptocurrencies.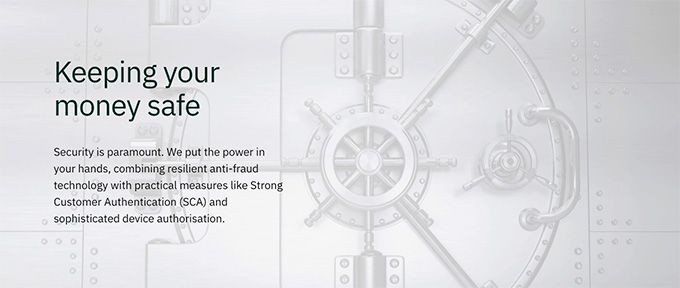 However, if you're an avid trader or someone who's been in the crypto scene for quite some time now, the lack of altcoins might actually disappoint you. You won't find Cardano, Polkadot, or some other rather popular coins on Wirex. That can, for a fact, be a big shame!
Once again, though, there is a redeeming quality here - the coins that you are able to buy can be stored on the exchange (the Wirex wallet), and traded (exchanged, transacted) to another wallet.
Account (Card) Maintenance Fee
If you remember when we talked about the fee models of Wirex, I mentioned that the fees offered by this company are actually pretty decent. Whether you choose to buy Wirex Bitcoin, Ethereum, or any other crypto, or even send coins from the Wirex wallet to another location, you won't really pay huge fees (considering the convenience aspect of the platform, that is).
That being said, though, there is one, specific fee that users aren't all that happy about - the account and card maintenance fee.
While the debit card is completely free to acquire (both ordering and sending it to you is free of charge), it does have a maintenance fee. It will cost you $1,50 per month.
The sum itself doesn't appear to be that high - in fact, you could go as far as to say that it isn't. However, the fact that it's a monthly payment feature on a wallet-exchange platform is, well… Not ideal.

The absolute majority of crypto exchanges on the market aren't going to have any lingering, monthly fees on them. Sure, there are different transaction fee models, but in most cases, you won't face fees that would appear on a recurring basis.
In Wirex's defense, they do offer additional features to the user (in the form of a crypto debit card, a BTC-based cashback through Cryptoback™ Rewards system, and so on). As mentioned earlier on in the Wirex review, these are definitely some unique features to be had! In a scenario like this, the maintenance fee does, for a fact, make sense.
Still, though - if you're not going to use the card, or are even simply looking for a reliable exchange with no strings attached, you should keep these details in mind.
Update 2023:
With the launch of Mastercard support, Wirex no longer charges users a monthly maintenance fee.

Did you know?
A Mobile-Oriented Cryptocurrency Exchange / Wallet
Before we get into the meat and potatoes of how to use Wirex, we should also address the main functionality point of the platform. And, to be fair, it's definitely oriented towards the mobile market!
Once you've read through all of the user Wirex reviews, decided that it's the right platform for you, and registered on it, you'll be redirected to the dashboard of your account. While we'll discuss this in detail a bit later on in the article, you'll basically be performing all of your actions from this specific dashboard.
If you're using mobile, the dashboard is easy to navigate, and pretty simple to use. It's very simplistic, and allows you to perform all of the essential actions that you might need.

However, if you were to access the same dashboard via a desktop or laptop device, you would likely see that it's rather evidently designed for mobile users!
This is, once again, something pointed out on other user Wirex reviews, too. It would seem that quite a few Wirex customers truly do prefer to use the platform (and all of its features) via the official app.
This does, however, extend to the functionality and feature part of the Wirex platform, too. You see, most of the high-end exchanges on the market are going to possess a wide array of different features - namely, exchange-related features and graphs. Wirex appears to choose not to burden its users with that, and takes a more simplistic, mobile-first approach.
On the other hand, it does offer you the ability to instantly purchase or sell select cryptocurrencies for fiat money (GBP, EUR, USD, and others), and also the ability to store your coins on the platform's web-based wallet. To many of the beginner crypto enthusiasts, this might perfectly well suffice!
How to Use the Wirex Exchange?
Now that we've figured out all of the most-notable pros and cons of the Wirex wallet and exchange platform, the final thing left to do is to figure out how to use the site, credit your account, and purchase the crypto that you'd like.
We'll take it from the top, and discuss the registration process first.
How to Register on Wirex?
The vast majority of the user Wirex reviews found online will tell you that the platform in question is really simple to register on, and that the process takes but a few minutes to do. Well, let's check and see whether that's really the case!
Step 1: Visit Wirex's official website, and press the big "Open an account today" button at the top-right corner of the screen.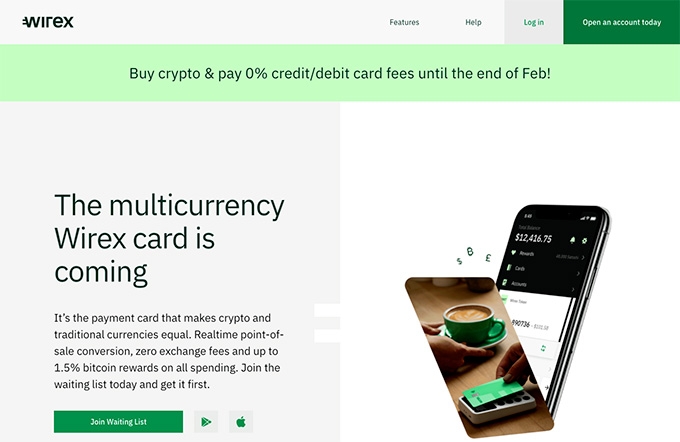 Step 2: You'll now have to pick a country of residence, enter your email address, and also create a password.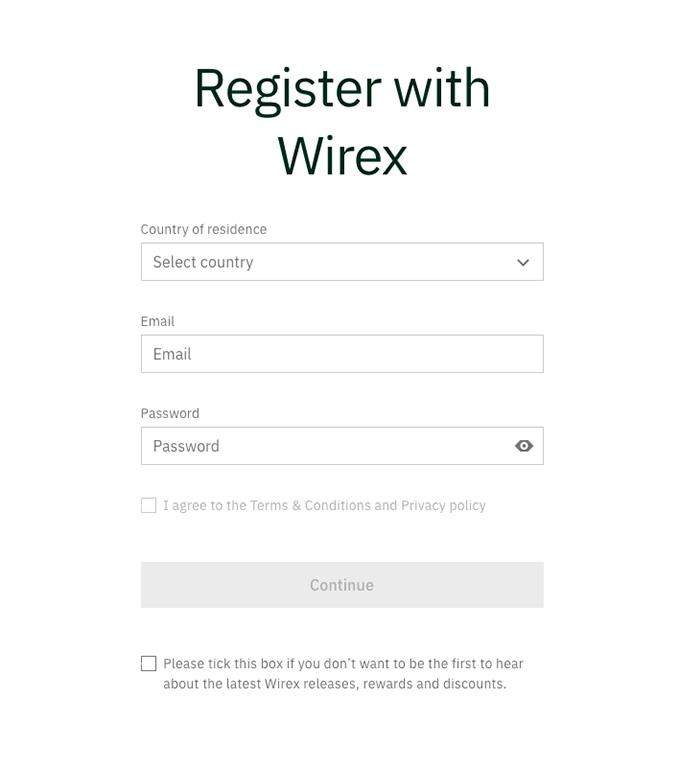 Step 3: Next comes the email verification stage - visit your inbox, and verify your email address.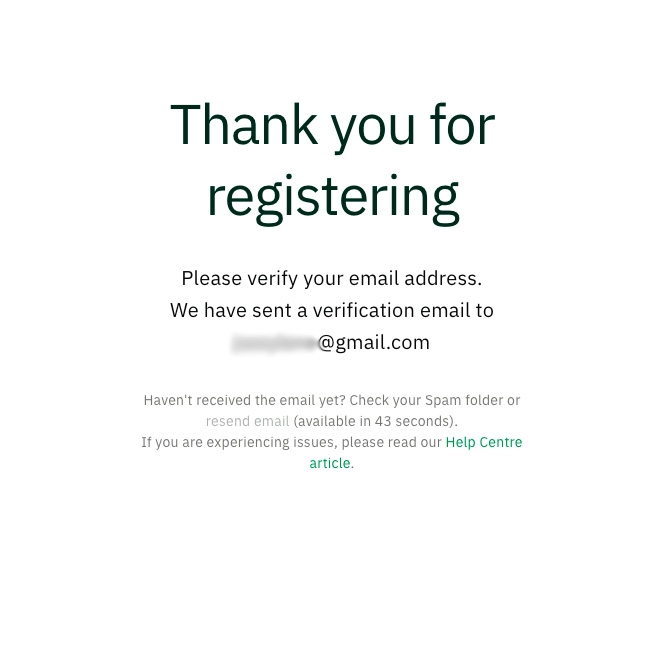 Step 4: Following your email confirmation, you'll then have to enter a 6-digit code in order to log into your account for the first time. The extra security measures are surely appreciated!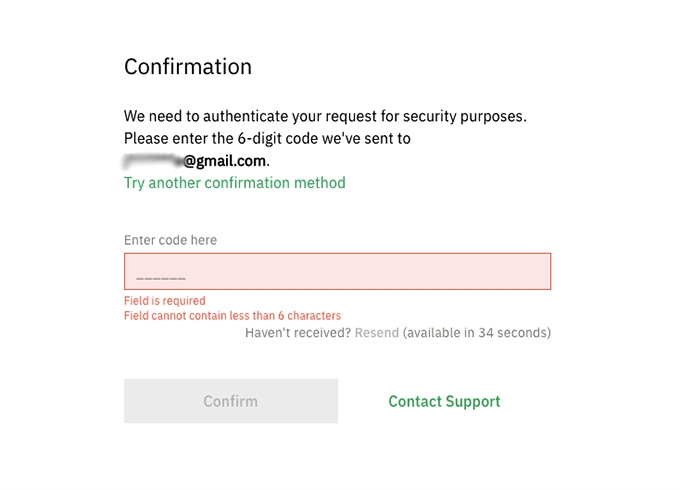 Step 5: Upon logging in, you will then be prompted to pass some KYC verification checks. This is standard procedure with exchange-wallet platforms like this. The worst part here, however, is that you can't even choose to fill out these forms later - if you press the "Continue Later" button at the top-right corner of the screen, you'll be automatically logged out.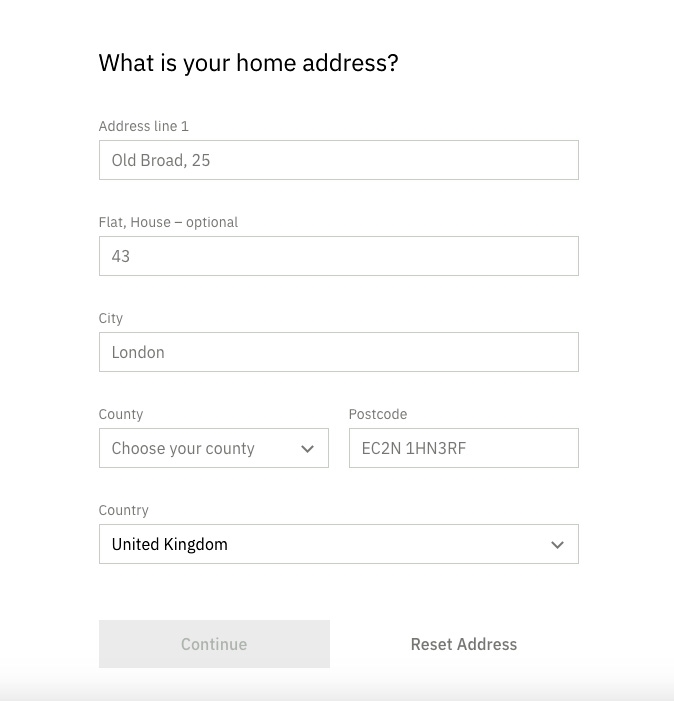 This is a major gripe for many crypto purists - most top-tier exchanges are going to allow you to pass your KYC checks at any given point in time before making a purchase, and will provide you with the opportunity to try out the platform for yourself, first. Wirex is different - unfortunately, not in a good way.
Step 6: Once you've passed all of the verifications and KYC requirements, and confirmed your email address and phone number, you'll be redirected to your dashboard - that's it! You can now start trading cryptos on Wirex.
Now, I have to say - the registration process wasn't as painless as it was made out to be! Everything was fine and quick right up until the point that the platform requested mandatory KYC.
It makes sense that Wirex needs KYC verifications in order to allow you to store, trade, and exchange cryptocurrencies - there's nothing wrong with that, and you'll find that this is the situation with most other high-end crypto exchanges, too. However, I have to reiterate the point I made earlier - it's really annoying to be asked to pass KYC before even getting to try the platform out.
If this isn't a big deal to you, great - you can pass all of the registration processes in a fluid and straightforward manner, and be done with it forever! Next, let's move on to the actual account funding / crypto exchanging part of the Wirex review.
How to Buy Cryptocurrencies with Wirex?
Buying crypto coins on Wirex is, admittedly, much simpler than registering on the site. This is mostly due to the fact that, at the point that you are allowed to buy cryptos, you'll have already passed all of the KYC verification checks, and be allowed to trade without restrictions.
As Wirex themselves note on their official website, there are two ways of how you can fund your account, and start exchanging different cryptos - by directly funding your account via a wire transfer, or by simply going to purchase some specific coin and selecting the fiat payment option.
Following the first route, you'll need to check your "Account Details" tab on the dashboard. Here, you'll find all of the necessary information on where to transfer your funds.
It's actually but a simple wire transfer - if you've ever made a payment via your bank, you'll know exactly what to do! Upon funding your account (waiting for the payment to go through), you'll be able to exchange fiat-crypto, without any further hindrance.

User Wirex reviews will tell you that exchanging your funds is ever more straightforward. In this particular case, though, you will need to have some money or assets in one of your Wirex accounts (own some crypto).
Exchanging one cryptocurrency for another is as simple as clicking a few buttons! Select the crypto that you want to exchange, and then the one that you'd like to exchange it to - you'll be provided with details of the transaction, and then all that'll be left to do is confirm it.
The only thing left to say here is that you should be wary of the exchange rates on the platform. You should always check to see if the rates are beneficial to you, and if it's worth exchanging your coins on Wirex, or some other site.
User Wirex reviews do note, though, that the convenience factor of the platform in question is superb - that's also something to take into consideration! Paying a bit more money in fees isn't really the end of the world, if you are guaranteed quick transaction speeds, good security measures, and some straightforward exchanging processes. All of this is available with Wirex!

Pros
A very well-known crypto exchange platform
More than 500 different cryptos available
Two-factor authentication
Main Features
Over than 100 different cryptocurrencies available
Strong security
Small withdrawal fees

Pros
Very low trading fees
Exceptional functionality
Mobile trading app
Main Features
Very competitive trading fees
An intuitive mobile app
Up to 100x leverage available
Advanced trading feature

Pros
Fiat currencies - accepted
Simple to use
Accepts only the most trustworthy cryptocurrencies
Main Features
A leading cryptocurrency exchange platform
Best for beginner investors
Accepts fiat currencies
Highly-regulated and secure
Conclusions
So, that's it - we've reached the end of our Wirex review!
In this article, we've discussed all of the main pros and cons of the Wirex wallet and exchange platform, and also took a look at how you should go about registering on the site, and then using the main features of it.
As you've probably noticed, the general sentiment surrounding the exchange online is rather positive! User Wirex reviews stress the benefits of the platform - everything from the convenience factor, all the way to such unique features as a crypto-based Wirex debit card and even up to 1.5% BTC cashback through Cryptoback™ Rewards!
Naturally, the platform does have some quirks that are worth keeping in mind, too, especially considering the pretty annoying registration process. However, when you consider the actual benefits and features that Wirex does have, most of its shortcomings become rather trivial (except maybe the lack of support for US citizens).
So, is Wirex worth using? I'd say - definitely! If you're interested in what the platform has to offer, make sure to check it out! You can, however, also check out some additional crypto wallet alternatives, too - even if you purchase cryptos on Wirex, you'll be able to store them on some of the best cryptocurrency wallets on the market!
All of that said, thanks for reading, and until next time!
The content published on this website is not aimed to give any kind of financial, investment, trading, or any other form of advice. BitDegree.org does not endorse or suggest you to buy, sell or hold any kind of cryptocurrency. Before making financial investment decisions, do consult your financial advisor.
Leave your honest Wirex review
Leave your genuine opinion & help thousands of people to choose the best crypto exchange. All reviews, either positive or negative, are accepted as long as they're honest. We do not publish biased reviews or spam. So if you want to share your experience, opinion or give advice - the scene is yours!