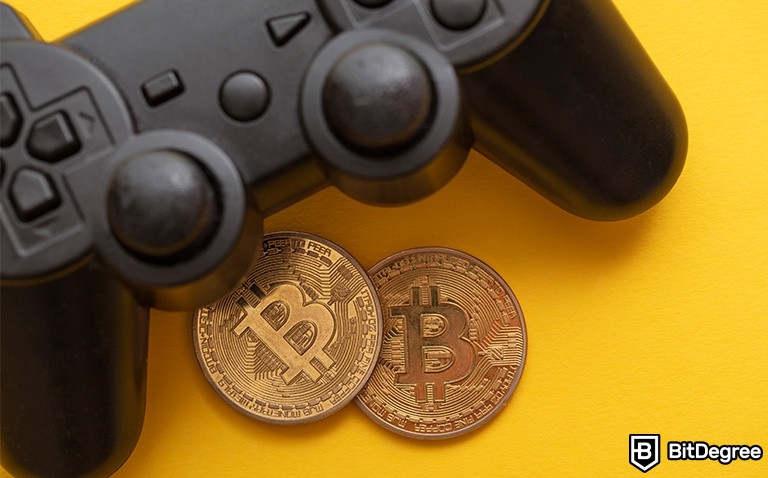 Non-fungible tokens have seemingly become an integral part of any cryptocurrency hodler's portfolio. It's no wonder, really - in recent times, the NFT market has exploded, and these tokens are seemingly everywhere. One of the areas that have received a lot of attention in the last few months is NFT gaming.
Specifically, play-to-earn crypto games. Everywhere you look, it seems like there's a brand new game popping up, offering players the chance to earn crypto tokens or NFTs simply for playing and staying engaged with the game.
That's a really cool concept! However, how does one get into the NFT gaming crypto sphere? Specifically, how do you actually buy gaming NFTs in order to start playing some of the more-popular P2E games?
Well, that's exactly what we're going to explore in this article! At the same time, I can give you a hint already - all of your gaming NFTs can be bought from Binance.

Did you know?
Want to get smarter & wealthier with crypto?
Subscribe - We publish new crypto explainer videos every week!
What is a Bitcoin & How Does it work? (Animated Explainer)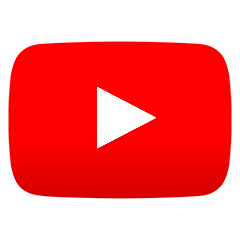 What is "Play-to-Earn" in the Realm of NFT Gaming?
Before we jump too deep into the topic of gaming NFTs, it's worth exploring the concept of "play-to-earn" a bit further. After all, this is one of the cornerstones of the entirety of the NFT gaming industry, in the first place!
Latest Binance Coupon Found:
CLAIM $600 BONUS
Exclusive $600 Binance Offer
Don't miss this limited-time deal that's only available for our readers. Follow the Binance referral code link & receive up to $600 in rewards and bonuses!
Expiration date: 13/06/2023
7,847 People Used
Only 49 Left
Play-to-earn (also abbreviated as P2E) is a gaming model that allows players of a specific game to earn cryptocurrencies or crypto NFTs while they're playing that game. The implementation of P2E into those specific games will differ, but the general idea always remains the same.
This brings in a rather interesting and enticing prospect into the mix - the chance to earn actual financial assets while playing games. Definitely a dream that many gamers out there possess!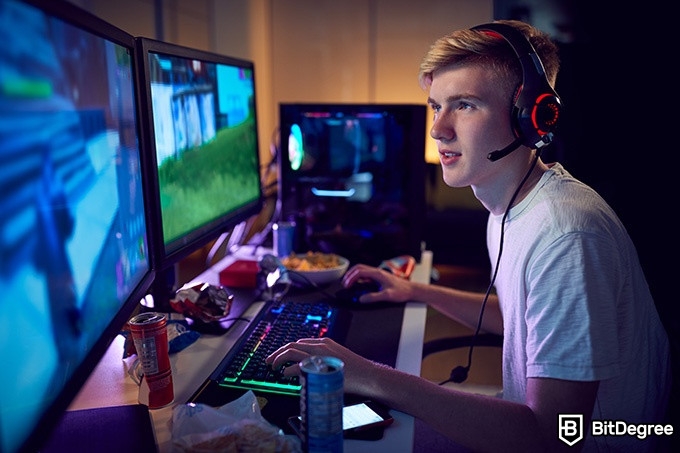 Admittedly, though, it's worth mentioning that similar models have existed before NFTs came into the mix, as well. Some games would offer players to earn tokens or coins, which could then be used to acquire special characters, items, or other assets.
Then, these assets would be tradeable on a designated marketplace, and could be sold to other players for actual, real-world money. Now, there are a lot of legal issues that might come out of this, and there aren't many such games out there, but the concept has existed before crypto got involved, nonetheless.
The NFT industry simply made it much more streamlined, and filled in the missing pieces. That being said, how do play-to-earn crypto games work, exactly?
Well, we can take a look at a couple of examples. Likely the best-known product to come out of NFT gaming is Axie Infinity.
Axie is a Pokemon-like game built on blockchain technology. You are able to acquire your first Axies, and then battle other players, grow your digital creatures, on top of earning experience points and special in-game currency. It's a typical representation of a P2E game - the more you play, the more rewards you will be able to earn.

On top of that, Axies (the digital creatures within the game) can be sold as NFTs, on different non-fungible token platforms. This allows you to earn actual cryptocurrencies for the in-game assets that you would play with!
Another example would be that close to the Binance NFT marketplace - Mobox. This is a DeFi yield farming game - a type of games that have become rather popular in the NFT gaming space. Specifically, what you'll need to do in order to get started is purchase a special MOMO Mystery Box on the Binance NFT market.
After doing so, you will be able to receive MOMO characters. These characters can be used to fight other players, farm currency, or even be staked to receive MBOX tokens (the native token of the Mobox game).
This brings me to my next point - the mechanics behind P2E gaming NFTs.
How do Play-to-Earn Games Work?
Essentially, there are two big ways of how NFT gaming crypto works - you could either play games to earn rewards within them, or earn actual cryptocurrencies as you play. While it may sound similar, these two methods are actually rather different.
First of all, earning in-game rewards. The NFT gaming platforms that offer such opportunities do usually have NFT characters for you to unlock, earn, and use within the game. The aforementioned Axie Infinity is a good example of an in-game reward-providing project.
Such games offer players the freedom to choose what they want to do - use the characters that they earn within the game, or sell them as non-fungible tokens to other players, either directly, or via an NFT marketplace. Stronger characters come equipped with better stats, but will also usually be in higher demand, as well.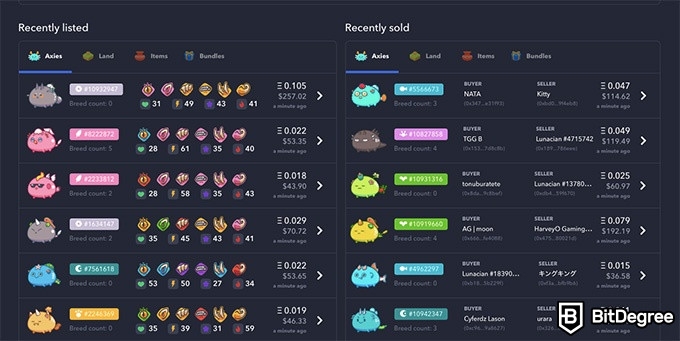 With these types of NFT gaming projects, players are essentially able to create an entire in-game economy. Concepts such as 'supply & demand' will come into play, and rare characters will be valued highly - this, in turn, incentivizes those same players to commit themselves to the game, with the hopes of receiving (or earning) such characters for themselves.
On the flip side, you also have games that will allow you to earn cryptocurrencies as you play. Once again, the aforementioned Mobox NFT gaming project would be the perfect example here.
With these types of games, you will essentially be able to earn in-game currency - tokens - for certain actions that you perform. These tokens (in the case of Mobox - MBOX) can then be staked, with the possibility to earn various rewards.
Play-to-earn crypto games that employ this model of earning do often have NFT characters and collectibles, as well. The emphasis, however, often remains on yield farming and staking functionality.
How to Buy Gaming NFTs: The Binance NFT Marketplace
By this point, you should have a pretty good idea of what NFT gaming is, and how players are able to make money while playing different NFT-powered games.
That's all fine and dandy, sure - how does one get started, though?
Well, the very first step that you'll often need to do is purchase a gaming NFT for the respective game that you'd like to start playing.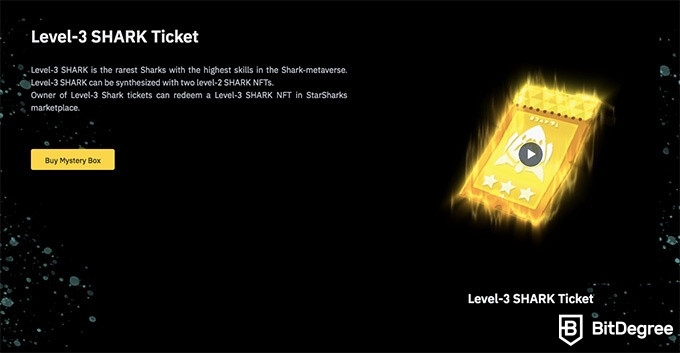 Perhaps the game of your choice requires you to acquire a digital monster egg that will hatch into your first virtual pet? Or there's a key that unlocks your first character? Oftentimes, these will be the incentives for players to participate in the market, from the very beginning of their NFT gaming experience.
So - without a doubt, the best place to start looking for NFT gaming cryptos is on a dedicated marketplace. While there are multiple markets out there for you to browse and utilize, the Binance NFT platform is arguably one of the best choices to go with.
Why? Well, plenty of reasons, with some of the main ones being:
Multiple games exclusive to Binance NFT;
Small transaction fees;
One account for the Binance exchange and NFT marketplace;
Mystery Boxes;
etc.
The Binance NFT market is truly one of the best places to start your NFT gaming journey - find the game that interests you, acquire your very first gaming NFTs, and start playing!
How does the entire process work, you may wonder? We'll get to the details soon - for now, it's worth mentioning that you can either purchase NFT Mystery Boxes, or participate in weekly IGO launches (more on them in a minute).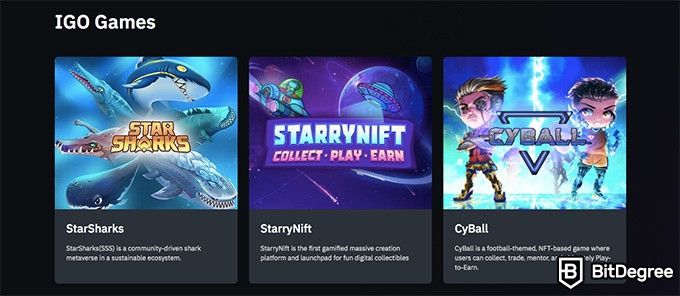 As mentioned earlier on in the article, Mystery Boxes are a special type of NFT loot boxes that one may acquire from the Binance NFT marketplace (they are exclusive to Binance). Within these boxes, depending on the collection, you may find some rare and valuable character NFTs, collectible cards, and so on.
In essence, this is one of the simplest ways to start out your NFT gaming journey, if you already know what game it is that you want to play, but aren't sure about any specific NFTs that you'd like to purchase.
Additionally, you also have the weekly IGOs - Initial Game Offerings. This is a very new concept, and while it does include the above-mentioned Mystery Boxes, there's actually much more to it.
IGOs are essentially NFT collection sales from large and well-known gaming brands from all over the world. Every week, new sales will be held - you may purchase some of those NFT assets in the form of an auction, a Mystery Box, or a fixed price.

The assets in question can then be used in the metaverse of the game that they belong to - in other words, these NFTs will act in a cross-platform manner. To be more specific, once you buy a specific game NFT on Binance, you will be able to use it within the game, as well.
All of that being said, let's get to the "how" - specifically, how you can purchase NFT gaming assets on the Binance NFT marketplace!
How to Buy NFTs on the Binance NFT Market?
If you already have a Binance account (even if you've created one on the crypto exchange side of the platform), the process of acquiring gaming NFTs will be much faster. However, for the sake of this guide, let's assume that you've never used Binance before, and this is your first time trading crypto, or NFTs, in general.
Step 1: Create a Binance Account
First of all, you'll need to create an account on Binance - specifically, the exchange part of the platform. Simply follow the steps outlined by the account creation wizard, and the process shouldn't prove to be complicated, at all.
At some point during your account creation, though, you will be asked to verify your identity - in other words, you will need to pass the Binance KYC verification checks. Since Binance is compliant with all of the relevant KYC & AML laws and regulations, this is a mandatory step in order to eventually trade gaming NFTs.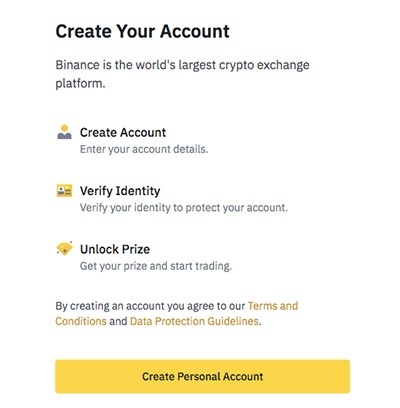 Simply submit proof of your ID and your residential address - the verification process should be super-quick, and you'll be notified about successful verification once it's done.
Step 2: Purchase Cryptocurrency
Next up, you will need to purchase some cryptocurrency. Binance allows you to do so with a credit or debit card (in other words, with fiat money), which is super-conveniant, and should only take a few minutes to complete.
Which cryptocurrency should you be buying? Well, it depends on the cryptos that will be accepted as payment for the specific NFT or NFT collection that you'd like to purchase. However, in most cases, the Binance NFT marketplace will accept BNB coins as payment.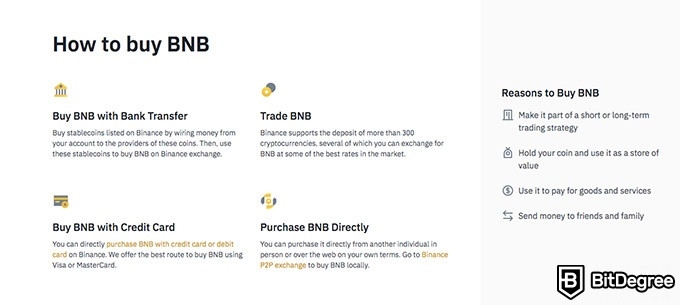 After you purchase the crypto of your choice, your respective wallet will be credited with the coins. You can simply hold the cryptocurrency in your Binance account wallet for now - no need to do anything else.
Step 3: Find Your Desired NFT in the Binance NFT Marketplace
Now it's time to jump to the Binance NFT marketplace. While it's a somewhat separate platform from the exchange, you are able to use your Binance account with all of the services that the company offers - NFT marketplace included.
The next big step is to find the actual NFTs that you'd be interested in buying. If you already know what you want, awesome - that makes things much simpler. However, more often than not, people will want to try out play-to-earn crypto games, but won't really know where to start.
Well, there are a few options that you can check out, and a few different tactics to employ, in regards to searching for the best first NFT gaming assets for yourself!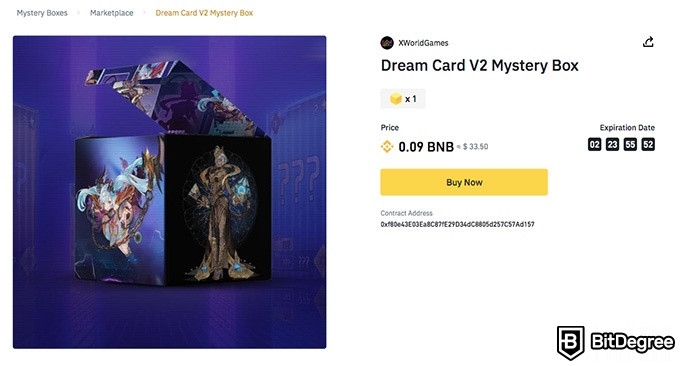 First of all, the obvious - if you're not sure what it is that you want, you can purchase a Binance-exclusive Mystery Box. Simply choose from the boxes that seem the most appealing to you, and make your purchase - inside, you will find themed NFTs, with the chance to encounter a rare token among them!
All of the Mystery Boxes are themed. However, if you're not sure what game it is that you want to play, there's no need to search for some specific box - you can simply pick one that seems the most interesting to you!
On top of that, you can always do some research, and check to see if the project of which NFTs are available in the Mystery Box offers play-to-earn mechanics!
If Mystery Boxes aren't your forte, though, there are other ways to check the market out, too. You can visit the gaming gallery, where you'll find all of the NFT collections that are currently available, as well as the upcoming IGO drops.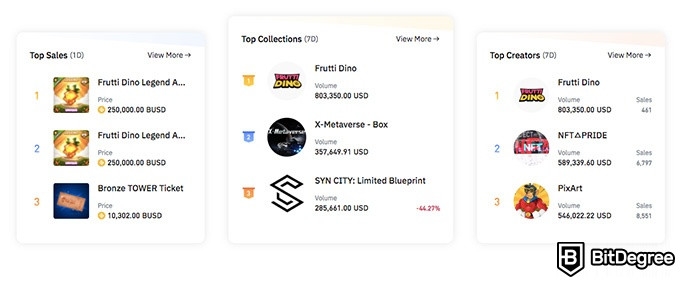 Furthermore, if you want to get specific, you may filter out your search results. You can select the different categories of the NFT gaming projects, choose the type of sale that interests you, and sort through a variety of additional filters.
Lastly, you can check out the featured collections, on the front page and the ranking boards of the Binance NFT marketplace. Here, you'll find NFTs that have already attracted a lot of attention from your peers - perhaps some of the NFT gaming projects are exactly what you're looking for?
Step 4: Purchase the NFT!
Once you have chosen the right NFT gaming crypto asset for yourself, it's time to make the purchase! Since your Binance account is shared between platforms, this can be done immediately, without having to transfer funds from your Binance exchange to the NFT platform.
Now, there are a few different ways of how an NFT gaming asset can be purchased on the Binance NFT marketplace. Mainly, you're looking at bidding on an auction, buying an NFT for a fixed price, or purchasing and opening a Mystery Box.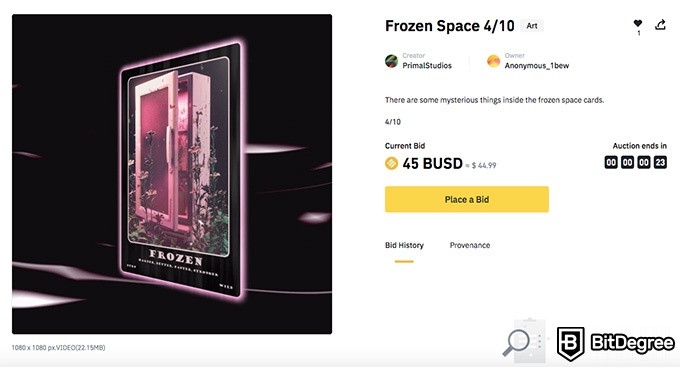 With an auction, you'd have to place a bid on the NFT of your choice, and wait for the auction to end. No matter if you win or not, your bid will be locked up until the auction ends - just something to keep in mind!
Fixed-price NFTs are the simplest to acquire, since all that you have to do is choose the token that interests you, and press "Buy Now". After the confirmation of your purchase, your brand new NFT will be available to be viewed in the "Collections" tab of the Binance NFT marketplace.
Lastly, Mystery Boxes can be bought instantly, for a fixed-price, as well. You will find them in the same "Collections" tab on the marketplace, or in a dedicated Mystery Box section of the site.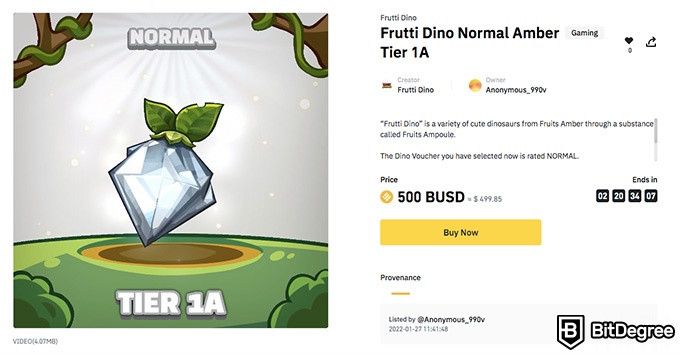 Simply navigate to one of the aforementioned tabs, and press "Click to Reveal" on the box. Then, after pressing "Open Box", you will see what NFTs you've received!
That's it - the entire process of buying your first play-to-earn crypto game NFTs! Even if you don't have a Binance account yet, and are new to crypto, in general, the process is made very quick and simple to follow - all thanks to Binance!
The Binance NFT Market - Building the Future of NFT Gaming?
One thing that appears to become increasingly more evident as time goes on is the fact that NFT gaming - and play-to-earn gaming, in general - isn't going anywhere. On the contrary - the concept is slowly becoming more and more popular, with new names joining the industry seemingly every single day!
It all started with general hype surrounding NFTs, and the technology behind these unique tokens. Then, NFT gaming started emerging slowly - at first, it was just a rather-niche concept, known and supported by only the veterans in the industry.
Today, however, we have triple-A game companies delving into NFT technology, and even offering NFT character, item, or other in-game asset integrations into their games. That's huge!
Table: Some general Binance company information
One could argue, however, that Binance is one of the more-significant names standing at the forefront of this new gaming revolution.
The Binance NFT market is exceptionally friendly to new and innovative ideas, with P2E gaming being one of more-notable ones. One could go as far as to say that the platform (marketplace) is a significant element in helping shape the future of NFT gaming.
How so? Well, as of now, with all of the tools discussed in the article, up to this point! Things like the weekly IGOs hosted on the platform, or the fact that there are multiple high-profile game NFTs up for sale - NFTs that can be integrated in a cross-platform manner, by being purchased on Binance, and used within the games in question!
No matter how you look at it, the point of the matter remains the same - Binance is quickly becoming a key player in the realm of play-to-earn crypto games and NFT gaming, with its NFT marketplace platform leading the way for innovation and futuristic, gaming metaverse-inclusive concepts.
Conclusions
Throughout the entirety of this article, we've discussed what are P2E gaming NFTs, and how have they impacted the NFT space, in general. The core message, however, is that the NFT gaming sector is flourishing and experiencing an unprecedented growth cycle, and the Binance NFT market is one of the core players leading the charge.
If you want to get involved with gaming NFTs - whether you're a crypto veteran, or a complete beginner -, the Binance NFT marketplace is the place to go. Offering a large selection of exclusive NFTs, Mystery Boxes, and notable gaming brand IGOs, Binance has truly secured its place in the industry, and has become one of the main hubs for many of the gaming enthusiasts out there.
All of that being said, I'd like to thank you for reading this article on NFT gaming - I do hope that you've learned something new! Make sure to pick your favorite NFTs, purchase them with the help of Binance's NFT marketplace, and start playing-to-earn today!
Leave your honest feedback
Leave your genuine opinion & help thousands of people to choose the best crypto exchange. All feedback, either positive or negative, are accepted as long as they're honest. We do not publish biased feedback or spam. So if you want to share your experience, opinion or give advice - the scene is yours!