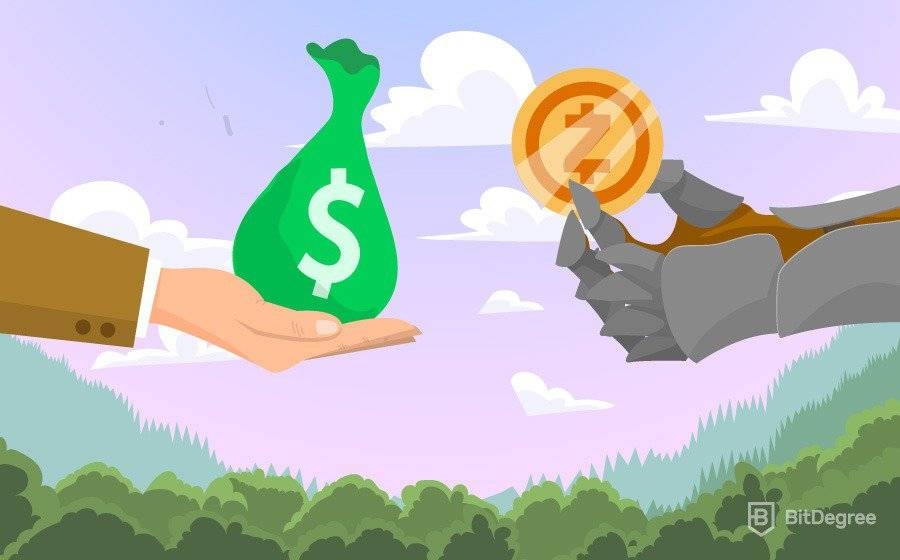 Fun fact: Did you know that the famous whistleblower Edward Snowden thinks ZCash is the most interesting alternative to Bitcoin?
Anyway, to help you decide where to buy ZCash, I am also going to give you a brief review of five of the best exchanges to buy it from, along with their advantages and disadvantages.
Finally, to make sure you understand exactly how to buy ZCash, I am then going to give you a full step-by-step guide, with easy to understand screenshots.
Let's begin by finding out what ZCash actually is!
(If you already feel confident with how familiar you are with ZCash, feel free to skip to the 'Exchanges to Buy ZCash' section.)

Did you know?
Want to get smarter & wealthier with crypto?
Subscribe - We publish new crypto explainer videos every week!
What is Chainlink? LINK Explained Simply (ANIMATED)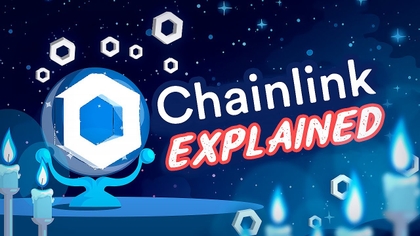 Zcash Explanatory
ZCash (ZEC) was launched in 2016 by Zooko Wilcox, who wanted to create a private and untraceable blockchain that could also be used as a global payment system.
Latest Deal Active Right Now:
REDEEM $600 PRIZE
Binance Cyber Monday
Attention new Binance users: this Cyber Monday, you can score up to $600 in rewards by completing special tasks. Activate this amazing Binance Cyber Monday deal using the code – 49316610!
Expiration date : 05/12/2023
6,127 People Used
Only 16 Left
Wilcox has a really strong team supporting him, which includes experienced programmers and computer science academics!
Although ZCash was based on the original Bitcoin (BTC) code, they are actually quite different for two reasons –privacy and performance. When you transfer money using the ZCash network, everybody can still see that a transaction has been processed on the public blockchain. However, nobody know s who the sender or receiver is, nor how much money was sent!
Here's how a Bitcoin transaction might look:
Wallet ABC123 sent 5 BTC to wallet YXZ456 on 01/01/2014 at 11:03
And here's how a ZCash transaction might look:
Wallet XXXXXX sent XX ZEC to wallet XXXXXX on 01/01/2014 at 11:03
As you can see, it's impossible to find out anything about the transaction, other than the date and time! It does this by using a technology called "Zero-knowledge proof". In simple terms, the technology allows two people to confirm a transaction without revealing any private information!
The second reason that ZCash is different to Bitcoin is that it performs much faster transactions. ZCash can confirm a transaction every 2.5 minutes, but Bitcoin takes 10 minutes, making it much more suitable as a global payment system.
Although ZCash and Bitcoin both use a consensus model called "Proof-of-Work", there is actually a key difference.
As Bitcoin has become more and more popular, those who buy the most expensive equipment (these are called ASICs) have the best chance of winning the mining reward. However, ZCash mining doesn't work with ASICs, meaning that people can use a GPU or CPU, which is much cheaper!
Note: A consensus model is a technology that confirms transactions across multiple servers. It is decentralized, meaning that no single person or organization controls it. There are many different types, each with their own advantages and disadvantages, including Proof-of-Work and Proof-of-Stake!
There is one ZCash mining issue that you must consider. To help fund the ZCash project, 20% of all mining fees for the first four years will go to the developers. You have to decide whether you feel comfortable with this!
Moving on, in total there will be 21 million ZCash coins issued, which is the same as Bitcoin! The team recently confirmed a partnership with major financial institution JP Morgan, who want to use ZCash's zero-knowledge proof technology!
So, now that you know what ZCash is, the next part of my "How to buy ZCash" guide is going to review five of the best exchanges that sell it!
Exchanges to Buy ZCash
Kraken
Kraken is one of the most popular exchanges as they accept lots of different real-world currencies such as USD, GBP, and EUR! It was created in 2011, making it one of the oldest cryptocurrency exchanges. Kraken allows you to buy a variety of coins using your bank account.
Kraken is registered with various regulators, meaning that they take account security very seriously. You will need to complete a verification process before you can deposit funds.
Tier 1 status, which lets you deposit using a cryptocurrency, will require basic information such as your full name, nationality, and date of birth. Tier 2, which allows you to deposit using real-world money, will need you to verify your address.
If you are depositing from a European (SEPA), Japanese (Domestic) or Canadian (SWIFT) bank account then deposits are free. Otherwise, it will cost you between $5-$10.
Another good feature of the Kraken platform is that it is really user-friendly, making it perfect for beginners! Although they do not have phone support, you can contact Kraken by email or live chat. However, some people have complained about how slow they are to respond.
Advantages
Bank account deposits
Very good security
Simple to use
Low Fees
Disadvantages
A small number of coins
Only available to certain nations (most of EU, U.S., Canada, Japan)
Slow customer support
So, what do you think about Kraken? Still not sure? No problem, let's go to the next exchange in my "How to buy ZCash" guide!
Binance
Binance is a cryptocurrency exchange originally based in China, however, they have since moved to Japan due to strict Chinese regulations! They began in 2017 and have quickly become one of the largest exchanges for the trading volume.
They already list over 100 different cryptocurrencies, including ZCash. It isn't possible to trade fiat currencies, which to some, is a great disadvantage.
However, you can deposit cryptocurrencies for free and trading fees are only 0.1%. Although less convenient, this does mean that you won't have to send in ID to get started. In fact, unless you are planning on trading 2 Bitcoins (or equivalent) or more, then you don't need to verify your identity at all!
Another advantage to Binance is that when new, credible cryptocurrencies are created, they are often the first exchange to list them! When you access the exchange platform, you can choose either basic or advanced, so it suits all levels.
As a major exchange, the Binance team takes account security very seriously, which is another advantage. However, a further disadvantage is that customer support is quite poor.
There is no phone or live chat support and the team is known to take a long time to reply to support tickets. Furthermore, as the "Frequently Asked Questions" section has been translated from Chinese into English, some of it is quite difficult to understand.
Advantages
Low trading fees
Good selection of coins
Both basic and advanced version
Good security
Disadvantages
No fiat trading
Poor customer support and help section
The next exchange I am going to review in my "How to buy ZCash" guide is HitBTC!
HitBTC
Estonian-based HitBTC is a cryptocurrency exchange that has been in business since 2013. They list more than 200 different coins and have one of the largest trading volumes for ZCash!
One of the biggest benefits of using HitBTC is that you can use real-world money to deposit and withdraw! This includes SEPA if you are from the EU or SWIFT for everyone else! The only issue with using your bank account to deposit is that the verification process is quite slow.
You will first need to wait for your documentation to get manually approved and then wait a further 1-3 working days for the bank transfer to reach your account. Alternatively, cryptocurrency deposits are instant, free and require no verification.
Trading fees are also a good value at just 0.1%, but withdrawal fees can be expensive.
Another disadvantage to consider is that HitBTC had their servers hacked in 2015, meaning some people had their coins stolen. Although nothing has happened since this event, it should be a warning to you to never leave a large number of coins in an exchange for too long.
Advantages
Cheap trading fees
Bank account deposits and withdrawals
Simple trading screen
Disadvantages

Verification for bank account deposits can be long
Servers were hacked in 2015
So what do you think about the three exchanges I have reviewed so far? Don't worry if you haven't made a decision yet, I'm now going to tell you about Poloniex!

Did you know?
Want to get smarter & wealthier with crypto?
Subscribe - We publish new crypto explainer videos every week!
What is Defi 2.0? (Explained with Animations)
Poloniex
Poloniex was created in 2014 and is based in the U.S. It is also one of the largest exchanges for trading volume, with a very good choice of coins to buy and sell.
There are no options to trade with fiat, so you will need to fund your account using a cryptocurrency. There are no fees for deposits or withdrawals other than the blockchain's transaction fees.
Every time you complete a trade you will pay between 0% and 0.25%, depending on how much you trade that month.
However, by not using fiat currency, it means that you will not have to verify your identity unless you plan on withdrawing more than $2000 per day.
Being a U.S. company means that regulation is very strict, so account security is one of the best. However, it is important to remember that in 2014, the exchange had more than 12% of its Bitcoin stolen when the servers were hacked. This is another reminder that no exchange is 100% safe.
For customer service, once you open an account, you will be able to use their live chat facility or submit a support ticket.
Advantages
Lots of coins to choose from
Very low fees if you trade often
US based so highly regulated
Live chat support
Disadvantages
No fiat trading
Had 12% of their Bitcoin hacked in 2014
The final exchange review of my "How to buy ZCash" guide is Cryptopia!
Cryptopia
Cryptopia, based in New Zealand and created in 2014, offers more than 500 different coins on their exchange.
Unless you are based in New Zealand and have a local bank account, you will not be able to deposit using fiat currency. Instead, you will have to fund your account using a cryptocurrency, which is free.
Every time you place a trade it will only cost you 0.2%, however, withdrawal fees are quite expensive. Cryptopia does not clearly state the exact fee for each coin, but customer reviews claim that these can be very high.
As the exchange is registered with the New Zealand authorities, they take account security very seriously.
Interestingly, there is also an "eBay Style" marketplace at Cryptopia where you can buy or sell products using cryptocurrency!
Advantages
One of the largest selections of coins at over 500+
Very basic platform
Good account security
Disadvantages
Fiat deposits only for New Zealand bank account holders
High withdrawal fees
There you go! Five different ZCash exchanges to choose from! Which one do you like the sound of? I personally prefer Binance! Although you can't deposit using fiat currency, they let you buy coins straight away without having to submit ID.
The final part of my "How to buy ZCash" guide is going to give you step-by-step instructions on how to buy it with Binance!
Instructions on how to buy ZCash
Before you can buy ZCash at Binance, you will need to get either Bitcoin or Ethereum so that you can make a deposit. If you don't own either, then the easiest way to buy them is with Coinbase. Also, you can try and purchase ZCash with a credit or debit card on a platform such as Kraken, too.
To see my guide on how to open an account at Coinbase, click here. Once you have set it up, return to the next part of my "How to buy ZCash" guide.
Buy ETH on Coinbase
Click on Buy/Sell at the top of the screen.

Click on Ethereum


At the bottom of the page, enter the amount of fiat currency you want to exchange. As my account is in Euros, I have entered 125 EUR. The Ethereum box will then update and tell you how many ETH coins you will receive.

Finally, click on Buy Ethereum Instantly!
Transferring ETH to Binance
Before opening an account at Binance, it is a good idea to get the Coinbase page set up so you can quickly send your Ethereum.
At the top of the page, click on Accounts.


Scroll down, select Ethereum and click on Send.

This is where you will need to paste your Binance wallet address. Create a new tab and open an account at Binance. If you need help, click here to view my guide on how to register at Binance!
Once you have registered at Binance, log in. Next, move your mouse over Funds and then click on Deposits.

In the drop down box, search for ETH and then click on Ethereum.
This will now show you your Binance deposit address. Click on Copy Address and return to your Coinbase tab.

Paste the Binance wallet address into Coinbase and click on Send. It normally takes about 10 minutes for the transfer to reach your Binance account.

Pros
A very well-known crypto exchange platform
More than 500 different cryptos available
Two-factor authentication
Main Features
Over than 100 different cryptocurrencies available
Strong security
Small withdrawal fees

Pros
Secure and reliable
Low fees
A good amount of fiat currencies accepted
Main Features
Reputable exchange
Multiple fiat currencies are accepted
Relatively low trading fees

Pros
Anonymous trading
Secure
Supports a variety of cryptocurrencies
Main Features
Easy to use
Low fees
Good security
How to buy ZCash coin on Binance
If you have reached this stage of my "How to buy ZCash" guide, you should have a Binance account funded with Ethereum. You're almost there!
Move your mouse over Exchange and then click on Basic.

On the right of the screen click on ETH, search for ZEC and then click on ZEC/ETH.

You are now on the trading screen for the ZCash/Ethereum pairing!

Below the chart, you should see the Buy ZEC box. Before entering the number of coins you want to buy, make sure you click on the Market. This will make sure you get the best market price.

In the Amount box, enter the amount of ZCash you want to buy. Alternatively, you can select a percentage of your Ethereum balance.

Finally, click on Buy ZEC. That's it! You now have your very own ZCash coins!
Conclusion
That's the end of my "How to buy ZCash" guide! If you read it all the way through you should now have a good understanding of what the project does. What made you choose ZCash? Was it the fast transactions or because it allows you to send money privately? I'd love to know!
You should also have a better idea of which exchanges you can buy ZCash from. Which of the five that I reviewed did you think was best? Although I chose Binance, do you prefer a different one?
If like me you thought that Binance had the most advantages, then hopefully you found my step-by-step ZCash buying guide really simple!
Let me know your thoughts on how you think ZCash will perform in 2018 and if you are going to hold the coins short-term or long-term!
About Article's Experts & Analysts