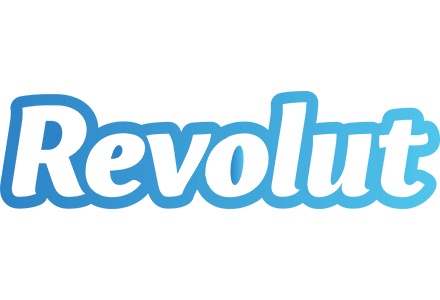 Revolut is probably far from being the first name that you think of when you hear the term "cryptocurrency exchange". However, this UK-based mobile banking solution has also entered the cryptocurrency industry, and although you might still struggle with finding a huge variety of user Revolut crypto reviews, some conclusions about this venture can already be drawn.
Being such an odd player in the crypto scene, as you can probably guess, Revolut brings a lot of very unprecedented features to the table. Reading into some of the things that users have to say about the platform, you'll find terms like "CFD", "derivatives", "custodial", and similar being thrown around.
Now, look - if you're just starting out in the realm of crypto (or finance, in general), all of that can be confusing. However, I'm here to help you out - in the Revolut crypto review below, I will explain everything you need to know about this seemingly-uncanny crypto trading solution, and decrypt the terminology behind it.
If you prefer to use a real cryptocurrency exchange, though, Coinbase and Binance are going to be much better solutions.
Pros
Extremely simple to use
Supports the most popular crypto coins
A fast-growing platform
Many additional features
Cons
You are not the holder of the cryptocurrency you've bought
You can't transfer your purchased crypto
Very irrational fees
Revolut Crypto Review: PROS
Now, since Revolut is a unique crypto trading solution, this very Revolut crypto review might be a tad bit different from most of our other reviews, too.
When I say that, I mean that many of the features that Revolut offers to its users can be interpreted both ways - by some, they will be seen as some great investing solutions, while others will tell you that you should "stay as far away from the Revolut exchange as possible".
Depending on your own, personal situation, you will probably fall in either one of those two camps, too.
However, the reason why I'm telling you this is because it will probably show in our pro and con discussion, too. And what's a better way to start off the Revolut crypto review than by covering and discussing the most polarizing aspect of the platform, huh?
You Don't Actually Purchase Cryptocurrencies… Kind of (THE GOOD PART)
Admittedly, that has to be the strangest heading I've written in my life. Allow me to explain.
The absolute majority of the cryptocurrency exchanges out there operate in the same general fashion - you register on them, pass some KYC verifications (if the exchange is centralized and regulated), transfer your funds, (usually - in the form of fiat currency), purchase the crypto asset that you want, and then take that asset out of the exchange and put it into your cryptocurrency wallet.
As said, that's the case with the majority of the exchanges that are currently leading the industry. However, there are exceptions - Revolut is one of these exceptions.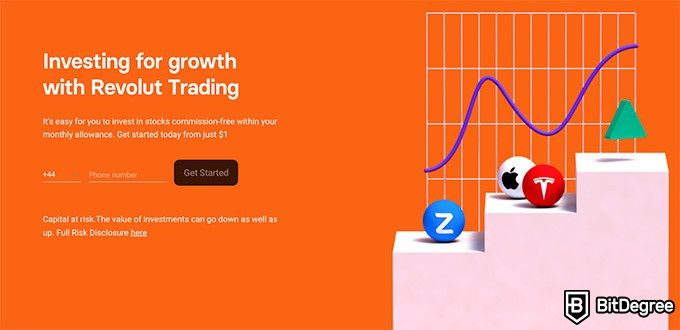 You see, when you purchase cryptocurrency on Revolut, you don't actually receive any crypto coins - instead, you are only credited with the amount that it costs at that time, with a contract being made on behalf of the asset.
I've noticed that some user Revolut crypto reviews claim this to be "CFD trading". Well, it's not - it's actually derivative trading, to use the correct terminology.
Derivative contract trading refers to purchasing a contract for an underlying asset, fixed on the price that the asset is valued at during the time of the transaction. This way, you can benefit from the asset's price going up, while not having to hold the asset itself.
Now, it's worth mentioning that Revolut does state that what they do "is NOT derivative trading", simply because they DO actually buy cryptocurrency on your behalf. However, we'll get to discussing this part later on in the Revolut review - for now, let's focus on the topic at hand.
To put it very bluntly, Revolut does not sell you actual cryptos, but instead deals in "written promises" (in the form of contracts - it is a fully-legitimate and common practice) that you bought the crypto at 'that specific time and price'. As you can imagine, this can be both good and, well… Not so much. Let's cover the "good" part, first.
With cryptocurrencies becoming a very popular prospect, and ways of investing in them becoming increasingly simpler and more straightforward, it's only natural that there are more and more people coming into the scene, too. This can also be seen by observing the increase in user Revolut crypto reviews.

If you're one of the people that would like to try and earn with crypto, but have no actual interest in holding your own cryptocurrency, Revolut is actually going to be among the best options to try out! It takes away all of the "hassle", and does everything for you.
Sure, you don't own any coins yourself, and can't transfer them, but if that's not something that would interest you, in the first place, then it's not a problem!
Latest Deal Active Right Now:
$300 + 40 DOGE BONUS
Huobi Black Friday Limited-Time Period
Huobi Black Friday & Cyber Monday 2023 period offers great bonus for new users - sign up & earn up to $300 + 40 DOGE bonus!
Expiration date : 12/12/2023
3,817 People Used
Only 31 Left
A Very Streamlined UI Design
If you were to open any of the user Revolut reviews found online, among the many different benefits that you'd find mentioned in them, the usability aspect of the banking solution app would probably be referenced the most.
I have to say - it's completely justified, too! Revolut definitely does possess some of the best usability aspects, both as far as mobile-based banking solutions go, and as far as crypto exchanges are concerned, too.
Revolut is exclusively based on the mobile platform. No matter if you were to stroll through the app, or simply register to check out the exchange part, chances are that the ease of use factor would be very obvious.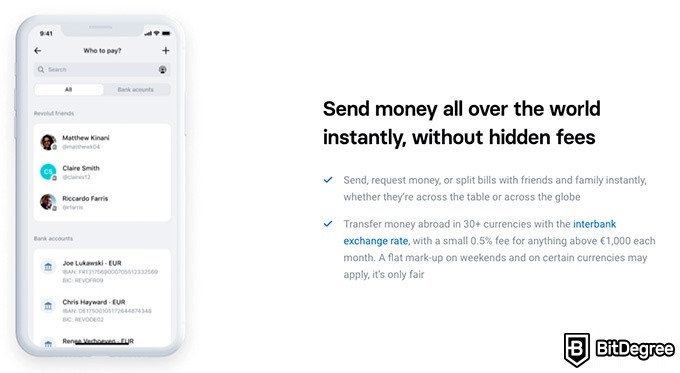 There are no needless buttons, everything's showcased in a nice and modern design, the app is responsive and "fluid" (you press the button, the action happens - there are no delays or lagging), and so on - there are many good things to say both about the Revolut exchange, and the app, in general.
Admittedly, ease of use tends to be an overshadowed factor when you're picking out the best crypto exchange for yourself. Using Revolut, though, you're provided with the best example of why it's important, and just how big of a difference it can make.
Supports the Main Cryptocurrencies
Now, we've established the fact that you don't really trade (own) actual cryptocurrencies on Revolut, but rather participate in derivative trading-like activities… But what are the actual crypto coins available, though?
Well, Revolut Trading supports 5 different cryptocurrencies:
Taking look at the short list above, it's obvious that the company went with the 5 major cryptocurrencies that are dominating the industry, and also the popularity-ranking lists.
That's actually a good thing! While it basically means that Revolut stays clear from some of the less-known altcoins, you will still be able to invest in the major cryptos - something that most industry newcomers want to do, in the first place!

If you're a cryptocurrency newbie, chances are that you won't be too interested in researching all of the different, smaller coins available. While the present-day newcomers to the market are, admittedly, a bit more crypto-savvy, the general tendency is still to stick with the smaller and less-known cryptocurrencies.
If you're part of this particular group of crypto enthusiasts, and aren't really all that concerned with the niche crypto assets that are out there, user Revolut crypto reviews will tell you that this particular platform might be a good starting point!
Many Additional Features Available
While this does not directly relate to Revolut trading as far as cryptocurrencies are concerned, it's still an awesome additional feature that's worth mentioning.
Well, rather, I should probably say that cryptocurrency investing is the additional feature - as noted a few times already, primarily, Revolut is a mobile banking solution. What this means is that you'll be able to use the platform for all of your banking wants and needs.
This does come with a pretty wide list of benefits, too! Depending on the plan of your choice, you'll be able to receive anything from a free UK-based account, ATM fee reductions, and a free card, all the way up to free SWIFT transfers, global express deliveries, and unlimited cross-border free transfers (and much, much more).
On top of all of that, some user Revolut crypto reviews also point out that you can participate in traditional stock investing, too! Revolut offers a very decent selection of different stocks, and makes the trading and investing processes extremely simple and straightforward.
Latest Binance Coupon Found:
SECURE $600 BONUS
Binance Christmas Sale
Sign up on Binance and claim up to $600 worth of rewards for completing simple tasks during this Binance Christmas sale. Use our Binance referral code (49316610) to activate the offer while it's still valid!
Expiration date : 12/12/2023
2,935 People Used
Only 67 Left
Revolut Crypto Review: CONS
So, since we've discussed some of the most prominent features and benefits that are available with Revolut, it's time to take a look at some of the less-positive user Revolut crypto reviews, and see who this particular platform might not be ideal for.
You Don't Actually Purchase Cryptocurrencies… Kind of (THE BAD PART)
As established multiple times already, Revolut Trading doesn't actually provide you with your own cryptocurrency, but instead works in a very similar fashion as derivative trading.
On their official blog, Revolut disputes this by saying that they do actually go ahead and purchase or sell cryptocurrency on behalf of the user, and thus, you DO actually own the crypto. However, that's simply completely untrue.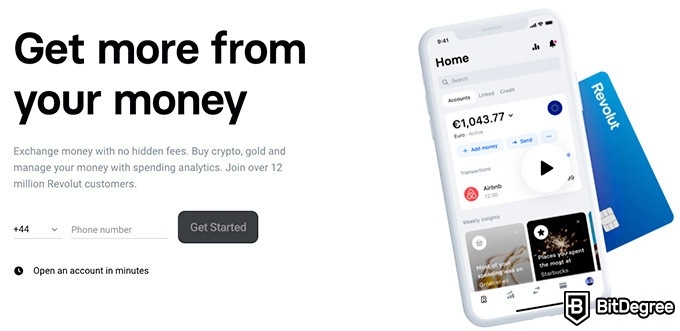 First of all, you won't be able to transfer "your" cryptocurrency - it can only be bought and sold on the Revolut platform. If the coins were truly yours, you would be free to do with them as you please - here, that's not the case (at least as of yet).
On top of that, there's also a saying among crypto enthusiasts - "not your keys, not your coins". This refers to the fact that, if you do not own the private keys to your wallet, you don't really own the coins themselves, since they can be taken away from you at any point in time - something echoed by multiple user Revolut crypto reviews, too.
Yet again, Revolut tries to dispute this on the same, aforementioned page on their site. However, they aren't really doing a good job at it, granted that their bottom line is that "it's not going to be for everyone".
Ya, well… That's rather obvious.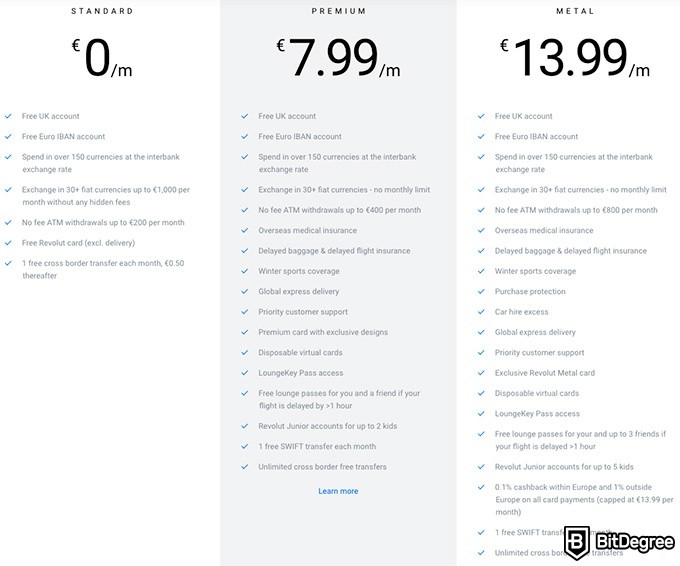 To top it all of, your cryptocurrency investments are also not going to be insured. Meaning, if something was to happen to them, there would be no formal assurance that you'll be refunded, unlike with traditional stock investments.
All things considered, it's obvious that, as the company itself puts it, their model of crypto trading is definitely not going to be "for everyone". If you're a traditional-minded cryptocurrency enthusiast, and do actually want to own your own coins (transfer them, trade them freely, or simply keep them in your own wallet - as in, ACTUALLY OWN THEM), Revolut isn't for you. Simple as that. If that's the case, make sure to check out Binance and Coinbase!
Dissuasive Fees
Fees are going to be a very important factor for anyone who wants to make a profit whilst trading cryptocurrencies. Most of the time, you will find exchanges competing in this regard - each and every single exchange strives to offer its users the most competitive fees.
Multiple user Revolut crypto reviews, however, will tell you that the company in question employs a rather unique fee model when it comes to crypto trading. Unfortunately, the term "unique" does not bear positive connotations in this specific case.
Revolut uses the "VWAP model" of fee allocation. Decrypted, the acronym means "Volume-Weighted Average Price". This model of Revolut crypto fees basically means that the price of a specific cryptocurrency on the Revolut exchange is going to be determined by a set market price that has experienced the most volume, at the given point in time.
This is really, really bad for crypto traders. Frankly, it means that brief price swings aren't reflected on Revolut - as an example, if Bitcoin was to crash in price for an hour, you would not be able to purchase it, since that specific price would not be the one that has the most volume on the market.
No chances to hop in and utilize some short price swings - a drastically-reduced chance of profiting.
On top of that, Revolut also charges an additional 2,5% fee when trading cryptos, and there are even further fees when you breach the £1000 worth of crypto traded mark.
Ya… Not ideal.
A Very Limited Number of Cryptocurrencies
While the platform does support some of the main cryptocurrencies that you might want to trade and invest in, there are quite a few user Revolut crypto reviews that note the apparent lack of additional altcoins.
Now, look - if you've ever visited a legitimate cryptocurrency exchange before, or have read some of our other crypto exchange reviews, you'll probably know that, for a high-end exchange site, supporting anywhere from 80 up to 200 different cryptocurrencies is, well… Normal!
When you keep numbers like these in mind, it's rather obvious that Revolut does lack in this regard, quite significantly. Sure, if you're only interested in the few main coins, this might not be an issue - however, if you feel like the cryptocurrency industry is quite attractive to you, and are thinking about looking into some alternative coins, naturally, you wouldn't be able to do so with Revolut.

When you combine this with the fact that you don't actually own any of the coins that you "purchase" with the help of Revolut Trading, well… Let's just say that there's a pretty good distinction between the type of a person who will love the Revolut exchange, and one that should stay clear of it.
I'm getting ahead of myself, though - even though we've discussed everything from Revolut fees all the way to the platform's usability features, before we cast a final verdict, let's take a bit of a closer look at the platform itself, and the process of investing into a crypto coin.

Did you know?
How to Use Revolut?
So, you've downloaded the Revolut app, have gone through all of the registration and identity verification processes (KYC), and have found yourself on the main dashboard of the app. What's next?
Well, allow me to guide you through the process of 'purchasing' your first cryptocurrency on the Revolut exchange! Note, however, that the process might be slightly different for Revolut USA customers - I'm using a European version of the app. That said, it shouldn't be TOO different, either way.
Step 1: From your main Revolut dashboard, navigate to the second-from-the-left tab on the lower-left part of the screen. This is the "Wealth" section of your account, where you can view and manage all of your investments.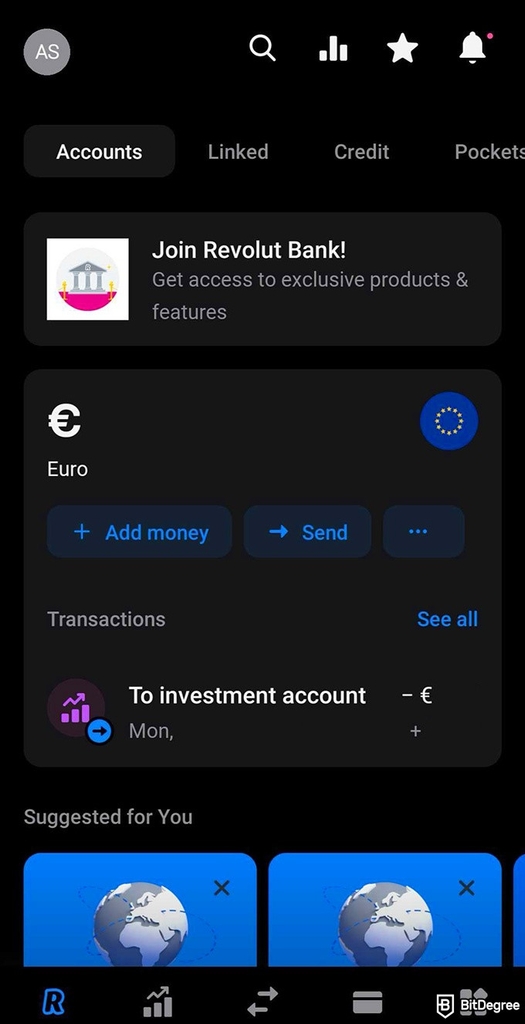 Step 2: First, you should get to know the interface (although, admittedly, everything is rather self-explanatory and simple to comprehend).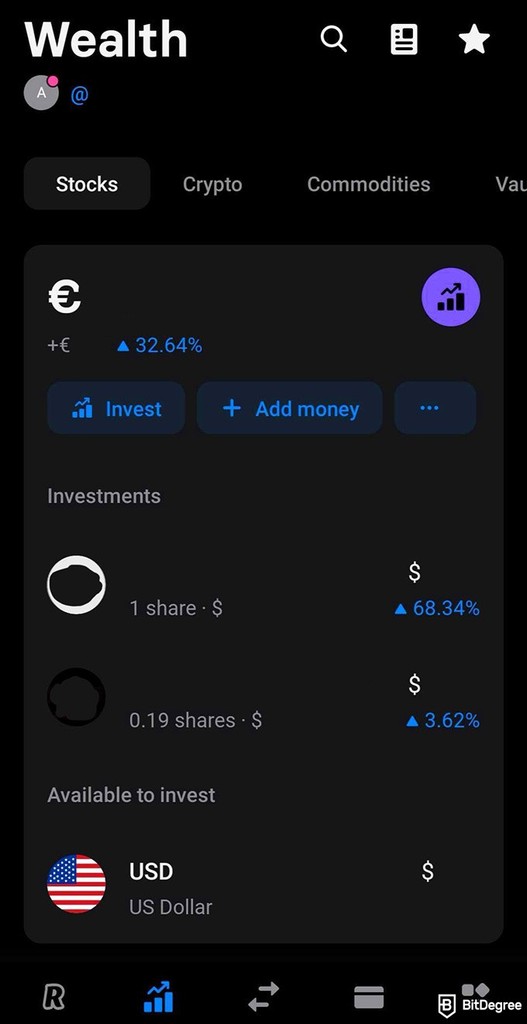 At the top, you have your assets - traditional stocks, crypto, commodities, and your vaults. In the middle of the screen, you can see your investment balance, and the investments themselves. Scrolling down, you will be able to see the transactions that you've made.
From this same screen, navigate to the Crypto part of the interface.
Step 3: Once here, you will be able to go through a short series of Instagram story-like notifications - they serve the purpose of informing you about the Revolut exchange, and crypto, in general.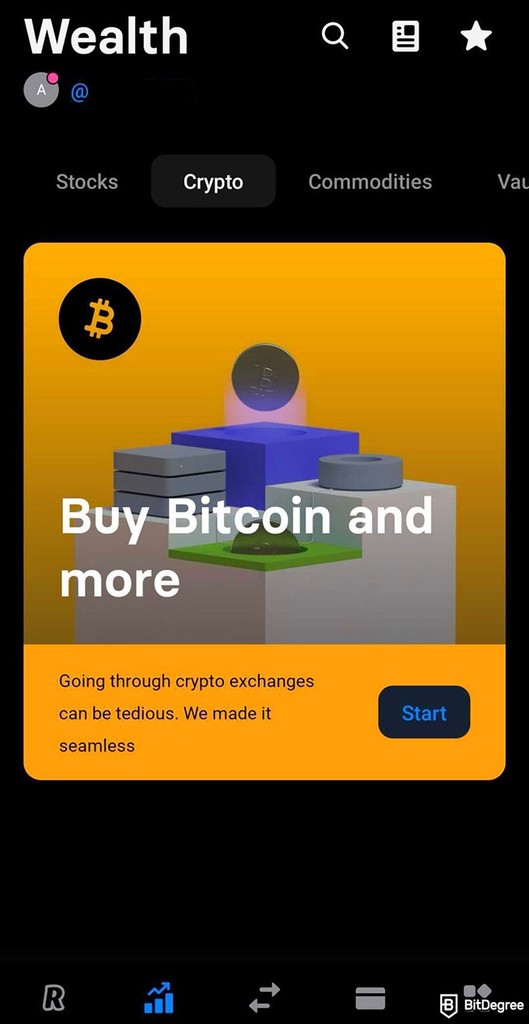 Step 4: Once you're done with informing yourself, you will be able to pick the cryptocurrency that you'd like to purchase, and enter the amount of money you'd like to spend on it. After placing an order, all that's left is to wait for the amount to be credited to your account. That's it!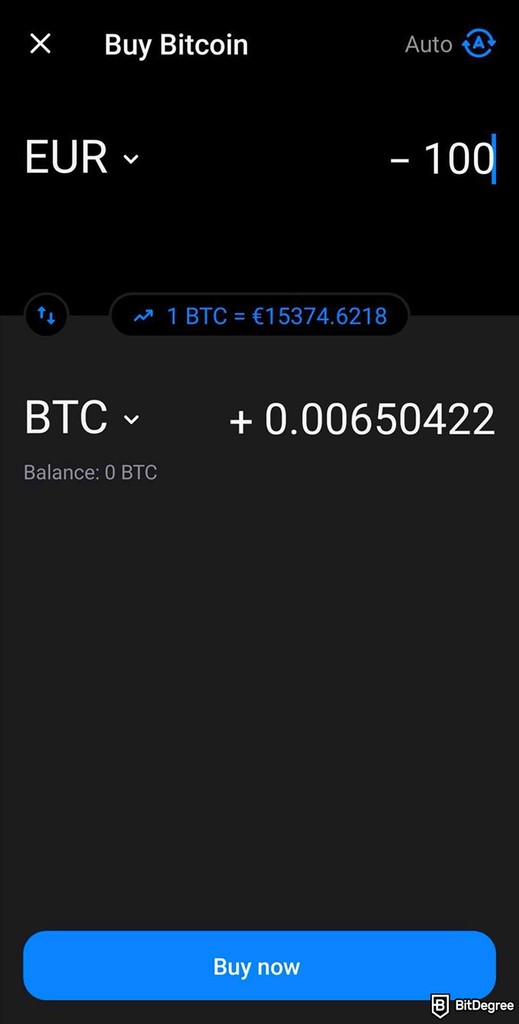 Frankly, it's obvious that Revolut has managed to optimize this process very well. With the company recently extending its services into Revolut USA, United States-based investors can expect to follow through a very similar process.
Do take your time when it comes to exploring the platform itself, though, and get to know the intricacies of how Revolut works, and check to see whether or not the app is going to suit your wants and needs.
Traditional stock and commodity trading works in a very similar fashion as does crypto trading, but you should also spend some time on the banking interface, too (and also get to know the benefits that you'd receive whilst using the different plans of Revolut).
If you want to sell your cryptocurrency, you should also note that the process is going to be rather similar to purchasing it - from the Crypto screen, you can simply swipe left to place a SELL order, and then pick and choose the amount you'd like to sell.
All in all, as far as the actual crypto purchasing process goes, Revolut is definitely a leader in regards to simplicity and user-friendliness. It would truly be amazing if the exchange wasn't custodial, too!

Pros
A very well-known crypto exchange platform
More than 500 different cryptos available
Two-factor authentication
Main Features
Over than 100 different cryptocurrencies available
Strong security
Small withdrawal fees

Pros
Secure and reliable
Low fees
A good amount of fiat currencies accepted
Main Features
Reputable exchange
Multiple fiat currencies are accepted
Relatively low trading fees

Pros
Anonymous trading
Secure
Supports a variety of cryptocurrencies
Main Features
Easy to use
Low fees
Good security
Conclusions
So, then - we've reached the very end of our Revolut crypto review.
I told you at the beginning of the article that this specific platform is a very unique cryptocurrency trading solution. This is mainly the case because it wasn't intended as a crypto trading (or, rather - investing) app, but rather as an online, mobile-based banking solution.
However, what's the final verdict to be drawn here? Would I personally recommend trying the Revolut exchange out?
As odd as this may sound - I would both recommend it, and strongly advise to stay away from it, at the same time. Never has it probably been so dependent on your own, personal wants and needs in regards to cryptocurrencies.
If you are a complete beginner, have no actual interest in the technology behind cryptocurrencies, and are only looking to make a quick buck by day trading cryptocurrencies, sure - Revolut might be a decent place to start. There are quite a few user Revolut crypto reviews that would agree with this sentiment, too.
That said, you should mind the lack of insurance, and the ridiculous fee model, though. These two things can break the deal off, completely.
On top of that, if you do actually want to hold your own cryptocurrencies in a wallet that actually belongs to you, or at least desired to trade a wider assortment of coins, then you should stay very clear of Revolut. There are much, MUCH better alternatives out there. Platforms such as Coinbase and Binance are perfect examples.
All of that said, I do hope that this Revolut crypto review was useful to you, and that it helped you make up your mind on whether or not Revolut is the right choice for you. Good luck, and until next time!
The content published on this website is not aimed to give any kind of financial, investment, trading, or any other form of advice. BitDegree.org does not endorse or suggest you to buy, sell or hold any kind of cryptocurrency. Before making financial investment decisions, do consult your financial advisor.
About Article's Experts & Analysts