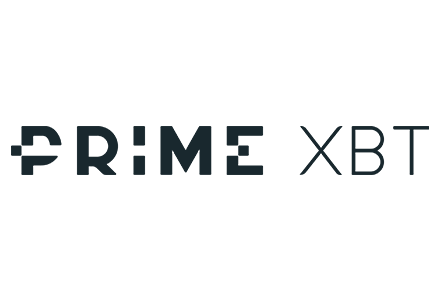 The futures sector is a fascinating aspect of the crypto trading world. This is a space that is typically made up of people who are more knowledgeable about economics than the average person, and who are more accustomed to risk. In this PrimeXBT Crypto Futures review, I will examine what exactly these individuals look for in an exchange, and whether PrimeXBT is able to offer it to them.
While the futures sector may feel niche to some beginners, the reality is that it makes up a sizeable chunk of the industry. This is why many different exchange platforms offer it to their communities, and why there are several exchanges that exist solely to work with futures. The nature of futures and derivatives is that they have a more advanced user base, due to their increased complexity, which can make serving these individuals a little harder, as they have more specific aims and desires.
With this in mind, let's focus on one company in particular, and see how they stack up. In this PrimeXBT Crypto Futures review, I will examine what it has to offer, what it flourishes at, as well as its limitations, in an attempt to explain whether it is a useful and worthwhile toolkit for people who are interested in futures activities.
Verdict at a Glance: The PrimeXBT Crypto Futures trading platform is one of the more popular and user-trusted services for anyone who's looking to get into crypto futures. It offers up to x200 leverage, a user-friendly interface, and is complemented by the copy-trading service offered by the company.
Pros
Adjustable leverage up to x200
Customizable dashboard
Low funding fees
Cons
Not every pair has x200 leverage
Futures trading has limitations
What is PrimeXBT Crypto Futures?
Before jumping into this PrimeXBT Crypto Futures review, let's take a look at the company itself. This is a multi-faceted platform that not only functions in the crypto space, but also allows people to trade traditional assets, such as stocks, forex, and commodities. It is a wide-ranging company that aims to welcome traders from all walks of life, who may all have different goals in mind.
We have covered PrimeXBT rather extensively in a former review, where we found it to be a highly accomplished platform that works hard to offer robust and simple-to-use elements for all involved. For this reason, I will not be focusing on the general areas of PrimeXBT, but rather honing in on aspects such as its futures, PrimeXBT copy-trading, and other factors such as margin trading.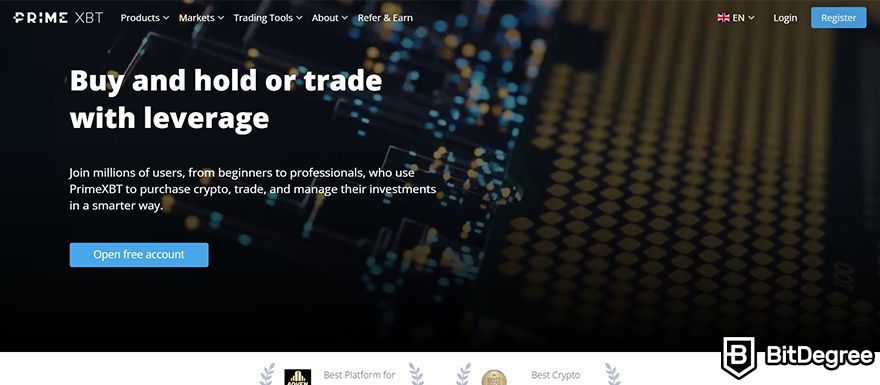 However, it should be made crystal clear that despite this being a PrimeXBT Crypto Futures review, this is a company that operates on many levels, offering a full suite of tools to its user base. Many people who use PrimeXBT find that it is highly wide-ranging and component in numerous areas. This PrimeXBT Crypto Futures review will complement our previous review, and should simply give you more info about the company than you had prior to reading.
PrimeXBT Crypto Futures Review: PROS
Let's jump into this PrimeXBT Crypto Futures review by starting with the positives. This is a great way of highlighting what it is that people enjoy about the platform, and gives context and framing to the rest of the review.
Adjustable Leverage Up to x200
One of the first things that futures traders look for in a platform is how leverage works. For those who are unsure, leverage is the ability to control a large financial position with a relatively small amount of money. This is made possible because, when trading futures, a trader doesn't have to pay for the full value of the contract upfront. Instead, they only need to deposit a fraction of it, which is called the "initial margin."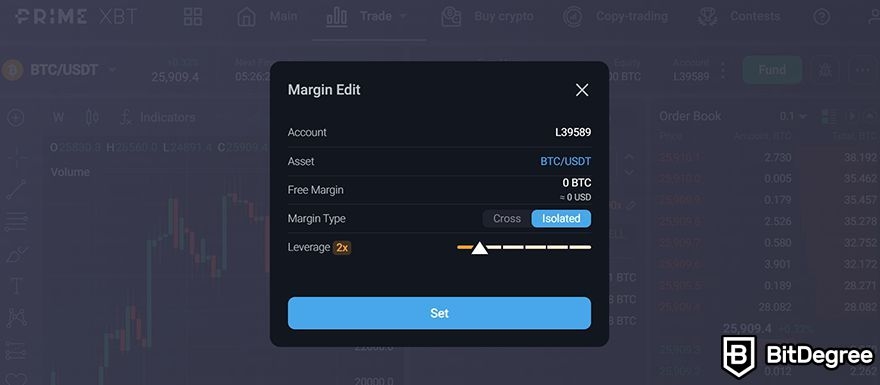 Their initial investment is magnified by the platform, to help them to make larger trades. Naturally, something like this comes with inherent risks, which is why this PrimeXBT Crypto Futures review is aimed at people who are slightly more advanced and ambitious than the average beginner.
Essentially, there are two major areas we need to examine. Let's start with discussing the amount of leverage you can engage with. By default, many futures trades will be set to a whopping x200 leverage, which is significantly higher than many other platforms on the market. Your trades will also be set to a cross-margin type.
This is where the entire available balance in a user's account is used as collateral for positions. This means if a position starts to move against the trader, it can eat into the entire account balance to prevent liquidation. This method can allow positions to survive longer against adverse price movements, but at the risk of potentially wiping out a much larger portion of the trader's account. As a result, using a cross-margin type will give you access to PrimeXBT's x200 leverage, which is not available for its isolated margin type.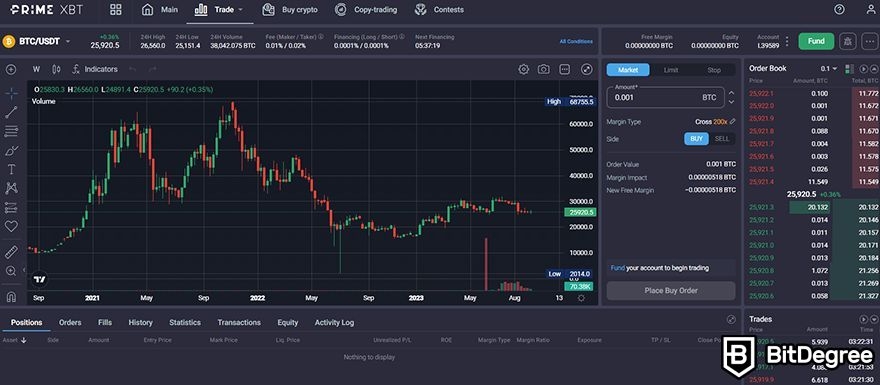 You can easily switch to isolated in the dashboard, which is where the margin is confined to a specific position or trade, and the user determines how much margin they want to allocate to a particular position, and only that amount is at risk for that position. Using an isolated margin is great for reducing risk, but simultaneously, it also prevents you from accessing the full x200 leverage.
When using an isolated margin type, your leverage is capped at x100. However, this trade-off comes with the ability to customize your leverage in a way that cross-margin futures trading does not offer. For those who enjoy more control over their leverage, choosing the isolated route is ideal, as it allows for more precision.
As far as this PrimeXBT Crypto Futures review is concerned, I should also note that users are also capable of accessing unmatched liquidity, the likes of which cannot be found on most exchanges. Better yet, this liquidity is far-reaching, covering a range of assets. There are eight to choose from, all of which are paired with the USDT stablecoin.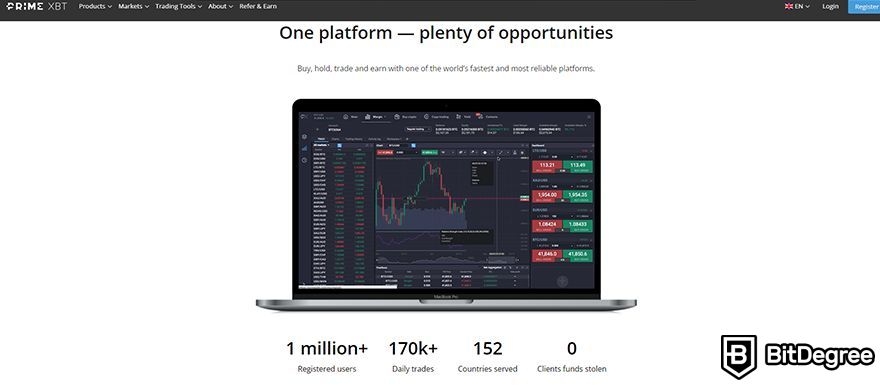 This includes BTC, ETH, LTC, XRP, Polygon's Matic, and even BNB. Not only this, but more niche assets such as ATOM and TRX are available, as well. This is a very strong range, which offers something for everybody. Whether traders prefer to work with behemoths in the industry like Bitcoin and Ethereum, or whether they enjoy working with smaller altcoins like ATOM and BNB, they are likely to find something that satisfies them.
Customizable Dashboard
The first thing you will notice when you try the platform out after reading my PrimeXBT Crypto Futures review is that the dashboard is fully-fledged and designed for advanced users. It contains all the bells and whistles you would expect in a trading console. Its chart is powered by TradingView, which means you can overlay a whole host of measurement tools and patterns, as well as add indicators and change the time frame of the chart.
For day traders who engage in futures activity, the ability to look at minute-by-minute chart details is a godsend. For those who prefer holding for longer, they can change the chart to show daily or weekly activity. This is the same with other tools that the company offers, as was covered in our PrimeXBT review. Plus, details like this can help those who enjoy copy-trading on the exchange.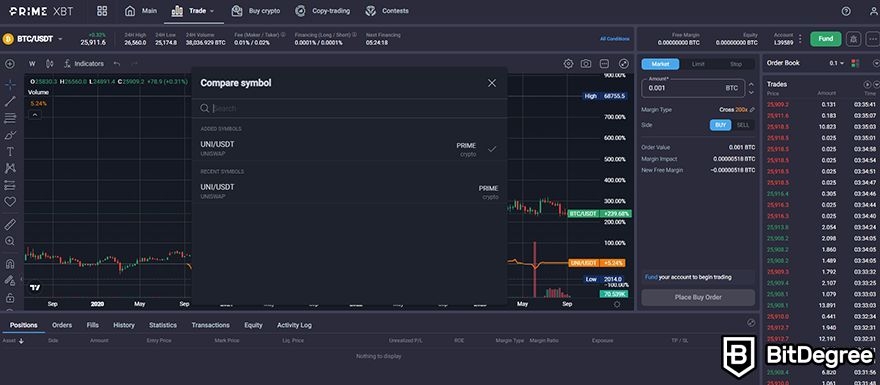 The best aspect of this dashboard is that it is highly customizable. Users can add watchlists for their favorite pairs, view pending and open orders, and, best of all, they can drag different elements around the screen, meaning they can have a layout that suits their needs best. This is fantastic for beginners who may not want to be daunted by every feature that PrimeXBT offers, as well as advanced users who would prefer a streamlined view that focuses only on the elements that matter to them.
It is a simple thing, but customizable dashboards are highly sought-after. They allow people to organize their activity in a way that makes the most sense to them, giving a level of autonomy and precision that many top exchanges do not offer. With this aspect of the PrimeXBT Crypto Futures review in mind, it makes it clear just how user-friendly and accessible the platform is.
Low Funding Fees
When people are thinking about futures trading, one factor they need to consider is what the funding fees will be like. PrimeXBT has a legacy of having low fees for many of its other areas. This tradition is upheld when it comes to futures, too.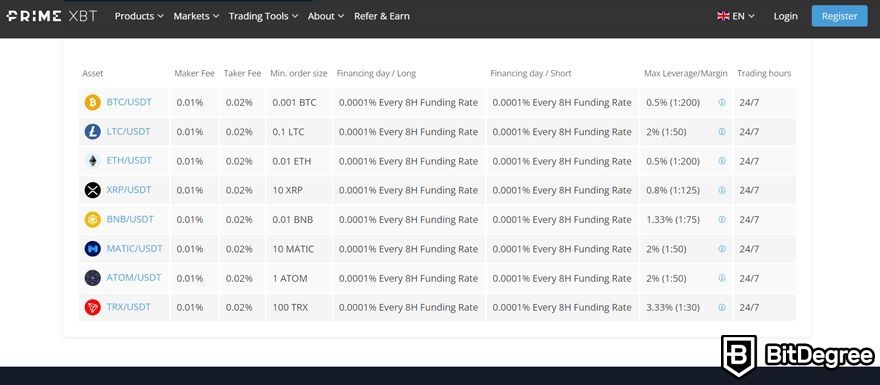 For both its financing day-long and short positions, its funding rate is 0.0001% every 8 hours. This makes for a daily rate of 0.0003% (assuming there are three 8-hour periods in a day), or approximately 0.1095% annually. This is fantastic news for all types of traders, from day traders all the way up to those who hold very long positions. It makes for a low-cost endeavor, which is a point that definitely should be highlighted in this PrimeXBT Crypto Futures review.
This rate is the same across all of its eight pairs. It is also worth noting that the maker and taker fees are set to a good range for PrimeXBT Crypto Futures, as well. All assets have a 0.01% maker fee, and a 0.02% taker fee. Taker fees are typically higher than maker fees on trading platforms to incentivize market participants to add liquidity to the market. Makers, by placing orders that don't fill immediately, contribute to market liquidity, facilitating smoother trades and narrower price spreads.
Takers, on the other hand, remove liquidity by matching with existing orders. By charging takers more, exchanges encourage traders to add liquidity, leading to a more efficient marketplace with tighter spreads and more strategic trading. This approach aims to promote a healthier trading environment, as well as help exchanges attract volume, especially from high-frequency traders and market makers.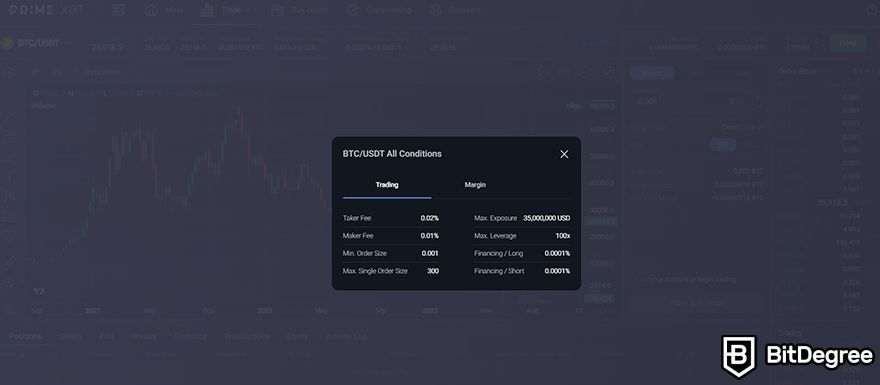 Do not be confused or deterred by these rates. Fees for futures trading are typically higher than spot trading because of the inherent complexities and risks associated with leverage. This necessitates robust risk management systems, increased capital holdings, and a more sophisticated infrastructure by exchanges, leading to higher operational costs.
Copy-Trading Capabilities
Naturally, in this PrimeXBT Crypto Futures review, I'm focusing on the platform's derivates services, but it should not be ignored that PrimeXBT copy-trading is also a major part of its ecosystem. It would be doing this platform a disservice to not highlight this, at least briefly. Especially considering how it can connect directly into its futures activity.
What this means is that users can copy the activity of other esteemed and well-versed traders. The copy-trading module on PrimeXBT is extremely user-friendly, filled with a wide range of information about potential individuals and bots to copy from. The leaderboard list, which opens up when you launch the PrimeXBT copy-trading tab, shows the number of days each account has been active, the total percentage of gains they have made, and the total follower equity.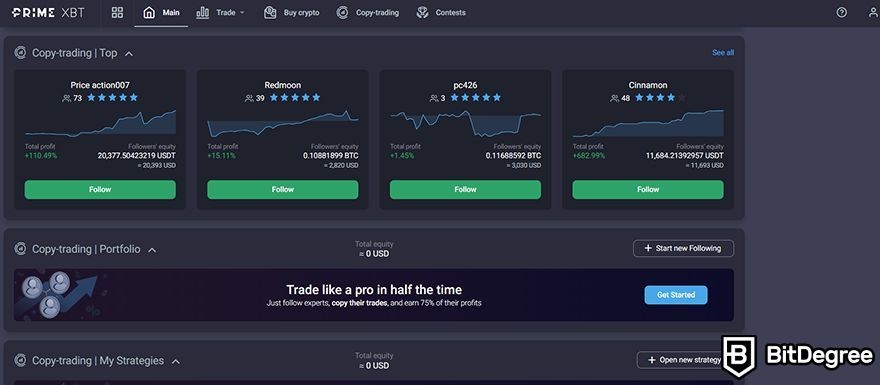 The equity column is extremely interesting, as it shows how much money followers have allocated to each account. It could be viewed as a measure of trust; the accounts with more equity allocated could indicate that people respect their actions so much that they are willing to attribute such a large amount to them collectively.
Another mark of trust can be found in the star rating that each account receives. These are not arbitrary stats, but rather, they represent a checklist of important attributes that a user can perform to reach this level of prestige. To receive a full five-star rating, accounts must perform five distinct actions:
Their equity must be more than, or equal to 2000 USDT.
The number of their active trading days is greater than two, over a 10-day stretch.
Their margin usage did not surpass 60%, whilst having more than 0% trading volume, over a 10-day stretch.
The ratio of closed profitable positions in comparison to closed unprofitable positions is at least 60%/40% within the last 30 days.
The turnover has been greater than or equal to 200,000 USDT over the last 30 days.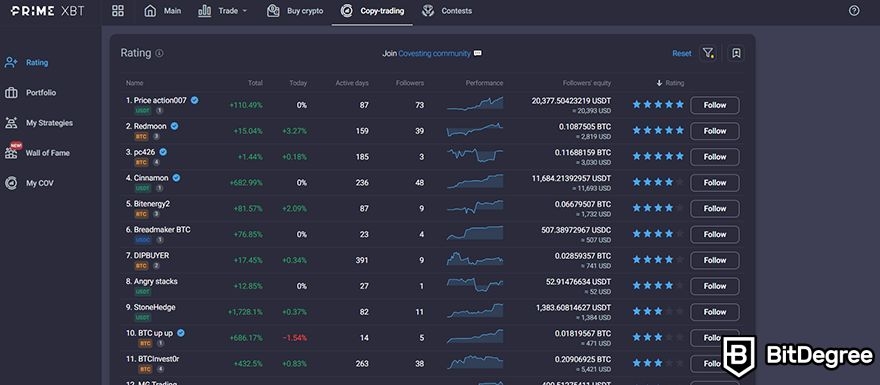 This is a highly thoughtful system, as each star is representative of something special, rather than an abstract sign of positive activity. It allows users to choose who they copy from in a very specific and precise way. Another significant element of the copy-trading module on PrimeXBT is that you can even check who has passed ID verification. While this is not exactly a necessity for being a copy-trader on PrimeXBT, it is a strong sign that an account can be trustworthy, as it has been vetted by the company, to some extent.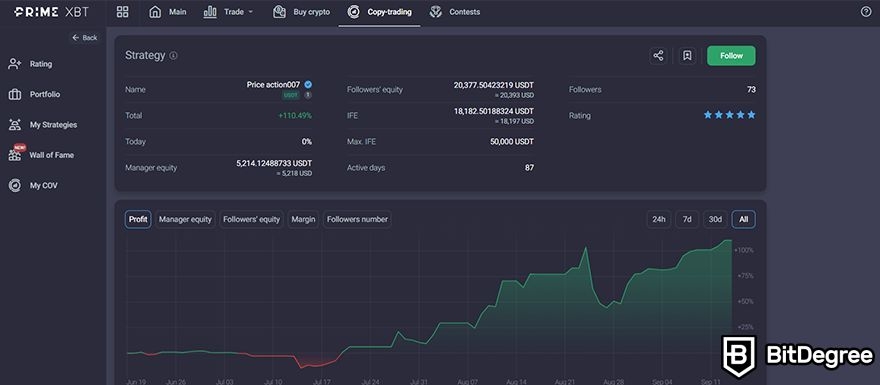 PrimeXBT has further helped users pick their ideal trader to copy by creating a Wall of Fame. Here, accounts are ranked, showing the top 50 projects available. The star rating system is not visible here, but you can see their active days, maximum profits, and maximum equity. It is also worth pointing out that the PrimeXBT copy-trading minimum deposit is simply as low as it would cost to cover the lowest margin trade in question, which is great for beginners.

Did you know?
PrimeXBT Crypto Futures Review: CONS
Now, let's focus our attention on the less-positive elements of the PrimeXBT Crypto Futures review. This will naturally balance our discussion out, and add more necessary context.
Not Every Pair Has x200 Leverage
User PrimeXBT Crypto Futures reviews talk about the platform having a x200 leverage - it's something that I've discussed earlier, as well. That being said, it should be noted that not every pair can reach this level. In reality, BTC and ETH are the only two assets at the moment that have access to x200. For most traders, this is probably more than enough, but it is sure to disappoint some individuals who prefer working with smaller altcoins.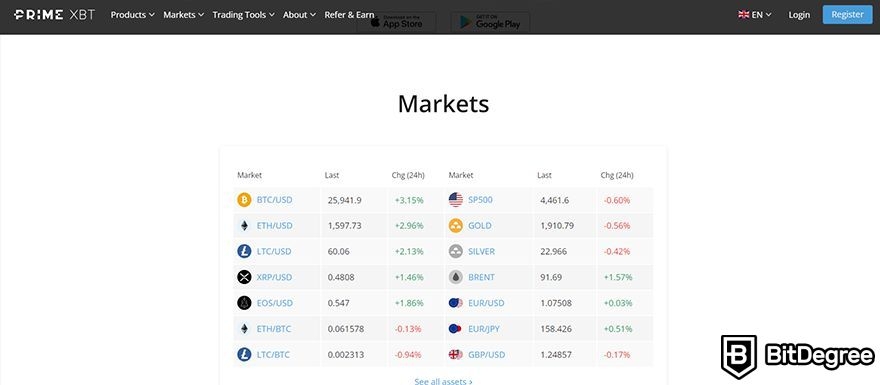 That being said, all pairs still offer strong leverage options, even if they are not all at the x200 range. XRP maxes out at x175, BNB is set to x75, LTC, MATIC, and ATOM offer x50, and TRX can reach x30. These are definitely lower than Bitcoin and Ethereum, but they are still considerably high. Most people will likely be satisfied with these numbers, regardless.
This is arguably acceptable for one simple reason: many traders are more weary of opening high-leverage futures contracts for smaller coins and tokens. This is because altcoins are less predictable than Bitcoin, and so people naturally act more cautiously. In other words, you are more likely to find people who want x200 leverage BTC futures contracts, rather than something like TRX or ATOM.
Isolated and Cross-Margin Trading Has Limitations
When examining the margins for my PrimeXBT Crypto Futures review, I noticed that there are some intriguing limitations that users face. Before I jump into this, let me reiterate an important positive that this platform offers. Users are able to engage in both cross-margin and isolated margin futures activity. As a quick reminder, cross-margin means all assets in a user's account are used as collateral for their open positions, and isolated margin means only a specific amount of collateral is allocated for a particular position.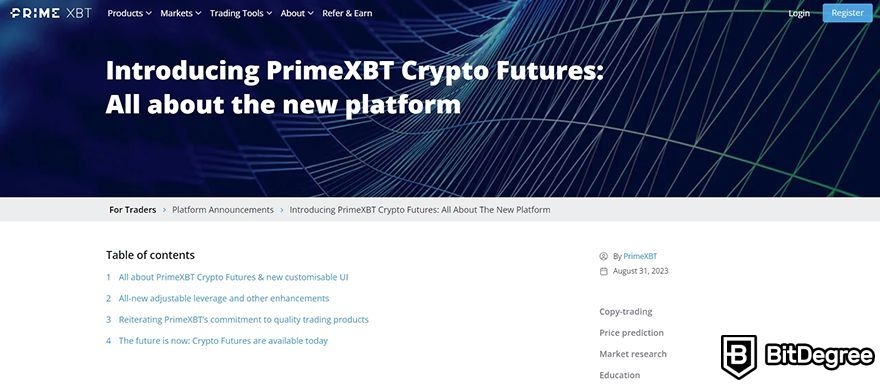 However, both isolated and cross-margin contracts are limited in different ways. For starters, the highest leverage for each pair is only accessible if you select cross margin. This means that if you want to open an x200 BTC futures contract, you must choose cross-margin. However, interestingly, you cannot access lower leverage while still using cross-margin.
For example, you are unable to execute an x50 BTC futures contract using cross-margin. This is important to point out as it means that traders who want the highest leverage will have to expose their whole collateral to their open positions, unable to isolate them.
To be fair, this might not be a huge demerit, for the simple reason that x200 leverage is extremely high, and so most derivatives fans who would be enticed by this may already be equipped with a deeper understanding of market dynamics. They might see the limitations of cross-margin as a trade-off for the potential rewards, fully aware of the double-edged sword that high leverage presents in volatile markets.
The second limitation comes with isolated margin contracts. If you choose this, then you are unable to access the highest leverage range that PrimeXBT Crypto Futures offer. For instance, if you want a BTC futures contract using isolated margin, then it is capped at x100. Another example is LTC – for cross-margin, its highest leverage is x50, but for isolated margin, it is x30.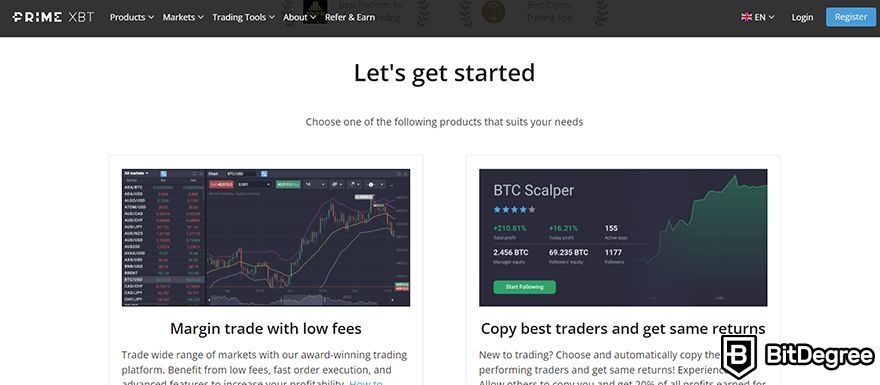 PrimeXBT has not provided an explicit reason for this, but it can be deduced from their stance on financial safety that it was implemented as a type of implicit risk management protocol. This is because isolated margin trades are particularly vulnerable to swift liquidations due to their predefined margin boundaries. By capping the leverage on isolated margin trades, PrimeXBT may be attempting to protect traders from the rapid exhaustion of margin in the face of volatile market shifts.
Given the nature of isolated margin, where only a set amount of funds are allocated to support a specific position, higher leverage would mean greater sensitivity to market fluctuations. In the event of adverse market movements, positions with higher leverage can get liquidated quickly, possibly leading to substantial losses for traders.
By setting a lower leverage cap for isolated margin compared to cross-margin, PrimeXBT ensures that traders have a buffer against the inherent risks associated with this type of margin system, thereby promoting more responsible and cautious trading practices. While this might frustrate some traders, it must be recognized that PrimeXBT is designed to serve a huge range of individuals, so caution is a top priority.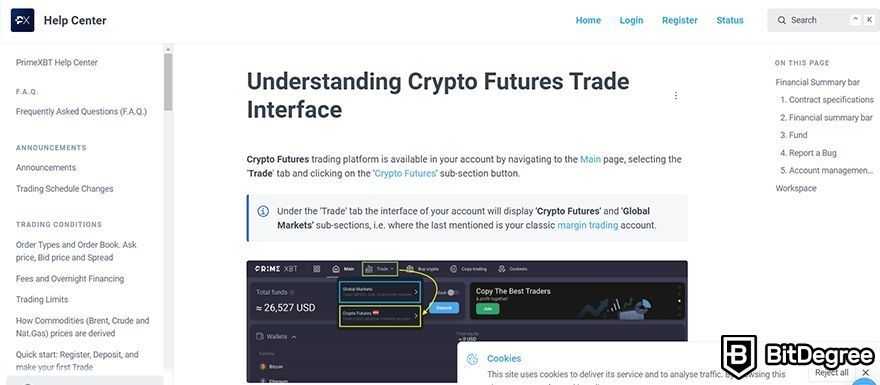 x200 leverage futures contracts can be very intense, and poor market movements can easily harm a person's finances. In other words, these are dangerous tools that push the notion of high-risk; high-reward to its maximum. Not only can they be risky for the end user, but poor behavior can cause an exchange itself to struggle in terms of liquidation.
This is why it is important to keep in mind within my PrimeXBT Crypto Futures review that these limitations are not huge negatives, but rather are prudent measures aimed at ensuring a balanced and more safeguarded trading environment. These constraints, while potentially seen as inhibiting those seeking unbridled trading freedom, actually underscore PrimeXBT's commitment to promoting responsible trading.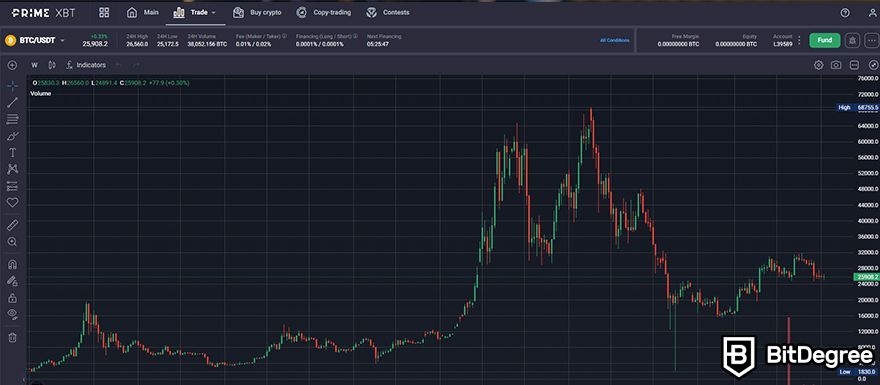 They serve as a testament to the platform's dedication, not just to providing a wide range of trading tools, but also to ensuring its users are shielded from the harshest repercussions of extreme market volatility. In the high-stakes world of crypto futures trading, such measures can be the difference between success and devastating financial consequences.
How to Sign Up to PrimeXBT and Access Futures and Copy-Trading
To help contextualize this PrimeXBT copy-trading review and discussion on its futures, let's walk through how to access these features.
Step 1: Head to the PrimeXBT homepage. Here, you should find a button labeled "Open Free Account". Click on this.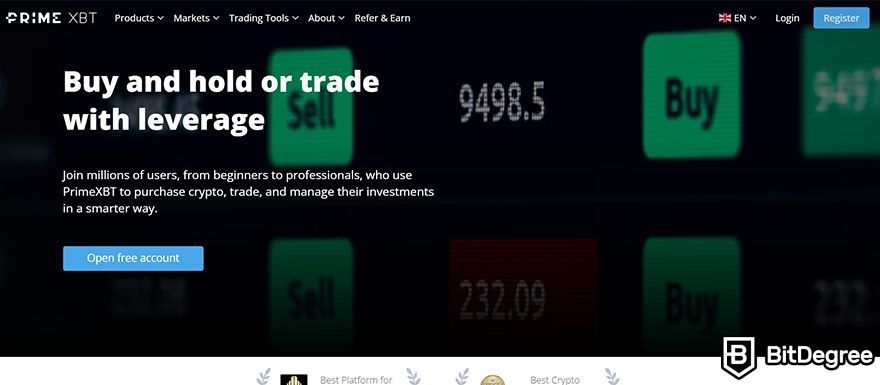 Step 2: You will now be taken to a page that asks you to input your email address and set a password. You will also be told what features the password must have to make it secure enough. Now press "Create account".
Step 3: You will be sent an email with a pin number. PrimeXBT will now ask you for this number. Input it and proceed.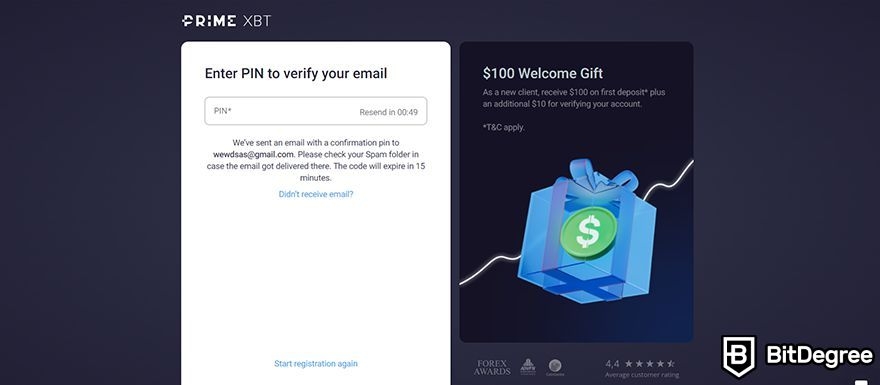 Step 4: You will now have an account, which grants you access to both copy-trading on PrimeXBT and its futures services. To get to the copy-trading module on PrimeXBT, head to the copy-trading tab at the top bar. Clicking on this will take you to the main ratings board, ranking other accounts.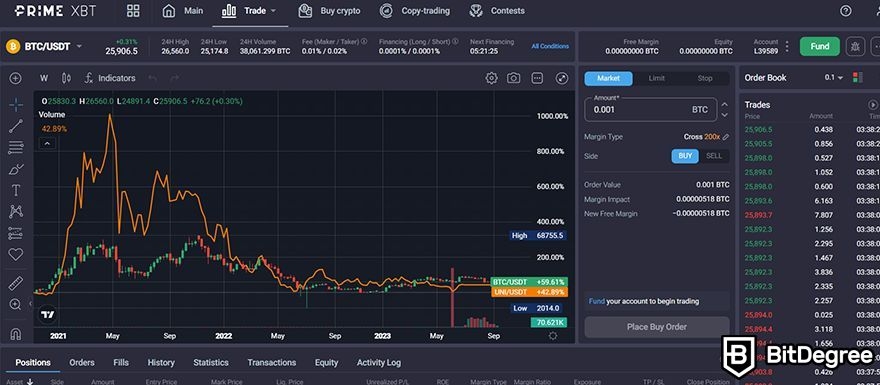 Step 5: To get to the futures section, hover over the "Trade" tab, and you will see a mini drop-down menu that lists Crypto Futures on it. Click here, and you will now have access to the full dashboard.
Now you are all set up and can go ahead and explore copy-trading, PrimeXBT Crypto Futures, and the many other features it has to offer. Of course, to fully experience them, you will need to deposit money and get verified (for the purposes of KYC and AML). But even if you have not done this yet, you can still check them out!
Latest Binance Coupon Found:
CLAIM $600 BONUS
Exclusive $600 Binance Offer
Don't miss this limited-time deal that's only available for our readers. Follow the Binance referral code link & receive up to $600 in rewards and bonuses!
Expiration date : 04/10/2023
7,847 People Used
Only 49 Left
Here is The Best Binance Offer I Found:
CLAIM $600 BONUS
Exclusive $600 Binance Offer
Don't miss this limited-time deal that's only available for our readers. Follow the Binance referral code link & receive up to $600 in rewards and bonuses!
Expiration date : 04/10/2023
7,847 People Used
Only 49 Left
Conclusions
In this PrimeXBT Crypto Futures review, I've covered a range of important factors. I have explained how this company offers isolated and cross-margin futures contracts, its highly accomplished and customizable dashboard, and even the PrimeXBT copy-trading module. This is a wide-ranging service, perfect for those who are interested in the derivatives market.
Naturally, the restrictions on both isolated and cross-margin futures may be frustrating for some users. Plus, the fact that only Bitcoin and Ethereum have access to x200 leverage may disappoint serious traders. But in my opinion, these are mostly negligible issues that will only affect a small handful of individuals, if any.
Note that this is just a small range of elements regarding PrimeXBT. In truth, this company handles much more than just futures and copy-trading; to learn more about it, check out our full PrimeXBT review. It is not a PrimeXBT copy-trading review, but rather, it has a more overarching focus.
With a fully-fledged copy-trading service, a low PrimeXBT copy-trading minimum deposit, and a dashboard with precise controls, it is prevalent in my PrimeXBT Crypto Futures review that this is a serious crypto platform.
The content published on this website is not aimed to give any kind of financial, investment, trading, or any other form of advice. BitDegree.org does not endorse or suggest you to buy, sell or hold any kind of cryptocurrency. Before making financial investment decisions, do consult your financial advisor.
About Article's Experts & Analysts