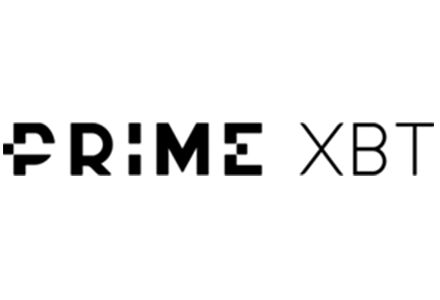 The present-day cryptocurrency markets are filled with both various crypto coins themselves, and also different types of places where you could acquire, trade, and sell those same coins. As some user Prime XBT reviews would tell you, PX is one such place - and today, we're going to try and see what makes it stand out of the crypto trading platform crowd.
I can tell you straight from the get-go - if you've never heard about Prime XBT before, yet are an avid cryptocurrency fan, don't be too surprised. PX is still a relatively new player in the crypto scene - the site is actually a trading platform for many different assets, and cryptocurrencies are just one of them.
If you're trying to find out is Prime XBT legit, or learn a bit more about the Prime XBT fees, you've come to the right place - we'll discuss all of the essential aspects of the platform below!
TL;DR: Prime XBT is a multi-asset trading platform, and does now offer cryptocurrency trading, too. PX offers great usability and some amazing leverage options, and the fees on the platform are very competitive, too. One of the most common complaints that users have when it comes to online Prime XBT reviews has to do with the lack of coins that the platform supports.
Pros
Decent fees
Very secure
Different assets available to be traded
Accepts fiat (credit/debit card) deposits
Relatively simple to use
Cons
Limited cryptocurrency choices
Does not operate in the US and Canada
Prime XBT Review: PROS
Before we jump into the Prime XBT review, and start discussing the various benefits and shortcomings that are usually associated with Prime, allow me to provide a quick disclaimer.
As hinted in the introductory part of the article, Prime XBT is actually an asset trading platform - meaning, cryptocurrencies are just a single asset out of the many that you'll be able to find here.
While many of the questions (such as "is Prime XBT legit?") are aimed at and surround the other-asset part of the platform, in this Prime XBT review, we'll be focusing almost exclusively on the crypto side of things.

What this means is that, while PX might be a great place to trade different assets, and while it may also provide different asset-exclusive benefits to the trader, our attention will be dedicated almost exclusively to the cryptocurrency side of things.
With that out of the way, let's jump right into the Prime XBT review. And what better way to start it than by talking about one of the signature features of Prime - it's crypto leverage options.
Some of the Highest Leverage Options in Crypto Trading
Whenever you're trading cryptocurrencies, you probably have some sort of a set capital that you work with - if not, you definitely should. Depending on that capital (usually - fiat money balance), you'll be "placed" into a specific trading position - the more money you have and put forward, the better your position will be.
Naturally, though, a single look at some of the Prime XBT reviews found online will tell you that this platform isn't used solemnly by experienced, millionaire crypto traders - there are a lot of newcomers and industry newbies, too.
As you can probably imagine, a newcomer to the crypto trading world isn't going to throw all of their money into trading - that's absurd, in its most straightforward form.
Well, in come the leverages.

In finance and asset trading, a 'leverage' is when you essentially borrow money from the platform in order to increase your trading position on a specific trade. This has the potential to result in some high profits (that said, it works the other way around, too - it may result in significant losses).
Most user Prime XBT reviews found online are unanimous - Prime offers some of the best leverages when it comes to crypto trading.
While it's a case-by-case scenario (especially when you introduce risk management), the highest leverage limit available on PX in regards to crypto trading is 100x. That's quite significant! If you're looking to increase your profits, but do not possess the capital to do so, leverages are worth looking into.
Again, however - all of this should be consulted with a financial advisor, since leverages may result in some significant losses, too.
Latest Coinbase Coupon Found:
CLAIM YOUR $200 BONUS
Coinbase Cyber Monday
Cyber Monday Madness at Coinbase! Get your first crypto and earn up to $200 in rewards. Hurry up before this Coinbase Cyber Monday deal ends.
Expiration date : 08/12/2023
3,784 People Used
Only 16 Left
A Very Secure Platform
One of the biggest concerns that people who are starting out in the field of cryptocurrency trading have is security.
It makes sense, though. The crypto market is volatile enough as it is - with hackings and scams being a prominent issue in the industry, you'd probably want to guarantee the highest levels of security in your crypto trading ventures.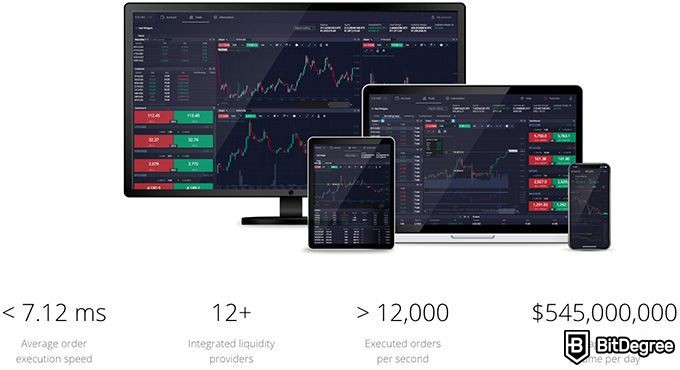 Well, if you're trying to find out is Prime XBT legit in this regard, rest assured - PX has some great security measures in place.
When it comes to general asset protection measures, PX utilizes AWS web servers in order to run their trading operations smoothly. AWS is the leader in this particular field, so you can be sure that Prime is using only the highest quality services.
Apart from some other, more-general security measures, some user Prime XBT reviews will also tell you that PX has a very interesting and crypto-specific security measure in place, too.
Basically, Prime keeps the majority of the crypto assets in cold storage devices.
This is superb.
You see, many of even the high-end cryptocurrency exchanges and trading platforms do not employ this as a form of security. This means that the cryptos are stored and kept in hot wallets - it's a major security hazard, since they are always connected to the internet!

Cold storage refers to some hardware devices - wallets such as Trezor or the Ledger Nano X. These devices have no constant connection to the web, which means that potential hackers are not able to reach your crypto funds.
Security-wise, Prime XBT is truly a top-tier platform.
Simple to Use
While we'll get to the actual registration and sign up processes in a hot minute, it's worth mentioning that multiple user Prime XBT reviews point out how simple to use PX actually is.
Well, that's by comparison with some other trading platforms - nothing that relates to finances and financial asset trading is truly very "simple".
Many of the crypto-exclusive exchange platforms nowadays do also struggle with this point, too. It's rather difficult to find a balance between a user-friendly UI, and all of the complicated financial charts and candlesticks that need to inform the trader about what's happening in the market at that point in time.

That being said, though, user Prime XBT reviews truly do seem happy when it comes to the usability aspect of the platform. It comes with an overarching sleek design, and does not overcrowd you with some unnecessary and confusing features.
Fiat Currency / Cryptocurrency Trading Pairs + Fiat Deposits
A point that I personally did not see mentioned all that often on user Prime XBT reviews is that you are able to boh make fiat deposits on the trading platform, and also trade fiat currencies for crypto ones.
It's actually a pretty big deal!
In order to deposit fiat money or even make fiat/crypto trades, an exchange (or, in this case - a trading platform) needs to go through a lot of technical and legal hoops. That is why, in many exchanges, you are not able to deposit fiat money, or can only trade crypto to crypto.
Not the case with Prime XBT.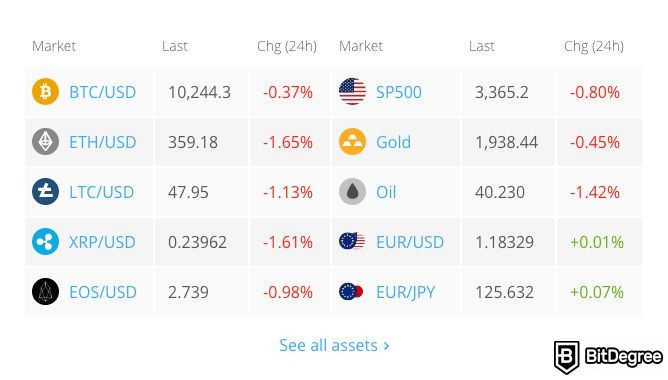 Being an asset trading platform, Prime has a lot of different trading pairs for the user to pick from. These pairs include fiat/crypto trading, as well.
And, on top of that, naturally, you'll also be able to make a fiat currency deposit to your Prime wallet, too.
To sum up, if you're looking for an easy entry into the cryptocurrency market (easy, meaning - direct fiat deposits and fiat/crypto trading pairs), then user Prime XBT reviews will surely point you to this particular trading platform.
Latest Binance Coupon Found:
REDEEM $600 PRIZE
Binance Cyber Monday
Attention new Binance users: this Cyber Monday, you can score up to $600 in rewards by completing special tasks. Activate this amazing Binance Cyber Monday deal using the code – 49316610!
Expiration date : 05/12/2023
6,127 People Used
Only 16 Left
Prime XBT Review: CONS
Now that we've discussed some of the most prominent and most commonly-referenced positive user Prime XBT reviews, we do need to also cover some common concerns that people have with the platform.
To be fair, though, there's not a lot to talk about - the biggest issue, however, does appear to be the lack of cryptocurrencies that PX supports.
Supports Only the Major Cryptocurrencies
Multiple Prime XBT reviews point out that the platform in question supports only the most well-known, "mainstream" cryptocurrencies. To be more specific, the coins supported by PX are:
In total, that makes 5 cryptos. Quite a small number, indeed!
Now, if you're an entry-level crypto trader, then the above-mentioned cryptocurrencies should be more than enough for you to check out and trade with. In the vast majority of cases, beginner traders tend to start off with Bitcoin or Ethereum, either way - in such instances, broad coin support isn't really needed.
If you're a more experienced trader, though, and would like to diversify your cryptocurrency portfolio, the lack of coin support might, in fact, prove to be an issue. It all depends on your plans and expectations!
Restricted Services on a Regional Basis
If you're someone who's located in the US or Canada, I do have some bad news for you - you won't be able to use Prime XBT in these countries.
It's actually one of the most notable cons of the platform, too.

The restrictions are such because of some financial laws that are in place within those said regions. While Prime is available and operates in more than 150 different countries, this is little-to-no condolence to those who reside in either US or Canada. Naturally, there are other countries and regions where Prime XBT is restricted, but size-wise, the two above-mentioned countries are the most notable ones.
It adds to the discussions about PX's legitimacy, too - while the answer to the question "is Prime XBT legit?" is a positive one, it doesn't really matter to people who are living in these territories, either way.
Pricing and Fees
One of the last things we need to discuss in this Prime XBT review are the Prime XBT fees.
I can tell you in advance, though - while they CAN get somewhat confusing at times, if you were to look strictly at the fees that are associated with trading, you'd notice that they're quite alright!
The trading fees for fiat/cryptocurrency trading pairs will range from 0,01% up to 0,05%. Truth be told, these fees are quite amazing!
Financing Prime XBT fees, on the other hand, will vary significantly, due to a whole variety of different factors - they are still not going to be high, though! If you're interested in these, check out the brand's official website for more up-to-date information.

Did you know?
How to Register on and Use Prime XBT?
Now, we've discussed the Prime XBT fees, talked about the benefits of the platform, and also its shortcomings. All that's left to do is tell you how to register on it, and use the basic features!
1. Go to the company's official website, and click Sign Up.
2. Enter your email, phone number, and create a password.
3. You'll be asked to confirm your email address with a PIN code that you'll receive - enter it one the website and click Enter.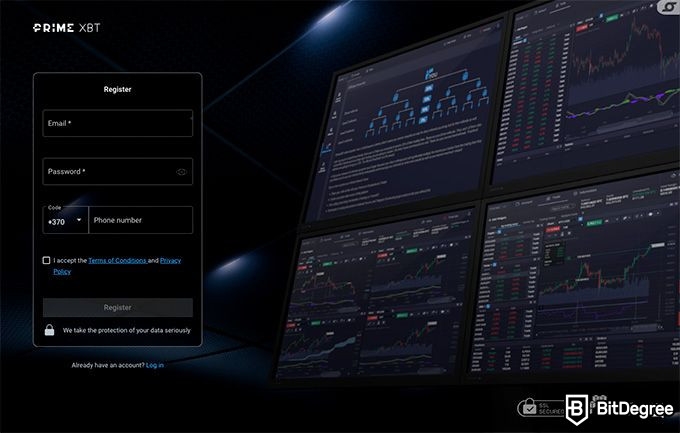 4. Finally, you'll be asked to choose the country you reside in - do so.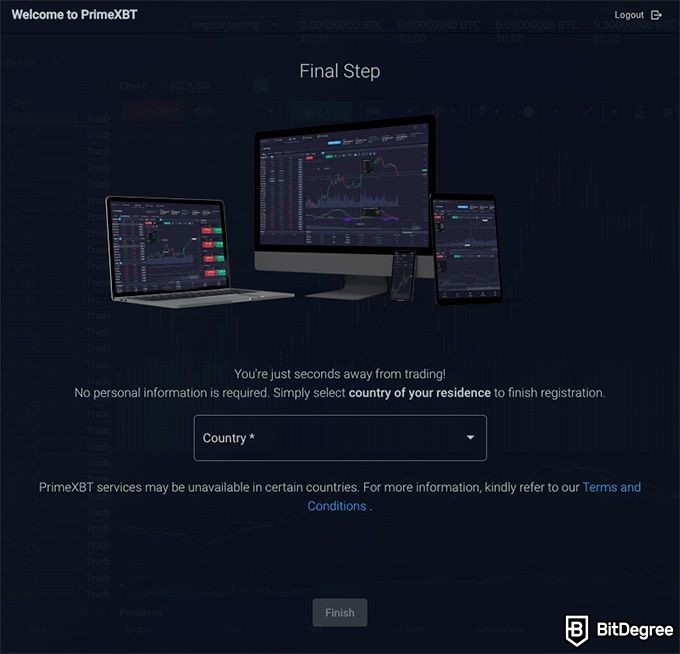 You're in! The registration really is quick and straightforward!
Now, adding Bitcoins to your wallet is simple, too.
1. Go to the Account section of your, well… Prime XBT account.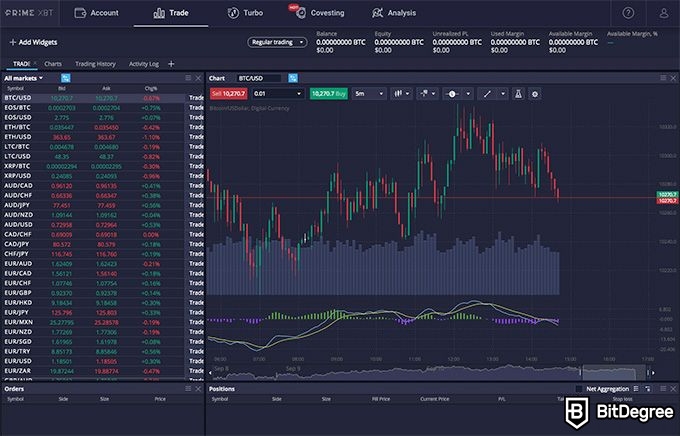 2. You'll see a big blue button saying "Deposit to wallet". Press it.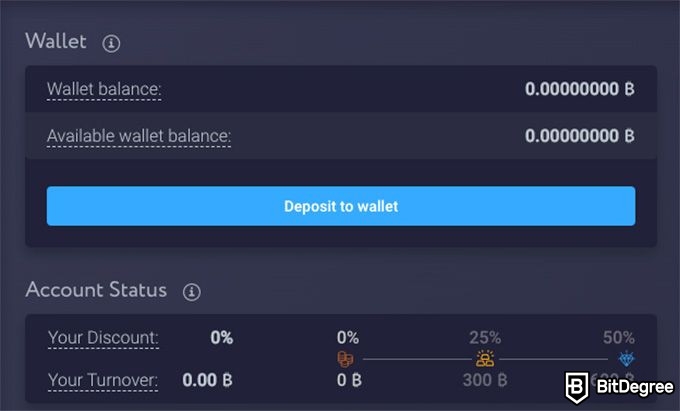 3. Here, you will find your personal Bitcoin wallet code. This code is your public wallet address - you need to send Bitcoin to it. Alternatively, you could also purchase Bitcoin with a credit or debit card, too - simple as that!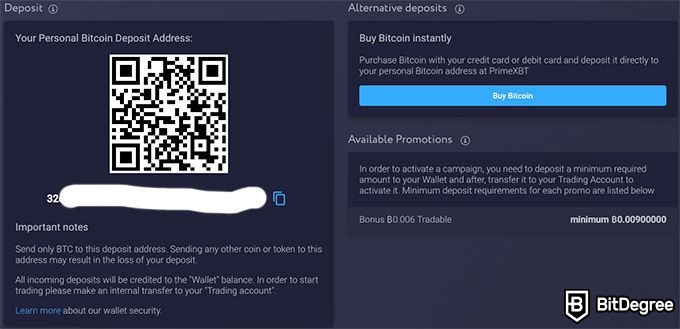 As you can see, both the registration and the Bitcoin purchasing processes are very simple and quick - just as most of the user Prime XBT reviews will tell you!

Pros
A very well-known crypto exchange platform
More than 500 different cryptos available
Two-factor authentication
Main Features
Over than 100 different cryptocurrencies available
Strong security
Small withdrawal fees

Pros
Secure and reliable
Low fees
A good amount of fiat currencies accepted
Main Features
Reputable exchange
Multiple fiat currencies are accepted
Relatively low trading fees

Pros
Anonymous trading
Secure
Supports a variety of cryptocurrencies
Main Features
Easy to use
Low fees
Good security
Conclusions
Now, with all of that being said and done, but one question remains - would I recommend using Prime XBT?
Yes, I would.
As you've probably gathered already, PX is a great asset trading platform - this extends into the realm of cryptocurrency assets, too! The site is comparatively simple to use, and offers you the chance to utilize fiat/crypto trading pairs, and even purchase cryptocurrencies via a credit or debit card.
While the cryptocurrency choice is very scarce, it should be more than enough to suffice most beginner and entry-level traders. If you're based in the US, however, you'll need to look for some PX alternatives - Kucoin would be one of the best choices.
While the Prime XBT fees are surely smaller than those of Coinbase, at least the latter is available in the US, and it does also guarantee top-tier security of your crypto assets, too!
The content published on this website is not aimed to give any kind of financial, investment, trading, or any other form of advice. BitDegree.org does not endorse or suggest you to buy, sell or hold any kind of cryptocurrency. Before making financial investment decisions, do consult your financial advisor.
About Article's Experts & Analysts