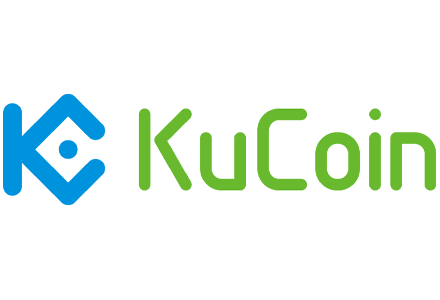 Want to get into cryptocurrencies, but aren't sure what's the best way to go about it? Well, most crypto enthusiasts would tell you that one of the first steps you should take is finding a reliable crypto wallet! Today, in this KuCoin wallet review, we'll discuss one of the less-likely contenders.
Why do I say "less-likely"? Well, mostly because KuCoin is, admittedly, a cryptocurrency exchange - it's not really viewed as a wallet, at least not in the traditional sense of the word.
That said, though, as the number of cryptocurrency fans increases around the world, more and more people turn towards exchanges for all of their crypto asset storing needs.
Is that a good thing? Well, it can be - however, it's also much more complicated than that. Let's not waste any time, and get to the meat and potatoes of things, shall we?
Pros
Huge variety of supported cryptocurrencies
Very easy to register on & use
Low withdrawal fees, free deposits
Cons
Unregulated
History of break-ins
KuCoin Wallet Review: Cryptocurrency Exchange-Wallets are Growing in Popularity
I would presume that the best place for us to get started would be by addressing the elephant in the room, and elaborating on the whole "exchange-wallet" aspect of the review.
While some people are wondering is there an app for the KuCoin wallet, others will question - how can you even store your coins on this platform? A single look at some KuCoin reviews online will reveal that the absolute majority of them discuss KuCoin from the exchange side of things, rather than the wallet one.
BINANCE
COINBASE

The main advantages of a certain cryptocurrency wallet.

Multiple cryptocurrency support
Very secure
SegWit and Bech32 address support
Built-in exchange functionality
One of the most trustworthy names in the crypto world

Easy to use
Free to register and keep crypto coins in
Decent fees
Supports most of the main cryptocurrencies
Top-notch security

The main disadvantages of a certain cryptocurrency wallet.

Mediocre customer support
Not ideal for beginners

Small number of supported cryptocurrencies
A "hosted" wallet - constant connection to the internet is maintained

Score that represents the ratio of the quality & advantages you get for a certain price.

Visit site
Read review
Visit site
Read review
Table: The pros and cons of the Coinbase Wallet the Binance wallet
This is because, truthfully, KuCoin is a cryptocurrency exchange - it brands itself as one, and doesn't really advertise any crypto storage capabilities. That does not mean it doesn't have any, though.
The vast majority of exchanges that are currently out there, on the market, will have crypto storing capabilities. Naturally, this does not mean you should utilize all of them, though - same as with your standard wallets, exchanges can be less-than-trustworthy, and thus, keeping your assets on them will be rather unsafe.

It's actually even more so the case with exchanges! Due to the nature of how they work, exchanges are key targets of many cyber-attacks and various other hacking attempts.
Why would anyone want to keep their crypto assets on an exchange if that's the case? A few good reasons, really! Some of those reasons pertain to our KuCoin wallet review in question, too!
Let's discuss those reasons by mentioning the main things that KuCoin "does right", as far as its wallet functionality is concerned. Note, though, that we'll be focusing on just that - the wallet part of the platform. If you're actually looking to primarily use KuCoin as an exchange, you can find a review of that here.
Latest Ledger Nano X Coupon Found:
SAVE 10%
Ledger Cyber Monday
Ledger Cyber Monday sale is bringing you the best deals - follow the coupon link & get 10% off Ledger Nano X when buying the Family Pack X!
Expiration date : 07/12/2023
7,469 People Used
Only 21 Left
KuCoin Wallet Review: PROS
There are quite a few aspects worth discussing as far as the benefits of the KuCoin wallet go, but probably the best course of action would be to start off from something that is shared among all exchange-wallets - the actual exchange part of their functionality.
A Cryptocurrency Wallet with Built-in Exchange Features
Well, to be completely accurate, it's actually the other way around, but you know what I mean.
As pointed out a few times in this KuCoin wallet review, KuCoin is actually primarily an exchange platform. What this means is that you will be able to trade cryptocurrencies from the comfort of your wallet.
While some might underestimate just how awesome this is, other people will surely get it. Especially those who've had tight trading schedules before.

You see, the best cryptocurrency wallets that money can buy are hardware devices - good examples include Ledger and Trezor. In this context, "best" means "safest" - there are no wallet alternatives that would provide better security features than the aforementioned hardware devices.
Well, ya, OK, there are paper wallets, but that's a whole different can of worms, and we're not even getting close to opening it.
While hardware wallets provide great security, though, they lack convenience. These devices are used for long-term crypto storage - if you have any notions of trading your coins every once in a while, be prepared for the hassle of getting them in and out of your hardware wallet every single time.
This is where KuCoin deposits come in to save the day, though.
With KuCoin, you will be able to trade cryptocurrencies at a click of a button - literally. Since it's an exchange-wallet, the platform combines the two functionality aspects into one!
KuCoin Deal Active Right Now:
CLAIM 700 USDT
KuCoin Cyber Monday Deal
Don't miss out on up to 700 USDT in rewards. Use this KuCoin Cyber Monday code (2Nh1HJ3) and sign up for KuCoin to access generous perks now!
Expiration date : 11/12/2023
2,164 People Used
Only 38 Left
This is extremely notable for anyone who's serious about day trading, and who needs to be ahead of the market. With crypto still being the most speculative and volatile market on the planet, things can change in a blink of an eye - staying ahead of the curve is crucial for a successful trader, at least long-term!
User KuCoin wallet reviews will tell you that this particular platform allows you to do just that - combined with a top-tier hardware wallet (meaning, you'd keep a small portion of your coins on KuCoin for all of your trading needs, and the rest - in a cold wallet), this yields you the best of both worlds!
Latest Binance Coupon Found:
REDEEM $600 PRIZE
Binance Cyber Monday
Attention new Binance users: this Cyber Monday, you can score up to $600 in rewards by completing special tasks. Activate this amazing Binance Cyber Monday deal using the code – 49316610!
Expiration date : 05/12/2023
6,127 People Used
Only 16 Left
A Huge List of Supported Cryptocurrencies
Multiple crypto asset support is, admittedly, somewhat of an underrated aspect of cryptocurrency wallets, in general. This is why people question "what can I send to a KuCoin wallet?", too.
You see, most crypto enthusiasts have gotten accustomed to the fact that each individual coin has a designated wallet. This means that, no matter how many coins you hodl, you're going to have to find separate wallets for each one of them.
Well, at least that USED TO BE the case. In came hardware wallets, and saved the day… Kind of.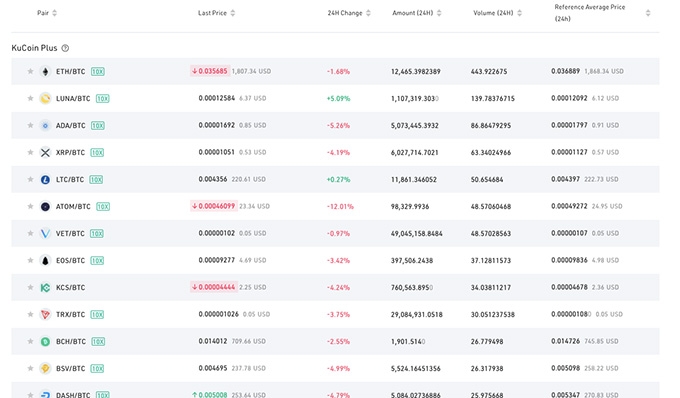 Top-of-the-line hardware cryptocurrency wallets support a wide selection of different assets. This is true with both Ledger and Trezor. However, the selection offered by these brands is limited to how many people are interested in a particular coin.
So interested, that they would also develop a wallet-specific app for that device to support the coin. Ya - it's a bit complicated.
Exchange-wallets, on the other hand, are different in this regard. User KuCoin wallet reviews will tell you that KuCoin does, for a fact, support a pretty wide selection of cryptocurrencies - looking from the exchange-side of things, there are well over 200 coins supported by the platform! That's huge!
Multiple cryptocurrency support means that you'll be able to store all (most?) of your cryptos on a single wallet - KuCoin. Well, sure - not a SINGLE wallet, since each crypto asset has a dedicated one. However, they will all be located and show up on your KuCoin account.

This is nice both from a convenience perspective, but also from that of peace of mind, too. Frankly, you won't need to sort through and try to remember all of your passwords and different wallet authentication methods - all will be located on a single platform! Again - reading through user KuCoin wallet reviews, this does appear to be a beloved feature!
So, the next time you ask - what can I send to a KuCoin wallet? -, just know that the platform supports a wide selection of cryptos - you can definitely send most of the top-rated cryptocurrencies on the market.
Very Low Withdrawal Fees
Withdrawal fees are, admittedly, something that mostly concerns exchange-wallets. They can be a bit convoluted, so allow me to explain.
There are two big types of cryptocurrency withdrawal fees that you may encounter - those related to the services of an exchange platform (i.e. the ones mentioned in this KuCoin wallet review), and others that are charged by the blockchain of a particular crypto asset.
The latter ones are unavoidable - no matter what type of wallet it is that you decide to use, blockchain fees will always apply. However, exchange-related fees may vary.
Some exchanges are going to have semi-decent fees, while others could even allow you to make free deposits and withdrawals. The latter, though, are a rare occurrence.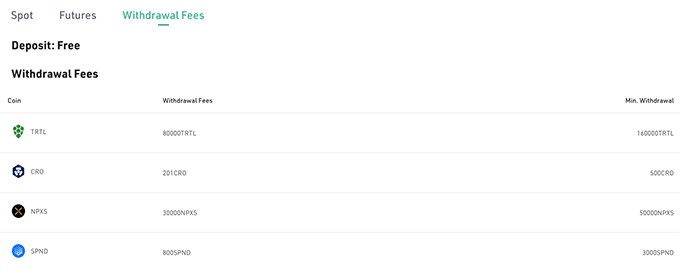 With KuCoin, crypto deposits are, indeed, completely free of charge. That's fantastic! When it comes to withdrawal fees, however, they do exist - that said, they are among the lowest you'll come across.
This is especially great if you're actively withdrawing and depositing fee-intense cryptocurrencies, such as Ethereum. Every little bit of gwei (gas for ETH transactions) that you'll save is going to add up, big-time!
One of the Safer Exchange-Wallets
Security is, obviously, a huge factor when discussing any crypto wallet out there - this KuCoin wallet review is no exception to that rule. Since exchange-wallets tend to get a pretty bad wrap concerning the aspect of security, though, it's worth digging a bit deeper, and checking out what sort of security features KuCoin employs.
Straight off the bat, anyone questioning is KuCoin wallet safe will learn that the platform utilizes security measures such as two-factor authentication (2FA) and email log-in verifications. Simple measures, but they do deter the majority of wannabe-hackers and scammers from trying to gain access to the platform and the user funds stored within.

Furthermore, you will find various additional security measures, such as audits and company-based, security-dedicated teams that constantly observe the platform for any suspicious activities.
Finally, as far as the user KuCoin wallet reviews are concerned, it would appear that the platform does have a pretty decent reputation, when it comes to the security side of things. There are a few notable issues that are worth discussing (and that's exactly what we'll be doing in a minute), but in general, the current standing of the platform in this regard is pretty decent.

Did you know?
KuCoin Wallet Review: CONS
Up to this point in the KuCoin wallet review, we've already discussed the main benefits that you can expect whilst using KuCoin as your go-to option of a cryptocurrency wallet. The benefits are, for a fact, rather notable!
Before you make a final decision, though, there are still things that need to be mentioned and elaborated on - things that aren't perhaps as nice to hear as the ones we've already gone through up to this point in the review.
The very first thing that pops up when thinking about the less-than-ideal side of KuCoin are the shaky security measures that the platform has been employing for some time now, and the history of a security breach, in general.
No Apparent Cold Storage + History of a Security Breach
There's quite a bit to unpack here, so let's take it one step at a time and address the "no cold storage" aspect, first.
The absolute majority of the high-end cryptocurrency exchange platforms (by extension of that - exchange-wallets) are going to utilize cold storage devices in order to keep their user assets secure. The way that this works is that the platforms keep up to 95% of cryptos on hardware storage devices, with the rest 5% acting as a reserve for trading.
Anyone wondering is KuCoin wallet safe should note that the platform in question does not do that. There is no cold storage safety layer with KuCoin.
This, naturally, possess a lot of issues. It makes KuCoin a 100% hot wallet - while that isn't a problem in of itself, hot wallets tend to have a lot of security vulnerabilities, and are considered to be much less-safe than, say, hardware storage devices.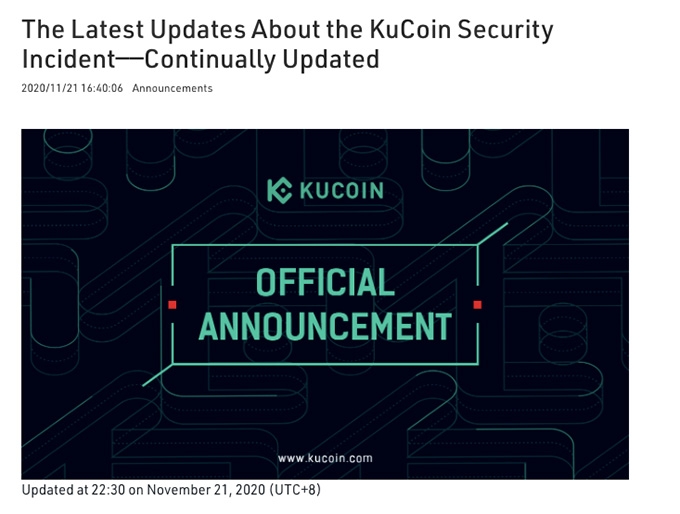 The security flaws show, too. KuCoin has had a security breach - a number of the company's client assets were stolen after hackers got a hold of KuCoin's hot wallet private keys. Case and point.
The funny thing here is that KuCoin notes how their "cold wallets were not affected". However, looking at some user KuCoin wallet reviews left online, you would have trouble finding any information about the platform's cold storage utilization.
Whatever the case might be, one thing's clear - hot wallets are considered to be a less-than-secure alternative, and KuCoin's situation exemplifies this perfectly. Is KuCoin wallet safe now, though? Well, it appears to be - the platform has ramped up its security measures, and there have been no more notable hacks since the one discussed above.
Not a Regulated Platform
Before you go out and start making KuCoin deposits, or trying to learn "what can I send to a KuCoin wallet?", you should take into account the fact that the platform is considered to be an "unregulated exchange" - thus, also an unregulated wallet, too.
The term "unregulated" is pretty self-explanatory - it refers to the fact that there is no overarching institution that would look over the activities of the exchange in question, thus making its crypto exchanging services both potentially risky, and also illegal in some places around the world.

Regulation helps traders retain trust in an exchange, since they can be sure there's always going to be an official institution looking over for any foul play, or suspicious activities. Lack of regulation, on the other hand, makes many people uneasy - if your cryptos were to vanish at some point in time, you would have no place to file a claim to.
To be completely transparent, I do have to say - some user KuCoin wallet reviews express joy given the platform's unregulated nature. That's perfectly normal, actually - a big portion of cryptocurrency enthusiasts believe that unregulated exchanges are the only way to go.
Well, OK - decentralized exchanges, to be more correct. However, due to the philosophy behind crypto, many people actually enjoy using an unregulated exchange, since this seemingly furthers the idea of a decentralized platform that has no governing authority (even though the platform itself is the governing authority, in this case).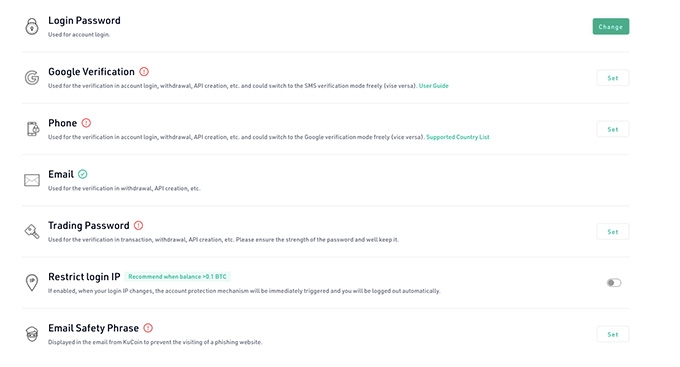 So - in short, before questioning "is there an app for KuCoin wallet?", and download the software on all of your devices, you should consider the risks that come with the platform in question. While there have been no notable issues regarding the unregulated nature of KuCoin, it's still something that's important to consider!
Complaints Concerning Customer Support
Customer support is something that tends to get ignored quite a bit whenever you're picking out the best cryptocurrency wallet for storing your assets in. It's no surprise, though - even reading through some user KuCoin wallet reviews, it's evident that other aspects are granted more attention, thus customer support often remains on the sidelines.
This shouldn't be the case, though. Support can be extremely important, especially when it comes to your cryptocurrency assets!
Table: Company information of the Ledger Nano X and the Trezor Model T
Evidently, while KuCoin deposits might be easy, and the platform itself could offer widespread support for a variety of different cryptos, the customer support side of things isn't the best. This is a sentiment expressed by some user KuCoin wallet reviews, too.
The platform does have live support - this is awesome. It's also available 24/7, which is a pretty rare and definitely noteworthy feature.
What's the problem, then?

Well, some clients of KuCoin note that it can be pretty difficult to get a hold of the support team, and the response times are usually really long.
In many cases, this isn't a deal-breaking issue. However, imagine if you were to encounter a technical issue mid-transaction, and suddenly, you've lost access to all of your assets, simply due to a technical glitch. There's probably a lot of panic involved!
On top of that, you are also likely going to want to get a hold of customer support, as soon as humanly possible. If the response times are really long, well… Things might end up pretty badly.
In short, while KuCoin does possess a lot of different benefits as far as customer support is concerned, the support itself is mediocre, and you might end waiting for some long periods of time until you receive a response to your inquiry.
How to Use the KuCoin Wallet?
Now that we've got all of the details of the benefits and shortcoming of the KuCoin wallet out of the way, all that's left to do is to discuss the usability factors of the platform - in other words, how you can start using KuCoin as your own, dedicated cryptocurrency storage alternative.
How to Register on KuCoin?
First and foremost - the registration process.
Step 1: Go to the KuCoin official website. It's the exact same website that you would visit in order to register on the KuCoin exchange. Granted that the platform in question is, for a fact, primarily a cryptocurrency exchange, the initial registration process is completely the same, too.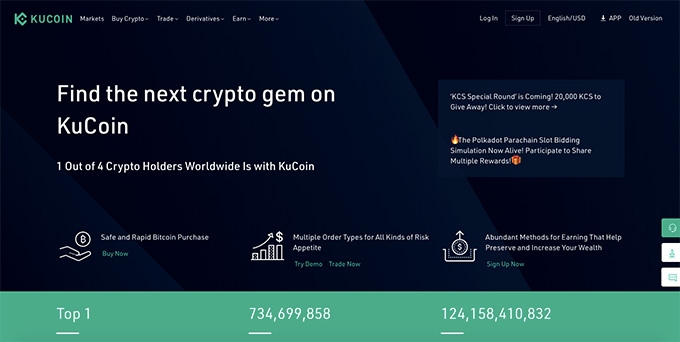 Step 2: Once you're on the homepage of the site, click the "Sign Up" button at the top of the page.
Step 3: As per usual with these things, you will be asked for your email, and to create a password. The email verification actually happens from the same, initial registration screen - pretty interesting!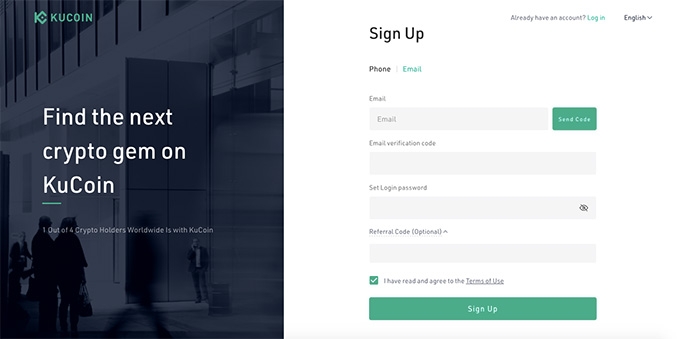 Step 4: Once you've entered the verification code that you received to your email address, and created a password, that's literally it - you now have an account on KuCoin!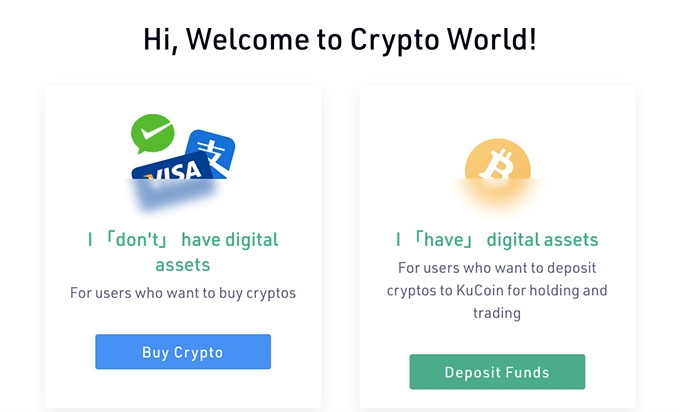 At this stage, you will be presented with a screen asking if you'd like to purchase or deposit some crypto funds into your account. Do not exit the screen! At the next step of our KuCoin wallet review, we'll be taking a look at KuCoin deposits, and start off from the screen in question.
Before that, though, I have to say - registering on KuCoin is among the easiest and quickest processes out there!
It's very rare to find a cryptocurrency exchange-wallet that would allow you to start utilizing its services this fast. You could literally "speedrun" the registration process in less than 10 seconds, especially if you have your email tab open next to the KuCoin exchange one!
Admittedly, this is partially due to the fact that we're talking about an unregulated platform here. However, if that does not concern you, you'll surely appreciate the simplicity and hastiness of the registration process!
How to Deposit / Withdraw Cryptocurrency Assets to / from KuCoin?
Now, then - you've registered on the platform, and after careful consideration of the multiple user KuCoin wallet reviews out there, have decided to make your first deposit. How should you go about doing so?
Let's check it out!
Step 1: Assuming that you have remained on the screen discussed above, click "Deposit Funds".
Step 2: Now, you will need to pick the cryptocurrency asset that you would like to deposit. As you can probably already see, the list is HUGE - there are seemingly endless numbers of different coins that you can deposit to KuCoin!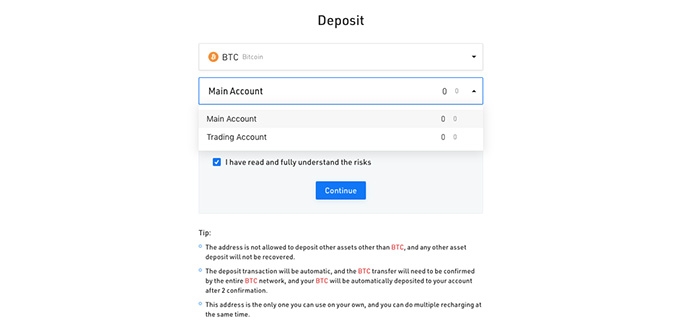 For the sake of keeping things simple, though, I've decided to stick with BTC for my example. After choosing an account (main or trading), click "Continue".
Step 3: You will be presented with a Bitcoin wallet address. If you'd like to make a deposit right away, all that you need to do is copy-paste it to your withdrawal destination, double-check if the address is the same (in other words - if you don't have a keylogger or some other virus), and make the deposit.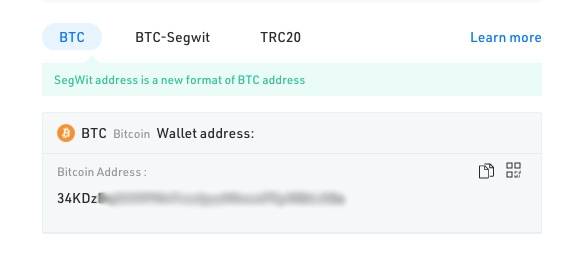 However, as you can see, there's also an opportunity to generate a SegWit address, too.
SegWit addresses allow you to transfer BTC faster, and in a less fee-intensive manner. Not all exchange-wallets support them though, so it's definitely another win on KuCoin's side of things!
Step 4: When it comes to withdrawing crypto assets from KuCoin, the process is very similar (only the other way around). You will have to pick the asset that you want to withdraw, and then paste the receiving address.

Here, however, before you make any withdrawals, you will need to both setup SMS- or Google-based 2FA, and also create a separate trading password. While it's not the case with KuCoin deposits, withdrawal-wise, this acts as an extra layer of security.
So, what's the conclusion here? Well, it's safe to say that KuCoin surely is very simple to use, if you plan on using it only as a cryptocurrency storage alternative! The registration process is extremely straightforward and quick (among the quickest I've yet to encounter, actually), and both deposits and withdrawals are self-explanatory and really easy to manage.
All in all, you shouldn't face any issues neither withdrawing, nor depositing your cryptocurrencies on the KuCoin wallet. Definitely reassuring!
Summary
Now that we've analyzed and discussed KuCoin at length, and also took a look at some of the more-prominent user KuCoin wallet reviews, all that's left to answer is this - would I recommend using the platform as a cryptocurrency wallet alternative?
Yes and no.
When discussing the methods of crypto storage, the one and only feature that you should really be paying your full attention to is security. If the wallet of your choice isn't secure, you might perfectly well end up losing all of your assets.

Is KuCoin wallet safe? Well… Partially. It's considered to be a safe place for crypto trading and exchanging, however, it does, admittedly, have some glaring issues that need to be addressed.
That said, the platform does support a huge range of different cryptocurrencies, and does even possess some amazing withdrawal fees, with deposits being completely free.
On top of that, KuCoin is very simple to use, at least as far as the wallet part of the platform is concerned. That's great news for any crypto newbie out there!
To be completely fair, if you'd like to use KuCoin as a crypto-storing platform, my advice to you is simple - get two wallets. Namely, a hardware crypto wallet, and then the KuCoin wallet.
By keeping the absolute majority of your funds on a hardware wallet, you will be guaranteed the maximum amount of security. On the other hand, if you'd like to trade and play around with the different crypto coins available on the market, storing a small part of your coins on a hot wallet such as KuCoin will allow you to do just that, too!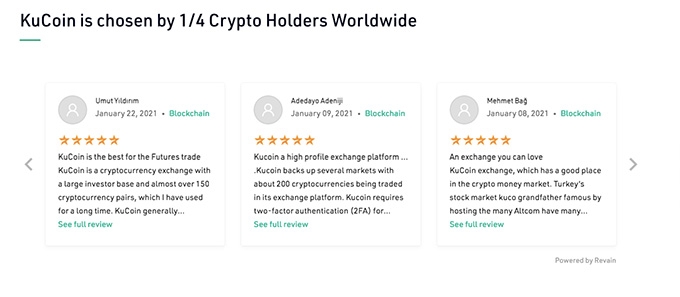 All of that basically allows you to utilize the best of both worlds - that of top-tier security, and also that of amazing convenience. A great combination, for sure!
If you'd like to find a reliable hardware wallet, but aren't sure where to start, you should check out either the Ledger Nano X, or the Trezor Model T. As of writing this KuCoin wallet review, these two devices are considered to be the safest alternatives on the entire market.

Pros
Can be managed from mobile device
Very secure
Supports more than 5500 cryptocurrencies

Pros
Top-tier security
DeFi app support
Store over 5500 assets, install up to 100 apps simultaneously

Pros
Multiple cryptocurrency support
Very secure
SegWit and Bech32 address support
Conclusions
We have officially reached the end of our KuCoin wallet review! By now, I've told you everything you need to know about the exchange-wallet in question - its most-notable features, glaring issues, and even how to get started with using it, if you so decide to.
Evidently, KuCoin surely does have a lot to offer to the average crypto enthusiast, especially someone who's looking to diversify their portfolio by quite a bit. That's the other thing, too - it's pretty obvious that KuCoin does, for a fact, possess features that are going to fit people looking for a high-end cryptocurrency exchange.
If you're looking to try KuCoin out as an exchange alternative, you can read more about that side of the platform here. However, it can perfectly well be utilized as a wallet service, too.
Finally, if you're wondering "is there an app for the KuCoin wallet?", let me tell you - there is! You can download the application from the company's official website, or find it on the app shop of your mobile device.
That said, don't forget to check out some other reliable wallet alternatives! Thank you for reading, and good luck with all of your crypto-related ventures to come!
The content published on this website is not aimed to give any kind of financial, investment, trading, or any other form of advice. BitDegree.org does not endorse or suggest you to buy, sell or hold any kind of cryptocurrency. Before making financial investment decisions, do consult your financial advisor.
About Article's Experts & Analysts