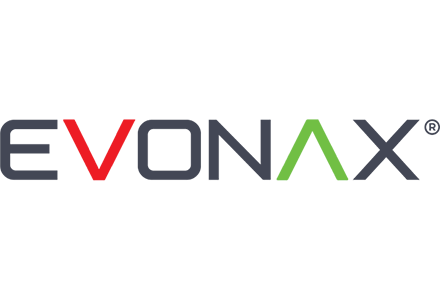 Whenever picking out a cryptocurrency exchange for yourself, one of the biggest decisions that you need to make has to do with the anonymity aspect of the ordeal. Namely, you'll need to decide whether you want to trade cryptocurrencies anonymously, or on a centralized and KYC-friendly exchange. In this Evonax review, we'll be looking at a platform that fits the former criteria.
Naturally, as you can probably imagine, there are pros and cons to either choice - both types of exchanges have their own benefits and drawbacks. This is rather evident when looking at things such as Evonax fees, or even discussing the security side of the exchange, as well.
That being said, most user Evonax reviews found online are rather positive towards the platform in question. Let's check why that's the case, shall we?
Pros
Very simple to use
No KYC or registration
Works in most countries
No fees (kind of)
Cons
Small cryptocurrency variety
No fiat payment support
Evonax Review: PROS
Starting off on a positive note, let's check and discuss the main benefits offered by the cryptocurrency exchange in question. Evidently, multiple user Evonax reviews will tell you that the platform's biggest controversial point is actually its main strength, as well.
An Anonymity-Driven (Non-Custodial) Crypto Exchange
Evonax prides itself on being a non-custodial cryptocurrency exchange that allows its users to trade cryptocurrencies in an anonymous manner. That's a pretty loaded statement, so let's break it down, shall we?
In the context of cryptocurrencies, "non-custodial" refers to the fact that an exchange does not hold its users' assets. Meaning, if you were to use Evonax, you wouldn't need to transfer your coins to the exchange platform in order to then trade them - all of the trading would happen straight from your wallet.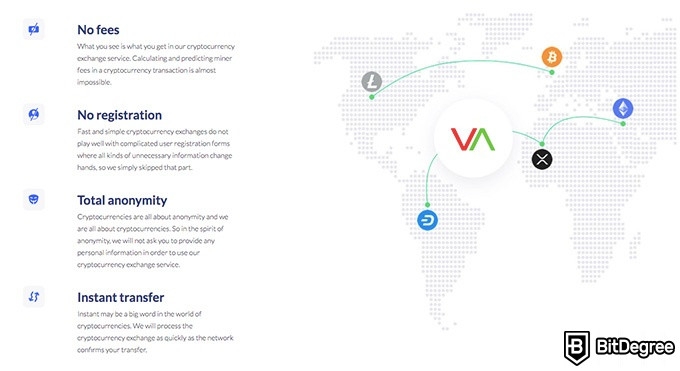 This is where the anonymity factor comes in, as well. Since you do not need to create an account in order to use the exchange in question (we'll get to that), there's no information that you'd need to provide the platform - thus, all of your trades remain anonymous, with only your wallet address and the transaction being visible.
In a general sense, the consensus among crypto enthusiasts is that non-custodial exchanges are awesome, security-wise. If you're wondering is Evonax legit, you'll be happy to know that a non-custodial platform is often more secure than a custodial one - since your assets don't get transferred to an exchange, there's no risk of the platform experiencing a break-in, and those same assets getting stolen.
On the flip side, though, note that since this is the case, it's up to you to ensure that your cryptocurrencies and tokens are safe, and that you're actually performing the trade in the correct manner!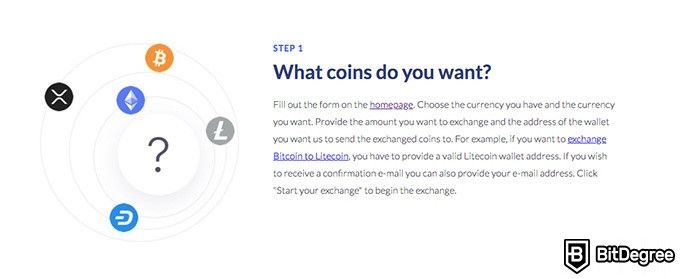 Most user Evonax reviews also agree that anonymity is the core focus of Evonax, in general. The mission of the exchange is rather simple - to help you trade cryptos, while still retaining your personal information, and remaining completely anonymous.
This is in line with the original, traditional philosophy of Bitcoin and blockchain technology, in general - that's cool! While it's not the ideal choice for many crypto fans out there, reliable anonymity-driven exchanges are too far in between - a huge benefit, as far as this Evonax review is concerned!
Latest Deal Active Right Now:
$300 + 40 DOGE BONUS
Huobi Black Friday Limited-Time Period
Huobi Black Friday & Cyber Monday 2023 period offers great bonus for new users - sign up & earn up to $300 + 40 DOGE bonus!
Expiration date : 12/12/2023
3,817 People Used
Only 31 Left
Very Simple to Use
Simplicity is something that is highly valued among the different crypto communities worldwide. No matter if you're a complete newbie, or an advanced-level day trader, being able to use a cryptocurrency exchange in a simple manner, with streamlined UI and quick processes is a huge benefit.
Truth be told, multiple user Evonax reviews will tell you that this is the case with Evonax, as well. In fact, it's actually quite evident once you do visit the platform yourself, and try to trade some cryptocurrencies.
While we'll get to the process towards the latter half of the review, I can tell you right now - trading crypto with Evonax can be summed up in a few big steps.

One of the reasons why the exchange is so simple and intuitive to use is the aforementioned fact of it being non-custodial. Without an account that you'd need to create, there are a lot of complex steps being skipped - registration, KYC checks, account confirmations, etc.
On top of that, Evonax has managed to streamline the process of trading cryptos to an extreme! The trades are performed from a single window, and you need to push but a few buttons, and enter your wallet address - that's practically it!
In turn, user Evonax reviews will tell you that this simplicity makes the exchange a very attractive option to many beginner traders out there. If you're completely new to the topic of crypto trading, have already bought a high-end hardware wallet, and are now looking for a simple way of how to trade cryptos, Evonax might be perfect for you!
Responsive and Helpful Customer Support
Very few non-custodial cryptocurrency exchanges out there are able to pride themselves on the fact that they offer their users customer support services. And yet, Evonax falls into this category of rare exchanges!
Multiple user Evonax reviews will tell you that the exchange offers 24/7 customer support to all individuals using the platform. The downside here is that the support is only available to be reached via email. There are no phone numbers that you could call, and no live chat that you could contact.
At the same time, users do note that the response times of Evonax's support team are pretty good! They do, naturally, depend on a few different factors, but you can expect to receive an answer to your inquiry in up to a day from you submitting it.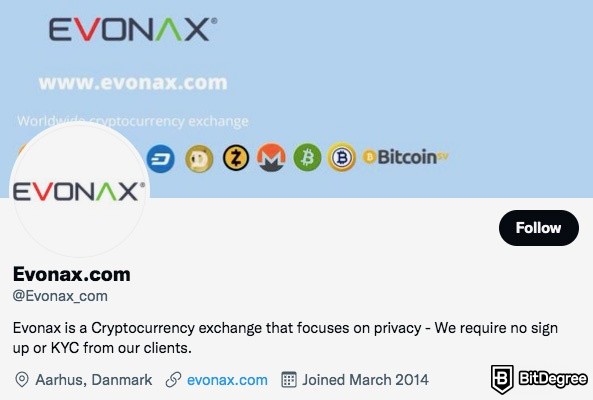 That said, you can expect the response to be thorough, and helpful, as well. Evonax's support team is reported to be knowledgeable and understanding, and they should be able to help you with most inquiries that you might have.
Truth be told, proper customer support is that one factor that's often overlooked when picking out a top-tier exchange - that shouldn't be the case. The fact that the exchange in question is a non-custodial platform, yet still offers a way to get help if you do need it is very notable, and a huge factor for anyone wondering - is Evonax legit?
Fast Transaction Speeds
In layman's terms, transaction speed is the time that it takes for you to receive your cryptocurrency, after you make a payment (or trade your crypto asset for another). This is a feature that's most important to day traders, or any individuals who participate in active crypto trading, and try to catch the best prices possible.
At the same time, fast transactions add to the convenience factor of trading crypto, in general. This is something that you don't need to be a day trader to appreciate!
User Evonax reviews will tell you that, on the exchange, transactions are settled in a fast and issue-free manner. This is, once again, mostly due to the fact that Evonax is non-custodial.

You see, if the exchange collected user information, and had to process all of the data from every single account that makes a transaction, this would take some time - not much, but enough to be noticeable. In the case of Evonax, though, all that the platform needs to process is the transaction itself - that's it.
Following that, transaction speeds depend on the blockchains involved - the exchange doesn't take part in this. So, if you want your transactions settled in a quick and efficient manner, Evonax can offer just that!
No Fees… Kind of
Fees are often viewed as the biggest enemy of any active cryptocurrency traders. It's no wonder that this is the case, either - whether your make 50 trades per day, or are only DCAing your fiat money into a specific cryptocurrency, the transaction fees can really cut into your potential profits!
Most user Evonax reviews will tell you that the exchange in question is quite unique in this regard, though.
On their official website, Evonax proudly exclaims that the exchange has zero fees associated with trading cryptos on their platform. This is, in fact, true - you won't find any set-specific or percentage-based fees that would be applied to your transactions.

However, the platform still needs to make money. Evonax does so by increasing the exchange rate of certain cryptocurrencies.
Specifically, if you use one crypto to trade another, chances are that the exchange rate won't be as good as on some other cryptocurrency exchange platforms. At the end of the day, these "fees" should range around 1-3%, depending on a few different factors.
What you won't really find mentioned among multiple user Evonax reviews are some complaints that said users would have about these exchange rate intricacies. This is because there really aren't any - most individuals who use Evonax are perfectly happy with the situation!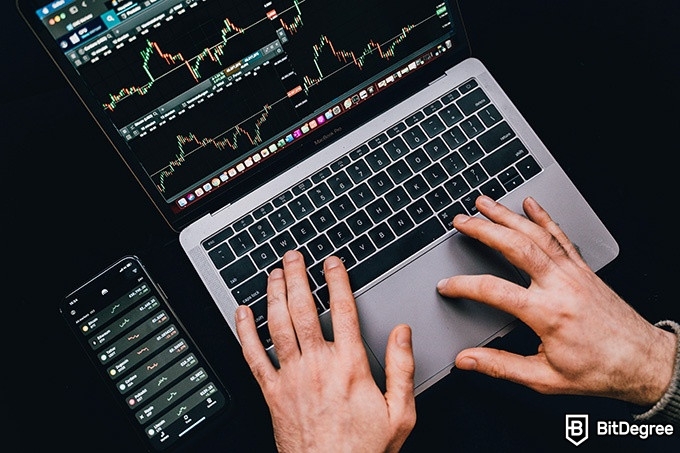 For starters, once again - Evonax needs to make money, since it's a for-profit establishment. Additionally, while you do pay more due to the rates, you receive the ability to trade anonymously, in return.
Lastly, it's crucial to mention that Evonax fees that revolve around deposits or withdrawals don't exist, since these two features simply do not exist on the exchange in question. It being non-custodial, you won't need to transfer your crypto assets in order to start trading.
Supported in All Countries (Technically)
Yes, technically. Allow me to explain.
As we've established multiple times already, Evonax does not have any KYC verification checks. Since you do not need to provide your identity to the exchange, you can theoretically trade cryptos on it, from anywhere in the world.
This includes US-based crypto enthusiasts, as well. It's a notable point to consider, since the United States has some of the strictest laws and regulations when it comes to their residents trading crypto assets, especially on offshore exchanges.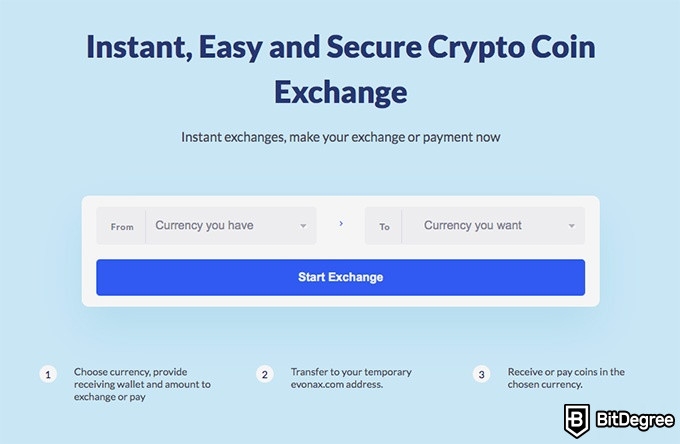 Granted the unregulated nature of Evonax, though, the "technically" exclamation still stands. The exchange does not list any countries that it wouldn't support, sure, but some countries are a bit less lenient than others, when it comes to trading crypto in an anonymous, unregulated manner - worth keeping in mind!
That being the case, though, the point of the matter still stands - you are able to trade cryptocurrencies on Evonax, from any part of the world!

This is a very rare feature that one might come across, mostly due to the regulated nature of most top cryptocurrency exchanges on the market. Many of these exchanges do not support a variety of different countries, with the US often being included in the list.
Well, if this is something that you're worried about, you can rest assured - no matter where you are located, you should be able to trade cryptos on Evonax, without issue.
DOXed Company
This is, without a doubt, one of the biggest benefits when it comes to Evonax's security features, and questions such as "is Evonax legit?".
That's right - while the fact that Evonax fees are practically non-existent is great, and the simplicity of the exchange is awesome, as well, a doxed company is arguably the biggest deal here.
Confused? Hear me out.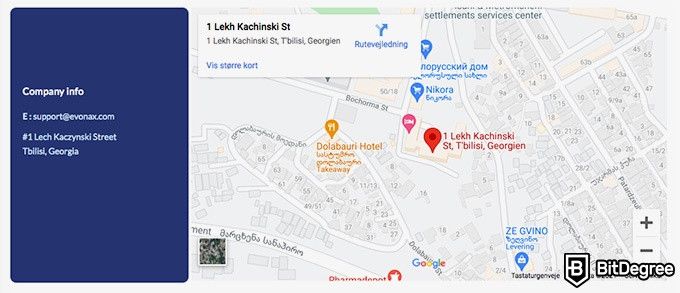 The term "dox" refers to leaking the private, identifying information of an individual or company. In the absolute majority of cases, this is a really bad thing, and is completely shunned upon, as it should be. Some of the only situations where it is viewed positively, though, is when it comes to crypto.
The company behind Evonax is based in Tbilisi, Georgia. You can find their address and identifying information on the official website of the exchange. Meaning, they've "doxed" themselves.
What does this mean to the users of the platform? Well, above all else, it adds to the reliability factor of the exchange.
If you know about the company behind the exchange, you are able to point to a specific "face" that provides the exchange services to you, albeit in a more general manner. Many crypto enthusiasts nowadays are hesitant to use crypto platforms that have completely anonymous creators behind them - and with good reason!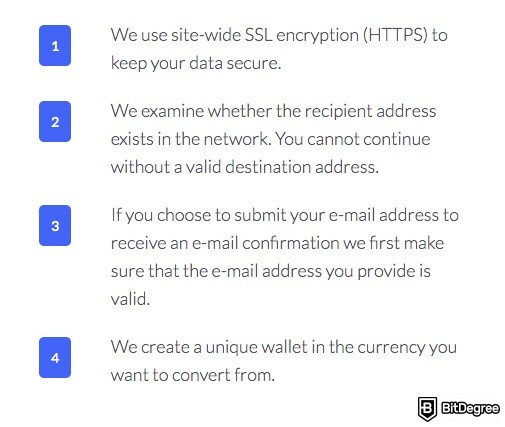 There have been countless instances where the creators of a project performed a "rug pull" or an exit scam, and ran away with the users' funds. If the project is anonymous, there isn't really anyone to place the blame on!
Following that train of thought, with the company behind Evonax being researchable and having a specific place of operation, it definitely adds to the peace of one's mind, when it comes to using the exchange in question for all of your crypto trading wants and needs.
This isn't a point that would be brought up in many of the user Evonax reviews all that often, but it is definitely worth considering, nonetheless!
Latest Binance Coupon Found:
SECURE $600 BONUS
Binance Christmas Sale
Sign up on Binance and claim up to $600 worth of rewards for completing simple tasks during this Binance Christmas sale. Use our Binance referral code (49316610) to activate the offer while it's still valid!
Expiration date : 12/12/2023
2,935 People Used
Only 67 Left
Evonax Review: CONS
Judging Evonax purely based on the core benefits that the exchange provides to its users, it's evident that the platform has a lot to offer to any and all crypto enthusiasts! That said, though, it's worth mentioning that there are some quirks related to Evonax that we should discuss, as well. It's a good idea to get a full picture before you decide - is Evonax legit, and is it worth using?
Small Number of Supported Cryptocurrencies
One of the most prominent complaints that you'll see popping up in multiple Evonax reviews has to do with the variety of crypto coins available to be traded on the exchange.
Specifically, Evonax allows users to trade 16 different crypto coins and tokens. They are:
0x
Bitcoin Cash
Bitcoin Gold
DAI
Shiba Inu
Uniswap
Wrapped BTC
ZCash
While the list may seem rather extensive at first, once you truly look into it, you can see that this is not the case.
There's a rather limited number of crypto tokens available to be traded. Sure, you do have all of the most popular coins supported by the exchange - that's great. However, if you'd like to trade some of the more-niche tokens, this is not going to be available on Evonax.
The supported crypto list is actually quite interesting, though. On top of the biggest crypto in the industry (Bitcoin, Ethereum, Litecoin, Monero), Evonax still supports some of the more-peculiar tokens, such as Shiba Inu. That's a big plus!

That being said, though, if you're looking to trade some specific coin, or want to acquire a recently created token, chances are that Evonax won't be able to help you in that situation.
For the vast majority of individuals who are looking for Evonax fees or some anonymous way of trading crypto, this won't be an issue. However, if you fall into the category of people who are searching for a niche coin or token, you'll probably have to look elsewhere.

Another point that is technically related to the small crypto variety on Evonax is the fact that you won't be able to perform some advanced trades on the platform. There are no features that would aid experienced traders to perform compounding trades, automated purchases, stop-limit orders, and so on.
It's not at all too surprising, since Evonax is mostly aimed at individuals who are looking to perform simple, one-off trades. Still, though - it might be a bit of a disappointment for anyone who's interested in advanced trading!
Can't Buy Crypto With Fiat Money
Probably one of the biggest cons of Evonax is the fact that you aren't able to purchase any of the available cryptocurrencies with fiat money - EUR, USD, and so on.
The exchange in question does not support fiat payment methods. Meaning, you can't use your credit or debit card to buy crypto, or even make a wire transfer, either.
This does, naturally, make perfect sense. Evonax is an anonymity-driven exchange that has no KYC checks applied for anyone trading on the platform - it also doesn't hold your crypto assets, either.
No KYC, however, results in you not being able to transfer your fiat money to the platform, or even use it to purchase the coins and tokens supported by the exchange.
What does this mean to the average user? Well, a few things, really.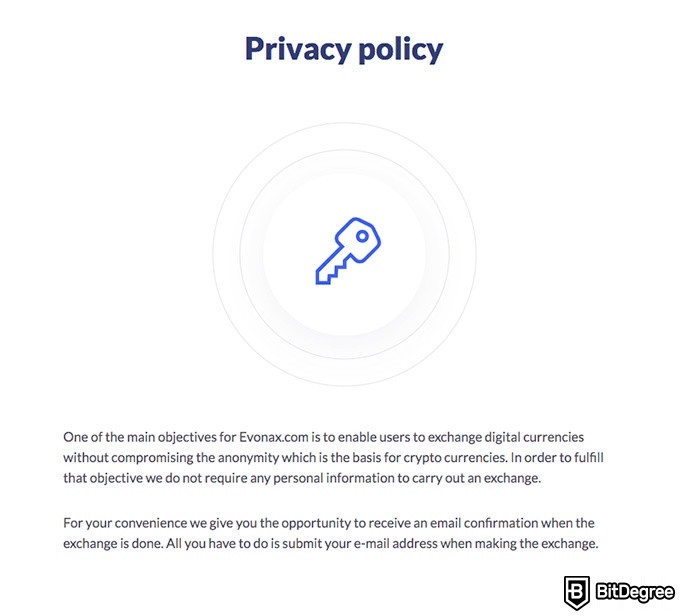 The biggest issue is that it truly does inhibit the convenience factor. If you want to trade any cryptos on Evonax, you'll have to have acquired them beforehand, on a separate exchange.
Meaning, if you're just starting out, you need to go to a crypto exchange platform that supports fiat payments (such as Binance), and then purchase your desired amount of crypto there. Then, you need to transfer those coins to a separate wallet (a hardware one would offer the best security).
Lastly, when all is said and done, you are then able to trade on Evonax. Some user Evonax reviews will tell you that you may also use the wallet that's built into the exchange (in our example - Binance), but this isn't recommended, since you'll be using a centralized exchange to trade on an anonymity-driven one.
As you can see for yourself, the process can prove to be a hassle! The trade-off here is that, with Evonax, you are able to remain anonymous with your trades, while exchanges such as Binance do not support this feature (due to the aforementioned KYC compliance).

Did you know?
How to Use Evonax?
Now that we've covered the main pros and cons of Evonax, let's finish this Evonax review off by taking a look at how to actually trade cryptos on the exchange, in the first place.
Since you do not need to register on the exchange in question, we'll jump straight to the trading window.
Step 1: Go to the Evonax official website.
Step 2: On it, at the top of the homepage, you'll need to pick the crypto that you want to receive, as well as the cryptocurrency that you'd like to trade.
Step 3: After doing so, you will also need to enter the amount of crypto that you'd like to trade, as well as your receiving coin wallet address, too.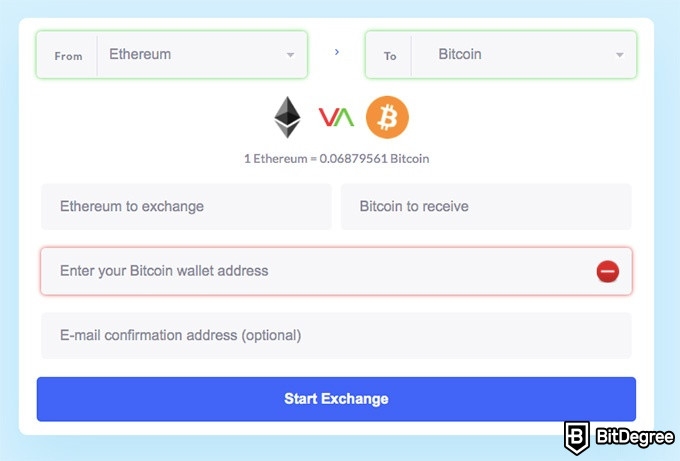 You may also opt to enter an email address in order to confirm the transaction, but this is completely optional. Some user Evonax reviews will tell you that it's a good feature to add an extra layer of security on top of your trade, while others won't be fond of doing so due to not wanting to compromise their anonymity factor.
Step 4: Once your address is confirmed, you will need to perform a cryptocurrency transfer to a temporary wallet address given to you by Evonax. In doing so, you will confirm the transaction, and will receive the crypto coins or tokens that you desire.
That's it!
Admittedly, the obvious point here is that trading cryptocurrencies on Evonax is an extremely simple process. The lack of mandatory registration and KYC checks make it both super-fast, and also simple, as long as you have the coins that you're going to trade in your wallet already.

Pros
A very well-known crypto exchange platform
More than 500 different cryptos available
Two-factor authentication
Main Features
Over than 100 different cryptocurrencies available
Strong security
Small withdrawal fees

Pros
Secure and reliable
Low fees
A good amount of fiat currencies accepted
Main Features
Reputable exchange
Multiple fiat currencies are accepted
Relatively low trading fees

Pros
Anonymous trading
Secure
Supports a variety of cryptocurrencies
Main Features
Easy to use
Low fees
Good security
Conclusions
With all of that being said and done, is Evonax worth trying out?
I'd say - yes!
While it's far from being a very well-known crypto exchange platform, Evonax does have a lot to offer to the potential user. At the core highlights of its services lie the facts that it's an anonymity-driven, non-custodial exchange.
This means that you do not need to provide the exchange with any form of proof of your identity, nor transfer your coins to the platform in order to trade them. This makes the trading process itself super-fast, as well as straightforward, as well.
LEDGER NANO X
TREZOR MODEL T

Main score based on expert evaluations & real user reviews.

Whether the crypto wallet is hardware, software, desktop or paper type.

Hardware
Hardware

For which purpose or for what kind of people is the cryptocurrency wallet best for.

Best for Safely Storing, Sending, and Receiving Different Cryptocurrencies
Best for Easily Control Funds, Manage Balance and Initiate Transfers

Most popular hand-picked deals & coupons.

All Ledger Nano X Coupons
See All Coupons of Best Wallets

Final crypto wallet evaluation conclusion based on research, expert opinions & user feedback.

One of the best hardware cryptocurrency wallets ever made.
One of the most-secure cryptocurrency hardware wallets on the market.
Visit site
Read review
See TOP10 Brands
Read review
Table: A general comparison between the Ledger Nano X and Trezor Model T hardware cryptocurrency wallets
Admittedly, it's not the best thing for convenience, especially if you still haven't purchased your initial cryptocurrencies, or don't have a reliable hardware wallet. That being said, the anonymity that you receive while trading is seen as the trade-off here.
Evonax is generally very simple to use, and is technically supported in all of the different countries around the world. There are also no Evonax fees, either, although the exchange rates are going to be a bit higher than with many other exchanges out there.
All things considered, Evonax is definitely worth checking out, if you're looking for an anonymity-driven cryptocurrency exchange!
The content published on this website is not aimed to give any kind of financial, investment, trading, or any other form of advice. BitDegree.org does not endorse or suggest you to buy, sell or hold any kind of cryptocurrency. Before making financial investment decisions, do consult your financial advisor.
About Article's Experts & Analysts