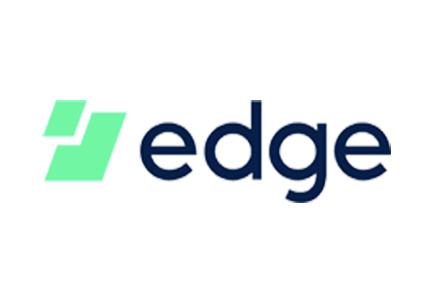 Do you know what cryptocurrencies and the increasing use of mobile phones have in common? That's right - exclusively mobile-based crypto wallets. No matter if you were reading some Edge wallet reviews or any other mobile wallet feedback, the current trends are undeniable.
What trends are those? Well, while the topic of cryptocurrencies is becoming increasingly more popular every single day, it's obvious that people are also using their phones for multiple reasons, more and more - whether it be to browse social media, watch videos, or even pay taxes and make other financial actions.
With that, though, there's an influx of mobile crypto wallets that's quite noticeable, too. Picking the right one for yourself can be a difficult choice to make! Well, if you're currently in the process of looking, read through this Edge wallet review and check it out - perhaps it's the right wallet for you. If not, though, note that there are always alternatives, more-popular options available - in this industry, Ledger and Trezor are the two undeniable leaders.
TL;DR: The Edge wallet is seen as being quite simple to use, and is a great choice for those who trade cryptos often. It supports multiple different altcoins and even some ERC-20 tokens, and possesses decent security measures, too.
Pros
Supports multiple cryptocurrencies and crypto assets
Easy to use and navigate through
Decent security measures
Built-in exchanges
Cons
Mobile-exclusive wallet
Not as safe as some other cold storage options
Edge Wallet Review: PROS
What many people might be confused about when they first search for some Edge wallet reviews is the fact that the name "Airbitz" does show up quite often, in related searches.
Well, that's simply because that's what the wallet was called, at a certain point in time. Back then, though, it was a completely different product, and - as you can probably imagine - there have been a lot of different intricacies involved, both from a product perspective, and from that of the company behind it.

Suffice to say that Airbitz was a Bitcoin wallet, when it was still 'a thing' - that's why there are many people who search for the "Edge Bitcoin wallet". The improved and renamed version of the product, though, now offers multiple cryptocurrency support - it's no longer a Bitcoin-exclusive sort of a deal.
Starting things off on a positive note, though, let's address the aforementioned elephant in the room - the fact that Edge now supports a whole bunch of different cryptocurrencies.
Multiple Cryptocurrency Support
One of the more referenced features of a decent cryptocurrency wallet has to be its capability to support multiple different altcoins. This is a sentiment that's also true among user Edge wallet reviews, too.
If you're not too familiar with the crypto terminology, allow me to explain - an "altcoin" is basically any cryptocurrency that's not Bitcoin. While the definition has had some changes over the years, and there are many cryptos that have nothing to do with Bitcoin (meaning, they aren't a "fork" of BTC), the general sentiment is still the same.
I've already emphasized this at the beginning of the Edge wallet review, but, with the increasing popularity of cryptocurrencies around the world, people are starting to invest into a bigger variety of coins, too. With that, though, there comes the nuisance of having to find a wallet that would support all of those coins.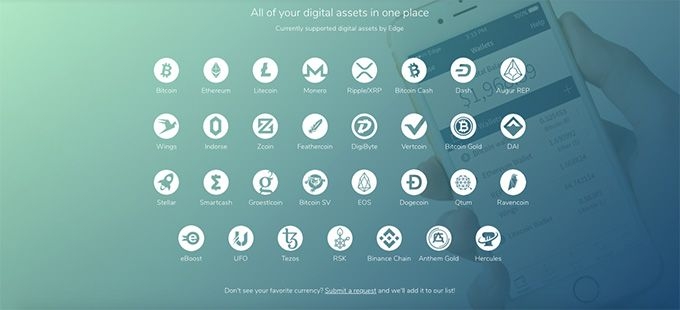 Some people prefer storing different cryptocurrencies in different wallets - truth be told, it might be safer that way! Still, if you value convenience, or are an active trader, you'd probably want a single wallet for easier access and simpler (& faster!) trading.
Well, with all of that being the case, user Edge wallet reviews will tell you that, yes - the Edge wallet does support multiple different cryptocurrencies. This is likely a welcome surprise for anyone who's been looking for some Edge 'Bitcoin' wallet reviews!
BINANCE
EDGE

Amount of cyprotcurrencies that are supported in a certain cryptocurrency wallet.

200+
See Full List
130+
See Full List

Amount of tokens that are supported in a certain cryptocurrency wallet.

1500+
See Full List
1000+
See Full List

Whether or not the crypto wallet supports the Ethereum token.

Whether or not the cryptocurrency wallet is compatible with other wallets & which.

Trust Wallet
MyEtherWallet

Whether or not the crypto wallet supports the original BTC addresses that start with "1".

Whether or not the crypto wallet supports newer BTC addresses that came to be due to a soft fork. These addresses start with "3".

Whether or not the crypto wallet supports these specific types of BTC SegWit addresses. These wallet addresses start with "bc1".

Visit site
Read review
See TOP10 Brands
Read review
Table: The cryptocurrencies supported by the Binance wallet and Edge
As of writing this article, the Edge wallet supports over 30 different cryptocurrencies and their assets, including Bitcoin, Bitcoin Cash, Ethereum, Litecoin, Ripple, and even Monero!
Naturally, this is a huge benefit for any and all Edge users! The convenience is much appreciated, and an extensive list of supported coins is surely bound to attract more users to the wallet!
Latest Coinbase Coupon Found:
CLAIM YOUR $200 BONUS
Coinbase Cyber Monday
Cyber Monday Madness at Coinbase! Get your first crypto and earn up to $200 in rewards. Hurry up before this Coinbase Cyber Monday deal ends.
Expiration date : 08/12/2023
3,784 People Used
Only 16 Left
Built-in Exchanges (Plural!)
Yup, you've read that right - multiple user Edge wallet reviews will tell you that there are actually a few different built-in exchanges that you could use to buy, sell and trade cryptocurrencies within the Edge wallet.
That's pretty good!
The exchanges in question include some of the well-known industry names, such as ShapeShift and Changelly, among some others. Also, the Edge wallet uses Simplex as their "middleman" - this adds to the security aspect of the whole ordeal (more on that later).
While such built-in exchange functionality has been around for some time now, and is barely surprising to most crypto holders nowadays, it's actually pretty cool that there are multiple different exchanges to pick from, when thinking about buying or selling crypto.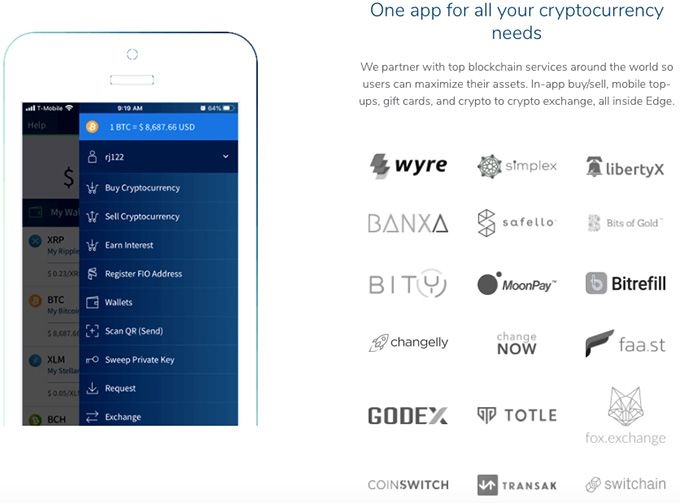 As a general idea, though, the whole "built-in exchange" deal is great in that it allows you to do all of the above-mentioned processes from the comfort of your wallet, without the need to transfer your crypto funds to some specific exchange, perform the transactions, and then transfer them back.
Do keep in mind, though, that some exchanges might offer better fees than others - this is something that you should always consider, since it might be worth the hassle to actually withdraw and transfer your cryptos manually.
Simple and Straightforward to Use
This is actually a point I tend to mention quite often, whenever I talk about mobile-based crypto wallets - this Edge wallet review is no exception. You see, in the crypto world, to this day, there's a stigma against mobile-based storage - one of the main reasons why that's the case is simply because they are considered to either be really difficult to use, or simply unintuitive.
Wallets like Edge, however, aim to break that stereotype.
I won't really go into the specifics of how to use the wallet, since this is something that's going to be covered later on in this Edge wallet review. Having said that, I can, for a fact, tell you that the app itself is very intuitive and simple to navigate through.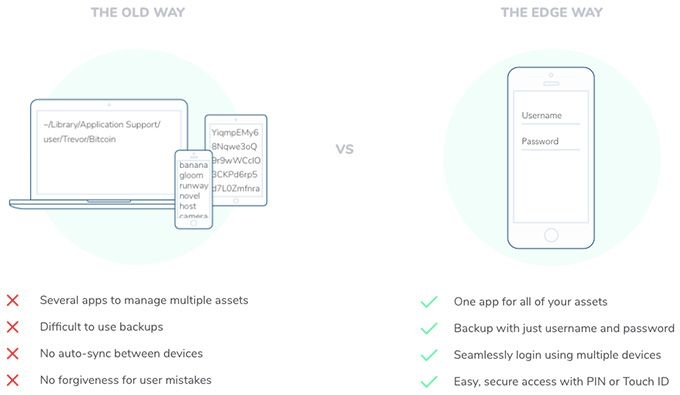 The features and functions are placed in some very conveniant areas around the app, and the design of the wallet is simplistic, too - you shouldn't catch yourself trying to navigate through the wallet and losing all sense of how to do so.
Admittedly, while not many user Edge wallet reviews are going to tell you this, there are plenty of different mobile wallets out there that are trying to eliminate the idea that mobile storage is "cumbersome" and "confusing". While it's not worth drawing any comparisons, suffice it to say that Edge is surely doing a good job in this regard.
Decent Security Features (2FA)
As you can probably imagine, the aspect of 'security' is always a contentious topic when talking about cryptocurrency storage.
It doesn't even matter what sort of a wallet it is that you look into - hardware, software, mobile, or else. The fact of the matter is that, at the end of the day, people are very touchy when it comes to maintaining top-tier security of their crypto assets.
And they should be! If you want to store your fiat money in a bank, you'd probably want that bank to offer the maximum amount of security, right? Well, the same stands with crypto wallets, too.
While mobile wallets aren't always the (quote, unquote) "best" choice when it comes to the question of crypto security, they are, in fact, decent. On top of that, user Edge wallet reviews do point out that the crypto wallet in question does actually possess a range of different security features, too!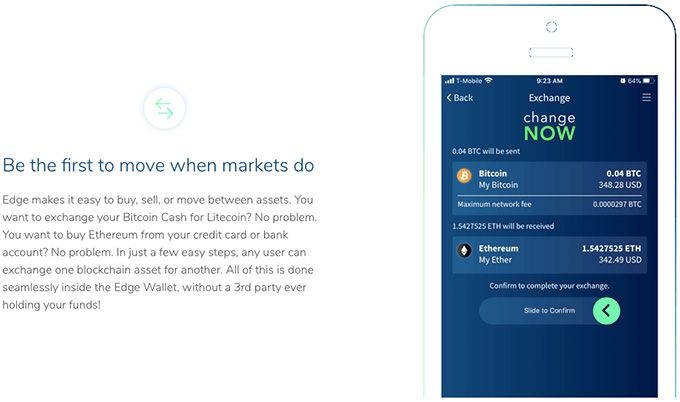 For starters, all of your private keys are stored on your own device, and not on the company's servers. This means that you alone possess access to them - not only does this maintain the original philosophy behind cryptocurrencies (decentralization), but it also makes it so that the security of your assets is strictly in your own hands.
Edge also supports 2FA - two-factor authentication. Yet again, while is something that SHOULD be normal nowadays, you would probably be surprised at just how many wallets don't utilize this security measurement.
It's a pretty big deal, too! 2FA is one of the most effective ways of how you could protect your crypt assets - exchanges such as CEX.IO are a good example of 2FA being implemented right.
Whatever the case might be, it's definitely a win on Edge's side of things!
Latest Ledger Nano X Coupon Found:
SAVE 10%
Ledger Cyber Monday
Ledger Cyber Monday sale is bringing you the best deals - follow the coupon link & get 10% off Ledger Nano X when buying the Family Pack X!
Expiration date : 06/12/2023
7,469 People Used
Only 21 Left
Edge Wallet Review: CONS
So, now that we've covered some of the most-praising user Edge wallet reviews, we still need to mention a couple of things that might not be as positive, but are still crucial to know for anyone who's thinking about trying the wallet out.
Mobile-Exclusive Wallet - No Desktop Support
One of the wallet's biggest strengths is also, debatably, its biggest weakness.
As you've probably figured out throughout this Edge "Bitcoin" wallet review, Edge is strictly a mobile wallet - no hardware devices, no desktop support, none of that.
For some crypto holders, this is great - namely, the people who are going to be excited about this the most are those that actively trade their cryptocurrencies, or have but a small amount of them to hold.

For the majority of the population, though, this probably isn't as ideal. You see, having only mobile access means that you're tied to a single device - you can't really hop on to your desktop for some easier (faster) browsing and specific action-performing.
It's also worth mentioning that, as far as cryptocurrency wallets are concerned, mobile-based storage isn't viewed as the safest option out there, either. Sure, if you need a wallet for a short amount of time, or have a minimal amount of cryptocurrency and are just playing around, it's "no biggie".
If, however, you're serious about crypto, you should look into investing in some safer alternatives - namely, a high-end hardware wallet.
Not Enough Cryptocurrency Variety for Some Users
Now, at the beginning of this Edge wallet review, I've told you that the wallet in question supports multiple different cryptocurrencies.
That's true. That being said, though, it would seem like the number is still too low for some of its users.
You see, even though Edge has more than 30 different crypto assets that it supports, people may hold a vastly greater number of crypto coins. As of writing this article, there are more than 5000 different cryptocurrencies in the world - by that account, Edge is able to hold only around 0,6% of all of the cryptocurrencies out there!
Table: The company information of the Electrum wallet and Edge
Naturally, as you can imagine, this is going to be a significant issue for those who do actually hold some crypto assets that the wallet does not support. Reading through all of the user Edge wallet reviews available online, it does appear that this group of people is a minority.
Still, it's surely something you should keep in mind when thinking about trying the Edge wallet out!

Did you know?
Price
Pricing is probably the most straightforward part of this Edge wallet review.
The Edge mobile cryptocurrency wallet is completely free to download, install, set up and use. That's pretty good - it means that anyone can try it out, at any given point in time.
Transactional fee-wise, things are a bit different. The wallet itself takes a 1% cut from the transaction - that's fair. On top of that, though, the exchange itself does also take a designated fee - while it depends on a lot of different factors, most user Edge wallet reviews mention that it should be around 4%-6%.
How to use the Edge Cryptocurrency Wallet?
So, then - as a final point in this Edge wallet review, let us discuss the actual usage of the wallet in question. Frankly, this should give you a pretty good idea of whether or not it's the right crypto storage option for you.
How to Install and Set Up the Edge Wallet?
First things first - the installation and set up processes.
Step 1: Download and install the app from the store of your choice. I'm using an Android device, so my example includes the Google Play Store.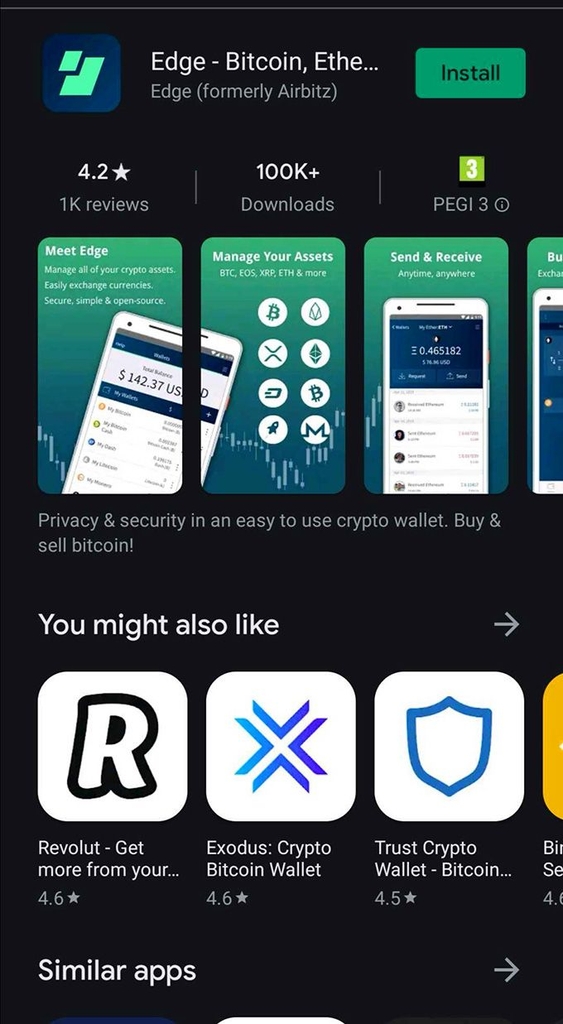 Step 2: After you install and fire it up, you'll be given the option to create an account. Press the button to continue.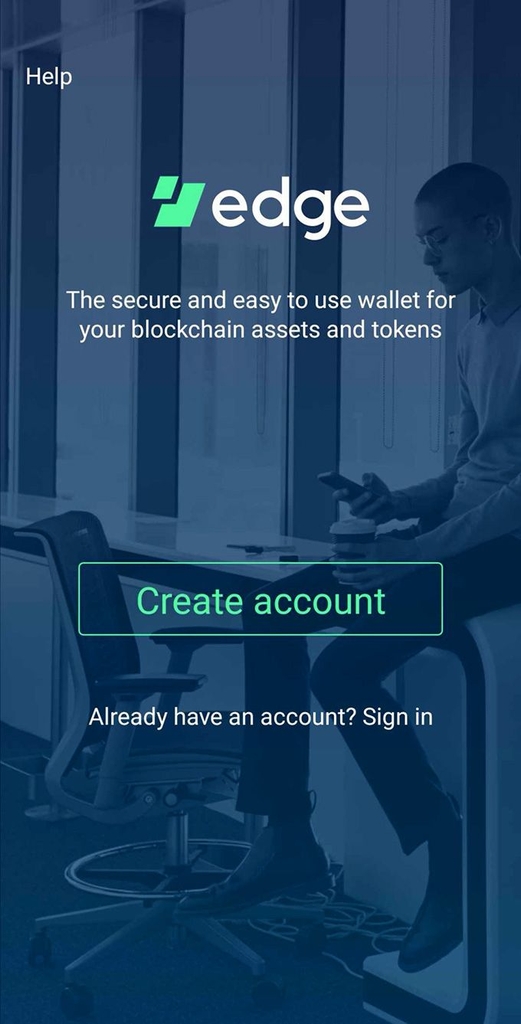 Step 3: Here, Edge explains how you'll be the solemn owner of your username and private keys, and how it is thus your complete responsibility to remember them. Take notes!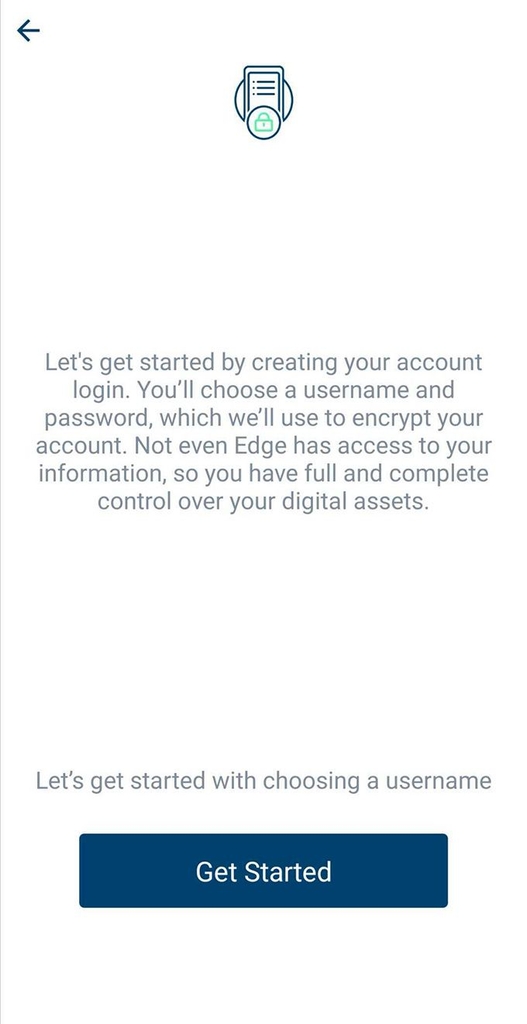 Step 4: Create a username of your choice, and continue.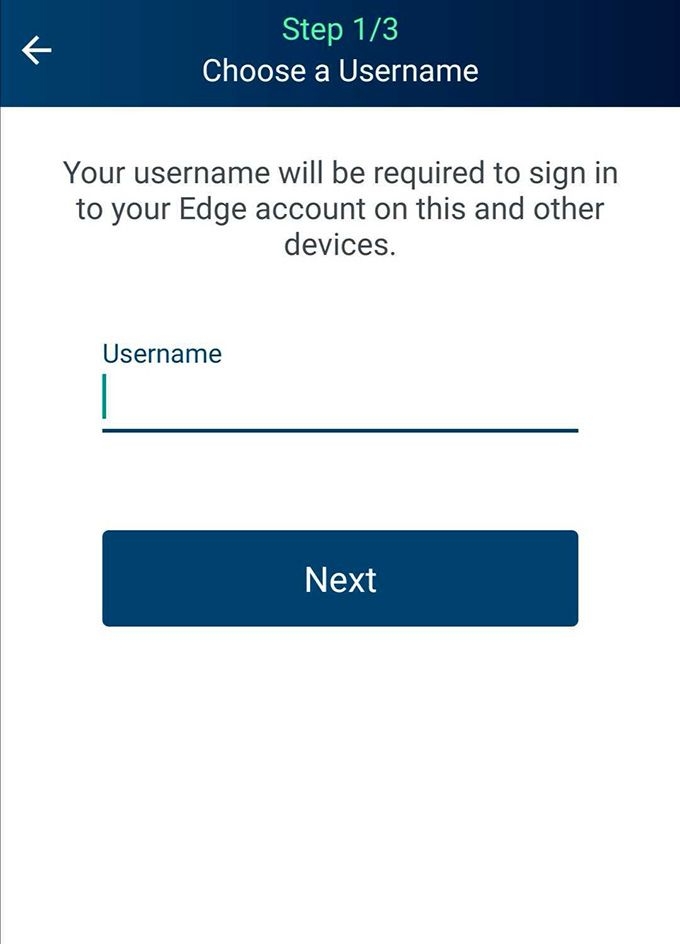 Step 5: Create a password, and confirm it. Make sure to write all of this information down, and only use a new and never-before-used password!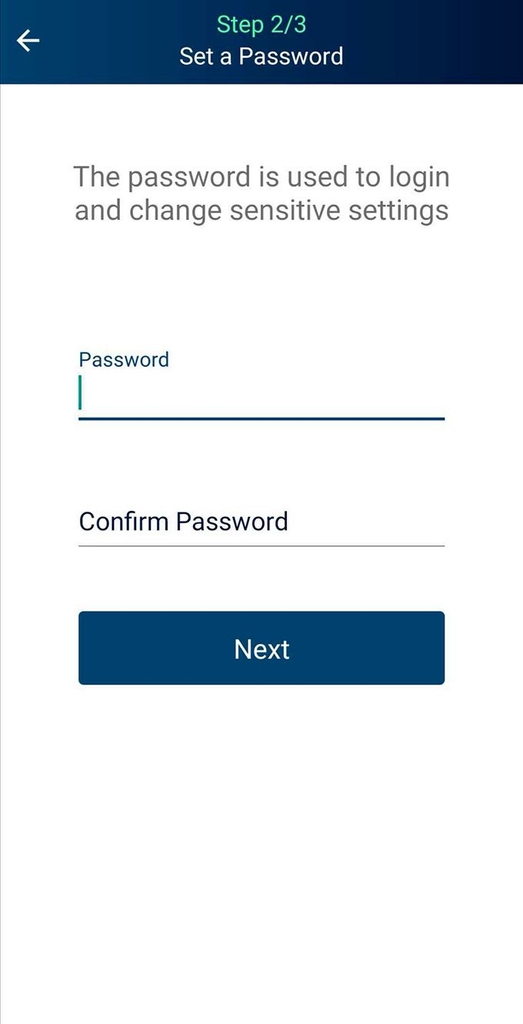 Step 6: Lastly, you are prompted to create a custom PIN code. It's an added layer of security - and a welcome one, at that!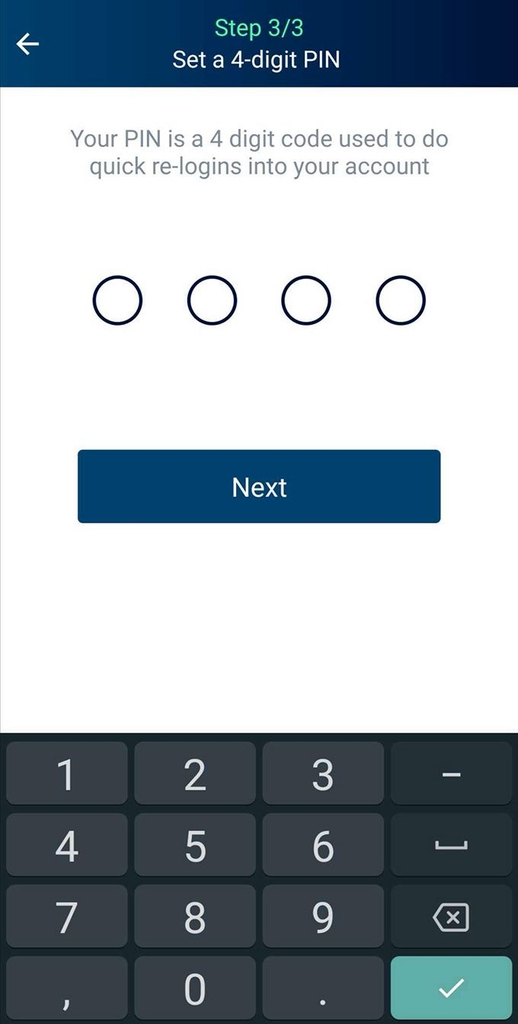 Step 7: You'll be given a few additional confirmations - review everything, and continue.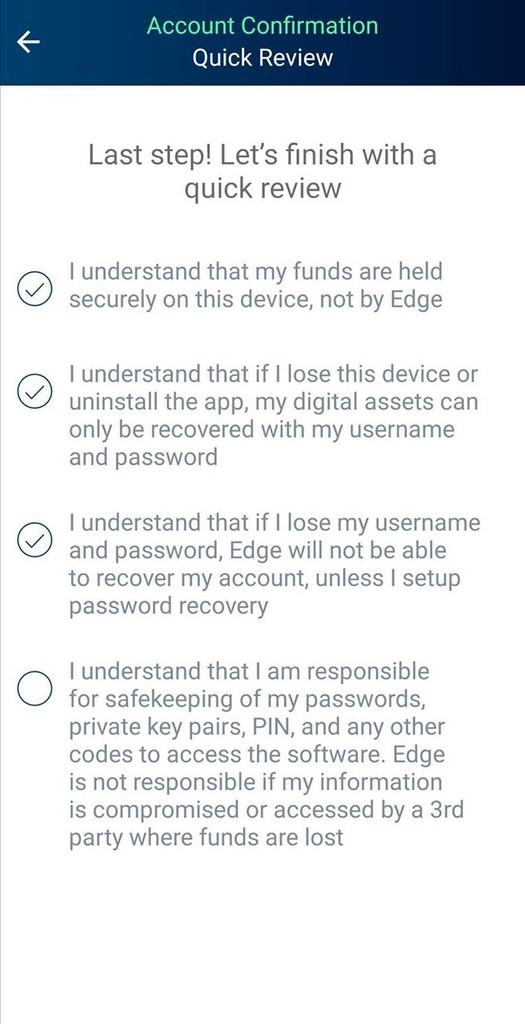 Step 8: That's it - you now have an Edge wallet account!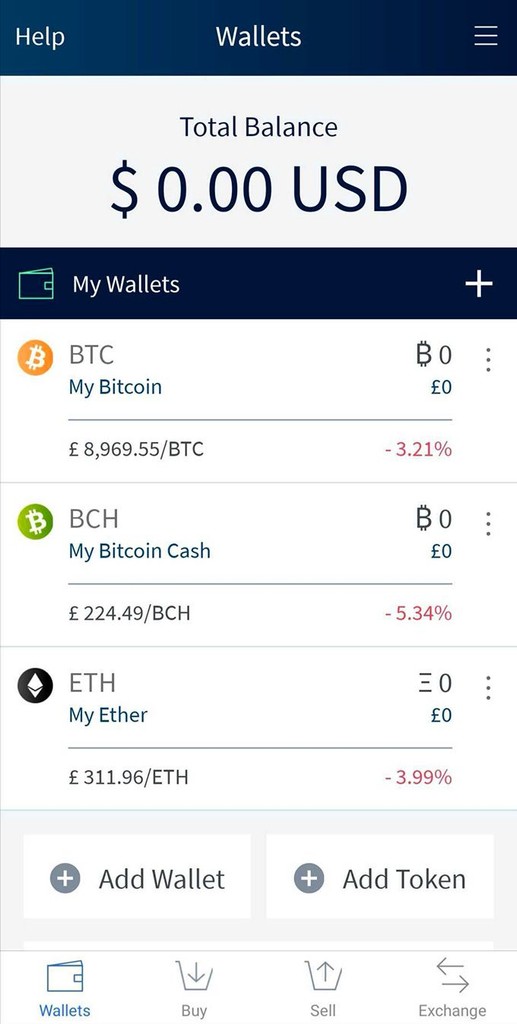 While the process of creating this wallet might have taken longer than with most other mobile wallet apps, it's still far from being a hassle.
How to Transfer Funds to the Edge Wallet?
Now that you have an account, let's take a look at the actual crypto asset transferring process.
Step 1: From the homepage of the Edge wallet app, navigate to your wallet - you can do so by either creating a new, custom wallet, or utilizing an already-existing one that's been created for you. For this example, I'm using the Ethereum wallet.
Step 2: Here, you'll notice two buttons - "Request" and "Send". Press the former.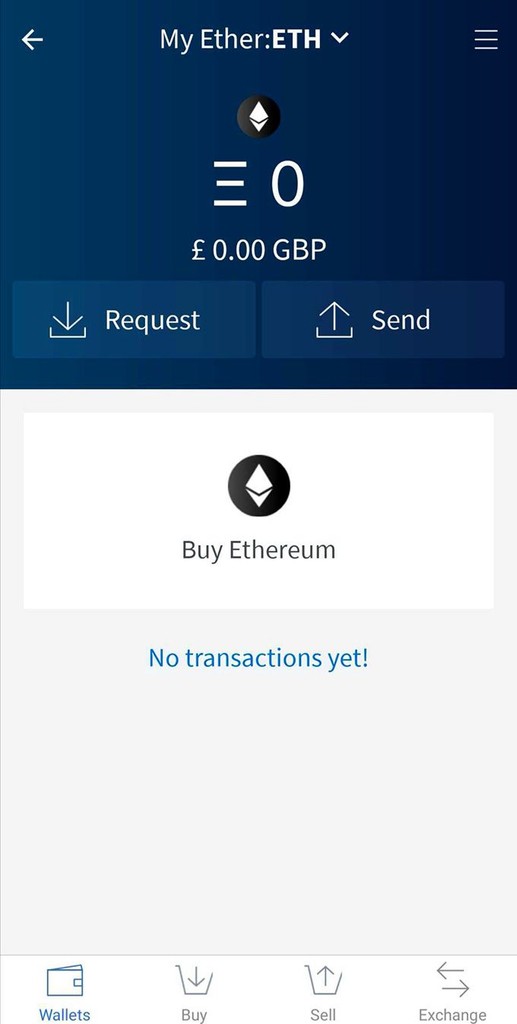 Step 3: On the page that pops up, you'll see your generated wallet address, and a QR code. All that you need to do now is copy that address, enter the amount of ETH that you're going to receive, and send the address to the sender - that's it!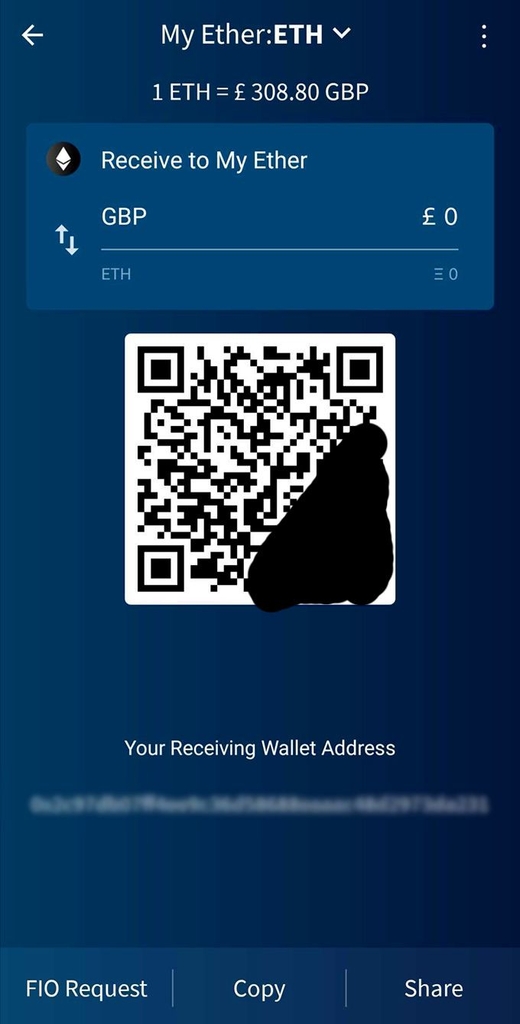 Transfering (and receiving) crypto assets with the Edge wallet is actually quite simple. The transferring process shouldn't take long at all, too!
How to Buy Cryptocurrency with the Edge Wallet?
Finally, let's take a look at the crypto-buying process within the wallet in question.
Step 1: In the home screen of the app, press the "Buy" button at the lower end of the screen.
Step 2: You'll be prompted to pick your country of residence. Upon doing so, you'll be presented by a few different options of how you could pay for your new crypto coins. Examples include a bank transfer, credit and debit cards, and cash payments.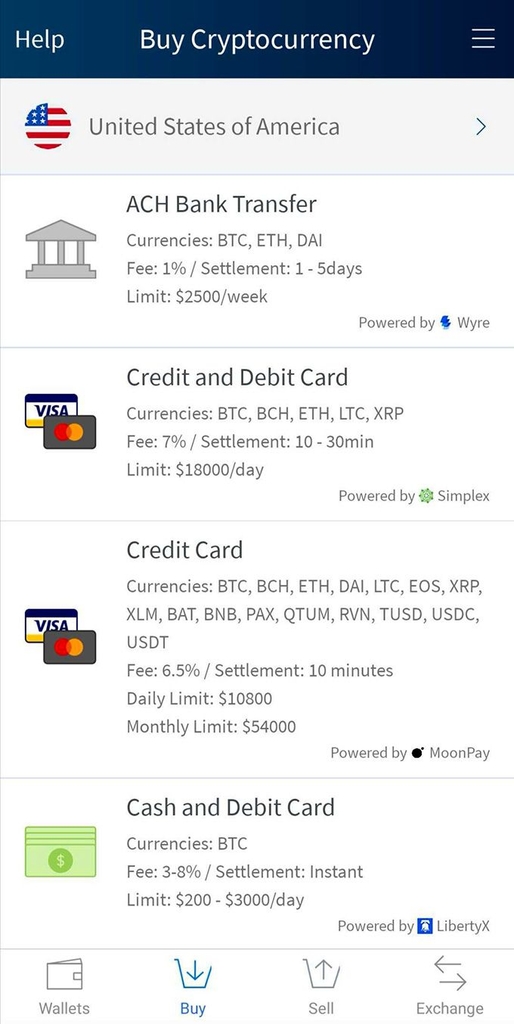 Step 3: Choosing a payment method will also automatically decide the middleman that will participate in your transaction. In my case, upon choosing to purchase ETH via a credit/debit card, that middleman is Simplex. After a few confirmations, you'll be asked to choose a destination wallet, and enter the amount of crypto coins that you want to purchase.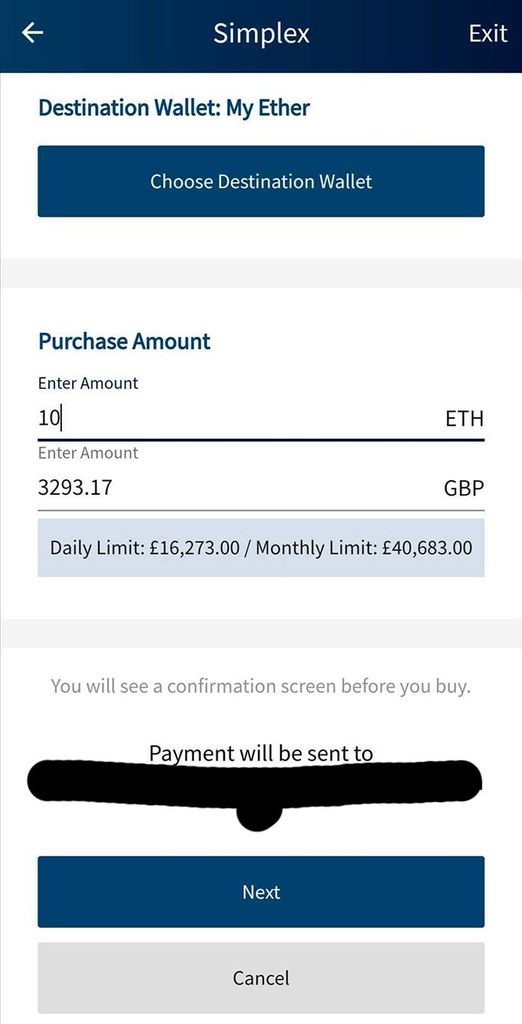 Step 4: Upon double-checking everything, you'll be then redirected to Simplex, where you'll have to enter all of your payment details. Once that's settled, and you've made the payment, you're done - all that's left is to await for your new crypto coins to arrive in your wallet!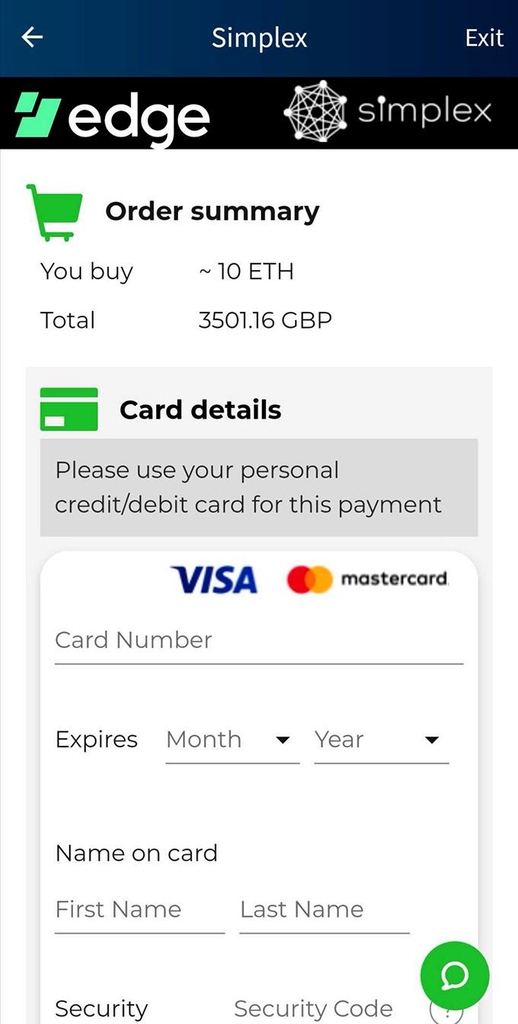 Fast, simple and straightforward!

Pros
Can be managed from mobile device
Very secure
Supports more than 5500 cryptocurrencies

Pros
Top-tier security
DeFi app support
Store over 5500 assets, install up to 100 apps simultaneously

Pros
Multiple cryptocurrency support
Very secure
SegWit and Bech32 address support
Conclusions
Now, then - is the Edge wallet worth trying out?
All things considered, and taking all of the user Edge wallet reviews into account, I'd say that yes - the Edge wallet is worth looking into, especially if you're planning on visiting crypto exchanges rather frequently, and trading coins on a daily basis.
While the wallet doesn't really have a wide range of coins that it'd support, anyone who's not looking at the more unknown and niche coin options shouldn't find this to be an issue. The Edge wallet is simple to use, accepts fiat payments, and has some decent security measures, too.
That being said, it's worth pointing out that there are still more-popular options out there, if Edge doesn't really "do it" for you. If you're looking for top-tier security, make sure to check out the hardware wallet market - here, the Ledger Nano X and the Trezor Model T are the two leaders.
The content published on this website is not aimed to give any kind of financial, investment, trading, or any other form of advice. BitDegree.org does not endorse or suggest you to buy, sell or hold any kind of cryptocurrency. Before making financial investment decisions, do consult your financial advisor.
About Article's Experts & Analysts