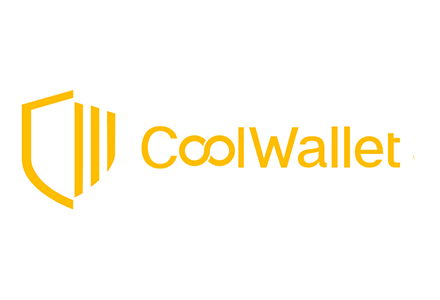 If you've spent enough time in the crypto industry, the name "CoolWallet" is likely quite familiar to you. Indeed - this is a brand that has been around for a few years, and is known for its unique approach to crypto cold storage. In this CoolWallet Pro review, we'll take a look at a brand-new product offered by the company in question.
Hardware wallets, in general, are an interesting topic to look into. Often wowing users with their visual design features (and stylistic choices), these wallets are also commonly considered to be among the safest possible ways to store your crypto.
Is that the case with the CoolWallet Pro crypto hardware wallet? That's exactly what we'll look into, in addition to all of the product's core features and functionalities. Let's get right to it!
Pros
Hardware crypto wallet - advanced security
DeFi integrations
NFT trading support (via OpenSea and Rarible)
A unique, discreet design
Supports a big variety of crypto assets
Cons
Relatively short battery life
No live support
CoolWallet Pro Review: PROS
As per usual, we'll start things off with this CoolWallet Pro review by looking at all of the core positive features of the wallet in question. Naturally, as you might have gathered from the introduction part of the article, security should be at the very top, in this regard - and, as far as this wallet is concerned, that does appear to be the case!
A Secure Hardware Crypto Storage Device
By this point, you've probably heard the 'spiel' hundreds, if not thousands of times - whenever it comes to crypto storage, security is always going to be the thing that receives the most scrutiny. It makes perfect sense, however.
Think about it yourself - crypto wallets are literally created to keep your assets SAFE. To add to that, with hardware wallet devices traditionally being viewed as the safest alternative, that sentiment gets amplified, tenfold.
Taking a single look at different user CoolWallet Pro reviews left online should leave a positive impression in this regard, though. It would appear that the CoolWallet Pro crypto hardware wallet adheres to all of the industry-standard security feature requirements, and then some.

One of the very first things that you'll learn about this product is that it has an upgraded chipset (when compared to the earlier iteration of the wallet - the CoolWallet S), as well as a higher CC EAL6+ rating. The brand behind the wallet emphasizes how they aim to "keep up with the developing crypto market", and one of the things that this entails is just that - upgrading your security standards, as required.
The CC EAL6+ rating is notable, as well. The aforementioned new chip features military-grade data encryption and security measures - it's a huge improvement not only over the CoolWallet S model, but over many other hardware wallet devices on the current market, as well!

To add to that, CoolWallet even emphasizes that this is one of the most important security ratings in the entire industry - having improved it over their flagship product, it certainly places the CoolWallet Pro in a positive spotlight!
The product does (naturally) employ various other security measures, as well. You can expect transaction confirmation requirements, Bluetooth connection encryption, two-factor authentication, and so on.
All in all, if you came into this CoolWallet Pro review worried about the asset safety measures of the wallet in question, I can assure you - the product features a high level of security!
Latest Deal Active Right Now:
$300 + 40 DOGE BONUS
Huobi Black Friday Limited-Time Period
Huobi Black Friday & Cyber Monday 2023 period offers great bonus for new users - sign up & earn up to $300 + 40 DOGE bonus!
Expiration date : 12/12/2023
3,817 People Used
Only 31 Left
Supports a Large Variety of Crypto Assets
As time goes on, and the market expands, multiple asset support is becoming an increasingly more important feature, as far as cryptocurrency wallets are concerned. This isn't only true with products such as the CoolWallet Pro crypto hardware wallet, though - the sentiment is shared between both hot and cold wallets, alike.
Single cryptocurrency-exclusive wallets were the norm, some time ago. However, if you hold, say, 10 different cryptocurrencies in your portfolio, this would mean managing 10 different wallets - it's simply not feasible, and completely impractical, at the very least.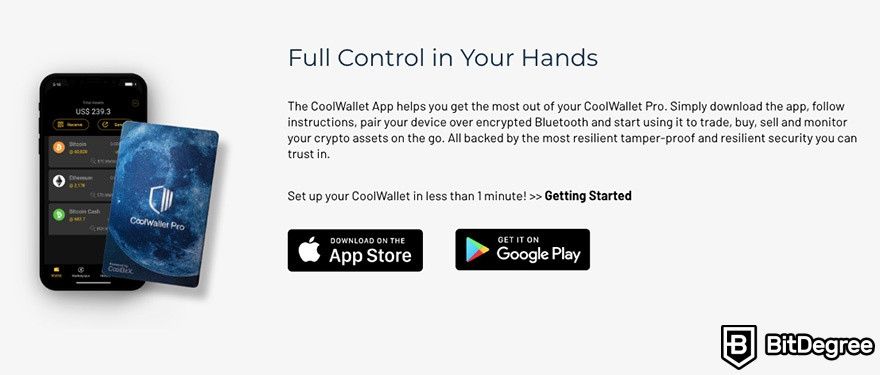 What's the situation with the CoolWallet Pro supported coins? Well, I'm happy to say that, unless you're looking to store some super-niche assets, the Pro should have you covered!
For starters, user CoolWallet Pro reviews will tell you that all of the big blockchain mainnets are supported on the said product - this includes Bitcoin, Bitcoin Cash, Ethereum, Ethereum Classic, the Binance Chain, Polygon, Litecoin, XRP, and so on.
To add to that, there are over 150 "officially supported tokens". What this means is that you'll be able to add these tokens to your wallet in an optimized, convenient manner.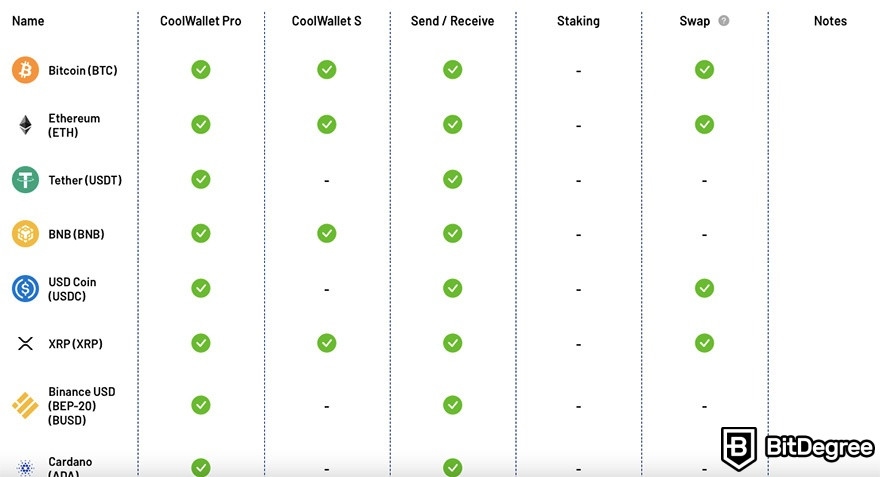 That being said, as you might already know, there are many more tokens out there, on the market. Well, all of the ERC-20, TRC-20, and BEP-20 tokens can be stored on the CoolWallet Pro crypto hardware wallet! While they might not have visual representation (you'd need to connect some hot wallet to view and transact with the tokens), they would still reside under the security features of the Pro.
The aforementioned token standards are very common, that's true - however, nowadays, you might encounter tokens called "ERC-721", or "ERC-1155". These refer to NFTs - non-fungible tokens -, and some user CoolWallet Pro reviews might tell you that they are, in fact, also storable on the wallet!
Supports NFT Storage & Trading
The team behind CoolWallet prides itself on the fact that the product in question is "the first hardware wallet to support in-app NFT trading functions". As they should - this is a huge deal!
In the world of NFTs, there are a few huge names, marketplace-wise. Two of the leaders in the space, however, are OpenSea and Rarible (the former is one of the very first NFT marketplaces on the market, while the latter mostly deals with Binance Chain-based tokens). Both of these platforms are integrated into the CoolWallet Pro.
What this results in is the wallet offering its users the ability to trade (buy, sell, exchange, and store) NFTs right from the comfort of the wallet's digital interface, without having to go out of their way and visit said marketplaces for themselves.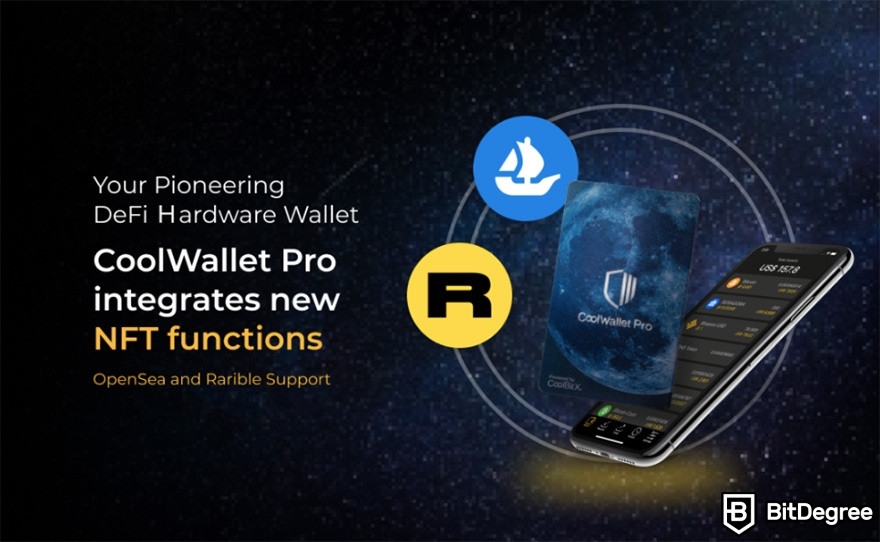 First of all, this is a major convenience factor. And, if you've been trading crypto or NFTs for some time, you probably know just how important convenience can be! While most user CoolWallet Pro reviews won't tell you this, the space, as a whole, is still in its infancy stage, and elements such as convenience and ease of use are being shaped and developed, continuously.
Secondly, this is a pretty huge deal in regards to the safety of your non-fungible tokens. Instead of having to send them out of your wallet every time you want to perform a trade, and risk making some pretty significant mistakes, you'll be able to participate in all of the relevant processes from within the wallet itself. It's truly the next step in the evolution of the NFT market!
All in all, these aspects (NFT support, as well as the variety of storable tokens) are a big point mentioned in multiple user CoolWallet Pro reviews. It's definitely notable!
Staking Functionality + dApps
Among the most notable features of the hardware crypto storage product in question, you'll find CoolWallet Pro staking.
Indeed - over the last few years, staking has become a very popular feature, to be integrated into crypto wallets. This is mostly true with "hot" wallets (those that are based on software or a web browser), but many hardware devices offer this feature now, too.
When it comes to CoolWallet Pro staking, specifically, owners of the wallet will be able to stake three different Proof-of-Stake cryptocurrencies - Tron, Polkadot, and Cosmos. If you own any of these three crypto assets, and store them on your CoolWallet Pro device, you'll be able to reap the benefits of earning a passive income, while keeping your coins on a security-first device.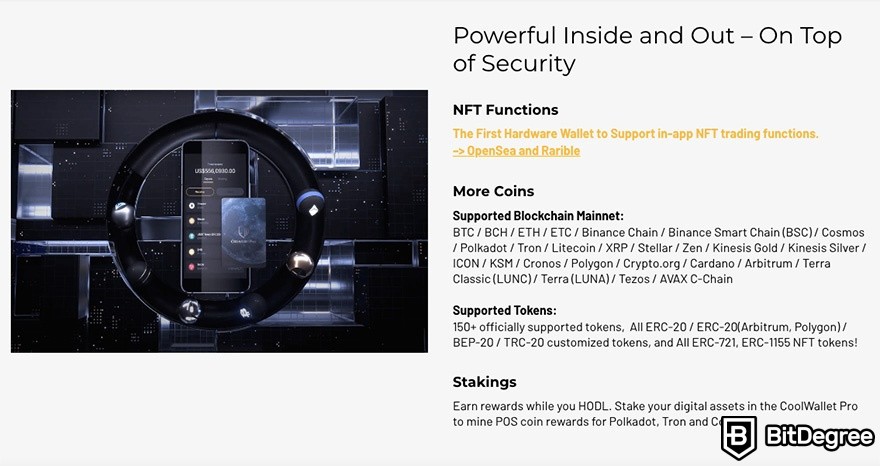 Is the list significant, in any way? No, not really - however, even though you can't stake some popular alternatives such as Ethereum, you'd still struggle to find user CoolWallet Pro reviews that wouldn't see the staking functionality of this wallet as a huge pro.
To add to that, if you were to take a look at the project's roadmap, you'd notice that CoolWallet plans to add at least two more stakeable coins to that list - Tezos, and Solana. According to the said roadmap, these plans should be implemented sometime towards the end of 2023.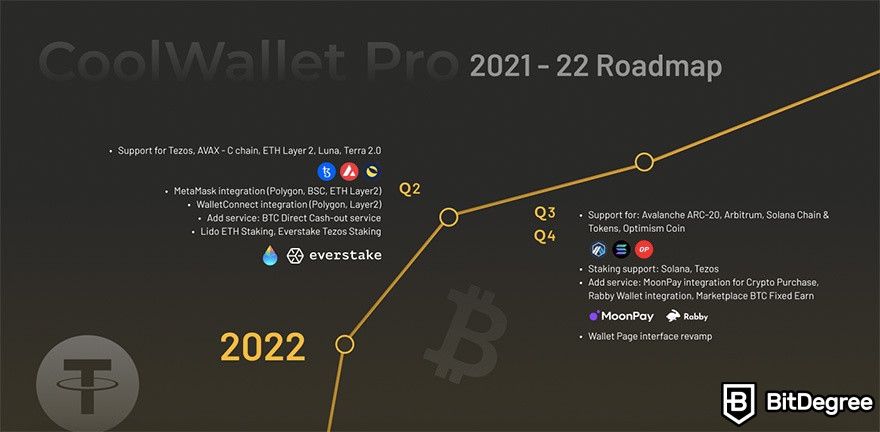 In addition to two new coins that users of the wallet will be able to stake, CoolWallet Pro should also see an interface revamp, and a few new integrations (such as one with MoonPay, for quick and hassle-free crypto acquisition).
Another awesome feature of the CoolWallet Pro is the fact that, in addition to staking, it also allows users to interact with various dApps, straight from the wallet interface. While it's certainly nothing new or "groundbreaking", it's a super-important feature to anyone who's looking to do more with their crypto than just hodl it.
A Unique Physical Design
By this point in the CoolWallet Pro review, you've probably noticed that the product has a variety of interesting features and quirks to offer to the potential user. However, among the most interesting of those features are the design choices that the team behind the wallet has taken.
If you've never seen either the CoolWallet Pro VS CoolWallet S, your go-to option for imagining a hardware wallet device would likely be a traditional USB drive, or some small, gadget-like box. The former association is the most prevalent, thanks to the success of the hardware wallet industry giant known as Ledger.
Reading through user CoolWallet Pro reviews, though, it becomes obvious that this particular wallet is nothing like its competitors. That's because the CoolWallet Pro is just 0,8mm thick!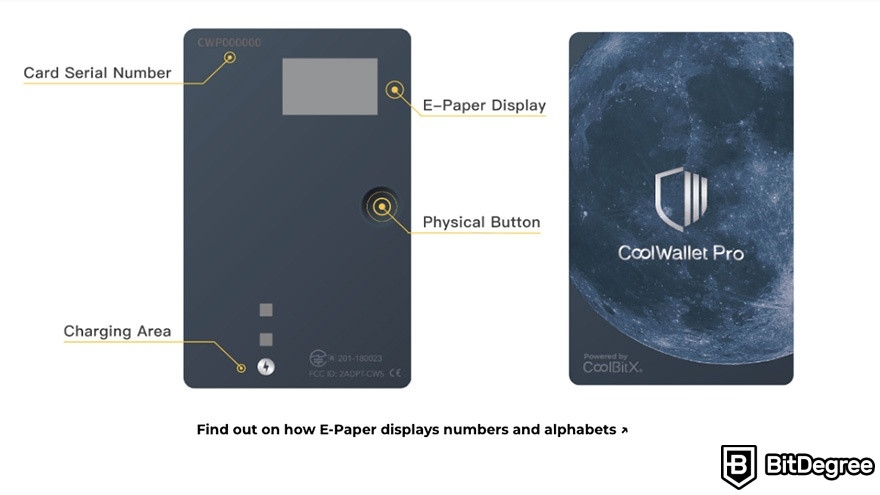 Nope, that's not a typo - the CoolWallet Pro looks just like a credit or debit card, both in regards to its size, as well as its design. With that, the product still features a digital display screen, as well as a single button to confirm transactions with. That's actually quite phenomenal!
This type of a design isn't just a visual gimmick, mind you. While not many user CoolWallet Pro reviews emphasize this point, the CoolWallet Pro is super-convenient to carry around, as well as pretty inconspicuous - if you were to pull it out in public, most people would likely just mistake it for a credit card!
All of that does, naturally, add to the security side of things, albeit indirectly. That said, if the wallet is so small and narrow, then how does it actually work?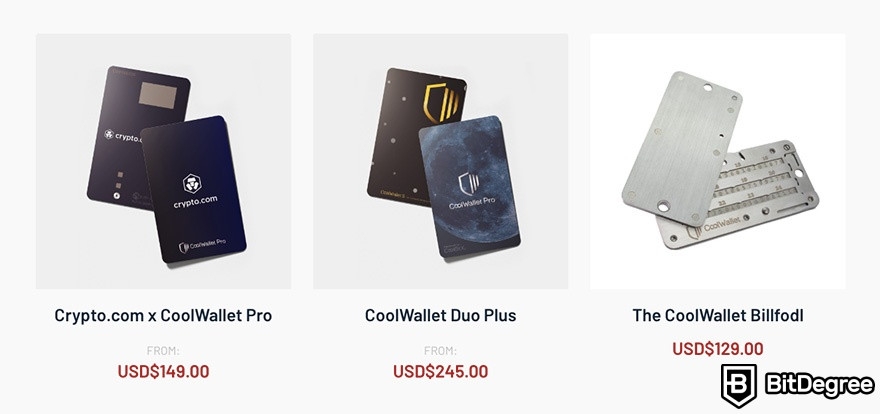 Well, when you buy the Pro (we'll talk about the CoolWallet Pro prices a bit later in the review), it comes with a special charger - simply insert the wallet into the designated slot, and it will start charging.
Transaction- and connectivity-wise, things aren't much more complicated. The CoolWallet Pro works via Bluetooth, paired with your mobile device, and within a special, this-wallet-specific app.
If your mobile device is within 10 meters of your wallet, you'll be able to manage your transactions - make them, cancel them, and so on. Do note that all confirmations will need to be approved both on your smartphone, as well as the wallet device itself. This creates the aforementioned two-factor authentication process, and ensures that your funds are protected under an added layer of security checks.
Latest Ledger Nano X Coupon Found:
GET MORE, SAVE 10%
Ledger Holiday Sale
Holidays are all about sharing! Get top-tier security for you & your loved ones with this 10% Ledger Holiday discount on family packs.
Expiration date : 12/12/2023
3,947 People Used
Only 53 Left
CoolWallet Pro Review: CONS
Up to this point in the CoolWallet Pro review, we've discussed the most notable benefits and features of the wallet product in question. Let's now "do a 180", and check to see if there's any notable negative feedback that the CoolWallet Pro has received.
No Live Customer Support
Truth be told, there really aren't many negative aspects or user CoolWallet Pro reviews - at least those that would reference objective issues regarding the wallet product in question.
One exception to this point, however, is the fact that CoolWallet doesn't seem to have any live customer support.
Now, this is a bit of an interesting aspect to cover. That's because, as far as hardware wallets are concerned, live customer support really isn't commonplace. That being said, since the wallet comes equipped with so many different features, it's pretty easy to imagine yourself caught in a situation where you'd need support, as soon as possible.

Don't get me wrong - if you find yourself in need of support, you *would* be able to reach it, via the company's official website. However, in order to do so, you'd need to submit a ticket, and wait for an email response. Depending on when you find yourself in need of help, the response times can vary.
Reading through user CoolWallet Pro reviews, it does appear to be the only feasible method of reaching support agents from the company behind the wallet. That said, there's also a knowledgebase available on the website, too - here, you can troubleshoot all of the most common issues that may arise, and find answers much faster than via email.
Reports of Mediocre Battery Life
Another important factor to consider - and one mentioned rather often, in user CoolWallet Pro reviews - has to do with the battery life of the product.
Specifically, multiple users online claim that it's quite mediocre - some say that it should last up to 3 weeks (while idle), and others propose even smaller amounts of time.
At first glance, around 3-weeks' worth of battery life might sound pretty decent. That said, when you compare it with some other hardware wallets on the market, things are a bit less… Positive.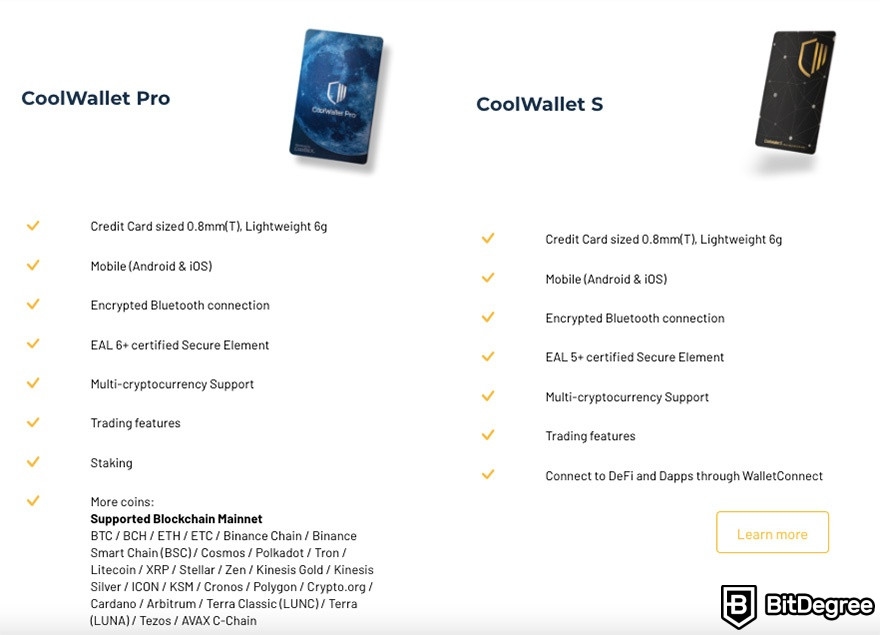 For example, the Ledger Nano X wallet is reported to hold up for a couple of months, and similar numbers can be expected with the Trezor Model T, as well. It's a big difference!
Whether or not it's an impactful difference, though, is up to you to decide. If you plan to use the CoolWallet Pro daily, then the smaller battery life expectancy could prove to be a nuisance, even if just a minor one. On the flip side, if charging the wallet a bit more frequently doesn't bother you, then this entire point could seem trivial, as well!

Did you know?
Price
While the CoolWallet Pro price is a whole different topic, in of its own, some users tend to also place it in the "con" section of their reviews.
Why is that the case? Well, simply because the wallet is actually quite pricey.
If you were to purchase the CoolWallet Pro from the company's official website (to be fair, that's the only place where such products should be purchased from), it would cost you $149.
Note that this is just the starting price, though. If you'd like to add additional products to your purchase - an additional charger, a Billfodl, or a cardholder -, the price would go up, significantly.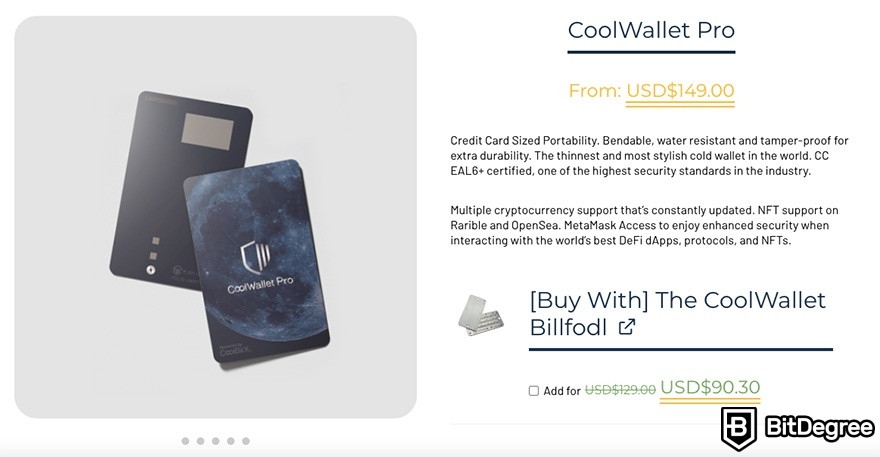 So, as you can see for yourself, the CoolWallet Pro price really isn't, well… The smallest out of all hardware crypto wallets. In fact, it's quite on par with the Ledger Nano X.
That being said, when you take into account the fact that the Trezor Model T costs over double that, it really puts things into an interesting perspective! On one hand, while CoolWallet isn't a new company, it's still relatively unknown, compared to some of the industry giants.
On the other hand, though, those same giants can employ some very hefty price tags with their products, and if you find yourself looking at more-affordable options, then the CoolWallet Pro price does make sense.
CoolWallet Pro VS CoolWallet S
All throughout my CoolWallet Pro review, I've mentioned multiple times that the Pro is actually a successor to another, flagship status-possessing product from CoolWallet - the S.
At first glance, both wallets can appear to be pretty similar. And, to an extent, they are - at least from a visual perspective. Discounting the various color schemes and visual design elements, if both CoolWallet Pro VS CoolWallet S were placed in front of you, it's feasible that you might say they're the same wallet!
However, things become very different when you start looking into the details. For starters, while the first iteration of the CoolWallet has an EAL 5+ CSE, the new-and-improved CoolWallet Pro comes equipped with the next generation of security chips - the EAL 6+. Surely, the former isn't anything to scoff at (for example, it's used by Ledger, in their wallets), but the latter still offers better security features.
COOLWALLET S

The main advantages of a certain cryptocurrency wallet.

Unique style and functionality
Encrypted connection
Cool storage - the most secure

The main disadvantages of a certain cryptocurrency wallet.

The wallet isn't open-source yet

Score that represents the ratio of the quality & advantages you get for a certain price.

See TOP10 Brands
Read review
Table: The pros and cons of the CoolWallet S
Then, the older version of the wallet doesn't support NFT storage and trading, as well as staking. Comparing both CoolWallet Pro VS CoolWallet S products, it's worth mentioning that both wallets do offer dApp connectivity, as well as multiple cryptocurrency support.
The original CoolWallet retails from $99. So, it's around $50 cheaper than the new version. All in all, I'd agree with the user CoolWallet Pro reviews that point out the fact that the new CoolWallet is a better choice, even given the bigger price gap. It offers more features, and on top of that, is theoretically much more secure, which is a huge factor!
CoolWallet Pro VS Ledger Nano X
Ledger has been a name that's come up a few times already, in this review. As I've told you earlier, the Ledger Nano X is commonly considered to be the leading hardware crypto wallet, globally - that's nothing to scoff at!
Now, then… How do CoolWallet Pro VS Ledger Nano X compare?
Straight off the bat, Ledger offers its users unparalleled experience, thanks to its user interface - the Ledger Live. It's a piece of software (or a mobile app) that you use, in conjunction with the actual hardware wallet. Users are able to purchase and sell crypto, manage their portfolios, and view the fluctuation of their asset prices, all with a click of a button!
LEDGER NANO X

Overall level of security & safety of your assests offered by a certain crypto wallet.

Whether the crypto wallet requires two-factor authentication as an extra layer of security when completing an action.

Whether the crypto wallet requires multiple keys to authorize a transaction as an extra layer of security.

Whether the crypto wallet requires a Pin code as an extra layer of security when completing an action.

The general anonimity level of your data.

What kind of methods of recovering your cryptocurrency assets in case you lose your wallet or forget your primary password does the wallet offer.

24-word Recovery Phrase or Nano S Plus

Who owns your private keys.

You

The level of control you have on the crypto wallet.

Visit site
Read review
Table: The security features of the Ledger Nano X
Another huge point to consider is the fact that Ledger devices support over 1800 different crypto coins and tokens. While CoolWallet Pro allows users to store a significant number of different assets, as far as the actual on-interface interaction with those assets is concerned, it would seem that Ledger has the upper hand.
Now, if there's one area that most user CoolWallet Pro reviews concentrate on, comparing CoolWallet Pro VS Ledger Nano X, it's security. Specifically, as I've already mentioned earlier, Ledger uses an older version of EAL chips. This, in turn, makes the CoolWallet a bit more advanced, in the security department.
It's worth pointing out that this aspect is a bit subjective, as far as these two specific wallets are concerned. That's because, same as the CoolWallet, the Ledger wallet has never been hacked, or had its security breached. There was one incident with its shopping gateway, but that's a bit of a different story - it has nothing to do with the actual hardware wallet security side of things.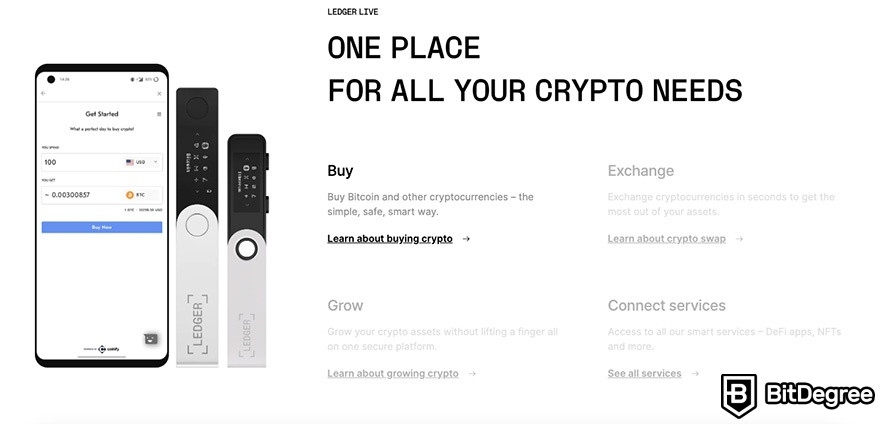 So, while the CoolWallet might have better security features, this factor alone should only be taken into account if you're extremely serious about the smallest security details, and want to get the best deal possible, asset safety-wise.
Other than that, and apart from two completely different physical device design paths, both Ledger and CoolWallet Pro do have similar functionalities. Transaction confirmations, Bluetooth connectivity, mobile support (both Android and iOS), dApp and trading features, and so on - that's definitely notable!
All in all, while Ledger remains among the undisputed leaders in the hardware wallet space, the CoolWallet Pro is a top-tier product that can give the Ledger Nano X a run for its money!

Pros
Can be managed from mobile device
Very secure
Supports more than 5500 cryptocurrencies

Pros
Top-tier security
DeFi app support
Store over 5500 assets, install up to 100 apps simultaneously

Pros
Multiple cryptocurrency support
Very secure
SegWit and Bech32 address support
Conclusions
So, then - that wraps up our CoolWallet Pro review! By now, you should have a pretty good idea of what the product in question is all about, and how it's different from its predecessor (that's why we compared CoolWallet Pro VS CoolWallet S, after all).
What do I think? Well, it's obvious that the Pro is definitely a unique and well-made hardware wallet. Whether it be the CoolWallet Pro supported coins, staking functionality, or anything in between, the feature (benefit) variety that this wallet comes equipped with is truly impressive!
That being said, though, what about CoolWallet Pro VS Ledger Nano X, and similar top-tier hardware crypto wallets? How do they compare?
Well, it's evident that both Ledger and Trezor (and a couple of other well-known names) offer some of the best wallet features on the market, whether it be usability- or security-wise. If you're looking for reliability and time-tested security, then these wallets are for you.
Likewise, if you'd like to try out a newer product, and experience all of the unique features that the CoolWallet Pro has to offer, then rest assured - this particular wallet is definitely worth checking out!
With all of that being said, thanks for reading, and until next time!
The content published on this website is not aimed to give any kind of financial, investment, trading, or any other form of advice. BitDegree.org does not endorse or suggest you to buy, sell or hold any kind of cryptocurrency. Before making financial investment decisions, do consult your financial advisor.
About Article's Experts & Analysts