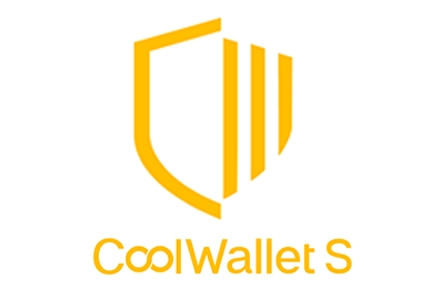 The world of cryptocurrency wallets is a competitive one indeed. Many different companies strive to create "the next best thing" - which is great, especially if you're a user that needs good crypto storing device! Once in a while, however, there comes a product that rocks the entire community and sends people down into months of discussions and comparisons. In this review, we'll be talking about one such product - the CoolWallet S hardware cryptocurrency-storing wallet.
I'll start by telling you about the company - how it came to be, what it strives to become and everything in between. After that, we'll move on to talking about the product itself - I'll tell you what it is, how it works, how you can set it up, what coins the CoolWallet S supports and so on.
Let's not waste any time and jump straight into it.
Pros
Unique style and functionality
Encrypted connection
Cool storage - the most secure
Cons
The wallet isn't open-source yet
CoolWallet S - About the Company
It would be rather tough to talk about the CoolWallet S without knowing the context of the company behind it, don't you think? That's why, before we go on and start unrevealing the wallet, we'll cover CoolBitX - the company behind the world's first mobile hardware cryptocurrency wallet.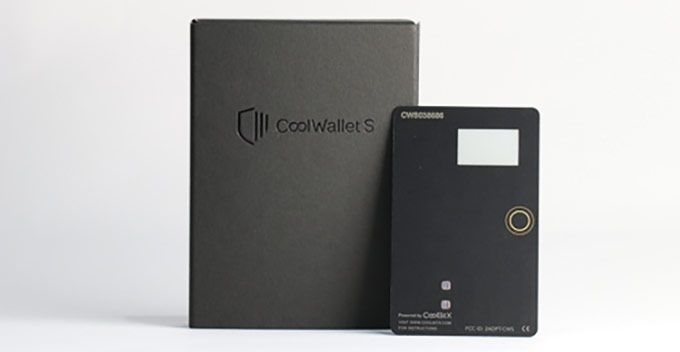 CoolBitX launched back in 2014, in Taiwan. The founder and CEO, Michael Ou, learned that mobile hardware crypto wallets are the future when hackers managed to break into Mt. Gox and steal cosmic amounts of money shortly after the inception of Mr. Ou's company.
A reliable, functional and easy-to-use cold wallet was the goal for CoolBitX. In 2015, the company managed to launch its first crypto wallet - the CoolWallet. This campaign was powered and supported by people that decided to back it up on Indiegogo (a crowdfunding platform).
After the experiences of the first launch (and a lot of ticket and support inquiries later), CoolBitX had enough data to improve their product and service. So, they launched the CoolWallet S in early 2018. As of writing this review, the wallet is considered to be a major success.
Latest Ledger Nano X Coupon Found:
SAVE 10%
Ledger Cyber Monday
Ledger Cyber Monday sale is bringing you the best deals - follow the coupon link & get 10% off Ledger Nano X when buying the Family Pack X!
Expiration date : 03/12/2023
7,469 People Used
Only 21 Left
What is it?
So, now that you have some context on the creators and developers of the CoolWallet S, we can start talking about the wallet itself.
The CoolWallet S is the "world's first mobile hardware wallet". But what does the statement mean, exactly?
First of all, you have to know what a "cold wallet" is. Not to go into too much detail, cryptocurrencies are stored in two main types of wallets - hot and cold ones. Hot wallets are online interfaces and software - they are always connected to the internet. A cold wallet (exactly what Mr. Ou set out to create) is a hardware device that tracks your cryptocurrency on the blockchain - "stores" it in the wallet. Cold wallets do not require an internet connection.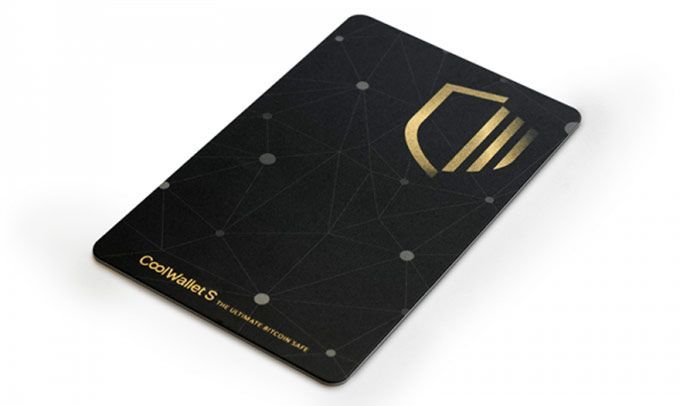 So, this is a hardware wallet review. But where does the "mobile" part come in, then? Well, the CoolWallet S is easily accessible on your phone - all that you need is an app. With it, you can perform all of the necessary and optional operations of the wallet.

Did you know?
Specifications
The CoolWallet S is the size of a standard credit card and has a built-in metal button. If you perform the "standard" amount of transactions per day - that being 2 -, the battery should hold for about 2 weeks on a single charge (it takes 2 hours to charge fully). It has a built-in lithium rechargeable battery (3 V, 15 mAh).
When it comes to the CoolWallet S Bitcoin specs, the wallet supports the transaction signing algorithm ECDSA (elliptic curve - secp256k1). It is recommended to perform seed generation from the CoolWallet S itself. This is recommended because doing so from the wallet guarantees a higher level of security than doing it from the mobile app.
Features
The CoolWallet S allows you to track your cryptocurrency investments, as well as send and receive cryptocurrencies in the quickest of manners.
The wallet also offers a feature of instantly swapping currencies. This is a great option for traders to have - especially those who partake in short-term cryptocurrency trading.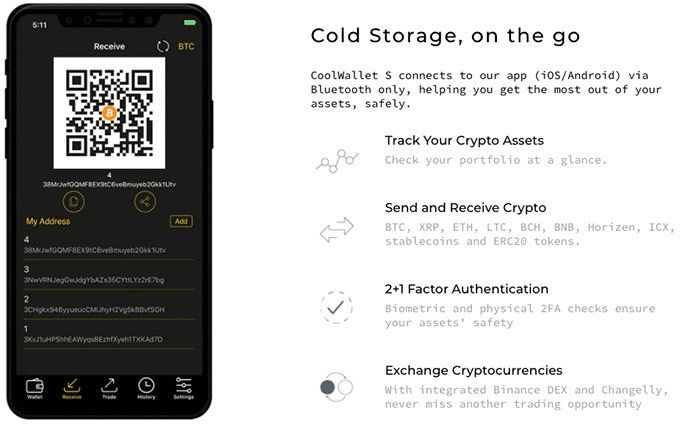 The CoolWallet S is supported by both iOS and Android. It offers great security, supports all of the main cryptocurrencies and is even waterproof!
The CoolWallet S supported coins are as follows: Bitcoin, Ethereum, ERC 20 tokens (Bitdegree's BDG token is one of them!), Ripple, Litecoin and Bitcoin Cash.
The wallet itself costs $99, but there is also a duo option (two wallets) for $159, averaging at ~ $80 per wallet. Taking a look at some other cold wallet prices in the market (I'm looking at you, Trezor), it's probably safe to say that $99 or $80 depending on if you buy one or two wallets for a cold crypto storage device is a very reasonable, middle-ground price.
What's in the Box?
Finally, let's check out the box itself. After all, it wouldn't be a proper CoolWallet S review without actually opening the product up and seeing it up close.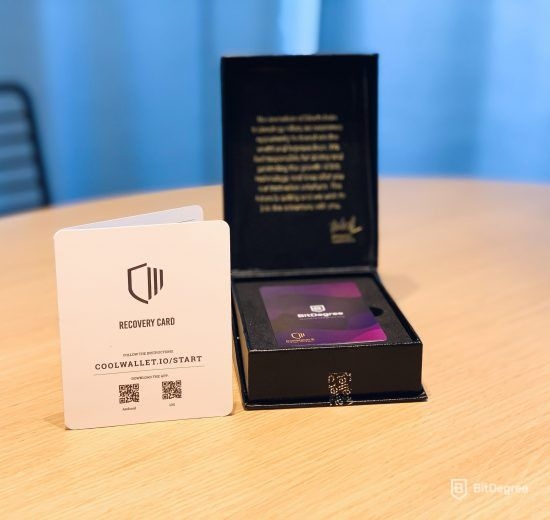 The wallet comes in a sleek, trendy black box. Once you open it, you will be greeted by some nice food for thought by the creator and CEO of the company, Michael Ou.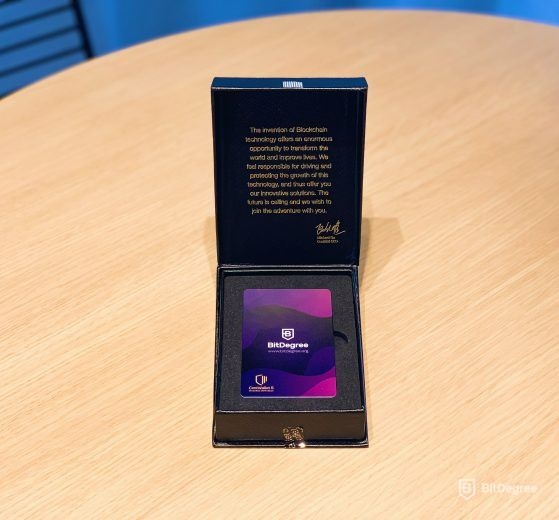 Inside the box, you will find the CoolWallet S recovery card, a sticker, the charging pad with a standard USB cable and, of course, the CoolWallet S device itself.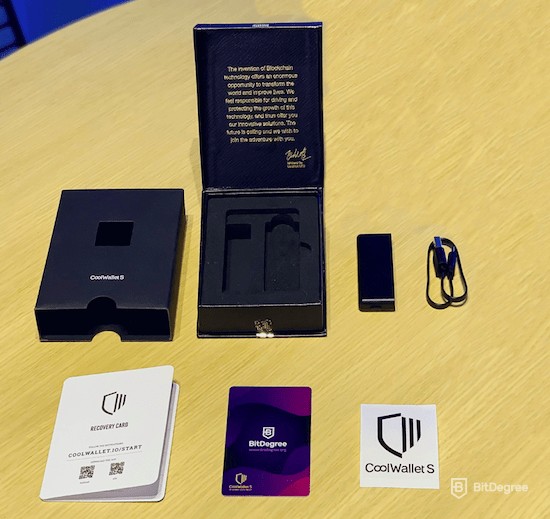 All in all, it's a pretty compact setup - there is no clutter or needless amounts of paperwork.
About the App
The mobile app can be accessed in both the Android app store and on iOS.
Once you power it up, it will ask you to pair your device with it. If you turn on your CoolWallet by pressing and holding the button on it, the app will ask you to confirm the device. Once you pair the device and the app, you're good to go.
LEDGER NANO X
COOLWALLET S

Android App
iOS App
Windows Software
MacOS Software
Linux

Android App
iOS App


What kind of actions you can carry out via certain cryptocurrency wallet

Receive
Send
Store

Track
Send
Receive
Store
Exchange
Trade


Whether or not the users can control the transaction fees according to their personal needs.

What kind of additional features does each cyrpto wallet offer.

Password Manager

Swap cryptocurrencies


Is the crypto wallet open source or closed source.

Open-Source
Open-Source

How helpful and responsive is each cryptocurrency wallet's customer support.

Visit site
Read review
See TOP10 Brands
Read review
Table: The software features of the Ledger Nano X and CoolWallet S
The app offers a wide variety of different functions. You can check your assets, track your crypto investments, exchange, trade, send and receive cryptocurrencies. The app is aesthetically appealing and easy to navigate - it doesn't encumber you with a ton of needless information or pop-ups.
How to Set Up?
Now, what's a CoolWallet S review without telling you how to set it all up, huh?
The process is simple and straightforward. I'll divide it into a few simple steps.
Step 1. Turn on your wallet and navigate to the CoolWallet S application on your phone.
Step 2. Your app displays a string of letters and numbers. That's your wallet ID. Press "Connect".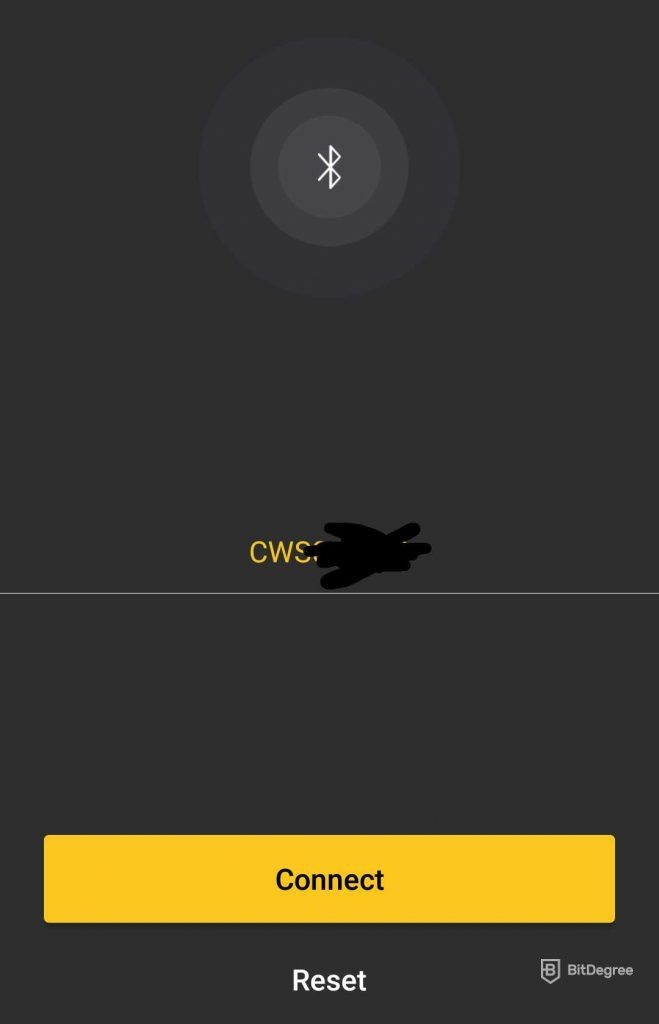 Step 3. Once you are asked to press the button on the CoolWallet S, do so. You're paired!
Step 4. Press "Create" on the app.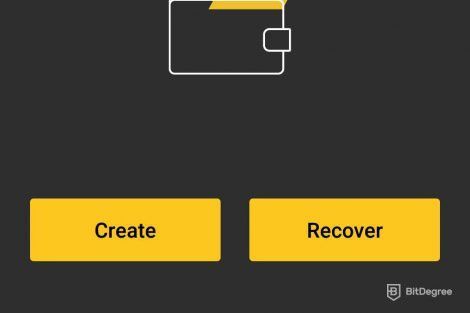 Step 5. Now you must choose the length of your seed. It is recommended, however, that you set your speed on the wallet itself, rather than on the mobile app, for security purposes.
Step 6. You will get a random generation of words and numbers. Either write them down or save them as an image file.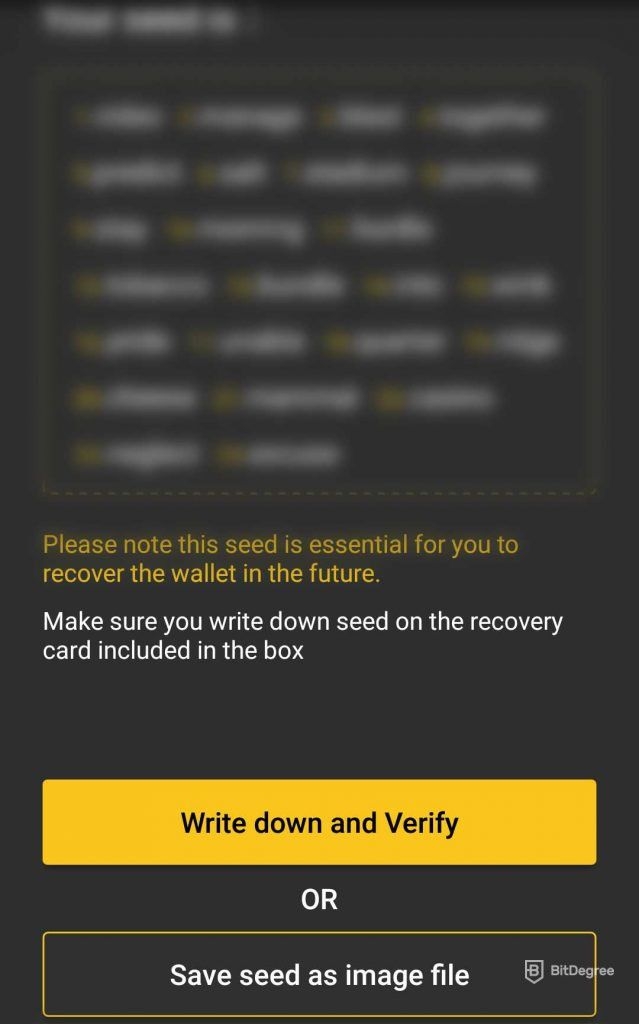 Step 7. Once that is finished, all that's left to do is press the "Create Wallet" button and that's it! You are now the official owner of a CoolWallet S!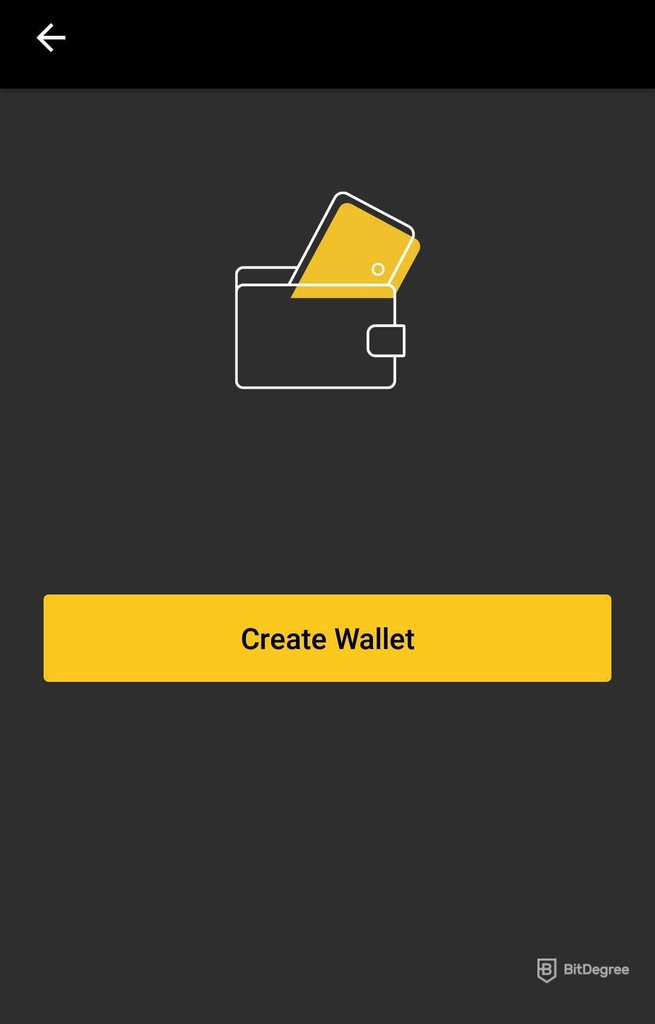 Send / Receive Crypto
Sending and receiving crypto coins is an essential feature of any crypto storing wallet. Since this is a hardware wallet review, we'll talk about the Cool Wallet Bitcoin sending and receiving features.
If you want to send Bitcoins, all you have to do is type the address of the wallet you want to send it to, set the amount and the fee. After that, finish all of the confirmation processes (on the CoolWallet S itself - press the button) and that's it! The transaction speeds of the wallet are great, so it won't take long until the receiver gets his or her amount of your Cool Wallet Bitcoins.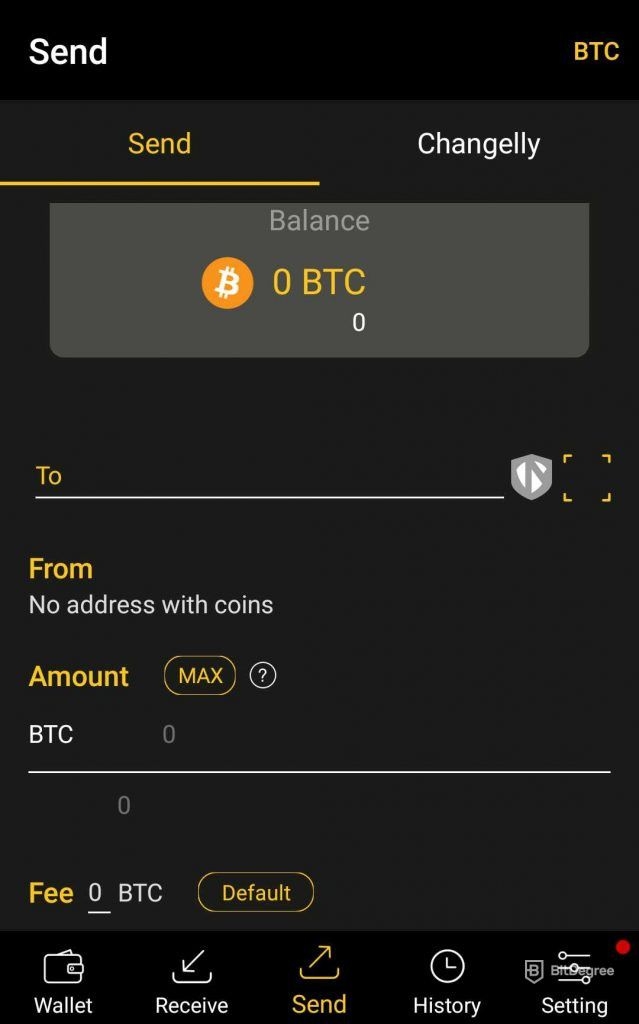 If you want to receive BTC, you gave the options to scan a QR CoolWallet S code or simply copy and paste it. It's as simple as that!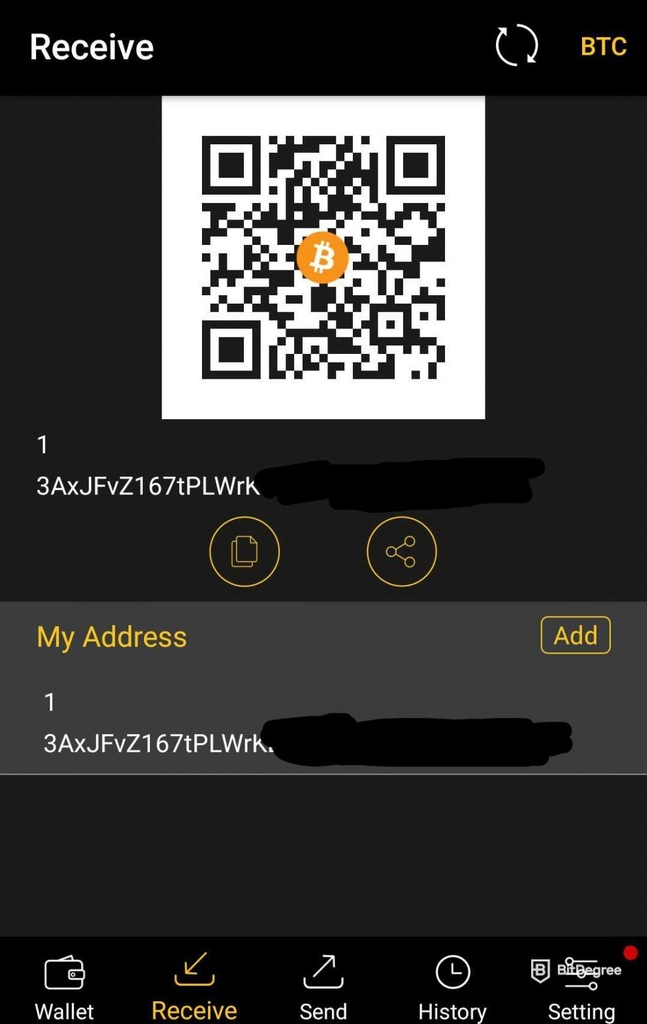 Security
It is widely known and accepted that security is the main factor when it comes to choosing a cryptocurrency storage wallet. After all, as I've mentioned at the beginning of this CoolWallet S review, this wallet was born out of the idea of a super-secure and reliable crypto storage device! Who cares if you've got a fancy-looking wallet with hundreds of features and the slickest design even if it fails in the security department?
TREZOR
COOLWALLET S

Overall level of security & safety of your assests offered by a certain crypto wallet.

Whether the crypto wallet requires two-factor authentication as an extra layer of security when completing an action.

Whether the crypto wallet requires multiple keys to authorize a transaction as an extra layer of security.

Whether the crypto wallet requires a Pin code as an extra layer of security when completing an action.

The general anonimity level of your data.

What kind of methods of recovering your cryptocurrency assets in case you lose your wallet or forget your primary password does the wallet offer.

24-word Backup Phrase
Seed Phrase

Who owns your private keys.

You
You

The level of control you have on the crypto wallet.

See TOP10 Brands
Read review
See TOP10 Brands
Read review
Table: The security features of the Trezor One and the CoolWallet S
None of these things will matter if all of your crypto coins get stolen because of some bug or a simple fault in the security development procedure. With that said, let's check the CoolWallet Bitcoin storing and safekeeping security.
First of all, the CoolWallet S requires you to pass a 3-step verification every single time that a transaction is performed. Although this might seem tedious at the beginning, it's a great feature to help you secure your funds in the long run.
Furthermore, the wallet is protected by the seed that you choose to set. It's a recovery code-based system - you can make it as strong as you want it to be.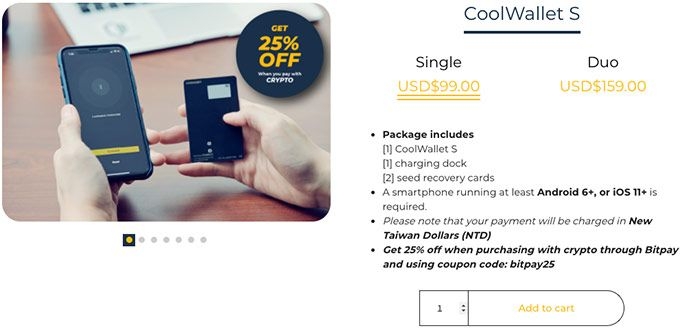 Finally, the wallet is protected by something that is known as the Secure Element - a microchip that makes sure that all of your transactions and currencies stay encrypted the way that they should.
All in all, its' probably safe to say that the CoolWallet S is pretty solid when it comes to the security side of things. It being a cold wallet is just a cherry on top of an already great security system.
Pros and Cons
With all that's said and done, the next smart thing to do would be to summarize what we've already talked about. After all, it wouldn't be a proper hardware wallet review without a designated pro and con section, would it?
PROS
CONS

Unique style and functionality. The CoolWallet S avoids the ever-popular bulky design options that a lot of other hardware crypto-storing wallets choose to utilize. Instead, it's a slim, aesthetically pleasing, credit card model-based cryptocurrency wallet that uses an encrypted Bluetooth connection instead of a USB or WIFI.
Encrypted connection. The fact that the wallet uses an encrypted Bluetooth connection instead of WIFI or USB is just another argument for its security. Oftentimes, you are not going to be able to find a secure internet connection, especially when you're traveling.
Awesome package. The box that the wallet comes in is nice to open for the first time - it's clutter-free, has a paper recovery card and sticker, and the wallet itself fits into your physical wallet because of its simplicity and slim design.
Simple to read. The "e-paper display" is a great choice when it comes to having to read the information presented on screen.
User-friendly. Both the wallet and the app are super user-friendly and simple to use. The whole setup process is quick and fluid, without any occurring issues.
The CoolWallet S is always offline. The information is refreshed once the app is updated. This allows maximizing the security of the wallet to the fullest extent.

The wallet isn't open-source - YET! There are plans to make it open-source soon.
As you can see, there are little to no cons for using the CoolWallet S - all of the possible issues that you might face with the device will probably be resolved in the future (open-source and QR wallet transfers).

Pros
Can be managed from mobile device
Very secure
Supports more than 5500 cryptocurrencies

Pros
Top-tier security
DeFi app support
Store over 5500 assets, install up to 100 apps simultaneously

Pros
Multiple cryptocurrency support
Very secure
SegWit and Bech32 address support
Conclusions
As I've mentioned in the very beginning, the world of crypto coin storage devices is a tough one to compete in. However, CoolWallet S seems to be doing just fine.
One of the most important things when choosing a cryptocurrency wallet (other than the features of the wallet) is the vision of the company. If a company is greedy and is "only in it for the money", it quickly shows on its design and security departments. However, this is not the case when it comes to CoolWallet S.
It's pretty clear that CoolBitX has a clear vision that they aim to follow. Even though the majority of the companies give up after losing their reputation and credibility, CoolBitX, came back with CoolWallet S, one of the most successful crypto wallets in the market.
If you're interested in checking out other recommended and even more secure cryptocurrency wallets, you should check out Ledger and Trezor.
The content published on this website is not aimed to give any kind of financial, investment, trading, or any other form of advice. BitDegree.org does not endorse or suggest you to buy, sell or hold any kind of cryptocurrency. Before making financial investment decisions, do consult your financial advisor.
About Article's Experts & Analysts