As the popularity of cryptocurrencies continues to grow, so does the need for privacy and anonymity in trading. However, many crypto exchanges require users to go through a Know Your Customer (KYC) process, which can feel intrusive. But don't worry, today, I'm here to show you the best no-KYC crypto exchanges available!
For privacy-protective traders, the best decision might be using low-KYC or non-KYC crypto exchanges, which allow you to trade cryptocurrencies without revealing too much personal information (or even no personal information at all!). This includes such exchanges as Bybit, Kraken, KuCoin, and so on.
Though, do keep in mind that there are also some great exchanges like Binance that require you to pass a certain level of KYC (not necessarily the harshest one), but are definitely worth it.
Either way, in this article, I'll guide you through a selection of the top low- or no-KYC crypto exchanges that offer top-notch security, which are:
So let's dive into the world of anonymous crypto trading and explore the benefits of these top-rated low-KYC and non-KYC exchanges!
Best No-KYC Crypto Exchange: But Wait, What is KYC?
Before discussing the best no-KYC crypto exchanges of 2023, let's first address the question: what is KYC?
KYC, or Know Your Customer, is a regulatory requirement that financial institutions must follow to identify and verify the identity of their customers. The purpose of KYC is to prevent financial crimes such as money laundering, terrorist financing, and fraud.
As the use of cryptocurrencies has become more prevalent, governments around the world have increased their regulatory scrutiny of cryptocurrency exchanges, leading to the adoption of KYC practices.
This has resulted in an increase in the number of crypto exchanges that require KYC, as they aim to comply with regulatory requirements and prevent illicit activities in the cryptocurrency market.
The KYC process involves verifying the identity of customers who use financial services like banks, exchanges, and other financial institutions. The level of KYC required varies depending on the regulations in the country where the financial institution is based.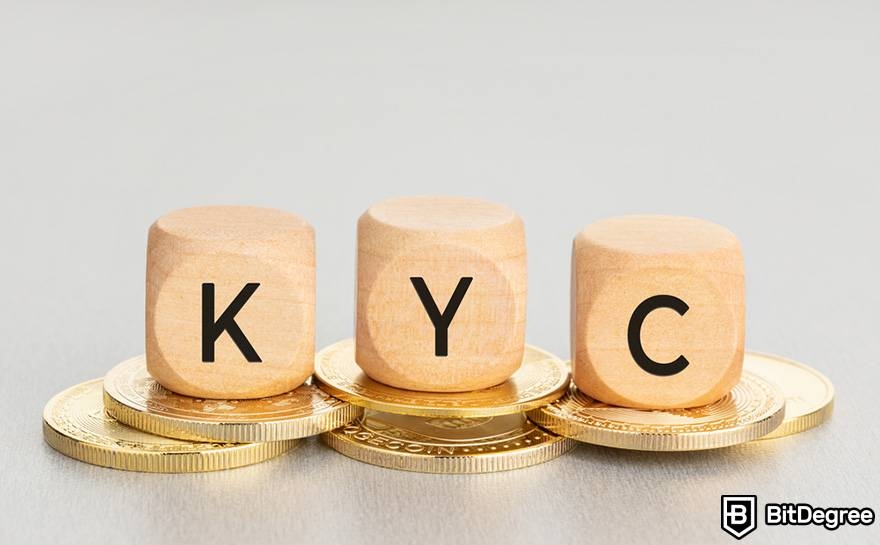 KYC policies typically involve a series of steps, which may include:
Collecting customer information, such as their name, date of birth, and address. If this is the only step required by an exchange, you can consider it a low KYC platform.
Verifying customer identity by asking for government-issued identification documents, such as a passport or driver's license.
Screening customers against international sanctions lists and politically exposed persons (PEPs) lists to ensure that they are not doing business with individuals or entities that pose a risk.
Assessing the risk associated with each customer based on factors such as their location, the type of transaction, and the amount of money involved.
Monitoring customer activity to detect suspicious behavior and ensure ongoing compliance with KYC regulations.
Overall, KYC policies help financial institutions to better track and prevent illegal activities, but they can also be a turn-off for anonymity-focused individuals. Some individuals may also be looking for crypto exchanges without KYC because verification processes can be time-consuming and intrusive.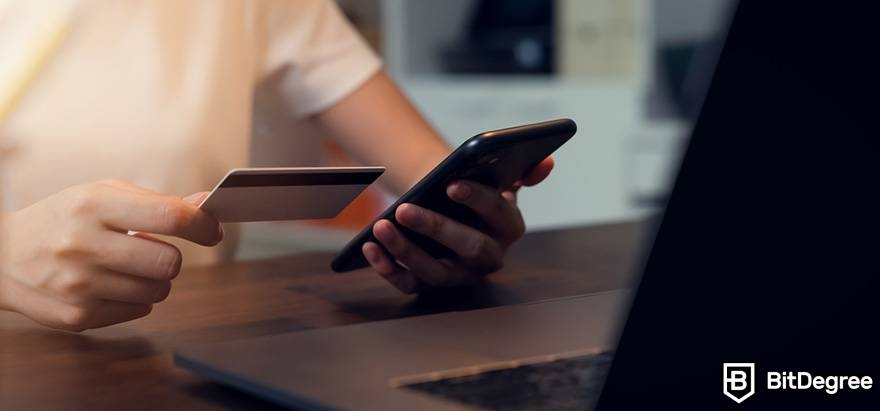 When talking about KYC, it's also important to mention that there are two main types of crypto exchanges: centralized exchanges (CEXs) and decentralized exchanges (DEXs).
CEXs have a central authority managing operations and holding user funds, and typically require KYC verification. DEXs operate on a decentralized blockchain network, providing users with full control over their funds without the need for KYC verification. While DEXs offer greater privacy, they have lower liquidity than CEXs.
However, among CEXs, there are still those that allow customers to trade without submitting any documents, but they may have lower deposit and/or withdrawal limits and restricted access to certain features. Since those tend to offer lower risks, they're on the top of my list. But don't worry, I've included some great DEXs here too!
In summary, KYC policies are an essential tool for preventing financial fraud in the crypto world, but they can be a turn-off for traders who want to stay anonymous.
Ranks #1 out of 7 Crypto Exchanges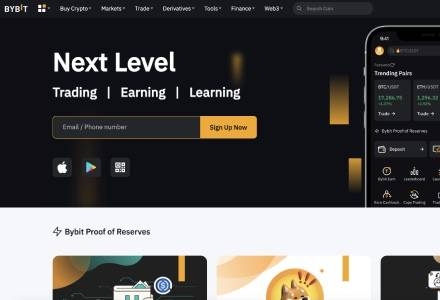 Things we liked:
+ Very low trading fees
+ Exceptional functionality
+ Mobile trading app
+ Helpful customer support
+ Up to 100x leverage
Things we didn't like:
- Might have a steep learning curve
Bybit is a popular centralized cryptocurrency exchange (CEX) that caters to both verified and unverified users. Although Bybit follows KYC policies, it offers unverified users a range of features with certain limitations. Some people might even consider Bybit to be the best no-KYC crypto exchange available, especially among CEXs.
One of the main advantages of using Bybit as an unverified user is the unlimited crypto deposit limit. Regardless of your account status, you can deposit any amount of cryptocurrency without providing personal identification documents. This can be beneficial for traders who prefer to keep their personal information private.
However, unverified users do have some restrictions on withdrawals. Bybit allows unverified users to withdraw up to 20,000 equivalent USDT daily and up to 100,000 equivalent USDT per month. If you wish to withdraw a higher amount, you must complete the KYC process.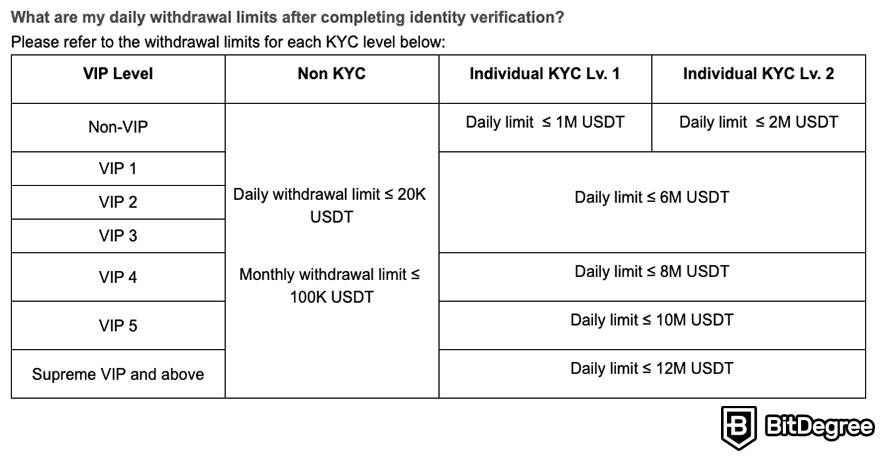 Unverified users cannot buy crypto with credit cards or fiat currencies on Bybit, but can still participate in a range of trading activities. Without any verification needed, users can participate in spot trading, margin trading, trade leveraged tokens, and use trading bots.
Spot trading enables you to buy and sell cryptocurrencies at current market prices, while margin trading allows you to borrow funds to increase your position size. With leveraged tokens, you can trade cryptocurrencies with leverage, and with trading bots, you can automate your trading strategies.
Bybit also provides unverified users with access to various derivatives such as perpetual contracts, futures contracts, options, and ByVotes.
Perpetual contracts are a type of futures contract that allows traders to hold a position indefinitely, whereas futures contracts enable you to speculate on the future price of an asset. With options, you can buy or sell the right to buy or sell a particular asset at a predetermined price. ByVotes, on the other hand, are derivatives that allow traders to vote on certain outcomes in a binary format.
Copy trading is also available for unverified users, which allows you to copy the trades of experienced traders automatically. This feature can be helpful for novice traders who want to learn from experts and potentially profit from their trading strategies.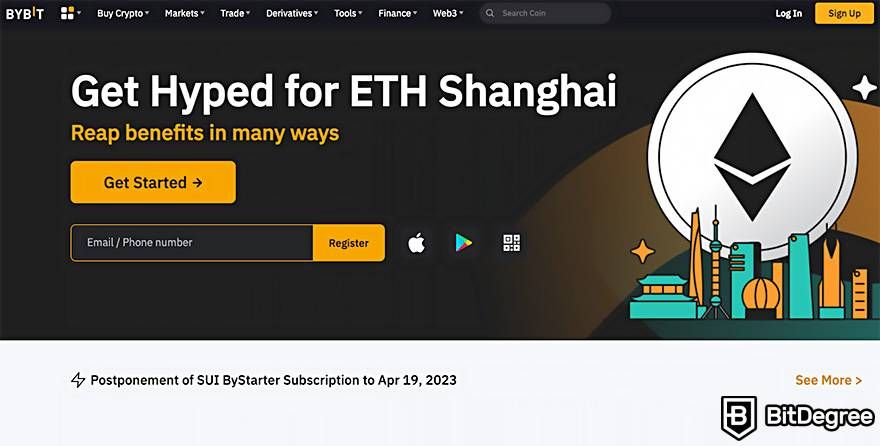 If you need to borrow against your crypto holdings, Bybit allows unverified users to access crypto loans through its platform. This feature can be useful for traders who require liquidity without having to sell their crypto assets, and is one of the reasons many investors call Bybit the best no-KYC crypto exchange.
Unverified users can also use MT4, a more advanced trading platform that offers additional tools and features. With MT4, you can execute more complex trading strategies such as algorithmic trading.
However, keep in mind that NFT purchases, NFT sales over $10,000 per sale, NFT deposits, and NFT withdrawals require verification. Additionally, verification is necessary to claim rewards from Bybit's Rewards Hub.
In summary, Bybit is an excellent option for privacy-conscious traders who prefer to avoid KYC procedures. Although there are limitations on buying and withdrawal amounts for unverified users, Bybit provides unverified investors access to a variety of products and services.
Ranks #2 out of 7 Crypto Exchanges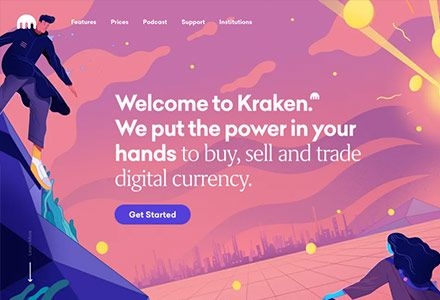 Things we liked:
+ Secure and reliable
+ Low fees
+ A good amount of fiat currencies accepted
Things we didn't like:
- Not the most helpful customer service
Fees As Low As 0%
Get 0% Fees By Trading With Kraken
Join Kraken today & start trading with fees as low as 0%! Save money with one of the top-rated crypto exchanges on the market.
Expiration date: 02/06/2023
2938 People Used
Only 47 Left
Kraken is a highly reputable centralized exchange (CEX) that prioritizes the security and privacy of its users. While Intermediate and Pro account levels require KYC verification, individuals can begin trading immediately with a Starter account, making Kraken one of the best no-KYC crypto exchanges out there.
To create a Starter level account on Kraken, users only need to provide basic information such as email, full name, date of birth, phone number, and physical address.
Unlike other exchanges that require users to submit identity documents or proof of address, Kraken's Starter verification level does not require any of these documents. This allows users to maintain some of their privacy and anonymity while trading on the platform, while also enjoying Kraken's high security features.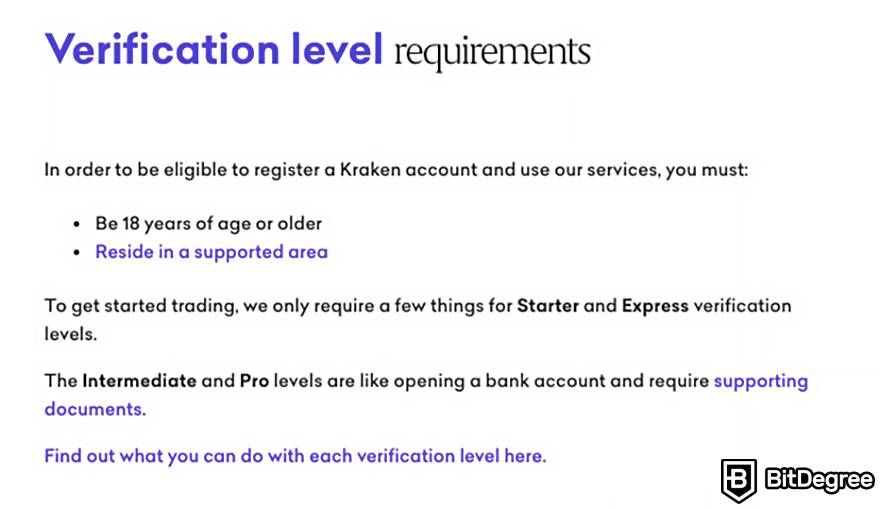 While other exchanges that impose way tighter restrictions on the amount of cryptocurrency or cash users can deposit or withdraw without submitting their identification documents, Kraken offers generous limits for Starter level accounts.
Kraken allows users to deposit an unlimited amount of cryptocurrency and withdraw up to $5,000 in cryptocurrency per day, with no additional monthly limitations. Since Kraken's limits are calculated over rolling periods, unverified traders can withdraw up to $150,000 per month based on their last 30 days of activity.
This is a substantial amount that is often not available on other exchanges that restrict unverified users to much lower withdrawal limits.
So, while Kraken's Intermediate and Pro verification levels do require users to submit identity documents and proof of address, confidentiality-focused traders can still take advantage of the platform's limits at the Starter level.
In addition to its trading platform, Kraken offers a range of educational resources for users who want to learn more about cryptocurrency trading. The exchange's blog features regular updates and analysis of the cryptocurrency markets, as well as guides and tutorials for users who want to improve their trading skills.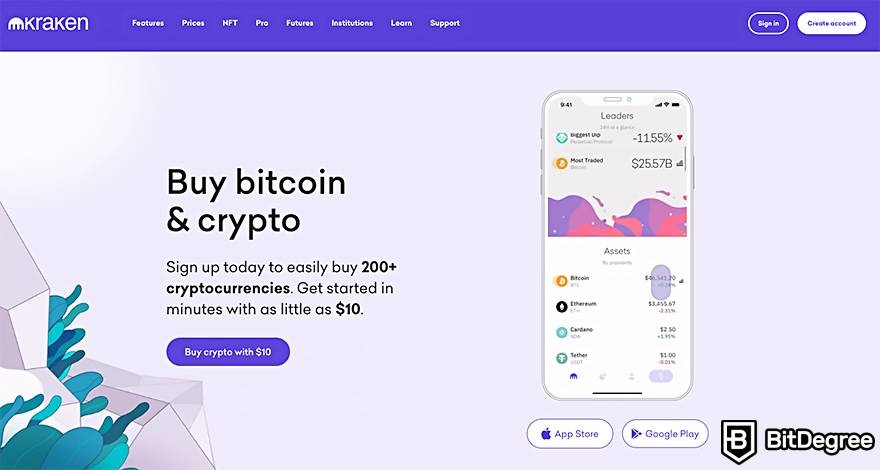 Another advantage of Kraken is its responsive customer support team, which is available 24/7 to assist users with any issues they may encounter. Whether it's a question about account verification or a technical issue with the platform, Kraken's support team is always ready to help.
Overall, Kraken is a top choice for privacy-oriented traders who want to take advantage of generous withdrawal limits without compromising on security. With its user-friendly interface and responsive customer support, Kraken is a reliable and trustworthy platform for anyone looking to get started in cryptocurrency trading.
Ranks #3 out of 7 Crypto Exchanges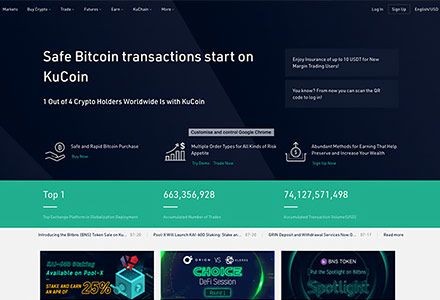 Things we liked:
+ Anonymous trading
+ Secure
+ Supports a variety of cryptocurrencies
Things we didn't like:
$500 BONUS
For New Kucoin Users
Use this Kucoin Coupon & get up to $500 in rewards. Sign up to Kucoin for huge perks & limited-time offers!
Expiration date: 02/06/2023
3984 People Used
Only 27 Left
KuCoin is a popular centralized cryptocurrency centralized exchange (CEX) that was founded in 2017. The platform has gained a reputation for its user-friendly interface and a vast selection of cryptocurrencies available for trading. Because of that, there's no way I could leave it out of this best no-KYC crypto exchanges list.
While the exchange implemented KYC policies in 2018, it still offers no-KYC verified accounts that can access deposits, withdrawals, and trading, albeit with certain limitations.
For cryptocurrency privacy advocates who prefer not to disclose their personal information, KuCoin's no-KYC verified account option is an excellent choice. These accounts have a withdrawal limit of 1 BTC per 24 hours, which is quite generous for an unverified account on a trustworthy exchange.
This limit may not be suitable for high-volume traders, but it is more than enough for investors who prefer to keep their trading activities on the smaller side.

Despite the limitations of no-KYC verified accounts, KuCoin still offers a wide range of trading features.
KuCoin also provides an intuitive and user-friendly mobile app, which allows traders to access their accounts and trade on the go. The app supports all of the features available on the web platform.
KuCoin places a strong emphasis on security, with multi-layer encryption, two-factor authentication, and regular security audits. The exchange has a solid reputation for quickly addressing any security issues that may arise.
In addition to its security measures, KuCoin also provides educational resources and an active social media presence to help traders stay informed and engaged.

Another benefit of using KuCoin is its community-focused approach. The exchange hosts regular trading competitions and offers a referral program that rewards users for bringing new traders to the platform. Traders can also access a range of community features, including chat rooms and discussion forums.
In conclusion, KuCoin is one of the best no-KYC crypto exchanges, and has proved itself to be an excellent choice for privacy-conscious traders who prefer not to disclose their personal information but still want to access a wide range of trading features.

Did you know?
Ranks #4 out of 7 Crypto Exchanges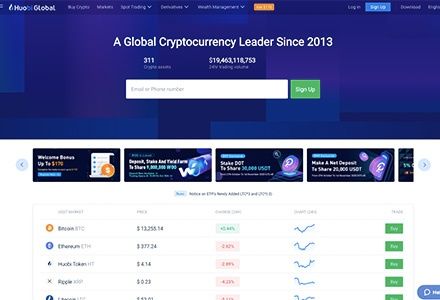 Things we liked:
+ Very low fees
+ User-friendly interface
+ Most crypto assets are stored offline
+ 24/7 customer support
Things we didn't like:
- Only crypto assets available to be exchanged
- Not regulated
While Huobi has implemented KYC policies to comply with regulatory requirements in many countries, the centralized exchange (CEX) does offer some services to low-KYC users. Huobi might not be among the best no-KYC crypto exchanges, but it is definitely one of the best low-KYC ones.
Overall, Huobi is one of the leading cryptocurrency exchanges in the world, offering a wide range of digital assets for trading.
For traders who prefer to remain virtually anonymous, Huobi offers a daily withdrawal limit of 0.06 BTC. Many casual traders may find this sufficient for their needs. However, once a user completes the verification process, they can access higher withdrawal limits, up to 100 BTC per day on the Huobi app.
Additionally, Huobi provides unverified users with a deposit limit of up to $1,000/day (or equivalent in other currencies) for BRL, RUB, UAH, and KZT deposits, which is a significant benefit for those who prioritize privacy.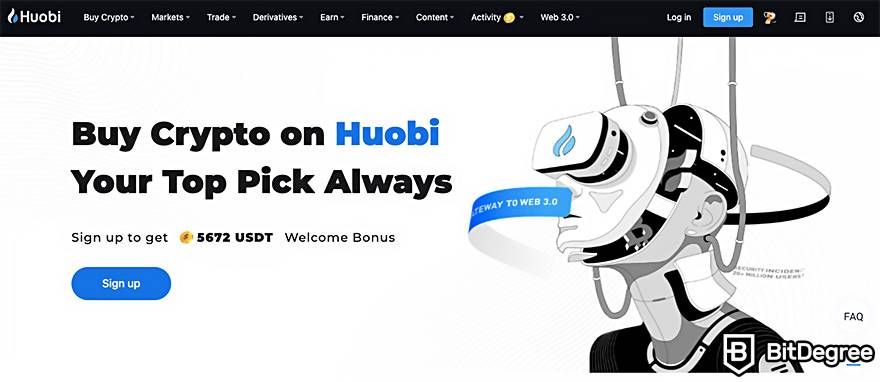 To get started on Huobi, all you have to do is sign up and provide basic personal information such as your nationality, country of residence, last name, first name, and date of birth. There's no need to provide any documents to access the limits discussed above.
Once your account is set up, you can deposit funds and start trading on the platform.
Of course, you can always change your mind and go through the Huobi's verification process if you want to access higher limits.
Overall, Huobi is a great option for privacy-protective traders who want to access a range of digital assets without sacrificing much of their personal information. While the withdrawal limits for no-KYC users may be lower than those for verified users, the exchange still offers a decent range of services for those who prefer to stay anonymous.
Ranks #5 out of 7 Crypto Exchanges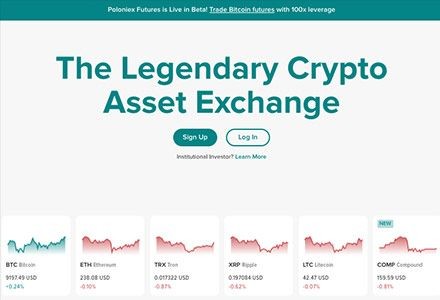 Things we liked:
+ U.S. company
+ No verification needed
+ Low trading fee
+ Good customer support
Things we didn't like:
Poloniex is a popular cryptocurrency exchange that offers Level 1 accounts to no-KYC users, making it an ideal choice for traders that want to remain anonymous. With this account, users can enjoy many features, including spot and futures trading. This makes Poloniex one of the best no-KYC crypto exchanges.
To create a Level 1 account on Poloniex, all you need to do is provide your email address and create a password. This straightforward registration process allows users to access a wide range of crypto services without needing to go through the lengthy KYC verification process.
One of the benefits of Poloniex's Level 1 account is that users can still purchase cryptocurrencies with fiat using their third-party payment gateway integration. By linking a card, users can buy cryptocurrencies with ease.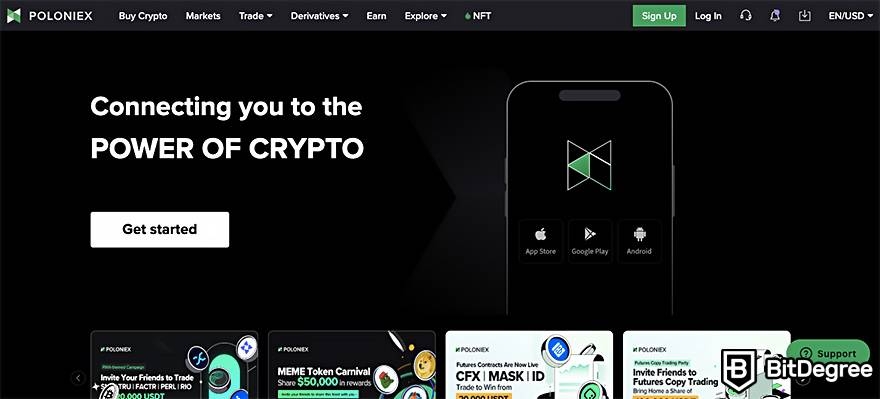 However, it is important to note that Poloniex's standard payment gateway eligibility requirements still apply, so users should check their account eligibility before making a purchase.
In terms of withdrawal limits, Level 1 account holders can withdraw up to $10,000 per day as standard. However, if users enable 2FA, the withdrawal limit increases to $50,000 per day. This allows traders to withdraw their funds with ease and without having to go through the KYC process.
When it comes to futures trading, a Level 1 Poloniex account offers users an impressive 100x leverage, making it an attractive option for those looking to maximize their potential profits.
However, it's essential to keep in mind that high leverage comes with equally high risks. While it may be tempting to take advantage of such generous leverage, traders should approach futures trading with caution and a clear understanding of the potential risks involved.
Nevertheless, for experienced traders who are comfortable with risk management, Poloniex's high leverage for unverified users can provide an opportunity to amplify gains in futures trading.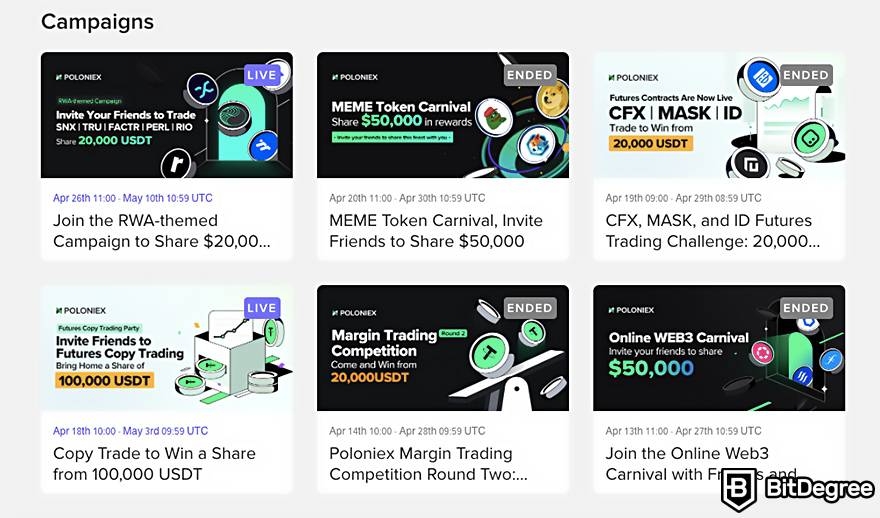 Moreover, Poloniex also offers exciting competitions for its users, allowing traders to showcase their skills and potentially win rewards. These competitions can vary in format and duration, with some focusing on trading volume while others focus on specific trading pairs or types of orders.
The top performers in these competitions can win prizes such as cryptocurrencies, trading fee discounts, and other rewards. With Poloniex's Level 1 account, even no-KYC users can participate in these competitions and claim their virtual rewards without revealing their identity.
Though, it's worth noting that Poloniex only allows one account per email address. This measure helps prevent fraud and ensure that the exchange is a safe and trustworthy platform for all users.
Overall, Poloniex's Level 1 accounts provide an excellent option for confidentiality-focused traders who want a non-KYC exchange. With a range of features and relatively high withdrawal limits, users can trade and withdraw their funds with ease.
Ranks #6 out of 7 Crypto Exchanges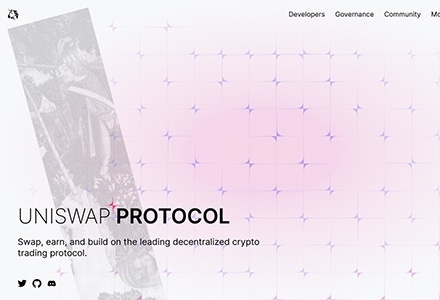 Things we liked:
+ The most popular DEX in the industry
+ AMM functionality
+ Simple to use
Things we didn't like:
- Does not support BEP tokens
- High Ethereum gas fees
Uniswap is a decentralized exchange (DEX) that operates on the Ethereum blockchain. It was launched in November 2018 and has since become one of the most popular DEXs in the crypto space, making it one of the best no-KYC crypto exchanges among its peers.
Uniswap operates using an automated market maker (AMM) model, which is different from the traditional order book model used by centralized exchanges (CEXs). In the AMM model, liquidity is provided by users who deposit their funds into liquidity pools. These pools are then used to facilitate trades between different tokens.
One of the main advantages of Uniswap is its non-custodial nature, which means that users retain control of their funds at all times. There is no need for users to go through any KYC process, which makes it a popular choice for privacy-conscious investors.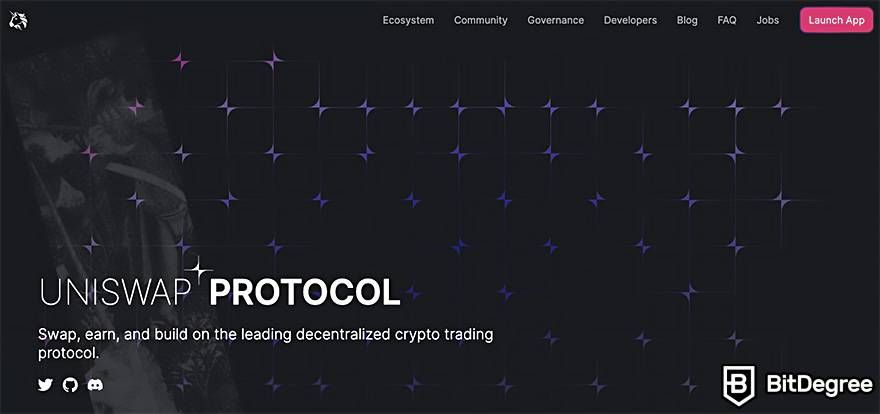 Another advantage of Uniswap is its low fees. Unlike CEXs that charge high fees for trading, Uniswap charges a 0.01%, 0.05%, 0.3%, or 1% fee on swaps, and those fees go to liquidity providers. The fees are actually determined by those liquidity providers, and most trading pairs are usually tied to a 0.3% fee.
While on that matter, I should tell you that Uniswap's liquidity pools are a standout feature of the platform. They allow token holders to earn a return by funding paired tokens in equal value based on the exchange rate. The liquidity providers are able to define a price range and Uniswap prevents trades outside that range.
In addition to its numerous advantages, Uniswap has also been a trailblazer in the Decentralized Finance (DeFi) space, consistently introducing innovative features and functionality. This commitment to innovation has also translated into a user-friendly platform.

However, even though DEXs have many advantages, you have to be much more cautious and careful with them than CEXs.
Overall, when choosing a non-KYC crypto exchange, it's important to do your research and choose a platform that meets your needs. Look for platforms that, like Uniswap, have a good reputation and have been around for a while. Additionally, it's important to keep your assets safe by using a hardware wallet or other secure storage method.
On that though, if you're searching for a worthy hardware wallet, you should check out Ledger Nano X.
In summary, Uniswap is a decentralized exchange that operates using an automated market maker model. It is non-custodial, has low fees, and has been at the forefront of innovation in the DeFi space.
Due to all the factors mentioned above, Uniswap is a popular choice for anonymity-focused traders, and many claim that it is surely one of the best no-KYC crypto exchange as of writing.
Ranks #7 out of 7 Crypto Exchanges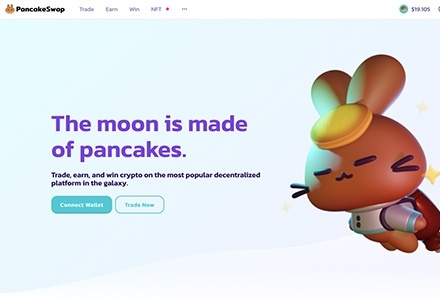 Things we liked:
+ Very simple to use
+ BEP token support
+ Low transaction gas fees
Things we didn't like:
- Supports a small number of tokens
- Can be a bit more complicated if you want to trade ERC-20 tokens
PancakeSwap is a decentralized exchange (DEX) that operates on the Binance Smart Chain (BSC), and couldn't be left out of this best no-KYC crypto exchanges list.
As a DEX, PancakeSwap enables users to trade cryptocurrencies without the need for a centralized intermediary or a KYC verification process. This makes it a great option for cryptocurrency privacy advocates who do not want their information to be shared with third parties.
One of the key features of PancakeSwap is its automated market maker (AMM) system. This allows users to trade cryptocurrencies using liquidity pools instead of traditional order books.
On PancakeSwap, liquidity providers add funds to the pools, which are used to facilitate trades. In exchange for their contributions, liquidity providers receive a portion of the trading fees generated by the platform.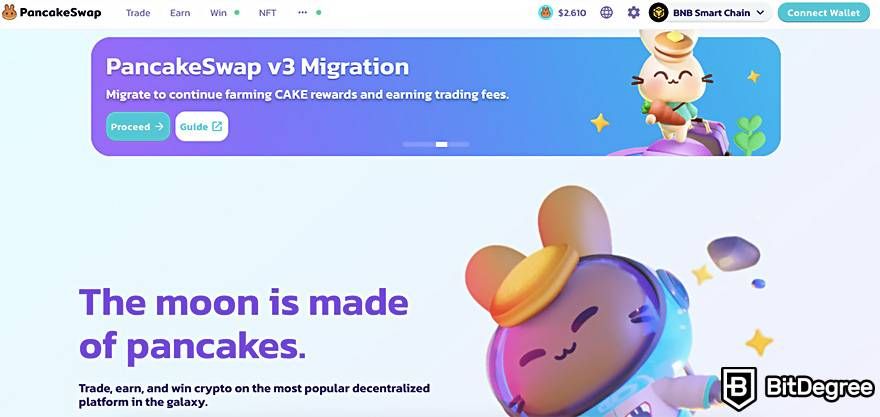 Another advantage of PancakeSwap is its low transaction fees, which are a fraction of those charged by centralized exchanges. When you trade on PancakeSwap, you'll be charged a fixed fee of 0.25%. However, 0.17% of that fee is rewarded back to the liquidity providers.
The low fee offered by PancakeSwap is due in part to the fact that the Binance Smart Chain is designed to be more efficient than other blockchain networks, such as Ethereum. This makes PancakeSwap a cost-effective non-KYC exchange choice for users.
In addition to its core trading functionality, PancakeSwap also features a range of other tools and services. These include yield farming, where users can earn rewards by staking their cryptocurrency holdings, and lotteries, where users can win prizes by purchasing tickets with their PancakeSwap tokens (CAKE).
Overall, PancakeSwap is an excellent option for traders looking for a decentralized, no-KYC crypto exchange that offers low fees and a range of features.
Furthermore, PancakeSwap's integration with the Binance Smart Chain also makes it highly compatible with other popular decentralized finance (DeFi) protocols. So, not only is PancakeSwap one of the best no-KYC crypto exchanges, it is also an excellent choice for those who are interested in exploring the wider world of DeFi.
As a side note, if you want to find other DEXs like Uniswap and PancakeSwap that are worth your attention, check out this article.
Conclusion
In a world where user data is becoming increasingly important, many cryptocurrency enthusiasts are on the lookout for the best no-KYC crypto exchange. In this context, some platforms provide an excellent means of trading cryptocurrency while safeguarding your privacy.
While KYC exchanges have their advantages, including compliance with regulations, the tradeoff is that they require users to reveal their personal information. Crypto exchanges without KYC, on the other hand, offer users the ability to trade without submitting their data.
But do keep in mind that most non-KYC crypto exchanges are DEXs, and traders must treat this territory with caution. When looking for the best no-KYC crypto exchange, give CEXs like Bybit and Kraken a chance. But if they don't fulfill your needs, there will always be great DEXs like Uniswap and PancakeSwap.
Besides, make sure to also check out other prominent CEXs like Binance. Maybe, after seeing how much benefits they have, KYC won't seem such a turn-off anymore.
Either way, crypto exchanges without KYC offer a great way to trade cryptocurrencies without letting go of privacy, but they can also come with higher risks. Because of that, when choosing a no-KYC exchange, be sure to consider factors such as security, transparency, and fees.
The content published on this website is not aimed to give any kind of financial, investment, trading, or any other form of advice. BitDegree.org does not endorse or suggest you to buy, sell or hold any kind of cryptocurrency. Before making financial investment decisions, do consult your financial advisor.
Leave your honest Best No-KYC Crypto Exchange for Privacy-Conscious Traders review
Leave your genuine opinion & help thousands of people to choose the best crypto exchange. All reviews, either positive or negative, are accepted as long as they're honest. We do not publish biased reviews or spam. So if you want to share your experience, opinion or give advice - the scene is yours!
---
TOP3 Most Popular Coupon Codes