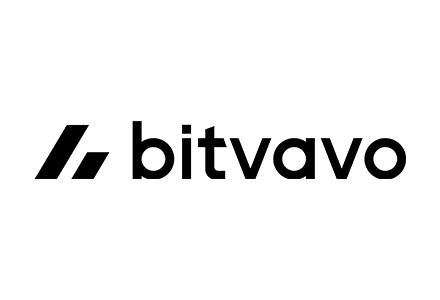 If you reside in the EU, and are looking for a reliable cryptocurrency exchange, it's no secret that the list can get pretty extensive. As you commence your search, though, you will eventually stumble across Bitvavo - an exchange that has managed to build quite a reputation for itself. In this Bitvavo review, we'll explore that reputation, from all sides of the table.
Admittedly, Bitvavo isn't a platform that's familiar to every crypto enthusiast out there. One of the reasons for why that's the case is just that - it's an EU-specific exchange. So, if you reside anywhere BUT one of the European Union countries, you won't be able to access and use the exchange in question.
On the flip side, EU residents might find this exchange to be an appealing alternative, for a few different reasons. Let's not waste any time, and get right into the specifics.
Pros
Regulated, top-tier security measures
Nearly 200 supported crypto assets
Very simple to use
Low trading fees
Staking with up to 7,5% APR
Cons
Only available in the EU
No 24/7 customer support
Bitvavo Review: PROS
Starting things off with the usual - the benefits and core features of the exchange -, let's talk about a topic that should be of the highest concern to anyone who's reading through Bitvavo reviews, and is trying to find the best exchange for themselves - security.
A Security-Conscious Crypto Exchange
Security is (well, should be) the top priority for anyone who's interested in anything-crypto. Exchanges, wallets, DeFi services, and everything in between - it's no secret that, if the platform that you're using isn't safe, you risk losing all of your assets.
Exchanges do tend to face a lot of scrutiny, when it comes to the topic in question. As they should - with so many high-profile exchange platforms getting their security breached, and putting their customer assets at risk, it's only natural that people are a bit more serious and protective about their crypto.
The good news in this Bitvavo review, however, is that this particular exchange takes the topic of security seriously. This is evident both from the client-side features that the service employs, as well as the measures that it takes to keep the platform safe.

Answering the question "is Bitvavo safe?", first and foremost, you have cold storage - most of the user funds that are held on the Bitvavo exchange are kept in cold (hardware) wallet devices, and protected by "strict security protocols". This type of asset storage is a pretty standard security measure, industry-wise, but it's also a very effective way to keep any potential hackers and scammers away, too.
Next up, MultiSig functionality for large-scale transfers. What this essentially means is that, if you plan to make huge transactions (that involve large amounts of money), these transactions will need to be approved by multiple steps, such as executives from the Bitvavo team looking into the transactions, you passing manual verification steps, and so on. Once again, a time-tested and effective security measure.

Then, from the platform's side of things, you have the employee screening + security audit combination. All employees who work at Bitvavo need to pass thorough background checks, and provide certificates of good conduct. This minimizes the possibility of bad actors infiltrating the exchange.
The audits are very notable, as well. If you're wondering is Bitvavo safe, you should keep in mind that the exchange works with top-rated IT firms, in order to perform white-hat penetration tests and platform security audits.
Then, you have some additional features, too - things such as two-factor authentication, asset insurance, Bitvavo Vaults, and so on. All things considered, the combination of these features should answer the question "is Bitvavo safe?", once and for all. As far as security is concerned, the exchange in question certainly does have a good track record!
An EU-Native Exchange
As I've mentioned in the introduction of this Bitvavo review, the Bitvavo exchange is located in the EU. More specifically - the platform is based in the Netherlands.
How is that a good thing?
Well, for starters, it makes it very convenient to use for anyone who's located in the European Union. In fact, Bitvavo supports clients from all EU countries!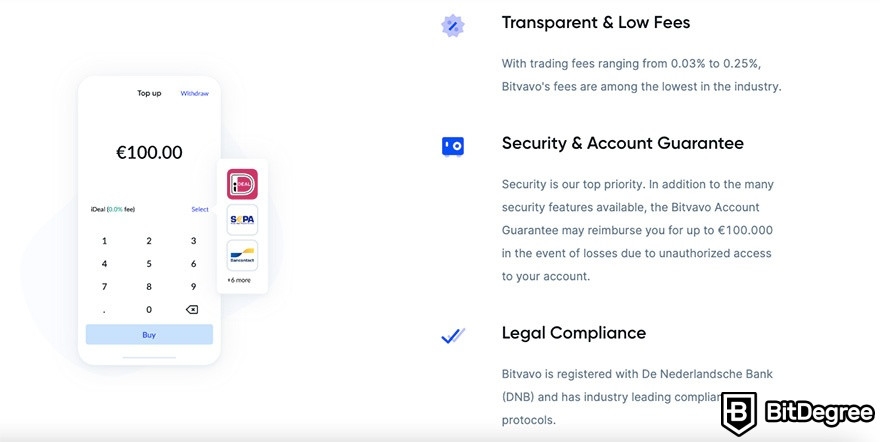 It does, however, come back to the aspect of security, as well, albeit in an indirect manner.
You see, since the Netherlands belongs to the EU, the country does also adhere to all of the general financial guidelines of the Union, as well. Following that, financial institutions that are based in EU countries must follow these guidelines - this brings us back to the Bitvavo app.
Legislation-wise, the regulatory oversight involves AMLD5 (anti-money laundering regulations) and GDPR (personal data protection). Naturally, you can expect the platform to enforce all of the relevant KYC (Know Your Customer) verification checks on its users, as well - that's kind of a given, with centralized and regulated exchanges.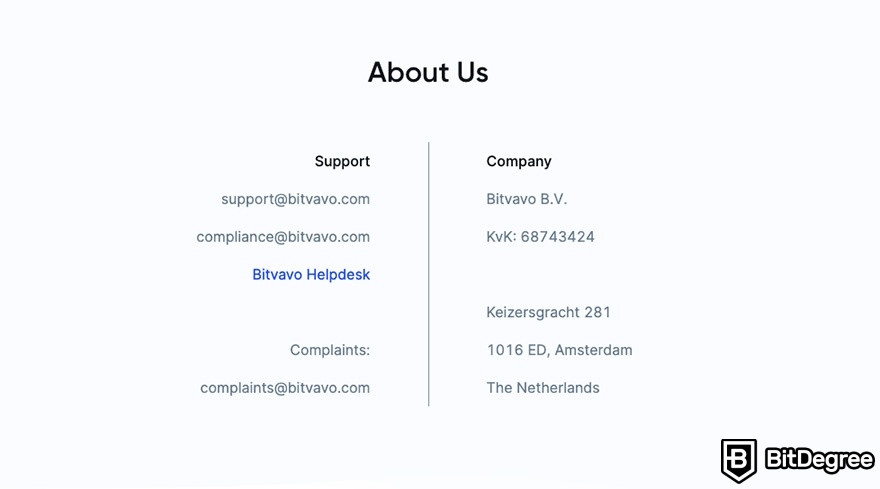 Lastly, while this is a bit of a subjective point, it's also worth mentioning that some people prefer using an exchange platform that's "closer to home", rather than one that's located on the other side of the world. If you're a resident of the EU, you might feel "safer" (again, it's pretty subjective) using an exchange that's based in the Netherlands, rather than one from the British Virgin Islands.
Close to 200 Supported Crypto Assets
Crypto asset support is undoubtedly one of the bigger things that people look into, when picking out the appropriate exchange platform for themselves. While this wasn't the case a decade ago, these days, there are so many different crypto coins and tokens available on the market, that portfolio diversification has become the norm, rather than an exception.
Exchanges know this better than anyone else. This is why you'll find many of the top-rated platforms listing new tokens frequently. With that being the case, though, it's no secret that many platforms do lag behind in this regard, and offer but a few of the main coins and tokens to their clients.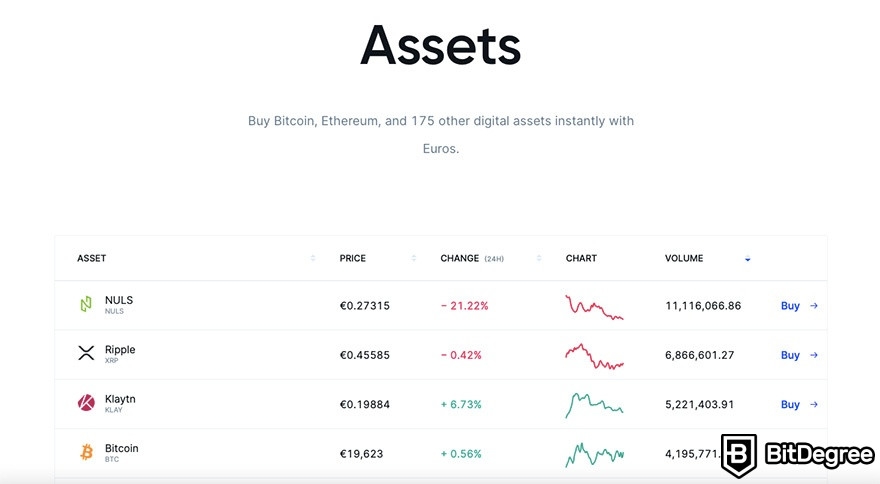 User Bitvavo reviews will tell you that this isn't the case with the exchange in question - great news!
Specifically, Bitvavo supports close to 200 different crypto assets. This does, naturally, include all of the main coins, such as Bitcoin, Ethereum, Tether, Cardano, and the like. Additionally, though, if you're a day trader, specializing in some niche assets, you might find your favorite tokens here, as well.

Even if you're not experienced with crypto, and are just looking at storing BTC in Bitvavo, Ledger, and a few other platforms, the good news here is that, if you decide to diversify your portfolio in the future, you might be able to do so on the same exact exchange.
In other words, you wouldn't need to register on five different exchange platforms, simply to purchase five different cryptocurrencies. While keeping all of your assets on a single exchange might not be the best security practice, if you're looking for convenience, it's definitely a point worth considering!
Crypto Storage Services (Web Platform + App)
This is something that I've eluded to in the previous chapter of this Bitvavo review, but it's worth mentioning separately, as well.
Bitvavo is a custodial crypto exchange. What this means is that you will be able to store your crypto assets on the platform, and keep them there, indefinitely.
Now, if you're choosing a crypto storage option between Bitvavo, Ledger, Trezor, and Binance, it's rather evident that some wallet options are going to be better than others. That said, this is only if you want the maximum possible security for your assets - since many people prefer to keep the bulk of their cryptos in a hardware wallet, but leave some on an exchange, for convenient trading purposes, Bitvavo could be a viable option for the latter!

Indeed - with the platform itself being very simple and straightforward to use, it also supports the storage of all of the different cryptocurrencies available to be traded within. This is true both for the web version of the exchange, as well as the Bitvavo app.
Indeed - Bitvavo is available in both versions, which is a separate perk, in of itself! Once again, it certainly adds to the convenience of trading crypto with this service provider, and allows you to check on your assets on the go.
Great Trading Fees
Bitvavo fees are certainly one of the more interesting topics to talk about. It's no secret that the platform has managed to build itself a reputation of offering some of the better fee models in the industry. Just how *good* are we talking about, though?
Well, let's take it from the top, and look into deposit & withdrawal fees, first.
Deposit fees on Bitvavo will depend on the method that you're using to deposit your EUR. For example, if you use SEPA, all deposits are completely free of charge. While multiple other methods are free, as well, deposit fees can still go up to 2,25% (i.e. Sofort transfers).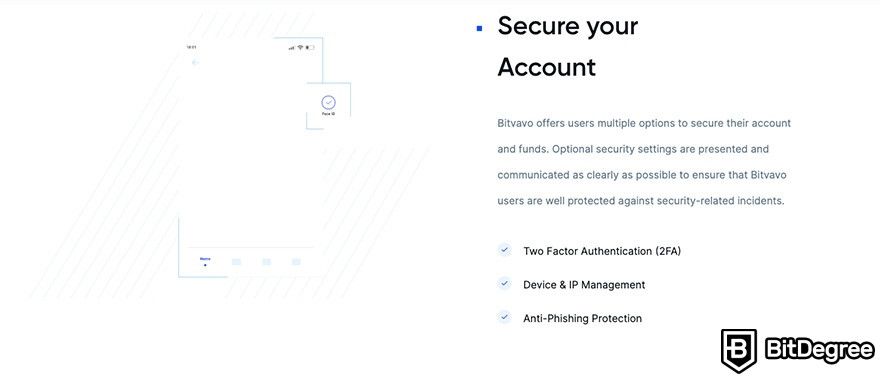 Withdrawal fee-wise, things are quite a bit more complicated. That's because each crypto asset will have a unique withdrawal fee associated with it, and to top that off, these fees often depend on blockchain congestion, as well. So, in other words - withdrawal fees will vary, and you can find the approximate amounts on Bitvavo's official website.
Now, the one that's been getting the most attention - what are Bitvavo fees for trading crypto?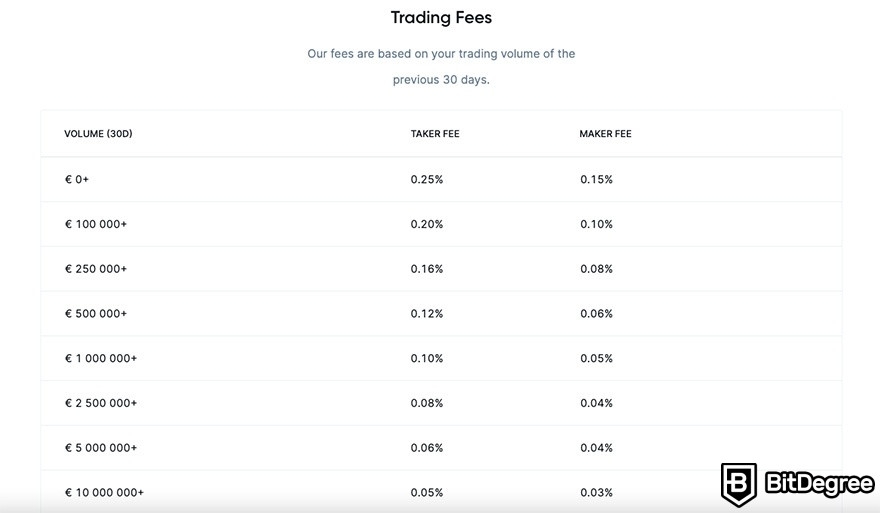 Well, same as most other exchange platforms, Bitvavo differentiates its trading fees into two groups - market maker and taker fees. The default maker fees are 0,15%, and the default take fees are 0,25%. As you trade more and more crypto on the exchange, you're able to get those numbers down.
Truth be told, all you need to do is take a look at other user Bitvavo reviews in order to see the sentiment regarding these numbers - they're great! While there are other exchanges out there - ones that offer even smaller fees to their traders -, Bitvavo is still near the top, in this regard!
Crypto Staking Functionality
Staking has, undoubtedly, become one of the more popular crypto services. Nowadays, it's being offered even on crypto wallets and - you've guessed it - exchange platforms, as well. You don't need to go out and look for a specific dApp in order to start staking your crypto!
User Bitvavo reviews will tell you that this feature is available on said exchange, as well. In a way, if you're comparing, say, Binance VS Bitvavo, this is significant, since both platforms allow you to stake your crypto assets on them.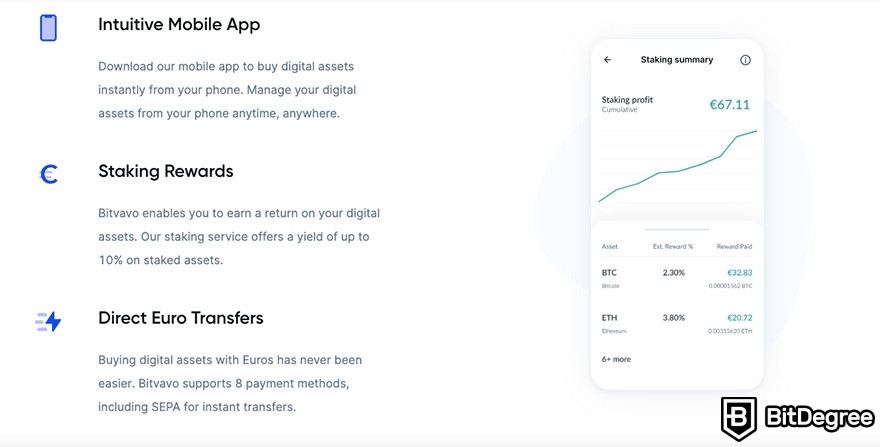 With Bitvavo, you may stake a pretty wide array of different crypto assets. Interestingly enough, the list includes some notable Proof-of-Work cryptocurrencies, such as Bitcoin. This, in turn, means that the "staking" activity that you'll be performing on Bitvavo isn't the traditional "Proof-of-Stake staking", but rather, a platform-specific service.
Is that a bad thing? No, not at all. In fact, the variety of choice with all of the available Bitvavo coins (stakeable assets) is appreciated - it's easier to choose which assets to stake!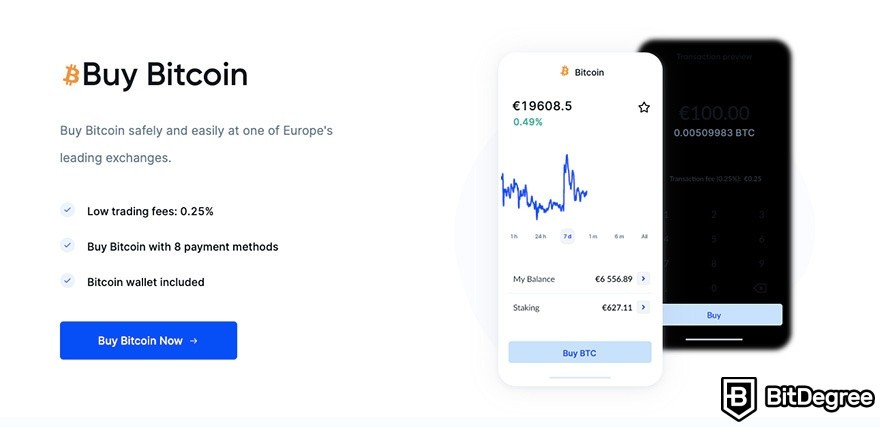 The APRs (annual percentage rates) for Bitvavo staking can go up to 7,5%. Admittedly, there are only a few assets that reach similar numbers - most of them linger around 1-4%.
That being said, these are still some great and - most importantly! - realistic returns! If you're used to seeing returns in the thousands of percent, then 7,5% might not be all that attractive. However, if we're being realistic, and looking at things long-term, then Bitvavo does certainly appear to be a great option for staking cryptos - a sentiment agreed upon by multiple user Bitvavo reviews, as well!
Very Simple to Use
A big point that you'll find mentioned in various user Bitvavo reviews is the fact that the platform is very simple to get into and use. While we'll get to the specifics in a minute, I can tell you - that's very true!
These days, simplicity isn't really something that'll surprise many crypto enthusiasts out there. Every single crypto service provider is aiming to make their services as approachable and user-friendly as possible.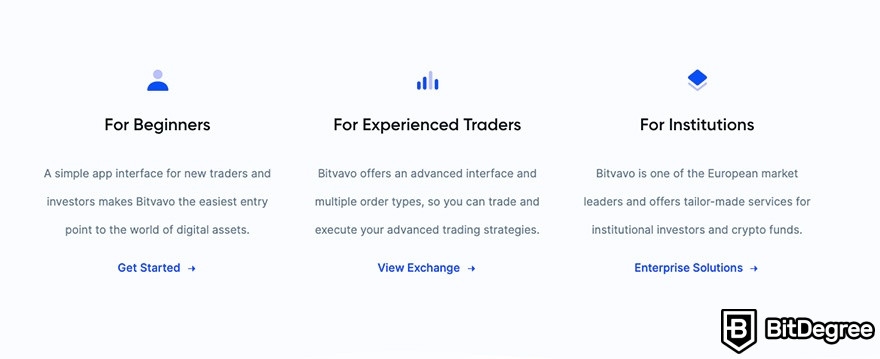 The reason why that's the case is very simple, too - there are countless numbers of people entering the market, and with all of them not having a single clue of how crypto works, simplicity is the key to making them use your platform over that of your competitors.
When it comes to Bitvavo, though, simplicity is just one part of the equation. The entire platform is very "sterile" and clean - there are no pointless buttons or navigation popups, and the minimalistic design elements work great to help you navigate even through some of the more confusing pages of the exchange.

That being said, it's worth keeping in mind that simplicity and great design choices do not equal a beginner-exclusive platform. While it's true that crypto newbies won't really have any difficulties using the exchange, Bitvavo offers a variety of features and benefits to the advanced user, as well.
Whether it be asset staking or complex trading tools, most experienced traders are likely going to find what they're looking for with the Bitvavo exchange. Naturally, this only adds to the already well-maintained reputation of the platform!
Latest Binance Coupon Found:
CLAIM $600 BONUS
Exclusive $600 Binance Offer
Don't miss this limited-time deal that's only available for our readers. Follow the Binance referral code link & receive up to $600 in rewards and bonuses!
Expiration date: 04/06/2023
7,847 People Used
Only 49 Left
Bitvavo Reviews: CONS
Now that we've covered all of the main features and benefits of the Bitvavo exchange, let's also talk about some of the more prominent negatives that user Bitvavo reviews mention, when analyzing this platform.
Only Available in the EU
This is, admittedly, something that you probably saw coming, especially since it's been a topic mentioned a few times throughout the article.
Indeed - one of the biggest "negatives" associated with Bitvavo is the fact that it's not available in the vast majority of countries around the world. Whether you reside in the United States, Brazil, Japan, or anywhere else that is not part of the EU, you won't be able to use Bitvavo.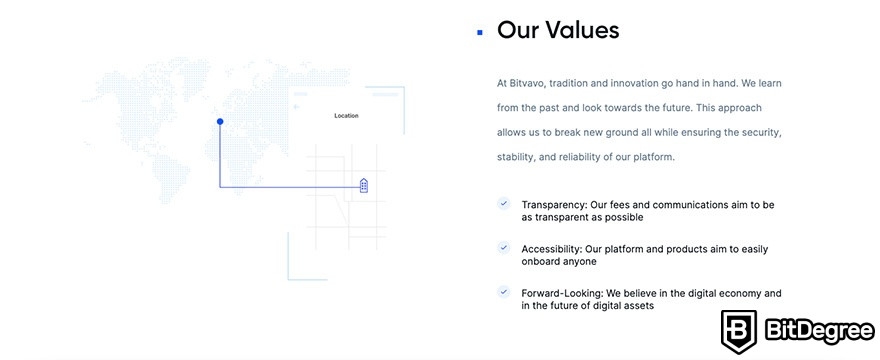 This limits the number of potential users that the exchange could attract, and, by extent, the trading volume that the exchange generates every single day. Sure, with over a million active clients, liquidity isn't really something that you'd need to worry about - still, though, it's a point worth mentioning, nonetheless.
If you're looking for a reliable exchange platform, and reside in an area where Bitvavo isn't available, you could instead check out some top-rated alternatives. For example, comparing Binance VS Bitvavo, you'll find that the prior exchange offers some amazing benefits to its users, and is available in many of the countries where Bitvavo isn't.
No 24/7 Customer Support
I mention this in many of my articles, but customer support has to be one of the more underrated features when it comes to picking and choosing the best exchange for yourself.
The reason for why that's the case is pretty self-explanatory, as well. Think about it - if you decide to use a particular exchange, and something goes wrong during a transaction (or at any other given point in time), you'd probably want to get a hold of an agent as soon as humanly possible.
Well, if there's no support available, that can result in a tragic scenario, as far as your assets go.

Admittedly, nowadays, there aren't really many reputable crypto exchanges that wouldn't have some form of support available on their platform. User Bitvavo reviews will tell you that this particular exchange isn't an exception, either.
Bitvavo *does* offer proper customer support to its clients - support can be reached both via email (the company's preferred method of communication), as well as live chat (after passing some default chatbot interfaces).
So… What's the problem, then?
Well, support agents can only be reached during work hours. These are, as follows:
Weekdays - 8:00 - 21:00
Weekends - 9:00 - 21:00
The timetable above references Bitvavo's local area time (in the Netherlands).
So, if you were to encounter an issue at any point during the time when support isn't available (say, at 3 AM, after you decide to do a yolo-trade), you'd need to wait for support to start their work the next day, get to your email, and then respond to it.
Is this a huge issue? No, for most people - far from it. Very rarely would you find yourself in a situation where you'd need support *here and now*. However, it's still a sentiment worth keeping in mind, either way!

Did you know?
How to Use Bitvavo?
With all of the major pros and cons of the exchange discussed and out of the way, before I let you go, there's still one more aspect to cover, in this Bitvavo review - the usability of the platform in question.
This is a question that will especially be important to anyone who, after reading the entire review, has decided that Bitvavo is the platform for them.
How to Register on Bitvavo?
Taking it from the top, let's have a step-by-step breakdown of how to register on the Bitvavo exchange.
Step 1: Navigate to the Bitvavo official website, and click "Sign Up".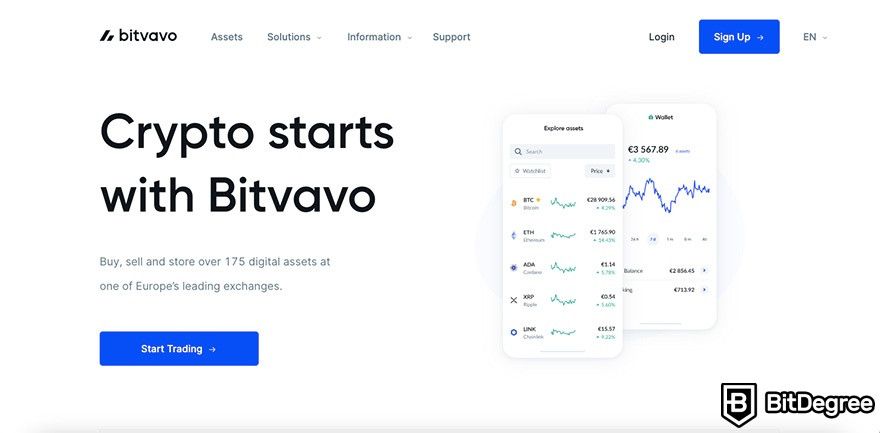 Step 2: Here, you will need to enter all of the standard information that you'd expect - your name and surname, country of residence, your email address, as well as a custom password.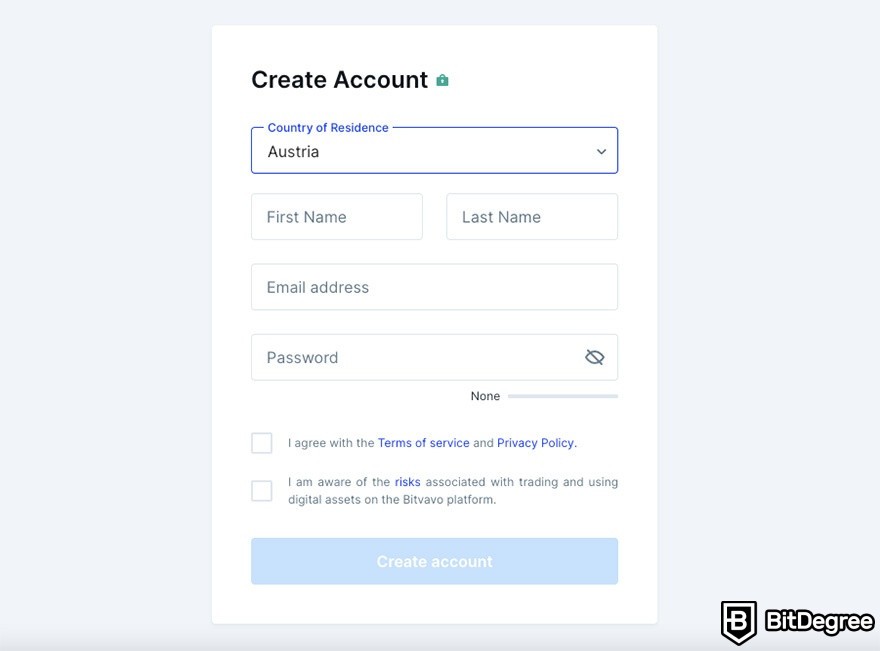 Step 3: Once you confirm your email address (via the email that Bitvavo sends to you), you'll be able to log into your account. Immediately after your first login, you will also be prompted to pass the KYC verification checks (address confirmation, ID verification, and some questions that you'll need to answer). You can do this right away, or opt to check out the platform, first.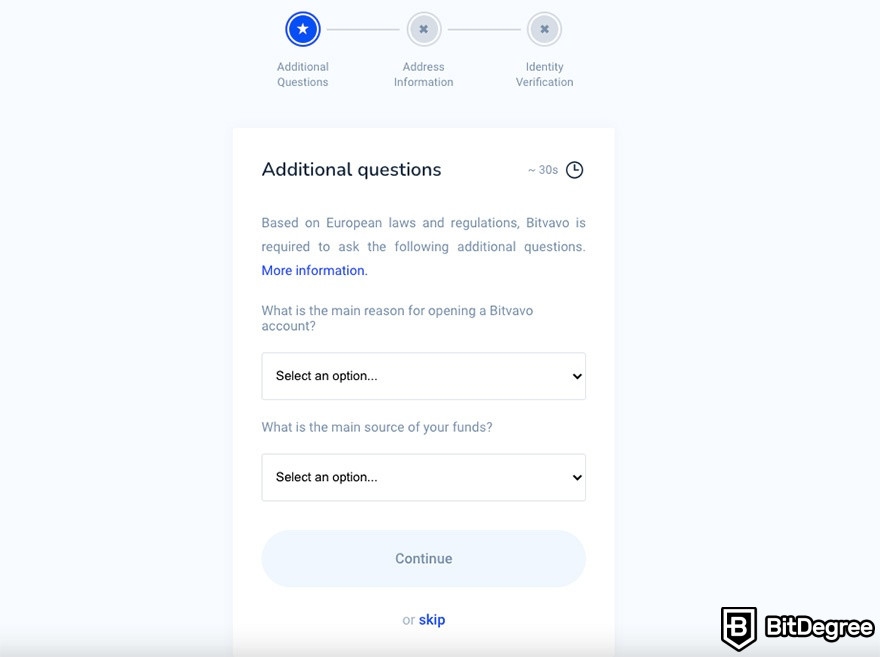 That's it - a three-step process of registering on the exchange! As multiple user Bitvavo reviews will tell you, the process truly is completely hassle-free, and takes only a few minutes to complete.
How to Navigate the Bitvavo Exchange?
Now that you have access to your dashboard, let's have a quick tour of the main features of Bitvavo. I won't go into detail (that would require a separate tutorial, in of itself) - instead, we'll focus on the main areas of the dashboard that will be important to any and all new users.
At the top of the page, you have your main navigation menu. Here, you can access your dashboard, as well as the staking, security, and advanced trading sections. The latter is mostly going to be important to advanced traders and investors, and it's great that Bitvavo offers easy access to said section.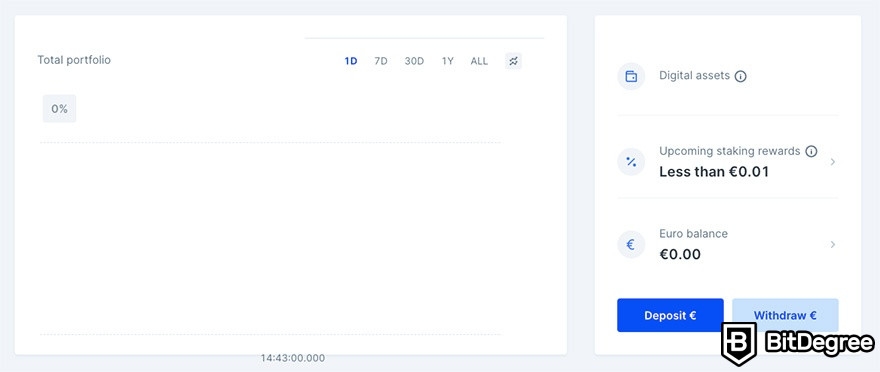 On your dashboard page, you can view your portfolio, as well as make deposits and withdrawals. There's some truly useful information available, such as upcoming staking rewards and asset price change history.
Scrolling a bit down the page will reveal all of the supported Bitvavo coins and tokens. You'll be able to sort them according to the assets that you hold, or simply opt to view your personal holdings.

From the dropdown menu at the top-right of the page (when you hover over your name), you will also be able to navigate to some important pages involving your transaction history, verification, referrals, and so on.
As multiple user Bitvavo reviews point out, the platform truly does look professional, and offers a very minimalist approach with its design choices. Even if you've never used an exchange before, you shouldn't face any difficulties setting everything up, and trying out the core features of the exchange for yourself.

Pros
A very well-known crypto exchange platform
More than 500 different cryptos available
Two-factor authentication
Main Features
Over than 100 different cryptocurrencies available
Strong security
Small withdrawal fees

Pros
Secure and reliable
Low fees
A good amount of fiat currencies accepted
Main Features
Reputable exchange
Multiple fiat currencies are accepted
Relatively low trading fees

Pros
Anonymous trading
Secure
Supports a variety of cryptocurrencies
Main Features
Easy to use
Low fees
Good security
Conclusions
Now, then - what's the consensus here? Is Bitvavo an exchange that's worth checking out, or should you look for alternatives?
Well, from the looks of things, Bitvavo really does offer a lot of benefits to its users! The platform is rich with features, whether it be simple things such as crypto custody (storage), or some of the more interesting aspects, such as staking.
Furthermore, Bitvavo is also known to take crypto security seriously. The company behind the exchange has made a point to employ all of the most important, industry-standard security measures, and then some.
To top it off, you then also have some super-competitive trading fees, as well! If you plan to trade somewhat actively on the exchange, or are ready to invest into crypto, long-term, fees are certainly something that you'll want to take into consideration!
That being said, do keep in mind that the Bitvavo exchange isn't available anywhere else but the EU (all countries within the Union are supported, though). So, if you're looking for alternatives, you'll find Binance VS Bitvavo compared somewhat frequently - other options can be found on our list of the best cryptocurrency exchanges on the market.
Thanks for reading, and until next time!
The content published on this website is not aimed to give any kind of financial, investment, trading, or any other form of advice. BitDegree.org does not endorse or suggest you to buy, sell or hold any kind of cryptocurrency. Before making financial investment decisions, do consult your financial advisor.
Leave your honest Bitvavo review
Leave your genuine opinion & help thousands of people to choose the best crypto exchange. All reviews, either positive or negative, are accepted as long as they're honest. We do not publish biased reviews or spam. So if you want to share your experience, opinion or give advice - the scene is yours!