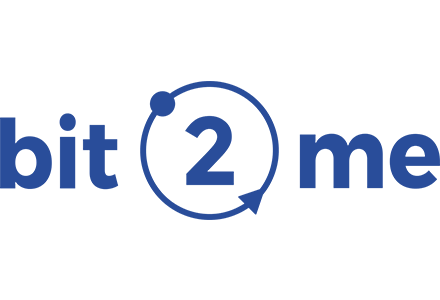 Are you new to cryptocurrencies? Perhaps you want to find the best place to start trading crypto, in general? Whether you're interested in finding the best possible exchange, or are curious about Bit2Me reviews, specifically, I invite you to come along, and explore this cryptocurrency exchange platform!
As you'll quickly discover, Bit2Me isn't only an exchange - the company provides its clients with a pretty wide array of useful features. While we'll be focusing on the crypto trading platform side of things, I'll also tell you about these additional perks that you can encounter, as well.
Interestingly enough, while Bit2Me can already be considered as somewhat of a veteran in the industry, there aren't really loads of user Bit2Me reviews found online! Thus, if you're interested in finding out more about this particular platform, you've come to the right place - let's get started!
Pros
Supports nearly 70 cryptocurrencies and tokens
Very beginner-friendly
Integrated multicurrency wallet
Debit card, fully-functional mobile app
Top-tier security features
Cons
Average fees in some countries
Not available in the US
Bit2Me Review: PROS
Starting things off from the positive side of the exchange, probably the first thing that you'll notice whilst entering the official Bit2Me website (and reading through user Bit2Me reviews, too) is the fact that everything's catered around crypto beginners.
An Easy to Use Exchange
Simplicity is a very important feature in the world of crypto. Something that's rather noticeable is that many different exchange platforms - even some of the top-rated exchanges out there - are actively aiming to make their services as approachable to a beginner trader as possible.
The reasoning behind this is quite simple, as well - there's a huge number of complete crypto newbies coming into the industry every single day. Naturally, they're going to choose the exchange that allows them to perform all of the core actions (trading, buying, selling, withdrawing, etc.) in as quick and simple a manner as possible.
If you're someone who's looking for simplicity with their crypto adventures, Bit2Me has got you covered.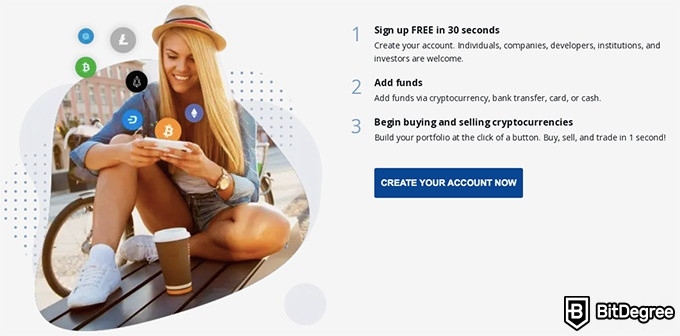 Users report that the exchange in question is very beginner-friendly, but still offers a wide range of different features to the more-advanced traders, too. The fact that the company has managed to integrate these advanced functionalities into their exchange, while still retaining the simplicity factor, is a huge deal!
What this means is simply that both beginners and experienced traders and investors are going to find features that they'd require on Bit2Me. Good stuff!
The Bit2Me Academy is something that warrants discussing here, as well. As mentioned in the introductory part of this Bit2Me review, the company in question offers a wide array of products, with the exchange being just one of them. This concept of an academy is yet another one.
The Bit2Me Academy is a huge knowledge base where you can learn about cryptocurrencies, and everything related to blockchain technology, in general. On top of different articles, there are even fully-fledged courses for you to take and study - few crypto exchanges can boast about something like this!

As with any other feature on their platform, Bit2Me has both private, and also corporate equivalents of the Academy. Meaning, whether you're a private person, or an owner or employee of some specific company, you'll be able to shape your learning experience with Bit2Me according to your own, specific situation.
All in all, whether it be the actual simplicity of the exchange side of Bit2Me, or the huge knowledge that is Bit2Me Academy, you can be sure that the platform is both simple to use, and also friendly to beginners, experienced traders, and anyone in between.
Accepts Credit / Debit Card Payments + Bit2Me Debit Card + ATM Support
Some user Bit2Me reviews will tell you that the exchange in question is a centralized trading entity. This does, automatically, communicate a lot of useful information, especially when it comes to the security side of things.
We'll get to that in a moment, though. First, let's acknowledge the fact that Bit2Me offers its users the ability to purchase cryptocurrencies with fiat money, and more specifically - via a credit or debit card.
This is a big deal! At the same time, though, it has become the industry standard, as far as mainstream crypto exchanges are concerned.
Multiple user Bit2Me reviews will tell you that being able to purchase cryptocurrencies with a credit or debit card opens up crypto acquisition possibilities to a huge audience of new people. It's probably safe to say that mostly only experienced crypto enthusiasts wouldn't mind acquiring their initial crypto coins via some other means, and then trading one coin for another.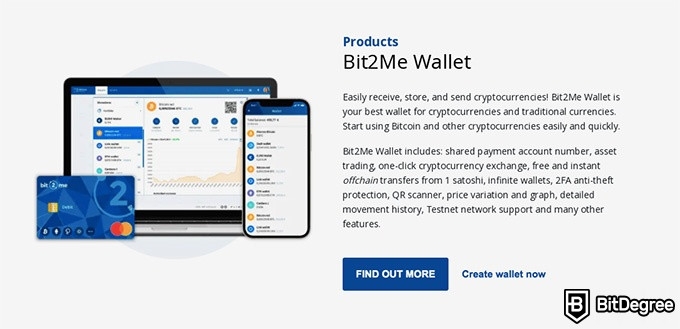 On the flip side, buying crypto with a credit or debit card is as simple as can be! All you need to do is register on the exchange, add your card information, and start purchasing - the transactions go through in a matter of seconds, and are exceptionally simple to perform!
This is completely true with Bit2Me, as well. User Bit2Me reviews point out how that the exchange allows you to purchase your favorite cryptos in a fast and super-simple manner, thanks to it supporting VISA and MasterCard payments. Naturally, you can also purchase your select cryptos via a bank transfer, too!
On the topic of credit and debit cards, though, it's worth mentioning that there's something known as a Bit2Me card, as well! This is a special debit card that you can acquire and use, same as with your traditional debit card that you might currently possess.
The difference between these two cards, though, is that the Bit2Me card allows you to perform transactions in BTC. This is a huge step forward, as far as mass adoption is concerned, and also a very notable perk of using the Bit2Me exchange, in general!

At the same time, while this doesn't necessarily warrant a separate chapter in of itself, something that's definitely worth mentioning are the Bit2Me card ATMs.
Specifically, there are around 10,000 different ATMs spread out across Europe that support the Bit2Me card. You are able to withdraw from your BTC funds, in the form of fiat money (euros).
Once again, this is a major feature offered by Bit2Me! The process of withdrawal is rather simple, although it involves some additional steps (when compared to simple fiat money withdrawal from an ATM).
A Reliable and Secure Cryptocurrency Exchange
Security is, without a single doubt, among the most important features that you should be looking at when picking out the best cryptocurrency exchange for yourself. It makes perfect sense, too - no matter how cool the features for some exchanges might be, if these platforms lack security, you should stay away from them, lest you risk losing your crypto assets.
Thankfully, though, user Bit2Me reviews will tell you that the exchange in question has the security factor covered, through and through. This is true both in regards to the asset security side of things, as well as KYC and AML compliance.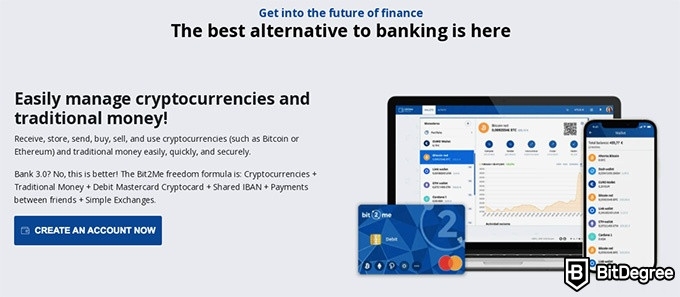 As far as asset security goes, on top of the standard "best practices" that Bit2Me would apply to keep your assets safe, the exchange keeps 98% of users' crypto coins and tokens in cold storage devices. This is, undeniably, one of the best ways to secure and protect cryptocurrencies from potential theft.
Cold wallets are special devices that allow you to store cryptos offline. You yourself could acquire a cold wallet (i.e. Ledger or Trezor), and keep your coins and tokens stored safely - the only way someone would be able to access them is by stealing the physical device, or by finding out your recovery code.
A single glance at user Bit2Me reviews will reveal that the company also utilizes such storage devices. This shows that Bit2Me does actually care about their user funds, and that the they employ the highest possible security measures to keep those funds in-check.
Following that, remember when, earlier in the Bit2Me review, I mentioned the fact that the exchange in question is a centralized crypto entity? Well, this comes with some added benefits, as far as security is concerned. Specifically, Bit2Me is a regulated exchange that employs strict KYC and AML policies to all of its clients.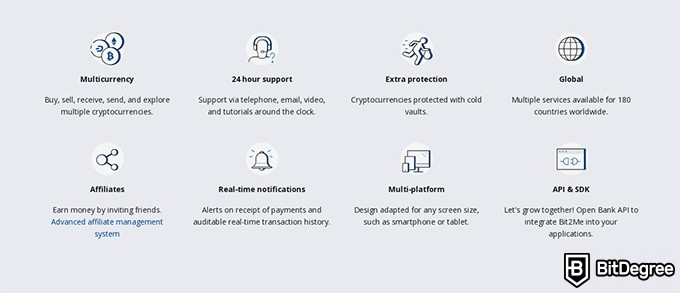 Regulation-wise, Bit2Me is both regulated, and it also works with EMI - the Electronic Money Institution. This, in turn, further-assures the safety of your transactions. It's where KYC comes in, as well - the "Know Your Customer" guidelines that ensure each user of the exchange has supplied Bit2Me with their ID verification, and have confirmed that they are, in fact, a legitimate individual, and not some sort of a malicious third party.
On top of all of that, Bit2Me also employs two-factor authentication, as well. This is just an extra added step to ensure that your assets remain safe and sound, and your account isn't compromised!
No matter how you look at it, one thing's for certain - Bit2Me is definitely a regulated crypto exchange that has taken the extra steps needed to assure the security of your crypto assets. This is surely one of the highlights of this Bit2Me review!
Built-In Wallet, Mobile App
If you were to enjoy your experience with Bit2Me, and would like to use other features offered by the exchange platform, you should keep in mind that there's such a thing as a Bit2Me wallet, as well.
To add to that, it's not just another exchange-integrated wallet, either - instead, it's a fully-fledged, standalone product that you can use, built into the exchange!

One of the most notable features of the Bit2Me wallet is that it supports around 70 different cryptocurrencies and crypto tokens. That's actually a huge number of supported assets! Meaning, you won't only be able to store all of the main coins, such as Bitcoin or Ethereum, but also other, less-known or prominent assets, as well.
The wallet is also very simple to use - all you need to do is register and create an account, and then simply access the wallet section of the platform. Once you're in, you'll be able to both store different crypto tokens on it, and also send, receive crypto coins and tokens, and also even acquire (buy) them straight from the wallet, too!
In addition to a fully-functional wallet product, there's also a Bit2Me app for you to check out, as well! This app is the mobile version of the exchange, and comes with all of the most important features integrated within.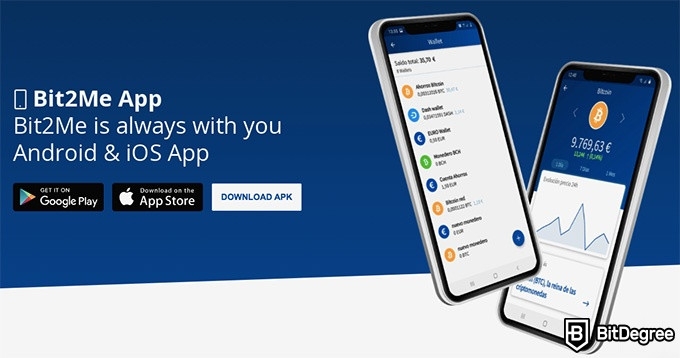 The Bit2Me app includes things such as the wallet (with its full functionality), the exchange itself (you can buy, sell, and trade crypto coins and tokens straight from your phone), different charts and statistics, your personal portfolio, support services, and much more.
Truth be told, if you want to trade on the go, multiple user Bit2Me reviews will tell you that the app in question is the perfect place to do so!
Large Crypto Variety
While there are quite a few high-end crypto exchanges available to be used, one of the bigger struggles that individuals face in this regard is the fact that many of these exchanges support very few cryptocurrencies.
Unless you want to use a decentralized exchange (which, admittedly, has its own pros and cons), you'll often need to look for a good while, and might struggle to find an exchange platform to suit all of your needs.
Yet again, though, if coin & token variety is something that you're looking for, multiple user Bit2Me reviews will point you in the direction of the exchange in question!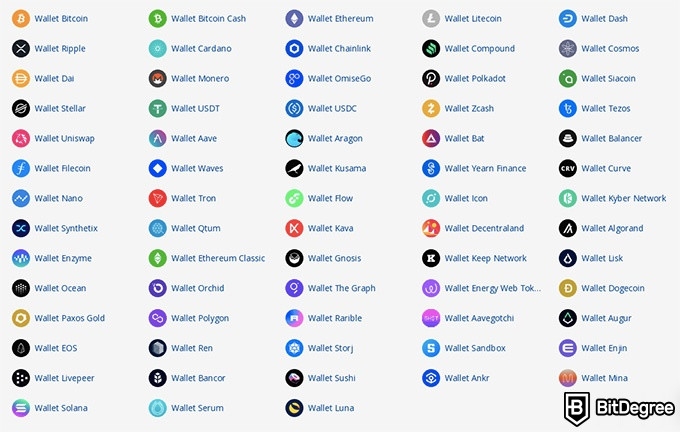 Bit2Me supports a huge variety of different crypto assets. These include everything from industry giants such as Bitcoin and Ethereum, all the way to tokens such as AAVE, SUSHI, and ZEC.
While you will be unlikely to find some very niche tokens, or completely brand new coins, the variety of assets available on Bit2Me shouldn't disappoint. It's definitely one of the core strengths of the exchange!
Latest Binance Coupon Found:
CLAIM $600 BONUS
Exclusive $600 Binance Offer
Don't miss this limited-time deal that's only available for our readers. Follow the Binance referral code link & receive up to $600 in rewards and bonuses!
Expiration date: 04/04/2023
7,847 People Used
Only 49 Left
Bit2Me Review: CONS
With all of the core positive features of the exchange platform discussed and out of the way, let's now take a look at some of the complaints that users have, and also the common negative sentiments expressed in user Bit2Me reviews.
Average Transaction Fees (in Some Countries)
Fees are often cited as one of the main features that you should be looking at, whenever choosing the best cryptocurrency exchange for yourself. This makes perfect sense, too - depending on the fees that the platform may employ, your potential profits could increase or suffer.
At the same time, fees are also one of the biggest points that different exchanges compete on, as well. If an exchange platform offers some amazing transaction fees to its users, it's naturally going to attract more investors to come and use its services.
Where does Bit2Me stand, in this regard?
Well, multiple user Bit2Me reviews note that the fees offered by the company aren't the lowest that you might come across. Specifically, if you were to purchase cryptocurrencies with fiat money, or trade them on Bit2Me, you would have to pay a fixed 0,95% fee. Fiat payment-wise, there are additional fees, as well (they're imposed by the payment facilitators).

Either way you look at it, 0,95% is actually a notable fee! Most of the top-rated exchanges are going to provide you with fees of around 0,1% - 0,25%. While this does, naturally, depend on a lot of different variables, the idea remains the same - the Bit2Me fees are some of the higher ones around.
If you were to send cryptocurrencies from your Bit2Me wallet, however, the only fees that you'd pay would be the miner ones. On top of that, receiving and transferring funds in between your own wallet are completely free.
Most user Bit2Me reviews would probably agree that, as far as fees are concerned, the exchange does have some space to improve. That said, though, you could argue that, even with the higher fees, Bit2Me provides its users with some top-level functionality, and exclusive features that will make your trading experiences *that* much more enjoyable.
Not Available in the US
Probably the biggest shortcoming discussed among multiple user Bit2Me reviews is one that isn't actually that simple to mitigate, either.
Bit2Me is supported in a rather large number of countries worldwide. Specifically, the exchange can be used across 5 different continents, with most of the supported countries being located in Europe (granted that it's a Spain-based cryptocurrency exchange, it likely makes sense).
With that being the case, though, there's some bad news for anyone residing in the United States of America - if you live in any one of the states, user Bit2Me reviews will tell you that you won't be able to use the exchange in question.
While there are some rumors floating online about Bit2Me not being available in Canada, either, that does not seem to be the case - the country is listed under the "supported countries" list on the company's official website. This, however, isn't the case with the US.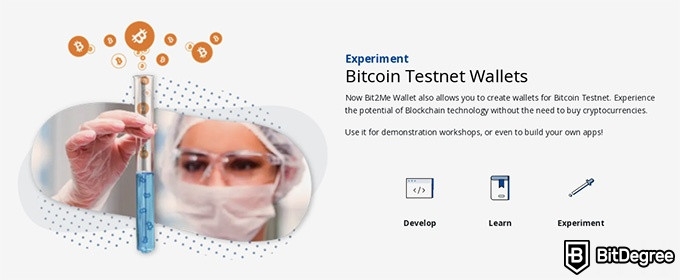 The reason for this is actually likely very simple, as well - within the US, there are some very strict and often confusing (and ever-changing!) rules and regulations surrounding cryptocurrencies, and their trading. These regulations are especially strict when it comes to foreign, off-shore exchanges - from the perspective of the US, that's exactly what Bit2Me is.
Admittedly, this is an issue that multiple industry-leading exchange platforms have been facing for years now, too. Granted that the crypto-related policies and regulations are constantly up for debate within the country, it get progressively more difficult to establish an exchange-based presence within the States, especially if you're not based in the country itself.
No matter how you'd look at it, the point remains the same - Bit2Me isn't going to be available to be used in the US. If you reside in the country, and would still like to find a top-tier cryptocurrency exchange or brokerage platform, you can check out our list of the best exchanges here.

Did you know?
How to Use Bit2Me?
Up to this point in the Bit2Me review, you should have already formed a pretty clear opinion on what is Bit2Me, and whether or not it's a good crypto exchange solution for you.
If you've decided that Bit2Me sounds like an awesome service for you to try out - great! To help you get started, we'll take a look at the registration process on the site, and discuss some of the intricacies surrounding the service.
How to Register on Bit2Me?
Taking it from the top, let's first look at the registration process of the exchange.
Step 1: Go to the Bit2Me official website.
Step 2: At the top-right corner of the screen, you'll see a "Sign Up" button. Press it.

Step 3: You'll be prompted to enter your email address, and create a password. Do so.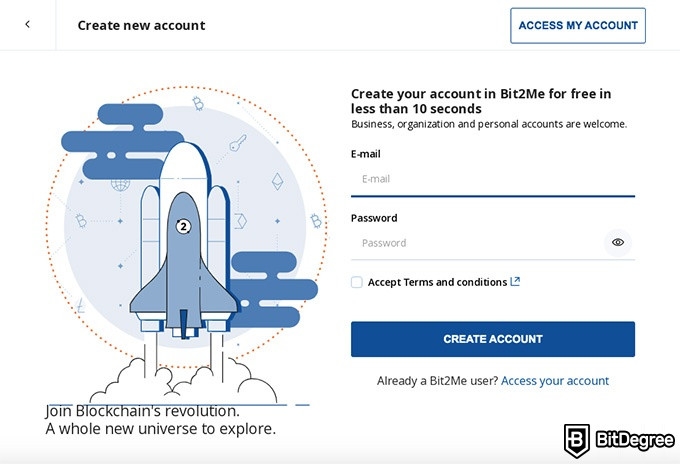 Step 4: Now, you'll need to go to your email inbox, and verify your email address. This is a standard step with any and all crypto exchanges that you find yourself registering on.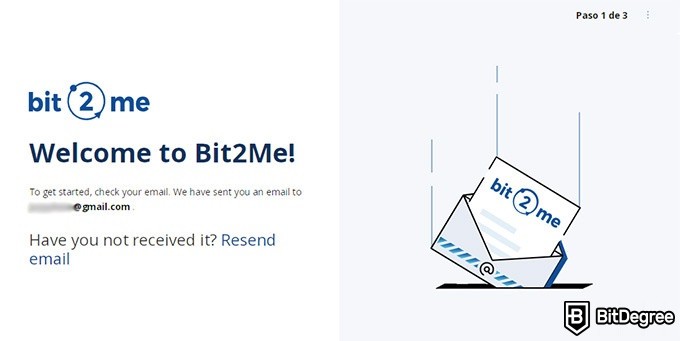 Step 5: Once you've verified your email address, you'll be directed to do the same with your phone number, and also your identity, as well. All of these processes can be skipped, for now - you won't really be able to do anything on the exchange, but will have the chance to explore the interfaces, and check things out, either way.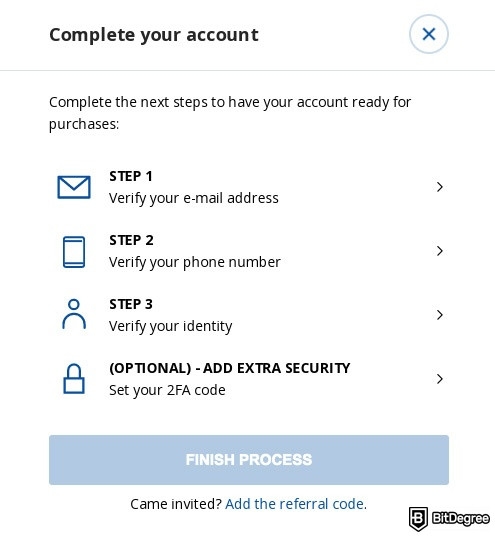 The registration is quick and simple, and you can actually choose to confirm and verify all of your information at a later time. Once again, note, though, that you won't be able to use any of the available features of Bit2Me until you do actually confirm your email and phone number, and pass the KYC verification process.
How to Fund Your Account / Purchase Crypto on Bit2Me?
Once you've completed your registration in full, you'll be ready to take the next step and acquire some cryptocurrencies. This is actually a two-step process - first, you'll need to fund your account with fiat money.
Since this entire procedure involves a lot of variables, we won't resort to a step-by-step guide. Instead, I'll tell you about some of the more-overarching processes, in a general sense.
No matter if you were to follow this Bit2Me review, or do everything yourself, the very first thing that you'll need to do is fund your account. As discussed earlier on in the review, you are able to do so via a credit or debit card - while this is a bit of a costly way to go about it, it's quick and easy. Alternatively, you could add funds to your Bit2Me app via a bank transfer.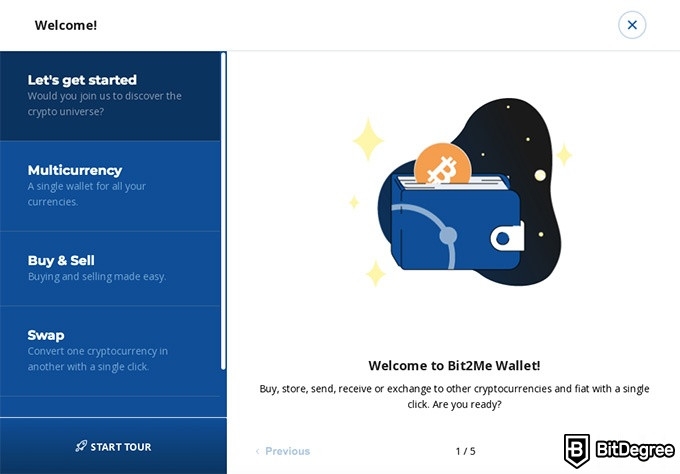 Once your money transfer has been confirmed, the funds will appear in your fiat wallet. Now, you can navigate to the "Buy" section of the website, and choose the cryptocurrency that you'd like to acquire.
Once you've chosen your crypto, and have entered all of the required amounts into the exchange, you will need to pick the payment method. Naturally, since you've funded your account already, you can pay with fiat money.
The final thing that you'll need to do before you can actually acquire some crypto coins is choose a wallet where they will be transferred. You can either enter a wallet address of a product that you already own (i.e. the Ledger Nano X, or the Trezor Model T), or transfer the coins to a dedicated, multicurrency Bit2Me wallet.
After all of that is said and done, that's it - you're now a proud owner of some crypto coins!

Pros
A very well-known crypto exchange platform
More than 500 different cryptos available
Two-factor authentication
Main Features
Over than 100 different cryptocurrencies available
Strong security
Small withdrawal fees

Pros
Very low trading fees
Exceptional functionality
Mobile trading app
Main Features
Very competitive trading fees
An intuitive mobile app
Up to 100x leverage available
Advanced trading feature

Pros
Fiat currencies - accepted
Simple to use
Accepts only the most trustworthy cryptocurrencies
Main Features
A leading cryptocurrency exchange platform
Best for beginner investors
Accepts fiat currencies
Highly-regulated and secure
Conclusions
The final question of this Bit2Me review is probably pretty self-evident - considering all of the pros and cons of the exchange in question, is Bit2Me worth using?
I'd say - definitely!
Bit2Me is a veteran cryptocurrency exchange platform that provides its users with a huge variety of different features. These include everything from top-tier security, all the way to customer support and large coin & token variety.
On top of that, Bit2Me isn't only an exchange, either. The company has a debit card that you could use (and that's supported by around 10,000 different ATMs all across Europe), a separate multicurrency wallet, a fully-functional app, a business account option, and much more.
The Bit2Me Academy is also an awesome place where you can find different educational resources about crypto, and study the topic in-depth!
Even though the Bit2Me fees are on the higher end of the spectrum, the exchange does offer a lot as a sort of trade - you pay higher fees, but have access to a large variety of features and services. If you don't plan to be an active day trader, the fees might not even be a huge issue, in the first place!
All in all, if you're thinking about trying the exchange in question out, you should definitely consider it! Note, however, that it won't be available for US-based individuals - instead, these crypto enthusiasts should take a look at some of the industry-leading options.
The content published on this website is not aimed to give any kind of financial, investment, trading, or any other form of advice. BitDegree.org does not endorse or suggest you to buy, sell or hold any kind of cryptocurrency. Before making financial investment decisions, do consult your financial advisor.
Leave your honest Bit2Me review
Leave your genuine opinion & help thousands of people to choose the best crypto exchange. All reviews, either positive or negative, are accepted as long as they're honest. We do not publish biased reviews or spam. So if you want to share your experience, opinion or give advice - the scene is yours!