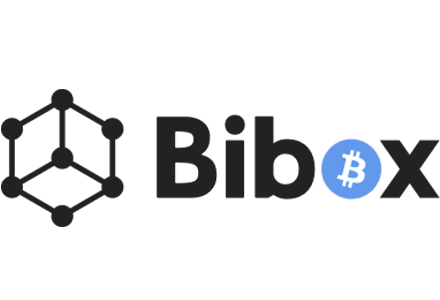 Finding a reliable cryptocurrency exchange might seem before you start researching different providers. It's crucial to pay attention to security features, trading fees, supported cryptocurrencies, usability, and even more aspects when choosing a reliable crypto exchange. All the previously mentioned and many more features will be included in this Bibox exchange review.
Bibox is a unique crypto exchange platform that might provide you with all the features that you need in a crypto exchange. This review will include both positive and negative aspects of Bibox, including information about the company, the main features, trading fees, usability, supported cryptocurrencies, customer reviews, and even more.
After reading this review, you should be able to decide whether Bibox exchange is suitable for your needs, or if you should instead go with exchanges such as Binance, Kraken, or KuCoin. Since every aspect will include an in-depth explanation, you'll be able to decide what's important personally for you.
Without further ado, let's start this Bibox exchange review with an introduction to the company.
Pros
Low trading fees
Decentralized exchange
Easy to use
Cons
Doesn't support fiat currencies
Multiple negative reviews online
Bibox Exchange Review: About the Company
Bibox is a Singapore-based cryptocurrency exchange that was founded in 2017. The company was formed by Chinese blockchain giants and has a very experienced team that includes bitcoin enthusiasts, established entrepreneurs, adopters of blockchain, professional traders, investors, and even more experts in the field.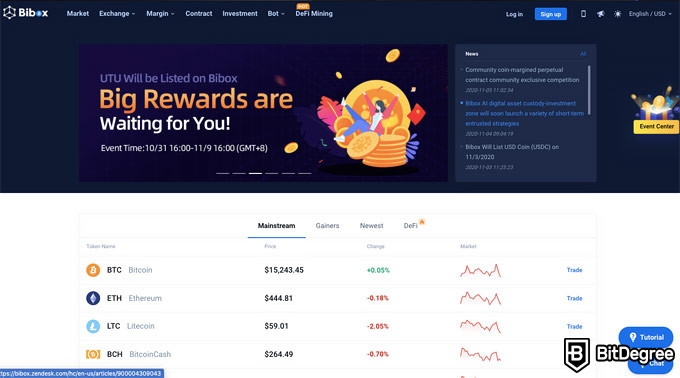 As I mentioned at the beginning of this Bibox exchange review, this platform is different from others. However, what makes it so unique?
Bibox is the first AI-enhanced crypto exchange platform. Since2017, it has been widely praised among blockchain experts and experienced traders. Currently, the average trading volume is $200 million daily. The company provides services in Europe, America and Asia, and is well-known among crypto enthusiasts.
The basic information about the company should be clear by now. That said, it's time to move further into this Bibox exchange review and discuss the pros and cons.
Latest Binance Coupon Found:
CLAIM $600 BONUS
Exclusive $600 Binance Offer
Don't miss this limited-time deal that's only available for our readers. Follow the Binance referral code link & receive up to $600 in rewards and bonuses!
Expiration date: 25/03/2023
7,847 People Used
Only 49 Left
Bibox Exchange Review: PROS
It's widely accepted to begin reviews from the positive aspects. I won't change the order and start this Bibox exchange review with the pros.
You'll see that Bibox offers a variety of attractive features, so do keep each of them in mind when making a decision on whether or not to try using this platform.
Low Trading Fees
It's evident that one of the most important factors that should be considered when choosing the best crypto exchange platform is trading fees.
That's pretty obvious why. If you want to increase your profit, you have to decrease your expenses. The easiest way to do that instantly is to choose a platform that offers low trading fees.
Now, compared to other top-tier crypto trading platforms, Bibox fees are definitely among the lowest ones - the trading fee for takers is 0.20%, and the fee for makers is 0.075%. You might find that some other platforms offer about 0.25% - 0.15% fees, so Bibox fees are even lower than the industry's standard.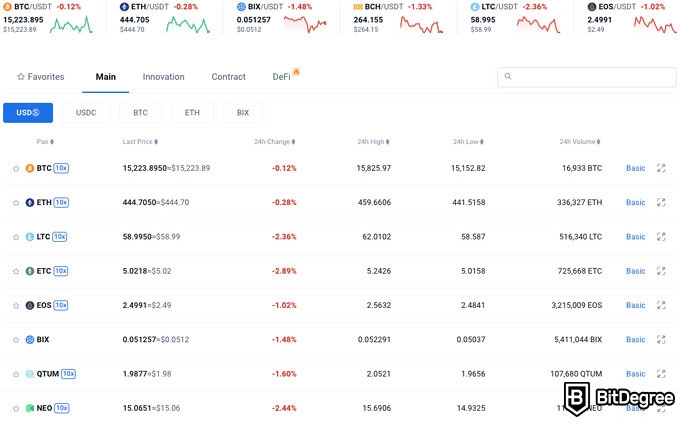 If you're a beginner and are still trying to figure out how trading works, you may not completely understand what's the difference between the maker and the taker. Let me explain.
Makers are the ones who make an order that's going to be filled by someone else. The taker is the one that places the order to immediately buy cryptocurrencies at a specific price. In most cases, makers pay lower fees than takers.
When it comes to deposit fees, there are none, however, Bibox charges 1% for withdrawals. You can withdraw a minimum amount of $15. If you want to find out more about Bibox fees, check out the information on Bibox website.
Decentralized Exchange
If you're not yet aware, Bibox is a decentralized exchange. Even though there aren't that many decentralized exchanges in the market, it seems that they're becoming more and more popular.
The reason why decentralized exchanges are so attractive is that they allow users to place others and trade cryptocurrencies without any controlling institutions. Trades are happening among users directly. It's also called "P2P trading".
In most cases, decentralized exchanges do not ask you to provide your personal information. This means that the registration process will be very quick and smooth, and you'll be able to start trading in no time.

That said, decentralized exchanges, such as Bibox, provide you with freedom. However, one of the downsides of such platforms is that they often provide lower liquidity compared to centralized crypto exchanges. This means that prices for assets are less stable.
Also, there are some issues that people distinguish when talking about decentralized crypto exchanges, however, I'll discuss them more further in this Bibox exchange review.
Easy to Use
Even though fees and security measures are more important than usability, this aspect is more important than you think. If you're into daily trading, it's crucial to choose a platform that would allow you to buy and sell cryptocurrencies effortlessly.
Now, Bibox has a very clear interface that's super convenient even for beginners. You will receive all the information that's needed to make certain predictions, including the current value, lowest price per day, fluctuations in the trade, the highest price for 24 hours, and even more. Needless to say, all the needed information is presented in front of your eyes.
What is more, just like many other top-tier crypto exchanges, Bibox has a mobile app. The app is available for IOS and Android devices and can be downloaded on the App Store and Google Play.

Bibox app is evaluated 4.2 out of 5. People claim that it's very user-friendly and glitch-free. The app provides you with helpful customer support that will be there for you 24/7. What is more, it includes real-time quotes and functional charts as well as different trading options.
Thus, even beginners should find the Bibox platform easy to use. Also, since it has a mobile app, you'll be able to manage your account, buy and sell cryptocurrencies from the palm of your hand.
Very Secure
Trading fees, usability, supported cryptocurrencies - none of these aspects are important if there's no security. Don't worry, though, it seems that Bibox provides very good security measures.
To make sure that your personal information is secure, Bibox implements the most reliable security protocols, including SSL encryption technology, multi-factor authentication and Google 2-Step Verification.
What is more, Bibox says that the majority of users' funds are stored offline, however, you can never be sure.

If you want to ensure your security and keep your assets away from prying eyes, it's recommended to keep the majority (if not all) of your cryptocurrencies in secure wallets. The most reliable ones are cold wallets because your private keys are kept offline. Such options include Ledger (Nano S and Nano X) and Trezor (One and Model T).

Did you know?
Bibox Exchange Review: CONS
Since we already discussed all the positive aspects of this Bibox exchange review, let's jump to the less pleasant part and discuss the flaws of this cryptocurrency exchange platform. At the same time, I can already tell you - if you're looking for reliability, then Binance, Kraken, and KuCoin are the way to go.
Doesn't Support Fiat Currencies
One of the biggest issues associated with Bibox is that the platform doesn't support fiat currencies. This means that you will first need to purchase cryptocurrencies on any other platform and then transfer your coins to Bibox.
Since it might be quite confusing if you haven't done that before, you'll find a step-by-step guide on how to make a deposit at the end of this Bibox review. It will make everything super clear.
Now, even though Bibox doesn't support fiat currencies, you get to choose from quite a huge amount of cryptocurrencies - 50+ cryptocurrencies to trade against Ethereum or Bitcoin. The supported cryptocurrencies include but are not limited to:
That said, after purchasing cryptocurrencies, you won't have to worry about the supported coins as there's quite a good list of available options.
Negative Reviews Online
When performing research for this Bibox review, I've managed to find a huge number of negative reviews. Even though I haven't experienced any issues when using this platform, it's always crucial to pay attention to what other customers have to say.
I was surprised by the number of negative reviews that I was able to find online. People claim that once you create your account, you can no longer delete it. What is more, they believe that the company provides fake volume and even hidden fees.
While it's difficult to believe that what people are saying is true, it's better to be safe than sorry.
Decentralized = Not Controlled
As I mentioned previously in this Bibox exchange review, it's a decentralized platform, meaning that it operates without a central authority. While that seems like a good thing because all the trades are happening directly between users, and your personal information is not stored on the platform, there's also a negative side of all this.
Since the platform is operated without a central authority, it means that it's not controlled. This means that if the platform is hacked, there's no way you will get your cryptocurrencies back.
How to Use Bibox Cryptocurrency Exchange?
Now that the most important points about Bibox exchange are clear, you're probably ready to check this platform out and see how it works.
To make this process as smooth as possible I would like to provide you with a step-by-step guide on how to create your account and make a deposit on Bibox.
Let's begin.
How to Create an Account on Bibox?
If you're ready to create your account on Bibox, follow these easy steps:
Step 1. Go to the Bibox homepage and click "Sign Up".
Step 2. Provide your email and password as well as a referral code (if you have it).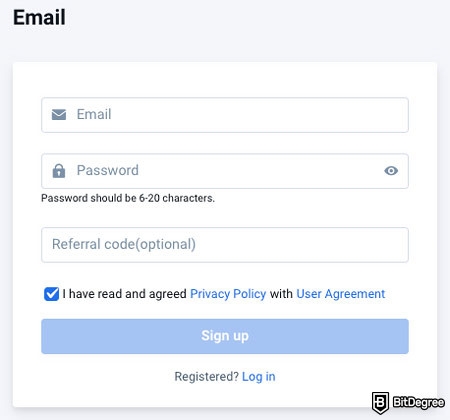 Step 3. Now you will need to provide 6 digits code. Click "Receive SMS" to get a code.
Step 4. Fill in the code, and your account is created.
Only 4 easy steps and your account is created. The process is so quick and easy because Bibox doesn't require you to provide additional information to verify your identity.
Just as mentioned previously in this review, the Bibox registration process is so simple because it's a decentralized crypto exchange.
How to Make a Deposit on Bibox?
If you already have an account, it's time to make a deposit. Below you'll find an easy, step-by-step guide on how to do that.
Step 1. Click on "Funds" at the top right corner of your page.

Step 2. Click "Deposit", which you'll find at the top of your page.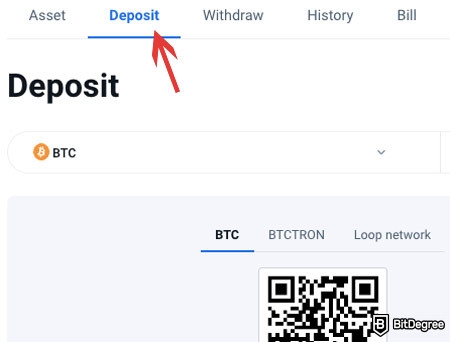 Step 3. Select the currency that you want to deposit.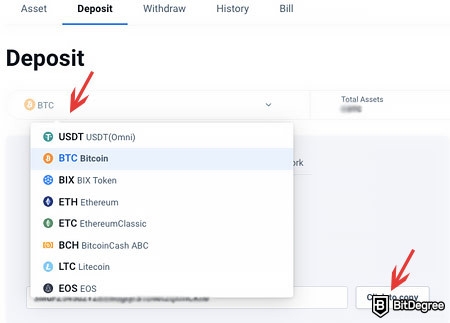 Step 4. After selecting the asset, click "Click to copy" and you'll have your deposit address.
Step 5. Go to the trading platform or wallet where you store your assets and will be transferring cryptocurrencies from. Find "withdraw" or "transfer" and paste your deposit address there.
If you prefer to choose another way, you can simply scan the QR code and transfer your assets.
Since Bibox doesn't support fiat currencies, you cannot simply purchase BTC, ETH, or any other cryptocurrency on the platform using your credit card. If you're looking for the easiest way to purchase cryptocurrencies, you should try Binance. It's a digital currency exchange that allows you to purchase the most popular coins in the easiest possible way.
However, what's important to remember is that you should never keep your assets on the platform. Instead, choose reliable wallets that will protect you from thieves. Such wallets include Ledger and Trezor. They're both hardware wallets.

Pros
A very well-known crypto exchange platform
More than 500 different cryptos available
Two-factor authentication
Main Features
Over than 100 different cryptocurrencies available
Strong security
Small withdrawal fees

Pros
Fiat currencies - accepted
Simple to use
Accepts only the most trustworthy cryptocurrencies
Main Features
A leading cryptocurrency exchange platform
Best for beginner investors
Accepts fiat currencies
Highly-regulated and secure

Pros
Secure and reliable
Low fees
A good amount of fiat currencies accepted
Main Features
Reputable exchange
Multiple fiat currencies are accepted
Relatively low trading fees
Conclusions
Therefore, Bibox is a Singapore-based decentralized cryptocurrency exchange that offers low trading fees, good security measurements and an easy-to-use platform.
While Bibox seems to be an attractive crypto exchange platform, it also has some significant flaws - doesn't support fiat currencies, is not controlled and you can find multiple negative reviews about this platform online.
If you decide to use this platform, you should remember that it's crucial to keep your cryptocurrencies safe at all times. That's why I would recommend choosing a reliable hardware wallet, such as Ledger and Trezor. They're also called cold wallets because your private keys are kept offline.
Hopefully, this Bibox review answered all of your questions and you're ready to become a part of the crypto world. Note that you can always check out exchanges that do support fiat currencies, and have a better reputation, in general!
The content published on this website is not aimed to give any kind of financial, investment, trading, or any other form of advice. BitDegree.org does not endorse or suggest you to buy, sell or hold any kind of cryptocurrency. Before making financial investment decisions, do consult your financial advisor.
Leave your honest Bibox review
Leave your genuine opinion & help thousands of people to choose the best crypto exchange. All reviews, either positive or negative, are accepted as long as they're honest. We do not publish biased reviews or spam. So if you want to share your experience, opinion or give advice - the scene is yours!