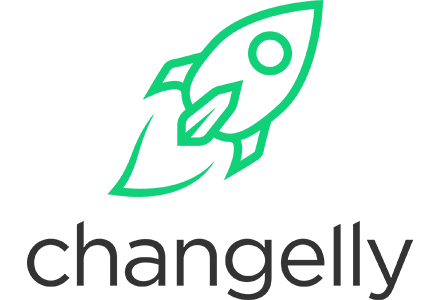 Imagine that you're holding ten different cryptocurrencies in ten different, designated wallets. That's a very inconvenient situation to be in - it takes a lot of time and typing to access all of them when you want to!
Naturally, the best thing to do in this type of situation would be to exchange them into one, specific currency like Bitcoin, right? Well, to do that, you'll need to use a cryptocurrency trading platform. But how to choose the right one? Well, you're in luck, because today in this Changelly review, we'll be taking a look at one of such platforms.
A crypto trading platform has to be secure and smooth for it to work and attract users. Changelly has been a growing platform for some time now, that's why we'll take a look is Changelly legit, is it safe, we'll cover Changelly fees and - ultimately - talk how to use Changelly in your crypto trading ventures.
Pros
Flat cryptocurrency exchange fee of 0,5%
No history of security breaches
Offers widgets and API
24/7 live customer support
Cons
Can be slow
Quite high fees when changing fiat currencies
What is Changelly?
If you're reading this guide, chances are that you're already familiar with cryptocurrencies and how they generally work. Keeping that in mind, you probably know that when you want to quickly exchange one cryptocurrency for another (i.e. Bitcoin to Ethereum, XRP to Dogecoin, etc.), you have to rely on what is called a cryptocurrency exchange platform.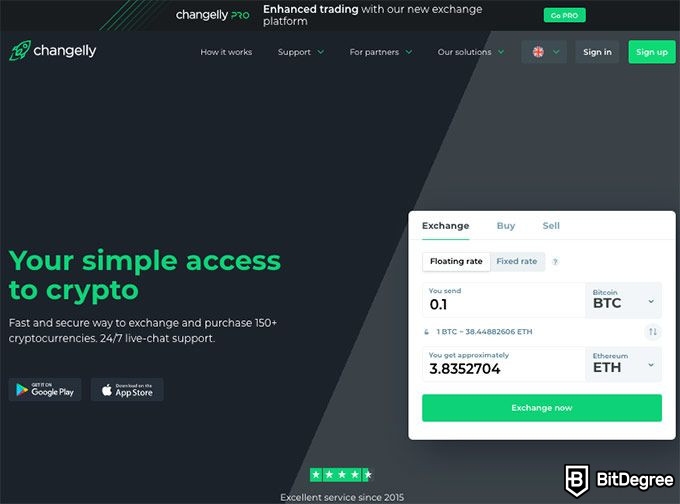 In most cases, these platforms belong to huge companies that specialize in hosting crypto exchange services for certain fees. In return, they offer security, anonymity and so on.
You can be sure that your exchange will be smooth and anonymous while the company gets a certain amount of tax as revenue - simple and effective, right?
Well, as cryptocurrencies grow in popularity through ought the years, so does the demand for good and reputable crypto trading platforms. The more of these platforms emerge, the bigger becomes the competition for the audience's attention - the more they have to adapt to the changing market climate. Some platforms succeed at accomplishing this, others fail and perish away as fast as they came to be.
This Changelly review, however, isn't titled that without reason. Changelly already managed to garner quite some attention around it. It almost seems that the vast majority of the cryptocurrency communities already know this platform.
By being one of the leading swap platforms that people use naturally, it has a lot of eyes directed to it. People are wondering "is Changelly safe? Is Changelly legit?" and are looking at Changelly reviews to help them make up their minds.
A TL;DR would be that Changelly is a very popular cryptocurrency exchange platform. Some Changelly reviews go as far as to claim that it is the most popular crypto exchange platform in the world. It is a non-custodial exchange - this means that it holds no liquidity and does not require any deposits. This makes Changelly one of the most secure choices you can make when trading.
Changelly was founded back in 2013. However, it should be noted that back then it was only a prototype. It was created by a team of a well-known mining pool - MinerGate. At this point, though, Changelly and MinerGate are two separate entities.
The company started to gain traction in 2016 - this is when it was fully established as an independent cryptocurrency exchange platform. Ever since then, it has garnered more than 2 million users and is currently holding a spotless track record when it comes to bugs, frauds or hackings.
Latest Binance Coupon Found:
SECURE $600 BONUS
Binance Christmas Sale
Sign up on Binance and claim up to $600 worth of rewards for completing simple tasks during this Binance Christmas sale. Use our Binance referral code (49316610) to activate the offer while it's still valid!
Expiration date : 12/12/2023
2,935 People Used
Only 67 Left
How Does it Work?
The way that Changelly works are pretty simple. On their official web page changelly.com, the company even has this picture to illustrate it:

When you want to exchange a certain amount of crypto coins into another currency, Changelly deals with this process for you at a reasonable fee. They do emphasize this quite often - one of the main features that the company offers is a low transaction fee. But more on that later.
Now that you know about the history of Changelly and the company behind it, let's take a look at the features that this exchange platform is famous for.

Did you know?
Changelly Features
Every single online review, forum or group that talks about Changelly always emphasizes the platform's features as the leading reason for its success. Let's take a look at these features.
No Personal Info
One of the main features that Changelly is famous for is that it requires no personal information from you when you want to exchange your altcoins. The only thing that is required from you is your email.
Now you might think - why in the world would they need my email?
Well, Changelly uses a 2-factor authentication to secure your account and transactions. This helps the platform to maintain the highest level of security. Furthermore, they require an email to keep your transaction data in check, so that you could recover your account even if you were to forget the password.
Latest Deal Active Right Now:
$300 + 40 DOGE BONUS
Huobi Black Friday Limited-Time Period
Huobi Black Friday & Cyber Monday 2023 period offers great bonus for new users - sign up & earn up to $300 + 40 DOGE bonus!
Expiration date : 12/12/2023
3,817 People Used
Only 31 Left
Flat Fee
Somewhat of a controversial topic, Changelly fees have been discussed as one of the main attractors when it comes to why people should choose this company as a trading platform.
On their official site, Changelly emphasizes that they offer a flat fee of 0,5% per trade. This means that whenever you trade between cryptocurrencies, the company charges you 0,5% from the amount traded. The controversy here is that the same does not apply for fiat currency trading.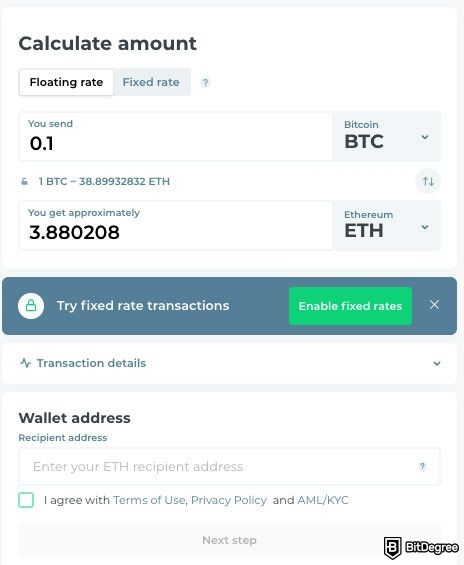 The rates vary, but a lot of people are disappointed with the company's lack of transparency and inconsistent fiat fees. The fees themselves depend on the currency in question, but all of them are quite significant when compared with the crypto trading fees.
This situation has made it so that there are a lot of mixed Changelly reviews online. However, most of the 1-star (negative) reviews are based upon this fiat trading fee situation.
Changelly Safety
One of the most common questions that people ask when it comes to Changelly is "is Changelly safe?" or "is Changelly legit?". And rightfully so - we are talking about a cryptocurrency trading platform. A lot of money (in both fiat and cryptocurrencies) is circulating in this and similar platforms - safety should be the number one priority.
There are very little to none claims for Changelly being a scam or fraud. A lot of other Changelly reviews emphasize this, too. For the most part, people seem to be happy with the services that the company provides. One user online even proclaimed that he accidentally sent a huge amount of money to the platform and that the staff members were very helpful in returning his funds as soon as possible.

As of writing this Changelly review, there are no registered break-ins, scams, hacks or other malfunctions within Changelly. The company is pretty transparent with what they do, and there have been no major issues regarding safety in general.
How to Use Changelly?
So, we have covered the company behind Changelly, the platform's features and fees and answered the biggest question - is Changelly legit? At this point, you should have already gotten at least some sort of a feeling towards this crypto exchange platform. If this feeling is positive and you're thinking about trying the platform out, you'll need to know how to use Changelly.
The very first thing you should do is choose the crypto coins that you want to trade-in. Changelly offers its customers over 100 different altcoins to choose from when it comes to trading - your options are quite wide. Depending on your preferences and reasoning for trading, though, you might find that there aren't that many niche coins that Changelly would offer.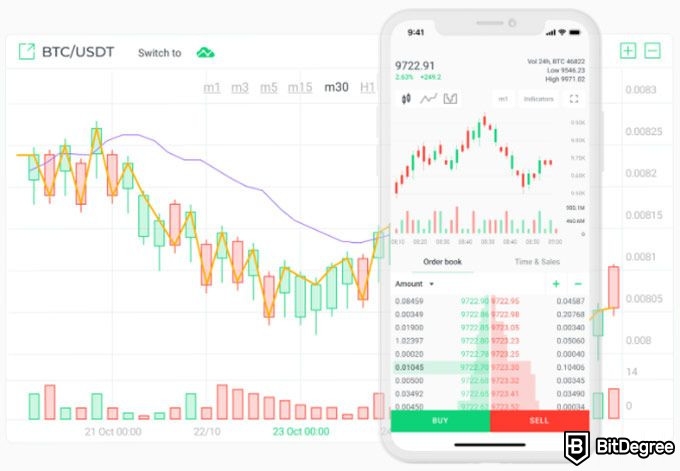 After you're all decided on the coins that you want to trade, lookup the transaction rates. On their official webpage, Changelly themselves state that their transaction rates are usually much faster than 30 minutes. BTC is the one exception, however - transactions that involve this crypto coin can take 30 or more minutes.
However, Changelly does promise the best trading rates at any given time for any given cryptocurrency. Just to be sure, it would probably be a smart decision to double-check the currency rates at other crypto exchange platforms.
Once you're sure that Changelly does offer the best exchange rates for the cryptocurrencies of your choice, now it's time to "register". Registering to the site is super fast and simple - as I've mentioned earlier, all that you need to start trading is an email address. This will guarantee maximum security for the processes of trading, buying and selling crypto (and fiat) currencies within the platform.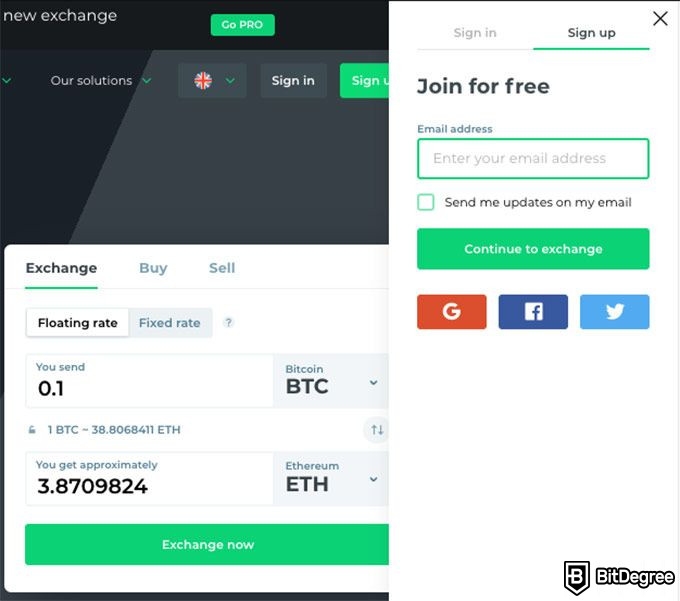 Once that's done, all that's left to do is to confirm the payment and wait to receive your altcoins. The process shouldn't take much longer than 30 minutes or so on a normal day - however, if the platform is experiencing heavy traffic, don't worry if it does take a bit longer to receive your coins.
Pros and Cons
Now that you know how to use Changelly, I think it's a good time to do a small summary of what we have already discussed in this Changelly review. I'll list the pros and cons that Changelly has - this way, it'll be easier for you to make up your mind whether or not you truly want to use it.
Changelly Pros
Changelly Cons

Starting active operations in 2016, it's already quite well-known and reputable;
Offers a flat cryptocurrency exchange fee of 0,5%;
All you need to start trading is an email;
Has no history of security breaches - a safe platform;
Changelly offers its widgets and API to a lot of different services, which means that you might be able to use its exchange services straight from your wallet;
A recently launched mobile app.
24/7 Live support with real people.

High fees when trading with fiat currencies;
Very rarely the service can be somewhat slow. This is due to the nature of blockchain and as more people are using it at once it slows down for everyone.

Pros
A very well-known crypto exchange platform
More than 500 different cryptos available
Two-factor authentication
Main Features
Over than 100 different cryptocurrencies available
Strong security
Small withdrawal fees

Pros
Secure and reliable
Low fees
A good amount of fiat currencies accepted
Main Features
Reputable exchange
Multiple fiat currencies are accepted
Relatively low trading fees

Pros
Anonymous trading
Secure
Supports a variety of cryptocurrencies
Main Features
Easy to use
Low fees
Good security
Changelly Review: Conclusions
Whatever your reason for trading cryptocurrencies is, it is important to find a trustworthy and safe crypto exchange platform to do all of your tradings in - only then can you be sure that your coins and currencies are not only going to be safe but also travel fast and secure from you to any other person in the world (and vice-versa).
From the very beginning of the company, Changelly aimed to be such a crypto exchange platform. The owners are constantly working to not only bring in new altcoins for people to trade in (even though the already existing 100 coins is a big number) but to also provide the platform's users with the best customer experience in both the exchange and security departments, respectively.
The only major issue that the company has to deal with is their fiat currency exchange pricing. It has truly become a black cloud over their heads - most of the negative reviews that you'd find online concerning Changelly are (in one way or another) related to this one topic.
The main problem appears to be that the people seem to feel misinformed - the flat 0,5% trading fee that Changelly offers to their customers when it comes to cryptocurrency trading doesn't reveal the much higher fees for fiat currency trading. In many people's heads, this topic alone begs the questions "is Changelly safe? What are the Changelly fees?".
If you want to avoid these issues, check out more recommended crypto exchange platforms, such as KuCoin, Binance and Kraken.
Other than that, I think it is obvious by taking a look at other Changelly reviews online that they are quite favorable towards Changelly. This Changelly review is no different - the crypto exchange platform does seem to be legit and worthy of one's time.
I hope this Changelly review was helpful for you and that you now have a better understanding of Changelly and everything around it. If you do decide on trying the platform out, I wish you the best of luck in your crypto trading ventures to come!
The content published on this website is not aimed to give any kind of financial, investment, trading, or any other form of advice. BitDegree.org does not endorse or suggest you to buy, sell or hold any kind of cryptocurrency. Before making financial investment decisions, do consult your financial advisor.
About Article's Experts & Analysts