With the cryptocurrency market being as thriving as never before, more and more people are looking for the best possible ways of how to keep up with the market trends "on the go". Hence, today, we'll be checking out the top 6 best crypto apps, and why you should consider using them!
Namely, the 6 apps that we'll be talking about are going to be crypto exchange applications. If you saw our article on the best cryptocurrency exchanges, most of these names are likely to be familiar to you! Being the "best exchange" doesn't necessarily mean having the best app, though - that's why the lists might differ.
Finally, once we get the best mobile crypto exchange apps out of the way, I'll also tell you about a few other useful applications that you could use to explore the crypto world. The exchange apps that we'll be talking about are:
Best Crypto App: The Importance of Being Able to Access Your Assets "On the Go"
Before we go ahead and jump into the list of the best crypto apps out there, let us first discuss the importance of finding such apps, and utilizing them to their full extent, especially nowadays.
So - it's probably no secret to you that, with time, the whole entire world is slowly turning towards a more mobile-oriented usage of the internet. No matter what it is that you need to do - trade cryptocurrencies or read the news -, chances are that you're going to do it on your phone, more often than on your computer.
Phones are easily-accessible, you can scroll and switch between tabs much faster, and they allow you to do whatever it is that you need to do on the go. This final point is probably the most important one, as far as the best cryptocurrency exchange apps are concerned.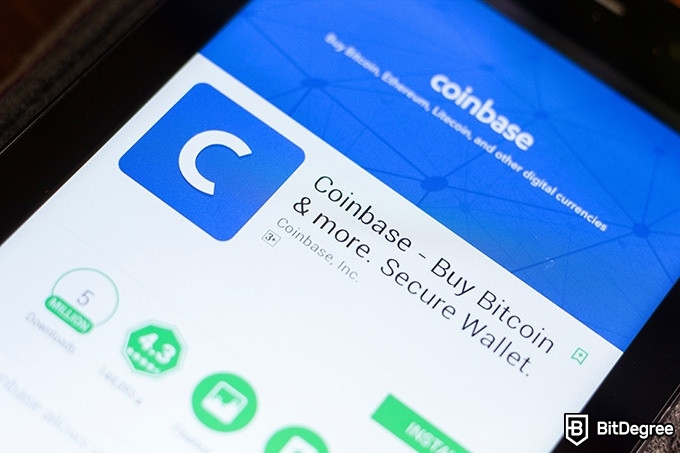 You see, if you've spent some time in the crypto world, I probably don't need to tell you just how unpredictable it can be. Price swings of 20-30% are very common, and don't even make traders bat an eye. Naturally, as you can probably imagine, these swings don't take up long periods of time, either - they tend to happen over days, if not hours!
If you're a long-term crypto hodler, then this might not be an issue for you. However, if you're an active trader, it certainly will - you can probably see where I'm going with this, right?
In short, if you want to keep up with the market, and be able to react to the aforementioned price swings accordingly, you're are surely going to want to utilize the services of the best crypto apps out there.
No matter if you're in a meeting, on a plane, out for a walk, or even taking a bath - if you use one of the best mobile cryptocurrency exchange apps, you can be sure that, whenever something happens on the market, you won't need to put yourself in a situation where you'd need access to your PC or laptop - a mobile device will do just fine.
On top of the speed parameter, there is also the aspect of convenience, too.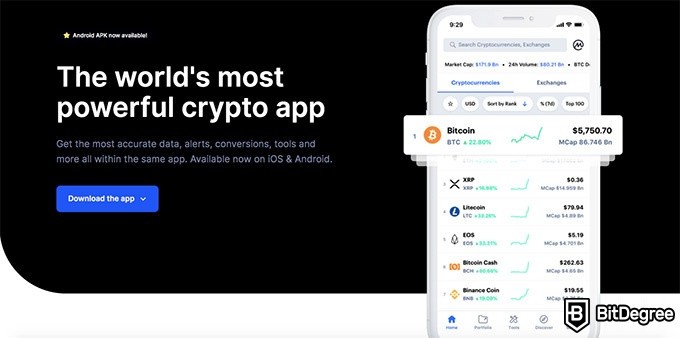 You see, finding and using the best app to buy cryptocurrency is simply super-convenient. All of your actions can be done in a matter of a few clicks - no matter if you want to buy, sell, trade, or do anything else. Since every minute is crucial when trading cryptos, this is a very welcome aspect.
So, in short, it's safe to say that, when it comes to this year and beyond, crypto apps should be on your radar. With that out of the way, however, let's not waste any time and move on to the actual top 6 of the best crypto apps on the current market.
Ranks #1 out of 6 Crypto Exchanges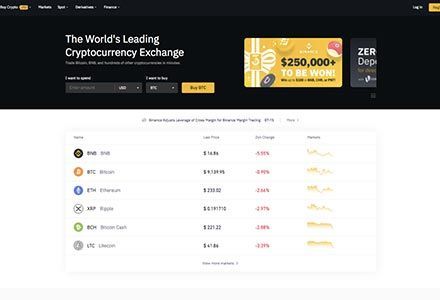 Things we liked:
+ A very well-known crypto exchange platform
+ More than 500 different cryptos available
+ Two-factor authentication
+ P2P trading option
+ Emphasis on security and KYC
+ Supports fiat-crypto acquisitions
Things we didn't like:
- Might be a bit difficult for beginners
CLAIM $600 BONUS
Exclusive $600 Binance Offer
Don't miss this limited-time deal that's only available for our readers. Follow the Binance referral code link & receive up to $600 in rewards and bonuses!
Expiration date: 04/06/2023
7847 People Used
Only 49 Left
Binance is, undeniably, one of the biggest names in the crypto trading world. No matter if you're looking for the best mobile crypto exchange app or the best cryptocurrency exchange platform, in general - Binance is bound to pop up in every single list that you glance at.
So, what makes the crypto exchange - and the app behind it - so attractive?
Well, as far as the exchange itself is concerned, Binance has made a name for itself by providing its user with the ability to purchase and trade (exchange) a huge variety of different crypto coins, via multiple different crypto trading pairs. The number of trading pairs that this platform offers is truly unparalleled.
When it comes to the actual app, you don't lose any of those options - you will be able to trade and exchange any and all cryptos that Binance has to offer on mobile, free of worry.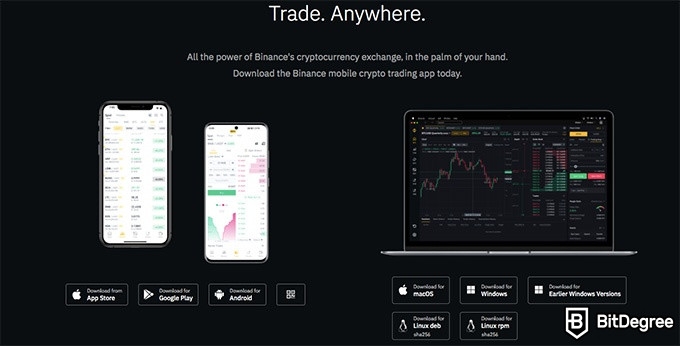 That said, the app itself is designed in accordance with Binance's point of view on its traders. You see, Binance is known in the industry for not exactly being the simplest platform to use - it comes with a lot of different features and widgets, and sometimes even appears to assume that you're an expert trader.
While the application offers a bit of a simplified version of the exchange, you can still expect a wide range of features, especially when it comes to the actual trading process itself.
So - if you want top-tier functionality, advanced features, and uncontested reliability, Binance is the way to go! If you're interested, you'll find the platform here.
Ranks #2 out of 6 Crypto Exchanges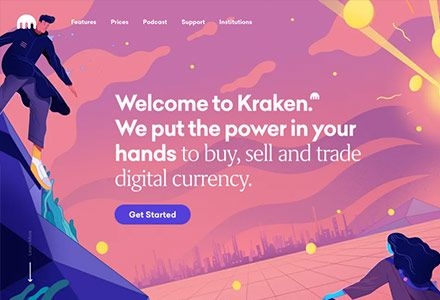 Things we liked:
+ Secure and reliable
+ Low fees
+ A good amount of fiat currencies accepted
Things we didn't like:
- Not the most helpful customer service
Fees As Low As 0%
Get 0% Fees By Trading With Kraken
Join Kraken today & start trading with fees as low as 0%! Save money with one of the top-rated crypto exchanges on the market.
Expiration date: 04/06/2023
2938 People Used
Only 47 Left
Kraken is a name that tends to commonly pop up on the cryptocurrency circles and top-exchange lists around the world. If you've even bought or traded any cryptos, you've probably heard about this particular platform, too.
So, what makes Kraken special?
Well, for starters, anyone who's looking for the best crypto app of the year will be happy to learn that Kraken's crypto trading application is among the simplest-to-use. The platform is streamlined in a fashion that would suit complete newcomers to the industry - there is no confusing jargon or export-oriented features in plain sight.
However, don't misunderstand - there are many expert traders who prefer Kraken, and use it daily for all of their trading and exchanging needs. You can still use all of the main, core features that you'd need - they're just not on the literal front page of the app, so as to not scare newcomers away.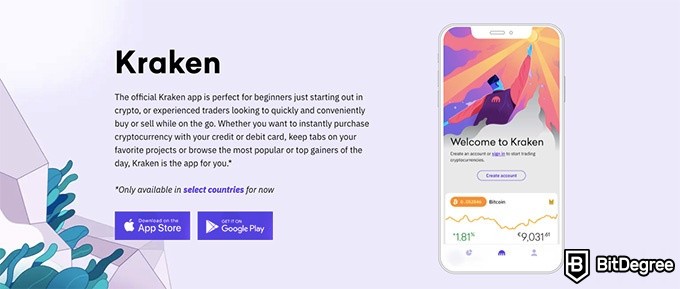 Kraken is also known for its top-of-the-line security features, too. The exchange is often referenced when talking about the safest and most reliable cryptocurrency trading platforms on the market. While this does not directly relate to the app functionality of the platform, security is surely one of the core features that you should be looking for in the best cryptocurrency exchange app.
And security is what Kraken has got - no problem.
If you're interested in trying Kraken out, make sure to check out their website, and download the latest version of their app for either the Android or iOS operating systems.
Ranks #3 out of 6 Crypto Exchanges
Things we liked:
+ Fiat currencies - accepted
+ Simple to use
+ Accepts only the most trustworthy cryptocurrencies
+ Very secure
Things we didn't like:
- Not available in all countries
- Some of the less-known coins aren't supported
$5 BTC BONUS
For New Verified Coinbase Users
Receive your $5 bonus in BTC when you sign up for a new Coinbase account & complete all photo verification steps. Follow this Coinbase referral link to activate the deal!
Expiration date: 04/06/2023
4989 People Used
Only 11 Left
Ah, Coinbase - one of the all-time leaders in the crypto trading space! No matter if you've just joined the crypto community this week, or are a devoted crypto enthusiast since 2017 and beyond - there's a pretty good chance that Coinbase was the first exchange platform that you've heard about.
What makes Coinbase so great, you may ask? Well, a few different things.
In regards to the best crypto apps on the market, Coinbase is going to offer its users some top-tier usability features. It's a super-simple-to-use application, with all of the essential features and tools displayed and ready to be used with just a click of a button.
Another amazing thing about Coinbase is that it allows you to purchase cryptocurrencies with fiat money. Fiat deposits (whether it be EUR, USD, or else) are very quick and simple to make, and once they fall through, you can use that money to buy any crypto coin that is available on the platform.

It is worth mentioning, however, that the Coinbase app - same as the desktop version of the brokerage - doesn't really support all that many coins. People looking to buy Bitcoin or Ethereum on the best crypto apps aren't going to be disappointed, but if you're in the market for some of the more-niche coins, you might be out of luck.
However, that's really the only bigger qualm that people have with Coinbase. As far as the best cryptocurrency apps go, the brokerage is truly top-tier - great usability, smooth user interface, very simple to use & beginner-friendly. An awesome pick, no matter who you are!
If Coinbase sounds like your type of a best crypto app option, do check the platform out here - you'll be able to download the app without any issues, both on the iOS and the Android systems.

Did you know?
Ranks #4 out of 6 Crypto Exchanges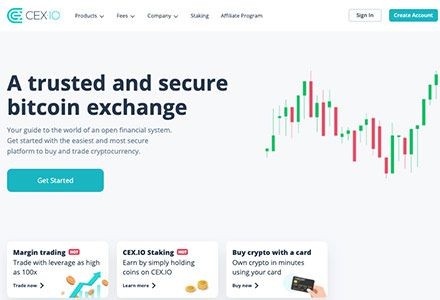 Things we liked:
+ Easy to figure out
+ Different trading pairs
+ Great support
Things we didn't like:
- Might lack coin options
What do crypto industry newcomers look for in the best app to buy cryptocurrency?
Amazing fees? Ya, sure, that's one thing. Crypto trading pair variety? Yup, definitely.
However, probably the most-common deciding factor for whether or not you're going to use one particular application over another is simplicity.
Simplicity is very important, no matter if you're a beginner trader, or a cryptocurrency expert. A simple-to-use app will allow you to perform trades quickly and effectively, which might sometimes be the very margin that will determine whether you make a profit, or lose out on a great opportunity.
Well, let me tell 'ya - if simplicity is what you want, then Cex.io has got you covered, big time.
As far as the best crypto apps go, Cex.io offers its users a super-straightforward app layout, with clear and self-evident features that you can explore. On the home screen, you will always have a four-button layout that allows you to buy a set amount of crypto of your choice instantly.

Following that, the exchange window is super-clean, simplistic, and clear. While your wallet section of the app might be the opposite of that (it displays balances of assets that you don't even own, which can make your screen pretty cluttery), it's still quite manageable.
With Cex.io being extremely simple to use, however, there is actually a separate, dedicated tab that's designed strictly with professional traders in mind. This means that, if you're a crypto trading pro, you won't miss out on any of the more-advanced and important features whilst using Cex.io. Definitely a sign of one of the best crypto apps out there!
If you're interested in trying Cex.io out, you can visit the site here, and download the app on all of the major mobile operating systems.
Ranks #5 out of 6 Crypto Exchanges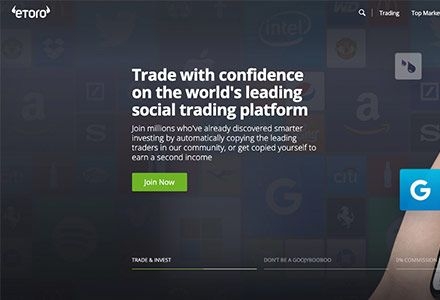 Things we liked:
+ Copy trading service available
+ A variety of cryptocurrencies to choose from
+ Beginner-friendly
Things we didn't like:
- Withdrawals can be slow
- Slow verification process
Cryptoasset investing is highly volatile and unregulated in some EU countries. No consumer protection. Tax on profits may apply.
Get $10 Bonus
Limited-time eToro Coupon
Take advantage of this eToro coupon. Deposit $100 - get a $10 Bonus, trade $100 - get a $10 Bonus! Act now while this eToro deal is still valid. The Bonus is only available for US users.
Expiration date: 04/06/2023
657 People Used
Only 92 Left
No matter if you've been looking for the best crypto app on the market, or have been researching cooking recipes, you are bound to have heard of eToro. The company utilizes a relentless ad campaign on all of the social media channels imaginable. However, it does seem to work - its user base is steadily increasing by the day!
That being said, though, the aforementioned marketing campaigns aren't just based on empty promises and smoke & mirrors. eToro does bring a lot to the crypto trading table.
The most notable aspect of the eToro version of the best cryptocurrency exchange app is the fact that the brand offers its users a decent list of some unique features and benefits for using the platform. You'll find features such as trade copying and specific trader following to be some of the more-popular ones, but the list is much longer than that.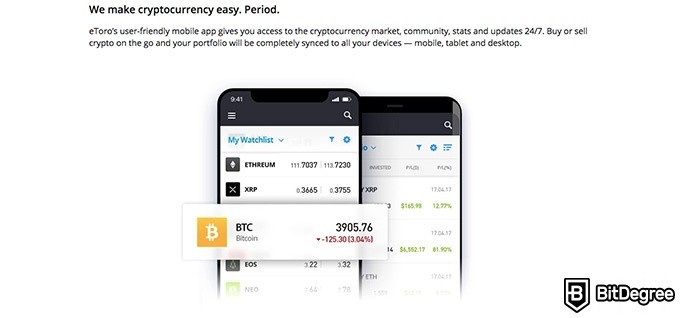 Furthermore, if you're looking for the best cryptocurrency app simply in order to find a place to share information and your knowledge about the market, eToro has an option that allows you to do just that, too. Frankly, you can chat with other users, share and receive investment and trading advice, and simply share your passion for crypto, in general!
Interested? Make sure to check eToro out here, and start trading crypto today!
Visit eToro
...or read our eToro review
Cryptoasset investing is highly volatile and unregulated in some EU countries. No consumer protection. Tax on profits may apply.
Ranks #6 out of 6 Crypto Exchanges
Things we liked:
+ Very secure
+ Small, fixed fees
+ Fast exchanges
+ Wide variety of crypto and fiat currencies
Things we didn't like:
- Some user complaints regarding support
- May be somewhat difficult for a beginner
- Not available in the US since May 2023 (Chapter 11 bankruptcy)
10%
Bittrex Refferal Code
Join Bittrex today & start earning 10% lifetime commission from your referrals' trades. Follow this referral link & create an account to start earning.
Expiration date: 04/06/2023
1231 People Used
Only 59 Left
Bittrex isn't a very popular crypto exchange, and that's a huge shame! While this cryptocurrency trading platform tends to get overshadowed by exchanges such as Coinbase and Binance, Bittrex truly does have a lot to bring to the table.
The platform is very secure and reliable - it keeps most of its users' cryptos in cold storage devices, and has a pretty clean track record as far as any potential hacks and break-ins are concerned.
On top of that, Bittrex surely does have one of the best crypto apps on the market. The application is amazingly simple to use, and processes such as funding your account with fiat money take mere minutes to complete, start to finish.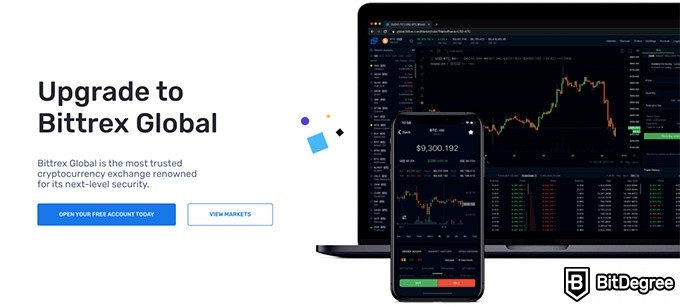 Deposits and withdrawals are also very simple if done through the app - a lot simpler than if you were to perform them via the desktop version of the exchange, mind you! On top of all of that, Bittrex also offers its users competitive fees, and a variety of different stocks to invest in, too.
If you're interested in what Bittrex has to offer, make sure to check the exchange out!
How to Choose the Best Crypto App for Yourself?
So, then - those are the top 6 crypto apps that you could utilize in your daily life, for all of your cryptocurrency trading and exchanging needs. Now, before we move on to some honorable picks and alternative application mentions, let's quickly discuss one more topic that seems to come up rather frequently whenever discussing top-tier exchange apps.
How should you go about picking the best app to buy cryptocurrency on?
Good question. The answer isn't at all that difficult, either.
You can probably imagine that most people who are looking for the best crypto app are going to have different wants and needs. For example, some individuals might be looking for a mobile app that would complement their primarily-desktop trading experience, while others could be mobile-based traders, altogether.
Furthermore, your preferences are also probably going to be highly-reliable on your geographical location, employment status, attitude towards crypto trading, in general, and so on. The only things that can be seen as truly universal are security and simplicity - it's hard to imagine someone complaining about how secure an exchange is.
With all of that in mind, and the list of the best mobile crypto exchange apps in front of you, you should now take the time and ponder on the best plan of action for yourself. Consider all of the pros and cons of each of the aforementioned apps, write everything down, and - most importantly - take your time!
Always remember that if the best crypto app of your choice has KYC verification requirements (which most of them do), you're going to have to submit your ID and even residence-approving documents. You wouldn't want to do this with any random platform - don't rush your decision!
With that being said, it's worth acknowledging that all of the crypto exchanges mentioned in this article can be considered to have their versions of the best cryptocurrency app - they all come with their designated pros and features, and each have their own unique benefits, too. Any one of them should be a great pick!
Additional Cryptocurrency Apps to Keep in Mind
Now that we've discovered, debated, presented, and analyzed all of the best mobile crypto exchange apps, let's finish this list off with a few honorable picks.
The apps mentioned below aren't really directly related to cryptocurrency trading (in the sense that their primary purpose isn't to supply or purchase cryptos), but are still a must for anyone who's adamant about their crypto endeavors, and want to take crypto investing seriously.
1. Ledger Live - An Amazing Tool to Track Your Crypto Assets
Ledger Live is the software / app that comes with your Ledger Nano X device. It is available in a couple of different formats, which naturally include the iOS / Android versions of the program, too.
So, what's so special about Ledger Live?
Well, the app lets you track your cryptocurrency assets that you keep in your Ledger hardware wallet with complete ease. All of the Ledger Live supported assets that are located in the wallet itself can be managed on the app - you can check your balances, sell buy, and trade cryptos, all with a few clicks of a button.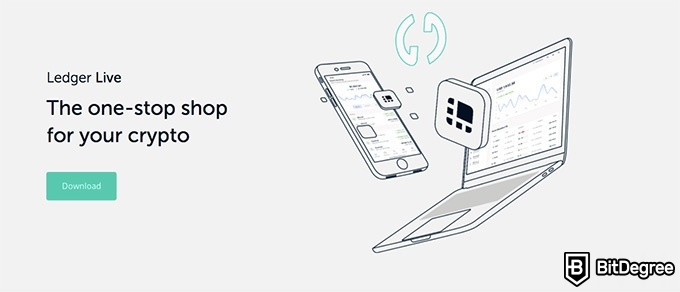 Probably one of the most noticeable features of the app is that it's extremely simple and pleasing to use. The interface loadout is quite self-explanatory, and you'll have no issues finding everything from your individual balances, all the way to the advanced settings tab.
If you want one of the best crypto portfolio tracking apps on the market, be sure to check Ledger out. The company is known for producing and selling some of the absolute best hardware cryptocurrency wallets on the entire market - definitely worth considering!
2. The Trust Wallet - One of the Better Hot Wallets
Now, let's just get something clear, straight from the get-go - if you're interested in the most secure and reliable cryptocurrency wallets on the market, you should point your eyes towards hardware ones. The so-called "cold storage" devices are going to be your best bet when it comes to keeping your assets safe.
As mentioned a couple of times in this best crypto app list already, as far as hardware wallets are concerned, your best bet will be the Ledger Nano X.
That being the case, though, if you'd like the next best thing, you'd probably opt-in for a "hot wallet" - one that can be found in either software form, or online. In this article, I'd like to tell you about the Trust Wallet.
The Trust wallet is a Binance product - yes, the same Binance that you saw in the list earlier. While the company is primarily an exchange, it does also have a dedicated wallet product, too.
So, then - what's so special about the Trust wallet?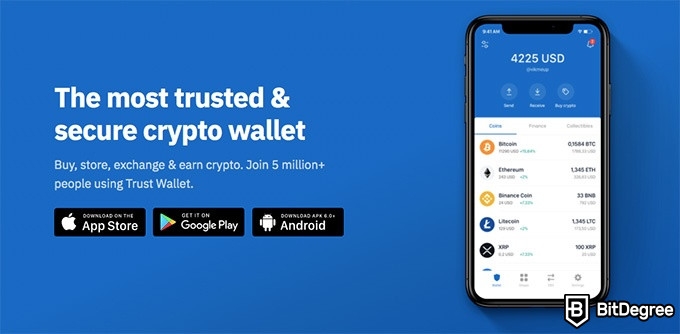 Well, for starters, as the name likely implies, it's going to be one of the best crypto apps when it comes to keeping your cryptos safe. The wallet offers trustworthy security measures, and should keep your crypto coins safe and sound.
On top of that, you will also be able to trade and exchange cryptos directly from the wallet. That's super-conveniant, especially given that the app will be installed on your mobile device, and accessible at any given point in time.
So, in short, if you'd like a reliable and portable crypto wallet that would let you trade cryptos in a matter of minutes, the Trust wallet might be the right choice for you. However, best crypto apps aside, you will still be better off with a hardware storage device, in the long run.
… and Many, Many More
While I admit that the heading might be a bit obscure, the point still stands strong - there are many, many different crypto apps out there that you could find, check out, and decide on whether or not they are worth using.
Most of these apps are probably going to be cryptocurrency wallets. As mentioned earlier on in this list of the best crypto apps, if you want to remain completely calm about the condition of your crypto assets, your best bet is going to be purchasing a hardware cryptocurrency wallet.
That said, there are many awesome wallets out there, still. Whether it be some of the more-general apps such as Jaxx, or even crypto-specific mobile browser extensions such as Yoroi, all you need to do is understand what it is that you want, and try it out!

Other apps might include general crypto news oriented-ones, market analysis tools, coin information, and in-depth analysis projects, and so on. Yet again - in order to find the best crypto app in this category, you should first take the time to figure out what tools do you need in order to help you trade and exchange successfully, and then try some of them out, see what fits you best.
My only word of advice is simple - if you're testing out crypto apps, always be very careful with the information that you provide them with. Never share your personal identification with some shady apps, and NEVER, EVER share your wallet private key!
Conclusions
Now then, we've reached the end of our list of the best crypto apps. In it, we've discussed the 6 best cryptocurrency exchange apps, and mentioned some additional applications that you could utilize in order to help you trade successfully!
Exchange app-wise, you can be sure that all of the apps mentioned in the list above are going to be top-tier, in regards to their levels of security, technical advances, usability, and other, more-general features. No matter which one it is that you pick, you can expect the same, general level of quality with either one of them.
A good starting point would be to check out Coinbase or Binance - the apps offered by these exchanges are known to be among the most-liked among crypto enthusiasts. However, if you find that none of the two exchange apps mentioned above fit your wants and needs, there's a whole entire list to explore, still!
Finally, do also take the time to research some other helpful apps for all of your crypto needs. Whether it be the best crypto app that would ping you when BTC hits a certain price, or an altcoin market analyzer that shows the most potential altcoins of the year, everyone and anyone should be able to find something that they'll definitely be able to use!
Don't forget to check out the Ledger Nano X, too - it isn't a coincidence that one of the best cryptocurrency wallets on the market has an amazing app to track all of your assets with, too!
Well, that's all for today! Thanks for reading our list of the best cryptocurrency apps, and I hope that it will help you make the right choice. Until next time, and happy trading!
---
Other Crypto Exchanges In This Category
Here are other crypto exchange related to the category but not as favoured by BitDegree.org Crypto Exchanges readers yet. In my personal opinion, today there are much more optimal crypto exchange in the list with the higher rating that I'd recommend for the same price range or less.
Gemini - A Very Secure Crypto Exchange Platform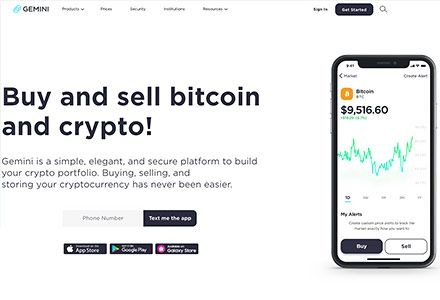 Things we liked:
+ Strong security
+ US dollar accounts are ensured
+ Easy-to-use
Things we didn't like:
- Limited selection of cryptocurrencies
- Requires lots of personal information
- Sometimes can go offline
Admittedly, Gemini might not be as well-known as some other names that you'll see on this list of the best crypto apps out there. However, that doesn't really change the fact that the platform has both an amazing app, and also some of the best crypto security features on the market.
Let's tackle the app part first, shall we?
Upon registering on the platform and checking out the Gemini app for the first time, you might immediately think of another popular online exchange / general finance platform - Revolut. That's simply because Gemini seems to employ a similar type of UI on their app as does Revolut.
This, in turn, also achieves a very similar result - the app is extremely fun and intuitive to use.
If you're on the lookout for the best cryptocurrency exchange app, surely, there are going to be many factors to consider. However, the fact that Gemini offers amazing simplicity and straightforwardness right from the get-go is awesome!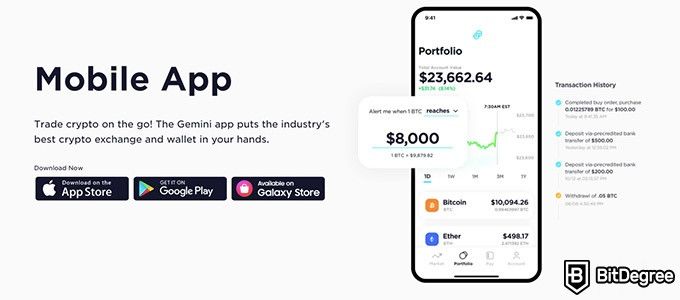 When it comes to the actual exchange, one thing's for certain - it's probably one of the safest crypto trading platforms on the market. For starters, all of the US investor funds are kept insured - if something was to happen to the platform (i.e. a security breach), you could feel relatively safe about your crypto assets!
On top of that, there's an extensive KYC process involved in registering on Gemini, and most of the user funds are kept in cold storage devices. While cold storage is amazing, admittedly, not everyone is going to be super-excited about the extensive KYC part.
All of that aside, if you do find that Gemini has piqued your interest, make sure to check the platform out for yourself!
The content published on this website is not aimed to give any kind of financial, investment, trading, or any other form of advice. BitDegree.org does not endorse or suggest you to buy, sell or hold any kind of cryptocurrency. Before making financial investment decisions, do consult your financial advisor.
Leave your honest Best Crypto App review
Leave your genuine opinion & help thousands of people to choose the best crypto exchange. All reviews, either positive or negative, are accepted as long as they're honest. We do not publish biased reviews or spam. So if you want to share your experience, opinion or give advice - the scene is yours!
---
TOP3 Most Popular Coupon Codes