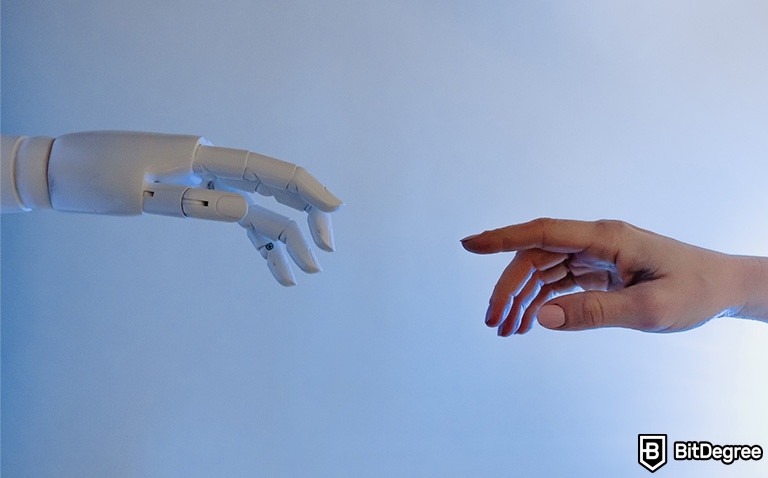 Did you know that there isn't an industry or field in today's world that doesn't use data science? After learning this fact I couldn't not look more into the online course options available on this subject! And so, a list of the 7 best Udemy data science courses was born!
Out of the hundreds of programs available, I looked at the highest-rated and most popular options, out of which this leaderboard was selected from:
These classes stood out because of their exceptional quality and positive reviews left by satisfied students. And you can be one of them!
But before we get into the nitty-gritty, let's take a moment to discuss why you should be considering Udemy data science courses in the first place.
Why Should You Choose Udemy Data Science Courses?
If you've ever considered trying out online education, you've definitely come across Udemy - one of the leading MOOC providers currently on the market.
Latest DataCamp Coupon Found:
EXCLUSIVE 50% OFF
On DataCamp Subscriptions
Follow the Datacamp promo code link & get an exclusive 50% OFF Datacamp subscriptions. Act now while the offer is still available!
Expiration date : 08/06/2023
2,765 People Used
Only 35 Left
But how did Udemy achieve such success?
Since being founded in 2009, Udemy has grown to see more than 44 million students enjoy their courses from around the world. Their goal, according to them, is to provide unique opportunities to talented people and help them achieve more than they ever could, whether this is developing a new hobby or specific skills needed for a successful career.
As of right now, you can choose from more than 183 thousand courses on pretty much any topic imaginable - data science being one of them.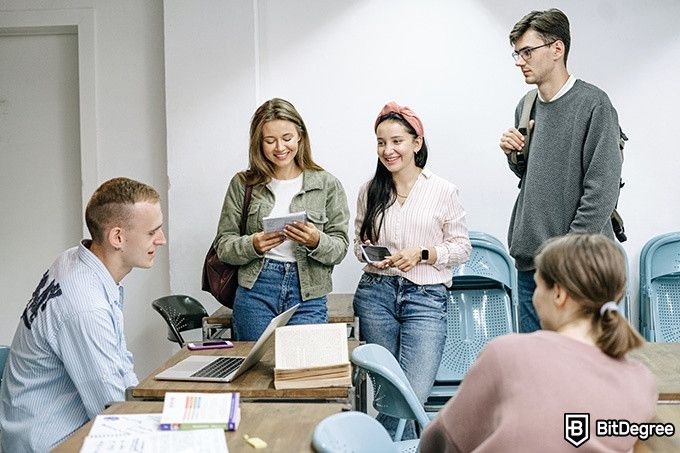 With data science being one of the fastest growing industries out there at the moment, it's no wonder that there are thousands of programs on the topic available. Currently there are more than 2 thousand Udemy data science courses available for you to choose from. But to make things easier for you and to satisfy my own curiosity, I've selected 7 courses that are definitely worth your attention.
These programs all stood out for their unique, high-quality content, wonderful instructors, and, of course, great student reviews. Additionally, all of these courses are priced exactly the same, at €89.99 each. This is great to avoid making a biased decision based solely on the price, and choose the best course for your needs and goals.
So, without any further ado, let's jump into the best Udemy data science courses!

Machine learning is widely believed to be the future happening today. With computers learning to learn and work on their own, the possibilities of technology are pretty much limitless. So, why not become part of such an exciting future?
Machine learning is completely algorithm-based, which, in turn, run on code. To help you avoid the hassle of deciding which programming language to go with, you can jump straight into machine learning with the Udemy data science course Machine Learning A-Z™: Hands-On Python & R In Data Science.
Built to teach you as much as possible about the intricate and lucrative world of machine learning, this Udemy data science course balances both theoretical lectures and opportunities to practice and hone your new skills. Focusing on Python and R coding languages, this Udemy data science course offers a uniquely multifaceted approach to machine learning.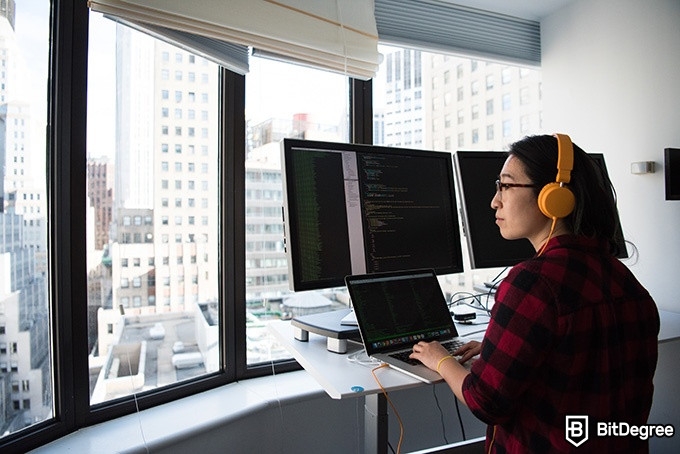 If you're worried that you won't have the necessary prerequisite skills to take this class - worry not. Well, unless you're still in middle school, as the only skill you need to have to be able to take this class is high school-level knowledge in math.
To those curious to know who is behind this Udemy data science class, it's my pleasure to introduce you to Kirill Eremenko. With years of experience in data science consulting and an intuitive approach to teaching, Kirill has seen almost 2 million students achieve great results with his courses.

I'll be honest, I was quite surprised to see just how extensive the course is. Kirill really outdid himself, as this is perhaps one of the longest online programs I have ever come across. With 44 hours and 29 minutes of content, I have no doubt in my mind that no bit of information is left out!
And those who have taken this class agree! Many student reviews mentioned how professional, well-thought-out, and informative the course was, while still remaining easy to follow along.
Those enrolled in the course will learn:
Make powerful analysis;
Build an army of powerful machine learning models and know how to combine them to solve any problem;
Handle specific topics like reinforcement learning, NLP and deep learning.
This Udemy data science bootcamp has a full and incredibly in-depth rundown of machine learning, making it a great choice for those looking to quickly master the subject.
Start the course NOW.

As you can see, Python is quite popular with the Udemy data science, and especially machine learning, crowd. In which case, let's jump straight into the deep end of the matter and check out exactly what you can learn about Python and machine learning.
This Udemy data science bootcamp is perfect for anyone eager to learn about machine learning. Python for Data Science and Machine Learning Bootcamp is a true deep dive into the subject, so let's waste no time and see exactly what it's about.
One thing is for sure - this course was made to be as informative as possible. This can be clearly seen in the syllabus, as individual topics are discussed over several lectures and even course sections. For example, Python for data visualization is analyzed over 5 sections and 27 lectures, including looking at the matter from several different data science libraries, such as Seaborn and Matplotlib.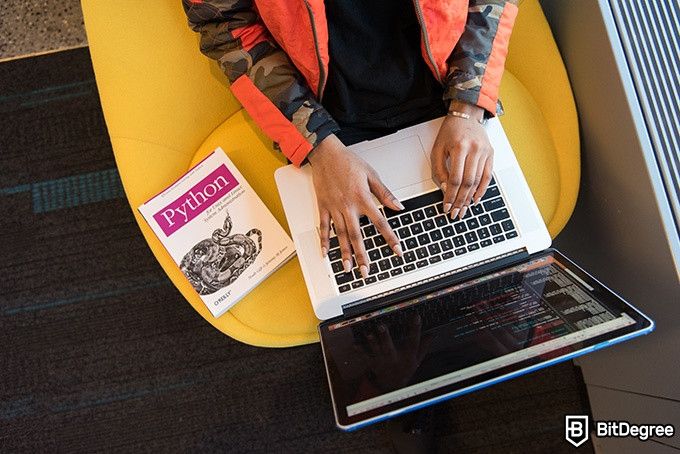 In addition, along with theoretical lectures you will be guided through practice exercises that will help you hone your new skills in no time.
It's pretty much impossible to talk about Udemy data science courses and not mention Jose Portilla, who is the author and instructor of this course. With many years of experience in the mechanical engineering and data science fields, Jose is currently teaching both online and real-life courses, which have been taken by almost 2.5 million students.
Now that is an impressive resume!
As you've already gathered, the structure of this course is phenomenal. Every angle and approach to a topic is covered in great detail, so no wonder that a program like this is on the longer side - 165 lectures and close to 25 hours long, that is.

And the structure of this Udemy data science bootcamp is just one thing that those who have taken the course rave about in the reviews. According to students, the program provided a healthy amount of challenges to really get the hang of the learning material.
In addition, many have noticed how experienced Jose is in his teaching methods, that a lot of students accredit for their success in this course.
Those enrolled in the course will learn:
Implement machine learning algorithms into various tasks;
Use Plotly for interactive dynamic visualizations;
Natural language processing and spam filters.
This course is the perfect Udemy data science bootcamp for anyone interested in machine learning.
Start the course NOW.
Even though machine learning is a pretty broad subject on its own, it's still just a small section of the behemoth that is data science. Saying that the field is huge is a very big understatement (pun deffinitely not intended). However, some courses still manage to include quite a large portion of information on data science.
To those looking to experience all that data science has to offer, there is no better Udemy course than The Data Science Course 2023: Complete Data Science Bootcamp.
If you're wondering how much of data science really is included in this course, let me tell you - a lot. From basic mathematics needed to work with the algorithms to coding and deep learning, you really get the full package.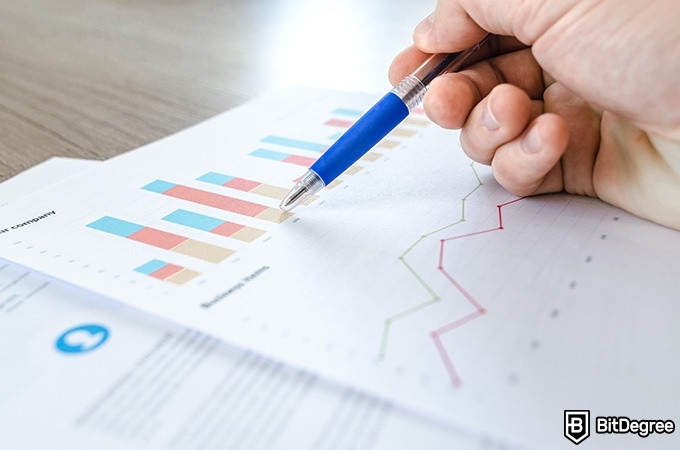 One thing to note is that a large portion of the lectures are created based on the Python coding language, which can be important to those interested in other languages as well.
Additionally, the syllabus includes an introduction to data science as a field, with uses and various disciplines included. This might seem like a nice-to-have section of the course, however, this can help many decide on a future career in the data science field.
And it's no wonder that such a well-rounded course is provided by 365 Careers (this time, pun intended). In fact, this is one of the best-selling business, finance, and data science course providers on Udemy. Their classes and instructors are so good that even Apple uses their programs for employee training.
So you can rest assured - you are in great hands!
What really stood out to me is how in-depth this Udemy data science bootcamp is. The syllabus consists of 476 lectures, which I consider to be one of the most detailed courses I've ever come across.

That being said, because there is only 28 hours and 54 minutes of content, the lectures are not too long. This allows the information to be understood much easier and quicker, without getting lost in hours of content in each video.
Student reviews, as should be expected, were notably positive. Many of those who have taken the course mentioned that the progression of difficulty was perfectly balanced and the lectures weren't moving too fast to be understood. And because this is a course for all experience levels, you can be sure that anyone can take the class and actually learn about data science.
Those enrolled in the course will learn:
Perform linear and logistic regressions in Python;
Understand the mathematics behind machine learning;
Be able to create machine learning algorithms in Python, using NumPy, statsmodels and scikit-learn.
Test yourself out and jump into the vast ocean of data science with this all-included Udemy course.
Start the course NOW.

We've all heard about machine learning, however, there's more to it than just linear learning paths and algorithms. Deep learning is when machines learn to learn like humans, or, in other words, work based on multi-layered learning patterns that mimic human intuition. For those intrigued, I have the perfect Udemy data science A-Z course!
Deep Learning A-Z™: Hands-On Artificial Neural Networks will teach you exactly how to tap into the hidden world of data science and create artificial intuition.
One thing for sure - when they said "hands-on" in the title of this course, they weren't kidding! With every theoretical introduction of an artificial intuition model is accompanied by real-life projects during which you can put what you've learned to the test and build your own deep learning models.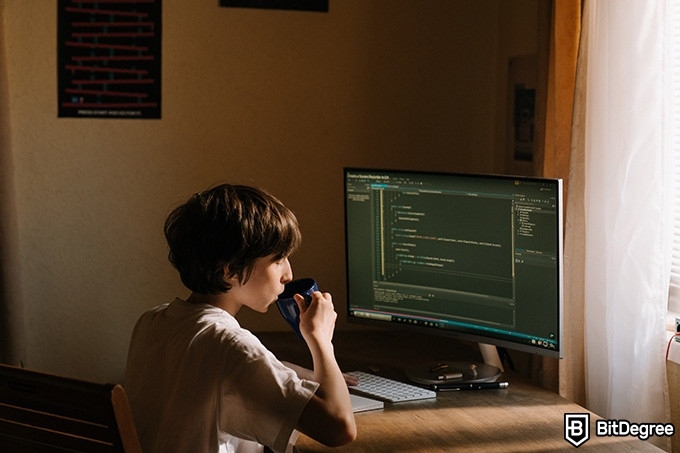 In addition, there are extra case studies and even an entire chapter on machine learning basics included in the syllabus, which makes this one of the richest Udemy data science A-Z courses I've ever come across.
What I liked a lot about this program is the unique and fresh perspective on the subject, and it's all thanks to the man behind this course. Hadelin de Ponteves is an AI entrepreneur and head of BlueLife AI, which uses AI to help businesses take their performance to the next level.
And when it comes to his credibility as an instructor, Hadelin's courses have been purchased by more than 1.3 million students. So I'm pretty sure he knows what he's doing!

Apart from being wonderfully organised and structured, this data science Udemy course is notably straight-to-the-point. Such a detailed concept as artificial intuition is presented in just 127 lectures and 22 hours and 37 minutes of learning material, making it a great tool to help quickly get the hang of the subject.
And it seems like the students agree - many reviews refer to this course as concise, yet in-depth at the same time, which helped them easily understand the topics and advance their skills. In fact, even beginners mention how quickly they got in the groove of things!
Those enrolled in the course will learn:
How artificial intuition is built and what different models of it there are;
What real-life uses of artificial intuition look like and what challenges might arise in your practice;
The math behind deep learning.
If your gut is telling you to give this course a try, then you better trust your intuition!
Start the course NOW.

Entering the data science field might seem a little daunting at times. After all, there is so much that oftentimes some courses have to only cover a specific section of the field, otherwise there would be hundreds of hours of content!
If you are most interested in data mining, modeling, and tableau visualization, then Data Science A-Z™: Real-Life Data Science Exercises Included is the data science Udemy course for you.
Before you are thrown into the dynamic syllabus, you are first introduced to data science as a field, to answer any "why data science?" questions before you get to the good stuff. Another unique aspect of this course is the focus on visual data mining using Tableau, which I haven't come across in many other data science classes.
So, in short, you are set up for a very interesting learning experience!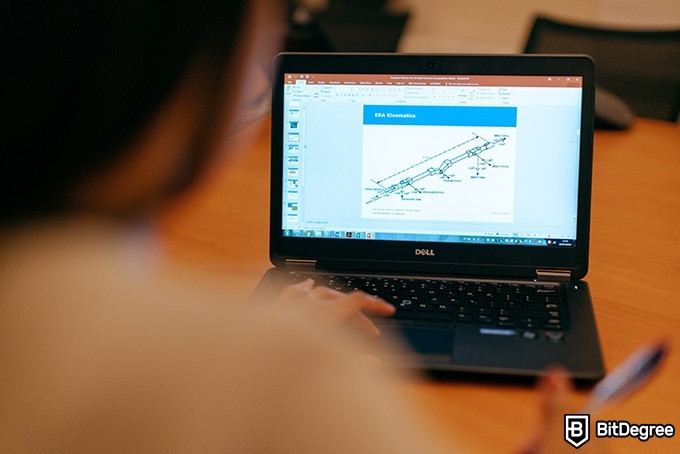 It's pretty hard to look through Udemy data science courses and not run into Kirill Eremenko and Ligency Team at least a few times - especially if you're browsing through the bestsellers. Kirill's classes combine his experience and academic background, bringing to you many engaging and high-quality courses that are sure to teach you more than you might expect.
Though the 217 lectures might make you want to plan the course out over the next few months, that won't be necessary. As with many other classes by Kirill, the structure is so concise that you can have the entire Udemy data science A-Z experience in just 21 hours and 13 minutes!

And those who have taken this course agree, as according to the reviews left by students the program is a pleasure to learn from. In addition, Kirill received many praises as well thanks to his personable and engaging way of teaching.
Those enrolled in the course will learn:
How data is mined and how the results are visualized;
How to handle many unusual and complex real-life scenarios;
How to work with professionals in the data science field and achieve success yourself.
Why not see for yourself who is at the top of the Udemy data science scene?
Start the course NOW.

Though machine learning is one of the biggest sectors of data science, many people don't know a lot of real-world applications of the field. Well, one great example is self-driving cars, which are quickly becoming a world-wide standard. If you would like to be part of something of this magnitude, why not consider entering the machine learning field?
If this has piqued your interest, then you might just find the Complete Machine Learning & Data Science Bootcamp 2023 course to be the perfect fit for your needs. With an emphasis on everything machine learning, you will surely go from zero to hero in no time.
That being said, there is much more to the syllabus than just machine learning. Through the machine learning lens you will have a chance to learn about data analysis, deep learning, data engineering, and even coding with Python. Not to mention the career-oriented lectures on how to make it to the top in data science.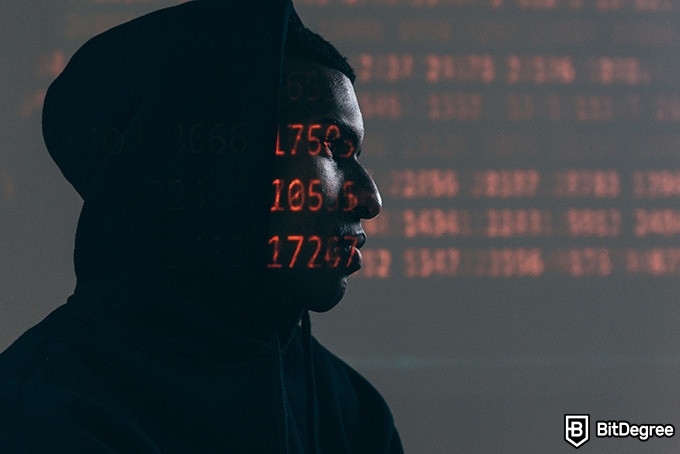 And no wonder the syllabus is so in-depth - the author of the program is also behind some of the highest-rated programming and technical online courses. Andrei Neagoie has seen his students move on to work with such giants as Apple, Google, and even the previously mentioned Tesla.
Pretty cool, if I do say so myself.
As you've probably already gathered, machine learning is not a subject you can read on in a few hours and be done with it. In fact, quite the opposite. So there's no surprise that this course includes almost 43 hours of learning material, with 376 lectures in total.

Though these numbers might seem like too much for some, I'm here to put your worries aside, as many students rave about how simple and fun this Udemy data science course is to take. With that said, don't think that the syllabus left something to be desired. According to the reviews, not many machine learning programs are as in-depth as this one.
Those enrolled in this course will learn:
The intricacies of machine learning;
What the main differences between supervised and unsupervised machine learning are;
How to work with the same modern tools that big tech companies like Google, Apple, Amazon and Facebook use.
In my opinion, there is no better chance to build an impressive machine learning project portfolio than this Udemy data science course.
Start the course NOW.

Are you scared that one day robots will take over the world? Believe it or not, but this is already happening, just in a different way than you might worry about at night. AI is everywhere - you might even be holding one right now if you're reading this on your phone. So why not tap into the future now?
Artificial Intelligence A-Z™: Learn How To Build An AI is a Udemy data science course that will teach you how to build your own smart machine and develop exceptionally valuable engineering skills.
The syllabus focuses on three main topics - deep Q-learning, deep convolutional Q-learning, and A3C. In addition to the main sections, there is extra material included on neural networks, which can come especially useful while building AIs for various scenarios.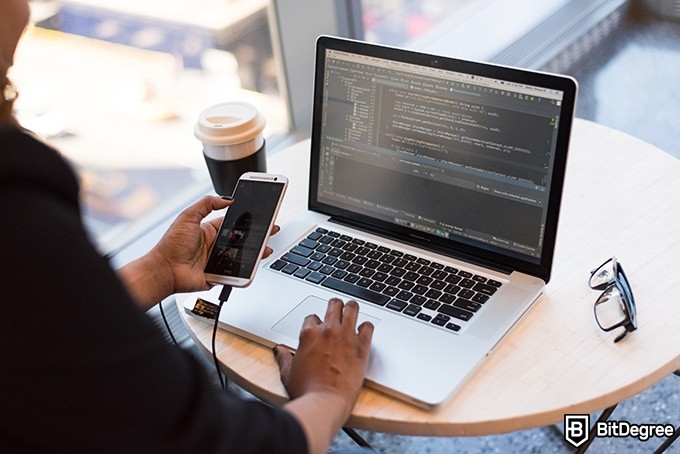 But there's even more! Students will also work on real-life projects, such as building an AI to beat games, which will help really get the hang of the theoretical lessons.
As you can see, this data science Udemy course really has everything covered for you.
To be exact, the instructor has everything covered for you - Kirill Eremenko. One thing I've definitely noticed in his courses is his teaching style. Based on intuitive examples, his lectures are first and foremost designed to be understood and enjoyed. Which makes learning much easier and less stressful!

Another feature of this Udemy data science program is the clean and well-organised structure, which makes studying even more enjoyable. Though this is the shortest course on this list with 16 hours and 36 minutes of content, that definitely doesn't mean that some details are forgotten - this isn't an A-Z course for nothing!
And the students agree with me. Based on what I've seen from their reviews, the students felt very comfortable with the pace of the course and balance between theoretical and practical lectures, which resulted in a well-rounded and rewarding learning experience.
Those enrolled in the course will learn:
What the theory behind AI is and how it intertwines with the rest of data science;
Different types of AI that can be built and the differences between their functionalities;
How to build your career in the data science and AI field.
I don't know about you, but taking this course would definitely make me feel safer during a robot uprising!
Start the course NOW.
Conclusions
And just like that, we have reached the end of my top list of the best Udemy data science courses!
If you would like to have one more quick look at the courses, you will find all of them here:
It's safe to say that Udemy is one of the best MOOC platforms to be looking for data science courses. High quality and engaging instructors are just a few of the perks perks you can expect from the programs.
One thing to note while choosing a course to take is their duration. Because data science - or any of its sectors for that matter - can't be explained in a few lectures, the classes are inevitably on the longer side, which is something you might want to keep in mind.
Overall, however, these courses are some of the highest quality I've come across, and I definitely recommend checking them out!
Thank you for reading my list of the best Udemy data science courses out there and I can't wait to see you in my future articles!
Leave your honest feedback
Leave your genuine opinion & help thousands of people to choose the best online learning platform. All feedback, either positive or negative, are accepted as long as they're honest. We do not publish biased feedback or spam. So if you want to share your experience, opinion or give advice - the scene is yours!