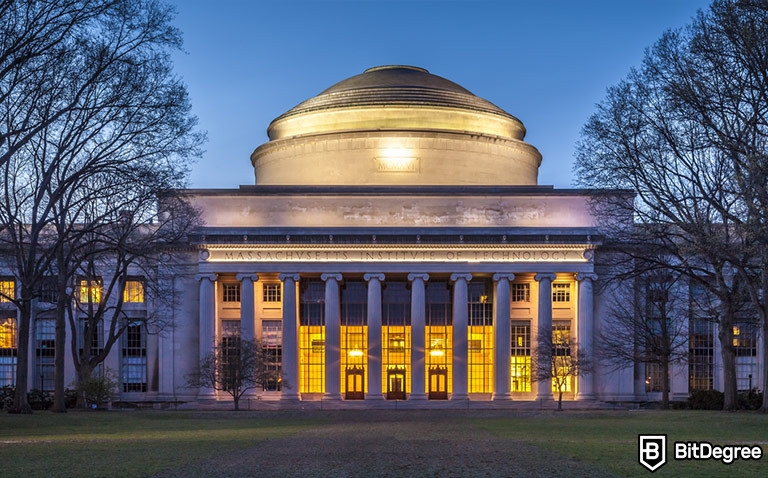 Massachusetts Institute of Technology (MIT) was established back in 1861. It's a private research university based in Cambridge, Massachusetts. Many young people are competing for an opportunity to study at MIT university. That's for a good reason.
Among MIT alumni, faculty members and researchers, there are 97 Nobel laureates, 26 Turing Award winners, and 8 Fields Medalists. No wonders why students want to join their ranks and have the same opportunities.
Even though only a small percentage of students manage to get into MIT, it doesn't mean that you don't have an opportunity to access the same information and learn from the same experts. Since there are so many MIT classes online, you have an opportunity to join other students and gain valuable skills.
I had to perform thorough research and analysis just to find the very best courses as well as MIT certificate programs. Here are the top 7 courses and programs that we'll be focusing on today (MIT free online courses included):
Before we start focusing on each of the MIT online courses, let's get a few things straight.
MIT Online Courses: Why Study Online?
Today, an increasing number of people are choosing online education. To make it more clear, more than 6 million Americans are currently enrolled in online courses. However, what are the main reasons for that?
Latest DataCamp Coupon Found:
CLAIM 50% OFF
DataCamp Cyber Monday Deal
DataCamp Cyber Monday special is here! Enjoy a massive 50% off on DataCamp plans. Subscribe now and redefine your data and Al skill set for the better!
Expiration date : 10/12/2023
5,324 People Used
Only 36 Left
First of all, pricing. Traditional education, especially when talking about such prestigious universities as Harward, Yale or MIT, can cost thousands and even hundreds of thousands of dollars. MIT online courses, on the other hand, are not that expensive. In fact, you'll be able to find some free MIT online courses that will allow you to gain the same skills and hands-on experience.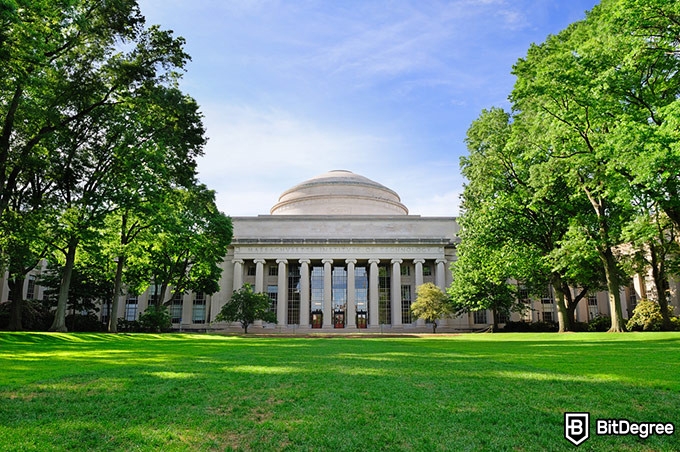 Secondly, the majority of MIT online courses are flexible. It means that there are no strict hours for classes and you can learn anywhere and anytime. That being said, even if you have a full-time job and don't have enough time to complete a course in a specific timeframe, there's completely nothing to be worried about. Most MIT free online courses allow you to learn at your own pace.
Also, it's crucial to mention the fact that due to the current pandemic, many universities decided to transfer classes online. That being said, when choosing MIT online courses, you can get the same experience and knowledge, however, spend much less money.
Thus, there are clear reasons why so many people are choosing studies online instead of traditional education. That being said, if you want to gain new skills or even change your job specifics completely, you should definitely choose online classes.
On that note, let's take a look at the most recommended MIT online courses and see what each of them offers.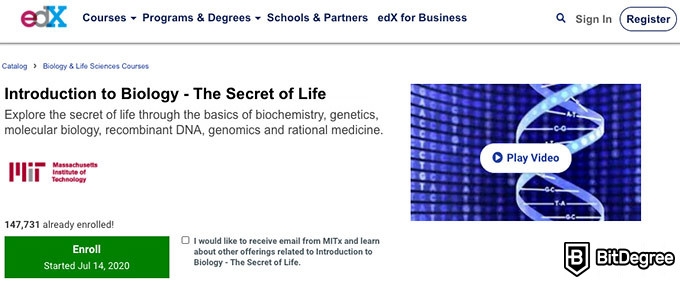 Length: 16 weeks
Price: FREE
Certificate: $150
Level: Introductory
Introduction to Biology - The Secret of Life is one of the most popular MIT online courses that can be found on edX. This is one of the longer courses that might take about 16 weeks to complete when learning 5-10 hours per week.
In this course, you'll be exploring the secret of life through the basics of genetics, biochemistry, molecular biology, recombinant DNA, genomics and rational medicine. It's one of the MIT online courses that doesn't require any previous knowledge, so if you want to find out more about biology, it's suitable for you.
This course is hosted by professor Eric Lander who is a Professor of Biology at MIT and Professor of Systems Biology at Harvard Medical School. It's also crucial to mention that Lander was one of the principal leaders of the Human Genome Project. Needless to say, if you're interested in MIT classes online, he's one of the best experts that you can learn from.
In this course you will learn how to:
Explain the building blocks of life and how they function in biology
Convert DNA sequence to RNA sequence
Explain the central dogma of molecular biology
Predict genotypes and phenotypes
Since this is one of the free MIT online courses, everyone can enroll. Also, if you think that a certificate of this course can bring you benefits, you can get it for $150.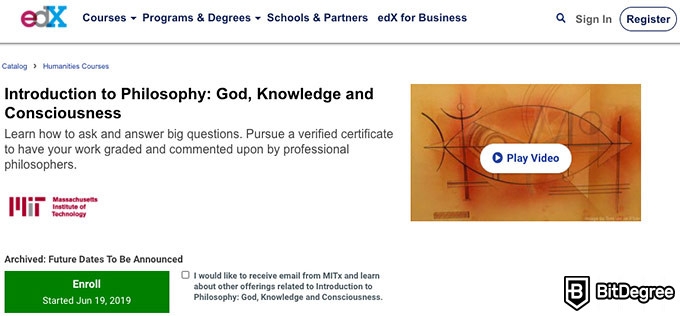 Length: 12 weeks
Price: FREE
Certificate: $250
Level: Introductory
The Introduction to Philosophy course focuses on the big questions, such as: is there a God? What is knowledge? Do we have free will? What is the place of our consciousness? And similar others. If you want to focus on these questions and think about each of them deeper, this is one of the most recommended MIT certificate programs to choose from.
In order to make your learning experience better, the Introduction to Philosophy course offers a grading system. This means that if you want to get a certificate (it costs $250), a professional philosopher will carefully assess each of your work and evaluate accordingly.
Grading is completely normal when it comes to traditional learning, however, this is one of the newer features in the world of MOOCs. That's why it deserves to be considered one of the best MIT classes online.
After completing this course, you'll be able to:
Build and analyze philosophical arguments
Write clearly and effectively express complicated ideas
Personal identity
Theories of knowledge
etc.
This course is introductory level and completely free (except for the certificate), so anyone can start learning.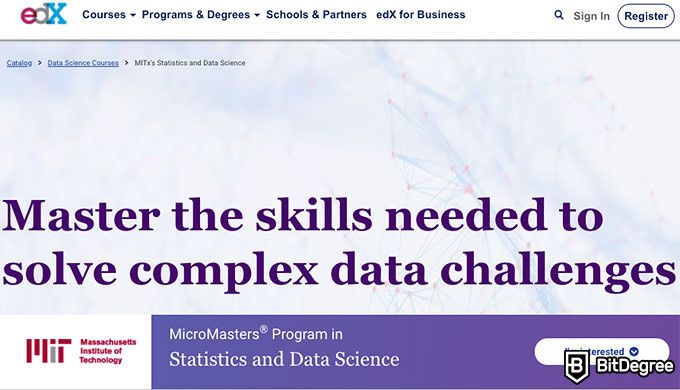 Length: 1 year 2 months
Price: $1,350
Certificate: YES
Level: Introductory - Intermediate
The Statistics and Data Science Program is different from all the other courses included in this list. It's for everyone who wants to have a more hands-on experience and in-depth knowledge.
This program should take you 1 year 2 months to complete when learning 10-14 hours per week. It consists of multiple courses, such as Probability - The Science of Uncertainty Data, Data Analysis in Social Science, Fundamentals of Statistics, Machine Learning With Python as well as the final exam. That being said, you will complete 4 graduate-level courses.
The reason why this program is so popular is because you get the closest experience to the one that students at MIT are having. The explanation for that is simple - you'll be learning at a similar pace and level of rigor as an on-campus course at MIT.
This MicroMasters program is suitable for everyone who wants to get rigorous training in data science without the need to quit their regular jobs. Thus, if your aim is to get a promotion or a better job offer, this program might help you to achieve just that.
The foundations of data science, statistics and machine learning
How to analyze big data and make data-driven predictions
Developing and building machine learning algorithms that help to extract useful information
You'll be prepared to start your career in a different field, such as Data Scientist, Data Analyst,
Business Intelligence Analyst, Systems Analyst, Data Engineer
While this course will definitely take your time and effort, it's completely worth it. After all, after completing, you'll be able to completely shift your career.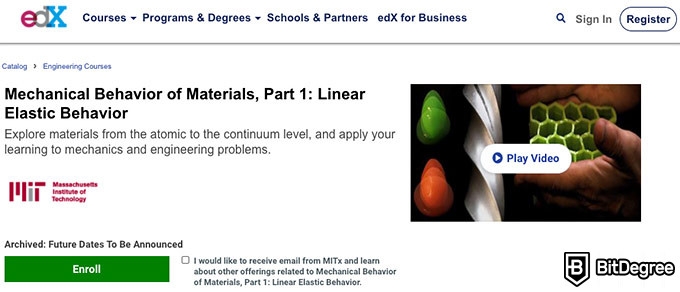 Length: 5 weeks
Price: FREE
Certificate: $49
Level: Intermediate
This is the very first part of the Mechanical Behavior of Materials course. Parts 2 and 3 are available to enroll completely free as well. In this course, you'll be able to explore materials from the atomic to the continuum level as well as apply the knowledge that you learned to mechanics and engineering problems.
What's important to mention is that this course is an intermediate level and not suitable for beginners who have no previous knowledge of the mechanical behavior of materials. Of course, since it's completely free, you can definitely give it a try.
If you want to get a certificate for this course, you have to complete the final quiz successfully. What is more, it will cost you $49. However, that's a fair price that's worth paying for such knowledge.
After completing this course, you'll understand:
The atomic basis for linear elasticity
The behavior of linear elastic materials
Know how to solve mechanical problems that are related to stress, strain, and strain energy
While this is one of the most popular MIT online courses, it's recommended to continue learning the part 2 and 3 of this course as well.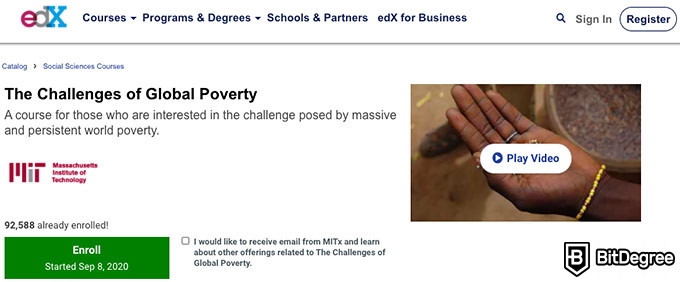 Length: 11 weeks
Price: FREE
Certificate: NO
Level: Introductory
Differently from some of the previously-introduced MIT online courses, The Challenges of Global Poverty course is suitable for everyone who wants to learn more about the challenges posed by massive and persistent world poverty.
In this course, you will focus on the questions related to extreme poverty, what life looks like when living with less than $1 per day, how to make schools work for poor citizens and many others. That being said after completing this course, you'll have a really good understanding of each of these questions and even more.
Here's the knowledge that you'll gain such knowledge:
Understanding and analyzing the causes of underdevelopment using the core principles of
economics
Understanding the unique constraints and trade-offs that poor people are facing
Interpreting the findings of empirical research that evaluates the effectiveness of anti-poverty strategies, policies and interventions
Understanding of various econometric tools that are used in development research and provide the basic knowledge for participating in more technical courses
Do not hesitate and start this course completely free!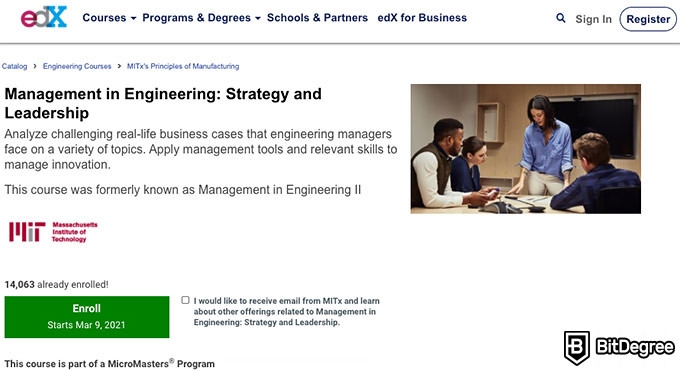 Length: 8 weeks
Price: FREE
Certificate: $175
Level: Intermediate
The Management in Engineering course is a part of the Principles of Manufacturing MicroMasters program. That being said, after completing this course, you'll have a clear understanding of what courses you should continue learning.
In this course, you'll be analyzing challenging real-life business cases. What is more, you'll be able to apply management tools as well as the needed skills to manage innovation.
Here's the knowledge that you'll take with you after completing this course:
Carrying risk analyses for developing various business and technology strategies
Choosing effective development, marketing and operations approaches in different business cases
Using the best management practices with an emphasis on technology
This course is definitely worth your time, so do not hesitate to gain valuable knowledge!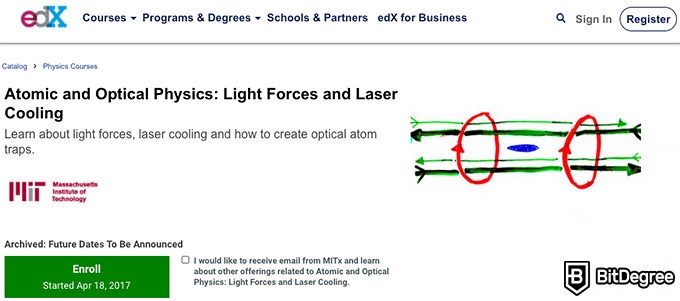 Length: 4 weeks
Price: FREE
Certificate: $49
Level: Advanced
The Atomic and Optical Physics course focuses on light forces, laser cooling and will teach you how to create optical atom traps. This is one of the MIT opened courses that's created for advanced learners. It should take about 4 weeks to complete.
In the Atomic and Optical Physics course, you'll be focusing on multiple topics, such as quantum states and dynamics of photons, light force, laser cooling, open system dynamics, and others.
After completing this course, you'll have a good understanding of:
Light forces in the dressed atom picture
Spontaneous and stimulated light force
Optical standing waves
Magneto-optical traps
etc.
While this course teaches very specific knowledge, it's highly recommended by multiple students who were looking for the best MIT open courses.
Start the course NOW.
Conclusions
Therefore, when choosing the best MIT online courses as well as MIT certificate programs, there are multiple aspects that must be taken into consideration: course length, the price of a certificate, instructors, program, and other important factors.
That being said, you should take into consideration your personal wants and needs, and definitely choose at least one from the top 7 MIT online classes. After all, you can enroll in the majority of them completely free:
So, whether you're interested in personal growth or simply want to get a promotion or a better job offer, choose from one of the courses and enroll right now!
Leave your honest feedback
Leave your genuine opinion & help thousands of people to choose the best online learning platform. All feedback, either positive or negative, are accepted as long as they're honest. We do not publish biased feedback or spam. So if you want to share your experience, opinion or give advice - the scene is yours!