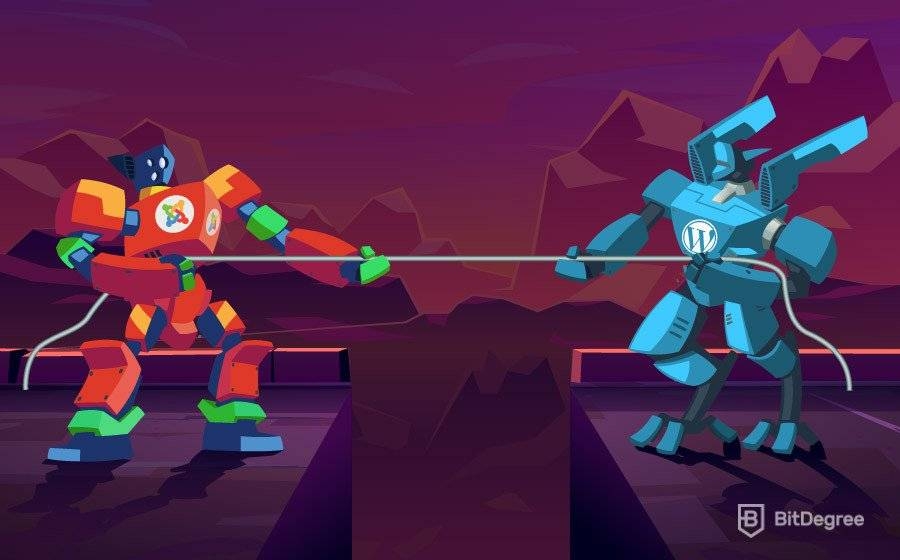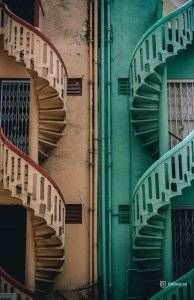 Even though WordPress guarantees simplistic, intuitive, and quick web development and post publishing, there are other content management systems (CMS) to consider. Joomla vs. Wordpress is a decent comparison since they are one of the two leading CMS platforms. However, the gap between the percentages of websites using them is evident: WordPress supports approximately 30%, while Joomla takes only 2.7% in total.
Even though it might seem that choosing Joomla or WordPress leans towards WordPress, do not be so quick to judge. There are benefits to using Joomla as well, and we hope to help you pick the best CMS to make your vision come to life in the most cost-effective way.
For instance, Joomla supports localization without any additional extensions and offers a decent amount of templates and plugins. Furthermore, you can use multiple templates for your website, which provides more flexibility.
A brief introduction to Joomla
Joomla is an open-source CMS designed for helping people create websites, publish content, and manage the flows of visitors through a straightforward control panel. Joomla vs. WordPress in terms of simplicity: both of them are quite simple, but the installation and overall setting up process of Joomla is considered a little more complicated.
Latest DataCamp Coupon Found:
EXCLUSIVE 50% OFF
On DataCamp Subscriptions
Follow the Datacamp promo code link & get an exclusive 50% OFF Datacamp subscriptions. Act now while the offer is still available!
Expiration date : 06/06/2023
2,765 People Used
Only 35 Left

What is Joomla used for nowadays? Well, people indicate that this CMS is perfect for creating blogs, e-commerce websites, social networking sites, and even government applications. When compared to WordPress, Joomla is not on the same level of being beginner-friendly. Even though it is not as technically advanced as Drupal, using Joomla requires some basic understanding of how the website works.
Prices of using Joomla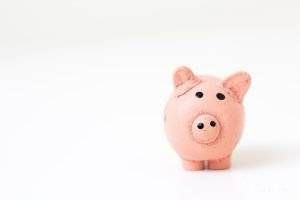 How to use Joomla for free? Well, since Joomla is an open-source project, its services come with no strings attached. However, web hosting is a different subject. You can apply for the free hosting plan at Joomla.com. Therefore, you will be able to build and host your website on Joomla completely for free.
With the free plan, you will need to use the joomla.com subdomain. Additionally, it comes with pre-installed extensions templates and all available languages for localization.
Surprisingly, the free hosting service from Joomla does not display advertisements (differently than WordPress).
It is easy to transfer the content of your Joomla website to another content management system.
What WordPress is
WordPress is a giant among the content management systems used by millions of people all over the globe. It is the easiest for building websites and further management of content. People do not need to have any programming skills as everything is polished to the point that the control panel is mastered close to effortlessly.

The Joomla vs. WordPress comparison leads us to the fact that WordPress has many more free and premium templates and verified third-party plugins. Therefore, it is easier to extend the functionality of a WordPress website since there is a deeper pool of possible plugins to install.
Non-developers also appreciate the fact that you can install additional plugins straight from the control panel without having to leave the website. This small component does not exist in Joomla, and you need to find most of the extensions on a different domain: Extensions.joomla.org.
To start managing and developing your website quickly, we offer you a chance to learn from this course. To develop the best marketing strategies for your WordPress website, check out this course on WordPress marketing opportunities.
Pricing in WordPress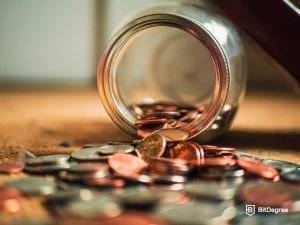 When it comes to hosting possibilities, WordPress also has your back with its free plan.
However, there are some limitations concerning storage space, marketing, and monetization tools. Additionally, the free plan will add advertisements in exchange for having your website hosted free-of-charge.
Of course, you can self-host your domain on a preferred provider if you wish. However, the cheapest $4 per month deal on WordPress seems like a decent choice for simple, blogging-related websites.
Joomla vs. WordPress: uses of templates
The template in content management systems determines the layout and appearance of your website. With Joomla, you can combine several templates to determine individual styles and structures for subpages of your website. You can assign different templates to separate menu assignments through the template manager.
For a smoother experience, you can install additional extensions such as Advanced Template Manager or Chameleon. Therefore, it is believed that Joomla gives more flexibility to the way your website is structured.
In WordPress, it is possible to combine several themes by using additional plugins as well. However, combining multiple themes is not as smooth-sailing as in Joomla. You will have to activate multiple themes, install the additional plugin, edit the theme you want to change, re-active the original theme, and so on. Although there are some alternatives, this seems like too much of a hassle for some beginners.
Which control panel is easier to navigate: Joomla or WordPress?
At first, it might seem that the control panels of Joomla and WordPress are similar. However, the Joomla control panel is less intuitive as the purpose of functions is not as when clear compared to WordPress.
Additionally, the default dashboard of Joomla has a lot more buttons and features that might confuse beginners. On the other end, we have WordPress, which provides a clear-cut, simplistic control panel with only the necessities for web building. The easy-to-navigate impression is empowered by the drop-down menus that appear once you hover over different selections.
Therefore, the argument of Joomla vs. WordPress in terms of their control panels is won by WordPress. It is easier to navigate and to understand for beginners.
Localization: making websites multilingual with Joomla or WordPress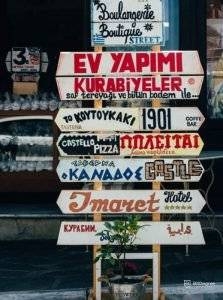 Over the years, localization has become one of the main ingredients for a successful website, especially in the e-commerce field. This concept refers to translating your website into multiple languages to make your target audiences feel more at home. After all, people are more eager to buy products from websites in their native language.
Content management systems are also participating in this evolution and help website owners to translate their content and present it to users. However, some CMS have such features built-in, without the need to install plugins, while others offer this function only with some improvements.
Joomla
When it comes to Joomla vs. WordPress for localizing websites, the decision lies in the small details that might convince you to use one of the options.
Joomla has built-in localization mechanisms that let you translate content and make your websites appealing to people speaking different languages. Changing the language of the admin panel is also an option in Joomla to make the manager feel more confident when navigating through the dashboard.
The localization process in Joomla starts with you installing a package for the language you want to add. Additionally, you need to set it as the content language.

Pros
Easy to use with a learn-by-doing approach
Offers quality content
Gamified in-browser coding experience
Main Features
Free certificates of completion
Focused on data science skills
Flexible learning timetable

Pros
Simplistic design (no unnecessary information)
High-quality courses (even the free ones)
Variety of features
Main Features
Nanodegree programs
Suitable for enterprises
Paid certificates of completion

Pros
Huge variety of courses
Easy to navigate
No technical issues
Main Features
Huge variety of courses
30-day refund policy
Free certificates of completion
WordPress
To create a multilingual WordPress website, you need to install a plugin to enable the localization process. Polylang, Weglot plugins are for creating a post in one language and then linking it to the translation of another. There are other alternatives as well. For instance, you can use qTranslate-X to have all of the versions of a post in the same post.
If you do not mind the hassle of finding the best-suited plugin, there is no reason why WordPress cannot be used for creating multilingual websites. In fact, it might be better to have more options, research them, and find the one that will help you enhance your website to the max. However, if you want to have everything prepared for you, Joomla is a more appropriate option.
Security Measures: which is more immune to hacking?
All website owners want their websites to be immune to malicious attacks initiated by hackers. Comparing Joomla vs. WordPress in terms of security reveals that both of these platforms have decent security measures. However, the way of bringing these protective components is different.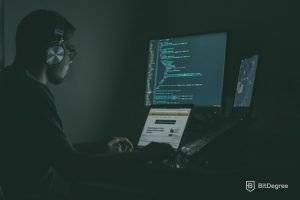 Nowadays, Joomla has enhanced its security system greatly with patches fixing many bugs and vulnerabilities. Additionally, some issues can be resolved by users instead of relying on the platform. Nevertheless, in terms of security, WordPress is labeled as more solid, with less chance of hackers actually breaking the walls of your website.
That said, WordPress is the most popular platform, meaning that hackers attack these websites to have a longer victim list. More specifically, about 90% of attacks against websites supported by CMS come from WordPress. Therefore, Joomla is not as frequently targeted by people with malicious intentions.
How difficult is it to perform maintenance on WordPress and Joomla?
Your website won't go far if you don't perform regular maintenance. The Joomla appears to have a separate section called "Maintenance", but it is mainly for site updates.
There are other options, such as pushing your website offline so that the website managers could have a chance to polish their websites in peace. Additionally, many extensions can simplify maintenance procedures.
Joomla vs. WordPress, when comparing maintenance, possibilities are quite similar, but WordPress takes the lead with high-level simplification. For instance, people claim that it is easier to reroute traffic, shape maintenance mode messages, and perform other maintenance tasks. WordPress also has more plugins that will improve the way your website functions.
WordPress vs. Drupal vs. Joomla: which is best?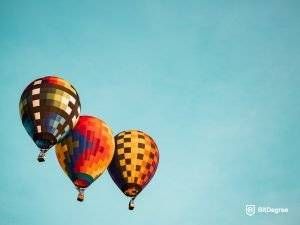 WordPress vs. Drupal vs. Joomla seems like a chain that is difficult to detangle. However, there is a simple method for determining which content management system is the best.
As you know, WordPress is extremely beginner-friendly, letting you create websites without any programming experiences. We also have Joomla, which is not as beginner-friendly, but ranging from easy to normal. However, Drupal is the most sophisticated platform that is aimed at people with technical experience.
To set up your website quicker, you should pick the content management system that matches your skills and priorities. Only then can your site become successful, secure, and enjoyable to visit.
Conclusions
The conclusion to the Joomla vs. WordPress is simple: pick the platform that will help you bring ideas to life without bothering you with unnecessary and complicated features.
However, beginners should lean towards WordPress due to its easy-to-navigate control panel and simple management techniques. There are so many third-party plugins to choose from that you won't run into a situation when you cannot complete a highly-important task. Additionally, since WordPress has a large user community, it is easier to find answers to questions and concerns.
Additionally, even though the best choice for blogs is WordPress, this does not mean that Joomla cannot help you build a simple blog. Both of these platforms are diverse, meaning that they can help you manage websites from blogs to e-commerce platforms or enterprises.
If you already have a Joomla website but wish to migrate to WordPress, download the FG Joomla to WordPress plugin to transfer mostly all website content to the other system.
Leave your honest feedback
Leave your genuine opinion & help thousands of people to choose the best online learning platform. All feedback, either positive or negative, are accepted as long as they're honest. We do not publish biased feedback or spam. So if you want to share your experience, opinion or give advice - the scene is yours!