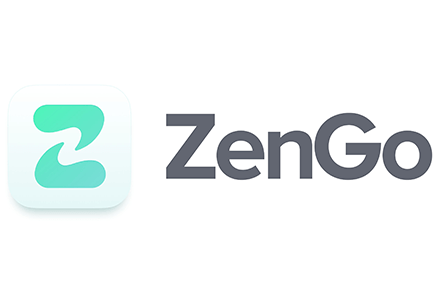 Over the recent years, cryptocurrency wallets have become a very popular topic to discuss, among the many different crypto enthusiast circles around the world. It's no wonder, really - with the crypto industry booming now more than ever before, a huge number of newcomers are looking for the best wallet products out there. In their search, these individuals may stumble upon user ZenGo wallet reviews.
ZenGo is a "hot wallet" - more specifically, it's a mobile app-based wallet that stores its user crypto funds within, and allows you to trade cryptos from the comfort of the wallet itself. Quite a few user ZenGo reviews found online will tell you that the wallet in question is actually quite a unique product, as far as crypto storage is concerned.
We'll cover all of this perceived uniqueness in the review ahead, and also talk about all that you need to know in order to decide whether or not ZenGo is wort checking out. Let's get straight to it, shall we?
Pros
Keyless wallet system
Top-tier security
In-wallet crypto trades and purchases
24/7 customer support
Free to use
Cons
Some services not available in select countries
Backups stored on the Google Cloud or iCloud
ZenGo Wallet Review: PROS
To start off our ZenGo wallet review, let's cover some of the core benefits that you may expect to receive whilst using the wallet in question. Admittedly, there are actually quite a few interesting features to cover, too! One of the most evident of these is the fact that ZenGo is a non-custodial wallet.
A Non-Custodial Cryptocurrency Wallet
Among the different industry jargon that you can often hear thrown around, "non-custodial" is a term that comes up rather often. This is especially true in regards to crypto wallets and exchanges - this ZenGo wallet review is no exception, either.
What do "custodial" and "non-custodial" stand for? In layman's terms, "custodial" refers to a crypto service 'holding' your wallet private keys, and in turn, theoretically having access to your crypto assets, as well.
As opposed to that, non-custodial wallets put all of the responsibility in your hands - you are the only one that controls your own private keys. This is a bit more dangerous, since there are absolutely no guarantees on the wallet's side of things, if something were to happen to your cryptos - all of the responsibility lies in your hands.

On the flip side, multiple ZenGo reviews will tell you that this is actually the way to go. If you want to truly feel safe regarding your cryptocurrencies and crypto tokens, knowing that you're the only one having access to them can be very reassuring.
What's the deal with ZenGo, then? Well, in short, ZenGo is a non-custodial wallet - meaning, you're the solemn party that has access to your own funds.
Well…. Kind of. ZenGo's security model is actually rather unique.
With the wallet in question, you're not going to have any private keys. Instead, they are replaced in favor of two unique signatures - one belongs to you, while the other one is stored on ZenGo's servers.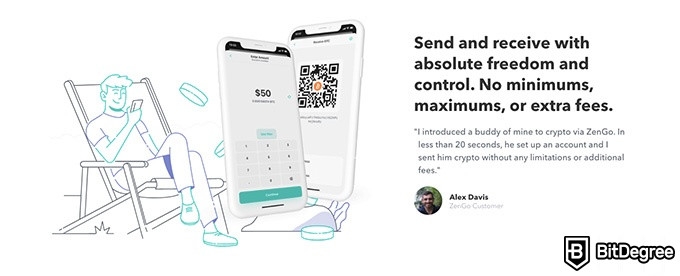 What does this mean to the user? Well, looking through the crypto enthusiast ZenGo wallet reviews found online, you'll learn that, even if your device were to be compromised, with ZenGo having the other unique signature, this would add an extra layer of security to your wallet - and a reliable one, at that!
With a very unique approach to private keys and their "replacement", ZenGo is able to remain non-custodial, while still providing certain guarantees to its users, in regards to security. While this is awesome in of itself, it's actually just scratching the surface.
Latest Binance Coupon Found:
$600 WELCOME BONUS
Binance Black Friday Deal
If you're new to Binance, great news - this Binance Black Friday period, you can earn up to $600 in rewards. Sign up, use the code 49316610, and start earning now!
Expiration date : 01/12/2023
2,817 People Used
Only 46 Left
Major Emphasis on Security
As you might be aware of by now, there are few things in crypto that get as much attention and emphasis placed on them as the topic of security. Even before you acquire your first crypto coin or token, you'll be hearing about security quite a bit.
And you should, actually! Even with all of the security talk that are present in the space, and the topic being explored and seemingly drilled into newbie crypto enthusiast minds on a constant basis, there are still plenty of horror stories about individuals downloading a keylogger, getting their assets tolen, and all of their accounts compromised.

Evidently, the above statements are especially true in regards to cryptocurrency wallets. Since these pieces of hardware or software (or paper, if that floats your boat) are directly designed to keep your cryptos safe, naturally, they have the brightest part of the spotlight cast on them, as well.
Reading through online user ZenGo wallet reviews, it's evident that this wallet, in particular, is no exception. Multiple people are wondering if it's a safe option to choose, in general!
Well, let me tell you - from the looks of things, I would have to lean towards the positive side.
ZenGo utilizes a variety of different features in order to guarantee that your assets remain safe and sound. They begin with the above-discussed "keyless wallet" functionality. With two different signatures stored on both your device, as well as ZenGo's servers, the company emphasizes that there remains no single point of failure, thus minimizing the chances of a potential break-in.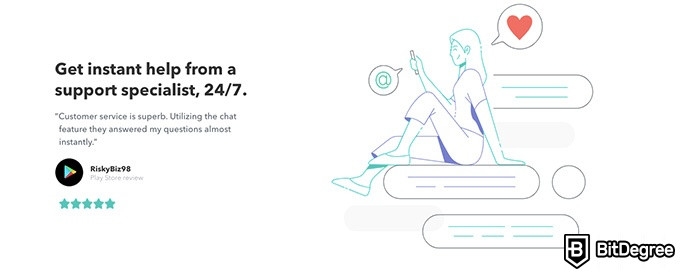 On top of that, all of your transactions are encrypted, in a specific sense. Meaning, ZenGo will not see what you do with your assets - where you send them, trade them, or who you receive them from. All communication happens with the server, and the company does not interfere or have access to this information.
Two major benefits that cannot be ignored are the fact that ZenGo cryptography is open-source, as well as that the wallet is constantly being audited. Being open-source, it guarantees that the code behind ZenGo's cryptotography is transparent and issue-free, and that it can be checked at any point in time, by anyone who would like to do so.
Furthermore, the frequent audits are also a huge point to consider, as well. They showcase the commitment that ZenGo has to keeping its users informed and assured on the services that the wallet provides. This is actually something that isn't mentioned all that often in user ZenGo wallet reviews - a shame!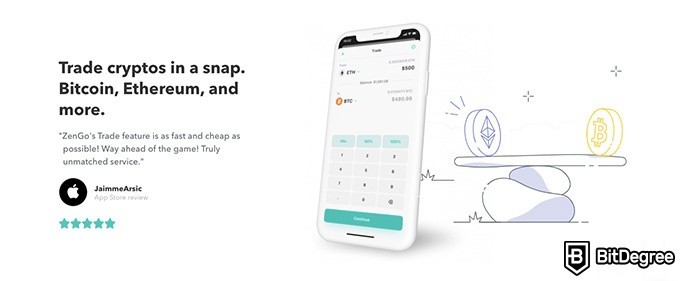 Moving on towards some of the more-tangible (in a specific sense) security benefits, ZenGo requires all users to confirm their wallet sign-ins via email. A very simple solution, however, if your email doesn't get compromised, a very effective one, too!
Above everything, though, the most notable feature of ZenGo's security is the fact that your sign-ins happen via a biometric face scanning. In other words, unless a hacker has an identical face to yours, they aren't going to be able to access your wallet.
Even if you lose your phone, accidentally delete your app, or purchase a new phone and install the ZenGo wallet app, you will still be able to log in to your wallet account without any issues. This is because your facial data is stored on ZenGo's servers, as an encrypted 3D facemap.
No matter how you look at it, one thing's for sure - as far as this ZenGo review is concerned, the wallet does definitely put a huge emphasis on all-things-security. A very important point to keep in mind!
APY Earning Functionality
Moving away from security features, ZenGo does actually have some other unique benefits to offer to its users, too. It wouldn't actually be a thorough ZenGo wallet review without mentioning the fact that the product allows you to earn an APY - Annual Percentage Yield - on the assets that you store in your wallet.
Well, to be more specific, on the BTC that you'd keep in the wallet. However, ZenGo is planning on expanding their APY-earning list in the near future - it will include USDC, USDT, DAI, and NEXO.
How does this APY earning process work, exactly?

To put things simply, all that you need to do is store your BTC in the ZenGo wallet, and then dedicate it to a special saving part of the platform. For any amount of Bitcoin that you store, with a cap of $50,000, you will be able to earn an APY of 4-5%. If the value of stored BTC exceeds the aforementioned sum, you'll receive an APY of 1%.
Cryptocurrency wallets that would allow you to earn an interest on your assets aren't the norm - far from it! This is actually a rather unique feature offered by ZenGo. On top of being able to store your cryptos in a secure environment, you will also be able to earn an interest on them - that's awesome!
Trade Cryptocurrencies Straight From Your Wallet
Whenever you hear the term "cryptocurrency wallet", chances are that your first inclination is to imagine a place where you could store your cryptos, as well as send or receive them, too.
Well, as time goes on, more and more wallets allow their users to both trade, and also purchase cryptocurrencies without leaving the wallet environment itself. Multiple user ZenGo wallet reviews will tell you that this is the case with the product in question, too.
ZenGo allows you to trade crypto from within the wallet interface. Above everything, this results in a major win for convenience - you don't need to visit an exchange, purchase your cryptos there, and then send them to your wallet.

While this does have its own pros and cons, sure, convenience-wise, being able to buy and trade cryptocurrencies from within the wallet itself is awesome.
That's not where the benefits end, however. Multiple trade functionality-possessing wallets have some above-average fees associated with them - this can often discourage potential users from trading and buying crypto on the wallet, and make them turn towards some of the more fee-friendly exchange platforms out there.
However, with ZenGo, this isn't exactly an issue, either.
Decent Fee Model
Fees are an unavoidable part of all-things-crypto. This is actually true no matter if you're trying to trade cryptocurrencies on an exchange, or send them to your friend.
This is because there are generally two huge types of fees involved - the ones charged by the platform that you might be using (wallet, exchange, etc.), and also network fees, too.
The former can be adjusted, avoided, and mitigated. The latter CAN be lenient, but they're much more difficult to get around.

Not that many user ZenGo wallet reviews talk about the fees associated with the platform in question. However, it's a very important point that needs to be mentioned, nonetheless.
ZenGo allows you to purchase cryptocurrencies straight from their wallet - this is done thanks to an integration with Coinmama, a well-known cryptocurrency exchange platform, as well as another payment processor called MoonPay. If you want to use your credit card or bank transfer to acquire cryptos, the fees will depend on the aforementioned platforms.
It's worth mentioning that ZenGo is completely transparent in this regard, and states that part of the MoonPay processing fee is paid to the wallet provider in question. This, however, is quite common practice.
Buying crypto with a credit card or bank transfer can net you a fee of 5,99% and 1,99%, respectively. Those are some large numbers, true - however, they are actually pretty standard for doing things this way. At the same time, they don't depend on ZenGo here - these fees are imposed on the aforementioned platforms.
As far as ZenGo is concerned, you can deposit and withdraw most cryptocurrencies completely free of charge, on the wallet's side of things at least. The only fees associated with these processes are those of the network that you might be using - they are, once again, unavoidable.

Few user ZenGo wallet reviews will tell you that trading cryptocurrencies within the wallet comes with a 0,5% flat fee, by default. There's a spread of 1,65% involved, too, but in most cases, it should be quite a bit lower. This applies to Bitcoin, as well - you may send and receive BTC without paying any fees, while purchasing and trading it will involve the above-discussed commissions.
That's actually a very decent fee, by comparison! On top of that, with certain specific crypto assets (Ethereum and ERC-20 tokens), you may even choose fee modes when you're transacting said assets.
You know what's even more unique? The fact that ZenGo allows you to cancel or even speed up your transactions before they are confirmed by the blockchain. There aren't many crypto wallets that would have such functionality!
All things considered, the fees associated with ZenGo are rather decent, especially when compared to some other platforms out there.
Over 70 Cryptocurrencies and Tokens Supported
Whilst discussing cryptocurrency wallets, it would be impossible not to take a look at one of the core features that are, naturally, exceptionally important for most people who are looking for a storage option for their assets - coin and token support.
Some crypto wallets are dedicated products - what this means is that they only support a set specific cryptocurrency, and are aimed at the holders of that currency. This actually used to be the norm for the longest time, too!
As the industry advanced, though, multi-currency wallets have started popping up left, right, and center. ZenGo is one such wallet, too.
If you read through this ZenGo wallet review, and decide that you want to try the platform out for yourself, ZenGo will allow you to store up to around 70 different crypto assets - this includes both coins, as well as tokens.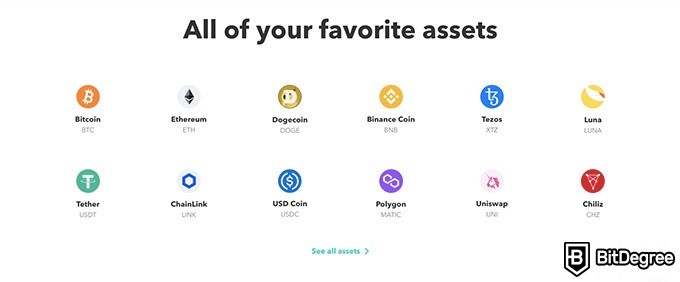 That's actually a large number, too! It includes all of the main coins that you'd come to expect to be supported, as well as some of the more-niche assets.
The best part? ZenGo is constantly working on improving that number, and allowing the users of the wallet to store an even wider variety of coins. For example, quite recently, ZenGo has launched SHIB token support - you may buy, sell, and trade the tokens!
If you're not looking to become an expert trader with a huge and varied portfolio, this might not be a "groundbreaking benefit" to you. That being said, it's cool to know that, if you do end up broadening your portfolio at some point in time, you'll likely be able to store a lot of those assets on the same wallet - ZenGo.
ZenGo Wallet Review: CONS
In addition to 24/7 customer support and a modern UI, we've covered most of the main features and benefits of the product. Now, let's also cover the less-pretty sides of user ZenGo wallet reviews, too, and check out some shortcomings that may be associated with the wallet in question.
Certain Services Not Available in Some States and Countries
Crypto is a topic that's undoubtedly popular all around the world. No matter where you might reside, chances are that you've heard about it, and know someone who's activelly "in it".
This, in turn, means that wallets are also needed all around the globe, too. Unfortunately, it's pretty common for some of the best cryptocurrency wallets on the market (or certain services that these wallets may offer) to not be available in certain specific countries - ZenGo isn't an exception in that regard.
As of writing this ZenGo wallet review, you will not be able to use the crypto purchasing, selling, and trading features of the product if you're located in the following countries:
Bangladesh
Cuba
Iran
Ivory Coast
Myanmar
North Korea
Pakistan
Panama
South Sudan
Sudan
Syria
Zimbabwe
On top of that, if you reside in one of the following US states, the same denial of service applies to you, too:
Connecticut
Hawaii
New Mexico
New York
Combined, the list is pretty extensive. Sure, the ZenGo wallet itself may be supported worldwide, but this is little-to-no condolence to anyone who's living in one of the areas mentioned above, and wants to use all of the features of said wallet.
Backups Performed on Google Cloud or iCloud
While this isn't really a very prevalent issue that would have tangible merit attached to it, it's still something that quite a few users do discuss in their ZenGo wallet reviews.
ZenGo claims their "keyless wallet" system to be a security marvel - to an extent, it truly is. However, some users have their reservations when you consider the fact that, in order to perform a backup, it needs to be sent to either Google Cloud, or iCloud (depending on the operating system of the device that you are using).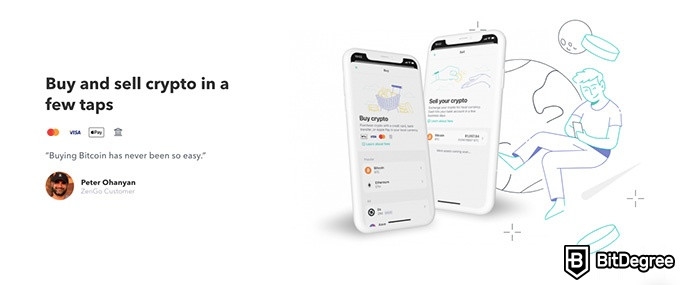 In of itself, it's not really a big deal. However, it could potentially open up a security loophole, if any wannabe hackers or malicious third parties would want to try and access your funds.
To date, there have been nothing more than speculations and discussions - ZenGo's systems have yet to be breached. Naturally, one is also inclined to believe that the company behind the wallet is aware of this concern, and has measures to prevent any foul play. That being the case, if you're extremely meticulous about the safety of your assets, it's still a point that needs to be kept in mind.

Did you know?
How to Use ZenGo?
As per tradition, we'll finish off our ZenGo wallet review by taking a closer look at how you can set your wallet up, and start using it.
ZenGo claims that the registration and setup process shouldn't take more than 20 seconds. Let's see if that's really the case, shall we?
How to Register on ZenGo?
Starting off, let's download the actual app itself. I'll be using an Android device, although the process is extremely similar on iOS, too.
Step 1: On your phone, navigate to the ZenGo app that you have downloaded.
Step 2: You will be asked to enter your email address, and a referral code, if you have one. Do so.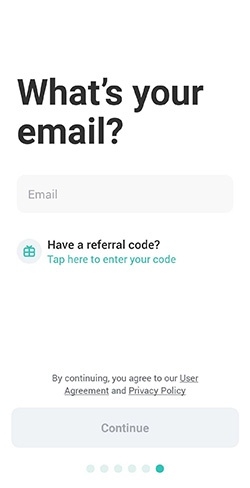 Step 3: Next, you'll need to confirm your email address. This is a pretty standard process. It has to be done from the same device that you are using ZenGo on, though!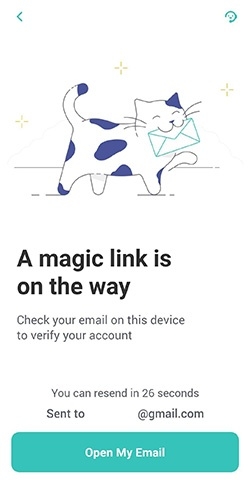 Step 4: Once you confirm your email, you will then be asked to enable Device Lock. This will allow you - and ONLY you - to scan your fingerprint, and unlock (enter) the app this way.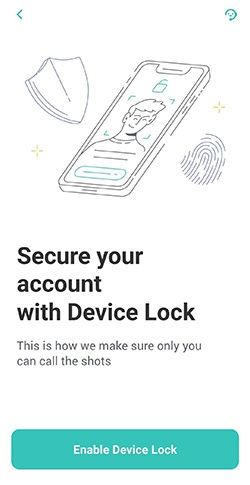 Step 5: Once you do all of that, that's practically it! You now be able to explore the app, check out all of the available features, and set everything up to your liking.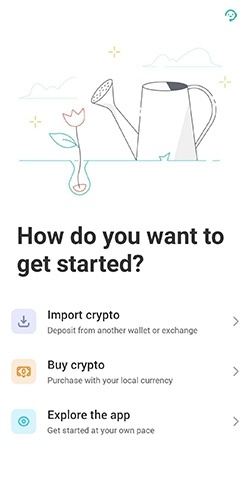 Truth be told, ZenGo wasn't lying - if you have already signed in to your email on your device, the "registration" process is truly super-quick! All that you really need is an email account, and you're set to go!
How to Send / Receive / Buy / Sell / Trade / Earn Cryptocurrencies on ZenGo?
That's a hefty list of processes, yes. However, all of them can be performed from a single screen on ZenGo.
On your wallet, at the bottom menu row, press the "Actions" button. This will take you to a separate screen where you'll find all of the aforementioned processes.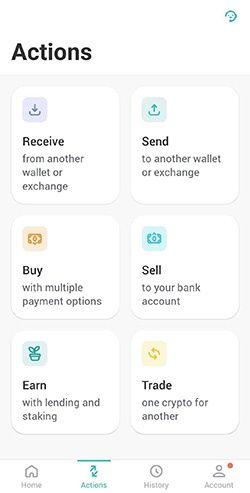 Now, all that you need to do is pick the process that you want to, well… Perform.
If you want to receive cryptocurrencies, you'll need to perform the earlier-discussed biometric backup. Then, all that you'll have to do next is choose the crypto that you'd like to receive, and a wallet address will be generated for you - the process is the same as with any other major multi-currency wallet out there.
From here, you may also trade, send, and earn cryptos, too. Earning them references the APY functionality of ZenGo - you simply dedicate part of your savings (in a specific cryptocurrency) to a savings section on the wallet, and earn a passive yield over time.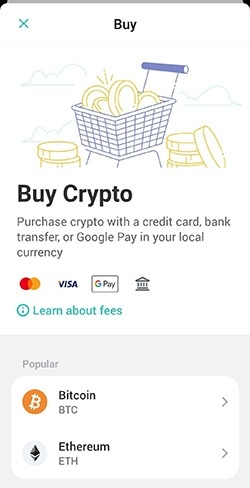 Now, if you want to buy crypto, as we've already discussed earlier in the ZenGo wallet review, you'll be able to do so with a credit or debit card, Google Pay, or a bank transfer. Naturally, you will need to perform the biometric backup before doing so, too, but the rest of the process is very self-explanatory. ZenGo does a good job of guiding you through it, too!
All in all, no matter which process it is that you choose to partake in with ZenGo, you shouldn't face any difficulties, whatsoever!
Here is The Best Ledger Nano X Offer I Found:
GET UP TO $50 IN BTC
Ledger Black Friday Deal
Secure your crypto with a new Ledger wallet and get up to $50 in Bitcoin! Use this exclusive Ledger Black Friday coupon to activate the deal.
Expiration date : 01/12/2023
3,118 People Used
Only 46 Left
Conclusions
To conclude this ZenGo wallet review, I have to say - while the wallet in question may not be the most popular hot storage solution on the market, with the features that it has available at this time, combined with those yet to come, it might definitely become one!
ZenGo is a very interesting piece of software, and has a whole lot to offer to its users. We've covered all the main benefits that you can expect to receive while using this platform, but there are new and improved features that are constantly being added to the wallet.
If you're looking for a reliable cryptocurrency wallet product, and aren't too keen on purchasing hardware wallets or using some of the better-known hot storage options, ZenGo might fit you perfectly. Sure, it's only available on Android and iOS devices, but that could be viewed as one of its strengths, too.
At the same time, do keep in mind that the wallet employs a rather non-traditional security model, and isn't exactly available in all countries and states around the world. If these few things don't bother you, make sure to check ZenGo out!
The content published on this website is not aimed to give any kind of financial, investment, trading, or any other form of advice. BitDegree.org does not endorse or suggest you to buy, sell or hold any kind of cryptocurrency. Before making financial investment decisions, do consult your financial advisor.
About Article's Experts & Analysts