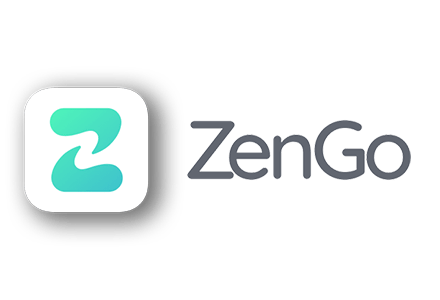 If you're looking for a high-end cryptocurrency wallet, you'll quickly find yourself facing a dilemma - out of the seemingly-hundreds of wallets on the market, which ones do actually deserve your attention? It's often not an easy question to answer! With the help of this complete ZenGo wallet review, however, I hope to make that dilemma a bit easier to manage.
ZenGo is a crypto wallet that has only grown in popularity ever since its inception, all the way back in 2018. If you're knowledgeable about the timeline of crypto events, you'll know that this was the year when the very first infamous "crypto winter" had started - it's definitely a difficult time to launch a product, especially a crypto storage-related one!
ZenGo, however, has persevered, and is nowadays often seen on lists of some of the top-rated hot cryptocurrency wallets on the market. Is the hype justified, though, and is the wallet in question really worth your attention? Well, that's exactly what I'll aim to answer, in this full ZenGo wallet review!
Pros
High-end security features
DeFi hub, various dApp support
Allows you to transact in NFTs
Store over 70 crypto assets
Crypto buying & swapping functionality
APYs of up to 8%
Cons
Some restricted features for certain countries
A mobile-exclusive wallet
Complete ZenGo Wallet Review: PROS
To start things off, we'll take a look at some of the top-notch features available with the ZenGo wallet app, and also, all of the different benefits that you can expect to receive, whilst using this particular wallet.
If you've ever read any of my other crypto exchange or wallet reviews, you probably know that I like to start with the most important feature of them all - security. When it comes to this complete ZenGo wallet review, I'm also very happy to say that the product in question has got that part covered.
Industry-Leading Security Features
Ever since the inception of crypto-related services, security has always been, and will forever remain the most important feature that potential users of said services need to look into, when deciding on whether or not they trust that project.
As you might expect, this is especially-so true with cryptocurrency wallets - devices and pieces of software that are designed to keep your assets safe and sound!
Multiple complete ZenGo wallet reviews written by other users of the platform tend to glance over this aspect. That should not be the case! Specifically, ZenGo appears to offer its users all of the top-rated security features that you might expect to find with a crypto wallet project.
Let's take a look at some of the most notable ones, shall we?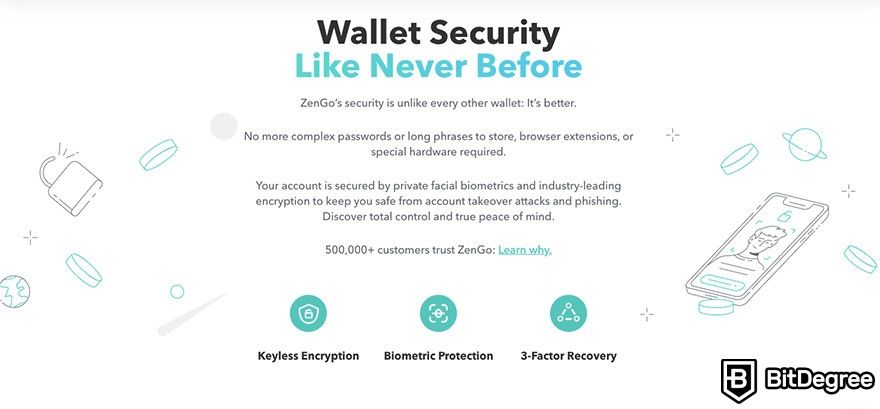 For starters, ZenGo utilizes something that they call "3FA", or three-factor authentication. It's a unique approach to the industry-standard two-factor authenticators.
While 2FA utilizes things such as Google Authenticator or SMS or email verification in order to protect your account (wallet, funds), for those wondering is ZenGo wallet legit, the company offers a different approach.
ZenGo does require all users to confirm their sign-ins, via email. However, the wallet also has your recovery files stored on your personal cloud server. These files will allow you to get your funds back, in case you lose access to your wallet.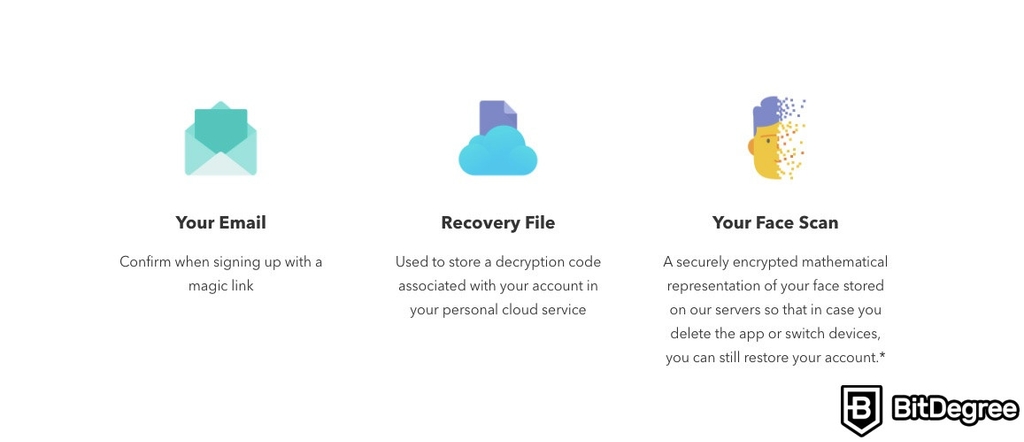 Following that, ZenGo also has face recognition. The company stores the mathematical representation of your face on their servers, and if you, once again, lose access to your wallet (say, you decide to change your mobile device), this will allow you to get your funds back, in a fast and simple manner.
Note, though, that your facial data is encrypted before it's stored on ZenGo's servers. This way, the company behind the wallet does not intrude on your anonymity - not something you'll find mentioned in a lot of complete ZenGo wallet reviews!
If you're still not sure is ZenGo wallet legit, this isn't where the security and anonymity features of the project end. All transactions that you perform on the wallet are encrypted - ZenGo won't be able to view them, and if regulators come in and ask the company to show them your transaction log, ZenGo won't be able to do so, since it does not see those transactions, in the first place.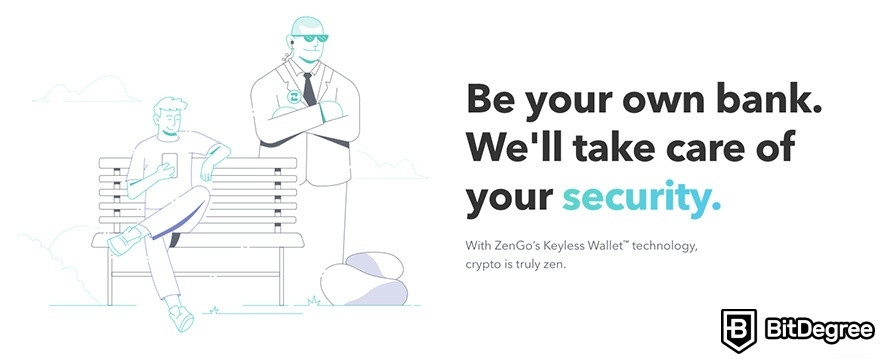 Among various other, smaller features, the last big point to note here is that ZenGo prides itself on being a non-custodial, "Keyless" wallet. Meaning, the ZenGo wallet app won't store your private keys - instead, the company holds one unique signature, while you are given the other.
This, in turn, allows you to remain sure that you're the only one having access to your funds, but that there's also a way to get them back, in case of some sort of an emergency (i.e. your device getting stolen). As you might have understood already, there are a lot of back-up features available with ZenGo!
All things considered, as far as hot wallets go, ZenGo truly does provide a unique, yet still "security-first" approach to keeping your cryptocurrencies safe and secure. It's a huge factor that needs to be taken into account, whether you're looking at ZenGo wallet fees, functionality, or anything else!
Latest Coinbase Coupon Found:
CLAIM YOUR $200 BONUS
Coinbase Cyber Monday
Cyber Monday Madness at Coinbase! Get your first crypto and earn up to $200 in rewards. Hurry up before this Coinbase Cyber Monday deal ends.
Expiration date : 08/12/2023
3,784 People Used
Only 16 Left
Full DeFi / Web 3.0 Functionality
DeFi - decentralized finance - has been the "big thing" for a few years now. It's an industry that has managaed to bring in unfathomable amounts of money, while also springing innovation within the crypto sector, as a whole. It's really no wonder why more and more people are becoming interested in it!
Following that, an increasing number of cryptocurrency wallets are now offering their users built-in DeFi connection. Meaning, you are able to connect to specific dApps from the comfort of your own wallet, without needing to venture out and find those dApps for yourself, on some third-party platform.
In this complete ZenGo wallet review, I'm very happy to say that the wallet in question is just like that, too! Truth be told, ZenGo pays a lot of attention to its DeFi and NFT functionality - especially when it comes to the security side of things.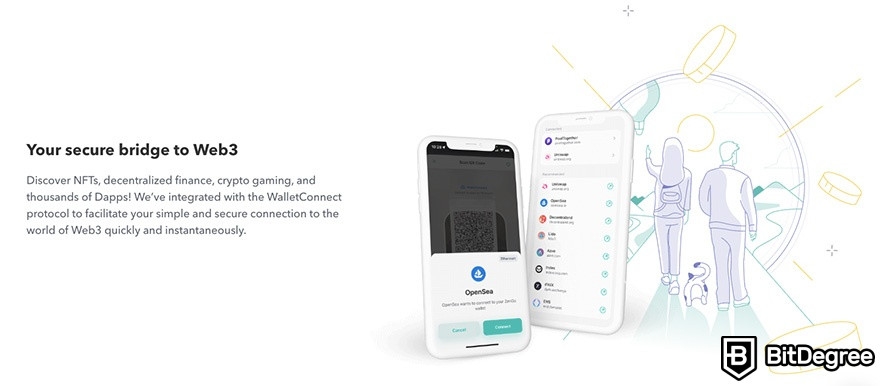 Before you go out and search for ZenGo wallet referral codes and coupon deals (even though the wallet is free to use, mind you), you should get to know WalletConnect - the security protocol behind all ZenGo's DeFi connections.
WalletConnect is like that extra added layer of security for when you're connecting to some sort of a decentralized application. It requires you to confirm your on-blockchain identity, with your cryptocurrency wallet, and once you do so, you'll be able to browse the dApps, worry-free.
Once you get used to utilizing WalletConnect, within ZenGo, you'll be able to explore all of the top-rated dApps, that are available to be reached directly from your wallet interface. That's both convenient, as well as much safer than googling!

In addition to an extensive DeFi hub, ZenGo also allows users to purchase and store NFTs, as well. You'll be able to connect to OpenSea - the most popular NFT marketplace on the internet -, and trade your favorite non-fungible tokens with ease!
So, if you're still wondering is ZenGo wallet legit, by now, you should have gotten the impression that the wallet covers the full spectrum - it does, naturally, allow you to store your crypto assets within, but it also acts as a hub for your DeFi and NFT ventures, and allows you to buy and sell cryptocurrencies with ease.
That's actually the other thing that we should discuss, too.
Full Crypto Buying & Swapping Functionality
These days, it's pretty common to come across cryptocurrency wallets that would not only offer their users crypto storage, but also trading, buying, and selling functionality, too. It really wouldn't be a complete ZenGo wallet review if we didn't cover this aspect of the wallet!
So, yes - ZenGo does allow its users to purchase and swap different cryptocurrencies, from inside of the wallet. The company uses Banxa, Coinmama, and MoonPay as its payment gateways, for all of your crypto buying needs - while you'll be acquiring crypto from a third party, you'll still be able to do so from inside of the wallet interface.
Now, something that needs to be mentioned here is that, while there's a huge list of ZenGo wallet supported countries, certain restrictions still apply to select countries, when it comes to buying crypto. To be a bit more specific, here's a list of countries where you WON'T be able to purchase crypto, via ZenGo:
Bangladesh
Cuba
Iran
Ivory Coast
Myanmar
North Korea
Pakistan
Panama
South Sudan
Sudan
Syria
Zimbabwe
That list includes some US states, as well:
Hawaii
New York
Rhode Island
US Virgin Islands
Within these aforementioned states, residents won't be able to purchase most cryptocurrencies, except for ADA, DOGE, BNB, BUSD, ETH, as well as Matic, and Polygon USDC. Having said that, there are also a number of states where these specific tokens CAN'T be bought. These states are:
You could say - well, since ZenGo allows me to remain anonymous while holding my funds, all of that doesn't really matter! That is, unfortunately, not the case - since your purchases will happen through Banxa, Coinmama, or MoonPay, you will need to pass the companies' KYC processes, and thus, the above-mentioned restrictions still apply.
With that being said, however, the point remains the same - with ZenGo supporting 77 different cryptocurrencies, the vast majority of the wallet's users will be able to swap and purchase various crypto coins and tokens straight from the wallet, and with complete ease of mind.
ZenGo Fees - Rather Approachable
Continuing on with the complete ZenGo wallet review, since we've now established that you are able to purchase and trade (swap) cryptocurrencies on the platform, naturally, your next question will probably involve the ZenGo wallet fees.
While we could have discussed this in the earlier chapter, it's a pretty significant topic, and thus, I feel like it deserves a section of its own. That said, with it being located in the "PRO" part of our full ZenGo wallet review, you can probably guess that the fees aren't going to be all that bad.

Indeed - with ZenGo, you can expect two types of fees. One of the types has to do with you purchasing crypto on a third-party platform (one of the three earlier-mentioned companies that have integrated payment gateways with ZenGo), and the other - with you trading those assets within the wallet.
So - in other words, some fees will depend on third parties, while others - on ZenGo itself. Following that, the wallet itself is completely free to use - you will only need to pay fees when you trade or buy crypto. Simple!
When it comes to you buying crypto on a third-party platform, the fee can range up to 5,99%, depending on your payment method of choice. Yes, that's a huge number - but it's also one that you'll find with most payment processors, too.

As far as the actual ZenGo wallet fees are concerned, though, things are much better - ZenGo has a flat 0,5% trading (swapping) fee that it employs. So, every time you swap cryptos in your wallet, you'll need to pay a 0,5% transaction fee.
While the fees aren't really the *lowest* that you'll come across, you do pay for convenience! Instead of finding a dedicated cryptocurrency exchange platform, creating and funding your account, purchasing crypto, and only then sending it to your wallet, you can skip all of that process - simply buy on and receive your assets straight into your ZenGo crypto wallet!
24/7 Live Customer Support
Customer support is, undoubtedly, a very underrated feature. This complete ZenGo wallet review isn't the first place where I mention it, either - on the flip side, this is a point that I try to make with most of my crypto service reviews!
The reason behind this is rather simple, too - you don't really know HOW valuable proper support can be, until you encounter some sort of an issue, and aren't able to communicate with a support agent immediately.
If, at this point in the review, you're still wondering - is ZenGo wallet legit? -, the fact that the platform has live customer support should really help you leverage the answer in the right direction!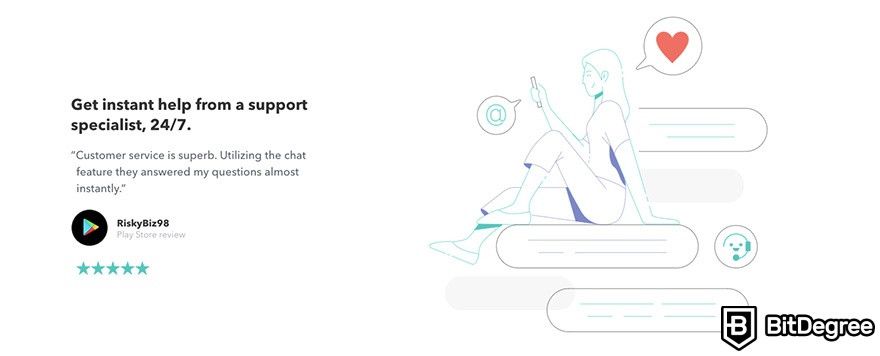 Indeed - upon installing the wallet on your iOS or Android device, you'll be able to reach support at any point in time. While the platform does have an extensive knowledge base, human support will be available 24/7 - it's a huge deal!
On top of all other features and benefits mentioned in this full ZenGo wallet review, up to this point in time, customer support does truly solidify ZenGo as a proper, well-rounded crypto project, at least from the outside looking in. It allows you - the user - to rest assured that, no matter what happens, and what sort of an issue it is that you might face, help is always going to be available!
Earn Up to 8% Interest on Your Crypto Savings
Now - to get the full picture of the ZenGo wallet, and for this to truly be a complete ZenGo wallet review, there's one more feature that you need to be aware of - ZenGo Savings.
This is a huge aspect of the cryptocurrency wallet in question, and it's also one of the more-unique value propositions that the ZenGo wallet has, when compared to other, similar hot wallet services.
ZenGo Savings is a special service that allows you to earn a passive interest on your crypto holdings - those that you store in your ZenGo wallet. The earnings can reach up to 8% annual returns, which is truly an astonishing number, especially when compared to some traditional banking institutions and savings accounts.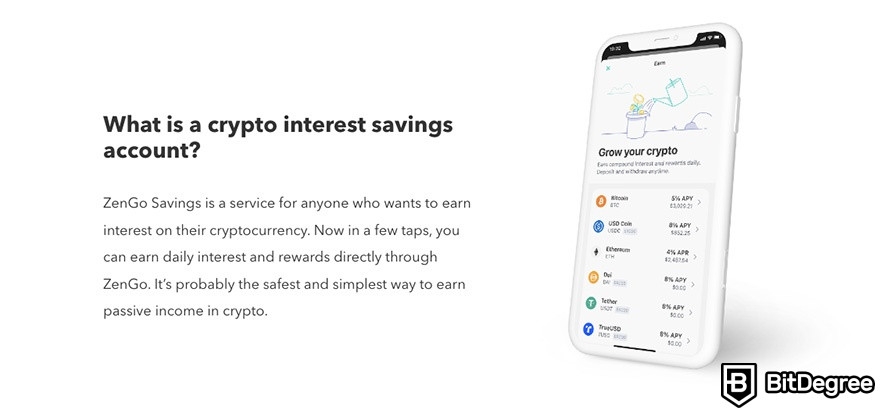 How does it all work? Well, user complete ZenGo wallet reviews will tell you that there are two ways of how you can earn interest with ZenGo Savings - by either lending your assets, or staking them.
Lending is the option that has a bigger pool of options, as far as the cryptocurrencies that you could lend are concerned. ZenGo has partnered up with Nexo, so all of the lending and APY-earning processes would happen via that gateway, but you wouldn't need to leave the wallet interface. The cryptos that you could lend are:
Now, when it comes to staking, currently, ZenGo allows users to stake a single asset - Tezos, or XTZ. The staking of XTZ happens via Chorus One, and in the future, ZenGo plans to expand its stakable asset list further.
Even though it might seem like there isn't a lot of choice, interest-earning crypto asset-wise, you'll be able to earn an APY on some of the biggest cryptos on the market, including Bitcoin and Ethereum.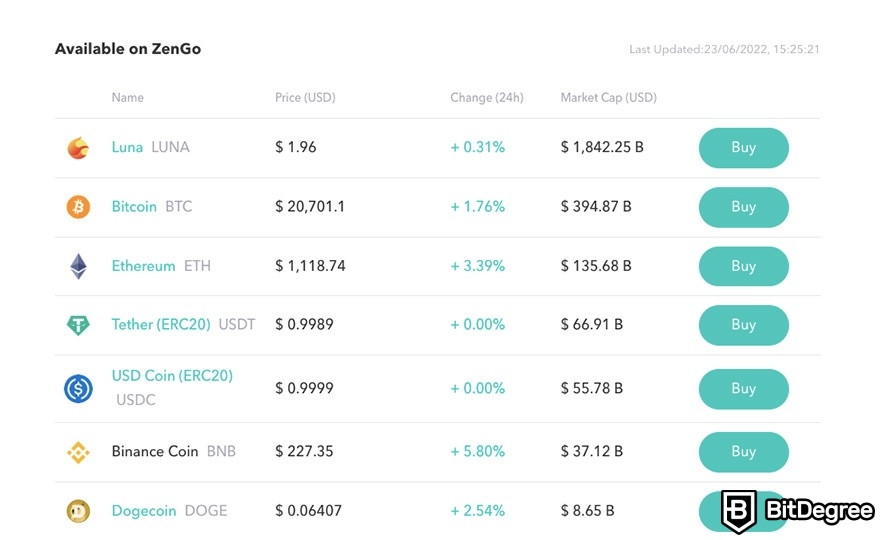 Following that, the fact that ZenGo even has APY-earning functionality is truly amazing, in its own right! You receive the opportunity to earn interest on your assets, without ever leaving the comfort of your cryptocurrency wallet! The best part here is that, with the lending side of ZenGo Savings, there are no asset lock-ups - you're free to withdraw your lent cryptos at any point in time.
Latest Ledger Nano X Coupon Found:
SAVE 10%
Ledger Cyber Monday
Ledger Cyber Monday sale is bringing you the best deals - follow the coupon link & get 10% off Ledger Nano X when buying the Family Pack X!
Expiration date : 06/12/2023
7,469 People Used
Only 21 Left
Complete ZenGo Wallet Review: CONS
With all of the biggest and most-notable features of the service introduced, discussed, and out of the way, in order for this to truly be a complete ZenGo wallet review, we need to talk about the most-commonly-mentioned shortcomings of the wallet, too.
Truth be told, reading through various user reviews, there really aren't that many points that appear to be of concern! Sure, you have the whole "not all assets are supported in all countries and states" thing, but we've covered that already - it has to do with regulatory frameworks in each country, and thus, is difficult to change, from a user or crypto platform sides of things.
One point that does keep coming up in various user semi- and fully complete ZenGo wallet reviews, however, is the fact that the wallet is only available on mobile devices.
A Mobile-Exclusive Cryptocurrency Wallet
As you might have noticed already, in this complete ZenGo wallet review, I've referred to the service as a "ZenGo wallet app" multiple times. That's frankly due to the fact that ZenGo *IS* an app, and an app only.
Specifically, ZenGo can be downloaded and installed on iOS and Android devices. So, if you are using a smartphone, chances are that you'll be able to use ZenGo, too.
The issue that's present here is that there's no way to use ZenGo on a laptop, or a PC. Sure, you could always download and use an emulator, but that's not really a smart thing to do, if you're a security-savvy person who wants to minimize the risks with their crypto holdings.

Is it really a big issue? Well, it actually depends! In a very general sense, most people nowadays turn to mobile wallets - apart from hardware crypto storage devices, mobile wallets are the next-best thing, popularity-wise.
On the flip side, if you don't trust that your mobile device is security flaw-free, or fear that you might lose your phone, in general, then you might turn to a desktop wallet - many people claim these wallets to be more convenient to use, too!
So, essentially, when it comes to the ZenGo wallet app, it all boils down to personal preference - if you're a fan of mobile-based cryptocurrency storage, this won't be a con to you, whatsoever. It would, however, still be nice to have the freedom of choice, nonetheless!

Did you know?
ZenGo VS Trust Wallet - Which is Better?
Before I let you go, there's one last thing that we need to address in this complete ZenGo wallet review - the comparison between the wallet in question, and the Trust Wallet.
The Trust Wallet is often viewed as ZenGo's biggest direct competitor. Many individuals who are looking at hot wallets end up comparing these two storage options, at one point or another.
So, when it comes to ZenGo VS Trust Wallet, which is better, and which one should you choose?
The answer is pretty simple, really - while both wallets appear to be top-of-the-line products, they are also somewhat different, and will thus cater to different cryptocurrency enthusiasts, too.

ZenGo is a more-approachable wallet - users claim that its DeFi functionality is a bit simpler to get into, and the whole wallet is designed with the beginner in mind. No matter if you love Bitcoin, Ethereum, or any other of the popular cryptocurrencies out there, you'll be able to store and swap your cryptos within this wallet.
In its own right, the Trust Wallet has become synonymous with the Binance Smart Chain, and the tokens that reside on it. While you can definitely store Ethereum (including ERC-20 tokens), Litecoin, and many other major cryptos on the Trust Wallet, Cardano (ADA), for example, needs to be pegged, in order for the wallet to support it.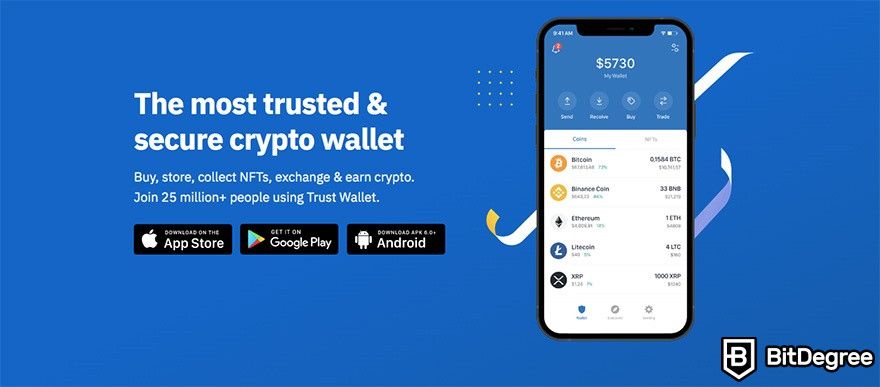 Further comparisons of ZenGo VS Trust Wallet will tell you that both wallets have DeFi functionality, NFT storage capability, and even APY-earning features, as well. That's great! That being said, the point remains the same - if you're looking for a place to store BNB, or are even looking for BEP token-specific wallets, the Trust Wallet would be the way to go.
On the flip side, if you're keen on storing and hodling multiple different cryptocurrencies, and don't really have a set specific "favorite" chain, then ZenGo will prove to be an amazing choice, as well!

Pros
Can be managed from mobile device
Very secure
Supports more than 5500 cryptocurrencies

Pros
Top-tier security
DeFi app support
Store over 5500 assets, install up to 100 apps simultaneously

Pros
Multiple cryptocurrency support
Very secure
SegWit and Bech32 address support
Conclusions
To finish off this complete ZenGo wallet review, but a single question remains - is ZenGo worth checking out, in the first place?
I'd say - most definitely, it is!
ZenGo is a well-designed crypto storage solution. It's a hot wallet, and is supported on most iOS, as well as Android devices. One of the best things about this particular wallet is that it offers a huge number of features and benefits to its users - DeFi functionality, a built-in dApp browser, NFT acquisition capabilities, buying and swapping cryptos, and quite a few more.
The wallet is also rather simple to use, and beginner-friendly. At some point, I might even right a dedicated ZenGo wallet tutorial, showcasing all of the main features of the wallet, and how to use it - keep an eye out for that!
The list of ZenGo wallet supported countries is vast, and even when you compare ZenGo VS Trust Wallet - one of the biggest names in the hot wallet industry -, ZenGo truly does hold its own, rather easily.
All things considered, if you're looking for a reliable, secure, and well-designed cryptocurrency wallet, ZenGo appears to be definitely worth checking out. With that said, though, thanks for reading my complete ZenGo wallet review! Best of luck in all of your crypto-related endeavors to come!
The content published on this website is not aimed to give any kind of financial, investment, trading, or any other form of advice. BitDegree.org does not endorse or suggest you to buy, sell or hold any kind of cryptocurrency. Before making financial investment decisions, do consult your financial advisor.
About Article's Experts & Analysts