Welcome to my guide to finding the right Verge wallet. In this guide, I'll tell you everything you need to know about finding the perfect Verge wallet to suit your needs. I'll tell you what wallets there are, what features they have and which ones work best with Verge.
I need to ask a couple of important questions first before I get to any of the complicated stuff;
What is the Verge?
What is a crypto wallet?
By the time you finish reading, you'll have the answers to these questions and many more. Most importantly, you'll know which Verge wallet is best for you.
Let's start by having a quick look at what the Verge is...
Origins of Verge Wallet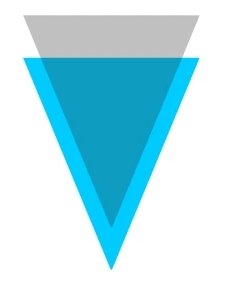 Verge (XVG) was created in 2014. It was originally called DogeCoinDark but changed its name in 2016.
Verge is a cryptocurrency which allows users to make anonymous and untraceable transactions. This means that user identities and the transactions they're making are hidden. Verge uses the Tor network to make this possible.
Note: Tor is a free piece of open-source software that allows users to communicate anonymously. It does this by hiding user data with encryption. It also routes communications through many different IP addresses which makes them untraceable.
In April 2018, the adult entertainment website, PornHub (I haven't provided a link for obvious reasons!) announced that its users could now pay for services with Verge. This is a major development for the coin and cryptocurrency in general.
However, the Verge has had a few problems too. It's been hacked twice since the beginning of 2018. The latest attack happened on May 21, and $1.4 million worth of Verge was stolen.
it appears some mining pools are under ddos attack, and we are experiencing a delay in our blocks, we are working to resolve this.

— vergecurrency (@vergecurrency) May 22, 2018
So, that's the story of Verge so far. Next, a brief look at what wallets are...
For a more detailed look at Verge, check out my beginner's guide to Verge!
Understanding Cryptocurrency Wallet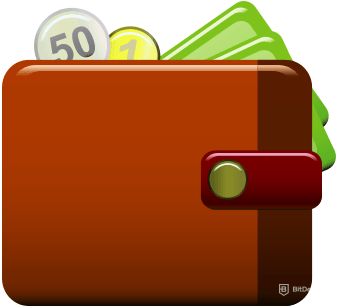 Many people think that crypto wallets store cryptocurrency. Well, they don't. Crypto wallets are a way to store information about cryptocurrency. Cryptocurrency only exists on blockchains, so you can't put it in a wallet, your pocket or a vault at the bank.
Blockchains are huge databases of transaction information that are stored on thousands of computers called nodes. To store and move cryptocurrency on a blockchain, users need two kinds of information. They are:
Private keys: These are unique pieces of code that act as a digital signature for crypto transactions. They must be kept very safe. If a user loses their private keys, they will lose their cryptocurrency.
Public keys: These are like digital locations for cryptocurrency. A user can have many digital locations where their cryptocurrency is kept. To make a crypto transaction, users need to know the public address they want to send cryptocurrency to.
Crypto wallets can be a full node or light node. A full node wallet contains the entire blockchain and a light node doesn't. A light node is updated by a trusted full node service. As you can imagine, running a full node wallet uses a lot of space and energy on the user's device. More casual users will find a light node wallet much quicker and easier to run.
These aren't the only types of wallet though. Let's look more closely at the different kinds of wallet. Then, you'll be able to choose which one you want to store your Verge keys in...
Latest Ledger Nano X Coupon Found:
SAVE 10%
Ledger Cyber Monday
Ledger Cyber Monday sale is bringing you the best deals - follow the coupon link & get 10% off Ledger Nano X when buying the Family Pack X!
Expiration date : 08/12/2023
7,469 People Used
Only 21 Left
Types of Wallets
Different wallets have different features. Each type of wallet has advantages and disadvantages. The XVG wallet you choose will depend on which features are most important to you. Here are the five main types of wallet;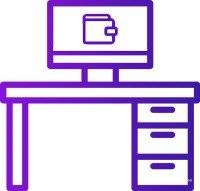 Desktop wallets are software that can be downloaded or installed on a laptop device or PC. They can be full or light node wallets but can only be used on the device they're installed on. Desktop wallets are only as safe as the computers they're running on. If your computer has a virus, is hacked or stolen, then you can lose control of your cryptocurrency.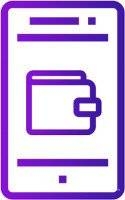 Mobile wallets are light node wallets downloaded onto a user's mobile phone as an app. They use much less memory than a desktop wallet and so have much simpler features. Mobile phones are frequently lost or stolen so it's not recommended that users keep keys for large amounts of cryptocurrency stored on them.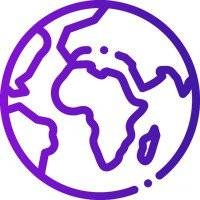 Online wallets are sometimes called web-hosted or cloud-based storage. They are usually accessed through a website, cloud server or browser. Online wallets are quick, easy to use and don't require installation. They are risky though. Online wallets are a form of hot storage, which means that your private keys are stored online. Any information which is stored online is out of the user's control and at risk of being hacked.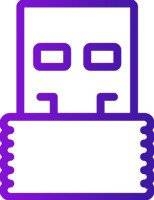 Hardware wallets are usually detachable storage devices like USB sticks. They allow users to keep their private keys away from devices that can be accessed by the internet. This makes them one of the safest forms of cold storage. However, users face the problem of finding somewhere safe to store their hardware wallets! Users will also need access to another safety device to make transactions.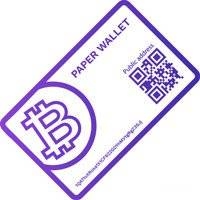 Paper wallets are pieces of paper with private and public keys printed on them, simple! They can be handwritten or printed-out. Transactions can be made with a paper wallet by entering codes manually or scanning the QR code that's printed on them. This process is called sweeping. Paper wallets are very safe forms of cold storage. Just don't let your dog look after them!
Now you know what kinds of wallets are available, let's get back to Verge. What's the best Verge wallet on the market right now and which one is best for you? Let's find out...
Choosing a Verge Wallet
For the rest of this guide, I'm going to be showing you a selection of Verge wallets. Then, it's up to you to decide which XVG wallet best suits your needs. Let's start with a look at your choices for a desktop Verge wallet…
Desktop Verge Storage
There are two main choices of desktop Verge wallet for you to think about. They are:


Electrum Verge wallet: This wallet was originally designed as a Bitcoin wallet but has been adapted to store Verge. The Electrum Verge is a light node so transactions can be made very quickly using SPV and it doesn't take up a lot of space on your device.

Note:

SPV is Simple Payment Verification. It's a fast way for light node wallets to verify transactions using only a small amount of the information that full nodes require. The wallet can be used with Windows, Linux, and Mac OS X systems. It can also be used alongside Tor for added privacy. Each version can be downloaded from Verge's

homepage

. Electrum has security features that include two levels of encryption and seed phrase backup.

Note: Seed phrase backup is a feature that allows users to access their private keys using a set of words which only they know.

QT Verge wallet: This wallet was designed to increase user privacy. It's a full node wallet so it will use a lot of space on your device and its design is less user-friendly than the Electrum Verge wallet. However, the QT Verge wallet has added privacy and security features. This will appeal to users who like to make anonymous transactions. It's also available for download from the Verge homepage and is compatible with Windows, Linux, and Mac OS X systems. The QT Verge wallet can't be used to store multiple coins, so it won't be for you if you like to keep all your keys in one place.
I recommend the Electrum Verge wallet for users looking for a reliable desktop wallet. It's light, quick and has a good reputation in the crypto community. However, it can only be used to store Verge keys so if you own a lot of different coins, it might not be the wallet for you.
Next, we will look at the best Verge wallet for mobile devices…
Mobile Verge Storage
If you want the convenience of a mobile wallet, then you have two main options;
Tor Verge wallet: This mobile app can be used with Android systems and has great privacy settings because it uses the Tor network. The app allows users to scan QR codes from other Tor wallets and paper wallets. The Tor Verge wallet only has a user rating of 3.4 out of 5 at Google Play from 634 reviews. This suggests that the app needs improvement.
Coinomi Verge wallet: This wallet is the first on our list to offer multi-coin storage, so it's great for keeping all your keys in one place. It's also been tried and tested by the crypto community. The Coinomi Verge wallet has a score of 4 out of 5 from 5,619 reviews at the Google store. Unfortunately, it's not available as an iOS app yet. It does have some great features though. For security, Coinomi uses seed phrase backup and the user's IP addresses are hidden for extra privacy. The wallet also has ShapeShift built into it. This means that it can be used as a trading exchange as well as a Verge wallet.
The clear winner here is the Coinomi Verge wallet. It's well-designed and has enough features to keep most users happy. But is it the best Verge wallet? Before you decide, there are a few more options to think about...
Paper Verge Storage
The team at Verge have been kind enough to provide their users with a customized paper wallet generator. This means that by visiting this link, users can create a paper XVG wallet with their keys printed on it.
The paper XVG wallet is one of the safest ways to store your Verge keys. This storage solution will appeal to users who want complete control of their Verge. Making your paper Verge wallet is a little tricky but it's worth the effort.
The important things to remember when you're making a paper Verge wallet are:
Calibrate your printer: The printout will have codes on the front and back which need to match so it's important to follow Verge's instructions for how to setup the printer you're using.
Run the generator offline: It's not safe to use any paper wallet generator whilst you're connected to the internet. Download the generator from the Verge website and use it offline.
Storing keys offline in a physical form is highly recommended to all Verge users. Paper wallets never crash or get hacked and they don't take up half of your hard drive either!
The last Verge wallet option I want to tell you about is online…
Online Verge Storage
There aren't any web-based wallets (that I can find!) that support Verge storage. That doesn't mean you can't store your Verge keys online though. Almost every cryptocurrency exchange offers wallet storage. This means that if you buy Verge from an exchange or make a deposit using it, then the exchange will store your keys for you.

Storing your keys in an online XVG wallet is very convenient and is perfect for casual users who don't want to waste time downloading software or calibrating their printer! However, online wallets aren't very safe. The exchange you trust with your keys has complete control over them. It's not uncommon for users who store keys on exchanges to report missing funds and unhelpful customer support.
If you choose to store keys in an online Verge wallet, then make sure you use an exchange with a good reputation and high levels of account security. My top picks for crypto exchanges that offer XVG wallet storage are:
Bittrex: This trading exchange allows deposits to be made with Verge which can then be stored in its online wallet. Bittrex stores 80-90% of user funds offline to keep it safe from hackers. It also requires two-factor authentication for all of its accounts. This is a security feature where two kinds of the password are required to access an account.
Bitfinex: Another trading exchange that offers a high level of account security and good customer service. Only 0.5% of user funds are kept in hot storage online at Bitfinex. User accounts are protected with two-factor authentication and PGP encryption.

Note: PGP is Pretty Good Privacy and it's a program that hides user information.
An online Verge wallet is best for users who need short-term storage for small amounts of coins. I wouldn't recommend online wallets for storing large amounts of Verge for long periods.
And that's it. My complete guide to finding the right Verge wallet for you. But I know what you're thinking...what about hardware wallets?
A Note on Hardware Storage for Verge
There are no major brands of hardware wallet which I can recommend for storing your Verge. There are two hardware wallets that I often recommend. They are Ledger and Trezor. Unfortunately, neither of these offer support for Verge at this time.
There may be other brands of hardware wallets that do but I wouldn't recommend them without researching them first. If you know something I don't, then let me know and I'd be more than happy to check it out and get back to you!
Before you decide which XVG wallet is the one for you, I have a few suggestions...

Did you know?
Suggestions and Recommendations
Now you know everything you need to know to choose the best Verge wallet to fit your needs.
My first recommendation is to use more than one wallet. The safest way to store crypto keys is on several different private keys (different wallets). You should never keep all of your cryptocurrencies under one private key.
Next, choose a combination of wallets that have features that are important to you. For example, if you value privacy, go with the QT Verge wallet and a paper Verge wallet. However, if you want a desktop wallet that is well-respected in the crypto community, then you should choose the Electrum wallet. And don't forget you'll still need a paper backup wallet!
LEDGER
ELECTRUM

Main score based on expert evaluations & real user reviews.

Whether the crypto wallet is hardware, software, desktop or paper type.

Hardware
Software

For which purpose or for what kind of people is the cryptocurrency wallet best for.

Best for Safely Storing, Sending, and Receiving Different Cryptocurrencies
Best for Day to-Day Spending of Cryptocurrencies

Most popular hand-picked deals & coupons.

See All Coupons of Best Wallets
See All Coupons of Best Wallets

Final crypto wallet evaluation conclusion based on research, expert opinions & user feedback.

One of the safest hardware wallets on the market.
One of the most trustworthy and oldest Bitcoin wallets around.
Visit site
Read review
See TOP10 Brands
Read review
Table: The main features of the Ledger Nano S and the Electrum wallets
If you want a wallet that you can store multiple coins on and access anywhere, then Coinomi is a great choice. Although, an exchange wallet like Bitfinex is just as good for storing a small number of coins. Neither one of these options should be used by themselves though. You'll need access to a desktop or paper wallet as well.
If you've learned nothing else from this guide, then learn this. Safety first!
Verge has had quite a few problems in the recent past. If you own some, make sure you store your keys securely. Using a mixture of hot and cold storage with a paper backup is the best Verge wallet solution I can think of.
But enough of what I think, what do you think? Do you use a Verge wallet that I haven't talked about? Are my recommendations wrong? Let me know, there's nothing I enjoy more than a lively debate!