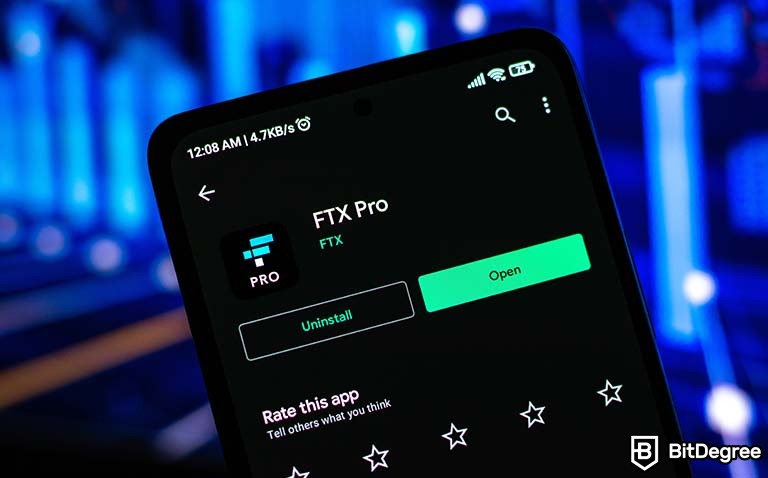 FTX is probably one of the best-known names in the cryptocurrency exchange industry, nowadays. The platform has seemingly boomed into popularity, in just a few years of operations. If you're unsure of what is FTX, though, or want to learn how to use it, this article is for you!
Truth be told, with FTX, situations like these are, well… Very likely. While the exchange is, admittedly, very popular, it's also one that's far from being simple to use, or navigate through. This is especially true if you're a beginner in the industry.
The aforementioned difficulty, however, stems mostly from the fact that there's a huge array of different features for users to check out, and utilize. All of those features can quickly become quite confusing, and when you combine them with a beginner's lack of experience, well - it can get frustrating!
Worry not, however - that's what I'm here to help you out with!

Did you know?
Want to get smarter & wealthier with crypto?
Subscribe - We publish new crypto explainer videos every week!
How to Trade NFTs Safely? (Animated Explainer For Beginners)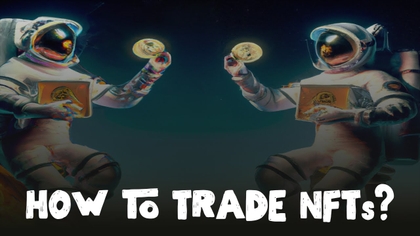 What is FTX: A Quick Overview
Now, before we get into the actual nitty-gritty details of how to use the FTX staking, trading, and other functionalities, we first need to get the core question answered, and out of the way - what is FTX, to begin with?
Latest Deal Active Right Now:
$300 + 40 DOGE BONUS
Huobi Black Friday Limited-Time Period
Huobi Black Friday & Cyber Monday 2023 period offers great bonus for new users - sign up & earn up to $300 + 40 DOGE bonus!
Expiration date : 14/12/2023
3,817 People Used
Only 31 Left
Truth be told, this is actually something that I've actually discussed, extensively, in a dedicated FTX review. If you're completely unfamiliar with the FTX app, make sure to check that article out, before continuing on with this one - it will provide you with the much-needed context!
That being said, though, if you're like just a quick, general overview of the platform in question, we still need to discuss is FTX safe, reliable, and worth checking out, in general.

So - what's the deal with the FTX app, and why has the exchange become as popular as it is?
Well, to start off, one of the core reasons for FTX's popularity has to do with the very reason why you're reading this "what is FTX?" tutorial, in the first place - the exchange has an unprecedented number of features! Apart from the traditional crypto trading and storage, you'll also be able to find FTX staking, FTX futures, derivatives, charity, and multiple other functions on the platform.
Following that, FTX is also known for its fee model, as well. When you're just starting off, you'll be able to enjoy 0,02% and 0,07% market maker and taker fees, respectively. Such numbers are very rare to come across, and are truly a significant attraction for anyone who's looking to get the biggest advantages from their trades, potential profit-wise.

The FTX wallet and exchange also support over 250 different crypto assets, too. Meaning, whether you're just starting out, or are already an experienced crypto trader, you'll be able to take advantage of that number, and diversify your portfolio with ease, on this single platform.
Now, while learning what is FTX crypto, you will undoubtedly come across even more features and benefits associated with the exchange in question. That being said, once again - if that's something you're interested in studying in a more in-depth manner, make sure to check out my dedicated FTX review!
For the time being, though, you should have been able to develop a pretty decent idea of what the platform is all about. With that said, let's now move on to the actual FTX wallet and exchange tutorial.
How to Use FTX: Setting the Scene
Now, while we've established the fact that FTX has a myriad of different features and functionalities for users to utilize, in this "what is FTX?" tutorial, we'll focus on the "hottest" and most-relevant of those features.
Specifically, while we could discuss the charity side of the platform, or all of the different places where to buy FTX tokens, FTX KYC and trading functions are probably a bit more relevant to your average user.
FTX Registration & KYC Verification Checks
Starting things off, as you begin your journey with the FTX app, you will first need to register on the website. For the sake of simplicity, I'll be using the desktop version of the platform - however, you may also choose to download the FTX US Pro mobile app, too!
This is another point to consider before starting out, as well - US-based individuals will have to use a separate platform, instead of the main one. This is mostly due to regulatory compliance issues, and the assets (and other financial products) that are available to be traded on the FTX app.
Step 1: Go to the FTX official website, and press the "Create a free account" button at the top-right corner of the screen.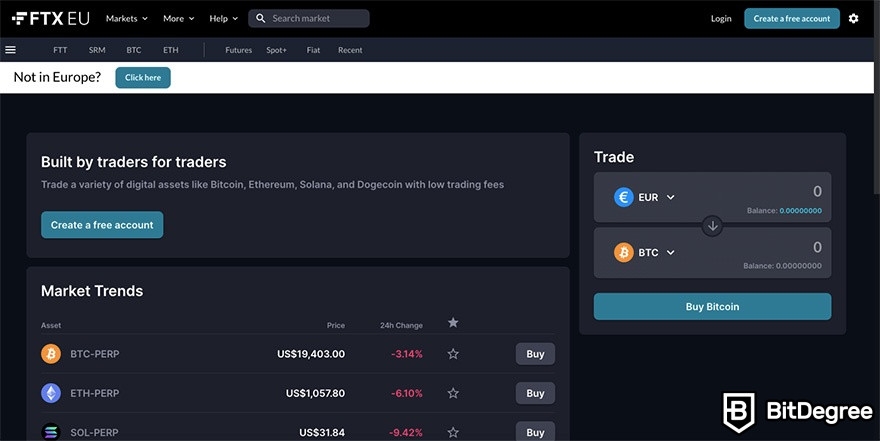 Step 2: Now, you will be asked to create an account - enter your email address, and create a password. Alternatively, you may also sign up using Apple or Google.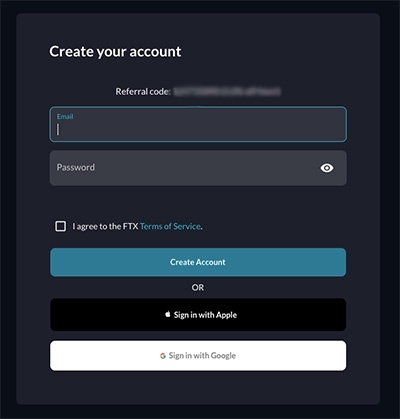 Step 3: After you sign in for the very first time, this is where you'll encounter the KYC processes of FTX. It's actually no secret that FTX KYC is one of the most aggressive "Know Your Customer" verification checks in the industry.
In order to perform any meaningful actions on the exchange platforms, you will need to pass this KYC process. It's quite longwinded and extensive, but worry not - that's what I'm here for!

To start off, you'll need to enter your legal name and surname, as well as your date of birth and phone number. Additionally, you will also need to check whether your country of residence is correct, too.
Step 4: Continuing on with this journey to figure out what is FTX crypto, you will now need to confirm your nationality and place of birth, as well.

Quite a few cryptocurrency exchange platforms don't really pursue such sensitive information, straight out of the gate - FTX, however, requires you to fill all of this out immediately after registration.
Step 5: Moving forward, you will now also need to state whether or not you're a FATCA / US Reportable Person, as well as if you have any political affiliation (PEP). As mentioned earlier in the "what is FTX?" article, if you want to use FTX US Pro, you will need to switch to a different platform.
Step 6: Next up, you will need to declare your source of income, your employment status, your unique tax ID, as well as your tax jurisdiction and estimated net worth. It is, truly, a lot of information to fill out, but hang in there - we're almost done!

Step 7: To finish things off, you will also need to tell the FTX wallet and exchange about your employment status, your employer, your experience with trading financial assets, and take a short quiz for risk assessment purposes. After all of that is done, you're set!

After you submit your KYC verification documents, you'll need to wait a bit, until everything is checked and approved. If you managed to complete the verification without making any mistakes, your account will be activated, and you'll be able to start depositing and trading crypto!
So - just to address the elephant in the room, it's true that FTX KYC is, well… Rather intrusive. Note, however, that you would find the same type of KYC checks with other high-profile exchanges, as well - the difference, however, is what you CAN and CAN'T do until you finish them.
Take Binance, as the simplest example. The company has different tiers of user KYC verification - while it's mandatory for you to identify yourself to the exchange, you can start trading small sums of crypto assets by providing the very basics. Additional information is required when you want to trade, deposit, and withdraw more.
Going back to the FTX app, the strict KYC requirements are definitely one of the biggest deterrents that scare potential users away from the platform. However, FTX aims to keep their exchange secure and well-maintained, as well as comply with relevant regulatory oversight - these are some of the core reasons for these checks, after all!
How to Deposit / Withdraw Crypto to / from FTX?
Since you've now passed the FTX KYC checks, the next step to figuring out what is FTX and how to use it is to deposit some cryptocurrencies into your wallet. Once you've funded your account, you'll be able to start trading on the site!
Step 1: Assuming that you'll start from the homepage, and that you're logged into your account, the first thing that you need to do is to navigate to the top-right corner of the screen, and hover over the "Wallet" button. Pressing "Portfolio" will take you to your FTX wallet.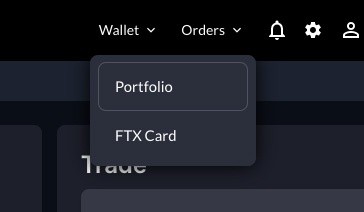 Step 2: It's currently empty - let's change that! Whether you're wondering where to buy FTX tokens, or how you can start trading crypto on FTX futures, chances are that, to begin with, you'll want to fund your account.

Click on the "Deposits" tab, and you'll be redirected to another section of the page - here, you'll need to click "Make a deposit".
Step 3: What you see on your screen now are all of the different financial assets that you can choose to add to your FTX wallet account. Not many user "what is FTX?" tutorials point this out, but you may also transfer fiat money, too, in addition to cryptocurrency assets!
On top of that, as you can see from the picture above, there's even FTT token support, too. So, if you're still not sure where to buy FTX tokens, the answer is simple - you can purchase on or transfer them to FTX itself!
After you pick the asset that you'd like to acquire, you'll be able to either fund your account (if it's fiat money), or transfer the cryptocurrency that you've chosen to a designated FTX wallet.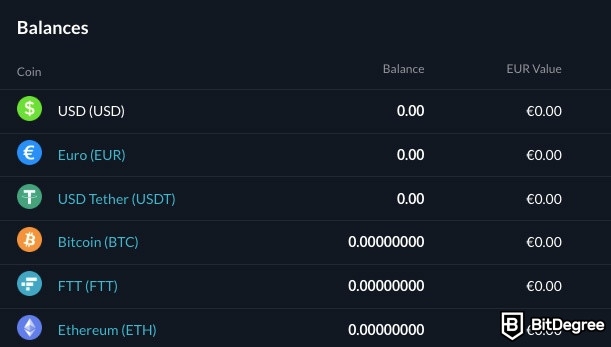 With the latter process, the transfer looks pretty much the same as with any other wallet or exchange that you would do it on - make sure to follow all of the best-practices, and double-check the address that you're sending your crypto to!
Withdrawal-wise, FTX allows users to withdraw both fiat money, as well as crypto assets, too. If you want to withdraw fiat (USD, EUR, and so on), you'll need to provide the exchange with your bank account or debit card information - however, if you've already bought crypto on FTX, chances are that you've already done so.
Withdrawing crypto is a bit more interesting. Let's take a look at the process, in a step-by-step manner.
Step 1: For starters, it's highly advised that, before you withdraw any cryptocurrencies from your account, you take the time to set a withdrawal password. You can do so by going to your profile, and finding the feature under the "Account Security" tab.

This password will (well, SHOULD!) be different from your account password. It will protect your assets from being transferred out of your account, if some sort of a security breach were to occur.
Step 2: After you have your password set, you may now navigate back to the earlier-mentioned window (your FTX wallet portfolio), choose the crypto that you'd like to withdraw, and click the "Withdraw" button.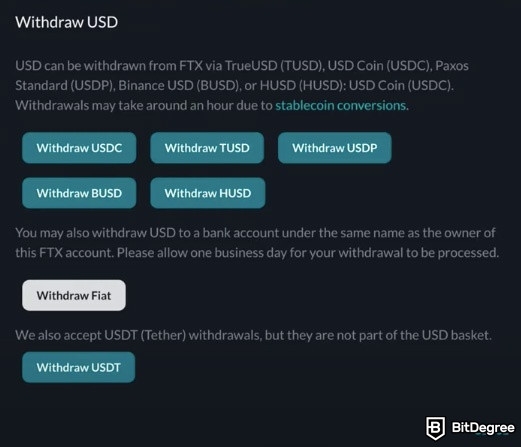 You will get a pop-up, asking you for initial withdrawal details. If you're trying to figure out what is FTX, and how does it work, you should know that, withdrawing stablecoins, you'll have a large selection of networks to pick from (specifically, you'll be able to choose the stablecoin that you'd like to convert your USD into).
Step 3: After you choose your crypto, the next step is rather self-explanatory - now, you'll simply need to specify the rest of the details regarding your transaction. These include the amount that you want to withdraw, the network via which you've chosen to withdraw your assets, the receiving wallet address, and so on.
Step 4: After all of that is said and done, all that's left to do now is to double-check your transaction information, and input your withdrawal password. That's about it!
So, to recap, whether you're using FTX US Pro, or the traditional desktop version of the platform, the crypto & fiat depositing and withdrawal processes are going to be pretty simple to perform.
Also, the fact that FTX allows its users to set a withdrawal password, in addition to things such as 2FA (two-factor authentication) simply goes to show that they care about the security of your funds! So, if you're still wondering is FTX safe, this is a point worth considering!

Pros
A very well-known crypto exchange platform
More than 500 different cryptos available
Two-factor authentication
Main Features
Over than 100 different cryptocurrencies available
Strong security
Small withdrawal fees

Pros
Secure and reliable
Low fees
A good amount of fiat currencies accepted
Main Features
Reputable exchange
Multiple fiat currencies are accepted
Relatively low trading fees

Pros
Anonymous trading
Secure
Supports a variety of cryptocurrencies
Main Features
Easy to use
Low fees
Good security
How to Trade Cryptocurrencies on FTX?
With your account verified and complete, and with some crypto funds in your FTX wallet, the next step in many people's crypto journeys is going to have to do with trading - whether it be FTX futures, finding out where to buy FTX tokens, or anything in between.
Indeed - while multiple user "what is FTX?" tutorials focus on things such as depositing and withdrawing cryptocurrencies from the exchange, its trading functionality is among the biggest features that you should be aware of, and learn to utilize!
Step 1: From the homepage of the platform, navigate to the top-left corner of the page, and hover over "Markets". Here, you will see some of the main markets available to be accessed via the FTX app, as well as the desktop version of the exchange. Click on "All Markets".

Step 2: Here, you are able to see all of the different financial tools available on FTX. These include FTX futures (perpetual contracts), the Spot market (the "usual" way of trading crypto - however, with FTX, it's "Spot+", which is a derivative financial product), and so on.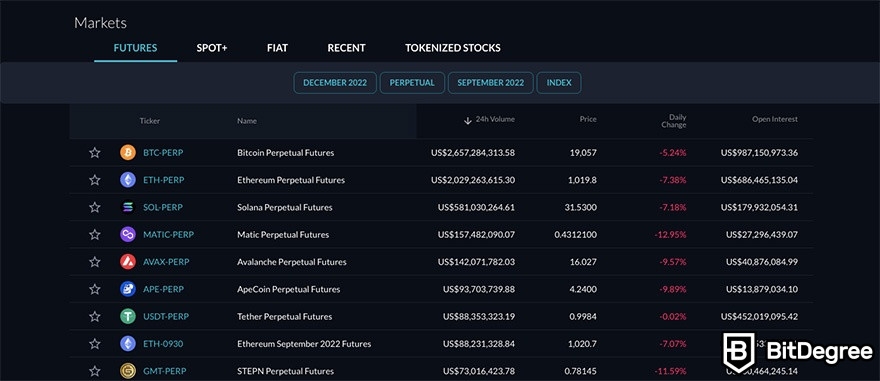 For the sake of simplicity, let's focus on the Spot+ markets. Put frankly, your experience trading in other markets will remain very similar, trading view-wise. So, click on the "BTC-USD" pair, in the Spot+ tab.
Step 3: The window that pops up is the trading view - something that's mentioned pretty commonly in various user "what is FTX?" tutorials. If you're a cryptocurrency hodler, then it's probably not something that you'll be using, all that often. However, if you're an active day trader, then this is going to be the screen that you'll use the most.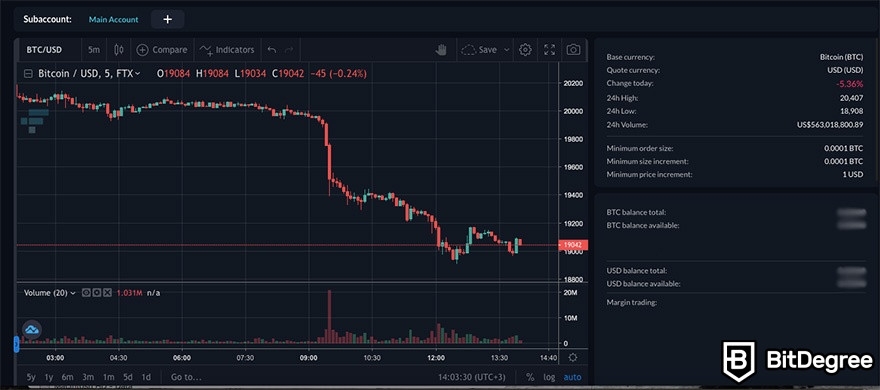 On the left side, you have the price chart of the asset that you're trading - in our case, it's BTC. On the right, there's all of the information about this particular market - its performance in the last 24 hours, the amount of the asset that you hold, yourself, and so on.
Scrolling a bit lower, you'll see the actual trading window, too. It's in the middle of the screen, between the order book, and the market trades.
Here, you're able to enter the amount of the asset that you'd like to buy or sell, and choose the type of order that you'd like to perform. By default, it's going to be set at a limit order, but you can change that, at any point in time.

On top of that, you may also request higher leverage for your account, too. Do note, however, that leverage trading is a very risky activity - make sure that you know what you're doing!
Now, as mentioned earlier, if you choose to trade other financial instruments, there might be a few differences in how the trading view looks - the general idea, however, will remain the same, all throughout.
Following that, it's worth mentioning that the trading view available with the FTX exchange isn't going to be all that much different than with other cryptocurrency exchange platforms in the industry. Thus, if you already have some experience with trading crypto, you should figure things out, pretty quickly.
If that isn't the case, though, and you're just starting out, then it's worth spending the extra time to figure out what is FTX, and how does its trading view work, so that you wouldn't feel lost, when you actually start using it.
Staking on FTX
Before I let you go, there's one more feature that we should take a look at, when it comes to the question - what is FTX? As you might have gathered by now, that feature is FTX staking.
Staking is a complex subject, and FTX has a pretty unique approach to it. As of writing this tutorial, the exchange allows you to stake 4 different cryptocurrencies:
Staking these different crypto assets, you'll be able to earn different rewards, as well. Since this is an article regarding the question "what is FTX crypto?", though, and multiple users might be interested in where to buy FTX tokens, let's illustrate our staking example with the FTT token.
Step 1: The very first thing that you need to do is navigate to the top-left corner of your screen, and under the "More" tab, you'll find "Stake". Click it.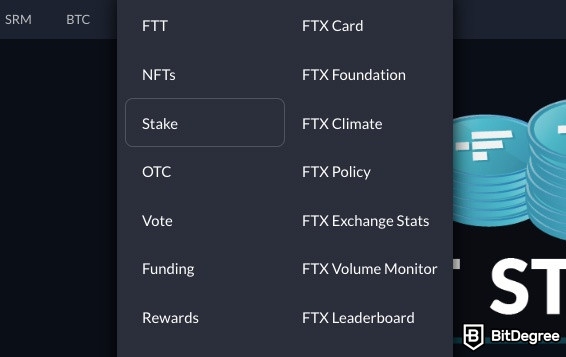 Step 2: By default, you will be redirected to the FTT staking page. Here, you can read up about the different benefits that you will receive, as you stake your FTT tokens on FTX. This is where you'll find information about the staking process, as well.
Step 3: Now, your next step is to buy some FTT tokens - this can be done from the comfort of the same page. Simply scroll down, and where you see the balance of your FTT, there'll also be a "BUY FTT" button, too. Clicking this button will bring up a pop-up where you'll be able to purchase FTT, with your available USD.

Step 4: Once your transaction goes through, and you see your balance updated, you can now click "STAKE", and, after picking the amount of FTT tokens that you'd like to commit to the exchange, start staking on FTX.
The cryptocurrency exchange in question has really made the process of staking your crypto assets pretty simple and straightforward, at least as far as the FTT token is concerned. You don't need to have any prior experience with staking of any kind, in order to be able to understand how it works on FTX!
With that being said, though, you should always make sure that you've looked into the terms and conditions of the staking process, with each of the assets that you might decide to stake. FTT is a pretty good example here.

If you were to stake your FTT, and then suddenly change your mind and unstake it, you would need to wait anywhere up to 14 days for the FTT to be unlocked and returned to you. For some people, this isn't a big deal - however, if you skip this part of the terms, and encounter a situation where you really need that FTT, as soon as possible, it can be a nuisance, to say the least.
Furthermore, FTT is the only crypto token that you can stake in order to receive a wide selection of benefits on the FTX wallet and exchange. These benefits include everything from referral reward increases, all the way to bonus community votes and eliminated fiat withdrawal fees.
Staking SRM, SOL, and RAY, generally speaking, the reward for these FTX staking processes will be some sort of an annualized yield (APY). The specific numbers can range, quite a bit, so make sure to look into it, whenever you decide to try out staking yourself!
Conclusions
If you've read through this "what is FTX?" tutorial thoroughly, you've probably noticed that FTX has some very differing learning curves, depending on the features of the exchange that you decide to use.
For example, if you were to only look at the crypto acquisition processes of the exchange, or even its staking functionality, everything seems to be pretty clear and simple to understand. Even if it's your first time using a cryptocurrency exchange, you shouldn't come across any huge hurdles!
On the flip side, though, a single look at the mandatory FTX KYC verification procedure that the platform employs with all of its users can really make you shrug away from the exchange, for good. If, however, you manage to pass through these difficulties, and they don't scare you away from FTX, the exchange really has a lot to offer!
The above statement is especially true if you're an active day trader, and have been doing (or are planning to do) this for a long period of time. In a situation like this, the feature variety available with FTX can be a great set of tools to work with!
If you'd like to learn more about what is FTX, from a general, feature-driven perspective, make sure to also check out my dedicated review of the exchange. On the flip side, though, if, after reading this article, you've come to the conclusion that FTX isn't really a great pick for you, then you can also check out our list of the best cryptocurrency exchange platforms out there.
Thanks for reading, and best of luck in your crypto ventures to come!
About Article's Experts & Analysts