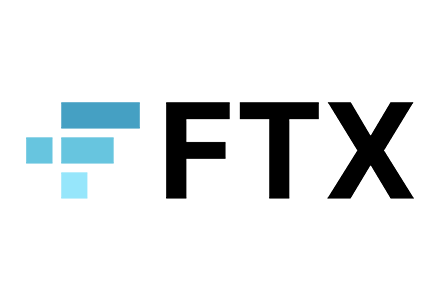 UPDATE: The FTX cryptocurrency exchange has found itself in an unprecedented amount of legal trouble, with its ex-CEO Sam Bankman-Fried arrested, and the company filing for Chapter 11 bankruptcy in November of 2022.
If you're looking for the best cryptocurrency exchange platforms, chances are that you'll run into the name "FTX", sooner rather than later. For quite some time now, it has been a household name in the crypto industry - this is rather evident by reading user FTX reviews, too!
While it's a super-popular platform, sure, it can also get pretty confusing, having to sort through all of the different information available about it online. This is especially true when you consider the fact that there are two versions of the platform - the FTX cryptocurrency exchange that most people are familiar with, as well as the FTX exchange USA, which is dedicated to US-based crypto traders.
All of that aside, though, are FTX and FTX US worth using, in the first place? Is the popularity justified, or are you better off looking at some alternative cryptocurrency exchange options? Well, that's what I'm here to help you find out, in this FTX review!
Pros
Great fees
Top-tier security
Multiple advanced features
Stock, forex trading - available
Over 250 supported assets
Derivatives and leverage trading
Cons
US clients must use a separate platform
No live customer support
FTX Review: PROS
As is usual with our cryptocurrency exchange reviews, we'll start things off with the positive aspects of the FTX crypto trading platform. Admittedly, there are quite a few positive things to talk about!
Note, though, that most of what we'll be talking about applies to the international platform, as well as the FTX US subsidiary. While it's something that we'll have a discussion on, separately, I just wanted to let you know that, in advance.
Now, while there are multiple aspects that are associated with the FTX cryptocurrency exchange, we'll start things off with the key point that all exchanges should have covered, no question - security.
A Secure and Reliable Crypto Exchange
The terms "security" and "crypto" are, undoubtedly, quite controversial, when used in the same sentence. That's because it's a huge topic, spanning multiple major events, billions of dollars worth of stolen crypto assets, and a constant struggle for the industry to stay on top of the game, security feature-wise.
This is also the main reason why I focus on security as the top priority, with all of my cryptocurrency exchange platform reviews! As you might have gathered, this FTX review is no different. Think about it - no matter how cool the features of your favorite exchange might be, if it lacks security, your fund and assets are always at a high risk of getting stolen!
With that being said, though, as you might have gathered already, the FTX exchange USA (and the international version) reportedly has no issues when it comes to security, whatsoever.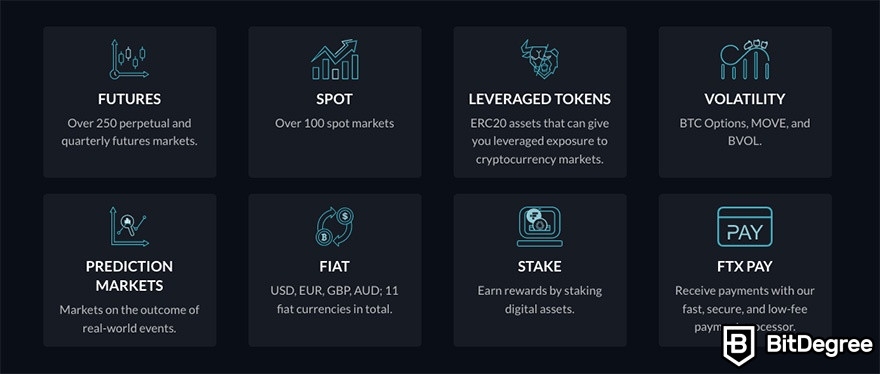 For starters, FTX has never been hacked - in other words, it has a pretty spotless reputation, something that not a lot of crypto-related services can boast about! It's a good first indicator that the exchange is taking the right measures to keep their customer assets safe and sound.
Next up, two-factor authentication - or 2FA - is really the name of the game with FTX. Being one of the most effective security measures for account and transaction protection, both FTX US and the international platform of the exchange employ 2FA in all of its operations.
Want to log into your account? 2FA. Withdrawing funds? You'll need to pass the two-factor authentication checks. Even if you decide to turn 2FA off, there will be a cooldown period for your account, during which your assets are going to be kept safe and sound, in case it's not actually YOU who's turning the protective measure off (because why would you, in the first place?).

Then, you have all of the additional security features, too - IP whitelisting, SSL certificates on the websites (so as to keep your credentials safe), and so on. All things considered, it's rather evident that FTX does care for its users, and the safety of their assets!
So, whether it be some general FTX reviews, or FTX US reviews, you can rest assured that, at least as far as security is concerned, FTX has got you covered.
Latest Coinbase Coupon Found:
CLAIM YOUR $200 BONUS
Coinbase Cyber Monday
Cyber Monday Madness at Coinbase! Get your first crypto and earn up to $200 in rewards. Hurry up before this Coinbase Cyber Monday deal ends.
Expiration date : 08/12/2023
3,784 People Used
Only 16 Left
Around 250 Supported Crypto Assets
Cryptocurrency support - or, rather, the variety of supported assets - has quickly become one of the most important aspects of any reliable crypto exchange - FTX isn't different in this regard.
This is the case simply due to the fact of just how many different crypto projects there are currently out there, and just how many new projects emerge, on a daily basis. It can be hard to keep up!
Following that, though, in addition to things such as FTX US fees and advanced features, asset support has become an important question to cover, in any FTX review. That being the case, I'm super-glad to say that FTX supports around 250 different cryptocurrencies, and counting!
The exact number is a bit difficult to pin down, since it's constantly changing. That is, however, a good thing - FTX is constantly looking to add new cryptos to its disposal, throughout the variety of trading tools that the platform offers.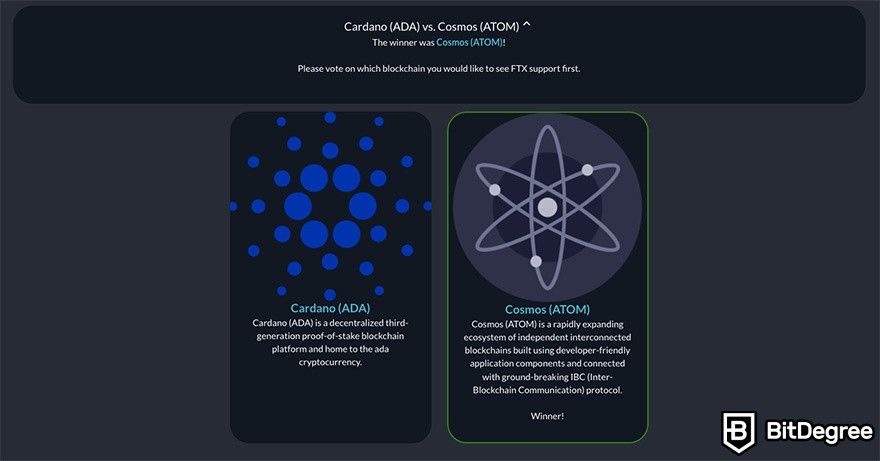 Some of the more well-known assets, such as Bitcoin or Ethereum, will be tradeable on both FTX, as well as FTX US, while the more-niche coins and tokens could be exclusive to either of the sites - it depends.
Now, on top of the above, it's also worth mentioning that every single asset will have designated FTX use cases, as well. What do I mean by that? Well think about it this way - say, with BTC, you will be able to trade it on FTX and FTX US, as well as participate in OTC trading, and even borrow and lend it. In contrast, with ETH, you might not be able to lend it, or participate in OTC trading.
I'm not saying that this is the case with the aforementioned assets - I'm just using them as examples. The point of the matter, however, remains the same - no matter if you're only looking for the main coins on the market, or are interested in some of the far less-known assets, chances are that you'll find what you're looking for, on FTX!
Some of the Better Fees in the Industry
Whenever you decide to start using a cryptocurrency exchange, fees are something that's going to come up, sooner rather than later. It's a very important topic to consider, since it can really impact your potential profits!
Now, whether it be FTX trading fees, or the fees employed by any other exchange platform out there, the topic can be rather confusing. Apart from trading fees, you have withdrawal & deposit fees, network fees, and so on. For the sake of keeping things consistent, though, here, we'll focus on the trading fees, specifically, since they are, in a sense, the most important ones to consider.
We'll look at both FTX fees, as well as the FTX US fees.
With the international version of the exchange, you'll have a maker fee of 0,02%, and a taker fee of 0,07%, as your baseline. As you trade more and more crypto on the exchange, you'll be able to take these fees down, even more.

Even these "starting-out" fees are actually amazing! FTX offers a truly competitive fee model, when compared with some other exchanges on the market. That being said, though, the situation isn't exactly as great when you take a look at the FTX trading fees for US customers.
Specifically, while you may expect similar trading fees, if you were to read through US user FTX reviews, you'd find out that US-based traders will need to pay a flat 2% fee, each time they sell their crypto. The fee is only paid by the seller, but it's still a substantial amount of money, and it adds up!
Still, though, the fact of the matter remains the same - if you're reading through FTX reviews in order to find out whether the trading fees offered by the brand are adequate, you can rest assured that they're surely some of the better ones that you'll come across, in the entire industry!
Advanced Trading Features
So - what FTX is possible known best for are all of the advanced features that it comes equipped with. And, to be frank with you, there are a lot of features to explore!
For starters, FTX allows users to trade cryptocurrency derivatives, as well as participate in the Spot market. With the latter, everything's pretty self-explanatory - you trade actual cryptocurrencies, which you are then able to transfer to an external, third-party wallet, as you please.
There real kicker here, however, are the derivative markets - the area in which FTX specializes.

Cryptocurrency derivatives are special contracts that derive their value from the underlying crypto asset. With trading derivatives, you don't actually trade the crypto asset, but rather, a contract that's associated with it.
Why is this a sought-after feature? Well, it's great for day traders, since they don't need to worry about things such as market liquidity and transaction time constraints - everything happens super-quick, and in an efficient manner. On top of that, perhaps you simply don't want to hold actual crypto, and are only interested in the investment part of the process?
No matter what the case might be, user FTX reviews will tell you that the derivatives markets are live and well, on the said exchange.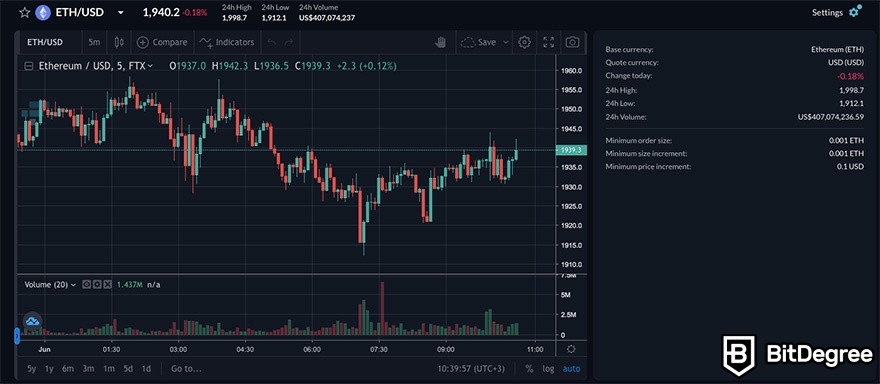 Then, you have what are known as the "leveraged tokens". These are special tokens that you can trade with a particular leverage, of up to 20x. While this type of crypto trading is very risky (since it involves borrowing money from the exchange), it's also one of the most popular advanced trading tools, among professional day traders.
Another cool feature available with FTX are prediction markets. You may predict certain events, by using your crypto to back up your predictions, and if you're correct, you'll receive varying rewards.
Moving on, FTX crypto price is also a thing, too. User FTX reviews will tell you that the platform has a native token called FTT, which, among other things, can be used for lowering your transaction fees on the platform. As of writing this article, the FTX crypto price is currently $27,75.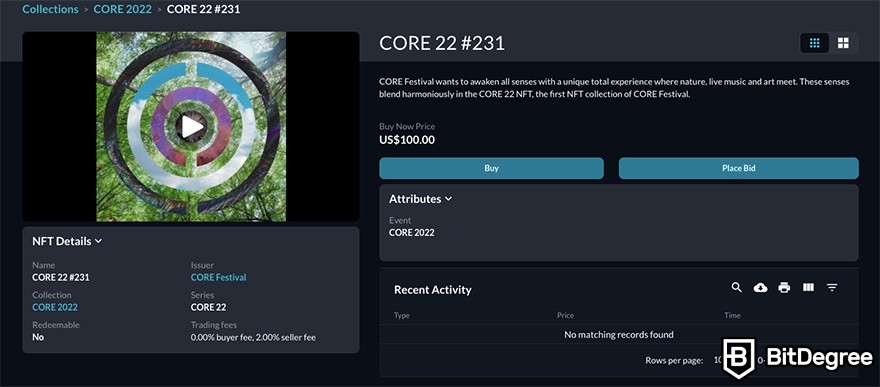 Now, apart from crypto, FTX offers its users the ability to trade other assets, as well. If you become an FTX customer, depending on your location, you might get access and be able to trade things like forex, and even within the stock market. Very few crypto-first exchanges can boast of this type of functionality!
These are just some of the features that you can expect while using FTX - they are surely the main ones, but there are still plenty of smaller aspects that you could explore (i.e. NFTs, staking, options, and so on). While all of this advanced functionality would deserve an article of its own, the point remains true - if you're reading through FTX reviews to find out about the platform's advanced features, you'll find plenty of them with FTX!
Buy Crypto With Fiat Money
While this is something that is often assumed to be "a given", it's still worth mentioning, nonetheless, since it's a super-important feature of any reliable crypto exchange.
No matter if you're looking at FTX exchange USA, or the international platform of the exchange, you will be able to purchase cryptocurrencies with fiat money, either way. As mentioned above, it's sort of a given at this point - the vast majority of reliable, centralized crypto exchanges allow users to do so.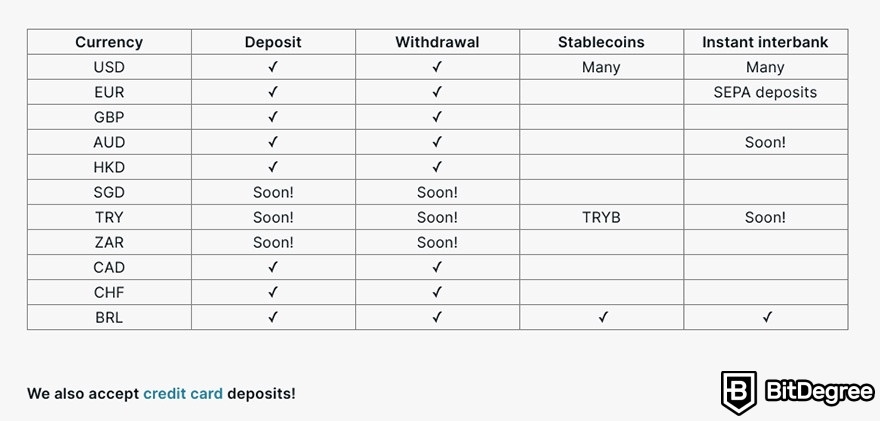 FTX employs Simplex as its payment gateway, for dealing with fiat-crypto transactions. Since both the FTX exchange and Simplex have KYC verification checks, you can be sure that the process of acquiring crypto this way is legitimate and legal.
It also adds an element of beginner-friendliness to the exchange, as well. With all of the advanced features available with FTX, the user FTX reviews that point out these smaller details can quickly get overshadowed. That shouldn't be the case, though! If you're a beginner in the industry, and are looking for a fast and simple way to acquire your first cryptocurrencies, FTX will allow you to do that, no sweat!
Latest Binance Coupon Found:
REDEEM $600 PRIZE
Binance Cyber Monday
Attention new Binance users: this Cyber Monday, you can score up to $600 in rewards by completing special tasks. Activate this amazing Binance Cyber Monday deal using the code – 49316610!
Expiration date : 05/12/2023
6,127 People Used
Only 16 Left
FTX Review: CONS
Now that we've covered all of the most-notable benefits and features that you can expect to come across with the exchange, let's continue this FTX review by taking a look at some of the less-positive sides of the platform.
That said, probably one of the biggest gripes that users appear to have with the FTX cryptocurrency exchange has to do with the complexity of the platform.
Might Not be Beginner-Friendly
I've mentioned the fact that FTX has multiple advanced features available to be used quite a few times already, in this FTX review. This is generally seen as a big benefit. However, that's not always the case - sometimes, it can also be a shortcoming, too! This is quite evident while reading through the feedback that beginners express towards FTX.
Put simply, the platform might not be the best place to start trading or investing in crypto, if you've never done so before. While there are no issues with things such as reliability and security, FTX might simply prove to be too daunting, in regards to its features and general functionality.

When you're just starting out with crypto trading, you probably want things to be as simple and as smooth as possible. While FTX, in of itself, isn't necessarily the most difficult cryptocurrency exchange out there, the huge variety of available features might make you feel lost, pretty fast.
Naturally, though, it's worth pointing out that, unlike with the FTX token price and similar aspects, the difficulty of use is a subjective matter. If you're a quick learner, and are keen on studying all parts of the cryptocurrency trading markets, you might face no notable issues, whatsoever!
FTX US and No Live Chat
Now, as you might have gathered up to this point in the FTX review, there are two separate platforms available for the potential FTX user - the main one, as well as the US-exclusive one. While this review has focused on the functionality of the main platform, a lot of features do, admittedly, overlap.
That being said, US-based traders will find that there are some features missing from the US version of the exchange. The reason behind this is pretty simple, too - regulations.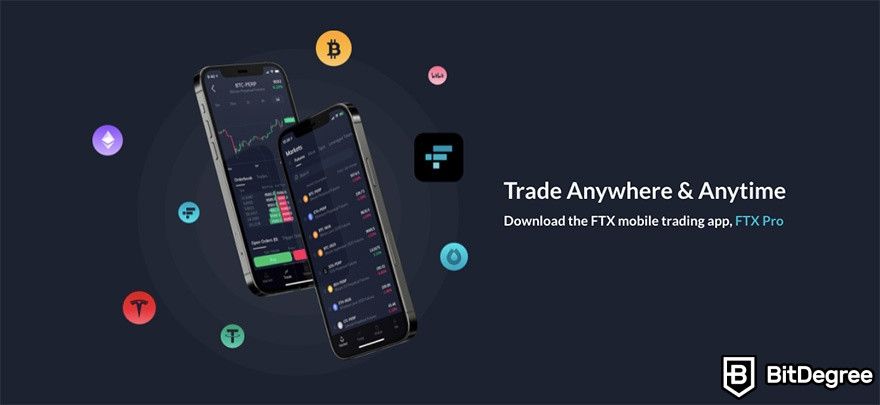 Multiple off-shore (non-US-located) cryptocurrency exchanges don't even operate in the country, due to the strict regulatory requirements set by the US government. Binance, for example, is one exception - the company has created a subsidiary that concerns US customers, exclusively, and allows them to trade all of the legally-available crypto assets within the country.
FTX is in the same boat, and has taken the exact same approach to the matter as has Binance.
While FTX US is a great solution, it does, once again, come with its trade-offs. Users won't be able to explore the full feature catalog available with the platform, which is a shame.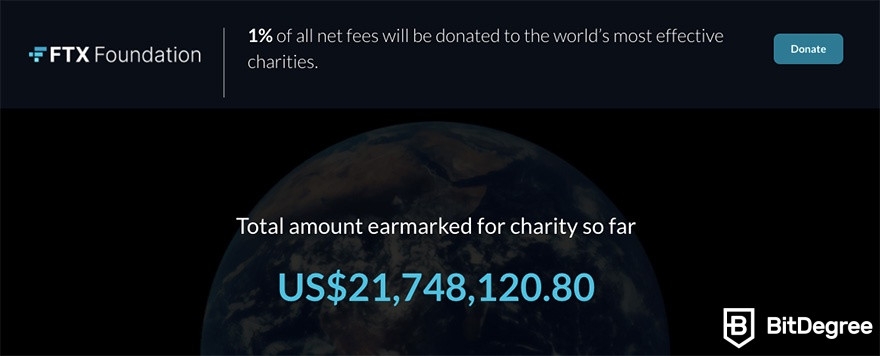 The feature that SHOULD be available with both versions of the platform, though, is live customer support. It's something that has become absolutely essential for any reliable crypto-related service provider to possess. And yet, FTX does not have it.
To be fair, users are able to contact FTX via a phone number, or submit a support ticket, and wait for an email response. That's really not enough, though - if you run into an actual emergency, and need to reach support agents as soon as possible, live customer support becomes crucial - it's a sentiment echoed by multiple user FTX reviews, too.

Did you know?
How to Use FTX?
Now that you're fully aware of all of the main pros and cons of the FTX exchange (as well as the FTX US fees, special features, and everything in between), before I let you go, there's but a single thing that I still want to talk about - the actual usage of the platform in question.
Now, I won't go too in-depth into the topic - that's something that deserves a tutorial of its own. However, if you've never used FTX before, and are looking where to get started, I'll show you what the beginning of your trading journey with this platform would look like.
Note that I'll be focusing on the international version of the exchange.
First things first - the registration process.
Step 1: Go to the FTX official website.
Step 2: At the top-right corner of the screen, you will see a "Create a free account" button. Press it.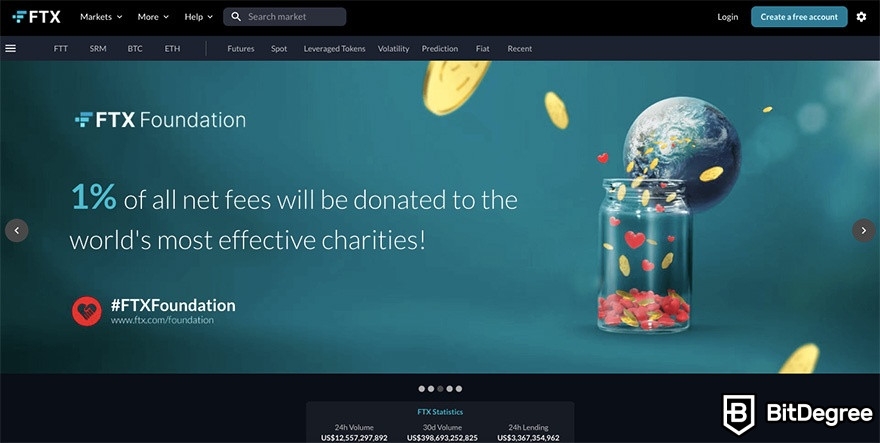 Step 3: Here, you will need to enter your email, and create a password. Do so.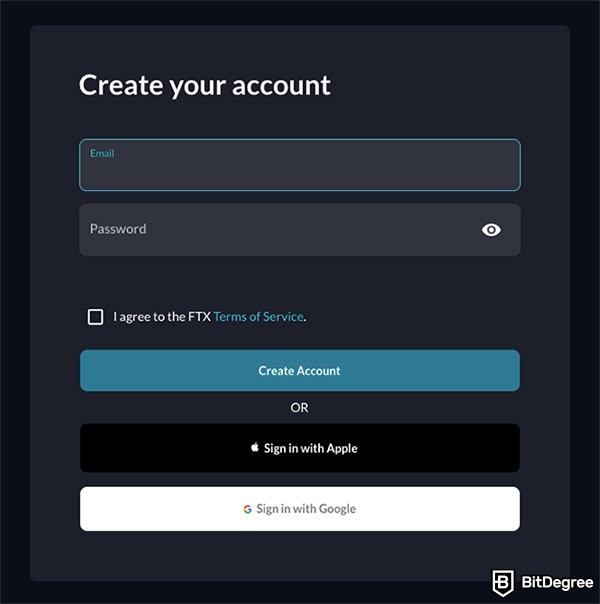 Step 4: Now, you can choose to take a tour of the website (very helpful!), or continue on with your registration. If you choose to continue, you will be asked to complete your KYC verification.
The verification process is actually noticeably extensive - you need to provide FTX with information about your identity, your tax ID, residential address, income sources, and so on. That's a lot of information! It's clear that FTX takes things seriously, and employs strict KYC & AML regulations with all of their operations. While controversial, in the long run, this is a good thing.

You may choose to complete the KYC verification, or continue on to the website without completing the document. If you choose the latter, you will be able to explore FTX, quite freely, but won't be able to make deposits or trade crypto. Thus, KYC on FTX is mandatory - user FTX US reviews will tell you that the same is true with the US version of the platform, too.
Once you complete the verification checks, the entirety of the FTX cryptocurrency exchange will become open to you!
You can now choose to go and explore the markets - the area where you're likely going to perform most of your trades in. The trading view of FTX is advanced, and might take some getting used to, but you should have no problems with it, after spending some time learning the ropes.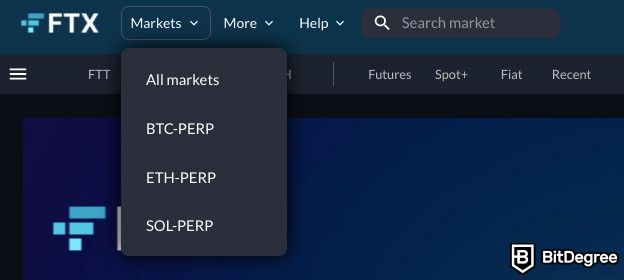 Additionally, you may also choose to visit all of the other sections available on the website. Check out the NFTs, analyze the predictions, check the volume monitor, and do so much more - there are a lot of different features to explore!
Don't forget that FTX has a wallet for you to utilize, as well. While it's not exactly advisable to keep your asset on an exchange, it can be useful for anyone who's an active trader, and doesn't want to constantly keep on transferring their assets back and forth, to and from an external wallet.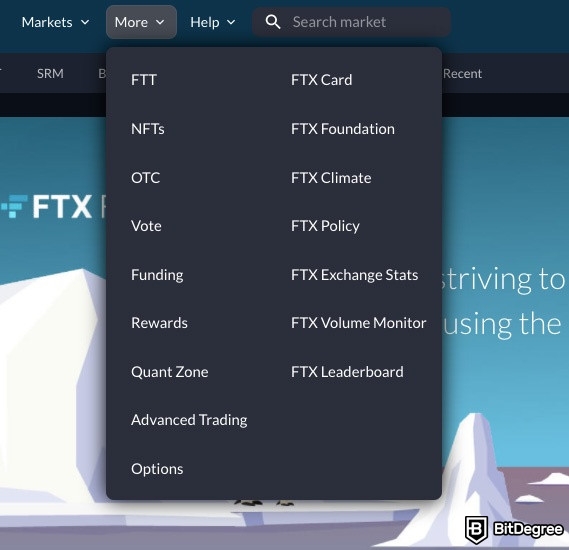 Furthermore, you should really take the time to educate yourself about the futures markets, and specifically - the crypto derivatives markets available on FTX. Since derivatives are the main thing for which FTX is known, to begin with, this knowledge can be very useful, as you progress with your FTX trading journey!
All in all, the key point here is that you should take your time, and explore FTX at your own pace. Once you're comfortable with all of the features that the platform has to offer, you'll be able to pick and choose the ones that are most important to you, and start using them! This is a sentiment present with multiple user FTX exchange reviews, too.

Pros
A very well-known crypto exchange platform
More than 500 different cryptos available
Two-factor authentication
Main Features
Over than 100 different cryptocurrencies available
Strong security
Small withdrawal fees

Pros
Secure and reliable
Low fees
A good amount of fiat currencies accepted
Main Features
Reputable exchange
Multiple fiat currencies are accepted
Relatively low trading fees

Pros
Anonymous trading
Secure
Supports a variety of cryptocurrencies
Main Features
Easy to use
Low fees
Good security
Conclusions
With all of that being said and done, what's the conclusion here - is FTX worth using, or even checking out, in the first place?
Well, I'd say - most definitely, yes!
While FTX might not be the oldest and most-established cryptocurrency exchange on the market, the platform has quickly risen to fame due to all of the extensive features that it offers to its clients, the amazing fee model that it employs, and the very strict KYC verification checks that you need to pass, in order to start using it.
Reading through user FTX reviews, it would seem that most individuals agree with this sentiment, as well. While FTX isn't the simplest exchange to get into, it definitely does offer a lot, be it to a cryptocurrency industry newcomer, or an already well-established trader.
Do keep in mind, though, that the platform has two versions available to be used - the international one, as well as a US-exclusive one. Depending on your region of residence, you should pick accordingly!
If, however, after reading this FTX exchange review you've decided that the platform isn't the best pick for you, do not fret - there are other options available! Check out our list of the best cryptocurrency exchanges, and pick the best option for yourself!
The content published on this website is not aimed to give any kind of financial, investment, trading, or any other form of advice. BitDegree.org does not endorse or suggest you to buy, sell or hold any kind of cryptocurrency. Before making financial investment decisions, do consult your financial advisor.
About Article's Experts & Analysts