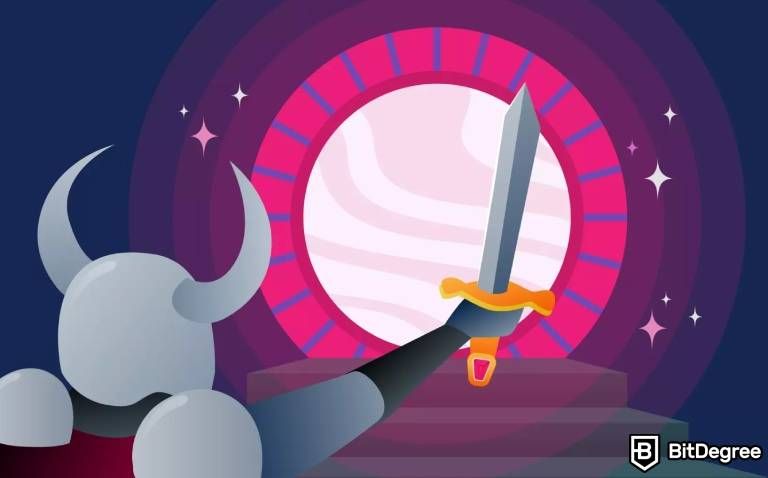 Are you looking for decentralized crypto gambling solutions, and aren't sure which platform would fit your wants and needs best? Well, if you came here after reading my CoinGames review, chances are that you're keen on trying the project in question out, as a potentially-viable option. Either way, worry not - in this tutorial, we'll discuss how to use CoinGames, from a beginner's perspective.
The question of "what is CoinGames?" was addressed quite extensively in that aforementioned review of mine, so make sure to check it out. If you're short on time, however, or are simply keen to "get things going" as fast as possible, we'll still catch up with the project here, at least as far as its main features and functionalities are concerned.
To top that off, if CoinGames is your very first service of this kind, starting to use it can prove to be a bit confusing - there are actually points to know and conditions to fulfill before you even find your first game! That being said, that's what you have me here for - let's jump in, and take it one step at a time!

Did you know?
Want to get smarter & wealthier with crypto?
Subscribe - We publish new crypto explainer videos every week!
What is Decentralized Crypto Gambling? (Animated Explainer)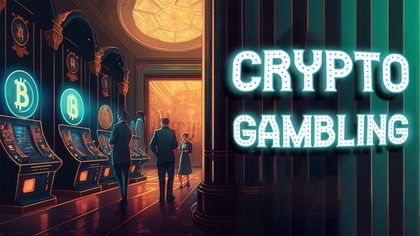 What is CoinGames: A Quick Introduction / Refresher
Now, then - what is CoinGames, and why does this particular project deserve a whole, dedicated tutorial, in and of its own?
Latest Deal Active Right Now:
REDEEM $600 PRIZE
Binance Cyber Monday
Attention new Binance users: this Cyber Monday, you can score up to $600 in rewards by completing special tasks. Activate this amazing Binance Cyber Monday deal using the code – 49316610!
Expiration date : 05/12/2023
6,127 People Used
Only 16 Left
Well, once again - if you'd like to read the long-version answer to that question, I would suggest visiting my review, first. However, the tl;dr would be that CoinGames is a decentralized crypto gambling service that allows users to participate in a wide array of different games, and wager their tokens in the process.
Notice anything special about that introduction? If not, allow me to help you out - it's the term "decentralized".

There are many different crypto gambling solutions out there, in the industry - some of them are very popular and well-established, others - not so much. A huge part of them, though, are centralized - meaning, all of the processes happen at the discretion of the underlying company behind the gambling platform.
If you've read my CoinGames review, you'll know that this platform used to be the same, up until February 20, 2023 - on this day, CoinGames went decentralized, and all of those aforementioned processes are now controlled and executed by pre-programmed smart contracts.
What does this have to do with learning how to use CoinGames? Well, nothing, really - as far as usability is concerned, you won't really feel the difference, for the most part. There are certain exception-situations, but we'll talk about them in due time.

Having said all of that, decentralization is a huge part of the answer to the question - what is CoinGames? Understanding this will also help you decide whether or not it's a platform that you'd like to use yourself, long-term.
Moving on, another point that's worth mentioning here is that the gambling service utilizes a specific, dedicated token for all of its operations. So, instead of using widely-accepted cryptocurrencies, such as BTC or ETH, for your gambling ventures, you will need to utilize a dedicated chip called DEGA.
This is a bit of an interesting move, it seems, as far as user convenience is concerned. However, together with de.ga (Decentralized Gambling), CoinGames aims to create a standardized and fair environment for everyone to play.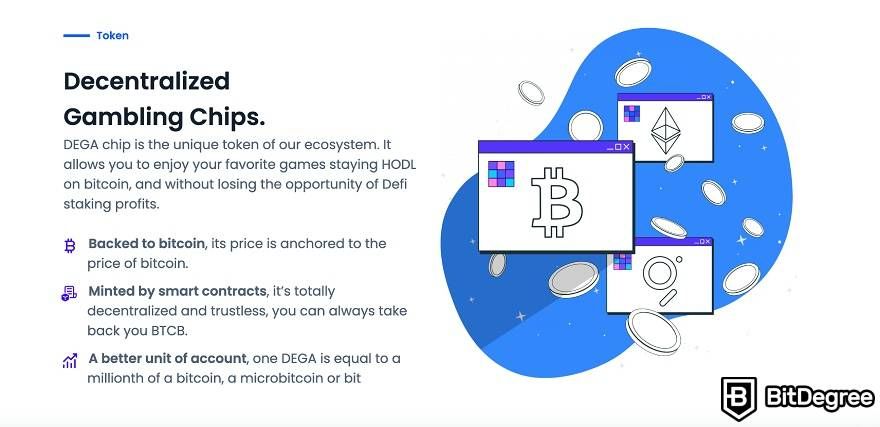 As a side note, if you're interested in how to get DEGA token, that's something that we'll get to, as well, in due time.
Wrapping this section up, I'd like to say that, no matter how you look at it, CoinGames is certainly one of the more interesting gambling service providers in the crypto space. It's also licensed with the Island of Man Gambling Supervision Commission, which only adds to the perceived legitimacy of the project - something worth keeping in mind, as we continue with the tutorial!
How to Use CoinGames?
Now, with the question of what is CoinGames addressed and out of the way, it's time to move on to the actual usability aspect of the platform. For the sake of keeping this guide as relevant and in-depth as possible, I'll assume that it's your first time interacting with a gambling dApp of this kind, and that you're starting from scratch.
Registering on CoinGames
Naturally, the very first step that you'll want to take whilst learning how to use CoinGames is registering on the platform. Interestingly enough, this is actually the easiest part of the whole process.
All that you really need to do is navigate to the CoinGames homepage, and click the big, red "Connect Wallet" button at the top-right side of the page. Obviously, you will need to have a dedicated crypto wallet in order to register - so, exchange-based wallets won't work.
Now, you'll see a popup like this come up: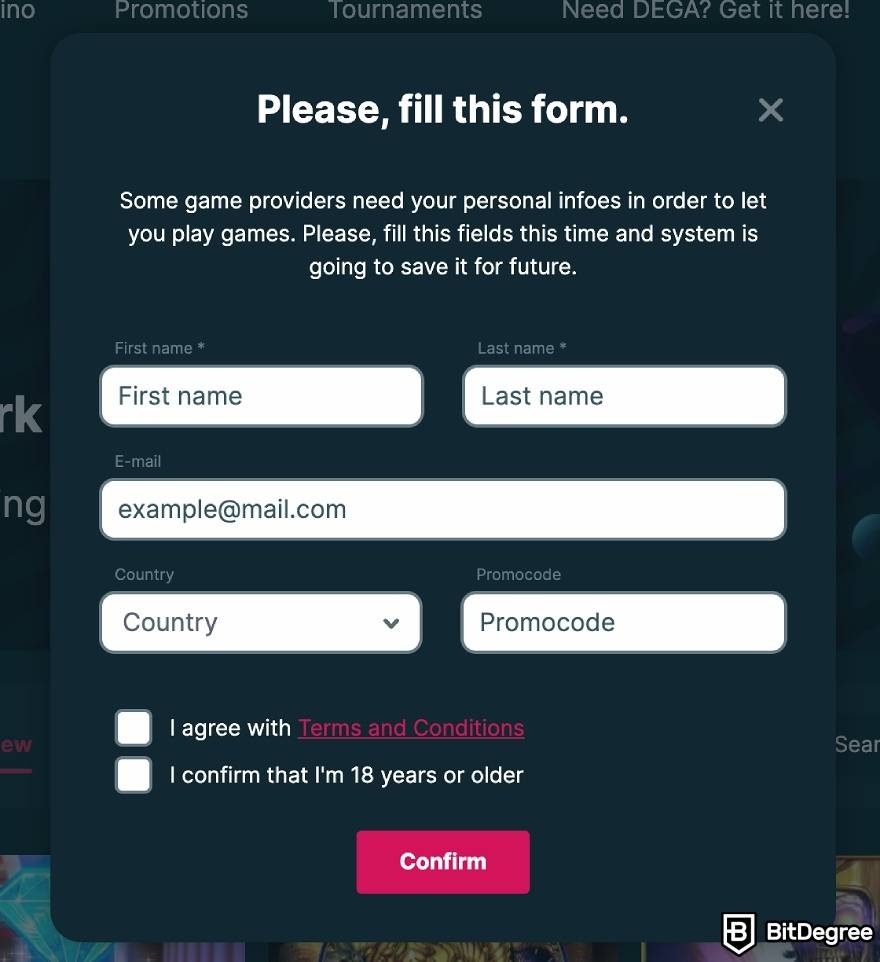 CoinGames will require you to submit some personal information about yourself - specifically, your first and last name, email address, and country of residence.
This is an interesting topic to look into, actually - the way that two seemingly very different concepts (decentralization and some form of KYC checks) are blended together, on a single gambling services-providing platform. Of course, here, it all boils down to the fact that CoinGames is a licensed gambling project - it needs to know the aforementioned information, by law.
Even so, however, there isn't anything inherently strange with this registration, granted the fact that the actual decentralization features are present more with the actual gambling and token transfer processes, and not with dealings with one's personal data. I'm getting sidetracked, though - let's get back to the registration.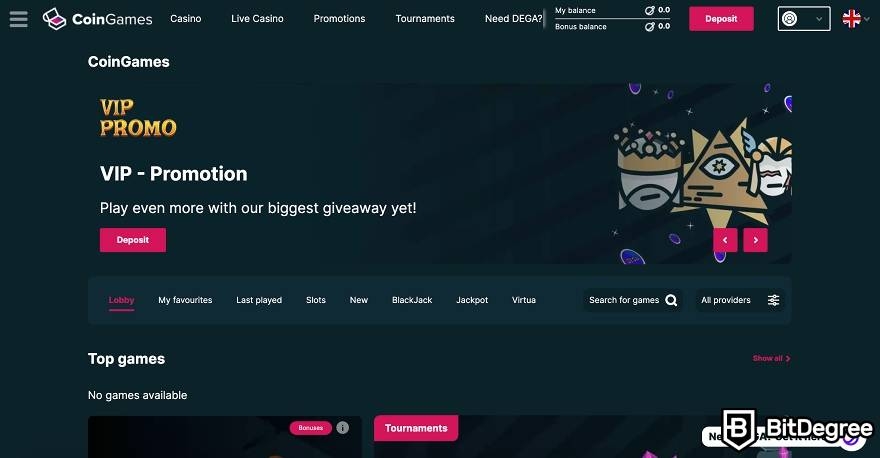 After you fill out all of the required information, and verify your email address, the page will refresh, and you'll be in. That's literally it - you're now registered with CoinGames!
As I've told you earlier, if you're looking into how to use CoinGames, it's pretty evident that the registration process is super-simple, as well as very fast.
The above is assuming that you've already created a wallet, however, and have it installed as a browser extension, or connected via any other means. If you're going to interact with CoinGames, I'd recommend using MetaMask, in combination with the Ledger hardware wallet - this will provide maximum security to your assets, while still retaining proper convenience and ease of use.
Starting Out - Website Navigation
Once you find yourself back on the homepage, and are ready to continue learning how to use CoinGames, it's probably a good idea to start off with doing some exploration, and checking out the different sections of the platform. This way, you will both be able to get to know the main features of the gambling service in question, as well as "get a feel" of what your experience is going to be like, moving forward!
For starters, you have the main menu, at the very top of the page. This is where you'll be able to navigate through the "additional" services offered by CoinGames - so, anything that's not necessarily directly related to the games themselves.

For example, you have your "Casino" and "Live Casino" tabs - here, you can find different casino events and activities that are directly related to this specific category. Then, there are also CoinGames tournaments - as of writing this tutorial, there are currently no tournaments taking place, but you could participate in a specific event of this kind, and potentially win some DEGA tokens.
Next, two of the more interesting features - the aforementioned DEGA token acquisition tab, as well as a dedicated page explaining how the CoinGames VIP program works. Learning how to use CoinGames involves both of those aspects (obviously), but we'll cover them a bit later in the article.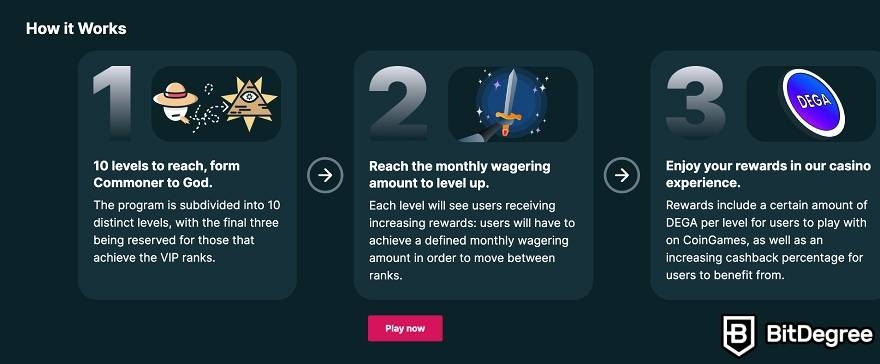 Hopping back to the homepage, you'll be able to find all of the available games via the search bar, in the middle of the screen. You can choose a category of games that you'd like to play, or even enter the name of a game that you've already selected, at some earlier point in time.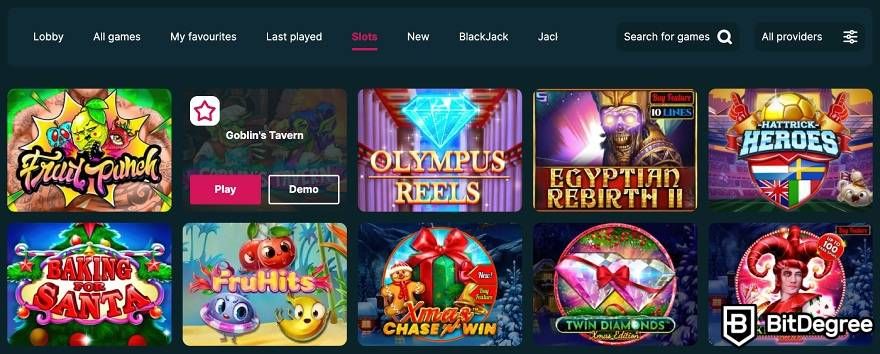 At the very bottom of the page, you have your legal stuff - things such as license information, privacy policies and terms of service, the rules of the different available games, and so on. While it may seem boring at first, all of these sections should be explored thoroughly, by anyone who's looking at how to use CoinGames!

Something that is self-evident from this whole exploration phase is the fact that CoinGames features a very simplistic and straightforward design / website layout (some users would argue that it's *too* simplistic, in fact). In a way, this is great for newcomers to the industry, since it eliminates any and all potential confusion that you might develop.
This is actually true even when it comes to your personal dashboard, too. You can navigate through all of the different sections (dashboard, deposits & withdrawals, account settings, etc.) and check any relevant and important information with ease.
Acquiring Some DEGA Tokens
So, then - once you've explored the website, the next step in learning how to use CoinGames is to acquire some DEGA tokens. This is actually the final non-gaming step that you need to take, too, so bear with me!
As I've told you earlier in the article, as well as in my dedicated "What is CoinGames?" review, the platform utilizes this single type of token (chip) within all of its processes and services. This is, obviously, the case with the CoinGames payment options for the gambling games themselves, but it also includes the cashback and reward features of the VIP program, the CoinGames tournaments, and everything in between.
Thankfully, CoinGames makes it pretty easy to acquire some DEGA, if you don't yet have it already. The only requirement is for you to have some relevant coin or token in your wallet - one that you could swap for DEGA, on the designated interface.
How will this work? Well, let's see.
Step 1: On the CoinGame's homepage, navigate to the upper side of the screen, and find the "Need DEGA? Get it here!" button. Click it, and a new page will open.

Step 2: Here, you need to connect your wallet to the swapping interface (the dApp). Once connected, you will see which tokens are available to be swapped, and after entering the number of tokens that you'd like to acquire, you'll be able to commence the swap.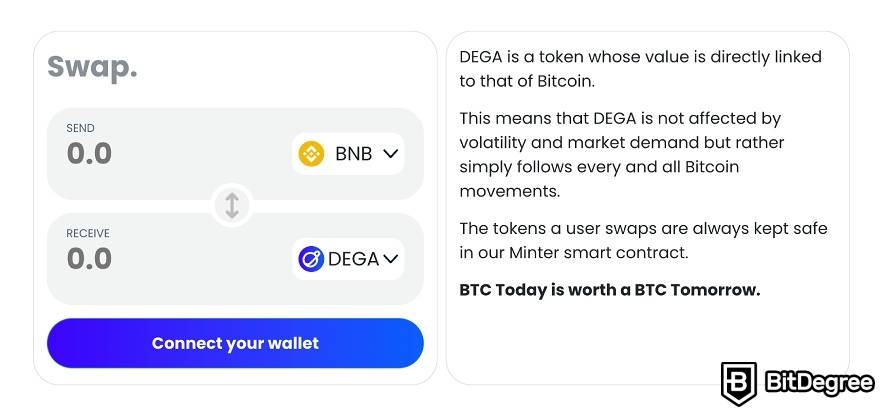 Step 3: After this is done, you'll want to go back to the CoinGame's website, and navigate to the "Deposit" section of the platform, on your dashboard.

Step 4: This is where you'll be able to transfer DEGA tokens from your wallet to a dedicated smart contract, called "the Vault". You can view this smart contract as a type of intermediary - it holds your tokens until certain criteria are met, or until you're ready to update your balance and go play one of the games.
Assuming that your DEGA token acquisition was successful, and that you've already registered on the CoinGames platform, the transfer process should be very fast to complete. Once this is done, you are now ready to go and check out the specific games that you'd like to play!

Did you know?
Want to get smarter & wealthier with crypto?
Subscribe - We publish new crypto explainer videos every week!
How to Track Cryptocurrencies? (3 BEST Tracking Platforms Revealed)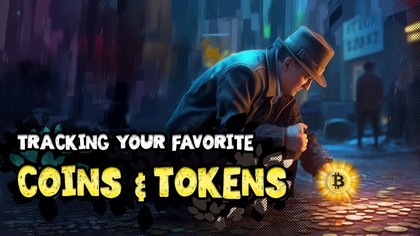 Playing / Gambling With CoinGames
Now that you know how to get DEGA tokens, it's time to select a game that you'd like to try out.
While that might sound simple enough to do, if you still don't really have any specific preferences, the variety of choice can actually get overwhelming. At the same time, it's worth stating that this is something that is completely person-dependant - everyone is going to have their own preferences when it comes to the types of games that they'd like to play.
My advice to you, when it comes to this part of the "How to Use CoinGames?" tutorial, is to simply take your time, and browse through the available games / game categories. Once you get a bit more familiar with the selection of available games, you might find a model that works for you, especially after trying one or two of the games out, for yourself!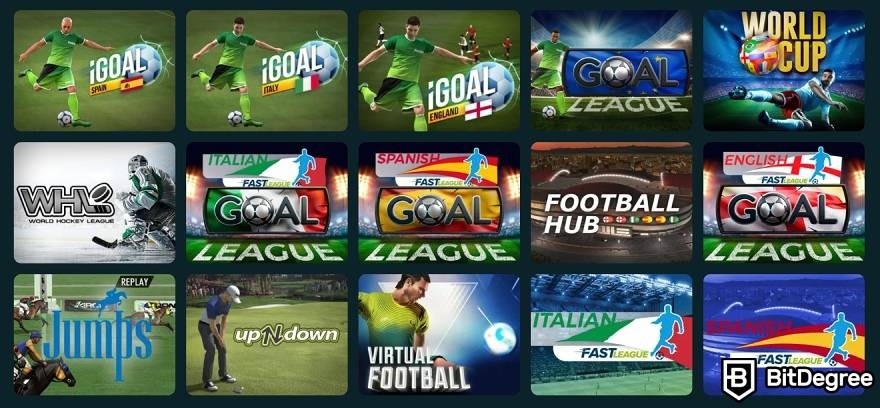 The one huge point that I'd like to stress is that, when it comes to CoinGames, each and every single game does actually have a demo version available for you to try out, before you go ahead and commit DEGA chips (real money) to it. In other words, you'll be able to try any of the games out with demo money, see how they work, and whether or not they suit your preferences.
That's a huge factor to consider, and you should definitely try the demo versions of the games, first and foremost!
For the sake of this tutorial, I've picked the "1 Reel Demigods II" game, in the "Jackpot" section of the website. You can pick any other game, though - the display / presentation of the games will mostly be the same.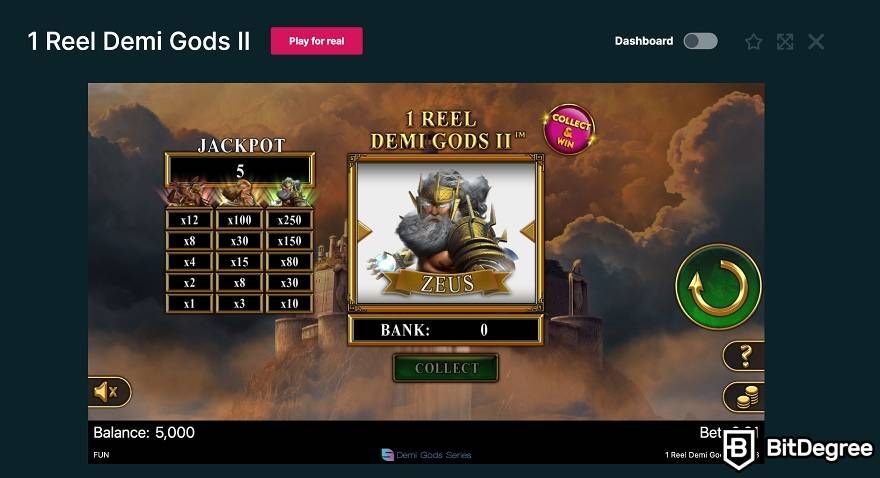 Hopping into the demo version of the game, you'll be greeted with a short tutorial-explanation, and once you understand the rules, you can play. Your balance will be displayed at the bottom-left corner of the screen, while your current wager - on the opposite side.
Most of the games are going to be very self-explanatory - understanding different advanced mechanics and strategies isn't really a part of learning how to use CoinGames. With Jackpot games, all that you need to do is select your wager, and click the big green button on the side - any and all additional information can be viewed by clicking on the question mark symbol at the right side of the screen.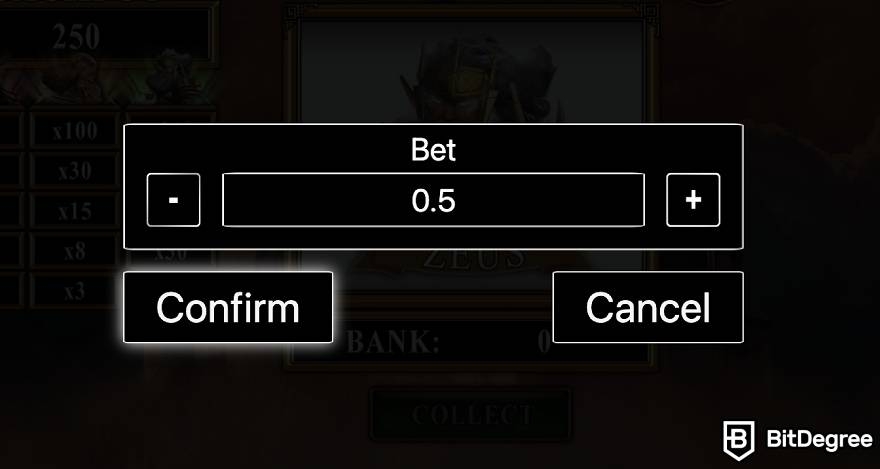 As you play, you can also access your dashboard very easily, with the help of the slider at the top. Furthermore, you can go fullscreen, as well as favorite the games that you like - they will appear under the "Favorite" tab on the front page of CoinGames.
To add to that, throughout your gameplay process, your balances are going to be updated, automatically. So, you can exit the game at any point in time, without having to "finish off" any processes - your updated balance will be displayed at the top of the screen.
Withdrawing Your Potential Winnings
Let's assume that you've chosen a game that you'd like to play, and after a few tries, have managed to win some DEGA tokens. Following that, you'd like to withdraw your winnings - how would this work, exactly?
Truth be told, when it comes to learning how to use CoinGames, withdrawals are actually pretty simple, and similar to token deposits, too. Well, "similar", in the sense that they follow the same pattern of actions, but from an opposite direction.
So, the very first thing that you'll need to do is navigate to the "Withdraw" section of your dashboard.

Here, you'll be able to see your balance, as well as read up on how the withdrawal process is going to work. The gist of things is very simple, though - same as with deposits, first, your tokens would go to the Vault. Once network fees have been paid (0.9% of the total amount), and all other relevant criteria are met, the Vault will release your tokens, and they will be transferred to your wallet.
A very important point that needs to be stressed here is that at no point in the entire deposit or withdrawal processes does CoinGames enter into possession of your tokens. While this is something that is easy to overlook when you're just learning how to use CoinGames, it's also a crucial point to keep in mind, as well.
It calls back to the decentralization aspect that I mentioned earlier in the tutorial, as well as in my review of this service provider. CoinGames is completely non-custodial - it means that the platform itself will never hold your tokens, which is (obviously!) a huge security benefit, no matter how you look at it!

Circling back to the topic of withdrawals, once you confirm your token transfer, it should take only up to a few minutes to complete the transaction. The entire process is quite self-explanatory, especially if you've already deposited some DEGA tokens into your account earlier.
Note, however, that there's still the question of exchanging your DEGA for another asset of your choosing (BTCB or BNB). Once again, this can be done via the same swapping interface where you acquired DEGA, originally.
Participating in the Loyalty / VIP Program
A "How to Use CoinGames?" tutorial wouldn't really be complete without mentioning the available loyalty program that all users can participate in. Granted, it's not really something that would require a lot of explanation, but let's still cover the key points, so that you'd know what to expect.
In order to participate in the loyalty program, all that you need to do is wager your DEGA tokens in the different games available on the platform - that's it. Depending on the amount that you wager, you'll be able to climb up through the levels, and increase your potential monthly rewards.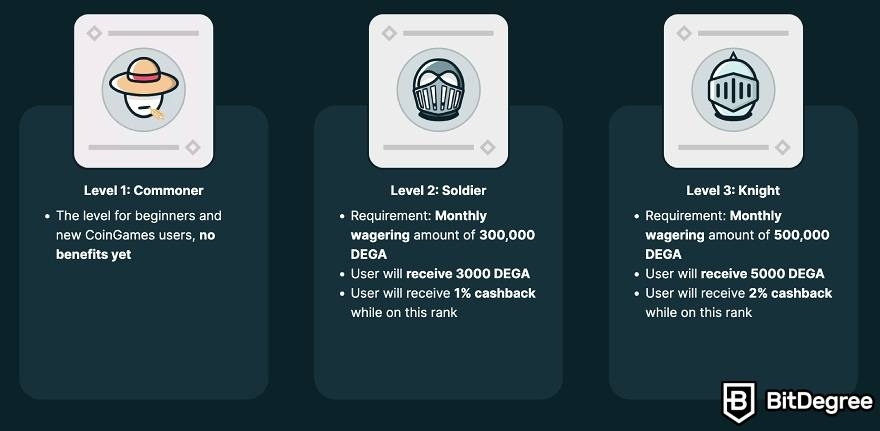 Levels 8 through 10 are reserved for the VIP players - individuals who wager a specific number of tokens every single month. These levels feature better rewards, as well as a personal manager that you can contact at any point in time.
If you'd like to learn more about the loyalty / VIP program of CoinGames, make sure to check out my dedicated review - I've gone into more detail regarding this feature there. That said, as a general note, it's definitely cool that such a program is available to be utilized by the player of CoinGames, without really putting in any additional effort!

Pros
A very well-known crypto exchange platform
More than 500 different cryptos available
Two-factor authentication
Main Features
Over than 100 different cryptocurrencies available
Strong security
Small withdrawal fees

Pros
Secure and reliable
Low fees
A good amount of fiat currencies accepted
Main Features
Reputable exchange
Multiple fiat currencies are accepted
Relatively low trading fees

Pros
Anonymous trading
Secure
Supports a variety of cryptocurrencies
Main Features
Easy to use
Low fees
Good security
A Word Regarding CoinGames' Fees
With all of the key points of how to use CoinGames covered and discussed, extensively, there is just one more topic that I'd like to mention, before I let you go - that of CoinGames fees.
This topic is actually quite expansive, depending on how deep you want to look at it. On top of that, there's a lot of confusion surrounding this question floating around online, as well - does CoinGames have any fees, to begin with? If so, how many different types of fees are there, in general?
So, let's take it from the top, shall we?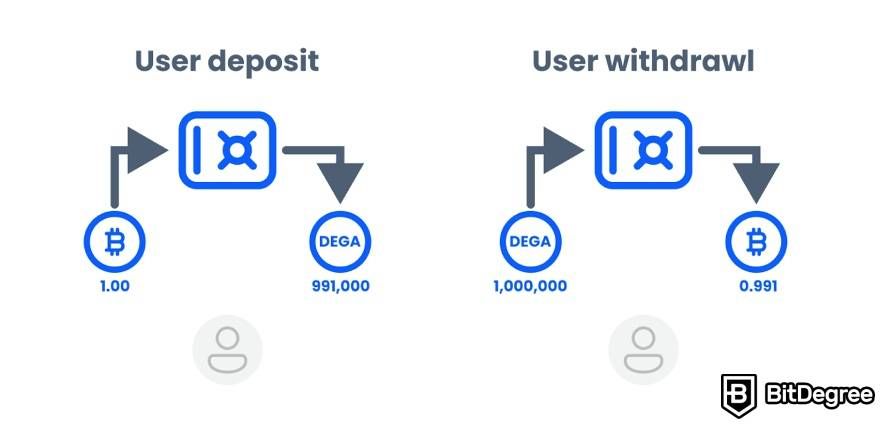 First and foremost, the one notable fee that you should be aware of is the DEGA network fee. Same as with any other blockchain network out here, the one that DEGA is built on employs a designated fee with every single transaction - this fee is paid to the underlying network, and not to CoinGames. The fee is 0,9% of every transaction performed (that includes the Vault).
Then, you have deposits and withdrawals - do CoinGames fees apply to any of these two actions? Well, no - you can both deposit, as well as withdraw tokens freely, and there are no fees associated with these transactions.
Note that "deposits and withdrawals", in this context, mean a bit of a different thing than you'd usually think of. Since the project is decentralized and non-custodial, and - as mentioned earlier - doesn't hold your assets, the deposits and withdrawals actually happen on a smart contract, and not a centralized platform.
The underlying idea, however, remains the same - both processes won't cost you anything to perform.

Lastly, you then have the actual CoinGames fees for participating in the different games available with the platform. To tell you the truth, there is a kind of a grey area in this regard - while there don't appear to be any fees for playing the games, users of CoinGames can't really seem to come to a consensus, online!
The above point is actually where the most confusion regarding the fee system stems from, too. However, once again - at least as of writing this tutorial on how to use CoinGames, there don't appear to be any fees associated with playing the games and wagering your tokens.
Conclusions
So, then - that wraps up my tutorial on how to use CoinGames. We've looked over and discussed both what is CoinGames, as a project, as well as how you can start using it yourself.
To reiterate the point that I made towards the beginning of this article, decentralized crypto gambling is definitely a popular concept that many people are interested in. With the space still being rather young, and multiple different projects popping up seemingly every other week or so, it's essential that you do your research, and pick the platforms that offer the most reliability and convenience to you.
While CoinGames has garnered a reputation for simplicity and ease of use, the project does also feature a huge variety of different games, on top of a single-token system. Sure, this limits the CoinGames payment options significantly, but at the same time, it can be viewed as a benefit to the user, if you look at it from a broader perspective.
Thanks for reading, and until next time!
About Article's Experts & Analysts