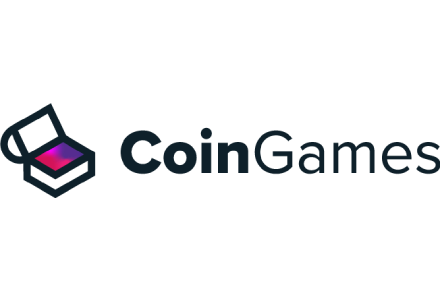 The crypto industry is made up of a myriad of different services and products, all of which fall into some specific category - you have wallets, exchange platforms, NFTs, games, and so on. While each category receives continuous and major attention, there is one that stands out from the crowd - gambling. If you're searching for CoinGames reviews, chances are that you already know where I'm going with this.
Gambling has always been a controversial, yet interesting topic, and when you put crypto into the mix, things become even more interesting. Thanks to the unique perks that blockchain tech brings with itself, gambling platforms are able to offer their users never-before-seen benefits and certain guarantees.
Where does CoinGames fit into it all, though? Well, this specific platform, while being relatively young, has already managed to garner some attention, thanks to certain decisions made by the team behind the scenes. Is CoinGames legit, though, and should you use this platform, or should it be avoided?
Well - that's exactly what we'll cover in this review, in addition to a detailed overview of the project in question! Note that if you're looking for a guide on how to get started with CoinGames, I do have a dedicated tutorial on it, as well - check it out!
Pros
Decentralized crypto gambling
A very simple user interface
Wide variety of games available
A licensed gambling service provider
DEGA token used for all gambling processes
Cons
No on-site live customer support
Some complaints about the DEGA one-token model
CoinGames Review: PROS
There are a few different ways of how we can approach talking about CoinGames, but it's probably a good idea to discuss the most notable features and benefits of the platform, first.
In doing so, we'll also unavoidably touch on some of those more controversial aspects of the crypto gambling industry that I've mentioned earlier, and take a look at how the project in question has managed to tackle them, too.
Crypto Gambling, Gone Decentralized
CoinGames launched in early 2022, as a crypto gambling platform. Same as it does now, the project offered its clients the ability to participate in different games, and wager their digital assets with the hopes of winning big.
That's all pretty standard stuff. What makes CoinGames special, then?
Well, while the initial launch was centralized, on February 20, 2023, the platform went decentralized. This is a huge point for anyone asking - is CoinGames safe, as well as one that you'll find echoed on many user CoinGames.fun reviews.
In order to understand the significance of this event, however, you should think about what makes crypto gambling unique, in general.

If you're using a centralized crypto gambling platform, the differences between it and a traditional service are, well… Negligible, in most cases. Both types of platforms are owned by a centralized institution (the company or team that created the project), and they both utilize some specific algorithms for their games, too.
These algorithms, however, are usually shrouded in mystery - your common, everyday player won't really know how they work, in the background.
Decentralized gambling offers a revolutionary take on this specific matter, though. Specifically, the concept brings with itself a couple of notable features - provable fairness, as well as complete transparency.
You see, decentralized gambling platforms base their operations on smart contracts. So, whenever you play a game, and stake your cryptocurrencies, there's a pre-programmed smart contract behind all of it, taking care of the entire process in the background.

Circling back to the service in question, user CoinGames reviews will tell you that this is exactly how the project in question operates, too. CoinGames utilizes smart contracts in all of its operations, and thus, makes the entire gambling experience decentralized.
That's cool and all, but what are the actual benefits for the user?
For starters, you are able to rest assured that the company isn't any malicious actor, waiting to snatch your crypto assets or trick you, in any way. The underlying smart contracts automate all processes happening on the platform, and thus, frankly, ensure that there are no surprises waiting to happen, so to speak.
Furthermore, since CoinGames has gone decentralized, it means that the whole, entire platform is non-custodial, too. In other words, at no point in time will they hold your crypto - the assets remain in your wallet, and are only transferred to the gambling platform when you participate in a game.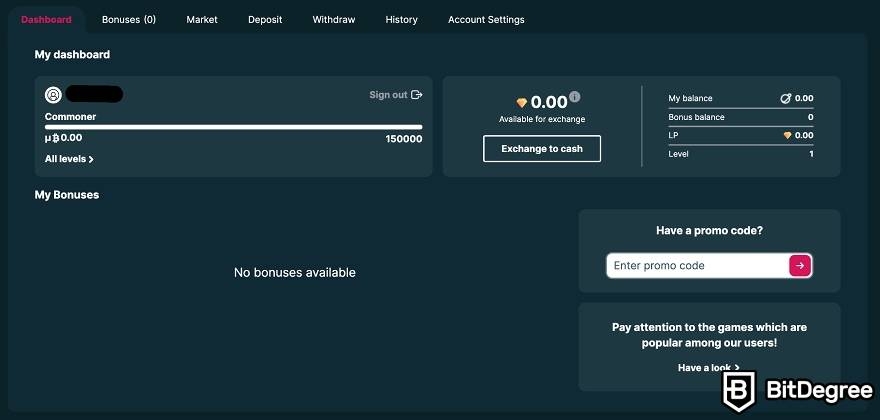 At that point, your tokens are locked in a dedicated smart contract, and are released when the predefined criteria are met. These criteria differ depending on the circumstances, but essentially, the funds are released when you win the wager / game. Pretty self-explanatory!
All things considered, the benefits here are undeniable, especially if you're worried - is CoinGames legit and safe? The decentralized nature of the platform ensures that everything is fair and transparent, and that players receive only the best possible experiences throughout the games that they choose to play.
DEGA - One Token, Zero Hassle
Reading through different client CoinGames reviews found online, you'll eventually learn that, while the project was still centralized, it featured multiple crypto asset support. The supported coins included the following:
That's a pretty healthy list of assets! Players could choose the cryptocurrency that they'd like to play with, and the platform would convert the numbers, respectively.
This *used* to be the case. Nowadays, after CoinGames went decentralized, things are different. Instead of being able to pick from the aforementioned list of cryptos, you are now only able to play with a single, designated token - DEGA.
While it may seem like a loss of convenience and variety of choice, this is actually often viewed as a good thing. Allow me to explain.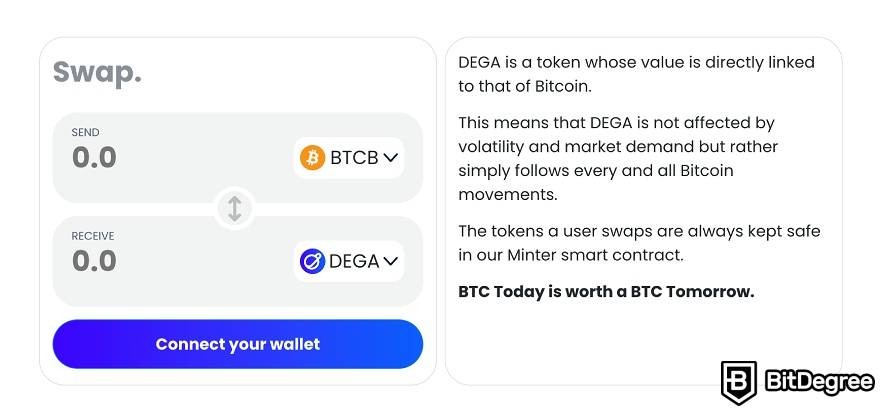 The DEGA chips are a designated currency of the CoinGames ecosystem. Its value is tied to that of Bitcoin - so, when BTC goes up, so does the value of DEGA, and vice versa. There's a specific reason for why the brand chose to do this, but more on that a bit later. For now, let's focus on why the DEGA token being the single accepted token on CoinGames is a good thing.
Most crypto service providers aim to make the processes of interacting with their services as smooth and seamless as possible - gambling platforms are no exception. Having to juggle different assets, however, can be annoying, as well as cumbersome - depending on the games that you plan to play, the time that it takes to sort through those assets can become a detrimental factor, as well!
With the single DEGA token / in-platform chip, CoinGames removes all of that potential hassle. On top of that, this also addresses any and all confusion that you might have, too!
Specifically, how do you know which crypto asset would be best to use in your gambling games? What if you keep the different assets that you plan to use in different wallets, too? Then, you'd need to disconnect from the platform, and register a new account every single time, or make transfers from one wallet to another.
Any way you look at it, it's inefficient and time-consuming. Once again, the DEGA chips are the answer!
1 DEGA token will always be worth one millionth of BTC, thanks to the earlier-mentioned price pegging. All that you need to do is hold some supported cryptocurrency, and go to a dedicated swap platform. There, after connecting your wallet, you'll be able to swap between the two different assets, fast and easy!
So, to sum up - thanks to CoinGames' decentralized gambling model, the platform currently utilizes a single-token approach to all of its gaming services. All that you need to do is acquire some DEGA tokens, and you're ready to play!
An Optimized Gaming Experience
While analyzing different crypto services, it's rather easy to focus on the "major" aspects - things that we're used to seeing discussed, such as security, decentralization, and so on. However, it's crucial to remember that there are other, more straightforward aspects that need to be looked into, as well - ease of use and platform optimization are two good examples.
Some user CoinGames.fun reviews will tell you that this platform is no exception, in that regard. I'm happy to state, however, that CoinGames has seemingly done a great job, as far as those two points are concerned.
First of all, you have website optimization - you'll be able to connect to the platform and play the different games available on it via both a browser on your personal computer, as well as a mobile device. Whilst writing this CoinGames review, I've found that the website is optimized for both mediums in question - this is a huge deal!

Nowadays, many people prefer to interact with different crypto services on their mobile devices - whether it be so that they could perform actions on the go, or simply due to convenience reasons, the point remains the same. And, while not all projects put enough emphasis on mobile support, CoinGames does - that's great!
Moving on, I'm happy to say that the entire process, from the registration on the platform, up to the point of picking and playing a select game, is very smooth and worry-free. Everything's streamlined, beginner-friendly, and the platform emphasizes ease of use to the highest extent.
These are surely points that are worth keeping in mind, while reading through user CoinGames reviews!
A Licensed Gambling Service Provider
This is, admittedly, one of the biggest features and benefits of the CoinGames decentralized gambling platform. No matter if you're interested in CoinGames slots, its VIP program (we'll talk about it in a minute), or anything else, this is notably an overarching concept.
So, yes - CoinGames is a licensed gambling service provider. Specifically, the platform is operated by an underlying company - RoBET Limited -, which is regulated by "the Isle of Man Gambling Supervision Commission under [a] license issued on October 14, 2022".
Now, what does that mean for the users of the platform?

Well, first and foremost, it signals legitimacy - something that's likely extremely important for anyone who's wondering is CoinGames legit. With proper regulatory and licensing measures in place, crypto gambling platforms are able to operate in a transparent and law-abiding manner - this is, obviously, notable.
On top of that, it does also mean that, if there's some sort of an issue, or if a particular problem occurs, you will have means to solve it. Unlicensed platforms tend to operate in the shadows, and are thus often filled with less-than-ethical features, coupled with a lot of uncertainty. Evidently, this doesn't appear to be the case with CoinGames!
So, whether you're someone who's wondering is CoinGames safe, or you're simply looking for "green flags" when it comes to using this particular gambling service, the fact that the company behind it is licensed should definitely be taken into consideration!
Available Loyalty / VIP Program - Available!
Being able to utilize a reliable gambling service provider for all of your crypto gaming wants and needs is great, but what if you could earn some additional benefits for simply wagering your tokens?
Well, user CoinGames reviews will tell you that this is something that is perfectly possible to do, on the platform in question.
To be a bit more specific, CoinGames has a built-in VIP program that all users of the platform can partake in. The program consists of 10 different levels, ranging from "Commoner" to "God". The last three levels are reserved for those clients who are able to reach the VIP stage.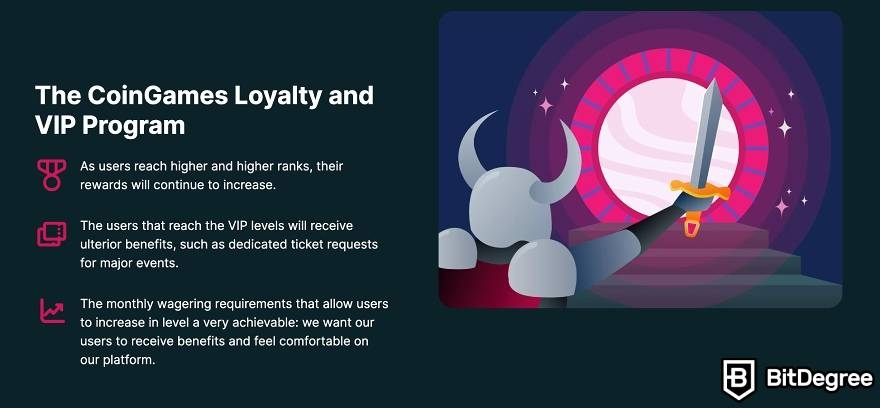 How do you climb through the levels? Well, as mentioned earlier in the CoinGames review, it's pretty simple, really - all that you need to do is wager a particular amount of tokens each month. With each level, the number of tokens that you'd need to wager will increase, as well.
That being said, CoinGames emphasizes that the wagering amounts are going to be "very achievable", since the platform wants to focus on user comfort and benefits.
As you climb through the levels, your rewards will increase proportionally, as well. These rewards include things such as DEGA token giveaways to be used on the games available on the platform, as well as certain cashbacks, too.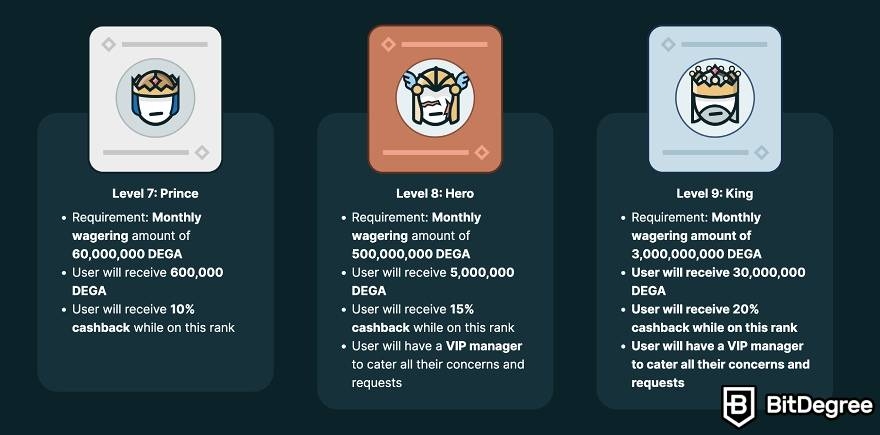 These benefits continue up until level 8, where you then enter the CoinGames VIP program. This is where the rewards really amp up.
Specifically, VIP members of the platform will receive significantly higher cashbacks, and will even have a dedicated manager who they can reach out to, with any requests or questions that they might have. On top of that, an additional benefit comes in the form of tickets to various high-profile events, too!
A Wide Array of Different Games
Up to this point in the CoinGames review, we've talked about some serious stuff - licenses, platform usability, a shift to decentralization, and so on. However, what we're yet to cover is the essential point of game variety.
I mean, this doesn't really require a lot of explanation, really - if you're interested in using a decentralized gambling platform, chances are that you already have some games in mind, or would at least like to have some variety of choice, when it comes to the available options.
Some crypto gambling platforms specialize in a single type of games, while others have limited options to pick from, altogether - no matter the reason, though, this factor alone can really make it or break it for any potential client of the platform. In regards to CoinGames, this is actually not something that you'd need to worry about, to begin with.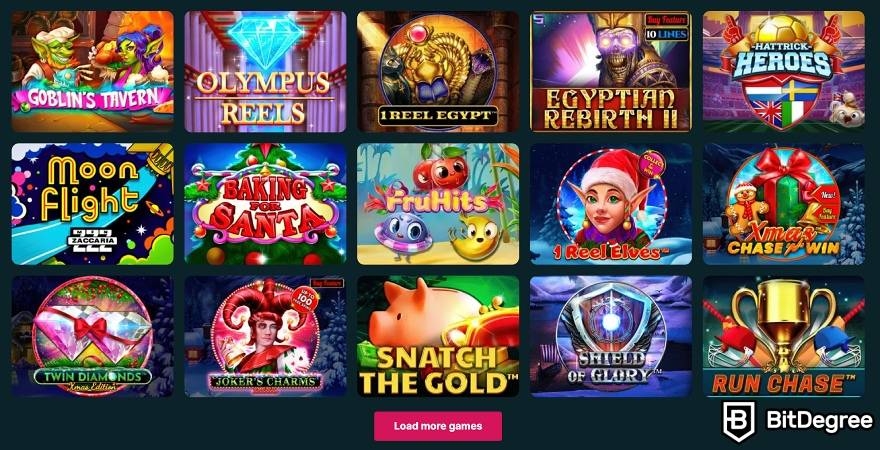 Whether you go and check the website for yourself, or read through a few user CoinGames.fun reviews, one thing that you'll notice immediately is this - the platform has a huge array of different partners, and, by extent, is able to offer a myriad of different games to its clients.
The games range in a variety of different categories, and should cover most players' preferences. So, whether you'd be looking for CoinGames slots, table or card games, virtual sports betting, or anything else along those lines, there's a pretty good chance that the platform will house a game that'll cater to your wants and needs.
Latest Binance Coupon Found:
CLAIM $600 BONUS
Exclusive $600 Binance Offer
Don't miss this limited-time deal that's only available for our readers. Follow the Binance referral code link & receive up to $600 in rewards and bonuses!
Expiration date: 02/04/2023
7,847 People Used
Only 49 Left
CoinGames Review: CONS
With all of the most notable features of the project discussed and out of the way, let's now turn towards some complaints that you might find, among the different user CoinGames reviews. Once you're aware of both sides of the table, you'll have a better understanding of what the platform is all about, and whether or not it suits your preferences!
No Live Customer Support
Customer support is an essential part of any established business - that's something that goes without saying. This is true with any and all traditional companies, and does definitely apply to crypto-related businesses, as well.
With time, the industry understood this, and thus, more and more brands started offering proper customer support solutions - for a long time, however, this wasn't the case. This is further proven by the fact that, to this day, some projects still lack support options - reading through user CoinGames.fun reviews, it would seem that this platform shares a similar issue.
Now, let's establish something, right from the start - CoinGames *does* have customer support available. Support can be reached via a few different channels - you could join their Discord group (available 24/7), message them on a social media platform (i.e. Twitter), or submit a ticket via their official website.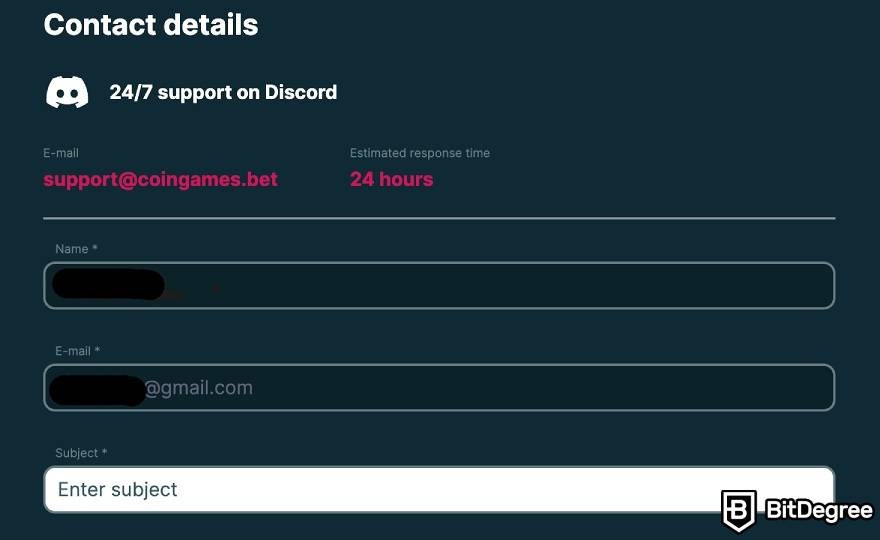 So, if there are multiple channels of support available, what's the problem, then? Well, the biggest issue is that CoinGames doesn't have live chat support.
In a situation where something goes wrong with the platform, your token transfer, or even within one of the games, you would probably want to contact customer support as soon as humanly possible. This can prove to be a challenge, if you're only choices are ticket submissions and Discord.
On top of that, this leads me to another point - there's a really slim chance that support agents will be able to help you out if your problem has to do with one of the games. This, however, isn't exactly the fault of CoinGames itself.

All of the games that you find on the website aren't actually created by CoinGames. Instead, the platform simply acts as a hosting service - a place where partners are able to come and host their decentralized gambling games. While CoinGames handles all of the infrastructure, and the games themselves are run with the help of the earlier-discussed smart contracts, if something breaks, chances are that the company won't be able to fix it, on the spot.
Back to my original point, however, it's something that you need to keep in mind, when trying to establish is CoinGames safe. If you feel like you've faced an issue, make sure to contact support ASAP, since you would likely need to wait for a response, either way - that's the reality without a live chat available.
A One Token-Exclusive Gambling Service - The Negative Side
Earlier in the CoinGames review, we discussed the fact that the platform in question utilizes a single token, for all of its gambling games. The DEGA chip - a gambling-dedicated token - is what you need to acquire in order to gamble on CoinGames, and while you could have used a few different cryptocurrencies some time ago, currently, that is not the case.
In a very general sense, this is considered to be a good thing - that's why we talked about it in the "PRO" section of review, to begin with. However, while reading through some user CoinGames reviews found online, you will quickly learn that not everyone is happy with this predicament.

Specifically, some users state that this single-token mechanic is cumbersome, and that they aren't necessarily keen on going through the entire process of swapping their crypto assets for DEGA.
Indeed - if you already own some crypto that you're prepared to gamble, you'd probably want to be able to simply log into a platform, and start playing. With CoinGames.fun, that's not the case - every new player will need to participate in a relevant token swap, and acquire some chips for themselves.
Is this a major issue? No, not really. Even in real-life casinos, you would first purchase some chips to play with, for real money, and would only then be able to participate in your select games. Albeit the DEGA acquisition process requires a bit more effort, the underlying idea is still the same.

The only issue here would be that of trust - namely, if you don't really trust the DEGA tokens, and aren't keen on swapping your own cryptocurrencies for these chips. After all, it's a very specific token, and not much is known about it, to begin with - that can affect your outlook on things!
That said, as of writing this CoinGames review, there isn't any notable user feedback that would relate to this aspect - in other words, no one appears to have faced any particular issues with swapping their coins & tokens for DEGA, or withdrawing their winnings back into a crypto of their choice.

Did you know?

Pros
A very well-known crypto exchange platform
More than 500 different cryptos available
Two-factor authentication
Main Features
Over than 100 different cryptocurrencies available
Strong security
Small withdrawal fees

Pros
Very low trading fees
Exceptional functionality
Mobile trading app
Main Features
Very competitive trading fees
An intuitive mobile app
Up to 100x leverage available
Advanced trading feature

Pros
Fiat currencies - accepted
Simple to use
Accepts only the most trustworthy cryptocurrencies
Main Features
A leading cryptocurrency exchange platform
Best for beginner investors
Accepts fiat currencies
Highly-regulated and secure
Conclusions
Wrapping things up, the ultimate question remains - should you try out CoinGames?
Well, quite obviously, there isn't really a "yes" or "no" answer - it's not that simple! To be more specific, it really depends on what you're looking for, as well as your own, personal situation, in general.
As for whether or not CoinGames is a legitimate gaming service, though, judging by all user feedback online, it would appear so. The project is still relatively new, so there's not a lot of information available about it - even so, a single look at their website will reveal that the team behind CoinGames is working around the clock, when it comes to adding more games and features to the platform.
The gambling service in question is licensed, and as of early 2023, it's also completely decentralized, and run with the help of underlying smart contracts. If anything, factors like these certainly add to the reputability of the service, as well as to its trustworthiness factor.
It's worth keeping in mind, though, that if you choose to try out CoinGames for yourself, there's no live customer support chat available. On top of that, before you could hop into any of the games, you would need to acquire some DEGA chips, too - this can be done rather simply, however.
Don't forget to check out my dedicated tutorial on how to use CoinGames, if you'd like to learn more about this particular platform. With that said, though, thanks for reading, and good luck!
The content published on this website is not aimed to give any kind of financial, investment, trading, or any other form of advice. BitDegree.org does not endorse or suggest you to buy, sell or hold any kind of cryptocurrency. Before making financial investment decisions, do consult your financial advisor.
Leave your honest CoinGames review
Leave your genuine opinion & help thousands of people to choose the best crypto exchange. All reviews, either positive or negative, are accepted as long as they're honest. We do not publish biased reviews or spam. So if you want to share your experience, opinion or give advice - the scene is yours!