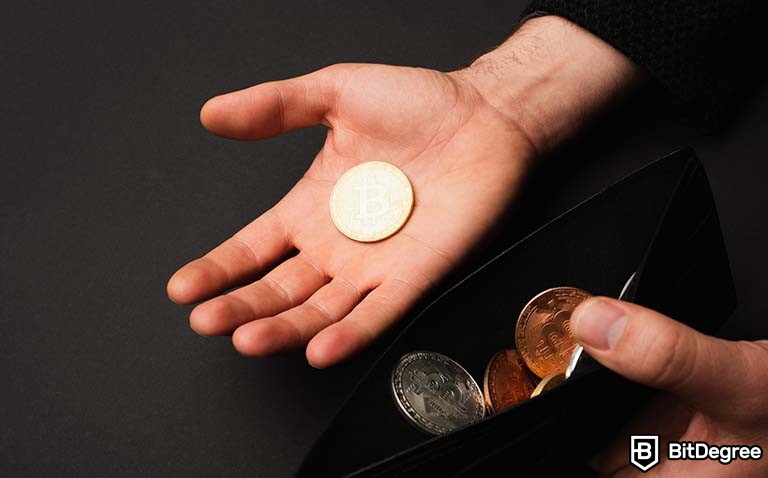 Over the past few years, cryptocurrencies have gained significant interest around the globe. Many more people started searching for ways to invest in or earn cryptocurrencies. Therefore, it is not a surprise that, at some point, the notion of how to get free crypto became a topic of interest to many investors.
Reacting to the growth of interest, many crypto exchange platforms, such as Coinbase, Binance, and Kraken, offer ways for users to earn free cryptocurrency. From learning to simple sign-up rewards, there are at least a few different ways to earn crypto for free.
In this article, you will not only become aware of different methods on how to earn crypto. You will also get familiar with various crypto exchange platforms that offer a chance to earn free cryptocurrency. Without further ado, let's jump right into it.

Did you know?
Want to get smarter & wealthier with crypto?
Subscribe - We publish new crypto explainer videos every week!
Is Cryptocurrency a Good Investment? (5 PROS & CONS!)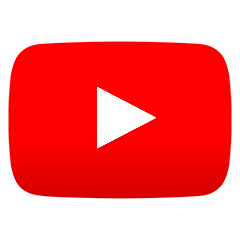 How to Get Free Cryptocurrency Fast
When starting a journey in a new field, which requires any type of investment, people usually search for ways to, at least partially, avoid paying. Therefore, the question of how to get free cryptocurrency inevitably arises, when one decides to start getting into crypto.
Latest Binance Coupon Found:
CLAIM $600 BONUS
Exclusive $600 Binance Offer
Don't miss this limited-time deal that's only available for our readers. Follow the Binance referral code link & receive up to $600 in rewards and bonuses!
Expiration date: 03/04/2023
7,847 People Used
Only 49 Left
Knowing that, many crypto exchange platforms are seeking to attract new users by offering them opportunities to earn crypto for free. How does the trade work? Your first step is to sign up on the exchange platform and become a user. In return, usually after completing a few tasks, crypto exchange platforms will give you free crypto.
Want to know where and how you can get free crypto?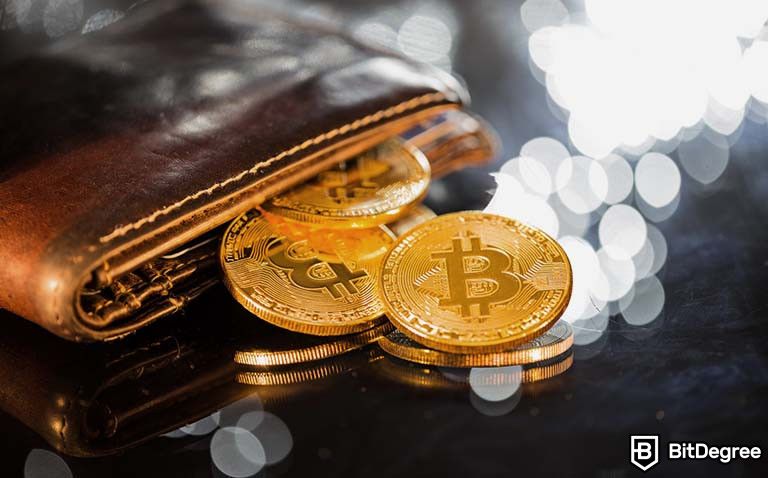 Let me now introduce you to a selection of ways how to get free cryptocurrency. The best programs worth considering when joining the crypto world are:
Want to learn about various terms related to cryptocurrencies and earn rewards for doing so? Then you should check Coinbase and Binance learning programs. On the other hand, if you wish for bigger rewards and challenges, Kraken Bug Bounty is the way to go.
Referral programs and sign-up rewards are great options for users who don't want to put much effort into earning free coins.
Want to know more? In the further chapters, I will cover these options in great detail, allowing you to make a choice and find the best opportunities to earn crypto for yourself.
Learn and Earn Programs
Have you just started investing in crypto and want to know more about this world? Or maybe you are a successful investor interested in getting familiar with new and unknown cryptocurrencies?
Regardless of your knowledge level, learn and earn programs are suitable for everyone. The programs allow users to learn about crypto and get rewards for doing it. Along with simple and engaging videos, these programs become one of the options on how to earn crypto for free.
Coinbase Earn
Coinbase, as one of the leaders among crypto exchange platforms, has significantly impacted the approach to learning about cryptocurrencies. The combination of rewards and knowledge made many interested, making it arguably the best way how to get free cryptocurrency.
Sounds interesting? Let me introduce you to the Coinbase Earn program, the best way to earn crypto through learning. With the help of short videos, the programs give you an opportunity to learn about different cryptocurrencies and earn rewards for your effort and interest.

Coinbase Earn is created to make learning about cryptocurrencies more efficient, comprehendible, and successful. It is a great way for beginners to gain the knowledge needed to start their journey with crypto. In return, they receive coins or tokens as rewards for their first steps in the crypto world.
So, how to earn crypto for free through Coinbase?
Firstly, if you don't have a Coinbase account, you must create one. Afterward, you will need to verify your personal information through a KYC (Know Your Customer) process. This information usually includes verifying your date of birth and address.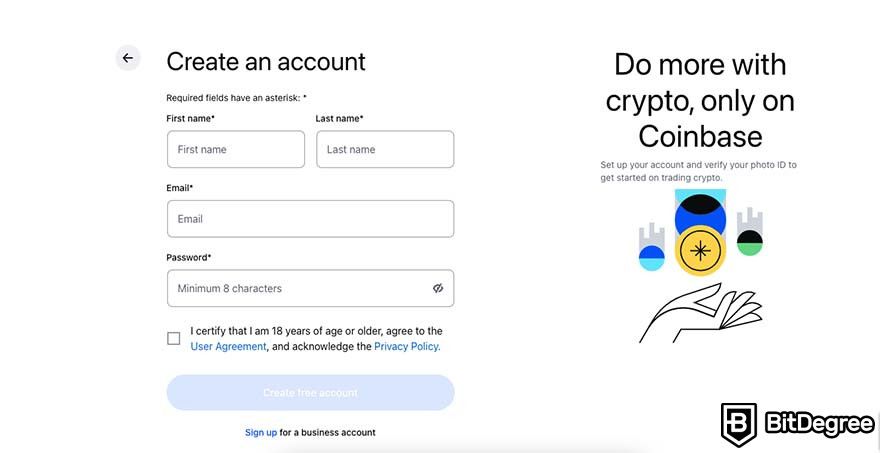 Afterward, you will be guided through photo verification, which helps to narrow down the likeliness of fraud cases. The company takes additional security measures to ensure the uniqueness and legitimacy of user accounts. Therefore, you definitely don't need to worry about your data falling into the wrong hands. With Coinbase, it's safe!
After completing photo verification, you need to check the list of countries eligible for 'Coinbase Earn' rewards. There is a wide spectrum of countries, including the United States, the United Kingdom, and the vast majority of countries in Europe and Asia.
Lastly, you must have a single Coinbase account. Users with multiple accounts will not be allowed to receive Coinbase Earn rewards.
After you have received confirmation that your account has been successfully verified, you can start collecting your free crypto. In each module that you choose, you will have to watch a short video and complete a 3-question quiz to summarize your knowledge.

Don't be sad if you haven't solved the quiz successfully on the first go. You can participate in solving the questionnaire as many times as you wish. Essentially, until all of the answers you provided are correct. After the system detects that your quiz is completed successfully, your reward will automatically appear in your wallet.
It is that easy. What about the rewards?
Your earnings are usually crypto coins or tokens that you have exclusively discussed during the course. The rewards can vary from $3 to $6 worth of cryptocurrency. On some occasions, the prize can reach up to $12 worth of crypto! Combining all of the completed courses, your rewards will be significant, nevertheless.
However, it is worth noting that all of the course topics are available for a limited period of time. So, if you want a particular currency, which is eligible to be gained through the courses, don't hesitate, and start earning now!
Let's consider that you have thoroughly enjoyed this experience of gaining various cryptocurrencies and want to tell your friends all about it. Coinbase offers you a great way to earn free crypto by sending friend invitations.
Through the use of your own referral link, you can earn Bitcoin every time someone connects and completes a course using the link that you provided. However, let's not get ahead of ourselves - I'll tell you more about the referral links and how they work in a second.
Binance Learn & Earn
With the extensive demand from users on how to earn free crypto like Coinbase, other cryptocurrency exchange platforms have been in a rush to create similar initiatives. One of those programs has been launched by Binance, one of the largest crypto exchange platforms, which offers a similar way how to get free cryptocurrency.
The program is called 'Learn & Earn', which is created with the same strategy as Coinbase's platform. By participating in the program, users gain knowledge about various cryptocurrencies, their attributes & functionalities. Nevertheless, after successful participation in the course, users receive specific, course-related rewards.

The platform also requires verification of the users. As with Coinbase, it is a rather complicated multi-step process that requires concentration and attentiveness.
Let us now discuss the steps needed to take to be eligible for the rewards through Binance 'Learn and Earn' program.
Firstly, you should log in to your Binance account. If you don't have one, it is quite a simple process of registering. The platform simplifies the method of registration by providing the ability to sign up with your phone number or email. However, if you want to register even faster, you can connect through your Google or Apple accounts.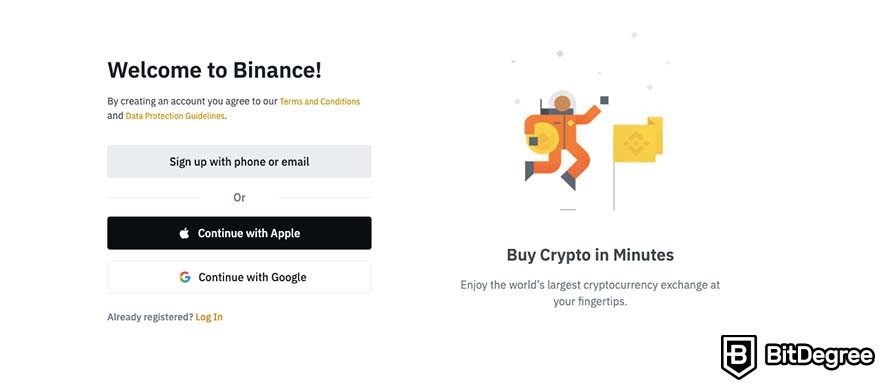 After logging into your Binance account, you have to verify your profile to be eligible to participate in 'Learn and Earn' initiative. At the beginning of verification, you must choose your place of residence. Make sure that your specified country matches the information provided in your ID documents, which will be needed for further steps of verification.
When you choose the country of your residence, the list of information needed for your verification will appear. Usually, the platform asks you to provide your personal information, such as name, surname, middle name, nationality, and date of birth.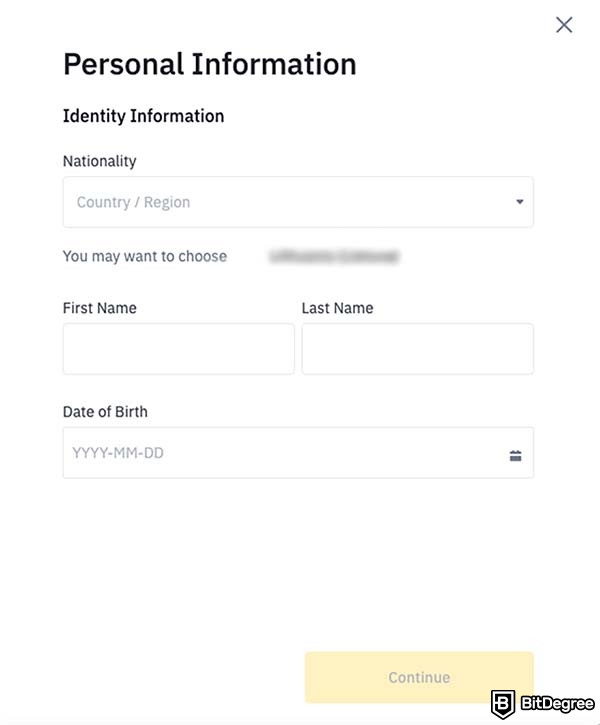 Then, you will be asked to provide a government-issued document, which, in most cases, is either an ID card, passport, or driver's license. In this step, you will be provided with clear instructions on how to upload your documents. Make sure to follow the guidelines for quick and effective verification.
After completing the upload of your document pictures, the platform will ask you to submit your selfie. The portrait picture is used as a reference, to carry out the last step of verification. You will need to use your computer camera or the front camera of your phone to complete face verification by following the instructions on the screen.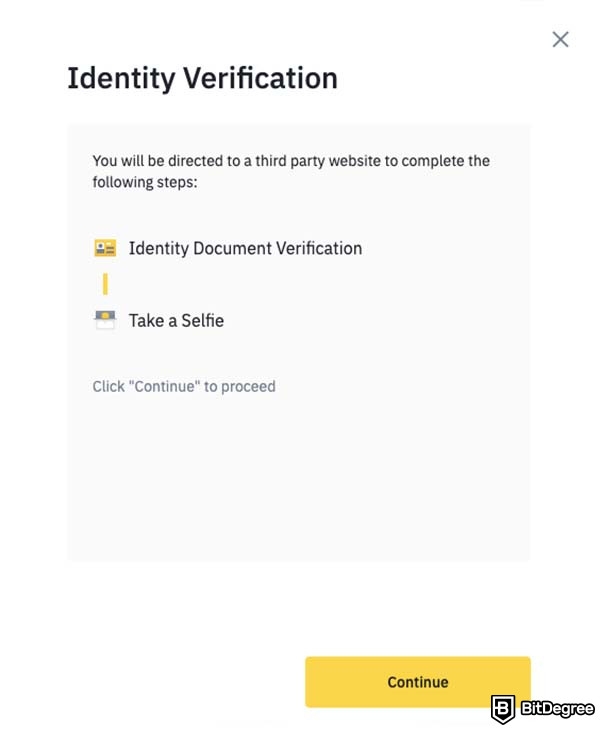 That's it! If you have completed all of the steps correctly, you will receive a confirmation email allowing you to participate in the 'Learn and Earn' program and be able to earn free crypto like Coinbase users. Although the steps seem nice and easy, Binance notifies users to be patient during the period of verifications.
Now, let's come back to the courses. The topics of the modules can vary from essential information needed to start trading or understanding crypto, to information about specific cryptocurrencies.
The single course is usually divided into four videos, which last up to 10 minutes. On average, their length is 2-3 minutes, which means that the course provides the most important and relevant information needed for the learner.

At this point, you are probably wondering what are the rewards. It is hard to provide you with a clear answer, as Binance opens its "Learn & Earn" program in rounds. At the time of writing this article, the company offers earnings of up to $9 worth of crypto, which is quite a significant amount.
However, Binance provides a limited amount of tokens or coins to be earned by those users who want to participate in this program. When the amount of assets the company is willing to give is gone, it's gone. Therefore, I highly recommend following Binance announcements about the latest rounds, so that you can be first in line, to earn your free crypto like Coinbase.
Overall, both of these platforms are worth considering if you want to know how to get free cryptocurrency. Coinbase, as the original learn-and-earn platform, offers various courses on cryptocurrencies with rewards ranging from $3 worth of crypto. On the other hand, Binance offers courses about crypto and rewards of up to $12 worth of cryptocurrency.
BINANCE
COINBASE

A very well-known crypto exchange platform
More than 500 different cryptos available
Two-factor authentication
P2P trading option
Emphasis on security and KYC
Supports fiat-crypto acquisitions

Fiat currencies - accepted
Simple to use
Accepts only the most trustworthy cryptocurrencies
Very secure

Might be a bit difficult for beginners

Not available in all countries
Some of the less-known coins aren't supported

Visit site
Read review
Visit site
Read review
Table: Binance and Coinbase pros & cons.
Which one to choose depends on you. Maybe you want to try both? If you do, go for it.
Detecting Security Flaws
Security is one of the most important elements that crypto exchange platforms must have. Leaked sensitive information can result in huge monetary losses and distrust from users. Therefore, some exchange platforms are asking for user help, offering a way how to get free cryptocurrency in return. Sounds good, right?
One of those platforms is Kraken. The crypto exchange platform offers an initiative called "Bug Bounty". It is the best way to earn crypto if you have knowledge about programming, coding, or simply have an eye for details.

The mission of the 'Bug Bounty' program is to provide a safe environment for crypto users to trade, sell, and keep their cryptocurrency. It seeks to protect the users in their digital market space, and make sure that there is no place for mistakes or errors.
To participate in the program, the security flaw must be significant enough to be eligible for the reward. Usually, these flaws are leakage of sensitive data, code injection, authentication bypass, or clickjacking.
However, you should remember that each case is different. The team of experts checks if your findings are significant and assign a prize. The rewards could be highlighted as one of the main things attracting crypto users to find security flaws on Kraken. It is worth noting that the size of your earnings largely depends on the severity of the identified flaw.
If the identified issue has low severity, the rewards range from $500-$1000 worth of Bitcoin. However, if the issue is considered to be of critical importance, the reward can reach $100,000+ worth of Bitcoin. Incredible, right?

Let's imagine that, through a deep examination of the platform, you have found severe security issues. It is significant enough to report it to the developers, so you decide to pass it through to them. Do you simply write an email? Well, you would need to do a little bit more than that.
Firstly, all of the reports about identified issues must be submitted to [email protected] The submissions require providing a detailed report about how and where the issue has been noticed. Moreover, the user must describe the steps needed to reproduce the findings.
Afterward, you must create a Kraken account, which must be identified as an intermediate level, eligible for your rewards to be transferred. To make your account reach the needed level, you must share additional information with Kraken.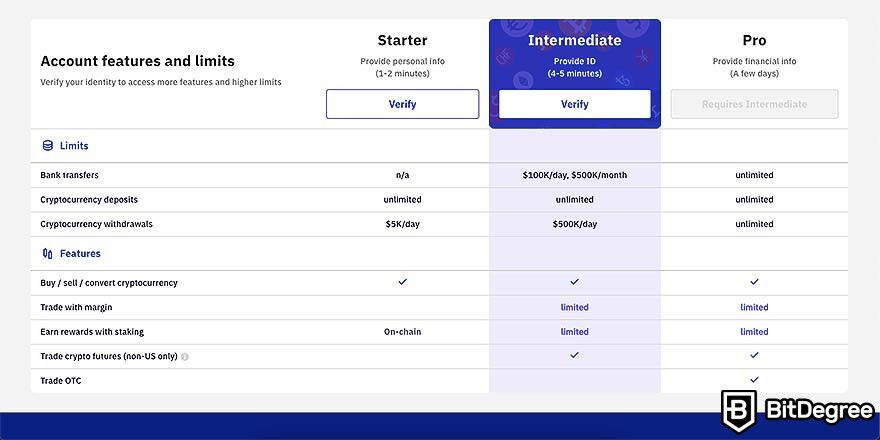 The required information includes proof of residence documents. These documents can be bank statements, residence certificates, insurance statements, or other official documents. They should contain your name, address, and be dated less than three months ago.
Another document needed for your verification is a government-issued ID (passport, driver's license, or national identification card). Lastly, you should provide your face photo and valid social security number or individual taxpayer identification number. That's it!
This is one of the best ways how to get free cryptocurrency. Therefore, if you have noticed a security flaw or have some spare time and want to be useful, I highly recommend analyzing Kraken and earning free cryptocurrency.
Referral Programs
Another approach how to get free cryptocurrency can be found in referral programs. Many crypto exchange platforms offer various rewards for you to simply invite your friends to join the platforms. In this chapter, I will overview the best offers worth considering if you want to earn free cryptocurrency.
Coinbase Referral Program
The Coinbase referral program is a great way how to get free cryptocurrency. The program allows both you and your friends to earn rewards. By working hand in hand, due to the significance of this platform, both sides can benefit and gain free crypto.
Let's look deeper into how it works.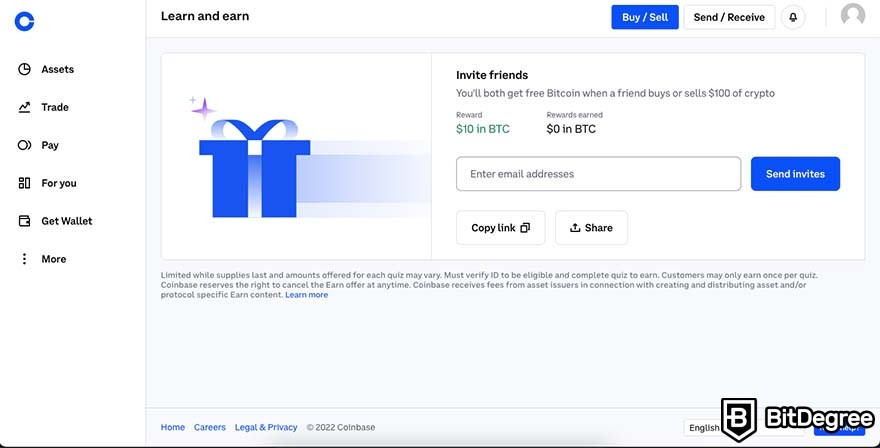 For you to start gaining your free crypto through Coinbase, you first need to have an account. Afterward, you need to send your friends a unique referral link. When your friend connects to Coinbase through the link you provided and makes an eligible trade, you both start earning additional bonuses.
How much is an eligible trade? Well, according to Coinbase, your friend has to buy or sell at least $100 worth of cryptocurrency in 180 days, which is approximately 6 months. Although, the exchange platform highlights that the size and reward greatly depend on timing and the country. At the time of writing this article, the reward is $10 worth of Bitcoin for both parties.
Although the process looks simple, there are a few things to be aware of when joining the Coinbase referral program. Firstly, your friend or the person using your link must live in the same country as you. Secondly, there is a limited amount of rewards that you can receive from the referral program initiative.
If you are fine with these limitations, invite your friends to join the Coinbase community, and enjoy your free bonuses.

Did you know?

Pros
Can be managed from mobile device
Very secure
Supports more than 1500 cryptocurrencies

Pros
Top-tier security
DeFi app support
Store over 5500 assets, install up to 100 apps simultaneously
Binance Referral Program
Let's continue with Binance, one of the leading crypto exchange platforms in the world. Binance offers you one of the solutions on how to earn crypto for free by initiating their referral program. The success of this program and its usefulness lies in the fact that both sides of the program earn benefits.
What exactly does Binance offer for you and your friends, and how to get free cryptocurrency using Binance? These are very valid questions; thus, let's get right to the point, shall we?
The Binance referral program allows you to earn commissions from each trade that your friend makes. Cool, right? After you provide your referral link to your friend and they register to the platform, you become eligible to receive rewards for their trades in Binance's Spot or Futures. It is a similar way to earn free crypto like Coinbase.

Let's quickly move the focus from the referral program to the mentioned terms. Spot trading is buying or trading different cryptocurrencies or tokens immediately at current prices. Whereas future trading largely depends on two parties betting about the future price of the asset and planning on buying them in the future for a fixed price.
I hope that's clear, and we can come back to the Binance referral program.

The program is designed to give you a 20% commission rate on every trading fee that your friend pays. Moreover, it allows you to also share this reward by giving them 5-10% of your bonus.
Can it get any better? Yes, indeed, it can. If you have more than 500 BNB coins in your wallet, the referral rate increases to 40% and allows you to share up to 20% of your rewards with your friends. This allows for both you and your friend to get additional earnings.
So, if you are actively using Binance, or want to start using it, consider participating in their referral program and gain additional rewards.
Sign-Up Rewards
Lastly, by identifying different ways to earn crypto, I have stumbled upon a few methods on how to get free cryptocurrency with minimal investments. If you are not too annoyed about spending a few dollars to get your reward, or you would invest money into crypto either way, then here are a few great ways to get crypto through Coinbase.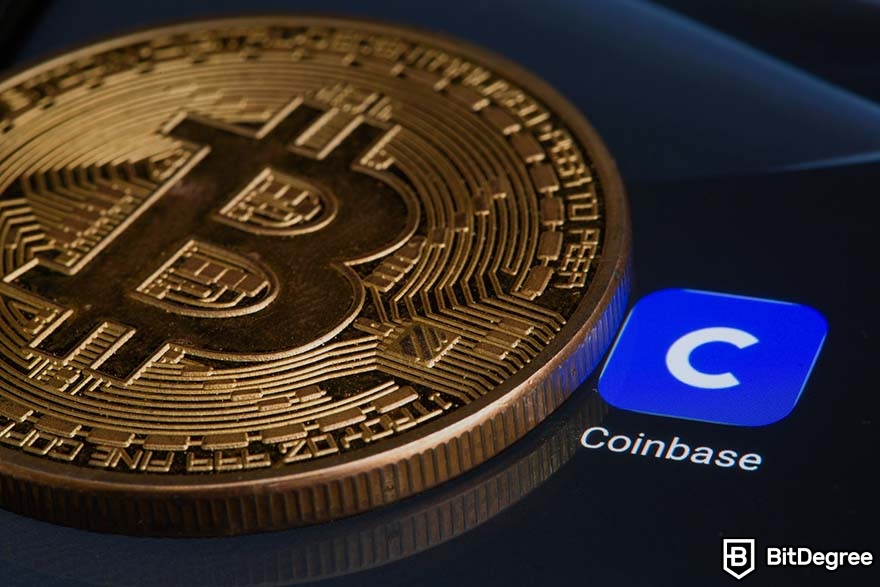 The first option for you to earn free cryptocurrency that you would come across when joining Coinbase is commonly known as "spin the wheel". You probably have encountered this method on other websites or platforms. However, let me introduce how it works on Coinbase.
Firstly, to spin the wheel and retrieve your reward, you will need to create a Coinbase account. The procedure is quite typical. You need to indicate your name, last name, email address, and of course, create a password. After that, you will need to complete the first purchase of any cryptocurrency you like.
If you don't want to break the bank, it's okay! Your purchase can be as little as $2 worth of crypto.
Now that you completed all of the steps needed to join Coinbase, you can spin the wheel. Let's say you have invested only $2 worth of crypto. The good news is that, in any case, your reward will pay off. With the 'spin the wheel' initiative, the smallest reward is $3 worth of Bitcoin.
If this is the least you can earn, how big are the rewards?
By spinning the wheel, you can earn from $3-$200 worth of Bitcoin. However, most of the users win prizes worth $3-$5 in Bitcoin, whereas only a selection of users earn $6-$200. Regardless of the amount, the rewards are incredibly valuable and worth looking into.
Coinbase is not done giving you free Bitcoin! After you have made your first purchase, as a new user's first trade initiative, Coinbase is giving you $5 worth of Bitcoin. Isn't it great?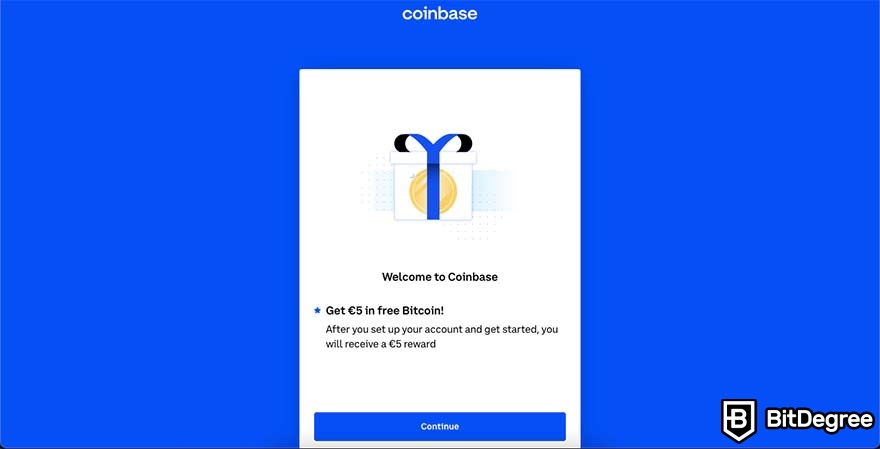 So, let's say you initially purchased Bitcoin worth $2. After making only one purchase, and let's say, earning the least amount possible from the wheel spin, you now have $10 worth of Bitcoin. 5 times more than you have initially invested!
Conclusions
Currently, crypto is one of the hottest topics around the globe. Therefore, it is no wonder that many people are trying to find ways how to get free cryptocurrency. To make things easier for you, throughout the entirety of this article, we have discussed a variety of ways how to do just that.
With the Coinbase and Binance 'Learn & Earn' programs, you can gain additional knowledge about crypto and earn rewards for doing so. On the other hand, with the Kraken 'Bug Bounty' program, you can help the company ensure its safety, and get rewards for your help.
However, the easiest way to earn free cryptocurrency is by using referral programs and inviting friends to join crypto exchange platforms. Similarly, sign-up rewards are another great way to earn crypto and start our journey in the crypto world.
With that being said, thank you so much for reading this article on how to get free cryptocurrency! Good luck with all of your crypto adventures, and check out Coinbase, Binance, and Kraken for the best way to earn crypto.
Leave your honest feedback
Leave your genuine opinion & help thousands of people to choose the best crypto exchange. All feedback, either positive or negative, are accepted as long as they're honest. We do not publish biased feedback or spam. So if you want to share your experience, opinion or give advice - the scene is yours!