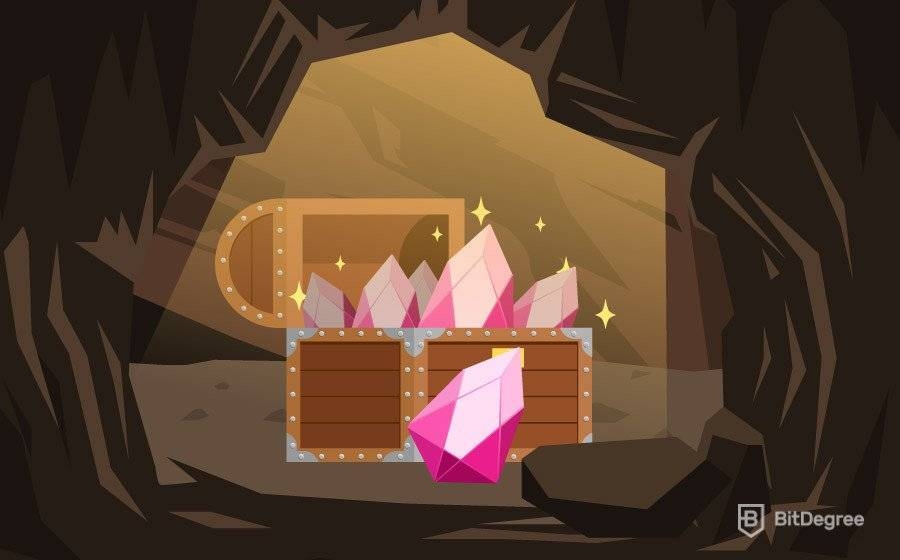 As the term "cryptocurrency" grows in popularity, many people seem to be searching for a coin that would suit their wants and needs the best. Some rely on Bitcoin, others turn towards the less-known altcoins. As of late, a noticeable interest in EOS has been noticed within the crypto communities worldwide. A lot of people are wondering how to buy EOS coin - and that's exactly what we'll be talking about in this tutorial.
I'll briefly introduce what EOS is in general - the creator behind the project, the company, software, etc. After that, well talk about how to buy EOS currency and discuss the most recommended cryptocurrency exchanges.
Let's not waste any time and dive straight into the tutorial!

Did you know?
Want to get smarter & wealthier with crypto?
Subscribe - We publish new crypto explainer videos every week!
What is AAVE in Crypto? (Beginner-Friendly Explainer)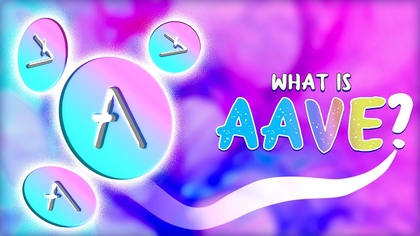 Understanding EOS
Just to make things easier to understand, I'll give you an example that many people are familiar with.
Latest Deal Active Right Now:
$300 + 40 DOGE BONUS
Huobi Black Friday Limited-Time Period
Huobi Black Friday & Cyber Monday 2023 period offers great bonus for new users - sign up & earn up to $300 + 40 DOGE bonus!
Expiration date : 10/12/2023
3,817 People Used
Only 31 Left
You know Ethereum, right? The second most popular cryptocurrency after Bitcoin? Well, one of the main reasons why Ethereum is as popular as it is is that it isn't only a "cryptocurrency" - Ethereum is a huge blockchain-based network that allows other cryptocurrencies to develop, grow and expand in its ecosystem.
EOS.IO is the same thing.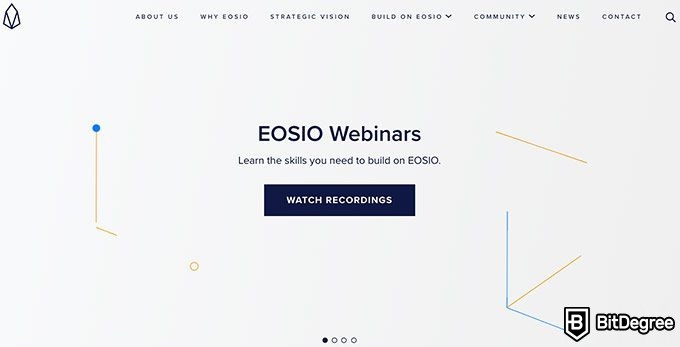 Just to distinguish, EOS is the cryptocurrency (token), while EOS.IO is the actual network that the token is based upon. Even though this is a tutorial on how to buy EOS coin, it is important to know about the software, too.
The natural question after that would probably sound something like this: so what is so special about EOS?
It's a perfectly normal question to ask. With Ethereum being as huge and popular as it is, it seems that there is almost no room left for another, up-and-coming crypto network. However, EOS.IO aims to be the one exception. It is currently a software built on the Ethereum network (ERC-20) that strives to revolutionize the blockchain.
EOS.IO aims to solve most of the problems that are associated with the term "blockchain". Most people, after they hear that term, think about speed, flexibility, and scalability. These are the three main pillars of blockchain development - and also the main obstacles to tackle.
For many years now, companies and individual developers have been looking for ways to improve the speed and scalability of blockchains as a whole, to make it more flexible and adapted to the ever-changing technologies and innovations. EOS.IO is one of these companies.
The way that EOS.IO goes about it is that they separate information and data into smaller blocks. This way, they hope to avoid excess encumbrance of the network itself, thus making the system work faster.
The company was founded by Daniel Larimer and is focused on decentralized, commercially-driven applications (dApps). If you want to know how to buy EOS coin, this information is essential to understanding how the company works and why it does what it does.
Why Should You Buy EOS?
When there are so many cryptocurrencies circulating the market, it becomes difficult to choose which ones are worth investing in and which ones you should simply ignore. Even when you discard the most obvious of contenders, you are still left with plenty of uncertainty.
With that being said, an obvious question arises - why should you buy EOS? Is it even worth it, or is it just another scam pretending to be something else? It's important to figure these things out before thinking about how to buy an EOS coin.

By the looks of things, however, EOS does seem to be legit (this includes both EOS.IO and the EOS token itself). It was able to garner quite some attention upon its initial release (ICO), and the team seems to be working hard to develop and further the innovativeness of the platform.
Even though EOS.IO has set some ambitious goals for themselves, they do seem to work towards them. Furthermore, the company seems to have a clear vision of what they want to achieve and how they're planning to do so.
A lot of people are seemingly attracted to the idea of a faster blockchain with improved scalability and overall performance. All that is left for EOS.IO is to prove themselves, which is exactly what they've been trying to do.
How to Buy EOS Coin?
Before thinking about how to buy EOS currency, you must first decide on a wallet. Honestly, the only criterion that you should follow while choosing an appropriate wallet is safety. If your EOS wallet isn't aesthetically pleasing or doesn't have a thousand different functions, it doesn't matter - as long as your EOS coins are safe and sound.
Just for simplicity's sake, I'll be referencing MyEtherWallet in this guide - it's one of the most popular wallets that support all of the coins that are built on the ERC-20 (Ethereum) network. EOS is no exception - people thinking of how to buy EOS coin often choose this wallet themselves.
Once you've set up your wallet and got your wallet address, now you can move on to the actual purchasing of the coin.
It should be noted that purchasing EOS coins might prove to be too tricky of a process. You see, it is a token that's not easy to purchase with fiat currencies. Instead, however, you should buy Ethereum using fiat currencies and then use ETH to buy EOS.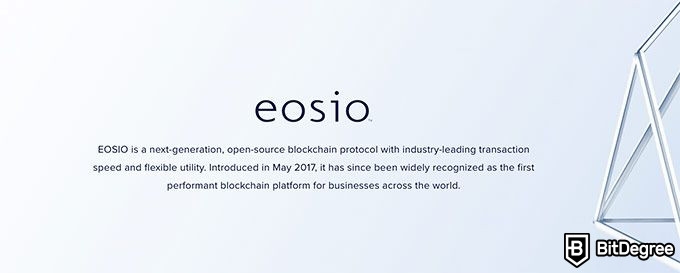 It might seem confusing at first, but the process is much easier than it looks.
First of all, choose a reputable cryptocurrency trading platform. Coinbase, Binance and Kraken are just to name a few of the more well-known and reputable ones. There are honestly three big things you should pay attention to when it comes to choosing the appropriate trading platform - security, speed, and fees.
Security is pretty self-explanatory. There is nothing more important when it comes to crypto trading than to know that your coins are safe before, during and after the process of a transaction. If it means that you'll have to pay a bit more or that it'll take longer than it usually does - no matter! As long as the process is smooth, at the end of the day, any issues are avoided.
When it comes to speed, it's usually a commodity rather than a requirement. Sure, there are certain situations and scenarios where speed is very important, but most of the time slow transactions are nothing more than a nuisance.
The fees that the cryptocurrency trading platform offers are also quite important. There are a lot of exchanges out there that are just waiting to scam people, especially newcomers of the industry that might not know what the standard prices are.
Binance, for example, offers a fee of 0,1% or lower from every transaction. This is a stupendously low tax. The platform also supports fiat currencies, so you won't need to make any additional trades to purchase EOS.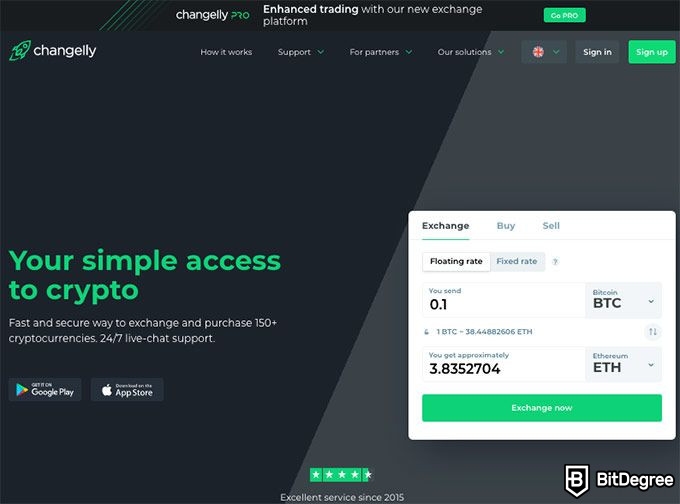 Changelly offers a flat 0,25% transaction fee and allows payment in fiat currencies (you buy ETH and then buy EOS with that). Again, it's completely preferential - some people prefer to pay a higher fee for the ability to do things the simple and old-fashioned way, while others don't mind spending a bit of time and saving some money in the process.
The Payment Process
Depending on the platform that you chose, you now have to purchase EOS with either cryptocurrency (most likely Bitcoin or Ethereum) or fiat currencies. The best way to buy an EOS coin would probably be by paying in Ethereum. Since the EOS coin is based and developed on the Ethereum network, you are most likely to have a fluid process while doing so.
Once you've answered the question "how to buy EOS coin?" and have confirmed your first transaction - that's it! Now all you have to do is sit tight and wait for the EOS coins to hit your wallet.

Pros
A very well-known crypto exchange platform
More than 500 different cryptos available
Two-factor authentication
Main Features
Over than 100 different cryptocurrencies available
Strong security
Small withdrawal fees

Pros
Secure and reliable
Low fees
A good amount of fiat currencies accepted
Main Features
Reputable exchange
Multiple fiat currencies are accepted
Relatively low trading fees

Pros
Anonymous trading
Secure
Supports a variety of cryptocurrencies
Main Features
Easy to use
Low fees
Good security
EOS in the US
A lot of people online wonder how to buy EOS in the US. Truth be told, the process is quite similar to that of buying the coin anywhere else.
The main reason why this question (and similar ones) keeps on surfacing is that crypto exchange platforms usually don't support all of the countries worldwide. Additionally, people tend to get better deals and place more trust in companies that are based in their region.
So, for people looking at how to buy EOS in the US, the answer is pretty simple - the process of the actual buying is the same, yet you might want to choose different exchange platforms, depending on where it is that you are based. A few of the more popular choices for US-based EOS enthusiasts would be Coinbase and Binance.
When to Buy EOS Coin?
Now that we've established where and how to buy EOS coin, we should deal with another big question - when should you do it?
Why is this important? Well, whether you want to make a profit by flipping the coin or you want to support it by holding the currency and thus becoming an asset holder - you will probably want to buy EOS when it's at a low point in price. By doing so, you are not only able to save a lot of money but can make a great profit along the way.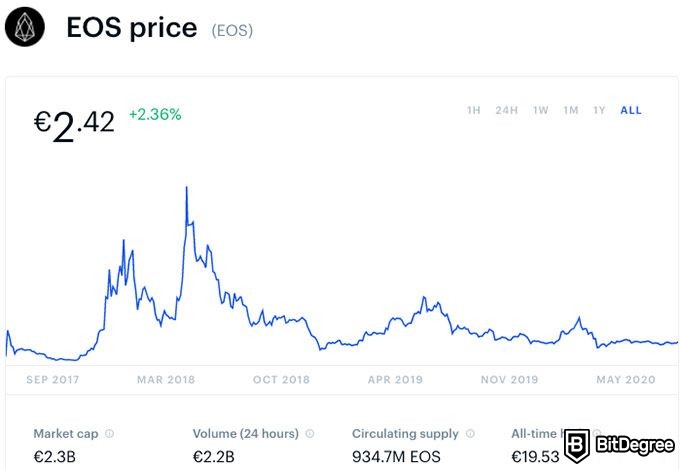 Above you can see the EOS coin price chart. If you're thinking about how to buy EOS cryptocurrency, this chart should be one of the main things that you focus your attention on.
As you can see from the graph, EOS has had a couple of price spikes during its lifetime, but it wasn't anything that spectacular or noteworthy. It is obvious that the token didn't manage to avoid the great market crash of the end of 2017 - if you're looking at how to buy EOS coin, you probably know all about it by now.
One thing that is worth mentioning and keeping in mind if you're thinking about how to buy EOS cryptocurrency is that the token avoided all of the major downfalls that can be seen in other crypto coin prices. It is indeed a peculiar phenomenon, and probably more than one reason attribute to it.
At present, the price of the coin seems to have stabilized. This is also a very good sign to see - it might be discouraging to plan how to buy EOS currency when its price is at an all-time low.
What you want to do is wait for price dips. Naturally, you would have to do a lot of research and read plenty of news surrounding both the coin and the ERC-20 network to understand how it works and what are the upcoming trends to be aware of.
Also, see what experts have to say - some people have been following the project from day one and investing all of their time and energy into researching EOS and EOS.IO.
So, long story short - if you want to know how to buy EOS coin, do your research first!
Conclusions
So… How to buy EOS cryptocurrency?
In this tutorial, we've covered EOS and EOS.IO in a very general manner. I've only touched on the surface of the software and the token behind it - there are many, many more things that you would need to learn and research if you wanted to go in-depth on how to buy EOS coin.
That's the key, really - research. If you do enough research and dig deep enough, you're likely to notice that there are patterns - especially when it comes to prices of cryptocurrencies, in general. Also, don't dismiss crypt expert opinions so lightly - as I've mentioned earlier, some people have dedicated all of their free time towards researching and analyzing one single cryptocurrency.
Remember that it's important to choose a secure cryptocurrency wallet and crypto exchange platform, such as Coinbase, Binance or Kraken.
So, we have reached the end of this "How to Buy EOS Coin" tutorial. I truly hope that the humble amount of information provided in this guide will help you with deciding on the best methods of where, when and how to buy EOS coin. Best of luck in your EOS ventures to come!
About Article's Experts & Analysts