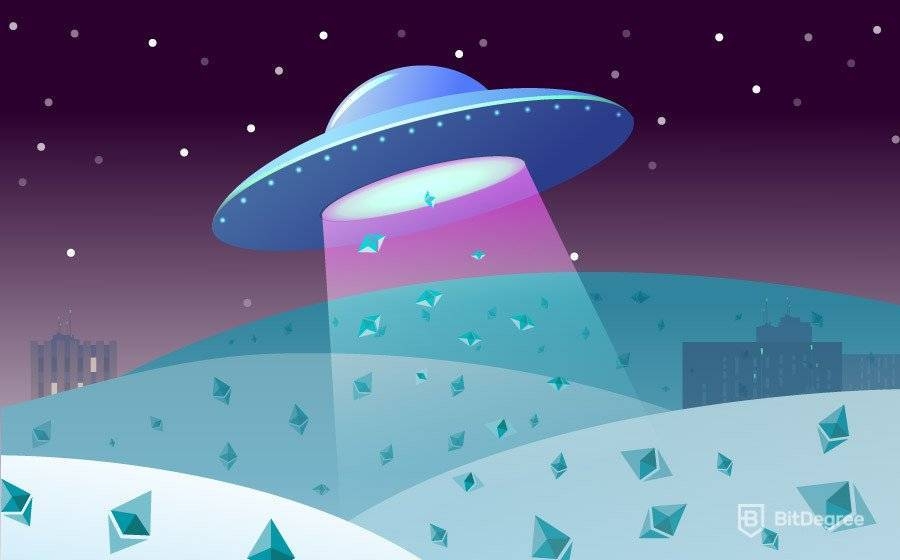 Cryptocurrencies are gaining more and more recognition as time goes on. People are starting to use a lot of new terms related to cryptos. "Hashing", "HODLing" and "mining pool" are just to name a few - and most of them revolve around profiting from cryptocurrencies. However, today we're interested in only one specific term - Ethereum cloud mining.
In this guide, we'll discuss all Ethereum cloud mining - what it is, why people do it and how to do it, with services such as Genesis Mining and CCG Mining. I'll tell you all about the many different options to choose from when thinking about joining the cloud mining business. Furthermore, I'll walk you through the process of establishing your first cloud mining gig and what to do afterward.
Also, If you're a fan of Ethereum, you can make an investment. To do that, you need to choose a reliable cryptocurrency exchange - Coinbase, Binance and Coinmama are great options.
BINANCE
COINBASE

Main score based on expert evaluations & real user reviews.

For which purpose or what kind of people is the crypto exchange most useful.

Buying, trading, and holding a wide variety of cryptocurrencies
Buying, selling, and managing cryptocurrencies

The countries in which the cryptocurrency exchange is available for operation.

Turkey, Russia, Argentina, Vietnam, Ukraine, + 40 more,
United States, United Kingdom, Germany, Canada, France, + 100 more,

Most popular hand-picked deals & coupons.

All Binance Coupons
All Coinbase Coupons

Final crypto exchange evaluation conclusion based on research, expert opinions & user feedback.

One of the leading crypto exchange platforms in the industry.
A reliable, well-known and respected cryptocurrency exchange platform.
Visit site
Read review
Visit site
Read review
Now, let's get to cloud mining.

Did you know?
Want to get smarter & wealthier with crypto?
Subscribe - We publish new crypto explainer videos every week!
Candlesticks, Trendlines & Patterns Easily Explained (Animated Examples)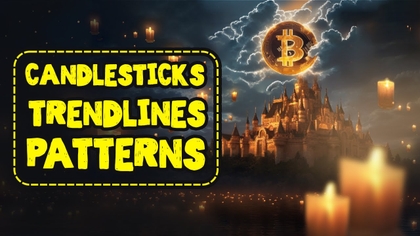 Cloud Mining
To put it into very simple terms, cloud mining is a process where you pay somebody to "rent" out their cryptocurrency mining devices, electricity and - naturally - the service of mining itself.
People (though more often it's companies) who offer Ethereum cloud mining services usually have huge farms at their disposal. A farm is simply a big amount of mining rigs operating in one specific facility. This facility has to be well equipped, though - cooling has to be up to par, it has to have a lot of space to store all of the mining rigs. A need for huge amounts of electricity is also a thing to consider.
If, for example, you'd want to start cloud mining Ethereum, the first thing that you would have to do is to find a host - somebody that would be willing to sell you their Ethereum cloud mining services. After that you would simply agree upon a contract, shake hands (whether physically or via the internet) and that's it!
Hosts usually offer a wide variety of available contracts ranging from "minor investment - minor profit" to "huge investment - major profit". People who have never had any experience with cryptocurrencies tend to start from the lower levels of investment. When you see that the service is actually legit and you're slowly but surely making a profit, you can upgrade your contract at any given time.
Alternatively, you might want to find a free Ethereum cloud mining host. This, naturally, has its pros and cons, so let's tackle the matter straight away.
Free Ethereum Cloud Mining
As I've mentioned earlier, one of the ways you can start with cloud mining is to find a free Ethereum cloud mining service. In this context, "free" means that you won't have to pay any initial fees to your host, which would usually be the case. You can choose to upgrade your plan if you want to. However, if that is out of consideration, then no initial deposit is required.
So how do these cloud mining hosts profit, then? Well, first of all, people often tend to upgrade to higher profit providing plans. This brings better results, but in turn, has an adequate fee. If you don't want to upgrade to a better plan then the host will simply take a small percentage of your earnings as "rent money" at the end of each month.
With that being said, let's look over some of the most popular free Ethereum cloud mining service providers. The list isn't ranked in any particular order.
Swiss Gold Global
Swiss Gold Global (from this point onward: SGG) has been active for around ten years now. They have established themselves a reputation of a professional, honorable and legit company and offer a variety of coins - including Ethereum - to mine.

SGG offers daily payouts and a secure platform to mine from. In total, they have four different levels of cloud mining (excluding the free one) which range from $249 to $5000.
The company also has an affiliate program. One of the best features of the program for people interested in cloud mining is that you can convert your affiliate commissions into a lifetime (yes, LIFETIME) cloud mining contracts. This is such a rare feature that it almost sounds too good to be true.
SGG also offers full support on all topics related to cloud mining. Furthermore, they have a feature that lets you sell back your earnings and stop the contract at any given time if you'd only wish.
Swiss Gold Global is truly a part of the leaders when it comes to free Ethereum cloud mining. With almost a decade of experience, this company might be worth checking out if you're interested in cloud mining in general.
Nice-Miner
Nice-Miner is another alternative if you're looking for a free Ethereum cloud mining service. These guys let you start cloud mining without a need for any hardware.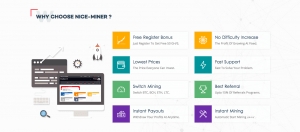 Nice-Miner offers a free registration bonus and a fast responding support service. They also have an affiliate (referral) program, the same as Swiss Gold Global. Nice-Miner's affiliate bonus can stack up to 15%.
Nice-Miner lets you choose from three different levels - 3 months, 5 years and a lifetime package. These levels vary in cost but are relatively affordable when compared to other Ethereum cloud mining services in the industry.
Ethereum Miner (ethrun.net)
Ethereum Miner is a user-friendly and well-optimized Ethereum cloud mining host. They offer you a quick setup and a wide variety of plans to choose from if you're interested.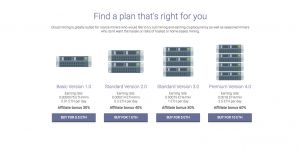 Ethereum Miner's prices for plans range from 0,5 ETH up to 10 ETH. They are transparent with their services and even provide suggestions on where you could create an Ethereum wallet if you don't have one, and where to buy Ethereum from.
According to their official site, you could earn up to 0,0035 ETH per day if you chose to not buy any of their suggested plans and simply mine ETH for free. Keeping in mind the fact that this requires no investment on your part, it's not that bad of a deal.
Paid Cloud Mining
Now that I've covered some of the more popular free Ethereum cloud mining sites and companies we can move on and talk about hosts that require an initial fee for their cloud mining services.
It makes sense that free cloud mining is much more attractive than one that you have to pay for out of your pocket, but it isn't just black and white. Even though the above-listed sites offer a service without an initial fee, the mining and hashing speeds are that much slower than those of paid cloud mining hosts.
In addition to speed, free Ethereum cloud mining sites rarely give you some or any control of the matter, where Ethereum cloud mining companies that require some sort of an up-front payment are often another story. These hosts, for example, might have cameras installed in their farms and let the customers tune in at any given time via the internet to check on how their rigs are doing.
Now you know the pros and cons of free and paid Ethereum cloud mining services. Let's review a list of some of the more popular and established hosts that are known for cloud mining Ethereum. They're not listed in any particular order.

Did you know?
Want to get smarter & wealthier with crypto?
Subscribe - We publish new crypto explainer videos every week!
What is Chainlink? LINK Explained Simply (ANIMATED)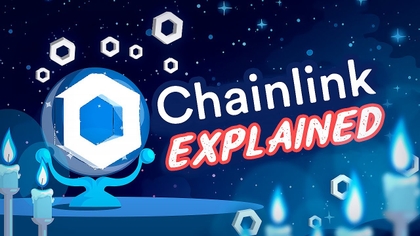 Genesis Mining
The Genesis cryptocurrency mining company is probably one of the most well-known and reputable cloud mining service providers out there. They are widely accepted as the biggest and best-developed company in the crypto mining world.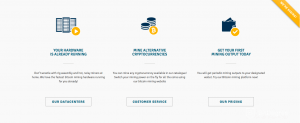 Genesis offers its customers state-of-the-art mining rigs. They are designed to mine Bitcoin and a variety of other altcoins. The company proudly states that they are an actual, real-world based team of professionals and crypto enthusiasts.
Genesis Mining offers the customers four different plans to choose from when it comes to Ethereum cloud mining, the fourth plan providing the ability to customize the rates in ways that suit you the most.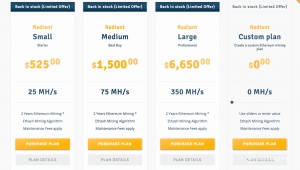 The prices for Genesis plans vary, but it is safe to say that you get what you paid for.
With ambitious future products, quality ensuring and an around-the-clock working team, Genesis Mining has built the reputation of a trustworthy, achievement orientated company. If you're planning on investing in Ethereum cloud mining, these guys should pop up on your radar.
HashFlare
HashFlare is another recognizable name in the cryptocurrency mining world. The site's default offer is Bitcoin cloud mining, but you also can mine Litecoin, Dash, Zcash and - of course - Ethereum.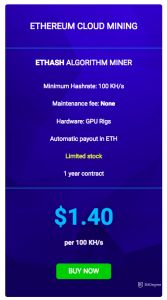 They require no maintenance fee and use standard GPU mining rigs for their cloud mining processes.
What's nice about HashFlare is that they offer detailed statistical information on their site, so you can not only access the info but also analyze and make your mind on the validity of their services. Furthermore, the company lets you choose the mining pool that best fits your needs - this is a great feature for it furthers the freedom that you as a customer have when it comes to taking things into your own hands.
Fixed fees, instant withdrawal options, immediate connection - HashFlare has everything that any company would need for cloud mining Ethereum. If you're in search of a decent Ethereum cloud mining service, give these guys a shot!

Pros
A very well-known crypto exchange platform
More than 500 different cryptos available
Two-factor authentication
Main Features
Over than 100 different cryptocurrencies available
Strong security
Small withdrawal fees

Pros
Secure and reliable
Low fees
A good amount of fiat currencies accepted
Main Features
Reputable exchange
Multiple fiat currencies are accepted
Relatively low trading fees

Pros
Anonymous trading
Secure
Supports a variety of cryptocurrencies
Main Features
Easy to use
Low fees
Good security
HashGains
With a similar name to its competitor, HashGains is also a popular choice for people who would like to enter the cryptocurrency mining game.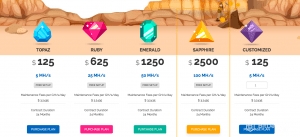 HashGains have five different options to choose from when it comes to Ethereum cloud mining (the fifth one being a custom choice). What's nice about this service provider is that they have a fun and interactive interface. People seem to like that.
HashGains also proudly exclaim that they have cutting-edge technology hardware, exceptional performance standards, and an ever-ready power backup system. The payout on hash rates and have competitive prices, so be sure to check them out!
I've Got My Ethereum - What Now?
So you chose a cloud mining service provider and have already begun making gains. Cool! The next logical step would be to sell what you've gathered.
Many different online merchants are dealing with cryptocurrency sales. The good thing is that you're trying to sell Ethereum - it is huge and popular crypto, you shouldn't come across any difficulties finding someone to sell it to.
Always pick a merchant that has a good reputation, is well-known in the community and places security as their number one priority. After you've picked, double-check online - just to be sure. In case you decide to store Ethereum, you should make sure to get a reliable wallet. Hardware ones, such as Ledger Nano X and Trezor Model T, are the most recommended ones.
After this point, you're probably good. A lot of the online crypto trading sites have extensive guides on how to register and start trading different cryptocurrencies.
Conclusion
When it comes to Ethereum cloud mining, it might be tough to make up your mind at first. You have to decide if you want a free or paid service. Then if it's paid, how much are you willing to pay? After that, you should choose a reputable service provider, get to know all of the tropes of the industry, etc. At the end of the day, with cryptocurrency prices being so volatile, is it even worth investing in cloud mining in general?
If you've decided to follow through and give Ethereum cloud mining a chance - good! Always double-check your chosen host to avoid any type of a possible scam. You can do this by visiting various online forums and chat rooms. Platforms such as CCG Mining and Genesis Mining are often thought to be some of the most-trustworthy services.
Finally, always play safe when it comes to cryptocurrency investments (or any other types of investments at that!). There's no need to rush - take your time and do research! And when you've done your homework and are ready to pitch in - start slow! You can always upgrade your plan if you see that your cloud mining service works. Don't stick with a service provider that you'll come to hate. It simply isn't worth it.
Talking about investments and secure platforms, you should make sure to check out Coinbase, Binance and Coinmama. These cryptocurrency exchanges are among the industry leaders and are considered to be very reliable ones.
SIGN UP AND EARN $200
Coinbase Black Friday Deal
Coinbase Black Friday starts now - sign up and earn up to $200 after buying your first cryptocurrency. Get your Coinbase Black Friday deal now!
Expiration date: 01/12/2023
2,981 People Used
Only 26 Left
With that said, I wish you the best of luck in your cloud mining venture!
About Article's Experts & Analysts