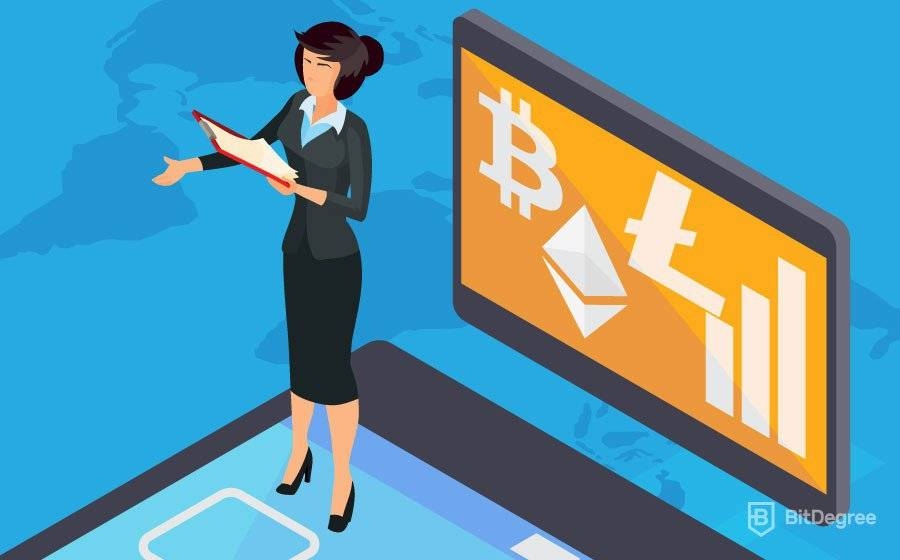 So, you've finally decided to start your cryptocurrency trading career, and you're already thinking about how you're going to spend your millions. There's no doubt that cryptocurrency is an exciting market for investors, but unfortunately, success doesn't happen as easy as that.
In all seriousness, cryptocurrency trading can be risky business. Yes, it's true — some people have made lots of money. However, some people have lost lots of money too.
For those of you who are interested in learning about cryptocurrency trading, I'm here to help you get started. This beginners guide is going to show you everything you need to know.
First, I am going to give you some background information on when cryptocurrency trading began. Next, I will help you understand the difference between short-term and long-term cryptocurrency trading, and both of their advantages and disadvantages.
After that, we will tell you the important things that you need to be careful of before you start trading.
Finally, I will show you how to trade! This will include a step-by-step guide with some useful images.
By the end of reading this beginner guide, you will have all the information need to go and trade on your own. So, what are you waiting for, let's go and learn about the early days of crypto trading!
Cool fact: In December 2017, for the first ever time, more than $50 billion of cryptocurrency was traded in just one day!
Cryptocurrency Trading
As you must already know, Bitcoin became the first ever cryptocurrency when it was released in 2009. However, with only one coin available, you couldn't trade it with any other cryptocurrency.
Latest Deal Active Right Now:
It wasn't until a few years later when more and more cryptocurrencies were created that people started trading them. The idea is really simple. You trade one cryptocurrency for another, with the hope that the coin you buy increases in value.
This concept is the same as the real-world stock exchange.
When people trade, they need to use a cryptocurrency exchange. This is so buyers and sellers can be matched. For example, if you are holding Bitcoin and want to sell it for Ethereum, an exchange will help you find an Ethereum seller to trade with.
Exchanges will charge you a fee for doing this, which normally costs around 0.1% for each trade. Cryptocurrency trading is now really popular, with billions of dollar's worth of coins being bought and sold every day.
The "lucky" ones have made a serious amount of money doing this, and there are lots of people that are now trading cryptocurrency as a full-time job.
However, experienced traders use lots of different tools to help them pick the right coins at the right time. This can include software that helps investors analyze previous pricing trends etc.
Nevertheless, everyone must start somewhere! As long as you are not trading more than you can afford to lose, there is no harm in giving it a try.
Now, I will now explain what short-term trading is, along with its advantages and disadvantages.
Short-Term Trading
Short-term trading is where you buy a cryptocurrency but only plan to hold on to it for a short amount of time. This can be anything from minutes, hours, days, weeks or even a few months!
You might buy a certain cryptocurrency because you think it will rise in price in the short term. In which case, you would then sell it for a quick profit if you thought the price was going to drop again!
Let's look at some of the advantages of short-term trading.
Advantages
The main advantage of short-term cryptocurrency trading is that it offers a really good opportunity to make high percentage gains. Unlike fiat currency markets, where prices usually don't move by more than 1% each day, cryptocurrency prices can almost double overnight!
Now that cryptocurrencies have become so popular, there are now more than 1,500 different cryptocurrencies to trade. Which means one thing — more opportunities to make huge profits. Not only that, though, but there are large trading volumes for lots of coins.
Large trading volumes are important as it means you will always find a buyer or seller! It simply means that a high amount of currency is flowing in and out of that cryptocurrency.
Disadvantages
As the cryptocurrency markets are so volatile, the prices can change very quickly. This means that if you want to perform short-term crypto trading, you will need to spend a lot of time analyzing the markets.
It's super important to keep in control of your emotions — one thing you will learn when short-term trading is that you don't always win. It can be very stressful when prices move differently to how you had hoped.
So, learning to accept losses is a big part of cryptocurrency trading. Nobody makes profits 100% of the time!
Short term cryptocurrency traders look for small gains in small price movements, so you will need to have quite a good analysis ability. This means being able to read trading charts and graphs. Which, if you are a beginner, can take a little while to learn.
Another disadvantage of short-term trading is that, for you to see good returns, you must make quite a large investment. Which is something that most of you beginners might not feel comfortable with.
Long-term trading
Have you ever heard the word "HODL"? Well, if not, then we'll assume you're completely new to the crypto space! No, it's not a word you'll find in the dictionary, but you'll certainly find it in crypto forums and community chat groups!
"HODL" is a slang word meaning to hold a cryptocurrency long term rather than selling it. Its actual meaning is "Hold On for Dear Life". Usually, long-term crypto trading means to hold a coin for one year or more.
The idea is that, although there will always be volatility, the price should increase in a large amount over the long term.
A great example of this would be the lucky investors who bought Bitcoin in 2011 when it was just $0.35. If they held on to it until late 2017, they could have sold their coins for almost $20,000 each! That's over 57,000X your initial investment!
Advantages
One of the main advantages of long-term cryptocurrency trading is that it's easy and requires a little amount of time. You don't need to understand complex trading charts or graphs as you're simply looking to hold your coin for the long term.
Unlike short-term trading, where you need to constantly spend time checking the prices of cryptocurrencies, you can do it in your spare time. It's simple, once you have bought your coin, you don't need to do anything other than wait!
Another good advantage of long-term cryptocurrency trading is that you don't need lots of money to get started. You can buy small amounts whenever you have some spare money, and let it grow over a long period of time.
This also allows you to avoid the stresses of market volatility, as you don't need to worry about short-term movements in price.
Disadvantages
One disadvantage of long-term cryptocurrency trading is that you might miss a good opportunity to make quick short-term gains.
Sometimes coins rise in value really quickly, only to fall straight back down. Short term traders will notice this and can make a quick profit.
Another disadvantage is that because you aren't spending time analyzing the market (as much as a short-term trader), you could miss some bad news. If there is bad news released that could affect the price of your cryptocurrency (such as regulations), the price could fall and never rise again.
So, just make sure you are keeping on top of cryptocurrency news to avoid this from happening.
Now that you know some of the advantages and disadvantages of both short and long term cryptocurrency trading, let's have a look at some of the things you need to be careful of before you start.
What to be Careful of?
The most important thing to remember before you start trading is that there is a chance you could lose your entire investment.
The cryptocurrency markets are very volatile, and although some people have made lots of money, lots of people have lost money too. You should never trade with any amount that you can't afford to lose.
How you deal with your losses will determine your success as a trader. Here's some important advice — never try to earn your losses back by investing larger amounts. This is investing with emotions, and often causes people to lose a lot of money.
FUD
A popular term that is used in both real-world and crypto trading is FUD. This stands for Fear Uncertainty and Disinformation.
FUD is when people or organizations try to get people to not invest in an asset by telling them they will lose all their money (or something similar). They normally say things like "It's a scam" or it's "Going to crash".
You should always do your own research before jumping to any conclusions. Use Google to find out if the information you hear is correct.
Persuasion
One final thing to consider before you start trading is that you should never be influenced by other people's opinions. Remember, you aren't the only person who wants to profit from cryptocurrency trading.
Be wary of the Youtubers you watch and listen to. They will often be paid by cryptocurrency projects to promote their coin. This could increase the price in the short term but could end up decreasing in the long term. So, always do your own research first.
If you have read our guide so far, you should now have a good understanding of what cryptocurrency trading is, the difference between short-term and long-term trading, and the things you need to be careful of.
Guess what? It's now time to learn how to trade crypto!
How to Start Trading
As you are looking to trade cryptocurrencies, the first thing we need to do is get you some coins! The easiest way to do this is with Bitcoin, as almost every exchange accepts it.
If you decide to buy Ethereum instead, then you can still follow the guide below. However, wherever Bitcoin is mentioned, swap it for Ethereum.
If at this point you already have Bitcoin, you can skip to the next part of the guide!
The quickest way to buy Bitcoin is to use your debit or credit card with Coinbase. Coinbase are an exchange broker and will sell you Bitcoin at a really good rate. Although there is a 4% charge to use your card, it is worth it as you get your coins straight away.
Open an account at Coinbase
Go to the Coinbase. You will need to choose a username and a strong password. You will also need to confirm your email address and mobile number.
Verify your account at Coinbase
Before you can buy Bitcoin at Coinbase, you will need to verify your identity. Follow our step-by-step guide below.
Click on Buy/Sell at the top of the screen.
You now need to add a payment method. Click on Add Payment Method.


You will then be asked if you want to add a bank account or a debit/credit card. In this example, we will add a debit/credit card as it is the quickest way to deposit.
As Coinbase takes security very seriously, you will now need to verify your identity. Click on Upload ID.
You can upload either a passport, driver's license or a government-issued ID card. Click on the one that you wish to upload.
Next, you will be asked how you want to upload your ID. You can choose a webcam, mobile camera or a file upload.
Once you have uploaded your ID, you will get the below confirmation.
If the picture quality if not clear enough, you will be requested to upload it again. Add your payment method in Coinbase

You will now need to enter the billing address for your debit/credit card.
Now you will need to enter your debit/credit card details. Don't worry — Coinbase never gets to see your card details as the numbers are encrypted.
Congratulations, you have now verified your identity and added a payment method! Now, let's go and buy some Bitcoin.
Buying Bitcoin at Coinbase
Click on Buy/Sell again at the top of the page. This time you will be able to see the four coins that you can buy. Click on Bitcoin.
Scroll down and enter the amount (in fiat) you want to spend on Bitcoin. In our example, we are buying 150 EUR worth. The amount of Bitcoin will update when you enter your amount.

Finally, click on Buy Bitcoin Instantly, confirm the payment card that you added previously, and click on Confirm. That's it, it's as easy as that — you now own Bitcoin!
Now that you have some Bitcoin, we need to open an account at Binance. They are one of the most popular crypto exchanges for cryptocurrency trading and have more than 100 different coins available!
Open an account at Binance
Visit Binance.
Click on Register and follow the prompts. Binance is as basic as Coinbase — you need to enter your email address, mobile number and choose a username and password.
Now that you have a Binance account, we need to deposit the Bitcoin that you just bought from Coinbase.
Deposit funds into Binance
Go back to your Coinbase account and click on Accounts at the top of the page. Then click on Send.
You will then be asked to enter the address that you want to send your coins to. As you want to send them to your Binance wallet, we need to go back to Binance and get your Binance wallet address.
Go back to Binance. Move your mouse over Funds and click on Deposits.
Click on Select Deposit Coin, type in BTC and then click on Bitcoin.
You will now see your Binance deposit address for Bitcoin. Copy it.
Now, go back to your Coinbase account. Enter the amount of Bitcoin you want to send and then paste the Binance wallet address. Finally, click on Send. Your Binance account should be funded within 15 minutes.
How to trade cryptocurrency at Binance
Now that your Binance account is funded with Bitcoin, we are going to show you how cryptocurrency trading works. In our example, we are going to trade Bitcoin for NEO, but you can replace NEO with the coin you wish to trade with!
Move your mouse over Exchange and click on Basic.
On the right of the page, click on BTC and enter NEO (or the coin you want to buy). Then click on NEO/BTC. If the coin you want to trade with isn't NEO, and instead it was ABC, then you would look for the pair ABC/BTC.
You are now on the main trading screen for the coins you want to trade — this is where all the fun happens!
To make a trade, you need to scroll down and look for the Buy NEO
Before choosing how many coins you want to trade, you need to decide if you want to do a Limit Order or a Market OrderLimit Order: This is where you enter the price that you want to trade at. However, there is no guarantee that you will get your price matched. Market Order: This is where you take the current market price that is available at Binance. If this is your first time, Market Order is your best option.
Now you need to enter the amount of NEO (or your chosen coin) that you want to buy. In our example, we are buying 10 NEO. As you will see, we will get the market price, as we chose the Market. Finally, to complete your trade, click on Buy NEO. That's it, you've just made your first ever cryptocurrency trade!
Just remember, you can change the above guide for the coin you want to buy.
Conclusion
And this is the end to our Cryptocurrency trading for beginner's guide — we hope that you enjoyed it!
If you have read this article from start to finish, you should now have a good understanding of what crypto trading is, the difference between short and long-term trading, and some important things to consider before you get started.
Not only that, but you now know how to make your first crypto purchase and how to trade between different cryptocurrencies! Just remember, you should always speak to a financial advisor before placing any investments and always do your own research.
(I want you to stay safe out there!)
So, how did you find the guide? Have you purchased your first cryptocurrency? Do you have any ideas of which cryptocurrency you're going to start trading?..
Let us know!
About Article's Experts & Analysts