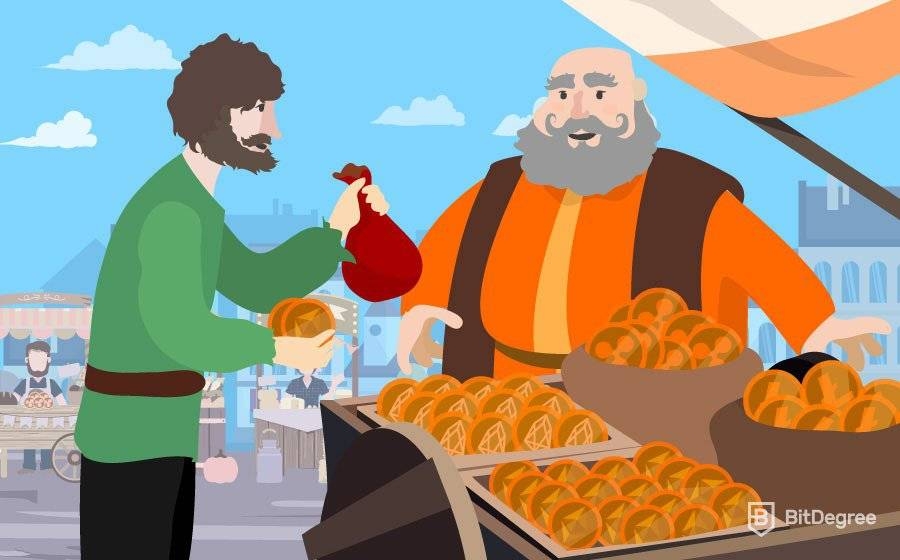 Hello there! Welcome to my guide to the best cryptocurrency trading platform.
Trading cryptocurrency has become a very popular activity over the last 12 months. For many people, it's the first experience they will have of buying and selling assets to try and make a profit. It's not surprising that such beginners will need this kind of guide to help them figure out where to start trading cryptocurrency!
During this article, you'll learn about four of the largest exchanges for trading cryptocurrency. The ones I've picked are great for at least one or two different reasons. One might be best for day traders wanting to buy and sell high volumes. Meanwhile, one might be more suited for absolute beginners.
In this guide, we'll be looking at Bittrex, GDAX, Binance, and Bitfinex. I'll cover the following about each platform: fees, features, security, coin availability, volume, and how user-friendly each exchange is.
Hopefully, by the end of the guide, you'll know which is the best trading platform for day traders with a lot of experience using exchanges and which is best for absolute beginners. You should also know a bit about the history of these four massive exchanges, as well as information about each of the points listed above.
Unfortunately, we'll have to gloss over some things. This article isn't really about how to trade cryptocurrency after all! There's enough to cover already without giving step-by-step tutorials about technical analysis and reading charts! Besides, learning how to trade cryptocurrency is much too advanced of a topic for just one single article.
With all that said, there's a lot to get through before we can identify which is the best cryptocurrency trading platform for you.
If you're sitting comfortably, I'll begin!

Did you know?
Want to get smarter & wealthier with crypto?
Subscribe - We publish new crypto explainer videos every week!
Candlesticks, Trendlines & Patterns Easily Explained (Animated Examples)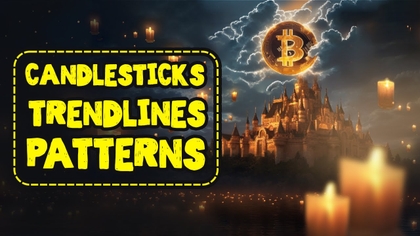 So, What is the Best Cryptocurrency Trading Platform?
Before we get down to explaining some of the differences between the many exchanges out there, it's important to separate the potential best cryptocurrency trading platforms into two groups.
Latest Deal Active Right Now:
$600 WELCOME BONUS
Binance Black Friday Deal
If you're new to Binance, great news - this Binance Black Friday period, you can earn up to $600 in rewards. Sign up, use the code 49316610, and start earning now!
Expiration date : 01/12/2023
2,817 People Used
Only 46 Left
Group 1
First, there are platforms that allow cryptocurrency trading against fiat currencies. These exchanges usually ask for lots more forms of identification to sign up.
They also often have a lot fewer types of digital coins on offer. You will find Bitcoin, Ether, Litecoin, and a few others, but don't expect to find obscure small cap' projects on them.
Group 2
The second type of platform to trade cryptocurrency is one that doesn't accept fiat deposits. These cryptocurrency-only exchanges usually offer all kinds of digital assets, many of which you will never have heard of (in fact, I've not even heard of lots of them!)
In addition, these cryptocurrency trading platforms will usually ask for very few forms of ID. Some of them don't even ask for any!
Deciding which of these two types of exchanges is the best cryptocurrency trading platform will come down to your own personal needs. With that in mind, let's have a look at what's on offer!
Note: Fiat currency refers to money that is issued by a national government. Examples of fiat currencies are dollars, euros, pounds, and yuan.
Exchanges that Allow Fiat Deposits
Let's explore 'Group 1' first, starting with Bitfinex.
Bitfinex
The first exchange I'll look at with you in our best cryptocurrency trading platform guide is Bitfinex.
Bitfinex is a cryptocurrency exchange that is based in Hong Kong. The platform first launched back in 2012 and has been growing in users ever since. Bitfinex markets itself as a professional-level cryptocurrency trading platform. That said, there is nothing too scary about it to put beginners off using it!
Bitfinex Fees
Like many professional-level cryptocurrency trading platforms, Bitfinex has a sliding scale to work out how much is paid in fees per trade. The more money traded over the previous 30 days, the cheaper the platform becomes. This is just one of the many ways that Bitfinex suits higher volume traders.
Rather than try to explain their fees myself, you can look at the table below. You probably won't need to look that far down it through — the amounts needed to reach even the third tier will be much higher than the average trader can manage!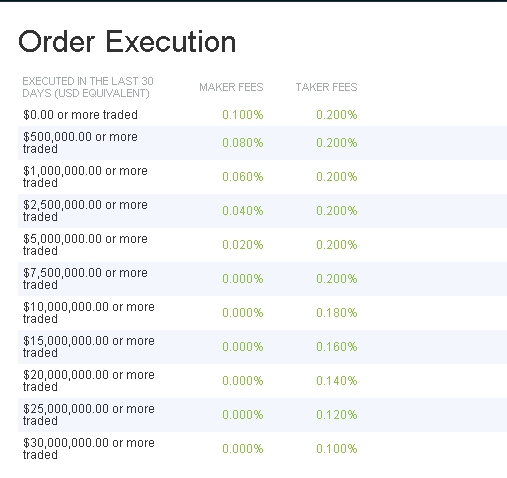 Note: A maker is a trader who adds liquidity to the market. This means if you post a trade that doesn't get filled instantly, you're a maker. If you post a trade that does get filled instantly (removes liquidity), you are the taker.
Bitfinex Features
The Bitfinex cryptocurrency trading platform offers the following features:
Trading in USD and Euro. Note: If you want to trade in fiat currency, you will need to verify your account.
Advanced trading features – 3.3x leverage, margin trading, and ten different order types. If you're not sure what these are, though, it's best to not mess around with them! If you'd like to learn more about how to trade cryptocurrency, read our full guide.
Deposits can be made with either wire transfers or cryptocurrencies.
Can customize the trading interface. This means you get to personalize your workstation with features that you use the most.
Is Bitfinex User-Friendly?
Bitfinex isn't the most user-friendly cryptocurrency trading platform around. If you know what you're doing, it's great. However, if you're new to trading, much of it will be hard to understand and you might find that there are more options than you really need. These reasons might make Bitfinex the best trading platform for day traders that have a lot of experience already.
Bitfinex Security
Security is one of the most important factors in being able to call yourself the best cryptocurrency trading platform. Bitfinex offers the following security enhancements for user accounts:
Two-factor authentication – users can enable 2FA. This adds an extra layer of security when logging on.
IP address confirmation on withdrawals – users can only allow withdrawals that are requested from a certain IP address.
Withdrawal confirmation phrase – users must enter a phrase set up at an earlier date to process a withdrawal.
Encrypted emails – users can request that all emails between themselves and Bitfinex be encrypted meaning that only they can read them.
Users can request an email be sent to them when their account is logged onto. Accounts will be frozen if suspicious activity occurs.
Bitfinex claims to store 99.5% of users' cryptocurrency in a cold storage, multi-signature wallet.
Bitfinex has various precautions to protect against a distributed denial of service attack.
The user information database is backed up and stored at multiple off-site locations.
Bitfinex Coin Availability
For a platform that accepts fiat deposits, Bitfinex supports a large list of digital currencies. The following coins are tradable at the exchange:
BTC, BCH, BTG, TRX, GNT, AVT, DASH, DATA, EDO, EOS, ETC, ETH, ETP, LTC, MIOTA, NEO, OMG, QTUM, SAN, USDT, XMR, XRP, ZEC, BAT, ZRX, FUN, MANA, SPANK, TNB, RLC, RCN, REP, ELF, AID, SNGLS, SNT, QASH, YOYO, MITH.
Bitfinex Volume
The total cryptocurrency trade volume over the last 24 hours at the time of writing (May 10, 2018) at Bitfinex was $699,816,667.
GDAX
Next, in our guide to the best cryptocurrency trading platform, I'll be looking at GDAX.
GDAX is the professional trading section for the closest thing to a household name in cryptocurrency – Coinbase.
GDAX stands for the Global Digital Asset Exchange. Since it's connected with Coinbase, it's one of the most popular trading platforms on the market today. It's based in San Francisco, USA and was launched a few years after Coinbase in 2016.
GDAX Fees
GDAX's fees are similarly structured to Bitfinex. They are calculated using a "maker/taker" model. The taker fee is worked out based on how much USD a customer has traded in the last month.  These range from between 0.3% and 0.1%.
All makers trades, however, entirely fee-free at GDAX!
GDAX Features
GDAX offers users a variety of features that make it a good place to buy and sell digital assets. Let's look at them and see if GDAX could be the best cryptocurrency trading platform:
Unlimited fiat deposits using bank transfer. Money can also be deposited using any of Coinbase's options (credit/debit card) and transferred over for free.
Highly trusted by the cryptocurrency community.
Advanced trading features – market buys, limit buys, stops, and margin trading (3x).
Insurance – GDAX's fiat deposits are insured by FDIC insurance. Customers are covered up to $250,000.
Users who started on Coinbase can easily verify their identity and get started on GDAX.
Is GDAX User-Friendly?
Since it is part of Coinbase, GDAX can be argued to be ideal for both beginner and intermediate cryptocurrency traders. Coinbase offers many instant buying options that make getting started with digital currency as easy as it possibly can be.
GDAX is for slightly more advanced users who are keen to start setting their own prices or perhaps day trading for a profit. That said, it doesn't offer quite the same selection of options of Bitfinex. This makes it a little less advanced of a platform and therefore some high-level users might prefer Bitfinex. For most traders, the options available at GDAX will be more than enough, however.
Charts on GDAX are more basic than on Bitfinex and as such, the interface is a bit more user-friendly. This again makes GDAX more suitable for intermediate traders rather than advanced ones.
GDAX Security
GDAX offers users a high level of security.
Fiat deposits are FDIC insured. This provides users great peace of mind when making deposits using bank transfers.
98% of cryptocurrency deposits are held in cold storage. To access these requires multiple signatures making them very secure.
Two-factor authentication on accounts.
No history of security breaches or hacks.
History of financial and security audits.
Highly complaint with existing US financial regulations.
GDAX Coin Availability
The following coins are available at GDAX:
BTC, ETH, BCH, and LTC.
GDAX Volume
The total cryptocurrency trade volume over the last 24 hours at the time of writing (May 10, 2018) at GDAX was $224,047,290.
Crypto-Only Exchanges
Let's now take a look at 'Group 2' — crypto-only exchanges.
The exchanges we've looked at so far in my best cryptocurrency trading platform guide have all been fully licensed and highly secure. Now we head into the wild west of digital currency exchanges!
Since crypto-to-crypto exchanges don't handle any traditional currencies, there aren't many existing regulations that they need to follow. This is because regulations governing cryptocurrencies don't properly exist yet in most countries (although some countries have been starting to introduce them). These cryptocurrency trading platforms don't necessarily have to register as a money-handling service either.
Don't worry though, the ones we've picked out as the best cryptocurrency trading platforms that don't allow fiat deposits are highly secure. Let's begin!
Binance
Binance is one of the youngest yet largest cryptocurrency trading platforms in the industry. It seemed to appear out of nowhere in mid-2017 and it quickly became apparent that it wanted to become the biggest exchange on the market. Crazily enough, it achieved it early this year with a total market capitalization of $1.3 billion!
Binance was founded in China but regulatory uncertainty saw it move to Japan in September 2017. Founder Zhao Chengpeng has since announced that he is looking at the European island of Malta to base his company in. This is because Malta is rapidly developing cryptocurrency-friendly legislation to allow young companies like Binance the freedom to innovate.
Binance Fees
The Binance cryptocurrency exchange charges users an average fee of 0.1% on every trade made. However, the platform actually has its own token too. To get people to use it, those that pay using the Binance Token (BNB) will receive a juicy 50% off their fees! Maybe this is enough to be the best cryptocurrency trading platform?
Such low fees could make Binance a strong contender for the best trading platform for day traders wanting to make lots of exchanges.
This will not be the case forever though. The breakdown of the discounts is shown in the table below.

Binance Features
The Binance mobile application lets users trade cryptocurrency on the move.
Multi-language support options: English, Chinese, Korean, Japanese.
It has its own coin that carries exclusive benefits.
It offers competitions to traders. For example, there was one month in which the trader who was able to buy and sell the most WAVES cryptocurrency was gifted 20,000 WAVES tokens. Another competition saw users winning cars and computers as prizes!
Supports a huge number of different coins and tokens – one of the biggest selections available.
It offers early support for Bitcoin forks. Bitcoin Gold and Bitcoin Diamond were listed on Binance very quickly after their creation.
No limit on the size of cryptocurrency deposits.
Limits on withdrawals. These are lifted when an account is verified. This requires users to submit their full name, country, gender, a photo of their passport/a photo of a government-issued identity card, and a photograph of themselves holding the document.
Stable coins supported. Those who want to convert an investment into fiat to time their next move into the market can do so by using USDT (Tether) if the trading pair is available.
Is Binance User-Friendly?
Despite offering both a basic and advanced view, Binance's interface isn't the easiest to understand. It might take a bit of time for even more experienced users to get used to it. However, once they do, they're rewarded with a large amount of information available on a single screen.
Even the basic view has quite a lot going on.
Since it offers users such a potentially confusing experience, Binance is probably better for intermediate to advanced traders. Beginners should at least spend a decent amount of time studying the interface to understand the whole layout before starting to make any trades on the platform.
Binance Security
Binance has quickly achieved a high level of trust within the cryptocurrency community which is extremely important if you want to call yourself the best Bitcoin trading platform. However, not many details are known about just how the platform secures its cryptocurrency deposits and how it protects itself from hacks.
That said, the Binance does offer the following security features:
Two-factor authentication.
Unknown location of central servers. They are currently thought to be in Hong Kong although no further information is known about them.
Email alert to confirm the withdrawal. Users must follow a link within the email to confirm they requested the withdrawal.
Binance Coin Availability
Without a doubt, the best thing about the Binance platform is the number of coins supported there. The list is far too lengthy to list here. This is because it also lists a lot of tokens as soon as they have finished their Initial Coin Offering. This allows users to get them early and potentially lock in the most profits possible on any pumps after ICO.
Some of the more notable listings at Binance include Bitcoin, Bitcoin Cash, Bitcoin Gold, Ethereum, Ethereum Classic, EOS, Dash, Litecoin, NEO, GAS, Zcash, Dash, Ripple.
There are plenty more listed at the exchange. For a full list, visit the site itself.
Bitcoin Volume
The total cryptocurrency trade volume over the last 24 hours at the time of writing (May 10, 2018) at Binance was an absolutely massive $2,210,146,604!
Trading Cryptocurrency on Binance
Next, in our guide to the best cryptocurrency trading platform, I'll be explaining how to trade cryptocurrency on Binance. The steps outlined below will be very similar for most exchanges. For this guide, I will assume that you already have an account set up.
Visit Binance's website at binance.com.
Click "login" at the top of the page and fill in your login details.
Next, use your phone to get the two-factor authentication code requested. Enter it into the box highlighted below.

Click "funds" at the top of the screen. You will be taken to the wallet page.

Click "deposit" next to the digital asset you want to trade. Follow the on-screen instructions to complete your deposit.

When your account has been credited, click "exchange" at the top left of the screen.

You will be given two options in a drop-down menu. For this guide, I'll be using the "basic" mode. This is recommended for first-time users as there are fewer options to confuse you!

In this example, we're swapping the small amount of NEO I had in my account for BTC using a limit order. A limit order means that the trade will only be made at the price I have stated or better, meaning I am a maker. If you want your order filled instantly, use "market". This means you are a taker.
Enter the amount you wish to trade, check the price is consistent with the current rate for the asset you are buying or selling and hit the "sell" button.
When the order is filled, you can go back to the "funds" section of the site and withdraw your cryptocurrency again.
Note: Unless you are day trading often, it is not recommended that you leave any money on an exchange website. Exchanges have been hacked before and they will be hacked again. Repeat: An exchange is NOT a secure place to safely store your cryptocurrencies! See our guide on the Best Cryptocurrency Wallets for more information.

Pros
A very well-known crypto exchange platform
More than 500 different cryptos available
Two-factor authentication
Main Features
Over than 100 different cryptocurrencies available
Strong security
Small withdrawal fees

Pros
Secure and reliable
Low fees
A good amount of fiat currencies accepted
Main Features
Reputable exchange
Multiple fiat currencies are accepted
Relatively low trading fees

Pros
Anonymous trading
Secure
Supports a variety of cryptocurrencies
Main Features
Easy to use
Low fees
Good security

Did you know?
Want to get smarter & wealthier with crypto?
Subscribe - We publish new crypto explainer videos every week!
How to Get Free Crypto? (Explained with Animations)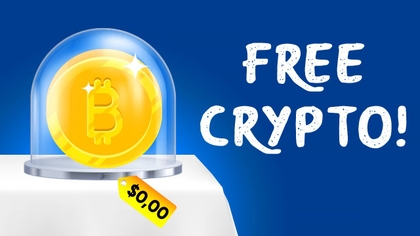 Bittrex
The final exchange I'll be looking at in my best cryptocurrency trading platform guide is Bittrex. Like Binance, Bittrex doesn't allow fiat deposits. Also, like Binance, Bittrex has a large number of cryptocurrencies that users can buy and sell.
Bittrex was launched in December 2014. It has since become one of the most user-friendly altcoin exchanges around.
It was founded by Bill Shihara, Richie Lei, Rami, Kawach, and Ryan Hentz in Las Vegas. Since it's based in the US, Bittrex is fully compliant with the few existing regulations in place today.
Bittrex Fees
Fees at Bittrex are slightly higher than other exchanges. The platform also doesn't have different fees for makers and takers, or a sliding scale for high volume users. Bittrex charges a flat rate of 0.25% per trade.
Bittrex Features
Bittrex might not be the cheapest exchange around but it does excel in certain features. It's a user-friendly platform that is a great way to start trading a variety of altcoins. Here are some of its best features, let's see if it's enough to make it the best cryptocurrency trading platform:
Many altcoins supported.
Initiative easy to use layout.
No verification for basic accounts. These accounts can make withdrawals of up to $3,000 per day.
No limit on deposits.
Available to most countries around the world.
Flat fees make them easy to calculate.
Bittrex Security
The founding team of Bittrex is made up of former digital security experts. As you'd expect from such a team, the Bittrex platform is one of the most secure. The security features at Bittrex are as follows:
Multi-stage wallets. This means most digital assets are kept in cold storage.
Two-factor authentication.
Fully regulated and compliant with US authorities. Holds a Money Service Business license from FinCEN.
Has two former Homeland Security experts working for them.
Email alerts when a new IP address is detected. A link must be followed from the user's registered email to confirm that the attempt was made by them.
Email alerts when new sign in is made.
Email alert to confirm the withdrawal.
Bittrex Coin Availability
With over 250 different cryptocurrencies at Bittrex, there is a high chance that the project you want to trade the tokens of is listed there. However, the team is careful to vet the source codes of different coins to ensure that they are legitimate offerings.
In addition, those coins that prove unpopular are quickly delisted from the platform. Rather than being a catch-all altcoin exchange, Bittrex offers a more refined selection of tokens and coins and that makes it one step closer to being called the best cryptocurrency trading platform.
All the most popular coins are listed at Bittrex with trading pairs between Bitcoin, Ethereum, and USDT or BitCNY for those wanting to convert to fiat currency whilst waiting for favorable conditions to trade.
Bittrex Volume
The total cryptocurrency trade volume over the last 24 hours at the time of writing (May 10, 2018) at Bittrex was $197,237,259.
Conclusion: Is There a "Best Cryptocurrency Trading Platform"?
So, that's it. That's our best cryptocurrency trading platform guide. As you can see, each different exchange has slightly different advantages and disadvantages. Some specialize in giving a user-friendly experience whilst others favor more advanced trading options.
This makes choosing a best cryptocurrency trading platform rather difficult — I feel that there is no overall 'best' exchange, but there are exchanges that are the 'best' for each individual user according to their needs and preferences.
What's good for one user might be terrible for another.
If you're an inexperienced crypto trader or user, you might think one platform is brilliant. However, for me, an experienced user of different exchange platforms, it might be lacking in some more advanced features that I prefer.
With that said, I hope you have learned some things about some of the largest cryptocurrency trading platforms in the business. We've outlined four in total: Bittrex, Binance, Bitfinex, and GDAX. The first two are those that don't allow fiat deposits and the second are those that do.
I've covered: fees, features, how user-friendly each is, trade volume, security, and coin availability at each. I've also given a little bit of history about them all too.
Now that we're all done, what do you think? Which do you think is the best cryptocurrency trading platform for you?
About Article's Experts & Analysts