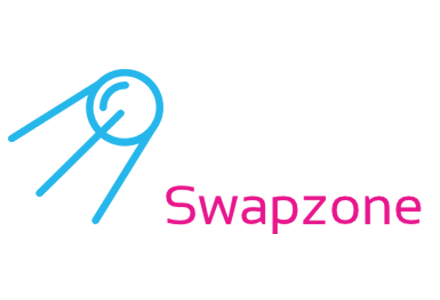 With crypto becoming increasingly more mainstream over the past few years, one would think that platforms such as cryptocurrency exchanges are already pretty clear to the masses, functionality-wise. However, every once in a while, a rare and interesting project comes around - we'll cover one such project in this Swapzone review.
Swapzone is unlike many other exchanges that we take a look at and analyze. This is primarily because the platform in question isn't really even an exchange, per se - instead, it's a token & coin swap-oriented exchange aggregator.
A lot of confusing terminology, I know. Worry not, though - I'll explain everything as we progress through the review. Furthermore, if you came here wondering about the Swapzone fees or is Swapzone legit, these are questions that will be addressed, as well!
Pros
Exchange aggregation features
Over 400 supported crypto assets
24/7 customer support
Fast trading process
Cons
Limited availability for US-based individuals
No fiat payment support
Setting the Record Straight: What is Swapzone?
Now, before we get into the nitty-gritty pros and cons of the platform in question, it would probably be a good idea to establish what Swapzone is, exactly.
As mentioned in the introductory part of the Swapzone review, this platform isn't exactly a cryptocurrency exchange. Meaning, you won't find the traditional registration, account creation, and trading features on Swapzone.
Instead, it's an exchange aggregator. What this means is that Swapzone works with a variety of different exchange platforms (over 15, to be semi-exact), and allows users to trade cryptocurrencies and crypto tokens on a single interface, provided by the platform in question.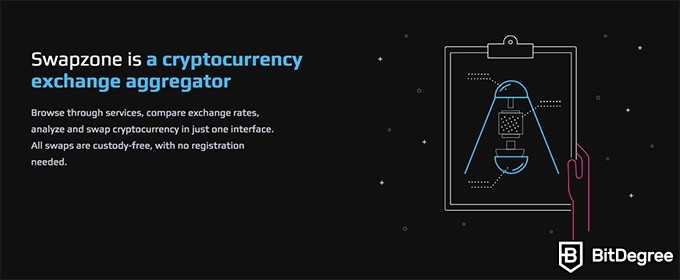 In other words, Swapzone 'aggregates' the best crypto trading pair rates, and offers them to the user. If, for example, you wanted to trade Bitcoin for Ethereum, Swapzone would provide you with the best rates, out of all of the exchanges that are integrated with the aggregation platform. Makes sense?
We'll get into more detail later in the Swapzone review, granted that many of the features offered by the platform are actually some very notable perks. However, one question that we should still tackle is this - is Swapzone a DEX (a decentralized exchange - one that does not require you to register and provide your personal information in order to start trading)?
Well… No. But it's actually a bit more complicated than that.

Swapzone does not have any registration requirements - you do not need to create an account in order to use the platform. That being said, on their homepage, you will that the team behind the project clearly states that some exchanges that they work with might require you to pass KYC processes in order to trade crypto.
On top of that, Swapzone itself belongs to a singular entity - a company called BLOCK BACK LLC that's based in Georgia. In other words, no - Swapzone is not decentralized.
However, it does come equipped with some DEX-like features, nonetheless. Let's check some of them out, shall we?
Latest Binance Coupon Found:
SECURE $600 BONUS
Binance Christmas Sale
Sign up on Binance and claim up to $600 worth of rewards for completing simple tasks during this Binance Christmas sale. Use our Binance referral code (49316610) to activate the offer while it's still valid!
Expiration date : 12/12/2023
2,935 People Used
Only 67 Left
Swapzone Review: PROS
When looking at the benefits of the project, and reading through other user Swapzone reviews, one of the things that stand out the most is that the whole project follows a non-custodial philosophy.
A Non-Custodial Exchange Service
Swapzone is non-custodial with the services that it provides. What this means is that users do not need to create an account in order to start trading crypto with the platform. You don't even need to connect a wallet in order to do so, either!
In other words, user Swapzone reviews will tell you that the platform does not hold any of your funds while you trade. This is a huge point for anyone who's concerned with the security and decentralization aspects of the exchange aggregator.
You might wonder - if you don't even need to connect your wallet in order to start trading, then how do you send or receive the funds, in the first place?

Simple - in order to make a trade, you'll need to enter your depositing and receiving wallet addresses, and then send the cryptocurrency that you want to trade to the address provided by Swapzone. Upon receiving your funds, the platform will finish off their end of the deal, and transfer your newly-acquired coins to your wallet.
The process is the same as you would be trading with some other individual, in a peer-to-peer manner. Doing the same thing on a traditional exchange is, admittedly, much simpler and faster. However, that's the whole point of using Swapzone - it becomes a non-custodial process with the best possible fees.
Speaking of which, would you believe me if I told you that, as far as Swapzone fees are concerned, there are none?
Latest Deal Active Right Now:
$300 + 40 DOGE BONUS
Huobi Black Friday Limited-Time Period
Huobi Black Friday & Cyber Monday 2023 period offers great bonus for new users - sign up & earn up to $300 + 40 DOGE bonus!
Expiration date : 12/12/2023
3,817 People Used
Only 31 Left
Zero Fees (Kind of)
Yup, you've read that right - for those wondering is Swapzone legit, this is a huge point to consider! The platform doesn't have any fees associated with it - in other words, you can trade tokens without worrying that Swapzone fees are going to cut into your potential profits.
Now, there is a catch, though. However, it's not actually related to the exchange aggregator in question -instead, it has to do with the exchanges that stand behind it, in the background.
You see, as an exchange aggregation platform, Swapzone retrieves users the best possible rates from the exchanges that it works with. However, these exchanges DO charge a fee for trading on them. Thus, you will actually be paying a trading fee, but not to Swapzone - instead, it will go to the exchange that was picked as that which has the best rates for your desired trade, at that point in time.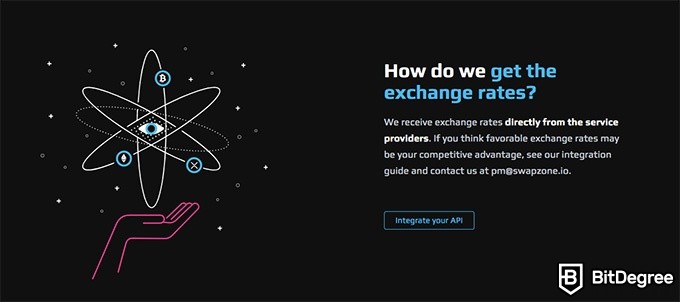 This, however, is to be expected. You'd struggle to find user Swapzone reviews that would be dissatisfied with this, to the point of not using the platform in question. This makes sense, too - even if you were to go out and find an exchange on your own, without the help of Swapzone, you would still have to pay a transaction fee.
Swapzone removes this process - you don't need to go and search for the best-rate exchange manually. This is done for you!
Essentially, the point here is simple - Swapzone is completely free to use. With it being a non-custodial service, this only further-answers the question "is Swapzone legit?"!
A Huge Selection of Coins & Tokens
No matter if you're an active day trader, or a newbie investor who's just gotten into crypto, the fact of the matter is that coin & token variety is an important aspect of any cryptocurrency exchange service.
A few years ago, most people were only interested in the main cryptocurrencies - coins such as Bitcoin, Ethereum, or XRP. Nowadays, though, with crypto becoming as huge of a deal as it is, even complete industry newcomers come in interested in niche altcoins and emerging DeFi projects. Thus, exchanges need to keep up, with the variety of choice that they provide to the users, coin & token-wise.
Evidently, some user Swapzone reviews will tell you that this is one of the core strengths of exchange aggregators. Specifically, the fact that these platforms usually offer a huge variety of assets to their users.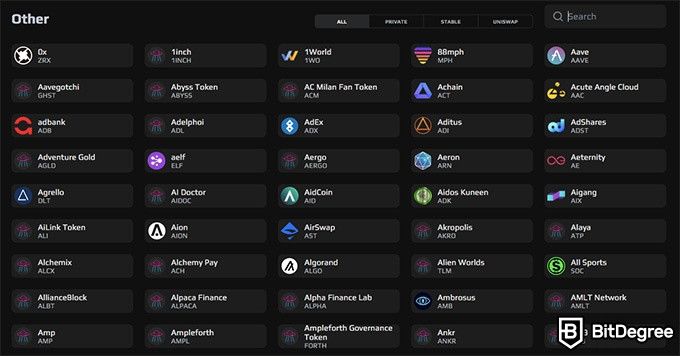 I'm happy to say that, as far as Swapzone is concerned, this is very true. While the exact number of coins & tokens available to be traded via the aggregator in question is unclear, the number is over 400.
The assets themselves range from the best-known coins (Bitcoin, Ethereum, Monero, Litecoin, BNB), to stablecoins (Tether, USDC), some niche and project-specific tokens, such as 1Inch or COMP.
The best part? If you don't manage to find a coin or token that you'd be interested in trading, you can write an email to Swapzone, directly, and they might help you out - in other words, add the token pair that you desire. How cool is that!
All in all, if variety of crypto assets is what you're looking for, both I and other user Swapzone reviews can assure you - everyone should be able to find the trading pair that they'd be interested in!
Compliant With KYC Regulations
Now, this one's a bit interesting, and even controversial - bare with me, though.
As you've probably gathered from the Swapzone review up to this point in time, the exchange aggregator itself does NOT have any mandatory KYC verification checks. However, if the exchange with which the platform is working DOES apply KYC to its users, even though you're trading via the aggregator platform, you will need to pass said KYC & AML checks.
KYC stands for "Know Your Customer", and is a set of financial regulation, rules, and laws by which all legal financial institutions function. The actual KYC laws will differ depending on what country you are from, and where the exchange itself is located. However, general requirements include you having to submit proof of your ID, residential address, and financial history.

In other words, you will need to DOX yourself completely to the exchange, in order to trade crypto. While it's common practice with many traditional financial institutions (such as banks and credit issuers), when it comes to crypto, things become a bit muddier.
Some individuals want their crypto trading experience to be completely anonymous. They believe that this is the entire point of crypto, in the first place - anonymous, decentralized trading. That's a fair assumption, and there are even platforms dedicated for this purpose - they're called decentralized exchanges, or DEXes, for short.
However, in order for crypto to become truly mainstream, some form of regulation is practically mandatory. This will also help investors protect their funds, too - since there are many scammers within the space, still, KYC & AML (Anti-Money Laundering) checks help prevent potential money or asset loss.

Most user Swapzone reviews found online don't really mention this fact, but Swapzone, albeit indirectly, does comply with the set of KYC regulations. That's actually a good thing! After all, you don't provide your information to Swapzone, when you trade coins or tokens - instead, it goes to the exchange that you're actually interacting with.
24/7 Live Customer Support
Customer support is often an underrated feature, when it comes to crypto-related services. This might be the case due to the fact that, traditionally, crypto exchanges and wallets didn't really have any type of reliable customer support - being community-driven projects, these tools were decentralized, and thus, the whole responsibility for one's assets was in one's own hands.
Nowadays, with centralized trading being the norm, customer support can be a great help when it comes to figuring things out, and even starting your trading or investing journey!
In the case of this Swapzone review, it also serves as an answer to the question - is Swapzone legit? Specifically, the platform offers its users 24/7 support services, with live chat available!

I've actually had the pleasure of contacting Swapzone's support myself, since I had a few questions about their "non-custodial" service model. The agent that responded to my inquiries was very polite and helpful, and answered all of my questions thoroughly. The initial response was very quick, as well!
All things considered, it's safe to say that this is a huge benefit, when it comes to Swapzone! At the same time, those people who are wondering is Swapzone a DEX should keep in mind that, if the platform truly was a decentralized exchange, there would likely be no customer support available, whatsoever.

Did you know?
Swapzone Review: CONS
Now that we've covered all of the main benefits that you can expect to receive while using Swapzone, there are a few quirks that should be mentioned, as well. Specifically, online, you'll find some user Swapzone reviews that aren't too happy with the exchange aggregator, for one reason or another.
Admittedly, none of those reasons are anything major. Still, though - they should be explored in order to get a full picture of the platform in question!
No Fiat Payment Option (Currently)
One of the biggest complaints that users of Swapzone have regarding the platform is a lack of a fiat payment gateway.
In other words, as of writing this Swapzone review, you won't be able to trade fiat-crypto or crypto-fiat on the exchange aggregator in question. There's no way to pay for the cryptos that you'd like via USD, EUR, or any other traditional, government-backed currency.

The reason for why that's the case could be related to KYC. As mentioned a few times already, while Swapzone is compliant with KYC regulatory checks when it comes to the exchanges that the platform works with, it itself does not impose any KYC verification checks on the user. Traditionally, in order to use fiat money in your crypto trades, you would need to pass KYC.
All of that being said, most of the complaints stem from the fact that, without having fiat payment options, Swapone becomes a bit more difficult to use. Specifically, you would need to go to another exchange, purchase some cryptocurrency there, and then come back to Swapzone, in order to trade your crypto coins for some other ones.
Now, I know what you might be thinking - why don't I just buy all of the coins that I want from that first exchange, then?! Why even bother using Swapzone?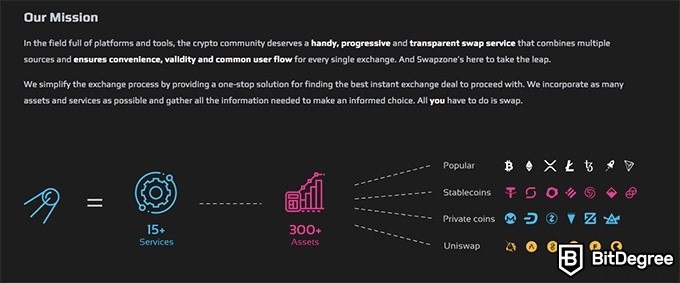 The answer here is rather simple, too - Swapzone supports a HUGE array of different coins and tokens. Most single, standalone exchanges don't offer their users even half of the crypto assets supported by the exchange aggregator.
Thus, Swapzone is still a very handy tool. On top of that, it's also worth mentioning that the platform has fiat payment integrations mapped out on their roadmap - in other words, users can expect Swapzone to integrate fiat payments at some point in time in the future!
Limited Availability for US-Based Investors
To put this point very simply, if you're based in the United States, you will have some limited access to Swapzone's services.
Why? Well, user Swapzone reviews will tell you that the reason lies within the SEC - the US Securities and Exchange Commission.
The SEC is a governmental institution that oversees the financial service providers within the country, cryptocurrency exchanges included. One of the major aims of the institution is to protect investor funds from potential scams. Thus, the SEC is very strict with crypto, and especially off-shore crypto services.

Some of the exchanges that Swapzone works with are based off-shore. This, in turn, means that, if you're based in the States, you won't have access to all of the said exchanges. This could limit your possibilities, and void certain better rates available on off-shore exchange platforms.
This is, obviously, a bummer, since it does deny a huge number of potential crypto investors the option to use this exchange aggregator to its fullest extent. However, US citizens may find that there are alternative exchange platforms that they may, in fact, access.
How to Use Swapzone?
So - now that we have all of the core features and shortcomings of the project covered and figured out, all that remains for this Swapzone review is to check out how YOU could actually start using this exchange aggregation platform.
While the process isn't too complicated, in essence, there are a few things that you should do beforehand. Thus, for the sake of clarity, let's cover the topic on a step-by-step basis, shall we?
Step 1: To start off with, you'll need to visit Swapzone's official website. Before even doing so, though, what you need to do is have a cryptocurrency wallet set up, as well as purchase some cryptocurrencies that you'd like to trade with, too. As far as the best wallets are concerned, you should take a look at the Ledger Nano X or the Trezor Model T - the top-rated hardware wallets on the market.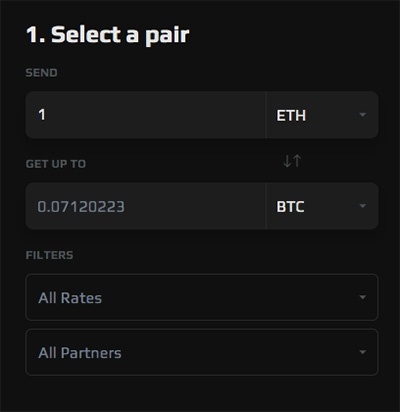 If, however, you don't want to buy a hardware wallet at this time, you can actually use the exchange wallet that you'll receive your crypto coins into. However, do note that you will also need a wallet for the coins that you will trade your crypto for, as well - it can be the same wallet, sure, but it needs to support the new coins, so make sure it does, before performing the transaction!
Now, once you've purchased some cryptocurrency - say, Ethereum - on an exchange, and have it in your wallet, you can continue on to Swapzone.
Step 2: Now, you will need to pick the cryptocurrency that you'd like to send (trade), and the coins or tokens that you'd like to receive, as well. You will see how much crypto you can get for your coins.
For this example, I've put in that I want to trade 1 ETH, for BTC. Swapzone calculated that I will receive around 0,071 BTC for my Ether.
Step 3: Next up, you will need to pick the best offer, from the list of exchanges on the right side of the screen. You are able to see their rates, how much BTC you will get, how long the transaction will take, and some additional information.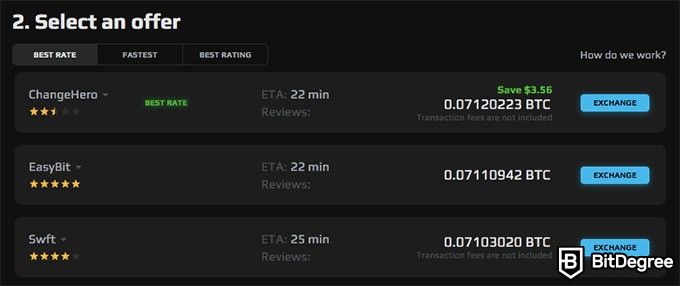 Step 4: Now, you will need to enter your Ethereum wallet address (sender), as well as your Bitcoin wallet address (receiver).
Your ETH address references the wallet that holds your Ether coins. You need to enter the address, so that Swapzone would know that it's YOU who is sending the 1 ETH in order to exchange it. Remember - Swapzone is a non-custodial crypto exchange aggregator, and thus, there's no "connecting your wallet to the website" - instead, the sending process needs to be done manually.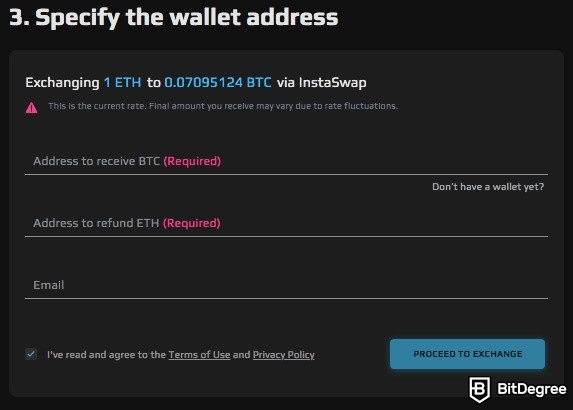 As noted earlier on in the Swapzone review, you will need a separate wallet for the crypto that you want to receive in exchange for your Ether (unless it's ERC-20 tokens that you're looking at - most Ethereum wallets support almost all of such tokens).
Following that, you will thus need to enter your separate Bitcoin wallet address - this is the wallet that you will receive your BTC in, after the trade is complete.
Step 5: Once you enter all of the information mentioned above, you will engage the transaction process. Note that, depending on the exchange that you've chosen, you might need to pass all of the required KYC verification checks - in other words, provide the exchange with proof of your ID, residential address, and so on.
Once all of the information is confirmed, you will need to send the 1 ETH to the exchange address provided to you. Upon confirmation, you should receive your BTC somewhere in the timeframe that was initially provided when you were picking out the exchange.
That's it - you have now traded your ETH to BTC, via Swapzone!
Admittedly, the process sounds complicated - this is especially true if you're new to crypto, in general. However, the complicated nature of the entire ordeal stems from the fact that you need to perform the transaction manually, as well as use a 'middleman' - Swapzone.

That being said, you would struggle to find user Swapzone reviews online that would be distressed with "how difficult" it is to use the exchange aggregation platform. That's because of two reasons - people who use exchange aggregators are usually day traders that have experience with crypto wallets and manual transactions, as well as the benefits offered by Swapzone, in general (namely, the 'best trading rate' aspect of the project).
All things considered, swapping your tokens in Swapzone (hehe) shouldn't take long, if you know what you're doing. If this is your first time interacting with a platform like that, then sure - it might be a bit more difficult to figure out. However, thanks to the simplistic design of the site, and short-and-to-the-point guides found within, you shouldn't find yourself facing a brick wall!

Pros
A very well-known crypto exchange platform
More than 500 different cryptos available
Two-factor authentication
Main Features
Over than 100 different cryptocurrencies available
Strong security
Small withdrawal fees

Pros
Secure and reliable
Low fees
A good amount of fiat currencies accepted
Main Features
Reputable exchange
Multiple fiat currencies are accepted
Relatively low trading fees

Pros
Anonymous trading
Secure
Supports a variety of cryptocurrencies
Main Features
Easy to use
Low fees
Good security
Conclusions
So, then - what's the conclusion here? After reading this Swapzone review, what do you think - is Swapzone legit, and worth using?
In my own, honest opinion, I'd say yes - Swapzone is a tricky, yet awesome crypto tool that's going to be extremely useful for anyone who plans to trade crypto, long-term, and wants to maximize their profits doing so.
Swapzone isn't the first exchange aggregator out there, sure - however, thanks to its regulatory compliance, it becomes a much more reliable and trustworthy option, when compared to some other, DEX-powered aggregators.
Swapzone fees are also non-existent - the only fees that you'll pay are those implemented by the exchange that you might be connecting to. Following that, the exchange aggregator also offers users over 400 different coins and tokens, trading-wise, has 24/7 customer support, and some of the best trading rates out there.
All in all, if you're an experienced crypto enthusiast, Swapzone is definitely a tool worth trying out. However, if you're just starting out, it might be a bit confusing to get into - just something to keep in mind!
The content published on this website is not aimed to give any kind of financial, investment, trading, or any other form of advice. BitDegree.org does not endorse or suggest you to buy, sell or hold any kind of cryptocurrency. Before making financial investment decisions, do consult your financial advisor.
About Article's Experts & Analysts