Have you recently made a Steem investment and want to know which wallet to store your coins in? Or maybe you are thinking about buying some but want to make sure there is a wallet good enough to store your coins in securely?
Whatever your situation, I've got it covered!
In my complete guide, I am going to review the best Steem wallets available, as well as giving you a brief overview of what the Steemit platform is — it's very important to understand what you're investing in!
Also, if you don't own any coins yet, I am also going to tell you how to buy Steem coin! So what are you waiting for? Let's start by finding out what Steemit actually is!
(If you're already confident with your Steemit knowledge, feel free to skip to the 'Importance of a Steem Wallet' or 'Different Steem Wallets' section)
What is Steemit?
Steemit was created in 2016 by Daniel Larimer and Ned Scott. It is a social media platform that is very similar to Reddit, where people can write posts or articles for anyone to view. However, there are some key differences that make the Steemit platform unique.
Firstly, it is a decentralized project, meaning no single person or authority has control over the system. This is possible due to the blockchain technology it runs on, making it very different from competitors like Reddit or even Facebook, where the website owners can censor or remove content if they don't like it.
The Steemit platform is also unique because writers can get paid if people like their posts. There is a voting system that is similar to clicking "Like" on Facebook. The more likes you get, the more that the writer can earn! However, writers don't get paid with real-world money like U.S. Dollars or Euros, they actually get paid with Steemit's native cryptocurrency – Steem.
The Steem coin works the same way as other cryptocurrencies like Bitcoin, where users can send, receive or hold coins, wallet-to-wallet. It even has its own blockchain too rather than using the likes of Ethereum or NEO!
Since it was launched in 2016, the Steem coin has performed really well, reaching an all-time high of $1.7 billion in late 2017!
So now that you know what the Steemit platform is, let's find out why it is important to store your Steem coins in a wallet!
Importance of a Steem Wallet
When you purchase Steem coins (or any other cryptocurrency) from a cryptocurrency exchange (Poloniex, for example), your funds are held in something called a "Third-Party Web Wallet". This means that you have no control over your funds. If the third-party exchange had their servers hacked (like Poloniex did in 2014) then you could have all of your coins stolen. This is one of the main reasons why you need to obtain your own Steem wallet.
When you download a Steem wallet onto your desktop or mobile device, you are the only person that has control over your private keys. A private key is like an online banking password. If somebody has access to them, then they have full control over your coins.
Having your own private Steem wallet also allows you to send and receive your coins. You will get your own wallet address, which is like a bank account number, allowing you to interact with the blockchain.
Every transaction that you make using the Steem coin wallet is transparent, as it remains on the blockchain for everybody to see. Again, if you held your funds with an online cryptocurrency exchange, you need to send a request to them whenever you want to make a withdrawal.
So now that you know the importance of obtaining your own Steem wallet, I am going to explore which wallets are available!
Latest Ledger Wallet Coupon Found:
EXCLUSIVE: $10 BONUS IN BTC
For ALL Ledger Products
For a limited time only, use this BitDegree-exclusive Ledger discount code link & get a HUGE $10 Bonus in BTC for any purchase on Ledger. Take advantage of this valuable Ledger deal NOW!
Expiration date: 07/06/2023
1,278 People Used
Only 72 Left
Different Steem Wallets
Although the Steem coin was first launched back in 2016, the amount of wallets available is really small. This means that there isn't much choice. However, I will go through the few Steem wallets that are available and then discuss what they can and can't do.
Steem Platform
The obvious choice for storing your Steem coins is the actual Steem platform. In fact, if you are a writer and are fortunate enough to make some money on Steemit, your coins will initially be put in the Steemit platform wallet anyway. Remember how I told you the Steemit platform is decentralized? Well, that means there is no central server for hackers to attack, making it a secure choice to store your Steem coins.
When you create an account on the Steemit platform, you are automatically given access to your very own wallet. You can deposit funds from another wallet (like a cryptocurrency exchange), send your Steem coins to another wallet or simply leave them there for safe keeping. However, there are also lots of other things you can do too.
The wallet lets you know how much your coins are worth in U.S. dollars, based on the current market price. There is also a saving feature that adds an extra layer of security because to remove your coins you need to wait 3.5 days. This means if, in the rare event that somebody managed to access your wallet, you would have lots of time to stop the transaction.
The most important thing is that the Steemit platform never stores your private keys on any central server, which means that your funds are always safe. However, it is possible to view your private keys when you log in to your Steemit account, meaning that if somebody had access to your password, they would be able to view your keys.
An additional security flaw with the Steemit platform is that there is no two-factor authentication or Google Authenticator feature. This is where to log in, you would need a code that can only be accessed from your mobile phone. It lacks these features due to its decentralized nature — there is no central authority to validate two-factor authentication.
On the other hand, using the Steemit wallet that is provided within your Steemit account is very convenient, making it really easy to send or receive coins quickly, on your both your desktop and mobile device (no app – web browser).
ESteem wallet
Esteem is a mobile wallet app that allows you to send, receive or store your Steem coins. It is available to download for free on both Google Play and the Apple store. The developers are also looking to release a desktop version soon.
The wallet was created by a third party who wanted to make a user-friendly platform for people to not only store their Steem coins but also to access material such as blogs and posts. This means it is really simple to use, which is perfect for beginners.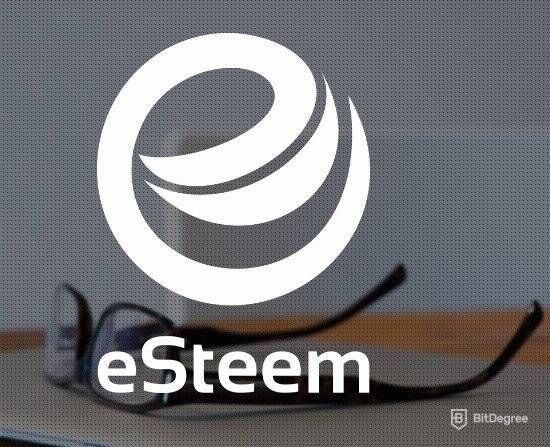 The Esteem wallet is linked to your Steemit platform account, meaning that you can't use it to create a new wallet address. Instead, you will need to use your private keys and password from your Steemit account.
In terms of security, as long as your mobile phone is not stolen or accessed by somebody else, it is a very safe way of storing your coins.
CLI Wallet
The CLI wallet is the official Steem coin wallet that can be downloaded on to a desktop computer. In reality, this is actually the safest way to store your Steem coins as you have to download the blockchain client, which allows you to connect directly to the Steemit web socket.
However, although it is the most secure, the CLI Steem wallet is very difficult to use. In fact, unless you have a basic understanding of Command Line Programming, then I would advise you to choose a different option.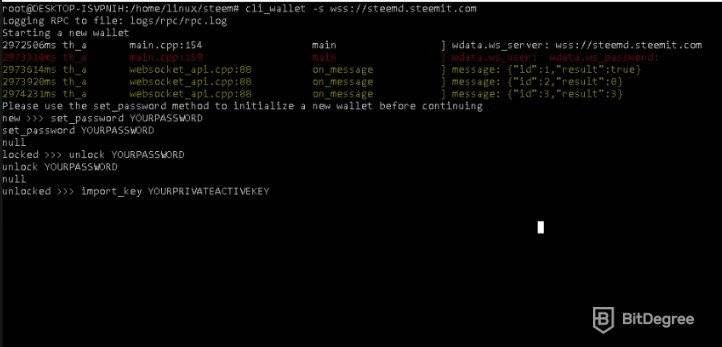 Just like the Esteem wallet, it is not possible to create or generate private keys, so you will need to import them from the Steemit platform. If you do understand Command Line Programming, then here is a link explaining what you need to do to set up your CLI Steem wallet.
Vessel
The vessel is a Steem wallet that can be downloaded on to your desktop computer. The wallet provider does not have an official website, so to download it you will need to visit Github (which you can do by clicking my link here). The wallet is called a Lite-client because you do not need to download the entire blockchain onto your computer.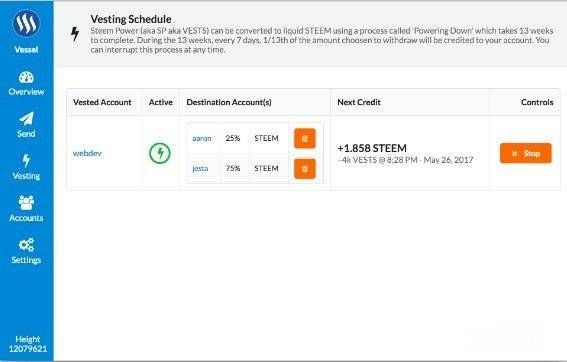 Interestingly, your private keys are actually stored within the wallet itself, making it really secure. When you send coins from the Vessel wallet, your private keys are never broadcasted to the blockchain either.
A really useful feature of this particular Steem wallet is that you can import all of your individual Steemit accounts into one place. Otherwise, when using other wallets, you would need to create a separate login for each one!
In terms of user-friendliness, the Vessel Steem wallet is also suited for beginners. You can save wallet addresses for third-party exchanges too, so if you want to transfer funds out, it is a really simple process.
Paper Wallet
The final option from my Steem wallet review is using a paper wallet. A paper wallet is the most basic type of wallet, however, it is actually one of the most secure! The way it works is you simply print your private keys on to a sheet of paper, write your password on it and keep it safe!
As your private keys are on a sheet of paper, they are never to connected to the internet, making them resistant to hacks! If you would like step-by-step instructions on how to get a Steem paper wallet, click on my link here!
It is also worth mentioning that a really good wallet called Freewallet used to be compatible with the Steem coin, however, in April 2018 the company decided to de-list it. The developers at Freewallet claimed that the Steem network has experienced too many issues, which is why they would no longer support it.
So now that you know the different Steem wallets available, which one do you like the sound of the most? If you have already decided which one you are going to use, but now want to know how to buy Steem, read the section below!
How to Buy Steem
The easiest way to get Steem coins is to buy them on a third-party cryptocurrency exchange. The most popular place to buy it is from Binance, who is the largest exchange in the world for the daily trading volume. There are no exchanges selling it in exchange for real-world fiat currencies, so you will not be able to use a debit/credit card or a bank account.
This means you will need to deposit a major cryptocurrency such as Bitcoin or Ethereum and then trade it for Steem. Once you have completed the trade you then need to withdraw your coins back to your chosen Steem wallet.
Other than Binance, you can also buy it from the following cryptocurrency exchanges:
Bithumb
Bittrex
GOPAX
HitBTC
Huobi
OpenLedger
DEX
Poloniex
RuDEX
Upbit
It is also possible to get some Steem coins for free. Do you know how? Write interesting articles, blogs or posts on the Steemit platform!
Remember how I told you earlier you that content is either up-voted or down-voted? Well if your article is really popular and receives lots of up-votes, you get free Steem coins!

Did you know?
Conclusion
I hope you have enjoyed my Steem coin wallet guide! If you have read it from start to finish, you should now have a good understanding of what the Steemit platform is, why it is important to obtain a cryptocurrency wallet, and how to buy Steem too!
Table: The supported crypto coins of the Ledger Nano X and the Trezor Model T
I have also given you a full list of all of the Steem wallets available in the market. Which one did you decide to use? Personally, I use the Steemit platform online wallet as it is the perfect mixture of convenience and security. However, I think it is a bit disappointing that there are still only a few wallets available.
Let me know of your experiences using any of the Steem wallets I have listed. Hopefully, we can all help each other!
The content published on this website is not aimed to give any kind of financial, investment, trading, or any other form of advice. BitDegree.org does not endorse or suggest you to buy, sell or hold any kind of cryptocurrency. Before making financial investment decisions, do consult your financial advisor.
Leave your honest Best Steem Wallet review
Leave your genuine opinion & help thousands of people to choose the best crypto wallet. All reviews, either positive or negative, are accepted as long as they're honest. We do not publish biased reviews or spam. So if you want to share your experience, opinion or give advice - the scene is yours!
TOP3 Most Popular Coupon Codes