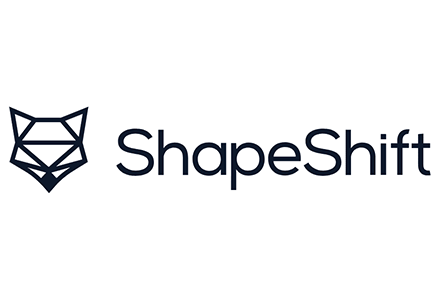 If you've been looking for a reliable cryptocurrency exchange for some time now, there's a pretty good chance that you might have stumbled upon ShapeShift. It's one of the better-known crypto exchanges on the market - still, if you're a complete beginner, chances are that the platform has raised some questions. Well, we'll aim to answer them in this ShapeShift exchange review!
ShapeShift is a pretty unique crypto exchange, especially when you look at some of the features that it offers to its users. While it hasn't really achieved such widespread recognition as some other exchanges (such as Binance or Kucoin), ShapeShift should surely be paid attention to, and considered as a viable alternative to the top-dogs of the industry!
Let's not waste any time, though, and get straight to the most notable features of this ShapeShift review.
Pros
Great usability features
Secure
50+ crypto assets
Low fees
Cons
Prior internal security breach
Some history of transactional issues
Fiat payments managed by a third party
ShapeShift Exchange Review: PROS
The vast majority of cryptocurrency enthusiasts who are looking for ShapeShift exchange reviews online are likely trying to find out is ShapeShift safe and even worth using, in the first place. That's exactly what we should figure out straight from the get-go, and move on to the more quality of life-enhancing features afterwards.
A Unique Balance of Security VS Anonymity
It is true that, whenever you're talking about cryptocurrency exchange platforms, you should always focus on security first. It's the literal core element of a successful platform - it's also the most important aspect from the user's perspective, in the sense that you probably don't want to lose all of your assets due to a leak or a hack.
User ShapeShift exchange reviews, however, will tell you that things are a bit… Different with the platform in question.

You see, one of the main aspects that make ShapeShift stand out from other crypto exchanges out there is the fact that the platform used to allow you to remain anonymous while purchasing cryptocurrencies.
What this basically means is that there were no thorough account creation processes in place - you did not need to provide your personal details to the company in order to purchase your desired crypto coins. This did have both pros and cons, however, any ShapeShift exchange review written by a cryptocurrency enthusiast will tell you that it's often the preferred option, given the decentralized nature of cryptos.
As you can probably imagine, though, this did also raise some questions regarding the security of the site - people want to know is ShapeShift legit before they commit to a purchase.
Thankfully, for the most part, things do appear to be in order! While ShapeShift did discontinue the anonymity feature, their security did not falter because of it.
While you wouldn't have really found any identity- or account-preserving features (such as two-factor authentication, IP logs, etc. - there was no account, so there was also no need for such tools), you could have been sure that, each time you perform a transaction, a new public wallet key will be generated for you. Now, things such as 2FA do exist on the site, though.

Also, ShapeShift will never ask you for your private key - that's also an essential thing to keep in mind! You see, in the crypto world, there's a saying - not your keys, not your cryptos. To an extent, that is true - if you don't own your private wallet key, you don't really own your assets, in the sense that they can be gone in a blink of an eye.
Due to the previously-anonymous nature of the exchange, many user ShapeShift exchange reviews point out that, at the end of the day, the security of your crypto coins depends solemnly on you.
Latest Coinbase Coupon Found:
CLAIM YOUR $200 BONUS
Coinbase Cyber Monday
Cyber Monday Madness at Coinbase! Get your first crypto and earn up to $200 in rewards. Hurry up before this Coinbase Cyber Monday deal ends.
Expiration date : 08/12/2023
3,784 People Used
Only 16 Left
Superb Usability Features
Whether it be ShapeShift reviews or any other ones, the usability aspect of a cryptocurrency exchange platform might not be a crucial feature that would sway your decision about the exchange (whether it's worth using or not), but it's definitely still important!
Nowadays, the vast majority of exchanges out there try to cater to complete crypto trading beginners. There's a notable influx of new people who want to start trading crypto - it makes sense!
ShapeShift has surely managed to optimize their website, app, and the entire platform as far as usability goes. While this might not help answer the question "is ShapeShift safe?", it's definitely worth keeping in mind!
In fact, I would go as far as to say that ShapeShift might be one of the most fun-to-use crypto exchanges I've tried out, in a very long time! It's very visually appealing, does not concern you with difficult industry jargon or needless technicalities, and is simply fun to use, in general.
Surely a great feature to have!
50+ Supported Crypto Assets
Cryptocurrency support is very important for a successful crypto platform. As mentioned earlier, the crypto markets have become very popular in the past few years. With this increase in popularity, there have naturally been many more people coming to the industry, too.
One thing that also increased, however, is the peoples' proclivity towards researching and then purchasing altcoins. While Bitcoin still remains one of the most popular cryptocurrencies, more and more crypto enthusiasts want to hold a wider assortment of crypto coins.

As you can imagine, exchanges must follow the market demand in order to retain their clients, and thus offer bigger numbers of assets to purchase and trade with.
As of writing this ShapeShift exchange review, the company currently allows you to trade more than 50 different cryptocurrencies. While this number isn't exponential, it's still pretty good!
Innovative Features (Rainfall)
Another thing that makes ShapeShift a decent crypto exchange alternative is the fact of how much attention they pay to providing the user with some different features. It's something that's echoed by many online ShapeShift exchange reviews, too!
Take their latest update - Rainfall - as an example. What Rainfall does is it allows you to receive USDT rewards every single time someone makes a trade on the ShapeShift platform.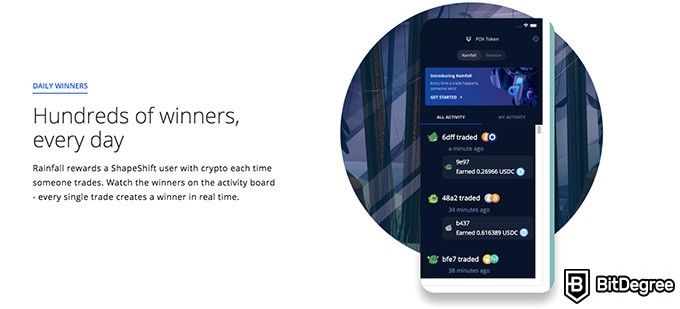 The chances of you getting the reward each time depend on just how many Fox tokens it is that you're holding. Currently, these tokens can only be earned by completing some specific tasks related to your account - the company does mention that, if there's a demand, they might start selling the Fox tokens, too.
In any case, ShapeShift does offer their users both intricate and interesting features, and also - from time to time - some cool giveaways, too. Definitely an added bonus!
Super-Low Fees
Admittedly, fees are among the most important features when picking out the best crypto exchange for yourself.
It makes perfect sense, too - I mean, if you want to maximize your profits, you're going to want to find an exchange that offers the lowest possible fees, right? Well, THAT, and a platform that would be safe, too!
Concerning the "is ShapeShift legit, fee-wise?" question, I can tell you right now - yes, the platform actually offers its users some super-low fees, especially when you compare them to some other exchanges out there.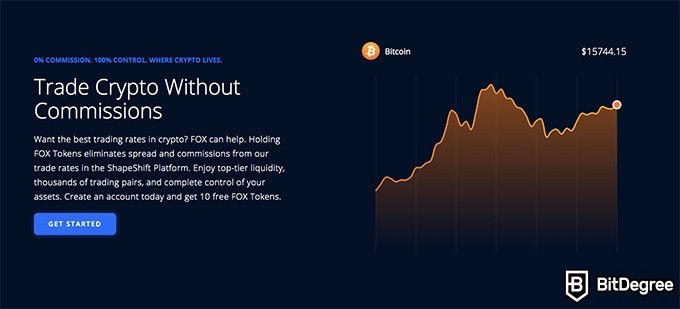 You see, with ShapeShift, the fees actually depend on the cryptocurrency that you're trading. In the vast majority of cases (depending on how much it is that you trade, though), the currency-specific fees are going to be smaller than those that are fixed, and that you'd find on other exchanges.
Some user ShapeShift exchange reviews also point out that there are no deposit or withdrawal fees, either. That's awesome!
The KeepKey Wallet
While this isn't exactly something that's part of the ShapeShift platform itself, it's still a product that the company offers, so it's worth mentioning, nonetheless.
The KeepKey wallet is a hardware cryptocurrency wallet made and sold by ShapeShift. By popular opinion, it's considered to be among the most popular crypto wallets on the market.
This is actually a great example for anyone who's asking is ShapeShift safe, too - most user ShapeShift reviews that talk about the wallet tend to agree that the device is a great alternative to storing your crypto coins in some hot wallets, security-wise.
Naturally, a brand dealing in some of the safest cryptocurrency wallets would probably make sure that their exchange is secure, too!
Latest Binance Coupon Found:
REDEEM $600 PRIZE
Binance Cyber Monday
Attention new Binance users: this Cyber Monday, you can score up to $600 in rewards by completing special tasks. Activate this amazing Binance Cyber Monday deal using the code – 49316610!
Expiration date : 05/12/2023
6,127 People Used
Only 16 Left
ShapeShift Exchange Review: CONS
Now that we've covered all of the most notable features of the crypto exchange in question, let's take a look at some of the negative user ShapeShift exchange reviews and feedback that you might come across online. Once we have that out of the way, we'll move on to discussing the registration process to the site, too.
Prior Security Breach
While ShapeShift is currently considered to be a safe crypto exchange, it has some history with security breaches. However, the breach that this company experienced isn't exactly the same as most other breaches that happen with different exchanges.
ShapeShift's security was breached by an employee within the company. Approximately $230,000 worth of crypto coins were stolen from the company's hot wallets. No actual users were impacted in the breach, though.

Admittedly, any and all security breaches should be taken very seriously. The fact that ShapeShift transitioned from an anonymous exchange to an account creation-requiring one isn't ideal in this scenario, either. Having said that, the company did manage to rebuild its reputation, and is currently considered to be reliable, nonetheless.
If you'd like to use an even more reliable option, though, you should turn to either Coinbase, or Binance. Hardware wallet-wise, Ledger and Trezor are going to be the top picks.
Some Users Report Lost Funds During Transactions
There are actually some user ShapeShift exchange reviews found on Reddit that talk about this extensively.
Apparently, some of ShapeShift's clients have lost their funds that they sent from the exchange to their wallets. The company even acknowledged this issue in those same Reddit threads, and noted that they are working to fix the issues, and refund the users their lost assets.
Looking into it a bit further, it seems that, while the vast majority of people didn't really have any issues with their transactions, there was a small percentage of the client base that encountered such a problem.

As you might have noticed, I'm using the past tense while describing this issue - that's because most of the aforementioned complaints date quite some time back, and there aren't any notable references to such events as of late.
If there's one thing that these situations have showed, though, is that while the answers to the question "is ShapeShift safe?" can be mixed, it's obvious that the company is rather active on their media channels, since they responded to most of the frustrated users who had made those same Reddit threads.

Did you know?
How to Use ShapeShift?
To finish off our ShapeShift exchange review, let's check out the actual usability aspects of the site. First off, the registration process.
Step 1: Go to ShapeShift's official website.
Step 2: Press the Get Started button. Now, you'll need to type in your email, and create a password.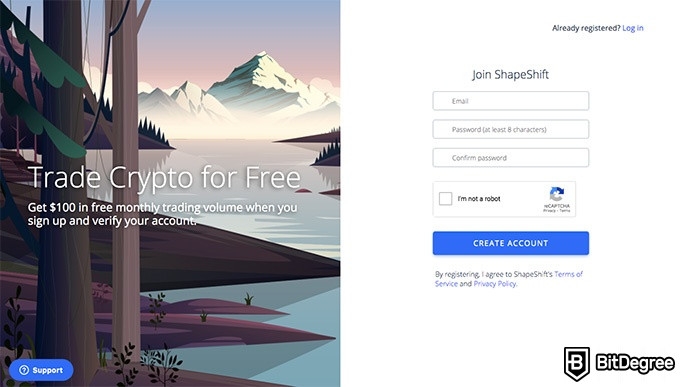 Step 3: Here, you will be asked to download the ShapeShift app in order to verify your account. You can do so by scanning the QR code. Alternatively, you can just go to your email and follow the link found there.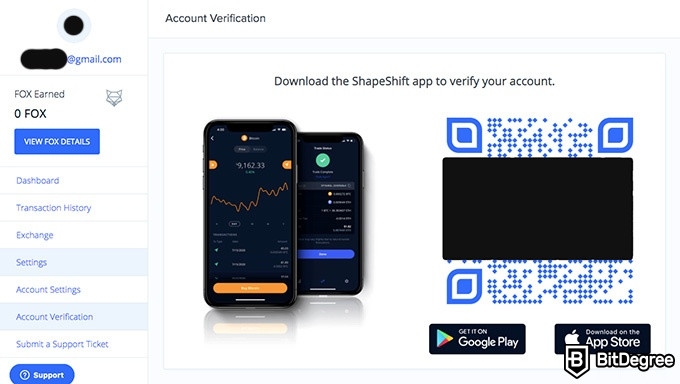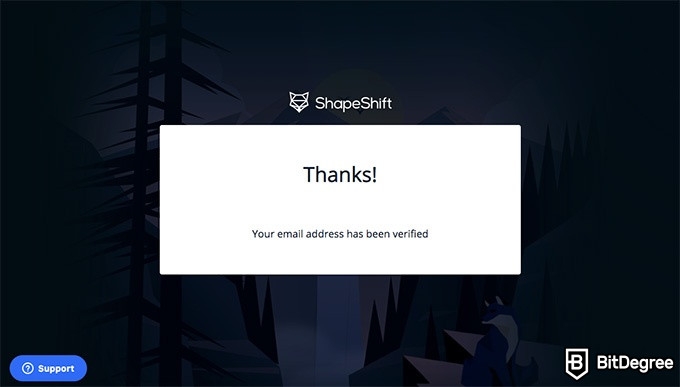 That's it - while you'll need to verify your identity, still (if you haven't done so via the QR code and app), the general account creation process is done! It's super-quick and simple to follow through with.
How to Start Trading on ShapeShift?
Now, once you have your account, and have figured out is ShapeShift legit or not, you'll probably want to start trading.
Step 1: From your Dashboard, press the GO TO PLATFORM button.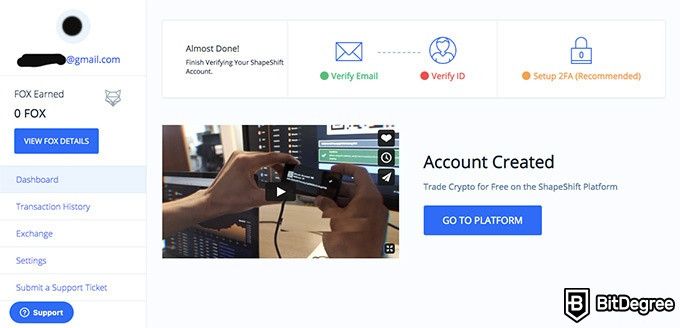 Step 2: Once you're on the platform, press the Trade button on the left side of the screen.
Step 3: Now, if you have verified your account, you'll be able to trade your selected amount of cryptocurrency. If you haven't verified it yet, you'll need to do so via the QR code mentioned above.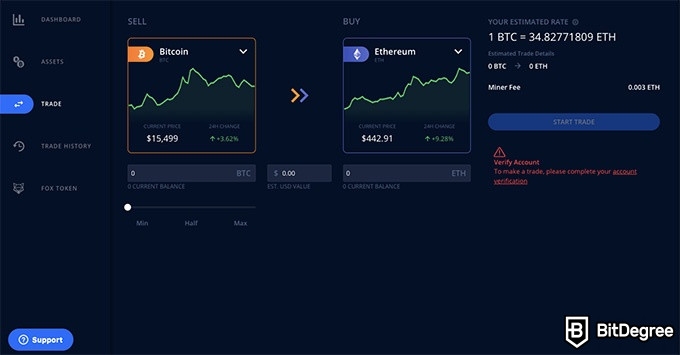 Step 4: While ShapeShift itself does not support fiat money, you can actually exchange your currency with Banxa. It's integrated within the platform.
Once you make the trade, the crypto coins should be credited to your wallet in a short amount of time. That's it!

Pros
A very well-known crypto exchange platform
More than 500 different cryptos available
Two-factor authentication
Main Features
Over than 100 different cryptocurrencies available
Strong security
Small withdrawal fees

Pros
Secure and reliable
Low fees
A good amount of fiat currencies accepted
Main Features
Reputable exchange
Multiple fiat currencies are accepted
Relatively low trading fees

Pros
Anonymous trading
Secure
Supports a variety of cryptocurrencies
Main Features
Easy to use
Low fees
Good security
Conclusions
Now, would I recommend using ShapeShift?
Well, online, you'll find many undecisive user ShapeShift exchange reviews - I have to agree with most of them in that it's not a simple answer to give!
If you love small fees and amazing platform usability, then sure - ShapeShift could be a great alternative, especially seeing that it offers its users a lot of different features and promotions.
However, if you'd like to use an exchange to transfer fiat-to-crypto, or aren't too fond of the negative user reviews that mention the transaction issue that the platform has experienced, you could also check out some ShapeShift alternatives, too - Binance and Coinbase are the leaders in this area.
All of that said, thanks for reading this ShapeShift exchange review, and I wish you all the best of luck in your crypto ventures to come!
The content published on this website is not aimed to give any kind of financial, investment, trading, or any other form of advice. BitDegree.org does not endorse or suggest you to buy, sell or hold any kind of cryptocurrency. Before making financial investment decisions, do consult your financial advisor.
About Article's Experts & Analysts