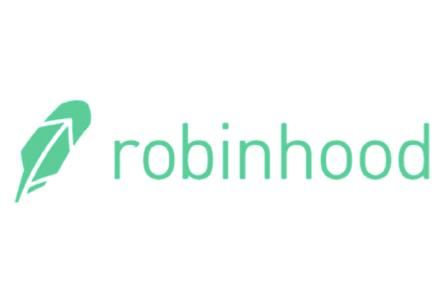 Steal from the rich, give to the poor - probably a slogan that's quite well-known for many of us, at least those who grew up learning about English folklore. Well, when it comes to the Robinhood crypto wallet, things are quite different - there's a lot less "stealing", and a lot more "exchanging" going on.
The Robinhood crypto wallet isn't all that well-known in the crypto community - there are reasons for why that's the case, too. Worry not, though - all of them are going to be elaborated on and explained in the guide further below.
The Robinhood wallet has also been subject to some noteworthy controversies, too - many of them have to do with the general philosophy that the brand upholds in regards to crypto, and how they deal with user privacy and anonymity. We'll cover all of that, too.
LEDGER NANO X
ROBINHOOD

Main score based on expert evaluations & real user reviews.

Whether the crypto wallet is hardware, software, desktop or paper type.

Hardware
Online

For which purpose or for what kind of people is the cryptocurrency wallet best for.

Best for Safely Storing, Sending, and Receiving Different Cryptocurrencies
Best for Quickly Trading and Exchange Cryptocurrencies

Most popular hand-picked deals & coupons.

All Ledger Nano X Coupons
See All Coupons of Best Wallets

Final crypto wallet evaluation conclusion based on research, expert opinions & user feedback.

One of the best hardware cryptocurrency wallets ever made.
A simple-to-use cryptocurrency wallet with some significant shortcomings.
Visit site
Read review
See TOP10 Brands
Read review
Table: The main features of the RobinHood wallet and the Ledger Nano X
TL;DR: The Robinhood crypto wallet was originally a free-to-use stock trading platform, which eventually transitioned towards the world of crypto, too. While it has some amazing usability features, will accompany newcomers quite well and also has small fees, it's an online wallet, which causes major security concerns.
Pros
Easy to use
Accepts fiat currencies
Decent security measures in place
Cons
Zero anonymity options
You do not control your wallet
Limited cryptocurrency options
Potential hidden fees apply
Robinhood Crypto Wallet: PROS
As you might have gathered from the introductory part of the article, the Robinhood crypto wallet is a bit unconventional, at least when it comes to crypto storage, in general. That's simply because Robinhood didn't start as a crypto wallet - it didn't even start as a cryptocurrency exchange platform, either!
Nope - instead, it started as a stock market exchange.
As you can probably tell yourself, that's quite far from the world of crypto - at least at first sight.
The company was created by two friends, Vlad and Baiju. Both men used to be roommates over at Stanford, and after graduating, they both created their own finance companies. At some point, the men noticed that there's a huge paywall that makes it difficult for everyone to get into stock market exchanges.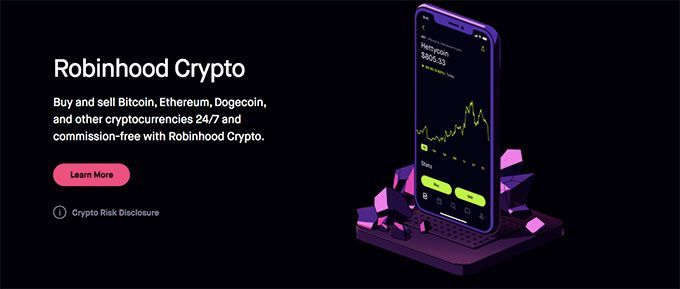 Both men decided that something needs to be done about that. That 'something' became Robinhood.
Visiting the company's official site now, you might not even be able to find the "Robinhood crypto wallet" part all that easy. I mean, even the crypto section itself seems to be tucked away - Robinhood still focuses more on the traditional stock exchanges, rather than the crypto side of things.
As you can probably imagine, naturally, this has some implications - most of them aren't all that positive. Still, the brand has managed to enter the crypto world, and offers its users an interesting alternative, crypto wallet-wise.
Built-in Exchange Features
While we've talked about that above, let's get a point straight, right from the get-go - the Robinhood crypto wallet isn't actually even primarily a wallet. Instead, when it comes to the topic of crypto, Robinhood is a crypto exchange platform.
On one hand, this poses an issue - we'll talk about it later on, whilst discussing the negative aspects of this Robinhood Bitcoin wallet review. The 'positive' side of things here, however, is that you'll be able to trade and exchange cryptocurrencies in an easy manner.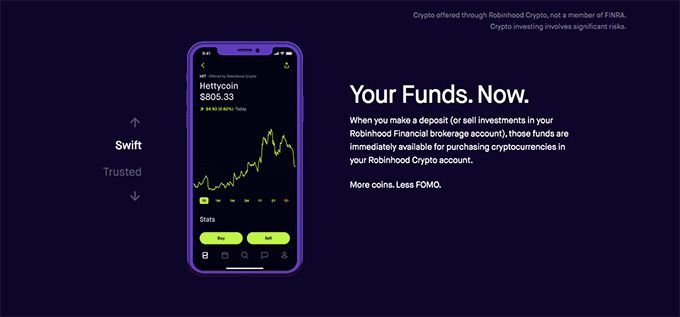 That's actually usually considered to be the main strength of online wallets, in the first place. Since they are always connected to an exchange, you don't need to worry about dealing with the prolonged and complex processes of connecting your, say, hardware wallet to the exchange just to make a trade.
As you can imagine, this is most beneficial for those who are constantly trading their crypto coins. In other words, the Robinhood wallet will suit short-term traders the best - with your cryptos always being located on an exchange, you'll be able to perform trades very quickly and effectively, thus avoiding the possibility of missing out on a potentially great deal.
Latest Robinhood Coupon Found:
Up to $500
In Free Stocks For Inviting Friends
Take advantage of Robinhood referral program & earn up to $500 in stocks for inviting your friends to join Robinhood.
Expiration date : 07/12/2023
1,976 People Used
Only 24 Left
Supports All of the Main Cryptocurrencies
One thing that you'll notice pretty fast in regards to the Robinhood crypto wallet is that it supports all of the main cryptocurrencies.
What is considered to be a "main" cryptocurrency, you may ask? Well, the coins that you could store on Robinhood are:
Bitcoin, as you may already know, is the 'main' cryptocurrency - the one that started it all. All of the other cryptos that followed it are called 'altcoins' - this includes Everything from Ethereum and Litecoin, up to Dogecoin and NEO.
LEDGER NANO X
ROBINHOOD

Amount of cyprotcurrencies that are supported in a certain cryptocurrency wallet.

1100+
See Full List
18+
See Full List

Amount of tokens that are supported in a certain cryptocurrency wallet.

5500+
See Full List
1500+
See Full List

Whether or not the crypto wallet supports the Ethereum token.

Whether or not the cryptocurrency wallet is compatible with other wallets & which.

MyCelium, Exodus + 48 more
N/A

Whether or not the crypto wallet supports the original BTC addresses that start with "1".

Whether or not the crypto wallet supports newer BTC addresses that came to be due to a soft fork. These addresses start with "3".

Whether or not the crypto wallet supports these specific types of BTC SegWit addresses. These wallet addresses start with "bc1".

Visit site
Read review
See TOP10 Brands
Read review
Table: The supported cryptocurrencies of the Ledger Nano X and the RonbinHood wallet
The above-mentioned list makes the Robinhood wallet a very attractive option for those who are looking to get into the world of crypto, and are looking for only the most well-known and talked-about coins. If you're not big on experimenting, and want to store only the most-popular coins, that's some good news!
Very Easy to Use
Reading through all of the user Robinhood Bitcoin wallet reviews, it would seem that the most talked-about aspect of this wallet (and exchange) is the fact that it's super-easy to use.
If you're starting to see a common trend here, let me tell you - there actually is one. The thing about the Robinhood crypto wallet is that it's very beginner-friendly - both when it comes to cryptocurrency choices, and its usability aspects, too.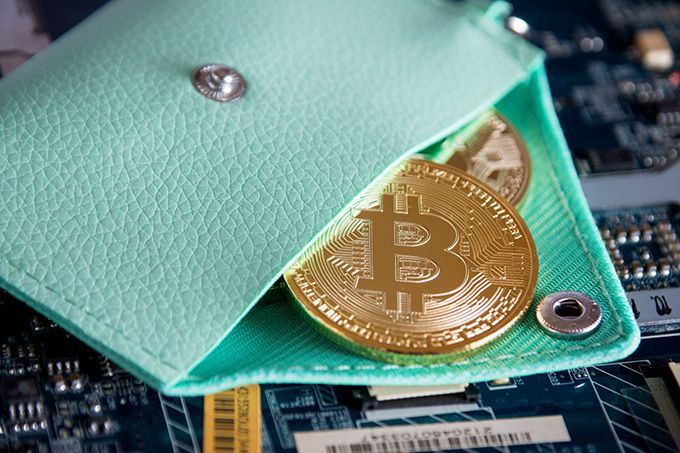 Coming back to the "ease of use" factor, users point out that the interface of the wallet (exchange) is designed to be quite simplistic. It doesn't overload the user with a wide range of complex features, and instead keeps things to a minimum.
Admittedly, this might not be the best news for some advanced crypto traders, but it will surely suit industry newcomers well.
Advanced Security Features
Online wallets - especially those that are based on exchanges - have a really hard time when it comes to convincing the user that their crypto coins are secure while being on the wallet in question. I mean, with centralized exchanges, you don't even own your coins, in the first place - that's definitely not reassuring!
In regards to the Robinhood crypto wallet, though, I must say - when it comes to the topic of security, it's headed on the right path.
If you were to use the app version of the platform, you'd have the ability to turn on two-factor authentication, while also being able to add some custom PIN codes in order to ensure even better standards of protection.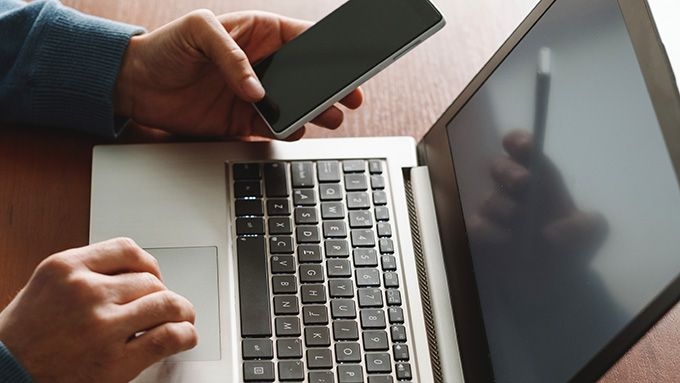 While things like 2FA should be the standard when it comes to securing your cryptocurrency wallet, unfortunately, that still does not seem to be the case. Many crypto wallets, to this day, don't offer their user the ability to utilize two-factor authentication - some of the more advanced security features are out of the question.
Thankfully, that's not an issue that you'd need to worry about when it comes to the Robinhood Bitcoin crypto wallet - that's great!
Latest Ledger Nano X Coupon Found:
SAVE 10%
Ledger Cyber Monday
Ledger Cyber Monday sale is bringing you the best deals - follow the coupon link & get 10% off Ledger Nano X when buying the Family Pack X!
Expiration date : 07/12/2023
7,469 People Used
Only 21 Left
Robinhood Crypto Wallet: CONS
Now, as I've mentioned in the beginning part of the article, the Robinhood crypto wallet being an online exchange-based wallet does come with a lot of issues - this is evident while reading through user feedback, as well. Naturally, as you can probably guess already, the main concerns stem from the security side of things.
A Potentially-Unsecure Cryptocurrency Wallet
When doing research and trying to find the best possible cryptocurrency wallet for your own, personal needs, you'll quickly learn that there are four big types of wallets to pick from - online, software (app), hardware, and paper.
The order I mentioned those types of wallets isn't random, either - they are listed from the least secure option, to the safest one.
TREZOR MODEL T
ROBINHOOD

Overall level of security & safety of your assests offered by a certain crypto wallet.

Whether the crypto wallet requires two-factor authentication as an extra layer of security when completing an action.

Whether the crypto wallet requires multiple keys to authorize a transaction as an extra layer of security.

Whether the crypto wallet requires a Pin code as an extra layer of security when completing an action.

The general anonimity level of your data.

What kind of methods of recovering your cryptocurrency assets in case you lose your wallet or forget your primary password does the wallet offer.

12-24 letter and number code
Seed Phrase, backup coverage

Who owns your private keys.

You
Wallet

The level of control you have on the crypto wallet.

See TOP10 Brands
Read review
See TOP10 Brands
Read review
Table: The security features of the RobinHood Wallet and Trezor Model T
Right… As you can tell, online wallets are considered to be the worst when it comes to security. The Robinhood crypto wallet is, in fact, online-based, being located on an exchange platform.
The reason why this is the case is simply because online wallets are always connected to the internet, and are thus always prone to being hacked and stolen during some sort of a cyberattack.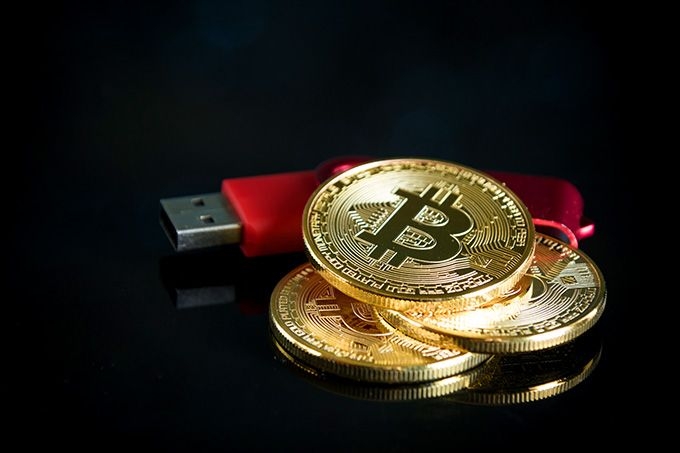 Now, admittedly, as pointed out earlier, the Robinhood crypto wallet does have a lot of additional security features in place - many of them are missing from some other high-end, exchange-based wallets. Still, this is of little condolence, if you're actually serious about crypto - storing your currencies online for an extended period of time is a very bad idea, either way.
Online wallets should only be used during an exchange or some other transaction - once you're finished trading, all of your funds should be directed towards a safe storage place, such as a hardware wallet.
Transfers Require Verification
Now, this seems to be the thing that bugs a lot of the Robinhood crypto wallet users the most.
If you wanted to transfer your crypto coins to another wallet, or even exchange them to fiat money on the Robinhood platform, you'd only be able to do so after verifying your identity.
On one hand, this isn't all that strange - verification is something that's required by most of the cryptocurrency exchanges out there, some of the best and most well-known ones included.

That said, the issue here is that most of those exchanges have a money limit in place - if you don't exceed the specified amount, you can transfer and exchange your cryptocurrencies at will. Not the case with Robinhood, though - verification is always required.
On top of that, the fact that you have to verify your identity even if you want to transfer your funds to another wallet is simply bullocks. It eliminates any and all anonymity that you might want to preserve, and ties you down to the exchange in question.
Trustworthiness Issues
While Robinhood was created and established back in 2013, the Robinhood crypto wallet only came into existence together with the exchange, in 2018.
In other words, it's still a very new platform - naturally, as you can imagine, there are some concerns within the community in regards to the brand's trustworthiness.
The majority of people are still going to prefer to use well-established exchanges, such as Binance or Coinbase. This is especially true given the fact that Robinhood seemed to "jump on the bandwagon" of crypto after it became truly mainstream - up until that point, the platform was focused on stock exchanges.
All of that being said, it should be noted that the Robinhood crypto wallet still hasn't experienced any notable security issues, and is yet to be breached by hackers. In other words, all of the suspicions are based on the contextual information about the company, and not on any concrete, specific events.

Did you know?
Price
Earlier on in the review, I mentioned that the Robinhood project has been known for its fee-less approach towards exchanges - this, naturally, does also translate to the crypto side of the wallet/exchange, too.
Robinhood claims that there are absolutely no fees associated with using the wallet. Sounds amazing, right? Well, you know the saying - if it's too good to be true, it's probably not. According to some users, this does also apply to the wallet in question.
Some research of the Robinhood user agreement and terms of service revealed that there are sections within the documents that could be interpreted as "hidden fees". Namely, the sections that talk about 'pass-on fees' - while not charging you directly, there's speculation that the platform might increase some prices of certain cryptocurrency purchases, thus actually charging a fee, in a way.
Note, however, that this is not a specific statement, but rather a warning about a potential situation - it would seem that the actual situation is still open for discussion, and there doesn't seem to be any solid proof that the company does this. Still, something worth keeping in mind, nonetheless!

Pros
Can be managed from mobile device
Very secure
Supports more than 5500 cryptocurrencies

Pros
Top-tier security
DeFi app support
Store over 5500 assets, install up to 100 apps simultaneously

Pros
Multiple cryptocurrency support
Very secure
SegWit and Bech32 address support
Conclusions
So, then - is the Robinhood wallet worth looking into?
Definitely not - many user Robinhood Bitcoin wallet reviews will tell you the same.
On the positive side of things, the platform is pretty easy to use, and is generally beginner-friendly.
To be frank, though, it has nothing to do with the philosophy of cryptocurrencies. You do not get access to your wallet or your coins, and cannot transfer your cryptos to Robinhood simply because they "want to prevent illegal activities".
That's nonsensical.
In short, there are much better wallets for you to explore and utilize. While Robinhood seemed to have a surge in fame, it's not worth paying attention to, at least until they fix the glaring issues with their platform, and understand the concept of anonymity, in regards to crypto.
The content published on this website is not aimed to give any kind of financial, investment, trading, or any other form of advice. BitDegree.org does not endorse or suggest you to buy, sell or hold any kind of cryptocurrency. Before making financial investment decisions, do consult your financial advisor.
About Article's Experts & Analysts