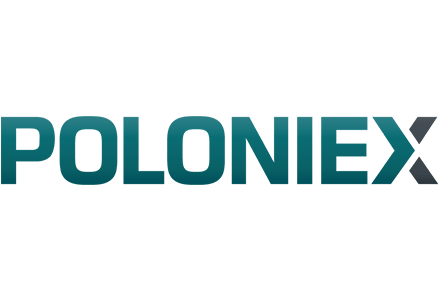 You've probably heard about the popular exchange called Poloniex before, however, how can you know if it's right for you? Don't worry, as I am going to give you a complete Poloniex review on everything you need to know!
Firstly, I am going to give you some background information on what Poloniex is and where it's based. After that, I am going to give you a complete list of its advantages and disadvantages, followed by an explanation of their fee schedule. I will also answer one of the most important questions, "is Poloniex safe?".
Finally, I am also going to give you a step-by-step guide on how to get your account set up, as well as how to use Poloniex, with some really helpful images!
So what are you waiting for? Jump straight into Poloniex review to find out all about it.
Pros
U.S. company
No verification needed
Low trading fee
Good customer support
Roots of Poloniex
Poloniex is a cryptocurrency exchange that was first launched in 2014 by Tristan D'Agosta. The company's offices are located in Delaware in the U.S., meaning tgat they operate in a highly regulated nation.
Poloniex allows users to buy, trade and sell lots of different cryptocurrencies, which includes popular coins like Bitcoin and Ethereum, as well as less popular ones too.
The exchange is very popular, with daily trading volumes of more than $100 million! They make their money by charging a fee on everyday trade that is made through their platform, which both the buyer and seller must pay.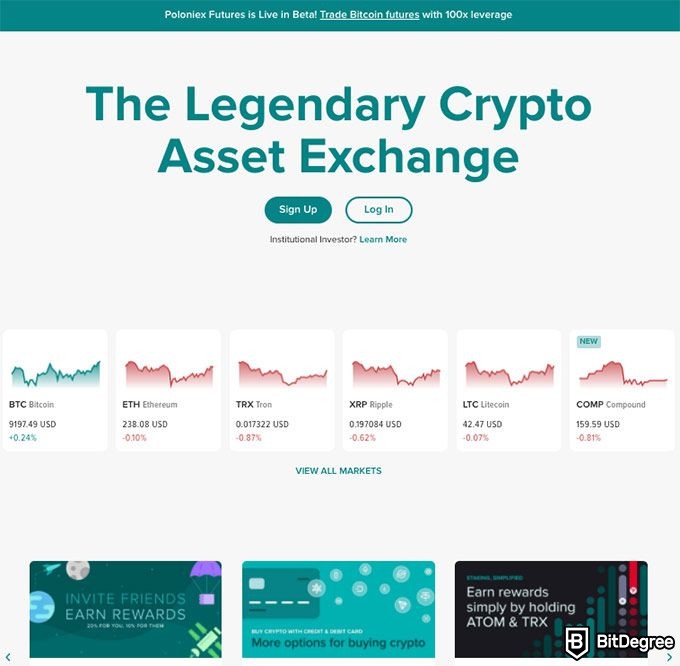 For more experienced traders, Poloniex also offers additional services such as margin trading and even Poloniex lending. You can even automate your Poloniex lending with a Poloniex lending bot, such as Aivren.
Note: Poloniex lending is when investors borrow money so that they can buy larger amounts. When doing this through Poloniex, investors borrow funds from other users, who earn interest on top of what they lend!
So now that you have an overview of what they do, the next part of my Poloniex review is going to look at their advantages and disadvantages!
Latest Binance Coupon Found:
CLAIM $600 BONUS
Exclusive $600 Binance Offer
Don't miss this limited-time deal that's only available for our readers. Follow the Binance referral code link & receive up to $600 in rewards and bonuses!
Expiration date: 12/06/2023
7,847 People Used
Only 49 Left
Poloniex Review – Poloniex Fees
It's time to take a look at Poloniex trading fees.
Below is a table of the Poloniex fees: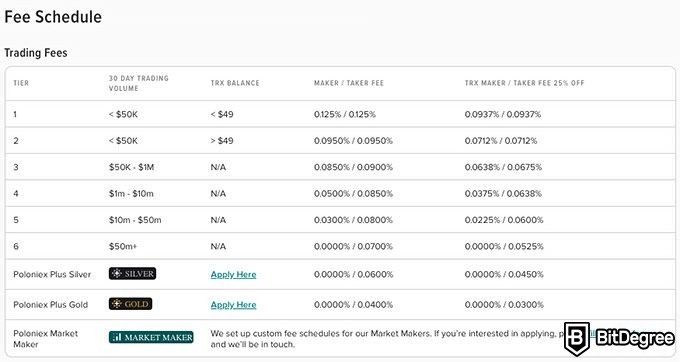 As you can see from the above pricing chart, the maximum amount you will pay is 0.125%.
You will also notice that as you start to trade more, the fees go down. This is based on the amount you trade every 30 days.
Poloniex offers relatively low fees, however, not as low as Binance that is a direct competitor to Poloniex and charges only 0.1%.
Note: The maker is the person that provides liquidity. For example, if Chris is looking to sell 2 ETH at $600, he is the market maker. On the other hand, the taker is the person who takes the price. If Billy wants to buy ETH at the price Chris has listed it for, then he is the market taker!
The next part of my Poloniex review will take you through the sign-up process.

Did you know?
Pros and Cons of the Exchange Platform
As you probably know, every exchange has its pros and cons. Some people prefer the lowest fees, whilst others prefer an exchange that allows fiat deposits. This is why it is important to consider everything before you create an account! So it's time to start the advantages and disadvantages list of this Poloniex review.
PROS
CONS

Lots of cryptocurrencies listed
Good range of customer support options
U.S. company– must take security seriously
Easy to use but also good for more advanced traders too
Only pay blockchain fee for deposits and withdrawals
Reasonable trading fee – the most you will pay is 0.125%
No verification unless trading large amounts

Experienced a major hack in 2014 – 12.3% of all Bitcoin
Advantages
One of the main advantages of using Poloniex is the huge range of cryptocurrencies. This includes major coins such as Ripple, Steem, Monero and Bitcoin Cash. However, Poloniex also lists smaller cryptocurrencies like BlackCoin, Bela and Burst!
When it comes to trading, Poloniex also has a really good selection of tools. This includes candlestick charts from 5 minutes all the way up to 4 hours, stop-limit orders and the ability to zoom in and out of charts. This doesn't mean that the platform isn't suitable for beginners, as the interface is really simple to use.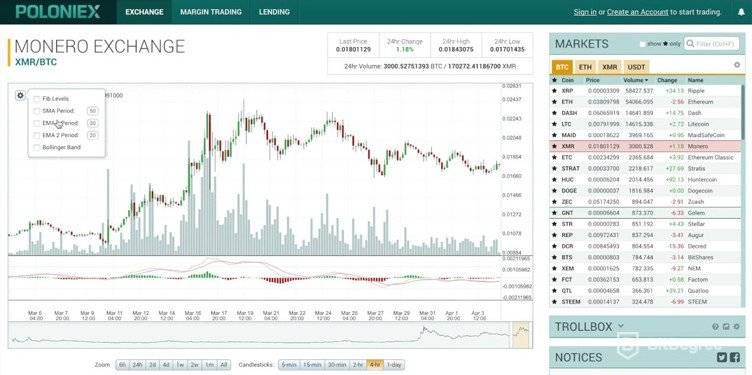 The fact that Poloniex is based in the U.S. is also an advantage, as government regulation is very strict. This means that the exchange must make sure that they make every effort to keep customer funds safe, as well as make sure they keep crime away. Otherwise, if anything bad happens, Poloniex knows that U.S. regulators will fine them lots of money. So, is Poloniex safe? Well, I would most certainly say so!
A further advantage of using Poloniex is that it has very large amounts of liquidity, especially with altcoin pairings. This is important, as it means you will always find someone to trade with and it reduces the risks of volatility.
When it comes to fees, Poloniex is one of the best in the industry for making deposits and withdrawals. This is because you will only ever pay the blockchain transaction fee! There are lots of other cryptocurrency exchanges that make a profit when you withdraw your funds, which isn't really fair as they make money from you every time you trade too.
Trading fees are also quite reasonable on the Poloniex exchange, as you will pay a maximum fee of 0.125%, with this being lowered when you trade bigger volumes.
Another good advantage to the Poloniex exchange is that you do not need to verify your identity unless you are looking to trade really large amounts. In fact, unless you want to trade more than $2000 a day, you can trade anonymously! The main reason you are allowed to do this is that they do not have any relationship with real-world money.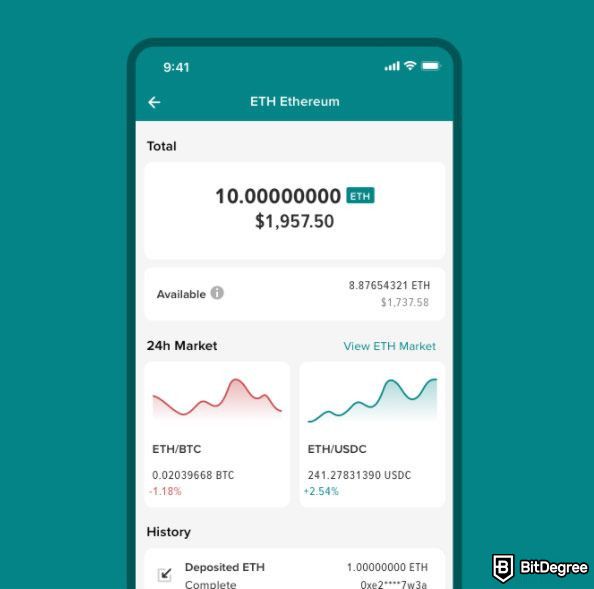 Finally, if you have any issues that need assistance, there is an excellent range of options to choose from. This includes ticket support, email or live chat. I always prefer an exchange that has live chat as you can get support straight away.
So now that you have a good understanding as to all of their advantages, the next part of my Poloniex review is going to talk about their disadvantages!
Disadvantages
One of the main disadvantages of using the Poloniex platform is that it does not allow you to use traditional payment methods such as a debit/credit card or a bank account. This can be quite annoying if you are looking to make a deposit for the first time, as it means you will need to fund your account with a cryptocurrency instead.
Other exchanges such as Coinbase allow you to deposit and withdraw using real-world money! If you don't hold any cryptocurrencies at the moment, then it will be easiest to buy either Bitcoin or Ethereum from Coinbase and then transfer the coins directly into Poloniex, or simply continue using Coinbase.
UPDATE 2023:
Poloniex does, for a fact, support cryptocurrency buying options via a credit or debit card. This feature is powered by Simplex.
The next disadvantage of using Poloniex is that there are still questions regarding security. This is because, in 2014, the exchange was hacked and 12.3% of their entire Bitcoin supply was stolen.
DDoS; we're working to mitigate.

— Poloniex Exchange (@Poloniex) May 9, 2017
The hacker found a bug in the Poloniex system, where he discovered that if you processed lots of withdrawals at the same time, you could withdraw more than your actual balance. This is like going to the ATM and withdrawing more money than you actually have in your account.
However, the Poloniex exchange owner Tristan D'Agosta paid everyone back just a few months later that he managed to do by temporarily increasing trading fees, as well as contributing his own money. Luckily for D'Agosta, at the time of the hack Bitcoin was worth just above $500. If the 97 coins were stolen during late December when Bitcoin was valued at $20,000, the hack would have been worth just under $2 million.
On the other hand, it is important to remember that Poloniex has not been hacked since the 2014 event, which shows that they are taking security really seriously. It is also really promising that the owner handled the situation really well by paying everyone back.
So now that you know both the advantages and disadvantages of using Poloniex, what do you think so far? If you are still undecided, the next part of my Poloniex review is going to look at the fees in more detail.
How To Use Poloniex: Create Account
If you have read my Poloniex review up to this point, you should now have an idea if the exchange is right for you. If you have decided to go ahead an open an account, let me show you how to do it!
The first thing you need to do is to visit the Poloniex website.
Next, click on Create Your Account.


You will now need to enter your country of residence, your email address and then choose a strong password.

Now go and confirm your email address by clicking the link that Poloniex has just sent you.
And that's it! You now have a Poloniex account!
How To Use Poloniex: Deposit Funds
Now that you have created your account, it is now time to deposit some funds! In my example, I am going to deposit Bitcoin Cash.
At the top of the screen, move your mouse over Balances and then click on Deposits & Withdrawals.


You will now see a long list of cryptocurrencies that you can buy. On the right of the page, search for the coin you want to deposit with.

As you will see in the screenshot below, I am buying Bitcoin Cash. Next, click on Deposit on the right of the screen.

You will now be presented with the unique deposit address for the coin you want to fund your account with. Just remember, you will have a different address for each coin, so don't try and send Litecoin to a Bitcoin Cash address.
Congratulations! Now you know how to set up an account and deposit funds!

Pros
A very well-known crypto exchange platform
More than 500 different cryptos available
Two-factor authentication
Main Features
Over than 100 different cryptocurrencies available
Strong security
Small withdrawal fees

Pros
Secure and reliable
Low fees
A good amount of fiat currencies accepted
Main Features
Reputable exchange
Multiple fiat currencies are accepted
Relatively low trading fees

Pros
Anonymous trading
Secure
Supports a variety of cryptocurrencies
Main Features
Easy to use
Low fees
Good security
Conclusion
If you have read this Poloniex review from start to finish, you should be aware of all the needed information to decide if Poloniex is the right exchange for you.
Everyone has their individual needs when it comes to exchanging. While some people go for low trading fees, others go for a large selection of coins. Personally, I like how easy it is to use the Platform, as it makes it really simple to trade.
If you want to keep your horizons open, you should check out Coinbase, Binance and Kraken. They're known as super reliable crypto exchanges.
The content published on this website is not aimed to give any kind of financial, investment, trading, or any other form of advice. BitDegree.org does not endorse or suggest you to buy, sell or hold any kind of cryptocurrency. Before making financial investment decisions, do consult your financial advisor.
Leave your honest Poloniex review
Leave your genuine opinion & help thousands of people to choose the best crypto exchange. All reviews, either positive or negative, are accepted as long as they're honest. We do not publish biased reviews or spam. So if you want to share your experience, opinion or give advice - the scene is yours!