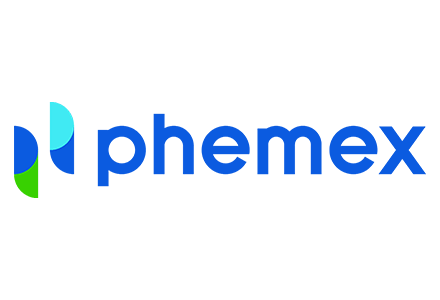 With so many different cryptocurrency exchanges competing for potential client attention, choosing the right platform for yourself is becoming increasingly more challenging. That being said, different exchanges tend to offer different benefits to their users. Reading through user Phemex reviews, it would seem that this particular exchange isn't an exception!
Phemex isn't exactly a veteran in the industry, having launched to the general public only a few years back, in 2019. However, the platform does stand out from the crowd, due to a few different reasons, among the main ones being its fee model.
If you're questioning whether or not Phemex is available in the USA, or if it's a viable exchange to use for all of your crypto trading wants and needs, in general, rest assured - there are many crypto enthusiasts wondering the same thing! Worry not - we'll cover all of the important questions in this Phemex review.
Pros
Multiple advanced features
Over 220 supported assets
Cold storage, top-tier security
Great reputation
A unique trading fee model
Cons
Not available for US traders
Phemex Review: PROS
Starting things off, let's discuss some of the most-positive features of the platform in question. Specifically, probably the first thing that we need to look at within this Phemex review is the aspect of security - and, thankfully, Phemex doesn't have any issues in this regard.
A Secure Cryptocurrency Exchange Platform
Security is obviously the most important feature, when it comes to cryptocurrency storage and exchange. Without proper security, your assets are as good as gone - it's just a matter of time until some malicious, third-party hacker or scammer tries to steal your cryptos from you!
Crypto exchanges do get hacked - there's no real surprise there. These hacks often involve hundreds of millions of dollars in crypto assets gone, in a matter of seconds. Thus, as you can probably tell, security becomes a vital point to look at!
For anyone wondering is Phemex legit, and whether or not the platform utilizes proper security measures to protect users' assets, I have great news - user Phemex reviews are rather happy with the security features employed by the exchange!

Starting off with your built-in Phemex crypto wallet, the company checks withdrawal requests three times per day. If there are any suspicious transactions, they will get flagged immediately, and will be subject to further review by a team of professionals.
On top of that, some user Phemex reviews will tell you that the company also uses cold storage, to keep all of their users' crypto funds. This is, evidently, standard practice, but at the same time, it's very notable - cold wallets can be one of the best security measures, for keeping your assets safe!
Moving on, for those who are wondering is Phemex legit, you'll be happy to know that the brand also utilizes AWS - Amazon Web Services - for all of its operations. This allows them to both employ a trusted firewall on their systems, as well as pick and choose specific zones where they want to operate, and navigate restricted zones, too.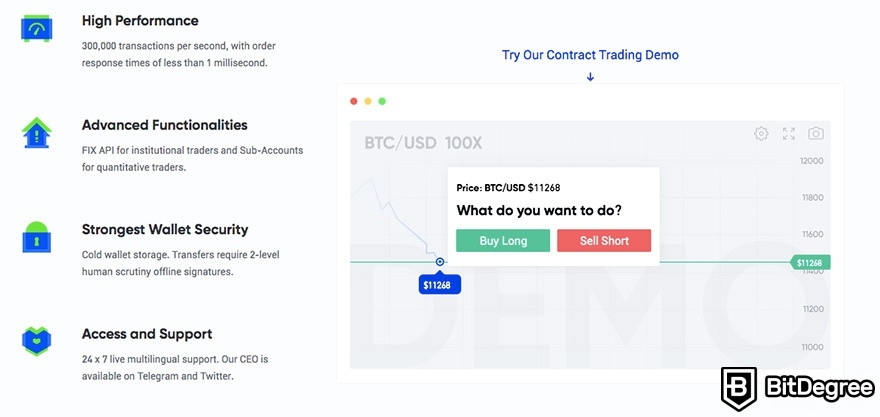 Following that, you also have account security, with features such as 2FA - two-factor authentication - and double-entry bookkeeping. All of these aspects add up to create a secure environment where clients can trade crypto without having to constantly worry about their asset wellbeing.
Reading through the user Phemex reviews, it's also evident that Phemex is very serious when it comes to the topic of security, too. This is a very important point to consider! If Phemex themselves are serious about their security features, you can be sure that they will do everything in their power to keep your asset safe a top priority.
An Interesting Fee Model
Fees are, undoubtedly, another topic that will come up pretty early, when picking out the best cryptocurrency exchange for yourself. As it should - fees can really "make it or break it" when it comes to your potential trading profits, especially if you're an active day trader and are doing this for a living!
The fee models, with most exchanges, are rather straightforward. You have your maker and taker trading fees, and then things such as withdrawals, deposits, and so on. Many top-tier exchanges will allow their users to deposit and withdraw crypto free of charge, and will employ set specific trading fees for both the market makers, as well as the takers.

User Phemex reviews will tell you that there's a bit of that with the exchange in question, too. However, there's also a lot more. Allow me to explain.
If you were to stick strictly with the traditional fee model, for contracts, Phemex fees would look something like this: a -0,025% maker fee, and a 0,075% taker fee, on all trades. In and of themselves, these fees are actually great! Not only do they match the industry standard, but they are also truly among the better fees that you're likely to come across, with a trusted cryptocurrency exchange platform!
This, however, is only the standard version of the Phemex fees. You may actually decide to venture down a completely different route, too.
You see, Phemex offers its users a Premium subscription service. If you choose to subscribe to this service, you will be able to trade on the platform, completely free of charge.

Specifically, this is only applicable to the Spot trading market available on the Phemex crypto exchange platform. In addition to a healthy list of other benefits, Premium members will be able to enjoy fee-free trading.
This is awesome, for one, single reason - all Phemex users will be able to become Premium members, by collecting Phemex points for certain tasks and activities that they perform on the platform. Things such as participating in trades, and even logging into your Phemex account will give you points, which can then be used to level up your account.

With all of that said, one thing's for certain - the platform truly does have one of the more-interesting fee models in the industry, and rewards users who are active and passionate about using the exchange.
Multiple Trading Tools
If you're a beginner crypto trader, and are only just now figuring out what is Phemex, chances are that you want to "take it slow", and purchase your first cryptocurrencies in as simple of a way as possible. That said, if you're an advanced-level trader, and are looking through Phemex reviews in order to establish whether or not this exchange is suitable for you, great news - the platform offers some advanced trading tools.
What does that mean, exactly?
Well, for starters, as you've probably understood by now, Phemex allows you to trade crypto via Spot markets. In other words, you will be able to trade your cryptocurrencies instantly, and will receive all assets into your dedicated Phemex wallet.
However, in addition to Spot markets, the Phemex exchange also allows individuals to trade derivative contracts, too. These are special trading tools that allow advanced traders to not worry as much about asset liquidity or personal cold storage, and instead, focus on making the most profits that they can.

The trading tools don't end there, though. The Phemex crypto exchange also offers clients the ability to trade contracts with leverage, of up to 100X.
Leveraged trading is when you borrow money from the exchange, in order to make a trade. It's actually quite complicated, and very risky - while traders can upgrade their positions exponentially (especially with a 100X leverage), there's also a huge possibility to get liquidated. Thus, leveraged trading is only suggested if you *really* know what you're doing.
That aside, it doesn't take away from the fact that the Phemex exchange DOES actually offer you the tools for advanced trading, if you need them. Definitely worth keeping in mind!
Buy Crypto With Fiat Money
As I've mentioned a bit earlier in the Phemex review, if you're a beginner in the industry, and are looking for a way to acquire your first cryptocurrencies, chances are that you're going to want to do this in as simple of a way as possible.
Well, what can be simpler than purchasing crypto with fiat money?
This is actually another factor to consider, for anyone wondering is Phemex legit - the exchange supports fiat-crypto acquisition, both via a bank transfer, as well as credit & debit cards. That's huge!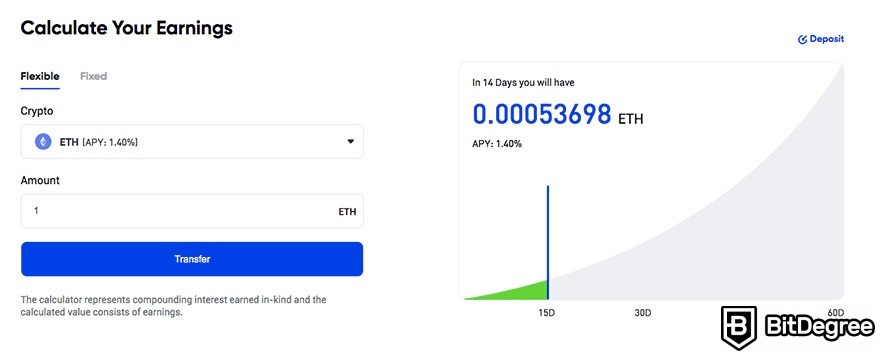 While it's not something that would be out of the ordinary (most top-tier exchanges allow users to buy crypto with fiat money), it's still a huge deal for anyone who values convenience. If you pass all of the relevant KYC processes (identity checks) in-place, you will be able to acquire crypto in just a few minutes, by paying for it with a major currency of your choice (USD, EUR, etc.).
This single factor alone makes Phemex a truly beginner-friendly exchange option! While the platform is definitely full of additional, advanced features and functions, beginners will still be able to acquire crypto easily, with the help of the fiat gateway.
Supports Multiple Different Crypto Assets
Cryptocurrencies have become very popular - that's a pretty silly statement to make, even. However, with only over 300 million people around the world owning even a slight amount of crypto, in any form, chances are that the concept will become much more popular, as time goes on.
Increased popularity usually results in more and more different coin & token projects entering the market. Even now, there's seemingly a new token being launched every single day!
What this all means is that exchanges need to keep up with the demand - the Phemex crypto platform is no exception. There's an increasing amount of pressure on cryptocurrency exchanges to support more and more assets - that's because, while you may only start out with BTC or ETH, chances are that you'll want to diversify your portfolio, as time goes on!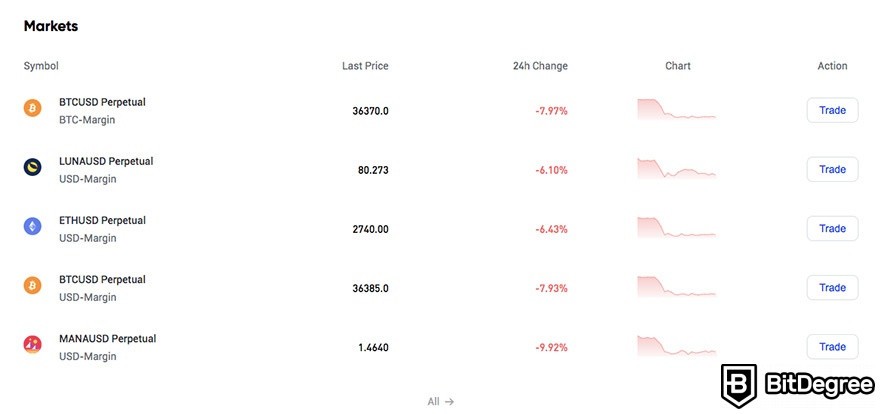 Doing so with the Phemex exchange is actually quite easy, though.
Phemex supports over 220 different crypto assets, and allows its users to trade all of them. This is an impressive number! Sure, when you compare it with thousands upon thousands of coins and tokens that are already in circulation, it might not look that impressive. However, at the same time, it's worth considering that very few exchange platforms support even a fraction of that number!
With that in mind, this surely becomes one of the most notable features of this Phemex review! With over 200 different assets to pick from, you can be sure that you'll find all of the top-tier coins and tokens supported, as well as many of the different, more-niche products, as well.
A Wide Selection of Additional Features
Up to this point in the Phemex review, we've already discussed a lot of the core functionality that the exchange in question has to offer. However, in addition to advanced trading features and top-of-the-line security, Phemex also has a myriad of smaller, less-talked-about benefits, too!
For example, you may actually earn an interest on your crypto holdings, within the platform. There's a built-in earning program where you can choose a specific cryptocurrency, lock it up for a set amount of time (usually - 7 or 14 days), and start accumulating an annual percentage yield (APY).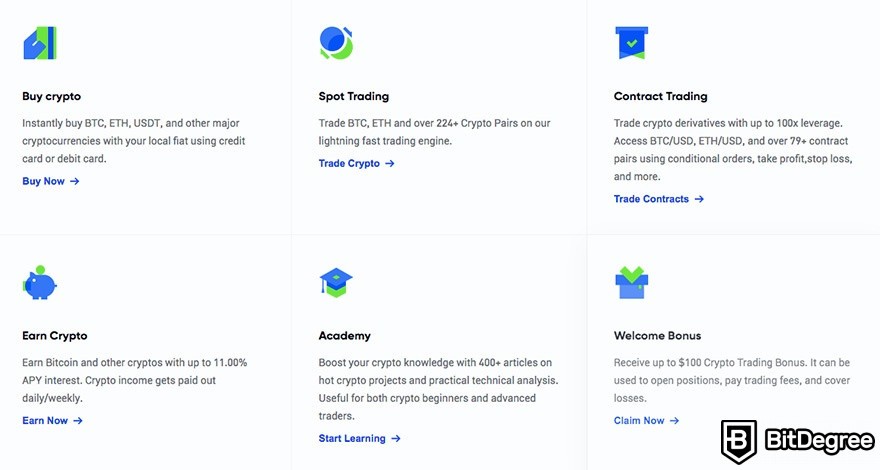 While the interest rates aren't going to be "out of this world", it's still an awesome option - if you hold crypto in your Phemex exchange account, you'll be able to earn passive income, without actively doing anything with those assets.
Another huge feature is the Phemex Academy. It's a special, dedicated section of the website that allows Phemex users to study and learn about crypto. Not only can you get information on trading, but there are also over 500 articles available on diverse topics, ranging from blockchain tech, to upcoming crypto projects.
In addition to all of the features mentioned above, you can also expect 24/7 live, multilingual customer support, as well as a myriad of other, smaller features, too.
Latest Binance Coupon Found:
CLAIM $600 BONUS
Exclusive $600 Binance Offer
Don't miss this limited-time deal that's only available for our readers. Follow the Binance referral code link & receive up to $600 in rewards and bonuses!
Expiration date: 25/03/2023
7,847 People Used
Only 49 Left
Phemex Review: CONS
Phemex is definitely a high-end cryptocurrency exchange, with a lot to offer both to the casual cryptocurrency enthusiast, as well as some hardcore traders. Having said that, though, whilst reading through the various user Phemex reviews found online, chances are that you'll bump into some less-than-positive aspects, as well.
These aspects, however, mostly have to do with one, single point concerning the exchange - the question "is Phemex legal in the US?".
Not Available to US Traders
The regulatory nature of cryptocurrencies (and crypto-related products) is a really hot topic within the US. This is true both when it comes to things like taxes, as well as the general legalities surrounding the different ways of building your crypto portfolio.
What this usually results in is off-shore crypto exchanges being banned from operating within the country, outright. Unfortunately, if you're looking for Phemex USA services, the exchange in question isn't an exception - US-based traders won't be able to use it.
The specifics of the ban revolve around the SEC - Securities and Exchange Commission -, and crypto derivatives. These products are banned within the country, due to certain legal issues, as well as the risks associated with them, for the traders.

While this likely isn't of much condolence, Phemex isn't the only exchange platform to face this type of a ban. If an exchange is based somewhere not within the US (in other words, it's an off-shore-located service), chances are that it's going to have issues offering its services to US-based traders.
This, in turn, cuts off a large number of potential customers from using the platform. However, there's not really anything that can be done about it - if you're located in the States, and are looking for a cryptocurrency exchange that you could use, without any issues, one of the other top-rated platforms might suit you better.
A Cryptocurrency Exchange With a Steep Learning Curve
One of the less-talked-about issues that cryptocurrency exchanges tend to face is the ratio of beginner-friendliness VS feature variety. Allow me to explain.
If there's a question such as "is Phemex legal in the US?", the answer is pretty simple and straightforward - it isn't. There's not much to discuss, and not a lot of leeway to change the answer.
However, when it comes to feature variety - especially when discussing advanced-level features -, things are different. Many exchanges nowadays aim to put in as many different features and functionalities as possible, within their platform. Just take a look at Binance, as an example.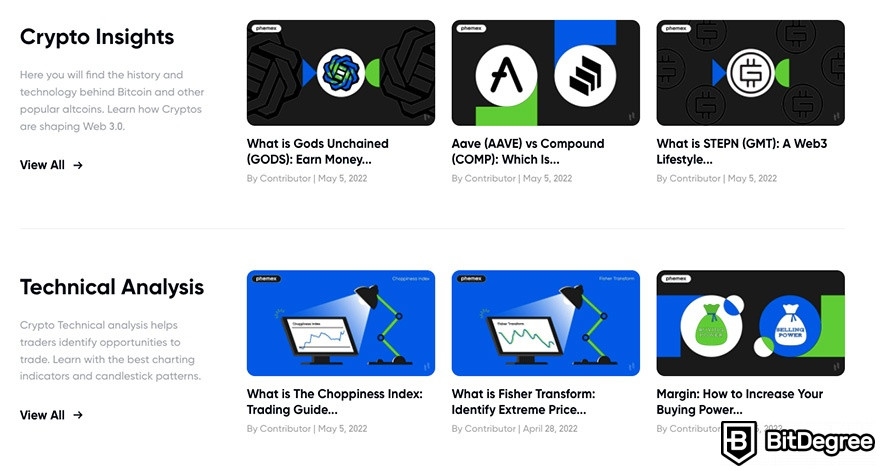 Certain user Phemex reviews do express this sentiment, as well. The exchange offers advanced trading tools, crypto earning options, and a variety of additional features to its users. That's great, in the grand scheme of things - after all, concepts such as feature creep don't really exist in the world of crypto.
That being said, all of these features (their variety) can become overwhelming, pretty fast. This is especially true if you're new to the space.
In short, if you're a complete beginner, Phemex can take some time getting used to, and you might need to do a lot of research, in order to be able to navigate all of the features offered by the exchange. While it's not a bad thing, per se, it can seem intimidating to beginners, who would then opt to choose a simpler platform, or one that doesn't feel as overwhelming.

Did you know?
How to Use Phemex?
Before I let you go, there's but a single thing left to do - give you a quick tour of the Phemex exchange, and showcase some of its core features and functionalities!
How to Register on Phemex?
As per usual, we'll start with the obvious, first - the registration process on the Phemex cryptocurrency exchange.
Step 1: Visit the Phemex official website. Once there, navigate to the upper-right corner of the screen, and press "Register Now".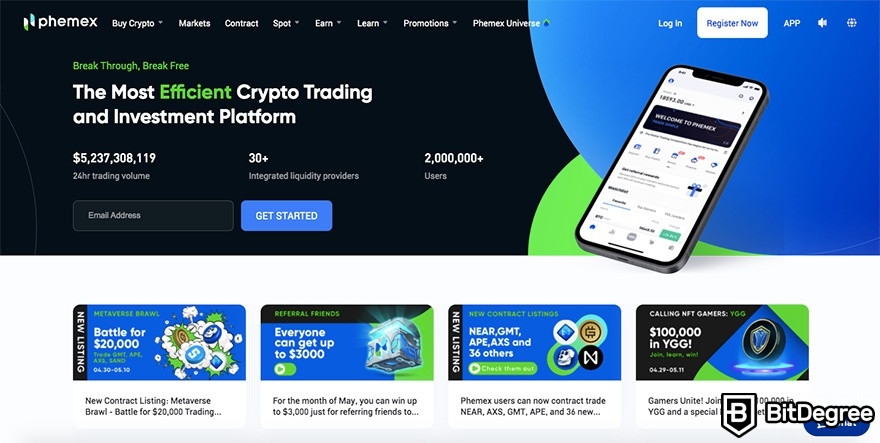 Step 2: Next up, you will need to enter your email address, as well as create a strong password. After doing so, you will also be asked to confirm your email, by entering a verification code on the new screen that pops up - do so.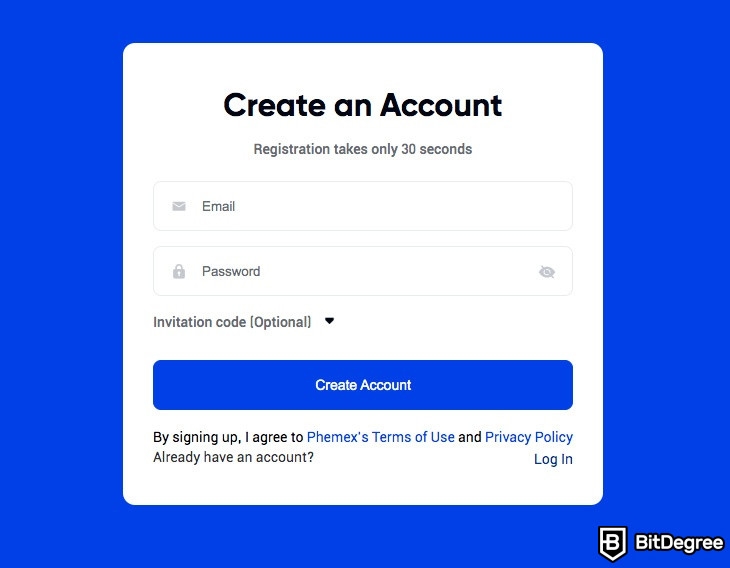 Step 3: Once you've confirmed your email address, that's about it - you're in! You'll be displayed a new window, prompting you to purchase crypto with fiat money, fund your account with cryptos, directly, or pass the KYC verification checks to get full access to the site.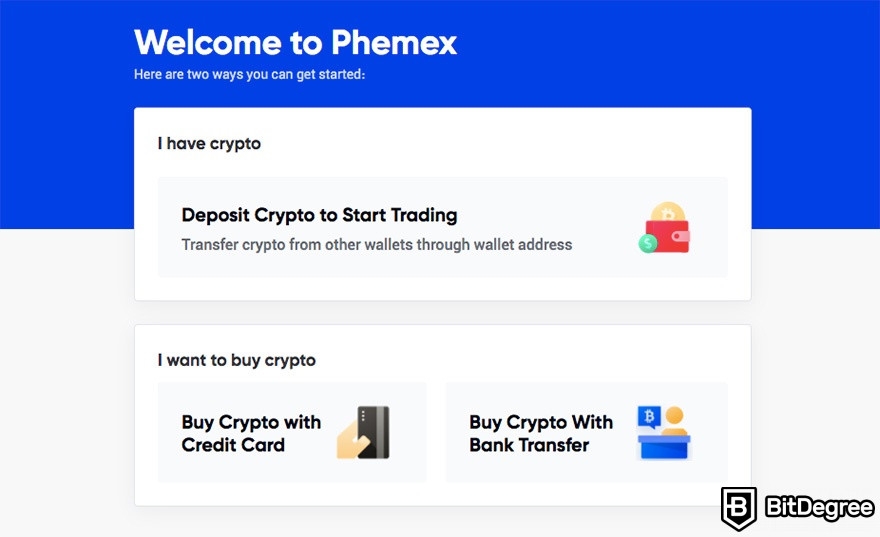 As Phemex themselves put it, registering on the platform shouldn't take longer than 30 seconds! The process is very fast and super-straightforward, with the only information that you'll need to input (for now, at least) being your email address.
How to Use the Main Features of Phemex?
Granted that this isn't an in-depth guide on how to use Phemex, we won't go through all of the details and features that you may utilize on the exchange. Instead, I'll give you a quick rundown of how you can use the main features available on the platform!
To start off, if you choose to navigate to the crypto depositing section, you'll be presented with your Phemex wallet address (it will differ for each cryptocurrency that you may choose to deposit). What you need to do now is simply send your desired crypto to the equivalent wallet address, and wait - once the transaction is confirmed on the network, your account will be credited with the coins that you've sent.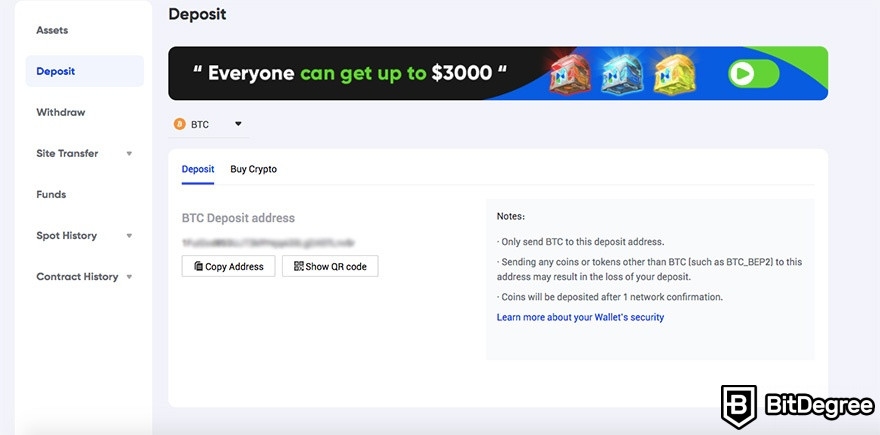 Alternatively, if you'd like to instead buy crypto with a credit or debit card, you may choose to do so on the same page, as well. You'll see a selection of different payment gateways, all of which will allow you to acquire crypto with fiat money. Do note that, in order to do so securely, you will need to pass the relevant KYC verification checks.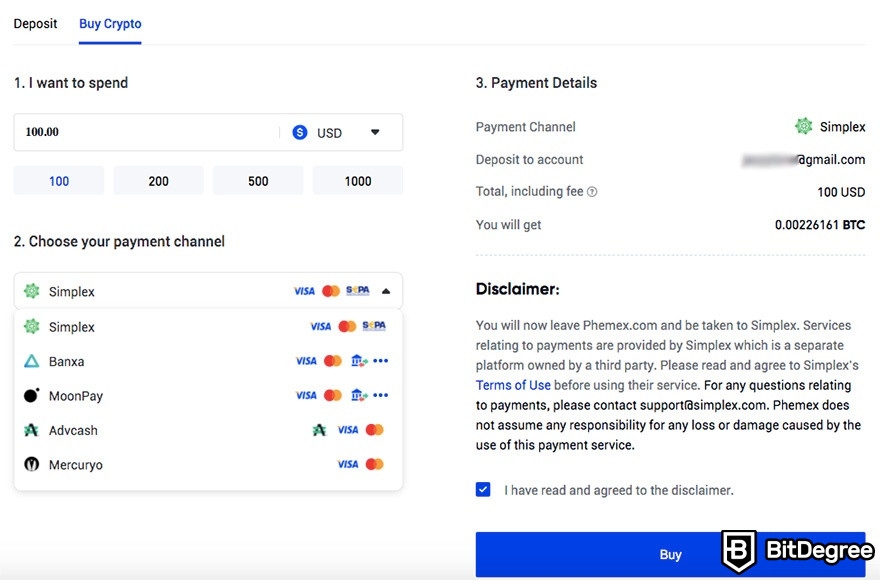 Navigating to the top of the screen, and selecting "Spot" and then "Spot Trading", you will be redirected to the trading view of Phemex. Not many user Phemex reviews point this out, but if you're not looking for some sort of advanced functionality, navigating this section isn't at all difficult, and should become pretty intuitive after a few trades.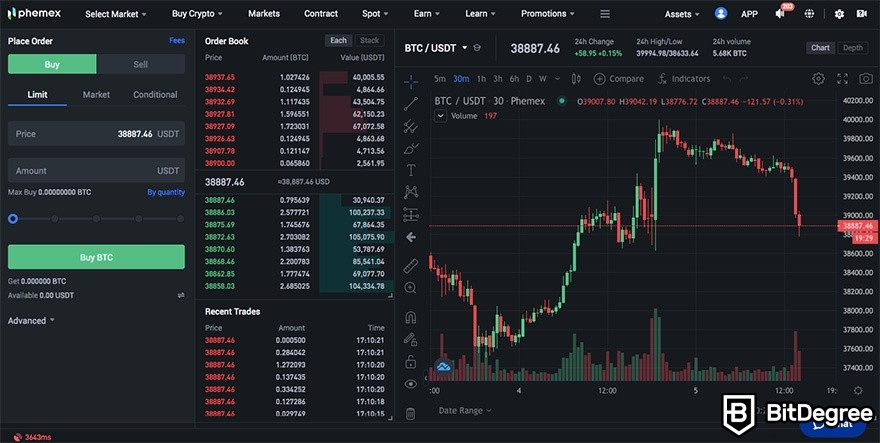 Going back to the main site, you'll be able to access all of the relevant features and functions of Phemex from the menu, at the top of the page. Whether it be crypto acquisition, trading, earning, promotions, contracts (remember - no Phemex USA!), or anything in between, all of these features will be available on this menu.

All in all, while Phemex might appear to be a bit confusing for complete newcomers to the world of crypto, after a few trades and spending some time on the exchange, you should be able to find your way around the website, no problem!

Pros
A very well-known crypto exchange platform
More than 500 different cryptos available
Two-factor authentication
Main Features
Over than 100 different cryptocurrencies available
Strong security
Small withdrawal fees

Pros
Fiat currencies - accepted
Simple to use
Accepts only the most trustworthy cryptocurrencies
Main Features
A leading cryptocurrency exchange platform
Best for beginner investors
Accepts fiat currencies
Highly-regulated and secure

Pros
Secure and reliable
Low fees
A good amount of fiat currencies accepted
Main Features
Reputable exchange
Multiple fiat currencies are accepted
Relatively low trading fees
Conclusions
As I've alluded to throughout the entirety of this Phemex review, picking out a reliable cryptocurrency exchange these days can seem like a pretty difficult task. With so many different platforms to choose from, it gets overwhelming, pretty fast!
That's why attention to detail matters now more than ever before. And, if you've read through the entirety of this Phemex crypto exchange review, you probably already know - the platform has a lot to offer to its users.
The only real issues that you might face with the exchange in question have to do with Phemex USA, and the fact that the platform isn't all that simple to get into, if you're a beginner crypto enthusiast. Other than that, Phemex offers a myriad of benefits to its users - some evident straight from the get-go, others - a bit more inconspicuous.
Phemex fees is another big topic to consider, as well. While the traditional fee model employed on the platform's contract trades showcases some very decent numbers (the fees are low).
If you're looking to find out is Phemex legit, in the most general sense of the term, I think it's a no-brainer - multiple advanced features, KYC verification checks, over 200 different cryptos available to be traded, fiat money support, and so on. All of these things add up to create a very inviting exchange!
That being said, thanks for reading my Phemex review, and good luck with all of your future crypto adventures!
The content published on this website is not aimed to give any kind of financial, investment, trading, or any other form of advice. BitDegree.org does not endorse or suggest you to buy, sell or hold any kind of cryptocurrency. Before making financial investment decisions, do consult your financial advisor.
Leave your honest Phemex review
Leave your genuine opinion & help thousands of people to choose the best crypto exchange. All reviews, either positive or negative, are accepted as long as they're honest. We do not publish biased reviews or spam. So if you want to share your experience, opinion or give advice - the scene is yours!