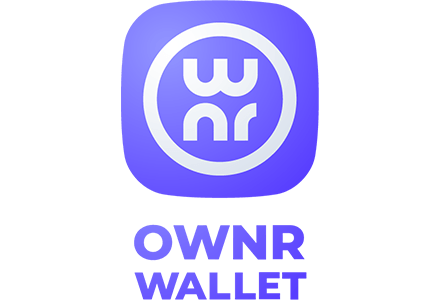 If you're currently in search of a top-tier cryptocurrency wallet, you might have noticed that the choice pool is pretty vast. There are seemingly countless numbers of different (types of) wallets available to be checked out and used! In this OWNR Wallet review, we'll discuss one of the newer and, admittedly, better options.
OWNR is an Estonia-born project - a hot wallet that first saw the light of day back in 2018. While being one of the 'younger' wallets in the industry, the project has already garnered a significant amount of attention, and offers its users a wide selection of different features, too!
Naturally, though, with it being a relatively new wallet, many crypto enthusiasts are still skeptical - a single look at different crypto-related online forums will show you that this is the case. In this OWNR Wallet review, we'll try to clear up any skepticism, and introduce the hot wallet in question!
Pros
Secure
Built-in exchange functionality
Prepaid VISA card - available
24/7 customer support
iOS- and Android-compatible
Cons
Small number of supported coins
Not suitable for anyone looking for a decentralized platform
OWNR Wallet Review: PROS
Starting things off with the benefits that the OWNR Wallet comes equipped with, it would probably be a good idea to check out the security features of the product. Granted that it's the first thing that we're going to discuss, though, you can probably already tell that most user OWNR Wallet reviews are quite positive in this regard.
Good Security Features
I probably don't need to tell you this, but security should always be at the top of your priority list, when searching for reliable cryptocurrency wallets.
It's in the name, really - if you need a "wallet", you're going to want to keep your precious assets within it. In the same manner as traditional, physical wallets, crypto wallets store something that is of value to the holder. Following that, just like there are thieves that'd want to steal your wallet from your pocket, there are malicious parties that might target your crypto wallet, too.

This is why, no matter how flashy the features of the wallet product might be, you'd still always want to start your decision-making process from the security standpoint of things.
Thankfully, though, as pointed out earlier in the OWNR Wallet review, the wallet in question does appear to be rather secure, at least when it comes to the hot wallet industry, in general.
For starters, OWNR employs the standard two-factor authentication (2FA) - while being a popular and widely-used feature, 2FA will actually work to deter many of the potential scammers that you might encounter!
OWNR also utilizes forced wallet address allocation. What this means is that, when you receive cryptocurrency into your wallet, a new wallet address will be generated. The product can generate up to 20 different addresses at a time, but this only applies to Bitcoin logic-using blockchains (coins).
But what if you lose the device that you have installed the wallet on, or, even worse - it gets stolen?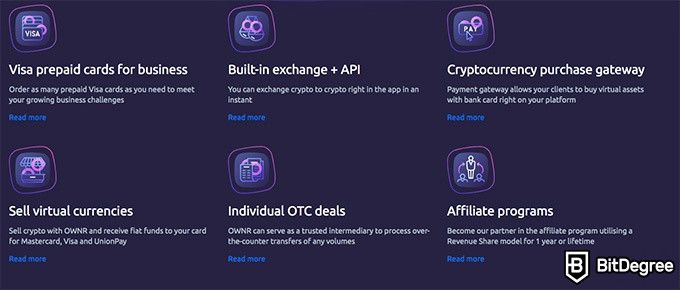 Well, OWNR does also have biometric identification. Meaning, you can opt to use facial or fingerprint recognition features in order to access your wallet. This way, no one will be able to access your account! There are recovery steps that you can take if the device with the wallet is lost, too.
All things considered, the security features of the OWNR Wallet are definitely very decent!
Latest Binance Coupon Found:
REDEEM $600 PRIZE
Binance Cyber Monday
Attention new Binance users: this Cyber Monday, you can score up to $600 in rewards by completing special tasks. Activate this amazing Binance Cyber Monday deal using the code – 49316610!
Expiration date : 09/12/2023
6,127 People Used
Only 16 Left
Buy Crypto With Fiat Money / Exchange Crypto-to-Crypto
With the advancements in the crypto industry, and many consumers and investors becoming savvier within the field, many cryptocurrency wallets have started expanding their business model, and, by extent, the service pool that they offer, too.
Initially, digital wallets were the standard for storing your crypto keys. As time went on, physical devices have entered the industry, offering far better security than the aforementioned hot wallets, while also providing users with a UI where they could manage their assets.

Advanced-level transfers, transaction speed customizations, forced address allocations, SegWit support… As time went on, cryptocurrency wallets would offer their holders more and more features. Arguably one of the most notable of such features, though, is the fact that you can now purchase cryptocurrencies and tokens with many of these wallets, without even leaving their interface.
User OWNR Wallet reviews will tell you that the wallet in question isn't an exception.
OWNR allows you to purchase cryptocurrencies for fiat money, and trade crypto-to-crypto. Specifically, you may perform the purchases with a credit or debit card, and also UnionPay, too. This makes crypto acquisition within the wallet very simple, and allows you to buy your favorite crypto assets in just a few simple steps.
On that note, multiple user OWNR Wallet reviews point out the fact that OWNR actually has a partnership with Bitfinex, a well-known cryptocurrency exchange platform. Specifically, OWNR is one of the integrated payment gateways within Bitfinex.

As some users have pointed out, this does also work to further-legitimize the wallet project. With big-name partners like Bitfinex, OWNR itself seems much more reliable!
The point of the matter, however, remains the same - you can purchase crypto with fiat money, and exchange crypto-to-crypto straight from your own wallet, in just a few easy-to-follow steps.
A KYC & AML Regulation-Compliant Service
KYC stands for "Know Your Customer", and AML abbreviates as "Anti-Money Laundering". In layman's terms, these are two large financial regulation guidelines that are applied to all centralized cryptocurrency exchanges in the world.
As the terms might imply, KYC and AML are used as means to prevent fraud and money laundering activities. Naturally, crypto exchange platforms aren't the only ones that have to comply with KYC and AML - they are applied to any and all financial services.
However, when it comes to crypto, things become a bit more complicated and controversial.
Many people view cryptos and blockchain technology as that which is supposed to keep you anonymous, and allow you to preserve your identity while participating in financial transactions. Things like KYC go directly against that.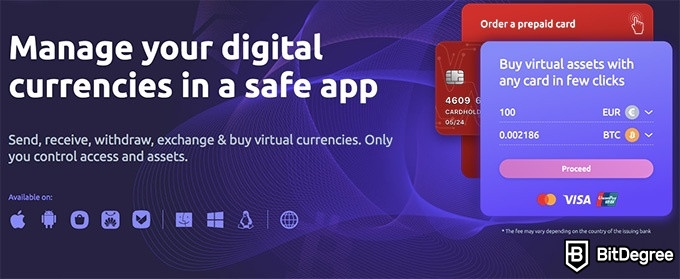 However, KYC is actually mandatory in order for crypto to become truly mainstream. On top of that, if you're trading crypto assets on a KYC-imposing exchange, or using any crypto service that complies with KYC regulations, you can be sure that it's going to be much safer than doing so on one that's not KYC- and AML-compliant.
Multiple user OWNR reviews will tell you the wallet in question does actually comply with the relevant KYC laws. If you want to use the full functionality of the platform (namely, purchase crypto with fiat money), you will need to provide it with proof of your identity. However, you are able to remain anonymous if you spend $25-$50.
On top of that, you can remain anonymous if you only store, send, and receive cryptocurrencies. KYC is introduced only if you transact with fiat money, and only for sum of $51 and more.
While still a controversial point to some, most individuals are going to be quite happy to know that OWNR is regulated, and follows all of the official laws and guidelines. Once again, this only adds to the reliability and legitimacy factors of the platform!
Prepaid VISA Cards - Available!
Among the many different features offered by the wallet in question, you'll also find one that may come as a slight surprise - a prepaid VISA card.
To add to that, reading through user OWNR Wallet reviews, it would seem that it's a well-designed feature, as well! How does it work, exactly?
You may acquire the card from OWNR. The card will be connected to your account, and you'll be able to use cryptocurrencies to purchase goods and services worldwide. Specifically, the crypto will be converted to fiat money (EUR) upon the transaction, with a €1,5 service fee.

Granted that it's a VISA card, you will also be able to withdraw money from countless numbers of ATMs, worldwide. This only further-adds to the convenience of the card!
Naturally, there are multiple additional fees associated with the card. Issuance and service fees, FX markups, ATM withdrawals, crypto-fiat exchanges, and so on. However, the fees are quite rational - you can see the full list of them below: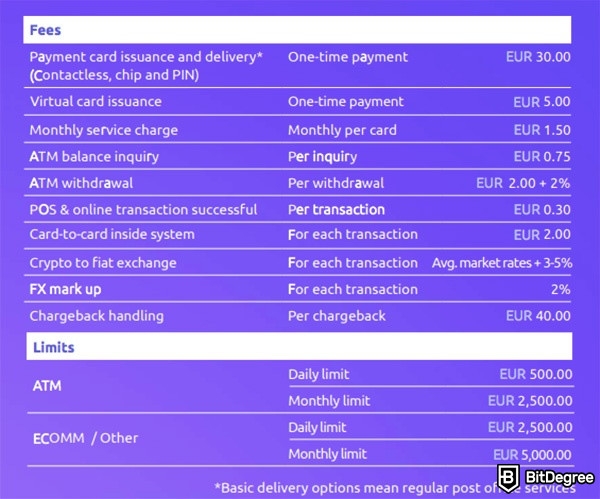 Truth be told, crypto cards have, indeed, become a rather popular asset to be offered to crypto service users. In most cases, though, these cards are issued by exchange-first platforms - it's quite rare to see a wallet service have a dedicated, prepaid card!
ERC-20 Token Autodiscovery
While this may seem like a rather niche benefit at first glance, multiple user OWNR Wallet reviews will tell you that, if you hold or trade a lot of ERC-20 tokens, a feature like this can save you a huge amount of time.
ERC-20 tokens are those tokens that are built and reside on the Ethereum blockchain. As of writing this OWNR review, there are truly countless numbers of such tokens out there, with new projects being developed and launched every single day.
Apart from those new projects, though, there are also multiple well-known and commonly-traded tokens, too. It's safe to say that, as far as token popularity goes, the ERC-20 standard is the leader in the space.

If you want to trade or purchase some niche ERC-20 tokens, however, you might quickly come across a certain obstacle. While most wallets that support Ethereum will also support ERC-20 tokens, by default, they might not have the ability to showcase your tokens within the wallet. This is because these tokens aren't yet discovered by the said wallet.
Reading through the ​​different user OWNR reviews, though, it is clear that the wallet in question does, for a fact, possess such functionality. OWNR automatically discovers new ERC-20 tokens, and adds them to their supported list.
Naturally, this is going to be the best news for any active traders who specialize in smaller, newer tokens on the market. If you're interested in Ethereum and ERC-20 tokens, OWNR does present itself to be a great wallet choice!
24/7 Customer Support
Customer support can prove to be an invaluable benefit, when it comes to any form of crypto product or service. Due to the nature of cryptocurrencies, trading and storing them can be stressful - it's super-important to know that, if something were to go wrong, you'd always have a support agent that you could reach out to for help.
In regards to different user OWNR Wallet reviews found online, there seem to be some inconsistencies when it comes to the information about the company's customer support services. Some people claim that support is available to be reached via live chat, while others argue that you must use the built-in ticketing feature.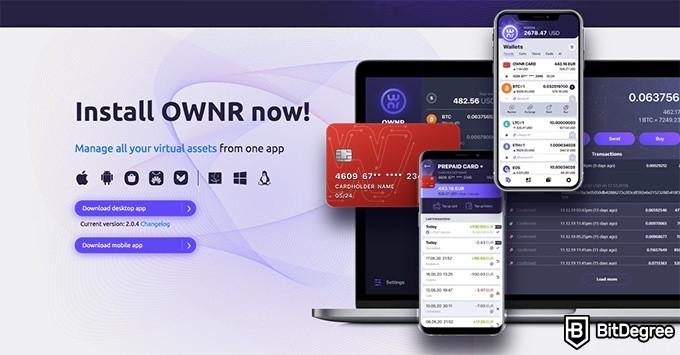 In order to figure out which is which, I've reached out to the support agents myself, via the chat function available on the OWNR official website. They got back to me relatively quickly, and explained that both are available - you can reach support via live chat, 24/7, but can also submit a ticket, if you so wish to.
This, for a fact, is awesome! Having support services available to you at any point in time during the day, you can be sure that, no matter what issue might arise, you'll be able to receive help, whenever.
A huge benefit, in regards to the wallet in question!
SegWit and Native SegWit Address Support
If you're interested in storing and trading Bitcoin, you might be aware of the fact that there are three types of BTC addresses (wallets) available to be used - legacy, SegWit (also known as P2SH), and Native SegWit (also known as bech32).
Legacy addresses are the old BTC wallet addresses. By default, unless specified otherwise, many crypto exchanges and wallets use this type of address for storing and transacting in Bitcoin.
SegWit and Native SegWit addresses start with a "3" and "bc1", respectively. The big news here is that OWNR does support all three types of BTC wallet addresses.

That's significant! For starters, not all wallets support SegWit and Native SegWit, which makes OWNR stand out. But why is that so notable, in the first place?
Well, if you were to transact via the two aforementioned addresses, instead of using the legacy format, your transaction fees would be smaller, and the transactions themselves would be processed faster. It's a win-win!
Note, however, that you should only send BTC to and receive from wallets that support SegWit or Native SegWit - such wallets can be identified by the above-mentioned letter and number sequences at the front.
Latest Ledger Nano X Coupon Found:
SAVE 10%
Ledger Cyber Monday
Ledger Cyber Monday sale is bringing you the best deals - follow the coupon link & get 10% off Ledger Nano X when buying the Family Pack X!
Expiration date : 08/12/2023
7,469 People Used
Only 21 Left
OWNR Wallet Reviews: CONS
Most of the user OWNR Wallet reviews found online are very positive towards the wallet in question - that's good. Evidently, it's a reliable project - both in regards to the features that it offers, and the general reputation surrounding it.
Before we can draw any specific conclusions, though, let's first take a look at the more-notable and reoccurring complaints that users have with the wallet.
Small Number of Supported Cryptocurrencies
Evidently, one of the biggest complaints that users have in regards to the OWNR Wallet is the fact that it supports a relatively small number of cryptocurrencies.
Specifically, if you'd choose to use OWNR, you'd be able to store up to 8 different crypto coins. Naturally, as discussed earlier on in the OWNR review, though, the platform supports most of ERC-20 tokens, under Ethereum.
The supported coins do include assets such as Bitcoin, Ethereum, DOGE, LTC, USDT, and so on. That being said, even though you can expect to find the main coins available to be traded and stored within the wallet, if you're interested in diversifying your portfolio, the number will be rather lackluster.

This is especially true when you keep in mind the fact that most high-end crypto wallets on the market today support a wider pool of crypto assets. This is especially true if you were to pick a hardware wallet device, as your primary crypto storage option.
That being said, once again, it all depends on your own, personal preferences. If you're interested in hodling a small number of coins, or are an avid token trader who is only concerned with Ethereum and ERC-20 tokens, this won't be an issue, at all!
On top of that, chances are that, as time goes on, OWNR will expand their supported coin list, and add other assets to it. Thus, the "issue" can be considered as temporary.
No Real Anonymous (KYC-Less) Fiat-Crypto Acquisition Availability
Earlier on in the OWNR Wallet review, we've discussed the fact that OWNR does employ KYC and AML measures in regards to its users. This is especially notable for those who want to use the built-in fiat-crypto acquisition part of the wallet platform.
I've also explained why this is actually a 'good' thing, with the arguments being that, in order for crypto to go truly mainstream, some form of regulation is a must, and KYC-friendly exchanges are a huge step in that direction.
While that may be the case, though, it won't really be of much condolence to those who are used to decentralized trading, and aren't ready to give up their personal information to the service in question.
Cryptocurrencies, in general, were invented as a form of decentralized, anonymous transfer of wealth. It's a way to "give the power back to the people", by removing it from centralized finance institutions, such as banks.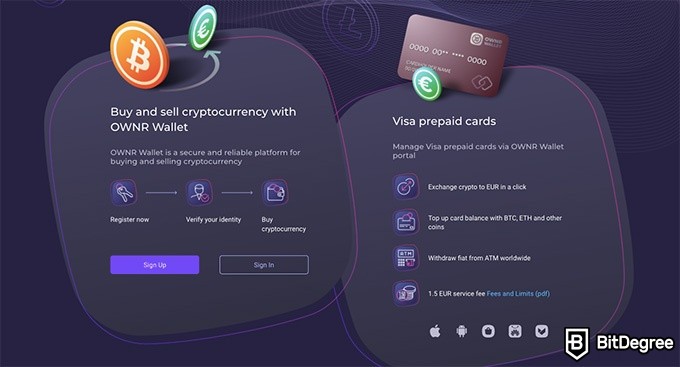 With crypto becoming a global phenomenon, though, it has become impossible to ignore, both for regulators, and also those traditional banking institutions. On top of that, countless numbers of scammers and rug-pullers have been (and still are!) able to capitalize on the anonymity aspect of blockchain technology, which isn't good for any of the parties involved.
To this day, though, there are still many people who believe crypto should remain completely decentralized, and with the power of the coin or token holders (thus, the emergence of DAOs is quite noticeable). These same individuals are rather opposed to the ideas of KYC and AML regulations.
If you're one of these people, multiple user OWNR Wallet reviews will tell you that, admittedly, the platform (service) in question might not be ideal for you. To reiterate, OWNR applies strict KYC checks to its users - if you want to buy cryptos on the platform with fiat money, you'll need to submit proof of your ID.

Did you know?
How to Use the OWNR Wallet?
With all of the essential information having been analyzed and discussed, the one last thing that we need to do within this OWNR review is check out the actual usability factor of the wallet!
How to Download / Register on OWNR?
For starters, let's quickly go through the download and installation process.
Step 1: Go to your app store (iOS or the Android store), and search for the OWNR Wallet. One of the first options should be the wallet you're looking for - make sure to not fall for any scams that try to mimic the original app!
Step 2: Once you download and install the app, open it - you will be prompted to either create a new account, or restore an already-existing wallet.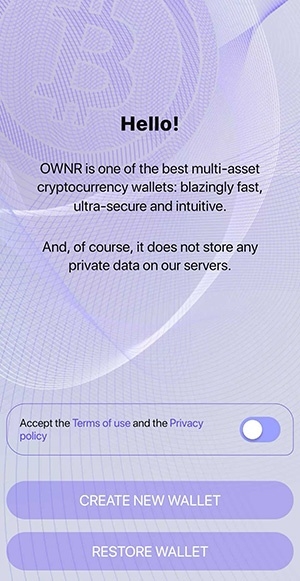 Step 3: Once you choose to create a new wallet, you will be given your seed phrase. You can choose the length and language of the phrase, and also set a BIP39 password, if you want. Make sure to write down the security phrase - it's a crucial piece of information!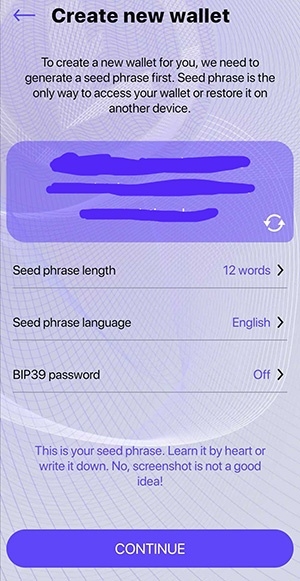 Step 4: Once you memorize the seed phrase (or write it down), that's it - you're now a proud owner of an OWNR Wallet!
User OWNR Wallet reviews weren't wrong, when they stated that creating an account on the platform is super-quick and simple. In just a couple of minutes, you'll be able to start using the wallet and sending & receiving the assets that you'd like!
How to Use the OWNR Wallet?
Once you find yourself on the main tab of your OWNR Wallet, you'll be able to navigate to all of the essential services that you might need from there.
In the main "Wallets" tab, you'll see your current crypto wallets. You can add different accounts and coins, and also send, receive, and purchase those same coins from here, by pressing the little arrow button at the bottom-right corner of each asset.
Naturally, if you want to purchase some assets on the OWNR Wallet, you'll need to create an account and log in, and then confirm your identity via the relevant KYC processes.
Next, the "Cards" tab. Here, you will find all of your virtual and plastic (physical) cards, if you have any. You may add cards at any point in time, by logging into your account and creating a new card profile.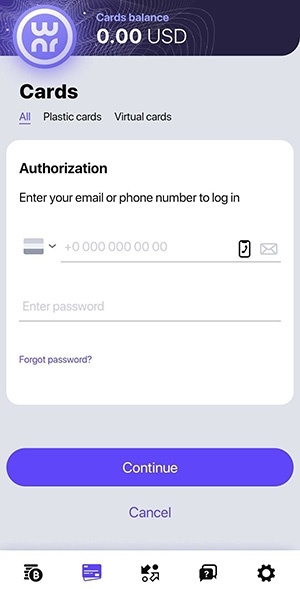 Then, there are the transaction history, support, and settings tabs. Each of them are rather self-explanatory - you can view your transaction history (sent and received assets, purchases, etc.), contact a support agent, and also customize your wallet settings to fit your wants and needs.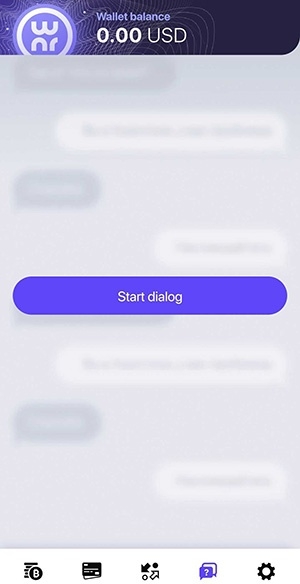 In the "Settings" tab, you will also be able to set a PIN code for your wallet, activate biometric authentication (Touch ID), restore a previous wallet, and so on.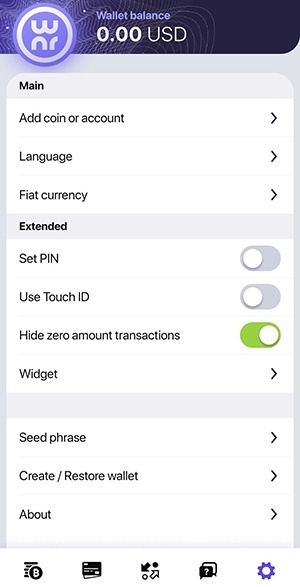 Once again, as you can probably tell by yourself, using OWNR is very intuitive and simple. There are no difficult features that would encumber the app, and get you lost in all of the jargon.
This, in turn, makes OWNR beginner-friendly, as well. If you're a crypto newbie, and want to find a wallet that would allow you to take things slow, yet still educate yourself on the topic, OWNR becomes a viable option, for sure!

Pros
Can be managed from mobile device
Very secure
Supports more than 5500 cryptocurrencies

Pros
Top-tier security
DeFi app support
Store over 5500 assets, install up to 100 apps simultaneously

Pros
Multiple cryptocurrency support
Very secure
SegWit and Bech32 address support
Conclusions
As we've established already, OWNR is definitely a high-end, reliable hot cryptocurrency wallet. The project, while being relatively young in terms of its existence, has already garnered a lot of attention due to all of the different features that it brings to the table.
Apart from the obvious wallet functionality, user OWNR Wallet reviews will tell you that the platform can be used to buy crypto with fiat money, or trade crypto-to-crypto, too. These are built-in features of the wallet, and thus, you won't need to exit out of the app to some third-party website - all can be done from within the wallet interface.
OWNR also offers its users the chance to acquire a prepaid VISA card. This card can be used to shop from your favorite merchants, by converting your cryptos to fiat money from within the wallet.
OWNR is secure, trustworthy, and quite simple to use. The only major issue that some users have with the wallet is that the number of supported coins is rather small. However, with time, this number should undoubtedly grow.
If you like what OWNR has to offer, make sure to check the wallet out, and try it for yourself. Cheers, and best of luck!
The content published on this website is not aimed to give any kind of financial, investment, trading, or any other form of advice. BitDegree.org does not endorse or suggest you to buy, sell or hold any kind of cryptocurrency. Before making financial investment decisions, do consult your financial advisor.
About Article's Experts & Analysts