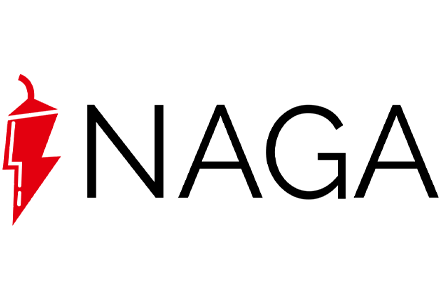 When looking for different ways to invest your money, you'll come across multiple cryptocurrency exchanges. While these platforms allow you to trade cryptocurrencies only, you might be interested in more extensive platforms that add additional functionality, such as forex trading, investing in stocks, and even social trading. Naga is one of those platforms.
In this Naga review, I'll introduce everything there is to know about the company. What is more, I'll focus on the variety of services that the platform offers, including investments, social trading, crypto exchange and Naga wallet.
However, before moving further, you should know that this Naga review will be less about Naga and more about Nagax - cryptocurrency exchange platform offered by Naga. That being said, if you're looking for a reliable crypto exchange platform, such as Coinbase or Binance, this might be one of the competitors that you might want to take into account.
Without further ado, let's start by finding out more about the company.
Pros
Extensive features
Social trading
Forex trading
Reliable crypto exchange
Cons
May not be the best for beginners
Only 8 supported cryptocurrencies
Naga Review: Introduction to the Company
Naga is a Fintech company that aims to make changes through the decentralization of financial technologies and by providing access to a variety of different technologies for people to use. By taking advantage of the tools that Naga is providing, traders should be able to make confident decisions.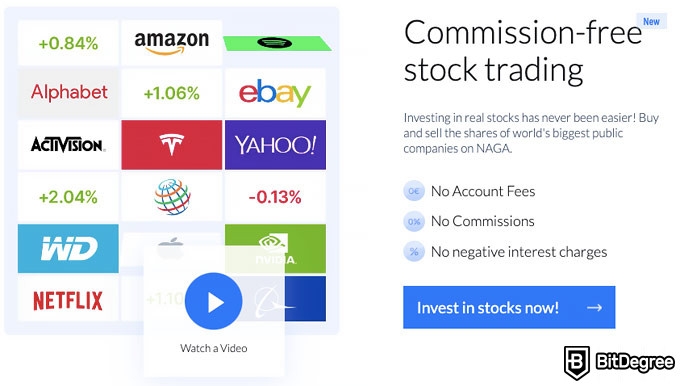 Now, more about the history. Naga was founded back in 2015 by Yasin Qureshi and Benjamin Bilski. That was the year when they introduced Naga trader and its social trading platform for the very first time. The year later, they received the first significant "Finovate Best of Show" award in London as well as managed to get funding from Hauck & Aufhäuser that are the oldest private banks in Germany. Slightly later the same year, the company introduced the Naga trader and recorded the very first money transaction.
In March 2017, the company received significant international funding of $14M from FOSUN International. What is more, at the end of the year, it was recognized as one of the top 50 ICOs of all time when more than $50M was raised.
What's interesting is that Benjamin Bilski, the founder of Naga, was added to the Forbes 30 under 30: Technology list. The same year, the Naga wallet was launched. It initially supported all the major cryptocurrencies as well as all ERC-20 tokens.
Nagax (the Naga cryptocurrency exchange) was introduced at the end of 2018. At first, it was launched as the beta version for testing purposes and there were completely no fees for trading. Users were able to choose from the major cryptocurrencies at the time and fiat currencies were supported as well.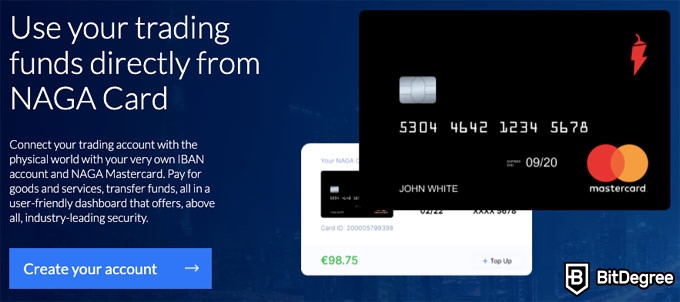 Today, Naga is quite a well-known platform for those who are interested in social trading, investments, cryptocurrencies and multiple other services that the company provides.
The main mission of the company remains to provide traders with all the needed tools to make confident investments as well as continue introducing new tools and services into the market. Needless to say, it seems to keep growing and improving each year.
Latest Binance Coupon Found:
CLAIM $600 BONUS
Exclusive $600 Binance Offer
Don't miss this limited-time deal that's only available for our readers. Follow the Binance referral code link & receive up to $600 in rewards and bonuses!
Expiration date: 13/06/2023
7,847 People Used
Only 49 Left
Naga Review: Services
As already mentioned, Naga is not a regular crypto exchange, it offers multiple other services to its customers. While you may not take advantage of them all, you should definitely be aware of your options if you decide to use Naga. Below you'll find the top services offered by the provider. Based on the users, these are the main reasons why they choose to use this platform.
Investing
When it comes to investing, Naga allows you to pick from multiple markets and platforms. Here are the market options:
FX pairs. When it comes to Forex trading, there are more than 500 instruments on the platform. What is more, it provides you with very low fees and a quick execution time.
Real stocks. There are completely no commissions or hidden fees, you get more than 400 stocks to choose from and the orders are executed super quickly.
Indices. Also known as index trading, it refers to the group of stocks that make up the index. You can trade them in the same way as stocks or forex. Naga allows you to choose from more than 20 instruments and provides very low fees.
CFDs on stocks. You get more than 400 contract-for-difference stocks to pick from. Your options include CFDs from the major countries, including the USA, Germany and the UK.
Cryptocurrencies. You get more than 8 major cryptocurrencies to choose from as well as the digital wallet that will allow you to keep your assets more securely. We'll focus more on that further into this Naga review.
Commodities. It provides you with new trading opportunities. You can trade multiple global commodities that are available on the platform. Once again, the fees are truly low.
ETFs. Choose from a huge number of Exchange Traded Funds, get more than 500 instruments to pick from and make a profit.
Futures. Start trading futures CFDs of indices and commodities. Futures trading might be quite risky as it works by speculating the future price. That's why it's definitely recommended for more advanced traders rather than beginners.
Now, there are also multiple platforms for investing. Each of them is very different and offers truly attractive features. You can choose only one or use all of them at once. Let me briefly introduce each of them:
MT4. MetaTrader 4/5 is available for desktop & mobile devices. It offers CFD trading for all markets as well as a copy trading feature.
MT5. Almost the same as MT4, however, you can also take advantage of real stock trading.
Naga web app. Naga web app comes with a variety of additional features apart from the ones that are mentioned above. That includes auto copying, messenger, signals, portfolios, a news feed, leaderboard and blog.
Naga iOs/android app. It comes with all the features that are offered by Naga web app as well as radar that allows you to find Naga users that are close to you and make connections.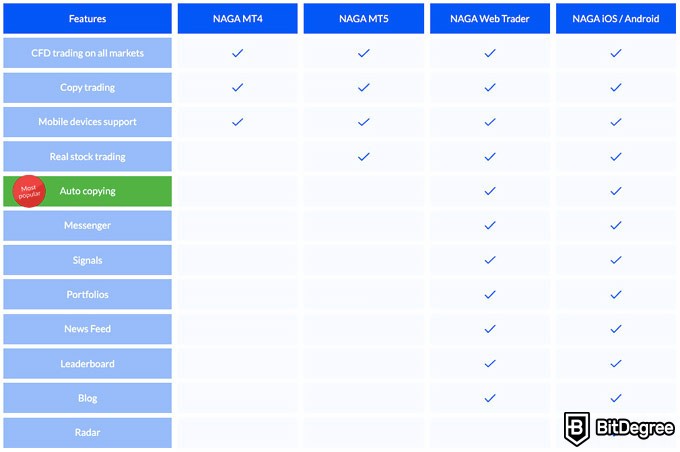 I included only the major features of each platform, so if you want to find out more, you should visit Naga's official site and read more about each of its investment platforms.
Social Trading
When talking about social trading, the first company that you might think of is definitely eToro. That's because it was actually one of the first and probably the most successful platforms that would offer such a service. Now, eToro was founded back in 2010 and Naga came into the market only in 2015, however, it doesn't mean that the services the company offers are not as advanced.
Now, since you're here for Naga review, let's get back to that. When it comes to Naga social trading, you can:
Copy traders.
Earn copy bonuses.
Connect with other traders.
Since not all of you might be aware of social trading, let me explain. Social trading is not only about copying trades, you can also interact with other people, discuss the current markets and results.
One of the main functions of social trading is auto copying. This function allows you to copy experienced traders automatically and also learn from them. Naga allows you to see the statistics of each trader, meaning that you can choose the trader on your own based on its performance. You can decide on the amount you want to invest, obviously. You can find all the best traders on the leading board and "auto copy" them.

If you're an experienced trader and know your thing, you might become one of the top traders yourself. Take advantage of all the tools provided by Naga, always follow the news and you might have a shot. That said, if you develop a strategy that works, you can benefit from other people that are following you.
Moreover, you can connect with like-minded people and share your knowledge. Naga messenger will allow you to do that without much trouble. Use it to share analysis, experiences and make quick investments. It works like any other messenger, meaning that you can chat privately, create groups and public channels.
Now that you're aware of all there is to know about the social trading feature offered by Naga, it's time to move further and discuss other important aspects.
Wallet
Everyone knows that it's not recommended to keep your assets on the platform. You should choose a secure wallet instead. As you know, Naga offers multiple services. That includes a wallet, too.
Naga wallet is completely free, it's quite recommended for keeping your cryptocurrencies and fiat assets. What is more, it's both Windows and iOS compatible. You can download it completely on Google Play or the App Store.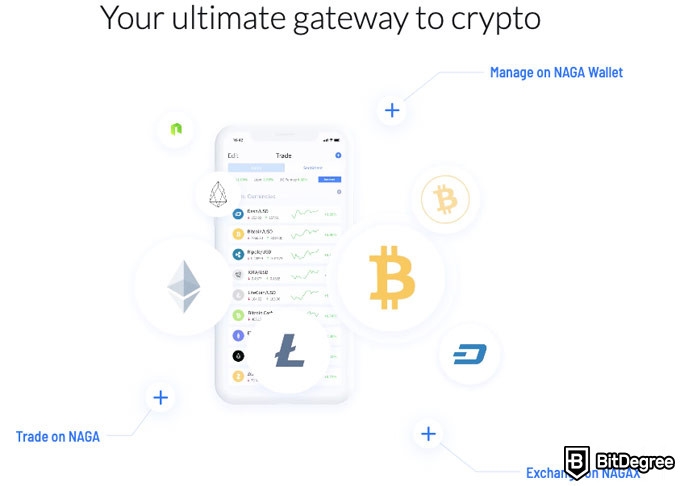 Whilst using Naga wallet, you can track your crypto and fiat assets by using charts. What is more, you can send and receive crypto using a registered email address, make instant transactions. Also, you can transfer your assets to the Naga Trader account instantly and start trading. Moreover, while using Naga wallet you can instantly access CFDs in stocks, forex, indices, commodities, crypto, and even more. It seems that your options are almost limitless.
Now, when it comes to cryptocurrency wallets, you should know that there are 4 different options that you can pick from. That includes online, software, hardware and paper ones.
As it might be obvious, online wallets are the least secure ones. These wallets are also often called the "hot" ones because your private keys are kept online and wouldn't be as protected in case the platform is hacked. Software wallets are a slightly safer alternative, however, they're still not as secure as hardware and paper ones.
While paper wallets are often considered to be the most recommended and secure ones, you can easily lose that piece of paper. That being said, if you're looking for the best alternative, I'd suggest going for hardware wallets. Currently, the most recommended options include Ledger Nano X and Trezor Model T, so if you want to keep your assets protected, I'd suggest considering one of the two.
Now that the wallet part of this Naga review is clear, let's move further and take a quick look at the Naga exchange.
Crypto Exchange
Among other services Naga also has a cryptocurrency exchange platform that's called Nagax. I believe that the majority of you came to this Naga review to find out more about the exchange.

Nagax exchange has a very clear interface, strong security, very fast processing and many other attractive features. It also supports fiat currencies, so purchasing Bitcoin, Ethereum or any other coin will be super simple.
Since Nagax crypto exchange is the focal point of this review, it will be discussed in more detail in the second part of this article.

Did you know?
Naga Coin
Before focusing this Naga review on the exchange, there's one more thing that you might be interested in. That's Naga coin review.
Naga coin was launched in December 2017. It's a decentralized coin that seeks to create the gap between the financial market and digital money. When the coin was launched, it managed to raise $50,000,000 from 63,000 people in its ICO.
At the moment of writing this Naga coin review, the price of the coin is only $0.053138 USD. The daily volume is $3,738.02 USD and there are 77,910,266 NGC in total.
While the coin is not worth that much at the moment, its value was $4.33 USD on the 31st of December, 2017. Just like with any other coins and tokens, it's unclear whether NGC will reach its all-time-high once again.
Naga Exchange
As mentioned at the beginning of this Naga review, it's focused more on the exchange rather than other services that the company provides. Since you already know about the most important services offered by Naga as well as know about NGC, it's time to get to the most important part - Nagax.
Nagax was introduced only in 2018, that's why you might find it difficult to find multiple Naga cryptocurrency exchange reviews. However, since it provides so many attractive features, you'll be happy to find out more about it.
Just like all the others, this Naga crypto exchange review will include pros and cons, fees, and additional information to decide whether or not this platform is suitable for your needs. Get straight to it to find out more.
Naga Exchange PROS
Let's begin with the most attractive aspects of the Naga Exchange.
Relatively Low Trading and Withdrawal Fees
Every trader knows that when choosing a platform it's crucial to pay attention to trading fees. Some trading platforms that support fiat currencies and allow you to purchase crypto charge significant fees. Sometimes they even vary from% 3 to 5%. However, if you want to maximize your earnings, you shouldn't choose such platforms.
When it comes to Naga exchange, the fees are some of the lowest you can find. The fee for makers is 0.15% and the fee for takers is 0.25%. The maker adds liquidity to the market, whereas the taker grabs the maker's offer.

However, you should also be aware of the fact that there are some platforms that offer almost invisible fees when trading and then charge you with significant fees when making withdrawals. To make sure that this doesn't happen, you should always focus on the details.
When talking about Naga withdrawal fees, you won't experience any surprises. The company only charges for the network fees that tend to be very low.
Mobile App Available
If you want to be in the game all the time and manage to follow all the changes in the market, then you definitely need a mobile app.
I probably won't surprise you by saying that Naga offers an app for both Android and iOS users. It's evaluated 4 out of 5 on Google Play. While it could be better, the majority of customers are pleased with the services that they provide.
People say that the Naga app has a clear interface and is easy to use. However, as expected, most users appreciate it due to the functionality that we already discussed in this Naga review. That includes copy trading features, setting the amount that you want to trade. Moreover, some are surprised by how easy it is to create an account and make a deposit.
Supports Fiat Currencies
If by now you don't own any cryptocurrencies, you will need to purchase them first to start trading on the platform.

It's easy to do that using Nagax exchange because deposits and withdrawals can be made using fiat currencies, including EUR and USD. What is more, you can purchase Bitcoins, Ethereum or any other coin available on the platform using your credit card.
However, if you already have some cryptocurrencies, you can easily transfer them. Just make sure that they're supported on Nagax.
Naga Exchange CONS
While Naga exchange offers some very attractive features and exceptional functionality, there are some aspects that are dragging it back. Let's take a look at them.
Not Available for US Investors
When choosing a service, you should always make sure that it's available in your country. Surprisingly or not, Naga is not available for US investors. That has to do with the strict US laws when it comes to crypto.
Apart from the US, Naga also doesn't offer services for these jurisdictions:
Iran
North Korea
Cuba
Iraq
Syria
Canada
Some people tend to use VPNs to avoid this issue, however, I would suggest choosing another platform that's available in your country.
Only 8 Supported Cryptocurrencies
You'll see that Nagax is quite limited when trading cryptocurrencies, there are only 8 options available at the moment, including:
BTC
BCH
LTC
ETH
DASH
XRP
USDT
NEO
While you get to choose from the major coins, people who prefer less popular altcoins won't be very happy.
Very Little Information About Security
I always say that security comes first. That's not only when talking about safe cryptocurrency wallets but also about the platforms themselves.
I was surprised that Naga doesn't provide that much information when it comes to the platform's security measurements. They only talk about the protection of losses that won't let you go below the amount you manually set.
That said, if you decide to use this platform, it would be a good idea to keep at least a part of your assets in a secure hardware wallet.
How to Use the Naga Exchange?
Nagax exchange is definitely one of the easier-to-use platforms. Let me provide you with a quick step-by-step guide on how to create an account as well as to make a deposit on Naga exchange.
How to Create an Account on Naga Exchange?
First, let's create an account.
Step 1: Go to the Naga exchange official website.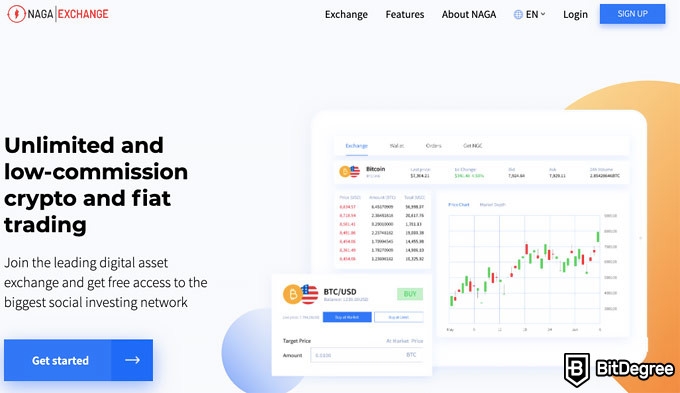 Step 2: Press the "Sign Up" button at the top right corner of the screen.
Step 3: Enter the required information (first and last name, username, password, email, country, phone number) and press "Sign Up".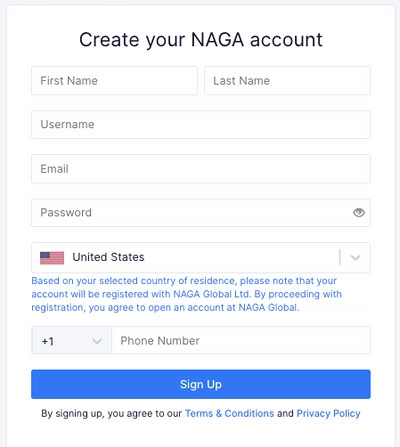 Step 4: Now you'll need to verify your phone number. You can do that by entering 4 digits that were sent to you via phone.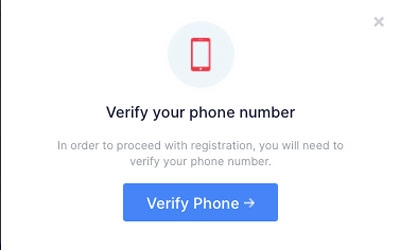 Step 5: Start using the platform!
How to Make a Deposit on Naga Exchange?
Since Naga accepts fiat currencies and you can purchase Bitcoins, Ethereum or any other platform, making a deposit is super simple.
Step 1: Sign in to your account.
Step 2: Click "Upgrade now" that you'll find on the right side of the page.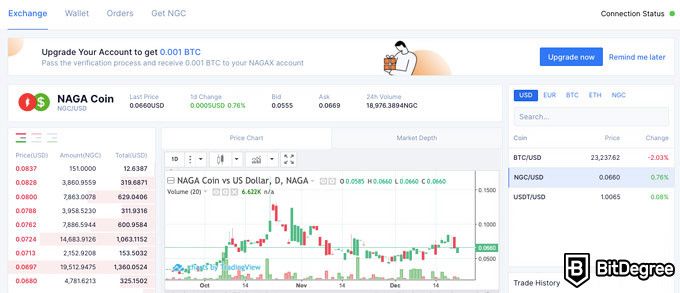 Step 3: Fill in all the required information, including personal details, employment information and trading knowledge.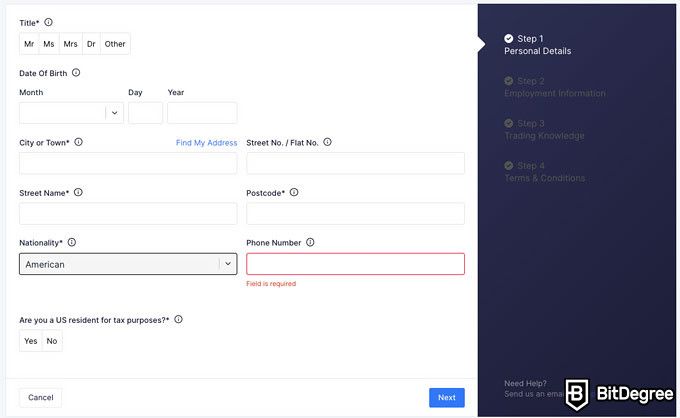 Step 4: After upgrading your account, click "Fund account" and choose the deposit method.
Step 5: Enter the amount that you want to deposit and make a confirmation.
Only 5 easy steps and you can start trading!

Pros
A very well-known crypto exchange platform
More than 500 different cryptos available
Two-factor authentication
Main Features
Over than 100 different cryptocurrencies available
Strong security
Small withdrawal fees

Pros
Secure and reliable
Low fees
A good amount of fiat currencies accepted
Main Features
Reputable exchange
Multiple fiat currencies are accepted
Relatively low trading fees

Pros
Anonymous trading
Secure
Supports a variety of cryptocurrencies
Main Features
Easy to use
Low fees
Good security
Conclusions
Naga is an extensive platform that offers multiple services, including investments, social trading, forex trading, cryptocurrency exchange (Nagax), and even more. Even though the platform is very functional, it manages to maintain a clear interface somehow.
In general, I would recommend Naga for its extensive features, however, I wouldn't say that it's the best option for people who are looking for a reliable crypto exchange. If that's what you came to this Naga review looking for, you might want to consider other options, including Coinbase, Binance and Coinmama.
I hope that this Naga review was helpful and you already managed to decide if you want to stick with it or move to other options.
The content published on this website is not aimed to give any kind of financial, investment, trading, or any other form of advice. BitDegree.org does not endorse or suggest you to buy, sell or hold any kind of cryptocurrency. Before making financial investment decisions, do consult your financial advisor.
Leave your honest Naga review
Leave your genuine opinion & help thousands of people to choose the best crypto exchange. All reviews, either positive or negative, are accepted as long as they're honest. We do not publish biased reviews or spam. So if you want to share your experience, opinion or give advice - the scene is yours!