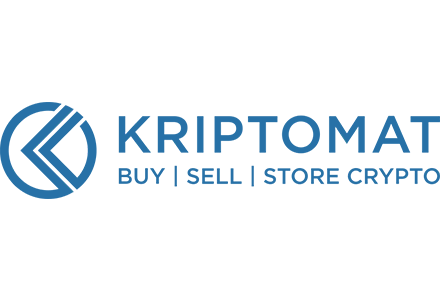 At first, investing in cryptocurrencies or starting trading might seem a bit intimidating. However, once you find an easy-to-use platform that allows you to buy, trade and store cryptocurrencies, things get a lot easier. Now, since you came to this Kriptomat review, you'll see what this platform is all about and whether or not it's suitable for your needs.
In this Kriptomat review, we'll mostly focus on the exchange, its features, security measurement, supported cryptocurrencies and fiat currencies, trading and withdrawal fees, and also Kriptomat digital wallet. At the very end, you'll find a step-by-step guide on how to use this cryptocurrency exchange platform.
FYI, in the last months of 2020, Ethereum was processed more than 1.1 million times per day. In comparison, Bitcoin was transferred six times less - 330,000 times per day. Needless to say, this is the perfect time to find yourself a reliable cryptocurrency and start making investments as the crypto market is booming as never before.
Now that you know what to expect in this Kriptomat review, let's begin with the company's history.
Pros
Beginner-friendly crypto exchange
Available in 22 languages & 80 countries
Robust security
Low trading fees
Cons
Lacks more advanced features
Centralized
Kriptomat Review: The Company's History
Founded on February 7, 2018, Kriptomat is a custodial cryptocurrency exchange platform that allows you to buy, trade and store cryptocurrencies. The company is based in Estonia.
The main goal of Kriptomat is to create an easy-to-use platform that non-technical people would be able to navigate without much trouble. The company introduces itself as "the most user-friendly government-regulated European cryptocurrency exchange".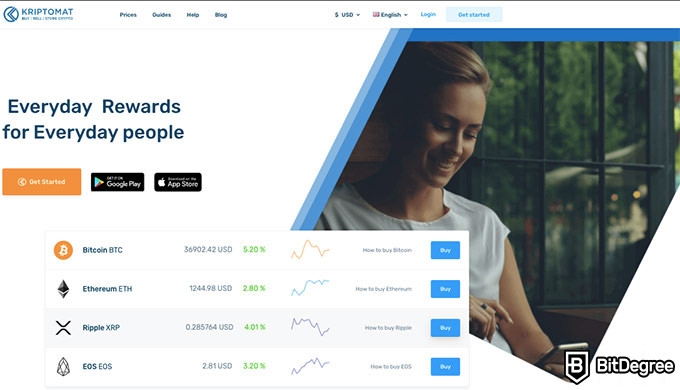 That's why, the platform doesn't provide you with extensive and confusing features, such as leverage and margin trading, or trading futures.
When it comes to the main values of Kriptomat, the company distinguishes these 3 ones:
Trust
Security
Transparency
Also, you should know that apart from a cryptocurrency exchange, Kriptomat's team of legal, financial and tech experts managed to launch a few other, successful tech companies, including Spletnik (digital marketing agency) and Platformax (sales management and prospecting platform for inside-sales teams).
After such a short, yet clear introduction, it's time to move on to the actual Kriptomat review and see what this platform has to offer.
Latest Binance Coupon Found:
SECURE $600 BONUS
Binance Christmas Sale
Sign up on Binance and claim up to $600 worth of rewards for completing simple tasks during this Binance Christmas sale. Use our Binance referral code (49316610) to activate the offer while it's still valid!
Expiration date : 12/12/2023
2,935 People Used
Only 67 Left
Kriptomat Review: PROS
I will begin this Kriptomat review by focusing on the positive aspects. At this part of the text, you will find information related to security, supported cryptocurrencies and fiat currencies, Kriptomat digital wallet, usability, Kriptomat trading fees, and even more. Since the platform has a lot to offer, there's a lot to discuss in this Kriptomat exchange review.
Robust Security
When choosing a cryptocurrency exchange, the very first and the most important aspect that you have to take into account is security. Low fees and hundreds of supported cryptocurrencies mean nothing if the platform is incapable of protecting your assets and personal information.
So, you're probably wondering, is Kriptomat safe? Well, Kriptomat puts in extra effort to make sure that users are protected. The company was issued operating licenses by the Financial Intelligence Unit for providing services of exchanging digital currencies against fiat currencies as well as providing digital wallet service.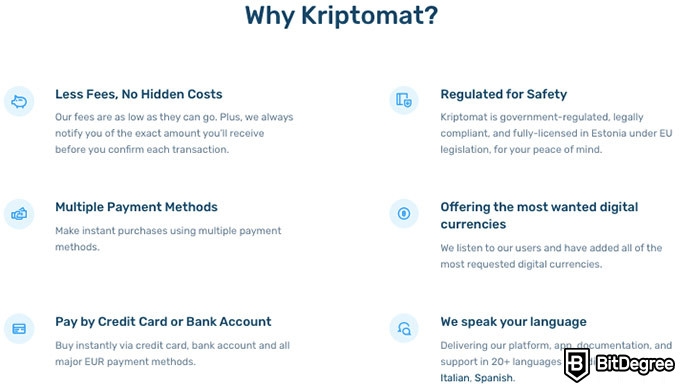 What is more, Kriptomat utilizes fair and transparent business practices. That's why it implements various technical measures and received an operating license - Licence for Virtual Currency service provider. Kriptomat also received an international information security certificate ISO 27001:2013. This certificate ensures that the company implements safe practices when it comes to information security.
Moreover, the Kriptomat platform is built based on the General Data Protection Regulation (GDPR) requirements. It ensures a high level of protection when it comes to users' personal information.
Moving further, it's important to mention in this Kritpomat review that the company aims to prevent money laundering, identity theft, financial fraud, and terrorist funding, so you will need to verify your identity to start using Kriptomat. If you're worried about time, there's no need, the process of confirming your identity is super fast and easy.
When it comes to organizational measures, Kriptomat offers:
Secure cold storage with controlled access to protect your assets. Kriptomat holds 98% of assets in secure cold wallets.
Dedicated team for monitoring all the actions on the platform. If any suspicious activity appears, Kriptomat's team reacts to the problem instantly.
Strict operational procedures related to development operations, platform support, and cold storage management.
Security tests to identify the platform's vulnerabilities and instantly solve them.
Talking about technical measures, these include:
Encryption mechanisms to surpass man-in-the-middle attacks and prevent threats that could affect personal data.
Network security is implemented using the network zoning principles, meaning that more important data is stored in hardened servers, while the less sensitive information is stored separately.
Various physical security measures are being implemented in order to deal with unauthorized physical access.
DDoS protection system and Web Application firewall safeguard the internet-exposed part of the platform from various attacks and vulnerabilities.
The team is monitoring 24/7 to respond in case any technical failures appear.
There's one last thing to be mentioned when it comes to security. If you don't want to rely on the platform and be in control of your own crypto, it's recommended to get a reliable cryptocurrency wallet.
Hardware wallets, such as Ledger Nano X and Trezor Model T, are considered to be the most secure ones as they keep your private keys offline. That said, even if your private information is threatened, there's no way hackers will get into your wallet.
Thus, if you want to stay safe, sometimes you need to take matters into your own hands.
Latest Kriptomat Coupon Found:
10 EUR KICKBACK
+ 20% Off On Kriptomat Fees
Take advantage of our exclusive coupon code & get amazing Kriptomat deals: 10 EUR kickback after 100 EUR traded + 20% discount on fees for ANY currency on the first 5 trades!
Expiration date : 12/12/2023
1,827 People Used
Only 74 Left
Almost 100 Available Crypto Pairs
If you're interested in trading, you need a platform that provides you with a good amount of cryptocurrencies as well as trading pairs to choose from. That's what we're about to discuss in this Kriptomat review.
Kriptomat can be considered as one of the better platforms when it comes to the variety of cryptocurrencies. At the moment, you can buy, sell and store 31 cryptocurrencies on Kriptomat. Here's the most recent list for supported cryptocurrencies:
Bitcoin (BTC)
Ripple (XRP)
Ethereum (ETH)
EOS (EOS)
Litecoin (LTC)
Stellar (XLM)
TRON (TRX)
Bitcoin Cash (BCH)
Cardano (ADA)
Monero (XMR)
IOTA (IOTA)
Dash (DASH)
NEO (NEO)
Ethereum Classic (ETC)
NEM (XEM)
Zcash (ZEC)
Augur (REP)
Gnosis (GNO)
0xProject (ZRX)
OmiseGO (OMG)
Enjin (ENJ)
Status (SNT)
SunContract (SNC)
Metal (MTL)
Civic (CVC)
Request Network (REQ)
FunFair (FUN)
Propy (PRO)
Loopring (LRC)
Tether (USDT)
DAI (DAI)
Tezos
Cosmos
Vechain
As you can see, Kriptomat supports all the most popular cryptocurrencies, however, you should keep in mind that new coins and tokens are being added to this list on a regular basis.
Also, when it comes to trading pairs, you get about 100 trading pairs to choose from, including fiat-to-crypto and crypto-to-crypto. That's more than enough options, especially if you're still a beginner.
Buy Crypto with EUR
If you want to invest in crypto, whether it's Ethereum, Bitcoin, or any other coin, the easiest way to do that is with fiat money. The only problem is that not all platforms support fiat currencies, so you might need to go through long processes in order to start trading.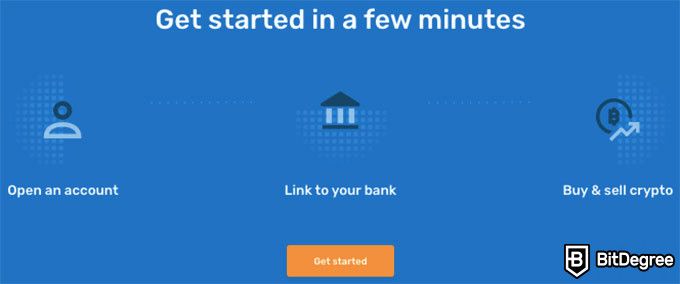 The good news is that Kriptomat supports fiat currencies. However, the problem is that at the moment there's only one fiat currency supported - EUR. However, that's still way better than nothing, especially since Kriptomat might be adding new payment options in no time.
On the same note, you should know that when buying cryptocurrencies with fiat money on Kriptomat, you get a few different payment methods to choose from:
Bank Transfer
Credit Card
Debit Card
Skrill
Sofort
Neteller
As you can see, Kriptomat allows you to make a deposit and purchase crypto without much trouble.
Digital Wallet Available
Digital wallets work almost the same as your bank account. They allow you to store, send and receive cryptocurrencies. What's important to understand, though, is that crypto wallets do not store your coins, only your private keys, so they simply protect access to your cryptocurrencies.
Talking about the Kriptomat wallet specifically, many people tend to ask "how much the Kriptomat wallet costs?". The answer is simple - when creating an account on Kriptomat and start using the platform, you'll be able to use the digital wallet completely free of charge.
Multiple Kriptomat reviews will tell you that the company's digital wallet is super simple to use. The thing is that even if you already have a cryptocurrency wallet, you can still use Kriptomat.
For example, if you already have a wallet where you store Ethereum, Bitcoin, or another cryptocurrency, you can easily transfer your assets to Kriptomat's wallet to start trading. You can also transfer cryptocurrencies from Kriptomat to your personal wallet.

As already mentioned previously in this Kriptomat review, getting a secure cryptocurrency wallet is one of the best ways to protect your assets. However, since there are so many options to choose from, you should know how to make the right decision.
Basically, there are 4 different types of wallets:
Online
Software
Hardware
Paper
Online and software wallets are also known as "hot" ones because your private keys are stored online. Such wallets are the least secure ones. Now, hardware and paper wallets, also known as "cold" storage are way more secure as your private keys are kept offline. When it comes to paper wallets, they can easily get wet or lost, so the majority of people recommend choosing hardware ones.
When looking for a hardware wallet, you'll come across a variety of different options, however, at the moment, these are considered to be the most reliable ones:
The only drawback associated with these wallets is that they're a bit pricey. However, if you decide to make an investment - taking care of security is crucial. In case you decide to go for a software wallet, you might want to consider Coinbase. It's compatible with both Ledger and Trezor hardware wallets.
I guess we covered the most important aspects related to digital wallets in this Kriptomat exchange review, so it's time to focus on further aspects.
Low Fees
When buying cryptocurrencies, trading and making withdrawals, the majority of platforms charge specific fees. As you probably know, if you want to maximize your savings, you should make sure to minimize your spendings. In this case, I'm talking about Kriptomat trading fees - make sure they're as low as possible.
Any Kriptomat review will tell you that this platform offers low buy/sell as well as withdrawal fees. You can find more information in the table below: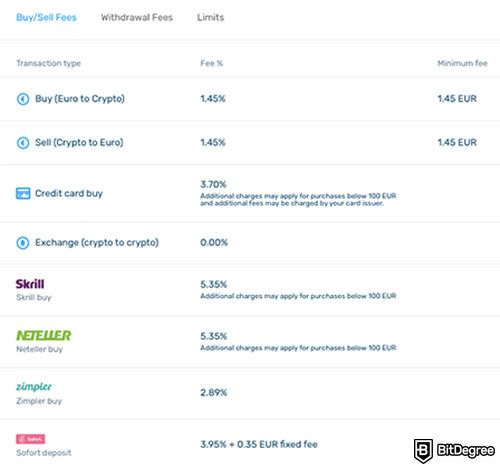 As you can see, you will pay only a 1.45% fee when it comes to buying as well as selling crypto using fiat money. However, if you choose to pay with your credit card, the fees will go up to 3.7% once you make a purchase for more than 100EUR.
When it comes to crypto-to-crypto trading, the industry standard is about 0.25%. However, as you can see in the table above, Kriptomat doesn't charge any fees when it comes to crypto-to-crypto trading.
Talking about withdrawal fees, they will differ depending on the cryptocurrency. Here are a few examples:
Bitcoin (BTC) - 0.0006000 BTC
Ripple (XRP) - 0.0240000 XRP
Ethereum (ETH) - 0.0060000 ETH
Also, withdrawals for some cryptocurrencies are not available, so you'll need to exchange them for other coins before making a withdrawal. Since Kriptomat is so easy to use, you'll be able to do that without much trouble.
The final aspect that you should take into account is that Kriptomat has various trade limits, such as daily/monthly SEPA deposit and withdrawal, crypto deposit and withdrawal, and so on. You can find more information in the table below.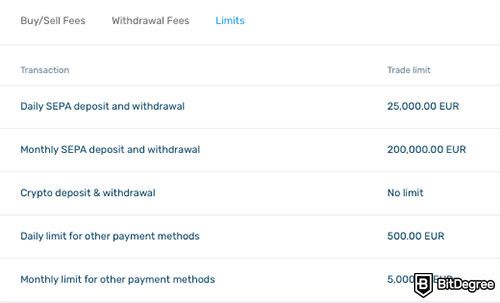 Considering all the aspects discussed above, it's fair to say that Kriptomat offers truly low fees.
Available in 80 Countries
Before deciding which cryptocurrency exchange platform to choose, you should first make sure that there are no laws against such services in your country. Once it's done, you can pick a specific platform and check out whether it's available in your country. Now, since you're here for Kriptomat review, let's take see where this platform is supported.
Kriptomat is currently available in 80 countries globally:
Europe
Asia
North America
South America
Oceania
Africa
You should also be aware of the countries where you won't be able to use Kriptomat. Here's a full list:
Afganistan, Algeria, American Samoa, Bangladesh, Bolivia, China, Democratic Republic of Congo, Democratic People's Republic of Korea (DPRK), Ecuador, Egypt, Ethiopia, FYR Macedonia, India, Iran, Iraq, Kyrgyzstan, Pakistan, Palestine, Qatar, Saudi Arabia, Syria, Morocco, Nepal, United States of America, Vanuatu, Vietnam, Zambia.
Keep in mind that such information might be changing, so you should not only rely upon different Kriptomat reviews but also check out your country's laws regarding crypto investments and trading.
Before finishing the first part of this Kriptomat review, there's one more thing to be mentioned - Kriptomat supports 22 languages, in total. Here's the full list:
English, Bulgarian, Croatian, Czech, Dutch, Estonian, French, German, Greek, Hungarian, Italian, Latvian, Lithuanian, Polish, Portuguese, Brazilian, Portuguese, Romanian, Russian, Slovak, Slovenian, Swedish, Spanish, Turkish.
As you can see, there are quite high chances that you'll be able to use Kriptomat in your native language.

Did you know?
Kriptomat Review: CONS
As you've seen in the previous part of this Kriptomat exchange review, the platform has a lot to offer. However, it's time to move on to the less pleasant part and focus on Kriptomat complaints.
Centralized
Kriptomat is a custodial cryptocurrency exchange platform. In other words, it's a centralized crypto exchange, meaning that it includes a third party as a middleman to conduct transactions.
Even though centralized exchanges tend to be easier to use and have to follow licenses and regulations as well as perform identity verifications, you also don't have autonomy over your wallet.
Now, even though it all depends on your personal preferences, crypto enthusiasts tend to choose decentralized exchanges that have no third-party involvement in transactions. Even though they can be more difficult to use, it's all about the nature of blockchains and cryptocurrencies.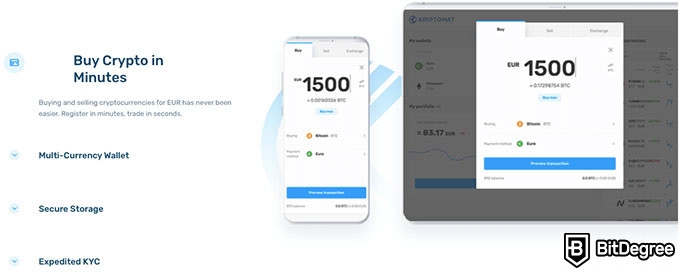 While the fact that Kriptomat is a centralized exchange can be considered both positive and negative aspects, it all depends on what it is that you're looking for.
Lacks Advanced Features
It's obvious that there are no Kriptomat complaints about usability because it has a super clean design and is easy to navigate. However, simplicity usually means a lack of features. That's the exact situation when it comes to Kriptomat.
While Kriptomat has a clear interface, you'll see that it doesn't offer any advanced features that more advanced users might be interested in. I'm talking about margin trading, trading futures, leveraged trading, and other similar ones.
Even though such features are available in very few cryptocurrency exchanges, it doesn't change the fact that you won't find them on Kriptomat.
Now that we're almost at the end of this Kriptomat review, it's time to show you how to use it.
How to Use Kriptomat?
If you decide to use Kriptomat, you will need to know how to create an account and make a deposit. Even though it involves a few easy steps, I want to make sure that it's all super clear by providing you with a step-by-step guide.
How to Create an Account on Kriptomat?
Creating an account on Kriptomat will take you only a few minutes. Below you'll find 6 easy steps on how to do that.
Step 1. Press "Get started" at the top right corner of the website.

Step 2. Fill in the needed information: first and last name, email address, password, and agree that you're over 18 years of age. Then press "Create account".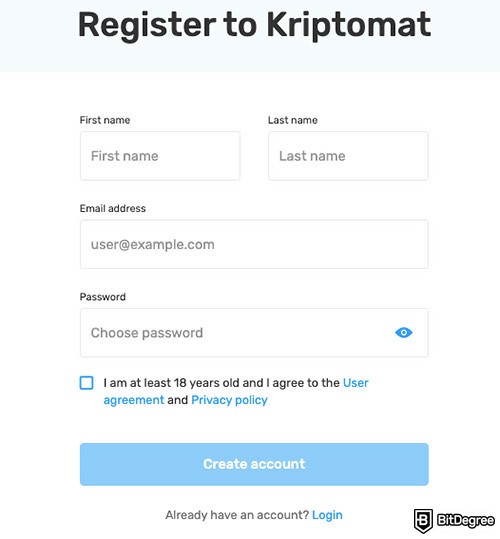 Step 3. Go to your email, you should have received a verification letter.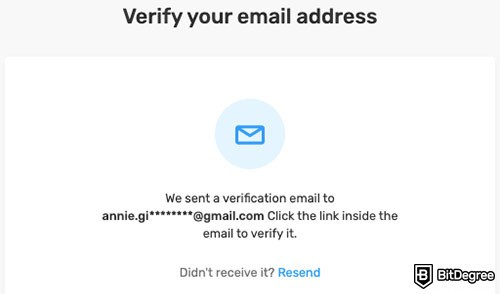 Step 4. Press on "Verify email address".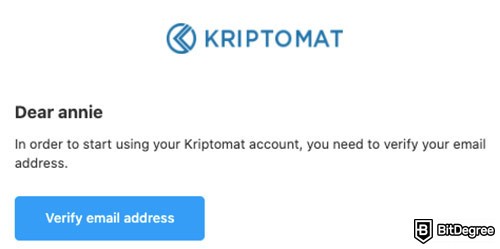 Step 5. Provide your number and paste in 6 digits to confirm that it's you.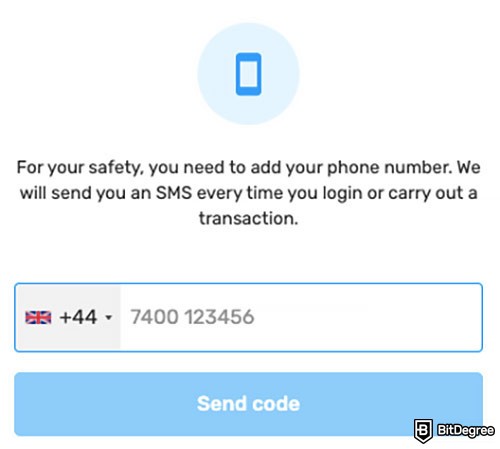 Step 6. Verify your identity and start using Kriptomat!
How to Make a Deposit on Kriptomat?
Once you create an account, it's time to make a deposit. Here's the easiest way to do that.
Step 1. Verify your identity by filling out the applicant data, providing an identity document and a selfie (to prove that it's you).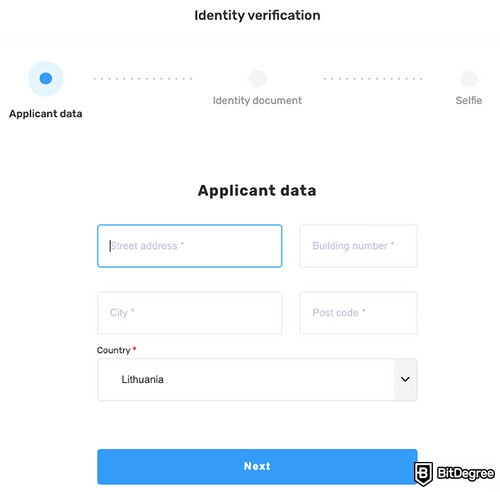 Step 2. Press "Deposit" at the top right corner of the screen.

Step 3. Choose Bank transfer/SEPA.
Step 4. Use the provided SEPA payment details (recipient, data transfer) to make a deposit.
Step 5. Press "I made the deposit".
That's it, you can now buy cryptocurrencies and start trading!

Pros
A very well-known crypto exchange platform
More than 500 different cryptos available
Two-factor authentication
Main Features
Over than 100 different cryptocurrencies available
Strong security
Small withdrawal fees

Pros
Secure and reliable
Low fees
A good amount of fiat currencies accepted
Main Features
Reputable exchange
Multiple fiat currencies are accepted
Relatively low trading fees

Pros
Anonymous trading
Secure
Supports a variety of cryptocurrencies
Main Features
Easy to use
Low fees
Good security
Conclusions
Kriptomat is a centralized cryptocurrency exchange that puts in a lot of effort to protect its users. The platform is very easy to navigate, it supports fiat currencies, offers low fees, more than 100 available pairs, and has a digital wallet. What is more, Kriptomat is available in 80 countries and there are 22 languages to choose from.
There are two main questions left to answer:
-Is Kriptomat legit?
-Is Kriptomat safe?
I can answer both of them positively - Kriptomat is both secure and legit. Even though there are some negative reviews online and the platform lacks more advanced features, that's nothing to be concerned about, especially if you're still a newbie in the crypto world.
I hope that this Kriptomat review answered all of your questions about the platform and you managed to decide whether not it's suitable for your needs!
The content published on this website is not aimed to give any kind of financial, investment, trading, or any other form of advice. BitDegree.org does not endorse or suggest you to buy, sell or hold any kind of cryptocurrency. Before making financial investment decisions, do consult your financial advisor.
About Article's Experts & Analysts