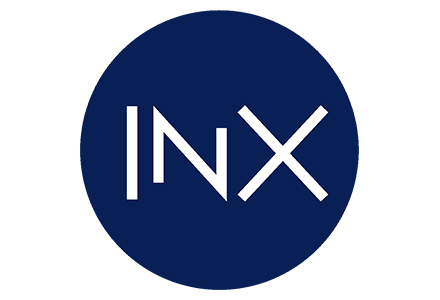 With the sheer number of cryptocurrency exchanges and ecosystems on the market, it can be hard to find a company that is both highly robust and boundary-pushing. With this in mind, let's jump into my INX exchange review, with the explicit intention of discovering whether it ticks all the right boxes and stands out from the crowd.
INX is a well-renounced exchange that, despite not being in the public consciousness in the same way as some crypto behemoths, has built a strong reputation and user base for a range of factors. The main one, though, is the fact that INX is a crypto and security token trading platform that is compliant with the US SEC.
So, let's see how its pros and cons weigh up in INX reviews, as well as answer questions such as "is INX exchange legit?", "is INX exchange safe?", "what are INX exchange fees?" and even "how to use INX exchange?".
Verdict at a glance: INX is a robust and well-rounded digital asset platform fully compliant with SEC regulations. It provides users with a crypto exchange, a tokenization launchpad, a crypto learning environment, and even its own security token (INX Ltd.), all in one place. However, its crypto asset selection is not the broadest yet, and its fees are somewhat high.
Pros
Fully compliant with US SEC regulations
Crypto and security token trading
User fund segregation
Has its own security token
Provides primary security token offerings
Cons
Limited cryptocurrency selection
Considerably high fees
What is INX Exchange?
This wouldn't be a full-fledged INX exchange review without giving a primer on the platform. INX is a comprehensive digital asset market designed to offer both cryptocurrency and security token trading.
It has been established with the aim of bridging the traditional financial markets with the consistently changing and evolving world of digital assets. Not only this, but it aims to present itself as an ideal solution for beginners, with careful consideration for how troublesome this industry can be for them to navigate.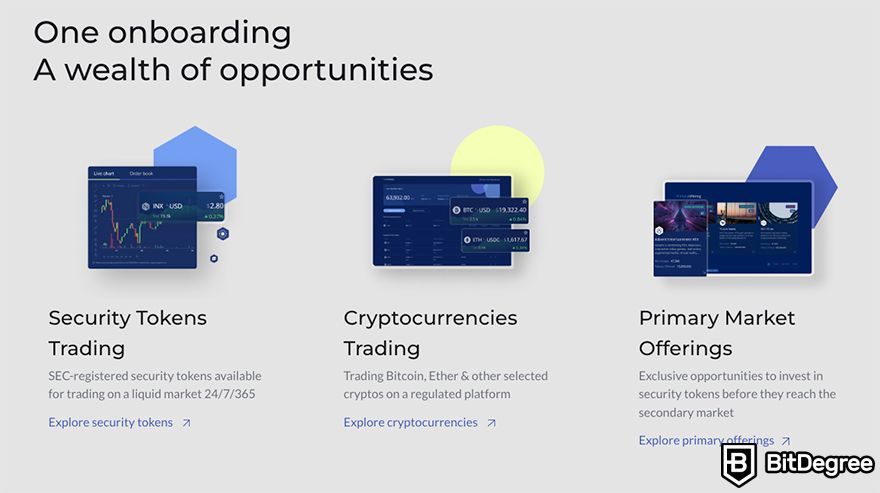 Built upon cutting-edge technology, INX ensures a seamless trading experience while also maintaining a focus on regulatory compliance. Unlike many other exchanges, INX has put forth significant effort in working alongside regulators to ensure that its operations align with established financial institutions.
The platform supports cryptocurrencies, security tokens, and fiat (as of writing, only USD). This diversity of offerings is a testament to INX's commitment to cater to both seasoned crypto enthusiasts and newcomers alike. In addition, with a robust customer support system and an intuitive interface, INX tries to make the process of trading as seamless as it can be.
Latest Binance Coupon Found:
REDEEM $600 PRIZE
Binance Cyber Monday
Attention new Binance users: this Cyber Monday, you can score up to $600 in rewards by completing special tasks. Activate this amazing Binance Cyber Monday deal using the code – 49316610!
Expiration date : 09/12/2023
6,127 People Used
Only 16 Left
INX Exchange Review: PROS
Now that you know what INX is, it's time to see why people use it. So, let's jump into the positives found in many INX exchange reviews.
Fully Integrated Digital Asset Platform
A standout feature of the INX exchange that is necessary to shed light on is that its digital asset platform is fully integrated. This means that every element of your crypto journey, from tokenization to trading and regulatory compliance, is provided in one ecosystem.
This is a breath of fresh air compared to the alternative, which is scattering your actions across a range of different platforms that have little interoperability. Here, you can act in a more holistic way, as the INX exchange offers tools across multiple platforms or applications.
Being a fully integrated digital asset platform is an attractive proposition for newcomers and seasoned traders alike. For novices, the convenience of having everything in one place lowers the barrier to entry and reduces the complexities often associated with crypto trading.
For the more experienced, the platform's sophisticated tools and integrated services allow for a more streamlined and efficient trading strategy, saving time and mental energy.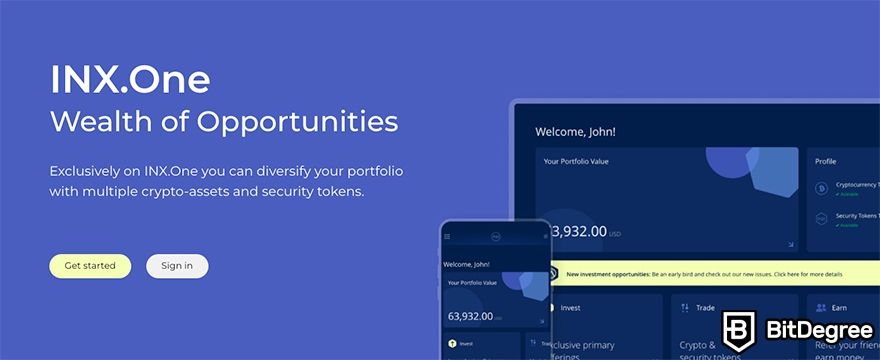 Overall, the platform's range of services caters to a wide array of interests and needs, from basic buying and selling to more advanced features like asset tokenization.
To help contextualize this, it is worth diving into specifics. The INX exchange proudly supports both security tokens as well as cryptocurrencies. When it comes to crypto, INX pledges to vet every asset it lists, meaning that you will not find every coin and token under the sun here.
Instead, you will find cryptocurrencies that are perceived as legitimate and secure. In an industry where it can be a nightmare to distinguish between high-quality assets and copycats, it is great to know there is a service that will do this for you.
Moving to its security tokens – for the uninitiated, these are digital representations of real-world assets that comply with legal regulations. They are blockchain-based, running in conjunction with smart contracts.

Security tokens are a direct and intimate way of crossing the chasm between this new age of FinTech and the traditional world of trading[1]. While they can technically represent any type of security-based asset, the ones found on the INX exchange usually are attached to specific companies or projects.
This should be exciting for traders from all walks of life, looking to expand their portfolio into new frontiers whilst still focusing on the blockchain industry and engaging with its technologies. The best upshot within this part of my INX exchange review is that security tokens reduce the barrier of entry for people looking to invest in companies and funds that they typically would not be able to.
Generally, it can be hard for retail investors to get involved with investment funds, as there are a range of regulatory hoops for each individual to jump through. However, INX has found a way to streamline this process and increase accessibility. A byproduct of doing so is that it essentially democratizes these assets further by opening opportunities to more people.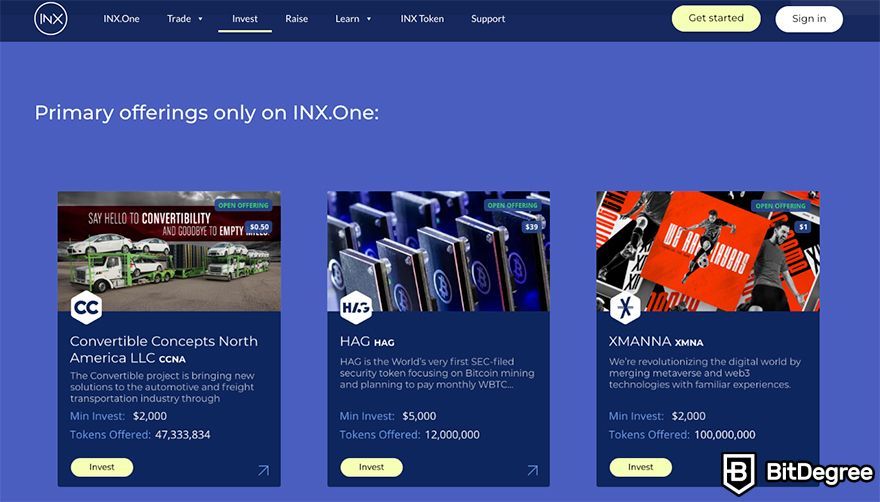 To see what I'm talking about in this INX exchange review, visit the platform's Primary Market Offerings. It is a catalog of exclusive listings for security tokens that can only be found on the INX crypto exchange before they hit the secondary market. This gives users a chance to jump into an investment from a position that is closer to the "ground floor" than is typically possible.
In addition to all that, since we're on the topic of security tokens, it's also worth noting that INX not only allows users to buy them but also provides companies with a way to raise funds by issuing their own security tokens with the help of INX.
Latest Binance Coupon Found:
REDEEM $600 PRIZE
Binance Cyber Monday
Attention new Binance users: this Cyber Monday, you can score up to $600 in rewards by completing special tasks. Activate this amazing Binance Cyber Monday deal using the code – 49316610!
Expiration date : 09/12/2023
6,127 People Used
Only 16 Left
Compliance with SEC Regulations
No review would be complete without looking at regulatory practices. This is true of all examinations of exchanges, but it is perhaps most pertinent in this INX exchange review due to the unique products and utilities it offers.
If we want to consider the question "is INX exchange safe?" or even "is INX exchange legit?" then this is one of the best ways to formulate answers. Thankfully, the company makes this endeavor extremely easy, as they proudly state that they are SEC compliant on several levels.
Not only is the platform itself compliant with SEC rules and guidelines, but its security tokens are as well. The novel approach that security tokens offer means that they must be overseen with scrutiny and care by the SEC.
INX only lists security tokens that are SEC compliant on their own, independent of the exchange itself. This means that not only are users engaging with a regulatory sound service, but they are investing in sound projects as well.

The likelihood is that such carefulness on INX's part further translates to its cryptocurrency vetting. While the current flux and uncertainty in the blockchain age means it would be unfair for anybody to expect INX to only list assets that have been given SEC approval, the company still performs its own due diligence to make sure only the most trustworthy cryptocurrencies are found on its market.
When you consider how stringent the US SEC is, and how skeptical its leadership is towards cryptocurrency and blockchain-based activity, it cements just how impressive of an achievement this level of compliance is.
This alone answers the questions "is INX exchange legit?" and "is INX exchange safe?". However, it is possible to dig a little deeper and discover just how safe it actually is. To do so, look no further than the types of compliant activity it engages in.
INX holds Money Transmitter licenses in most US states. These are essential regulatory approvals that authorize the platform to facilitate the electronic transfer of funds between parties.

For those unfamiliar with the intricacies of financial regulation, Money Transmitter licenses add a level of accountability and oversight to an exchange's operations[2]. These licenses are often difficult to obtain, requiring extensive audits, compliance checks, and ongoing reporting to financial authorities.
As such, they are seen as a hallmark of integrity in the financial services industry. Behavior like this goes far beyond mere compliance; it's about establishing a trust-based relationship with its user community. Therefore highlighting it in this INX exchange review is a must.
Not only this, but the company has Broker-Dealer and Alternative Trading System licenses. These are granted by both the SEC and FINRA, another significant regulatory body in the US.
The Broker-Dealer license[3] enables INX to buy and sell securities for its own account or on behalf of its user base, offering a broader range of investment opportunities than what's commonly found on more basic crypto exchanges.
The Alternative Trading System license[4] allows INX to match buyers and sellers to facilitate trades in a way that is similar to a traditional exchange. The result is a multi-faceted and robust platform that has utilities that stretch far beyond the average service or ecosystem found in this industry.
Segregation of User Funds
What's also important to highlight in my INX exchange review is that, like practically every centralized crypto-based company, INX provides wallets for its users. However, there is one element that separates it from the rest.
This company has put additional measures in place to ensure that there is a genuine segregation of each person's wallet from their peers who use the platform. And better yet, this extends to the inner workings and capital of INX itself.
This means that there is no reckless or unusual intermingling of people's finances with each other, or with the company's happening under the hood and away from prying eyes. The money associated with your account is always yours and never mixed.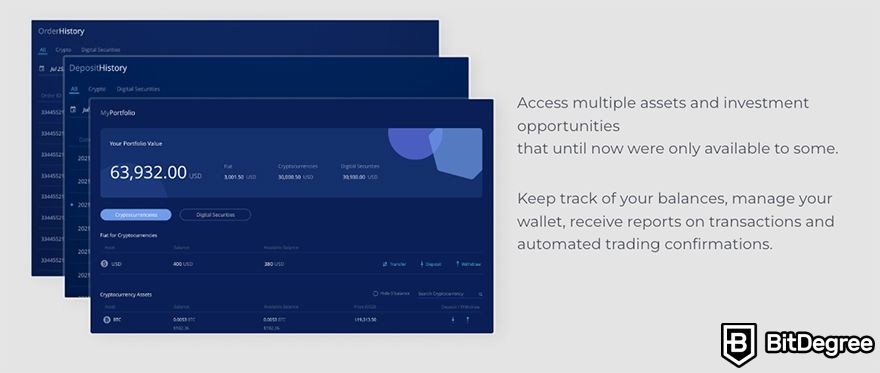 To further solidify this aim, each account comes with a fiat bank account and its own routing number. The latter is a unique nine-digit code that is traditionally associated with identifying financial institutions in the context of transfers and transactions.
In the case of INX, it serves to earmark each individual account, making sure that every deposit, withdrawal, or transaction can be precisely attributed to the rightful account holder.
The introduction of unique routing numbers is more than just a technical detail – it is a powerful safeguard. It adds an additional layer of traceability and accountability, allowing for a more transparent and secure financial environment within the INX ecosystem.
Some people may look at this and wonder whether it is a little too precautious and perhaps even unnecessary. However, it makes a lot more sense when you place it in the context of the crypto industry as a whole.

Bear in mind that the crypto space is still recoiling and licking its wounds in the wake of the massive range of issues that ensued from crypto lending firms such as BlockFi and Celsius Network collapsing.
It was revealed via court proceedings and official statements that these organizations did not always treat people's funds with the severity they deserved, and so money was sometimes used to cover company costs.
INX's fund segregation practices act as a preventative measure against this, as well as a way of conveying to their community that they would never act in such a way. In essence, it is a method of repairing the fractured trust that crypto enthusiasts have due to the actions of other companies.
Strategic Partnerships
Strategic partnerships are a common practice in the FinTech world, and especially in the crypto space. They are a way for companies to show their alignment with one another, share resources, and present a united front to their respective user bases.
However, veterans in this space will know that actions like this can often be cosmetic and designed to build trust without adding utilities. This is important to keep in mind within this INX exchange review, because the platform makes it abundantly clear that they are not simply doing this.
In fact, INX's partnership with Republic is anything but superficial, and this is noticeable from the moment you begin to explore its ecosystem. Republic is a private investment opportunity firm that aims to strengthen startups and funds, whilst also connecting them with potential investors.

This connects directly with what INX offers, especially in terms of its security tokens. If you take a detailed look at many of the tokens on offer, as well as its Primary Market Offerings, you'll notice that most of the companies listed there are actually connected to Republic's massive roster and web of companies and funds.
In effect, Republic is strengthening the capabilities of INX in a very intimate way. Though, not just through the utilities it provides, but there is a financial element, too. The company has offered INX a $5.25 million investment, cementing their relationship.
If you're wondering why am I talking about this in my INX exchange review's pros section, it's because partnerships are quite an important aspect. This specific partnership surely is a major positive, as it not only helps to add legitimacy but also further expands on the utilities of the service overall.
INX's Own Security Token
One more crucial aspect I want to talk about in this INX exchange review is the INX token. It is an integral part of the platform's initiative to facilitate secure and compliant transactions within its ecosystem. Though, note that INX is not your usual native token of a crypto exchange – it's a security token.
As a matter of fact, it is the first SEC-Registered Digital Security IPO issued on the blockchain. This company move was aimed at creating a legally compliant framework for the issuance and trading of digital securities.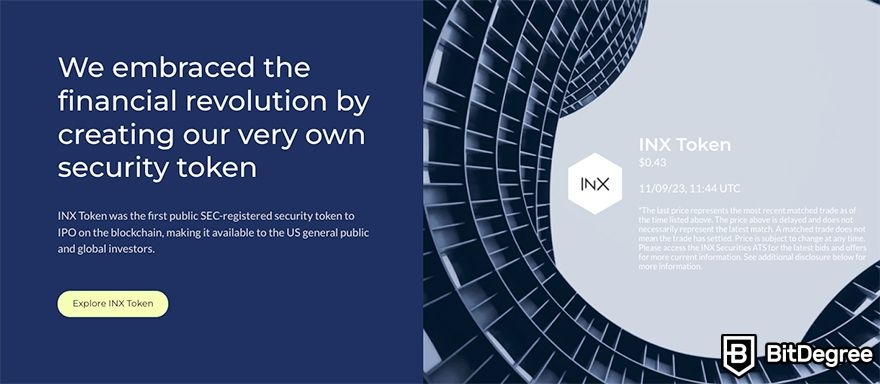 When it comes to the INX token use cases, there are two main ones – it is a security (as you already know) and a utility token. As a security, the INX token provides its holders with a portion of the annual pro rata distribution of INX's cumulative adjusted net operating cash flow.
As a utility, on the other hand, it enrolls holders in an exclusive reward program that provides them with discounts on INX exchange fees. The reward program is tiered depending on the number of INX tokens a user holds. The fee discounts increase accordingly.
| | | |
| --- | --- | --- |
| INX Token Holding | Tier | Fee Discount |
| 1,000 - 10,000 INX | Silver | 10% |
| 10,000 - 100,000 INX | Gold | 20% |
| Over 100,000 INX | Platinum | 40% |
Table: INX reward program tiers.
You can find the current INX token price on their website.

Did you know?
INX Exchange Review: CONS
Now, to strike a fair balance, let's shift the focus of this INX exchange review to the aspects that could be improved.
Limited Cryptocurrency Listings
While INX is proud of its cutting-edge security token listings, this does not diminish the fact that it also offers cryptocurrency listings, which is definitely necessary to consider when asking "how to trade on INX exchange?". However, many people may be disappointed to find that the company only provides a limited set.
There are only a handful of cryptocurrencies on the INX market. As of writing, it supports BTC, ETH, ZEC, LTC, USDC, AVAXC, UNI, CRV, FTM, and AAVE. This is no doubt a decent range of both top-level and middling coins and tokens. However, it is still undeniably small in terms of quantity.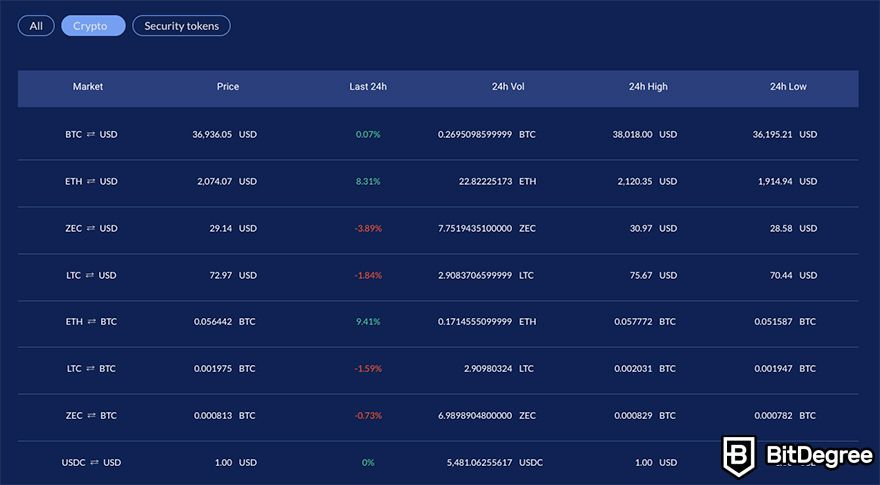 For those who are huge fans of engaging in altcoin trading, perhaps as a way of diversifying their portfolio or trying to find quick gains via day trading, they are sure to feel let down by this fact.
Though, depending on how you view this, it is fair to consider the limited range as less of a flaw and more of a feature. The reason is that its short roster is directly connected to the way that INX engages with its vetting processes. As mentioned earlier, INX checks the details and intricate histories of each cryptocurrency it lists.
This is not to say that the vast majority of the crypto market is not worthy of INX's representation on its market, but rather it is a sign that the industry is so unique and diverse that many assets will not pass INX's scrutiny. It may also be a sign that it simply takes a very long time to vet a cryptocurrency.
Higher Fees
Another downside that I've noticed was pointed out in several INX reviews is that INX exchange fees are quite costly compared to some other exchanges. I'll discuss the platform's pricing structure itself a bit later, but what I can say now is that small-time traders might definitely be startled by its fees.
However, when it comes to stats such as high fees, it helps to take an overall view of the company as a whole. While I cannot confirm it, my research for this INX exchange review has led me to theorize that the higher fees are connected to the rigor that the company does when it comes to vetting cryptocurrencies and building the architecture for their security tokens.

It is hard to conceptualize just how much work goes into such matters, but they will naturally require a lot of time and effort from the team. The higher fees could then be viewed as a premium that people are paying to have access to a list of preapproved and carefully analyzed assets.
Besides, don't forget that INX token holders get fee discounts, and you can even get up to 40%, which is a lot! So, what does the INX exchange pricing structure look like?
INX Exchange Pricing
INX exchange pricing might seem a bit complex, but let's break it down together. There are two fee structures – one for cryptocurrencies and another for security tokens.
INX Exchange Pricing for Cryptocurrencies
When it comes to cryptocurrencies, the trading fees are based on a maker-taker model, but there are no tiers based on the trading volume, as is the case with many other exchanges. The maker fee is 0.3%, while the taker fee is 0.4%.
Then we have cryptocurrency deposit and withdrawal fees. There are no crypto deposit fees, while withdrawal fees are based on the asset in question. For example, Bitcoin has a 0.0005 BTC withdrawal fee, while Ethereum has a 0.013 ETH fee.
Lastly, there are fiat deposit and withdrawal fees, which depend on the payment method. International and US wires have no deposit fees and a $35 withdrawal fee, while credit / debit card deposits have a 3.75% fee and no withdrawal fees.
Besides that, there is an option for converted withdrawals and deposits that have a 1.2% fee. What are those, though? Well, when it comes to a withdrawal, for example, the amount of USD you want to withdraw can be converted to ETH or USDC and sent to your MetaMask wallet (INX facilitates transactions through this wallet). Talking about deposits, it's vice versa.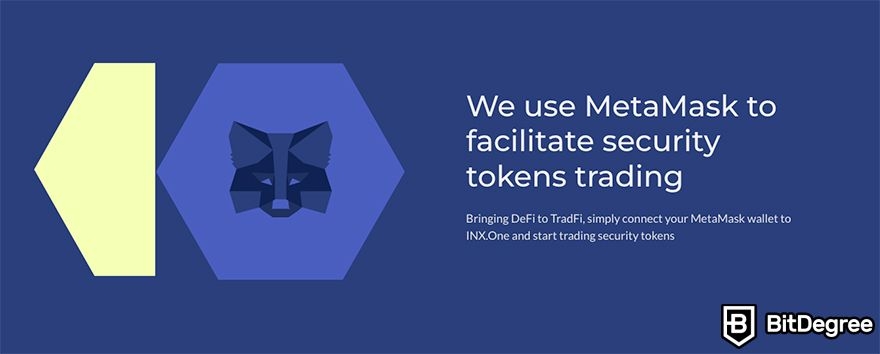 INX Exchange Pricing for Security Tokens
Security token trading fees are different. For starters, there is an overall 0.45% trading fee. In addition to that, there is an Ethereum trading settlement fee ($25 per order) and a security address whitelist fee ($25 as well).
Speaking of fiat deposits, there are no fees. However, there are fiat withdrawal fees that depend on the payment method (unless you're making an ACH withdrawal, which has no fees). US wire withdrawals cost $25, while international wire withdrawals cost $55 (additional third-party bank fees may apply as well).
Lastly, there is a 1.2% crypto deposit (ETH_USDC) fee. Also, note that the minimum order size is 100 INX.
How to Use INX Exchange?
Now that we got over the theoretical part of this INX exchange review, let's talk about the practical part - how to use INX exchange or, to be more precise, how to sign up.
Step 1: Head to the homepage and click on the "Get started" button at the top right corner.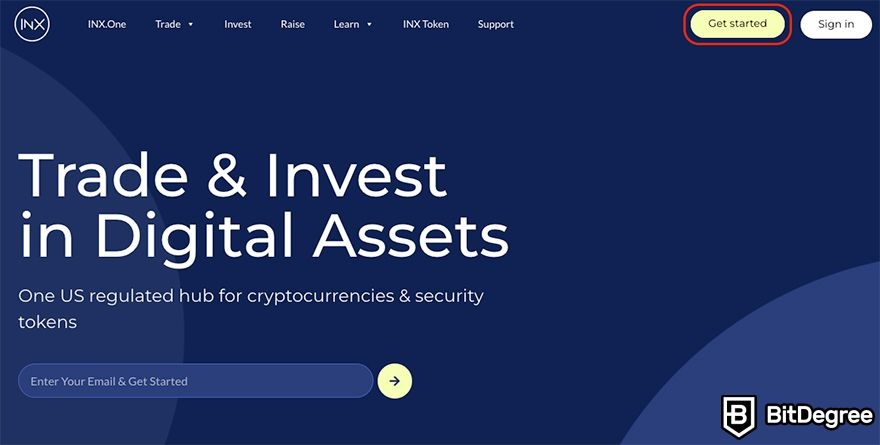 Step 2: You will then be taken to a page where you can create an account. So, enter your email address and come up with a password. Don't forget to tick the box to accept the privacy policy (after reading it, of course), and then click "Join".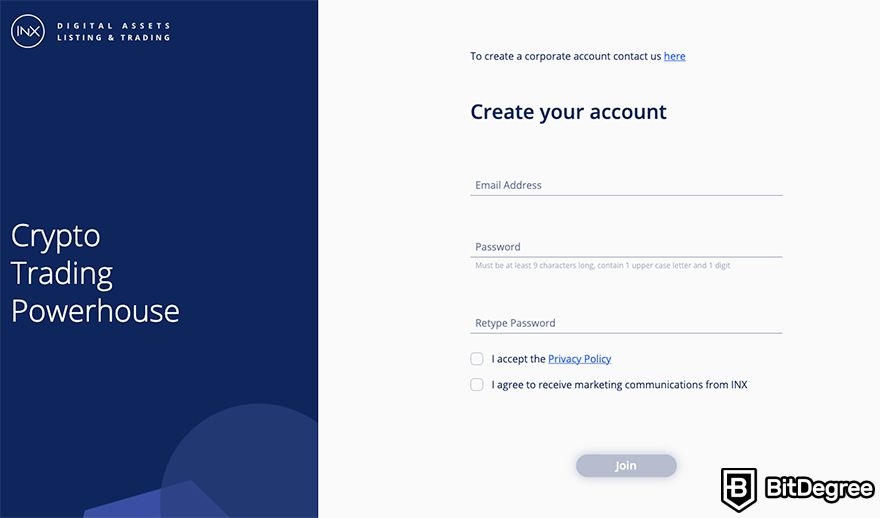 Step 3: The first thing you'll need to do after registering on INX is confirm your email address.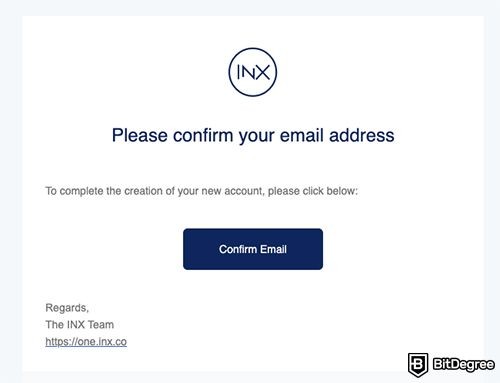 Step 4: Once you do that, you'll be taken to a page where you'll have to enter your personal info. Do that and then press "Next".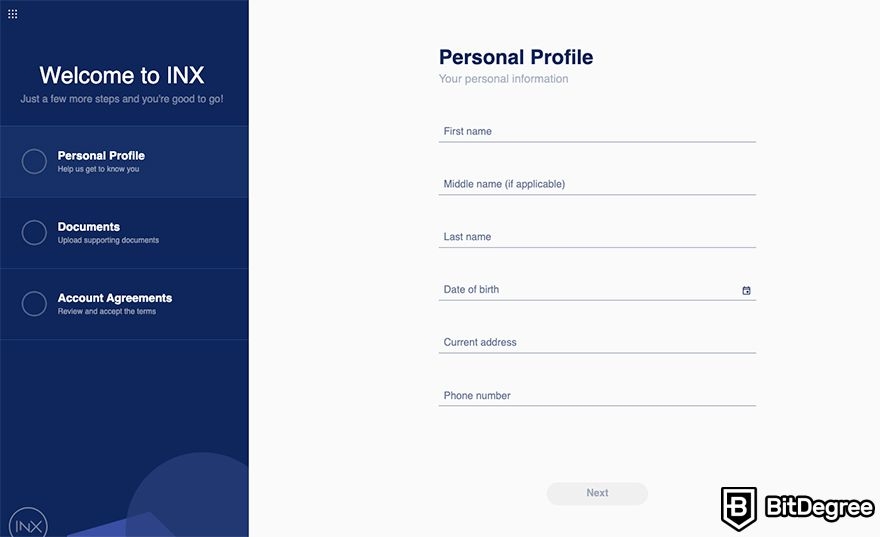 Step 5: You'll be asked to enter your employment details. Input this and press "Next" again.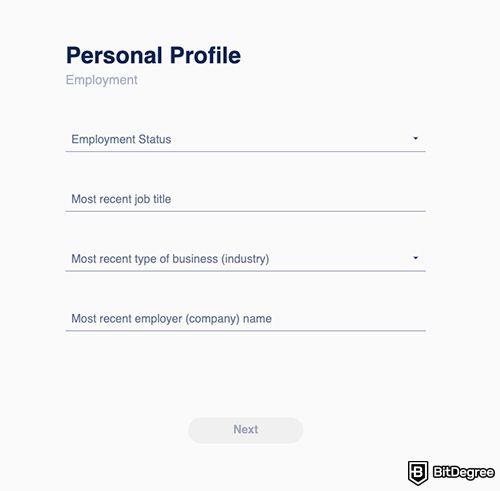 Step 6: Afterwards, you will be asked about your investment experience, and what your income is like. Answer these and then check the box that states you understand the risks involved. Then press "Next".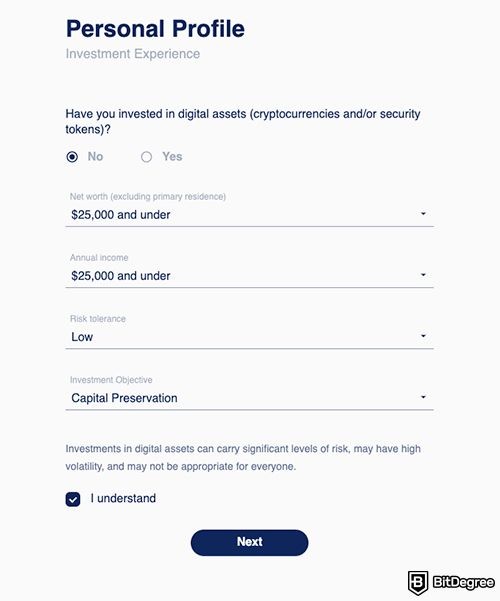 Step 7: The final (and quite major) step is to verify your identity by uploading your ID and proof of residency. This is for KYC and AML purposes. Once your verification documents are confirmed, your account will be set.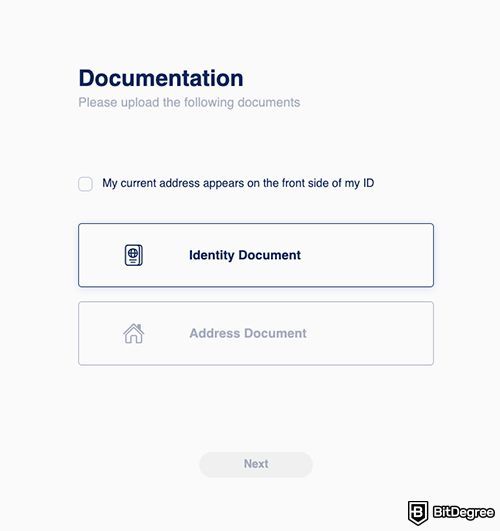 I have to say, the registration process on INX does take a pretty long time. Some user INX exchange reviews might even find it annoying. However, this is the cost of having strong security measures set in place – INX must verify its clients thoroughly.
So, now you know how to use INX exchange in terms of registration. Further investigation and exploration on the platform will help you understand how to trade on the INX exchange as well.

Pros
A very well-known crypto exchange platform
More than 500 different cryptos available
Two-factor authentication
Main Features
Over than 100 different cryptocurrencies available
Strong security
Small withdrawal fees

Pros
Secure and reliable
Low fees
A good amount of fiat currencies accepted
Main Features
Reputable exchange
Multiple fiat currencies are accepted
Relatively low trading fees

Pros
Anonymous trading
Secure
Supports a variety of cryptocurrencies
Main Features
Easy to use
Low fees
Good security
Conclusions
To sum up this INX crypto platform review, I can say that, for one, it is surely a well-rounded digital asset marketplace that provides users with both crypto and security token trading opportunities (and even a security token launchpad for companies).
Furthermore, the answer to the question "is INX exchange safe?" is pretty obvious if we take into consideration the fact that it is fully compliant with SEC regulations and employs fund segregation practices to safeguard users' assets even further.
However, it does have a smaller crypto asset collection compared to some other crypto exchanges. Besides that, INX exchange fees are definitely considered to be on the higher end.
Either way, though, my INX exchange conclusion is that it is a solid and impressive ecosystem that is definitely worth people's attention, especially those interested in security tokens. Give it a try, and see for yourself whether it suits your needs!
The content published on this website is not aimed to give any kind of financial, investment, trading, or any other form of advice. BitDegree.org does not endorse or suggest you to buy, sell or hold any kind of cryptocurrency. Before making financial investment decisions, do consult your financial advisor.
Scientific References
1. P. P. Momtaz: 'Security Tokens. The Emerald Handbook on Cryptoassets: Investment Opportunities and Challenges';
2. K. L. Penrose: 'Banking on Bitcoin: Applying Anti-Money Laundering and Money Transmitter Laws';
3. U.S. Securities and Exchange Commission: 'Guide to Broker-Dealer Registration';
4. U.S. Securities and Exchange Commission: 'Alternative Trading System ("ATS") List'.
About Article's Experts & Analysts