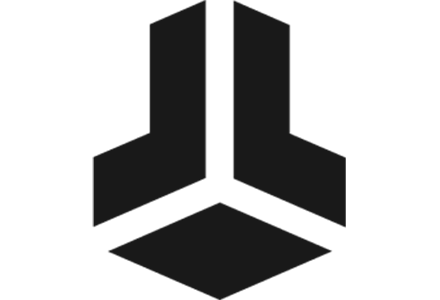 If you're looking to start your journey in the world of crypto, one of the very first things that you'll need to take care of is a cryptocurrency wallet. The variety of choice when it comes to cryptocurrency wallet products is, admittedly, vast - you could go with anything from a browser extension, all the way to a hardware device. If the latter sounds more like your thing, then this BitBox review might pique your interest!
The BitBox wallet is created and offered by a company known as Shift Crypto. It's a direct competitor to hardware crypto wallet giants such as the Ledger Nano X, or the Trezor Model T. However, is it truly a worthy competitor?
Well, that's exactly what we'll try to establish in this BitBox02 review! That's right - that "02" is an important detail here, too! Worry not - I'll explain everything as we get into the actual review. We'll also cover BitBox VS Ledger and BitBox VS Trezor comparisons, so if that's something that interests you, stick around!
Pros
Top-tier security features
Desktop and mobile app
DeFi support
Simple to pick up and start using
Cons
A bit expensive
No iOS support
A limited number of supported assets
BitBox Review: PROS
To start things off, before we get into the actual features and benefits of the BitBox wallet, let's first answer a few common questions associated with the product in question.
As I've mentioned in the introductory part of this BitBox review, BitBox is sold by a company known as Shift Crypto. This is why some people get confused when they want to purchase BitBox, and end up on a website with a different name. Worry not, though - if it's the official Shift Crypto website, you're in the right place!
Following that, you've probably also noticed that this is a BitBox02 review. Indeed, there are (were) two versions of the BitBox wallet - BitBox Digital, and BitBox02. The former wallet, however, is discontinued - the 02 version now stands in its place, as a new-and-improved wallet.
With that out of the way, let's get to the actual features of the wallet - and what better place to start than the aspect of security?
A Secure and Well-Designed Crypto Wallet
It's no secret that security really is the name of the game, when it comes to crypto storage. That's kind of the whole point of crypto wallets, in general - to keep your crypto assets safe and sound -, and the BitBox02 cryptocurrency hardware wallet is no exception!
I'm happy to say that, as far as the new-and-improved BitBox is concerned, you can expect to find all of the industry-standard security features within the wallet in question!
Starting things off from the top, BitBox has three secret data points that a potential hacker or thief would need to gain access to, in order to compromise your wallet's security. All three (well, two) pieces of data are randomized - a secret on the secure chip within the wallet, a secret on the microcontroller, and lastly, your own, personal password.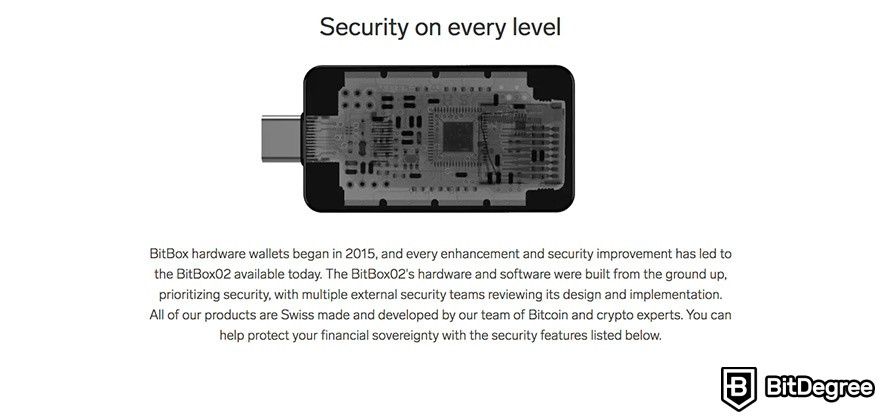 That's a lot of data needed in order to compromise your wallet, and it certainly goes on to legitimize the BitBox hardware wallet, security-wise. However, it's also just the beginning of the security features you could come to expect from this particular device.
The wallet has a special bootloader that would only allow you to access the device if you're doing so from the official software of Shift Crypto. Not many user BitBox reviews mention this, but it's a great way to prevent you - the holder of the wallet - from accidentally logging into your wallet via some sort of a fake, scammer-made application that's pretending to be the real thing.

The wallet is also sturdy and well-made, too - it's something that I'll elaborate on a bit later in this full BitBox02 review, but it's worth mentioning here, too. It's a different kind of security, but you don't need to worry about your wallet falling apart from being cheaply-made, or even simply lacking quality, in a general sense.
In addition to a variety of other security-related features, the BitBox wallet also has external security audits to prove itself in the security area, even further (BitBox02 was audited by Census Labs), as well as an active bug bounty program that you can check out, at any point in time.
Lastly, It's would be incredibly disingenuous not to mention the fact that the BitBox hardware wallet is open-source. This was true with the original BitBox wallet, as well as with the 02 model, too.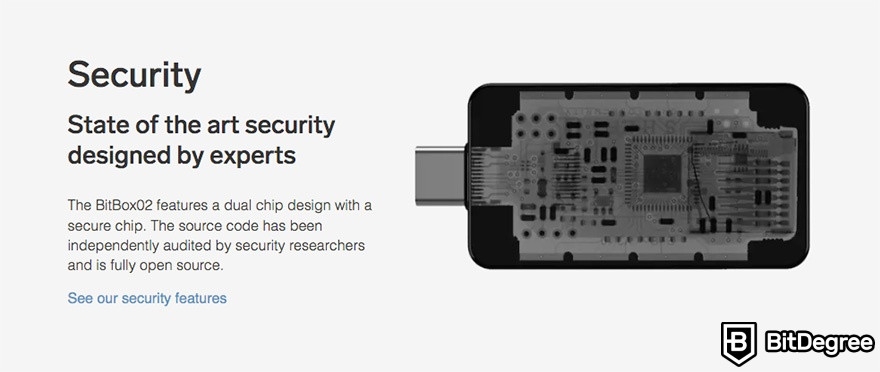 Being open-source, the code behind the wallet is available to be checked and audited by anyone who's at least a tad bit code-savvy. To add to that, people wondering what is BitBox will also be happy to find out that the open-source nature also means independent, freelance developers can submit their updates and changes to the BitBox wallet. It's a great way to get the community behind the project!
All in all, as far as this full BitBox02 review is concerned, the wallet in question is definitely one of the more-secure options on the current market. It follows all of the industry trends, as far as security updates are concerned, which is always a good thing!
A Decent List of Supported Assets
If you're reading this BitBox review, chances are that you're looking for a high-end wallet for yourself. So, your train of thought probably looks a little like this - security is at the top of the priority list (it definitely should be!), and then, once that's settled, the next big thing to look into is asset support.
To be a bit more specific, when searching for the best crypto wallet option for yourself, you really need to look into the networks that your wallet of choice supports, as well as the number of crypto assets that you'll be able to store and safekeep within it.
When it comes to the BitBox wallet, things are quite… Interesting. Allow me to explain.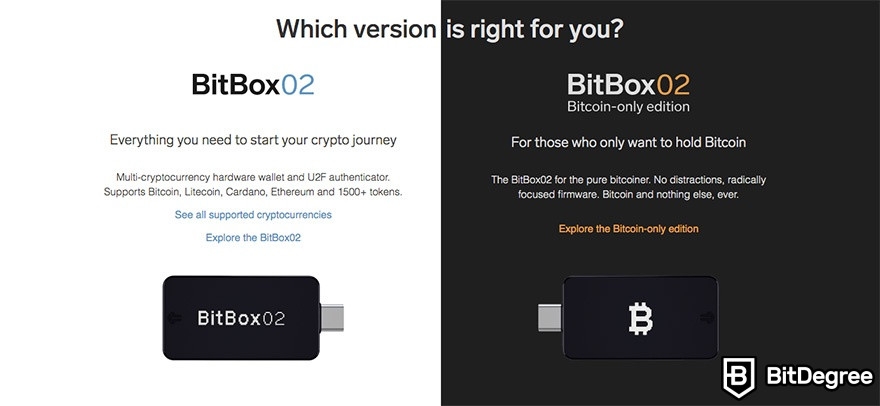 For starters, it would seem that the original BitBox wallet did not support all that many cryptocurrencies, as far as their variety goes. Judging from user feedback, you could store some of the main assets on the wallet, but that's about it.
Now, if you were to look online, at user BitBox reviews, you would likely notice that they offer different explanations for the 02 version of the wallet. Some users claim that the device supports a wide selection of cryptos, while others - that you can still only store the main coins and tokens.
So… What's the reality, then?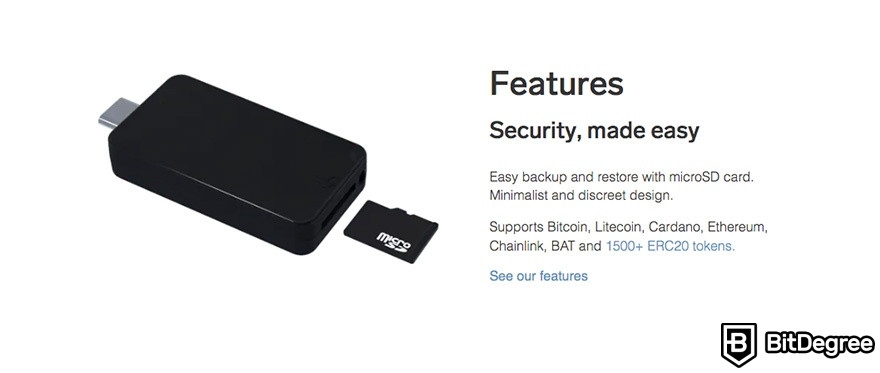 Honestly, things are pretty simple - and all that you need to do to get that question answered is take a look at BitBox's front page!
The company behind the wallet claims that the device supports the Bitcoin, Ethereum, Litecoin, Cardano, and Chainlink networks, as well as over 1500 different ERC-20 (otherwise known as Ethereum) tokens.
That's a decent number of supported assets and blockchains! What it means is that you will be able to store many (most?) of your assets within the single BitBox hardware wallet, if you so wish to.
To be fair, that's not the suggested thing to do, but it's still a possibility, either way, especially if you're not looking to diversify your portfolio with some very niche assets, or ones that are based on the TRC-20 or BEP-20 tokens standards.
DeFi Support
DeFi stands for "decentralized finance". It's a topic that has gained unparalleled popularity over the last few years, within the crypto space. Put simply, it refers to a new financial sector powered by blockchain technology.
Since it's as popular as it is, DeFi has been in the sights of multiple cryptocurrency wallet brands and creators, too. Whether it be open-source, DAO-powered projects, or some of the more-custodial wallets (such as that of Binance or Coinbase), all of them are aiming to provide their users with safe, reliable, and simple-to-use DeFi functionality.
As far as this BitBox review is concerned, the situation isn't at all different with the BitBox wallet, either.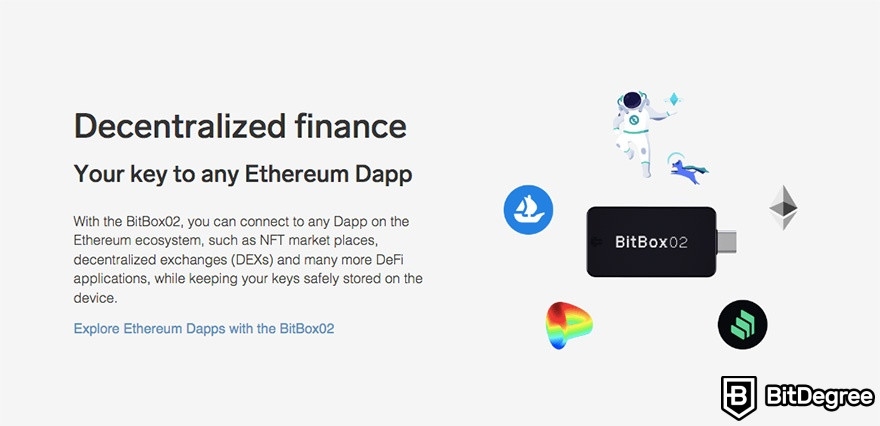 If, after learning what is BitBox, you were to purchase and use this particular wallet, you would be able to connect to any dApp (decentralized application) that's based on the Ethereum blockchain.
Granted that ETH is *the* main blockchain on which dApps are built, this definitely opens up the doors to a huge new world of DeFi to the users of the wallet!
As you use your dApp of choice, your secret keys will be stored safely in your wallet. This, in turn, provides advanced security, and allows you to browse your dApps of choice with a bit more ease of mind.
A Simple-to-Use User Interface (Desktop & Mobile)
UI design, while not being the core focus of a crypto wallet, is still a very important point that you need to take into account, when choosing the best wallet for yourself, and as you try to figure out what is BitBox, too.
The above-made point is especially important if this is going to be your first cryptocurrency wallet experience. If you're a beginner in the world of crypto, there's enough confusion to be had, already - feeling like you need to finish a college degree in order to navigate your cryptocurrency wallet isn't something that most people would enjoy!

Granted that this is a full BitBox02 review, it's a topic that we do need to cover, too. That being said, I'd like to point out that, if you'd like to learn how to use BitBox, step-by-step, I might be writing a dedicated "how-to" tutorial on this topic, too - keep an eye out for that!
The user interface on the BitBox hardware wallet's app is, admittedly, well-designed and simple to navigate. It's minimalistic, doesn't overbear you with a load of advanced features straight out of the gate, and it also has some guides that can help you "learn the ropes", so to speak.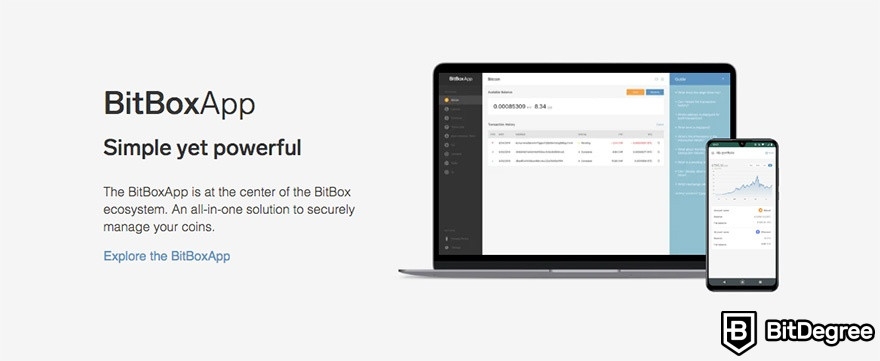 There are two versions of the interface, too - one for your computer (laptop or PC), and one for your mobile device. That device, though, must be based on the Android operating system - we'll get to that in a minute.
Mobile app-wise, you could make the argument that BitBox is even simpler to use! The interface is clean and streamlined, and even if you're a complete newbie in the space, you shouldn't face any difficulties navigating and using the app, in general.
All in all, as far as UI design goes, it's definitely one of the stronger sides of the wallet, which is why it's certainly a benefit, as far as this BitBox review is concerned.
Latest Ledger Wallet Coupon Found:
30% OFF LEDGER NANO
Save Big on Ledger Nano Colors
Choose your favourite Ledger Nano colors & enter the Ledger discount code at the checkout - instantly get 30% OFF. Don't miss this limited-time Ledger sale!
Expiration date: 13/06/2023
1,283 People Used
Only 54 Left
BitBox Review: CONS
Now that we've got the major features of the BitBox02 cryptocurrency hardware wallet out of the way, in order to continue our full BitBox02 review, we do also need to take a look at some of the less-positive sides of the product, too.
After all, it wouldn't really be a full review, if this were something we'd omit!
To be fair, though, there aren't all that many complaints that users of the wallet would have. Among the biggest ones, however, would be the lack of iOS support.
No iOS App Support
As I've mentioned earlier in the BitBox review, you may use the BitBox wallet app on either your personal computer, a laptop, or a mobile device. If you choose the latter option, though, you will only be able to use the application if you're an Android user.
In other words, BitBox doesn't have an iOS version of the wallet interface.
The reasoning behind this is unclear, but it probably has to do with the strict regulations that Apple has, in regards to its mobile app store. This, however, isn't much condolence to any iOS device user out there.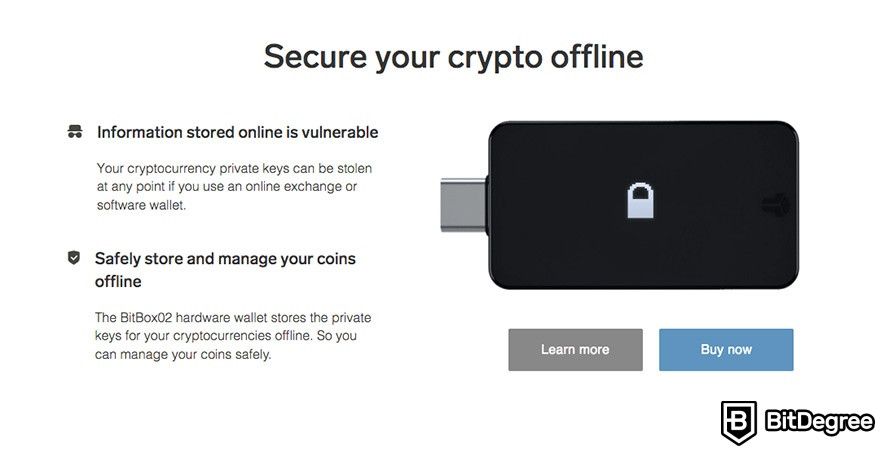 Naturally, you may always opt to use the wallet interface on your computer - that remains an option. That being said, these days, mobile wallets (and wallet visual interfaces, at least) are the go-to option for many people around the world. They are convenient, simple to navigate, and available to be used on the go. Not something that can be said with many exclusively PC-based wallets.
In short, the fact that the BitBox wallet does not have a dedicated iOS wallet interface isn't quite ideal - if you're an iOS user yourself, you will need to look for other alternatives.
Number of Supported Assets Could be Better
Earlier on in the BitBox02 cryptocurrency hardware wallet review, I pointed out the fact that BitBox supports a pretty decent number of different assets. As a refresher, the supported networks include:
On top of that, there are also over 1500 different ERC-20 tokens, too. Now, while these stats are just that - decent -, they could honestly be a bit better, too.
This is especially true when you compare BitBox with industry-leading hardware crypto wallets, such as the Ledger Nano X. That's something we'll get to in a bit, though.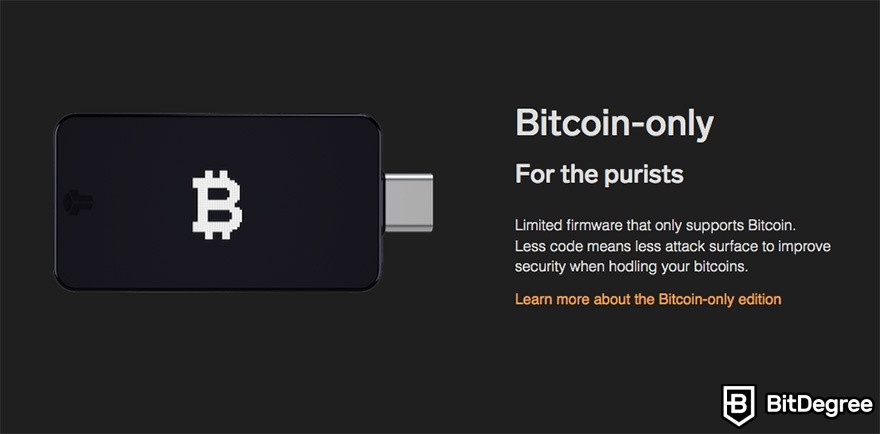 Comparisons aside, even as a standalone product, user BitBox reviews point out that multiple other wallets these days offer NFT support, as well - translated into "crypto-speak", this would mean ERC-721 or ERC-1155 token support.
If you're an entry-level day trader, or someone who isn't too concerned with portfolio diversification, then the number of supported assets offered by the BitBox wallet isn't going to be an issue - at least it shouldn't be.
On the flip side, if you'd like to store some of the more-niche tokens that are based on other networks (Binance Smart Chain, TRON, etc.), once again, you'll need to turn to some other hardware wallet products.

Did you know?
Price
It wouldn't really be a full BitBox02 review without looking into the pricing point of the wallet, now would it?
Looking through user BitBox reviews, as well as the wallet's official website, you'll find that there are two options for you to pick from - a Bitcoin-only edition of the wallet, as well as a multi-edition.
As the names might imply, the Bitcoin-only wallet will be exclusive to storing and keeping your BTC safe. On the other hand, if you're an altcoin owner, you should choose the multi-edition option. Both wallet versions are priced the same.
What's the price? Well, the BitBox wallet will cost you €129, as of me writing this BitBox review. Note, though, that the price is always subject to change.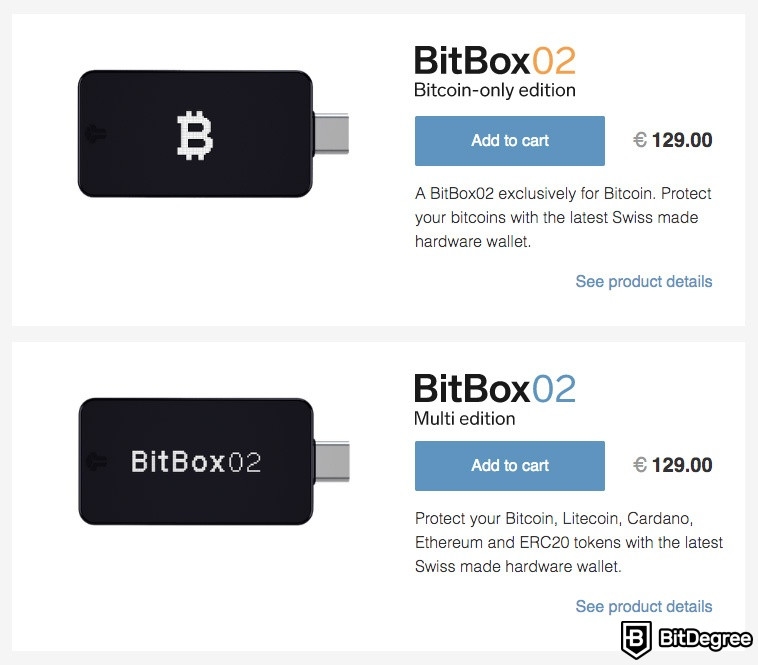 From a pricing perspective, BitBox is in-line with the industry giants - Ledger and Trezor. All three wallets dominate a similar price range, with Trezor sometimes being an exception (the Trezor wallets can cost quite a bit more).
This is both a good and a less-ideal thing, depending on how you look at it. On one hand, this makes BitBox competitive - the company takes pride in its Swiss-made product, and the pricing point reflects that well!
On the other hand, though, this also means that BitBox02 is priced similarly to some of the best-known wallets on the market. To some people, this could signal that this particular hardware wallet is rather expensive - why would you purchase a relatively less-known wallet, if you could go for an industry-leading name?
Well, of course, there are reasons to do so, and everyone has their own preferences, but you get the idea.
BitBox VS Ledger
To finish off our BitBox review, as promised earlier, let's compare the wallet in question with the two industry giants - Ledger and Trezor. We'll start off with the former.
Also, since BitBox02 is the latest high-end iteration of the company's products, it's probably only fair to compare it with the leading products from both of the aforementioned brands, as well. Thus, while we'll mention other products as they come up, with Ledger, the focus lies on the Nano X.
Table: Some general information on the Ledger Nano X hardware cryptocurrency wallet
Comparing BitBox VS Ledger, you'll immediately see that while both wallets share similarities, they are also very different products, too. Ledger is, admittedly, a household name, and undoubtedly the most popular and well-known cryptocurrency wallet brand in the world - its main Nano X model is the go-to option for many crypto fans!
The Nano X is an advanced, top-of-the-class wallet that supports over 100 different network apps at the same time, and allows you to store a huge variety of assets. The Nano X features a pretty big display screen, but is still subtle, as a whole - same as the BitBox hardware wallet, the Nano X goes for a sort of a USB stick design, albeit both wallets would be very different looking USB sticks.
Table: Pricing information of the Ledger Nano X
The Nano X also features fantastic simplicity, both when it comes to the wallet itself, and especially the user interface, called Ledger Live. The one area where BitBox appears to exceed, however, is the wallet setup process - multiple user BitBox reviews note how this particular wallet is simpler to set up than most other hardware products.
In conclusion, as far as the BitBox VS Ledger comparison goes, Ledger still remains the leader, in the eyes of most people. Sure, both wallets offer somewhat different features, and BitBox does have some stronger sides, when compared to Ledger's Nano X, the latter name has managed to become synonymous with hardware cryptocurrency wallets, as a whole - that kind of speaks for itself!
BitBox VS Trezor
Trezor is another big name in the crypto space. BitBox VS Trezor is also another common comparison that people make, when trying to figure out which wallet is superior, and a better option for their own, personal situations.
Same as with Ledger, let's focus on Trezor's high-end model - the Model T.
The Trezor Model T is one of the pricier hardware wallets you're bound to come across. As of writing this BitBox review, the Model T retails ar €301,29 - that's far more than twice the price of a brand new BitBox! In that regard, our wallet-in-review is definitely superior.
Table: Some general information on the Trezor Model T hardware cryptocurrency wallet
Having said that, though, same as Ledger, Trezor has become a sort of a household name, in the cryptocurrency wallet industry. It's one of the oldest wallet brands around, and comes equipped with a huge array of features and benefits to offer to the user.
Unlike BitBox02, the Model T is bigger and much bulkier - however, it does feature an intuitive touchscreen display. This device also stands out from the crowd since, unlike the aforementioned Ledger and BitBox wallets, it features a rather unmistakable design.
With the Model T, the list of supported assets ranges at around 1200. This includes both crypto tokens, as well as different coins, from various blockchains. While the number is similar to that of BitBox, the Trezor Model T supports more blockchain networks - a point worth mentioning and considering.
Table: Pricing information of the Trezor Model T
When comparing BitBox VS Trezor, and putting both wallets side by side, metaphorically, one thing that becomes evident is that they are going to cater to some quite different groups of crypto enthusiasts. On one hand, BitBox is a much more approachable product - it's like a well-designed entryway into the world of crypto, for any newbies out there.
On the flip side, the Model T is aimed at individuals who do already know what they're doing, crypto-wise. This is reflected in the price point of the wallet, sure, but also in the rest of its functionality, as well.
Oh, and one, last thing - user reviews will tell you that, same as the BitBox02 cryptocurrency hardware wallet, the Trezor Model T does not support iOS devices, wallet visual interface-wise.

Pros
Can be managed from mobile device
Very secure
Supports more than 1500 cryptocurrencies

Pros
Top-tier security
DeFi app support
Store over 5500 assets, install up to 100 apps simultaneously
Conclusions
So, what's the conclusion here - in other words, is the BitBox wallet worth trying out, as a hardware crypto storage device?
Well, in short, reading through user BitBox reviews, the notion is pretty clear - while the industry-leading hardware wallets are still going to be superior, BitBox is definitely a decent option for anyone who's looking to try out a new product, and is concerned with the security side of things.
Indeed - BitBox utilizes all of the core security features that you might expect to find with a high-end hardware crypto wallet, which is definitely a notable point to consider! On top of that, the wallet doesn't possess a steep learning curve - even if you're just starting out, you should be able to pick it up, and start storing your crypto in no time!
Another great feature of BitBox is that there's DeFi support, on top of everything else. Meaning, if you're interested in checking out some dApps, you will be able to do so, without worrying that your assets will be compromised by the first malicious third party you come across.
All of that being said, if you're unsure whether or not BitBox will suit your wants and needs, do keep in mind that there are always alternative, time-tested options - in this case, those options would include Ledger and Trezor.
Thanks for reading my full BitBox review! Best of luck with all of your cryptocurrency-related adventures to come, and until next time!
The content published on this website is not aimed to give any kind of financial, investment, trading, or any other form of advice. BitDegree.org does not endorse or suggest you to buy, sell or hold any kind of cryptocurrency. Before making financial investment decisions, do consult your financial advisor.
Leave your honest BitBox review
Leave your genuine opinion & help thousands of people to choose the best crypto wallet. All reviews, either positive or negative, are accepted as long as they're honest. We do not publish biased reviews or spam. So if you want to share your experience, opinion or give advice - the scene is yours!