As traders search for the best free crypto trading platforms to meet their needs, the demand for such platforms has skyrocketed along with the growing popularity of cryptocurrency.
However, with so many options available, including the most popular platforms such as Binance, Kraken, and Bybit, it can be quite difficult for traders to determine the most suitable platform, regardless of their experience level.
Besides, do note that there are very few reliable platforms that actually offer completely no fees. Usually, exchanges offer zero-fees for certain assets. In other cases, they do provide you with such low fees that could basically be considered zero.
While this all might seem confusing now, don't worry, as I'm here to help you find the best free (or almost free) crypto trading platform sepcifically for you!
Whether you're looking for a beginner-friendly platform or one with advanced trading tools, I've got you covered! By the way, to ensure a comprehensive and fair comparison of all platforms, I will be using the same evaluation criteria for each as I take a closer look (you'll find them below).
The free cryptocurrency trading platforms that will be discussed are:
Without further ado, let's get to it!
Best Free Crypto Trading Platform: The Evaluation Criteria
When evaluating the best free crypto trading platforms, or the best crypto trading platforms overall, it is important to consider several criteria to determine the quality and relevance of each option. These criteria include, of course, fees, but also security, usability, range of cryptocurrencies and trading pairs, as well as customer support.
As you probably know, the fees charged by a trading platform can have a significant impact on profitability and should be considered when selecting one. Security is also crucial, as users want to ensure that their funds and personal information are safe from hacking and other security breaches.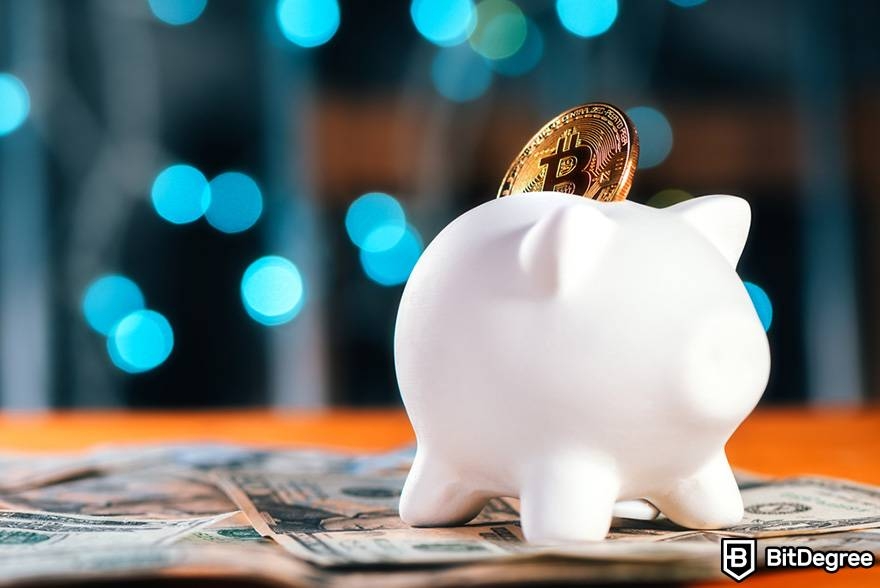 Moreover, usability is important because it encompasses the overall experience a user has while interacting with the platform, taking into account its user-friendliness, as well as the availability of advanced trading tools.
Now, the range of cryptocurrencies and trading pairs offered by a platform can impact its usefulness for investors looking to diversify their portfolios. And, last but not least, good customer support is essential in case users need assistance with their accounts or have any questions or concerns.
So, having cleared out the criteria I will use, let us now delve into the top free crypto trading platforms!
Ranks #1 out of 8 Crypto Exchanges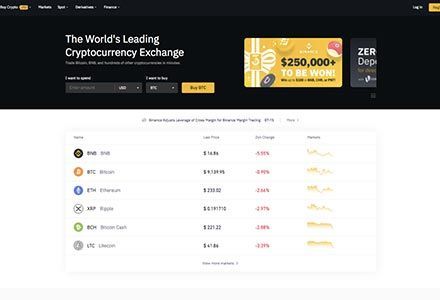 Things we liked:
+ A very well-known crypto exchange platform
+ More than 500 different cryptos available
+ Two-factor authentication
+ P2P trading option
+ Emphasis on security and KYC
+ Supports fiat-crypto acquisitions
Things we didn't like:
- Might be a bit difficult for beginners
CLAIM $600 BONUS
Exclusive $600 Binance Offer
Don't miss this limited-time deal that's only available for our readers. Follow the Binance referral code link & receive up to $600 in rewards and bonuses!
Expiration date: 02/06/2023
7847 People Used
Only 49 Left
When talking about the best free crypto trading platforms available, you can't forget to mention Binance! The platform was launched in 2017 and since then it has managed to build a good reputation and, on top of that, a loyal community.
This is all due to the fact that Binance has some pretty interesting benefits and features.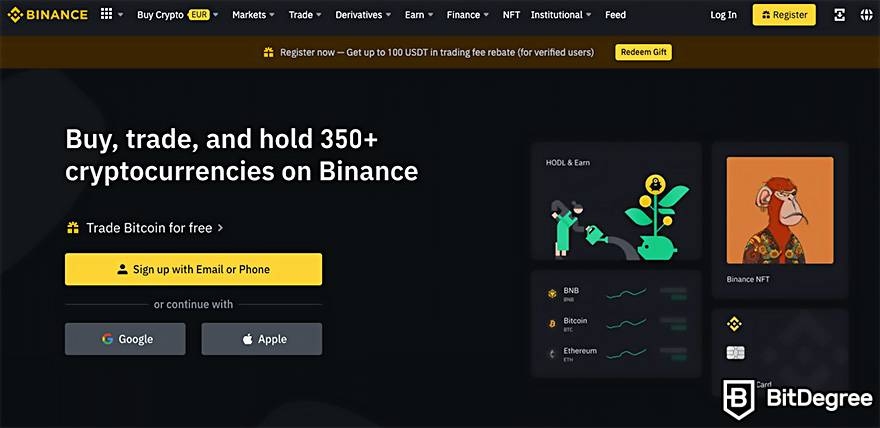 For example, this well-known platform has a large selection of cryptocurrencies, allowing users to trade, buy and hold more than 600 digital assets and trade more than 1000 pairs. When it comes to the diversity of digital assets, Binance is a top-notch exchange platform!
Furthermore, Binance is renowned for its high trading volume, which translates to excellent liquidity for customers. That said, Binance might seem over-complicated and not fit for beginners. However, that's not the case at all!
On the contrary, one of the key features of Binance is its user-friendly interface, which makes the trading experience easy for new and experienced users alike!
When it comes to Binance's perks, though, it doesn't end there, because I still have to mention the reason why Binance is included in this list of best free crypto exchanges: it has a zero-fee trading program.
This program is for trading BTC on the BTC/TUSD spot trading pair offered by the platform. What's more, Binance also has a zero trading fee promotion for the BUSD/USDT stablecoin pair.
By the way, for those of you who don't know, trading pairs are created by pairing two currencies together and assigning them an exchange rate. It refers to the simultaneous buying and selling of two different cryptocurrencies on the spot market, with immediate delivery of the assets.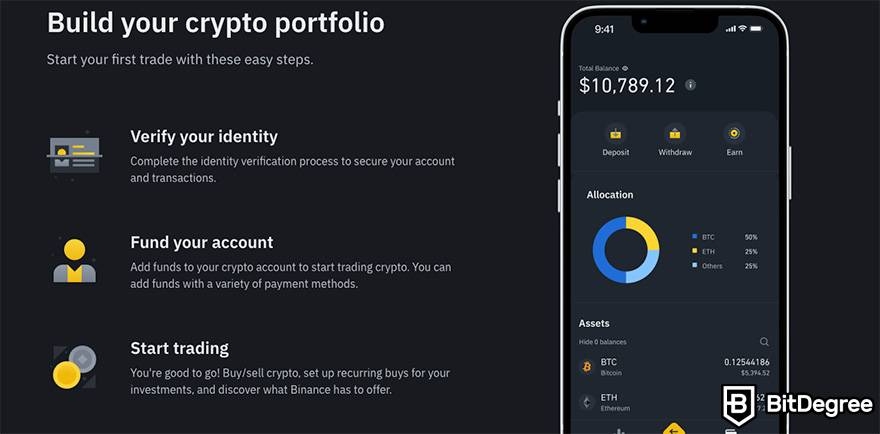 Now, while the program has no expiration date, the promotion, on the other hand, will only be available until June 2023. Those interested in Bitcoin trading can't miss the opportunity to trade without any costs and for unlimited time!
Now, even though Binance has a large selection of digital assets eligible for trading, the platform only extends its zero-fee program for a very small portion of crypto pairs. This can be a disadvantage to some, and an advantage for others.
If this program doesn't fit your profile and goals, though, don't dismiss Binance just yet, as this platform is known for having one the lowest trading fees in the crypto exchange market! So, even if you don't get a completed zero fee, by using Binance you can still trade almost for free - with the fees of up to 0,1%.
Therefore, being an extremely popular exchange platform that has really low fees, Binance surely deserves a shot, especially if you are interested in trading Bitcoin for free.
Ranks #2 out of 8 Crypto Exchanges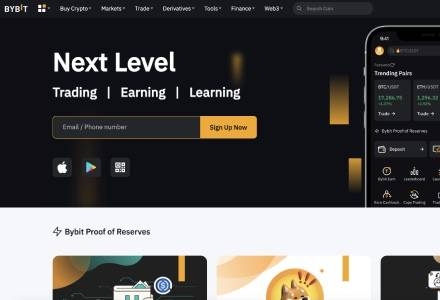 Things we liked:
+ Very low trading fees
+ Exceptional functionality
+ Mobile trading app
+ Helpful customer support
+ Up to 100x leverage
Things we didn't like:
- Might have a steep learning curve
Bybit has become a prominent name in the world of cryptocurrency, especially as one of the best free crypto trading platforms, thanks to its rising popularity in recent years.
While it started out as a crypto exchange that specialized in derivatives trading, it has since developed a robust spot market that enables users to trade, exchange, deposit, and withdraw multiple cryptocurrencies.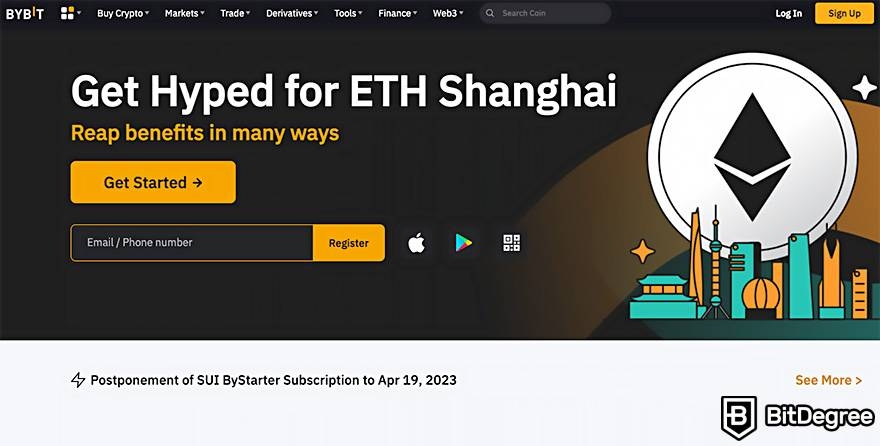 One of the primary factors driving its growth is Bybit's ability to offer a significant advantage as one of the most affordable cryptocurrency exchanges available!
To shed light on this matter, let me tell you how the Bybit fee system works:
Bybit operates on a tiered fee system based on your trading volume. Depending on how much cryptocurrency you trade, you may fall into one of seven tiers, ranging from "Non-VIP" to "Pro 3".
When trading at the Non-VIP level on Bybit, market makers and takers will incur a 0.1% trading fee, which is actually the highest fee charged by the exchange. However, by trading larger sums of cryptocurrency and advancing to lower tiers, traders can enjoy reduced fees as low as 0.02% for market takers and no fees for makers!
Those rates surely stand out in the market! Unfortunately, though, Bybit does not have any permanent program that reduces its fees to zero, meaning that Bybit is not a free cryptocurrency trading platform per se.
Nonetheless, its regular fees are almost free, given how low they are. That's why I included Bybit in our list of best free crypto trading platforms!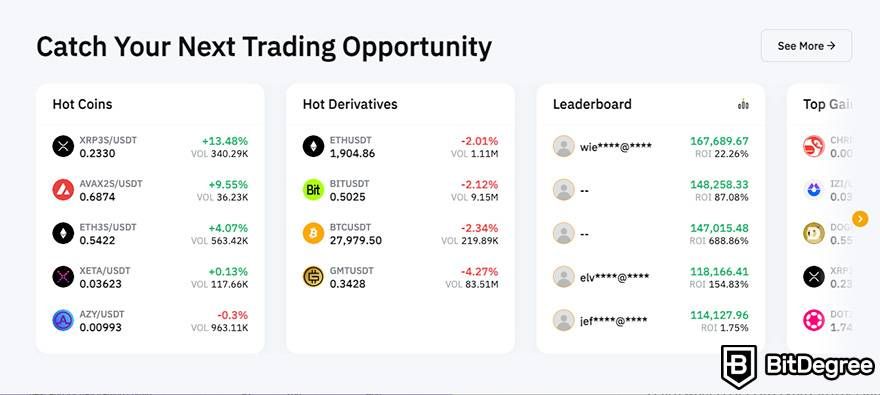 Now, regarding the other criteria I am using to analyze our options, Bybit doesn't provide access to the broadest selection of cryptocurrencies, like most other big trading platforms do.
However, when it comes to security, Bybit doesn't stay behind! The platform uses multi-signature wallets to ensure that all transactions are secure and protected. Additionally, it offers two-factor authentication (2FA) to all users, adding an extra layer of security to their accounts.
What's more, if you're seeking a platform that's both easy and intuitive, Bybit could be an interesting choice, because the platform is widely regarded as user-friendly, thanks to its streamlined interface and straightforward navigation.
This is mainly due to its customizable trading interface, which allows users to tailor the platform to their individual needs, making it a comfortable and seamless trading experience. Pretty nice, huh?
Also, Bybit offers its users access to 24/7 customer support, as well!
So, Bybit is undoubtedly one of the best free crypto trading platforms currently available. Its almost-zero trading fee policy, advanced trading tools, excellent security measures, user-friendly platform, and top-notch customer service make it an excellent choice for anyone looking to trade cryptocurrencies.
Ranks #3 out of 8 Crypto Exchanges
Things we liked:
+ Fiat currencies - accepted
+ Simple to use
+ Accepts only the most trustworthy cryptocurrencies
+ Very secure
Things we didn't like:
- Not available in all countries
- Some of the less-known coins aren't supported
$5 BTC BONUS
For New Verified Coinbase Users
Receive your $5 bonus in BTC when you sign up for a new Coinbase account & complete all photo verification steps. Follow this Coinbase referral link to activate the deal!
Expiration date: 02/06/2023
4989 People Used
Only 11 Left
Coinbase is one of the most used exchange platforms, alongside Binance, and it's also fit for our "best free crypto trading platform" list. Well, this comes with no surprise, considering it's a well-rounded platform, where users can buy, trade, discover, and manage digital assets.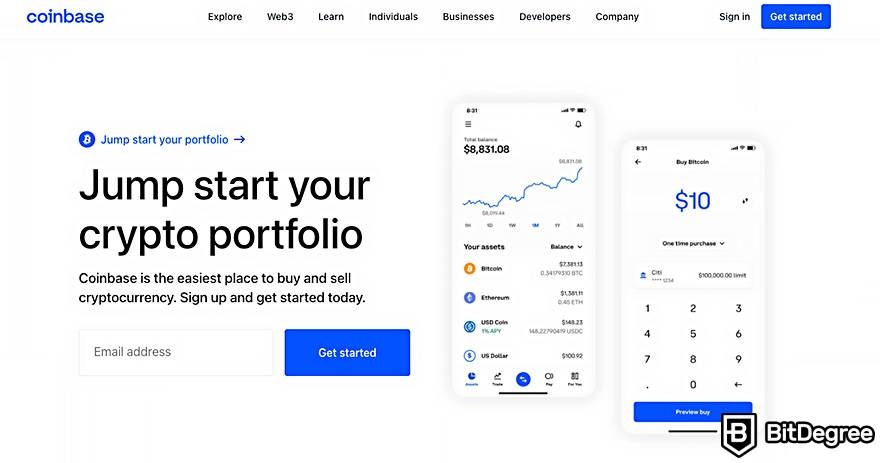 In addition to that, Coinbase is very strict with its security protocols, making it one of the safest crypto exchanges out there! The simplicity of its interface is also worth mentioning - it's very clean, which helps the users not feel overwhelmed when navigating through the platform. This is especially good for beginners.
Now, when it comes to fees, Coinbase doesn't perform that well: depending on the number of assets being traded or the user's country of residence, Coinbase's fee can vary from 1.49% to 3.99%.
With that being said, you might wonder, "Why is Coinbase on a list of the best free crypto trading platforms?" Well, that's because the platform provides a special benefit for members of Coinbase One.
Coinbase One is a subscription product launched in 2022. For $30 a month, eligible users can trade with zero fees, as well as have access to phone support 24/7, a $1M account protection, and a pre-filled form 8949 in Coinbase Taxes.
Seems like a deal, right? Admittedly, it's quite appealing, considering you know you will be investing in a great exchange platform. However, it does have some downsides.
Firstly, there is a limit to the amount of money you can trade for free - if you surpass it, you will have to pay regular trading fees. The volume limit is informed in the account settings, so, if you already have a Coinbase account and are interested in this product, don't forget to check that out.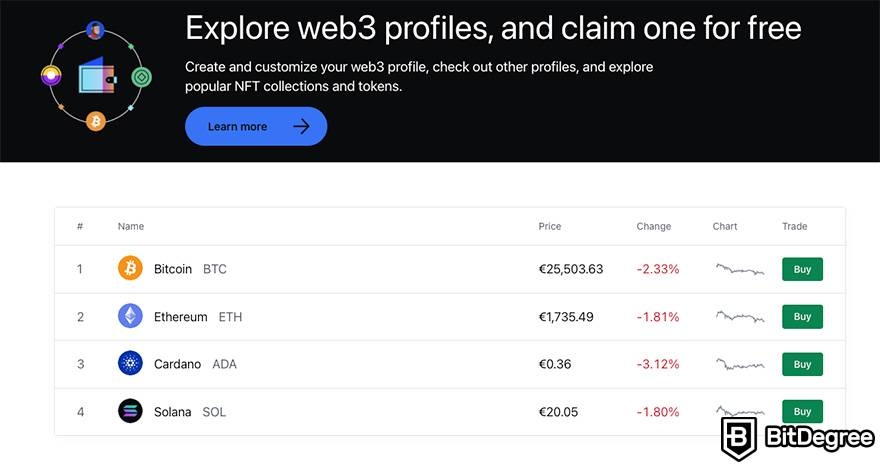 Secondly, Coinbase One is only accessible to US-based users. Though, that is the only requirement for this product - besides having to sign up on Coinbase, of course.
Thirdly, Coinbase fee-free trading is only available for the Simple Trade feature in Coinbase. This feature is the straightforward process of buying and selling cryptocurrencies specifically targeted toward novice traders.
However, this is not as much of a downside if Simple Trade fits your profile!
For those who want more advanced trading possibilities, there is Coinbase's Advanced Trade feature. As the name suggests, it is made for experienced traders who might want to use more complex trading strategies and tools. Though it does not offer zero fees.
Overall, regardless if you are a new or an experienced trader, Coinbase's product for cryptocurrency trading free-of-charge can still be a good option, if you aim for a platform that delivers high liquidity in a safe and secure system.

Did you know?
Ranks #4 out of 8 Crypto Exchanges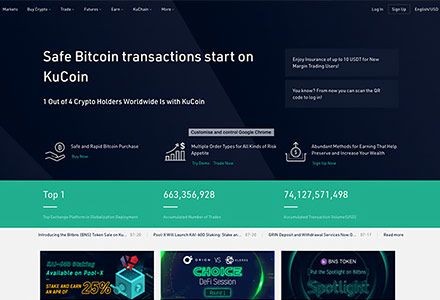 Things we liked:
+ Anonymous trading
+ Secure
+ Supports a variety of cryptocurrencies
Things we didn't like:
$500 BONUS
For New Kucoin Users
Use this Kucoin Coupon & get up to $500 in rewards. Sign up to Kucoin for huge perks & limited-time offers!
Expiration date: 02/06/2023
3984 People Used
Only 27 Left
KuCoin, the altcoin exchange that made its debut in 2017, has made a name for itself in the market as one of the best free crypto trading platforms.
What started as a platform for trading cryptocurrencies and derivatives has grown into a versatile platform that also allows the purchasing crypto with fiat currencies, including the more-niche assets.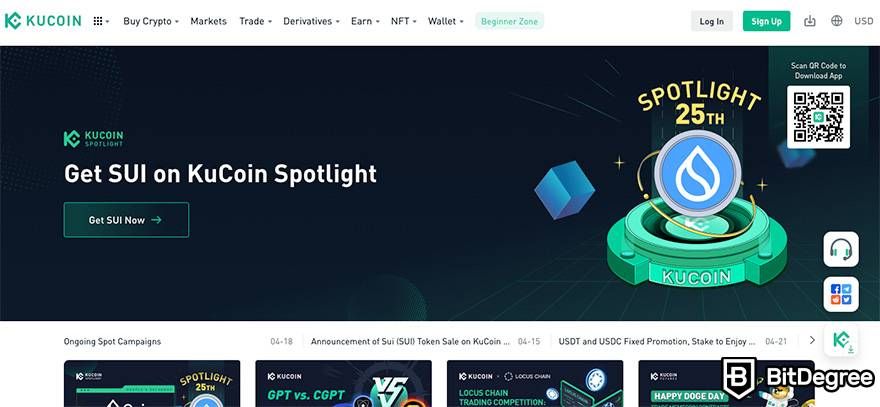 KuCoin has now even ventured into the world of non-fungible tokens, providing a platform for buying, selling, and trading these digital collectibles!
Besides, this exchange has captured the attention of both novice and seasoned traders due to its range of cryptocurrencies - it has more than 200 - and user-friendly interface.
Furthermore, KuCoin's commitment to protecting user accounts and funds is also noteworthy, with a two-factor authentication system and significant storage of funds in cold storage to ward off hacking attempts.
However, what truly catches the eye when it comes to KuCoin, is its competitive trading fees that begin at 0.1% for both market makers and takers.
As if that is not low enough, the platform even allows this rate to drop, going down to 0,0125%, according to your trading volume. In other words, the more you trade, the lower your fees are! This certainly makes KuCoin an ideal choice for frequent traders, right?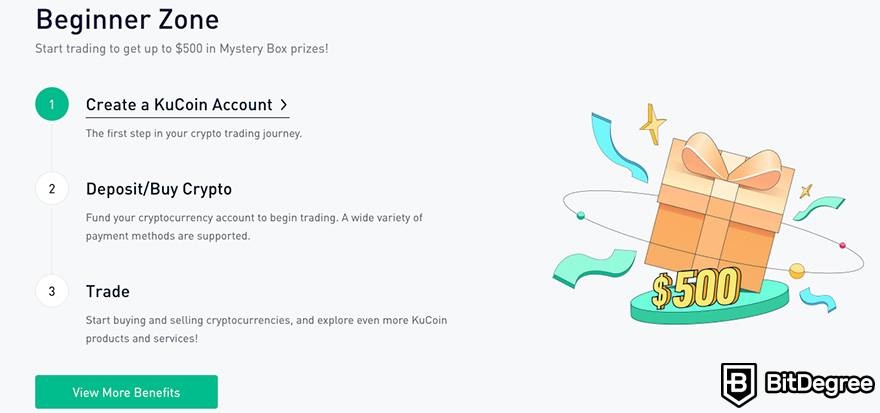 What's more, KuCoin has even introduced the 'Instant Exchange' feature that allows for the free exchange of Ethereum, Bitcoin, Litecoin, and XRP. This truly makes KuCoin a platform for cryptocurrency trading free-of-charge.
Yet, being a smaller exchange could be a disadvantage for KuCoin, leading to higher bid-ask spreads that may affect the profitability of trades. During periods of high market volatility, the platform may also experience slower order execution.
Although, these factors do not overshadow its benefits! KuCoin is a reliable and secure platform that offers a wide range of cryptocurrencies. It's truly a very interesting option for anyone looking to trade cryptocurrencies without incurring high fees.
Ranks #5 out of 8 Crypto Exchanges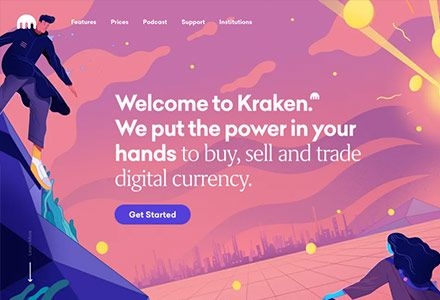 Things we liked:
+ Secure and reliable
+ Low fees
+ A good amount of fiat currencies accepted
Things we didn't like:
- Not the most helpful customer service
Fees As Low As 0%
Get 0% Fees By Trading With Kraken
Join Kraken today & start trading with fees as low as 0%! Save money with one of the top-rated crypto exchanges on the market.
Expiration date: 02/06/2023
2938 People Used
Only 47 Left
Kraken enables users to buy and sell various cryptocurrencies, as well as fiat currencies. It was founded in 2011 and, like the other platforms I mentioned, it has built quite a good reputation, especially as one of the cheapest exchanges in the market. In fact, Kraken without a doubt deserves the spot of one of the best free crypto trading platforms.
Yes, Kraken's fees go as low as zero - in other words, you can trade with a 0% fee!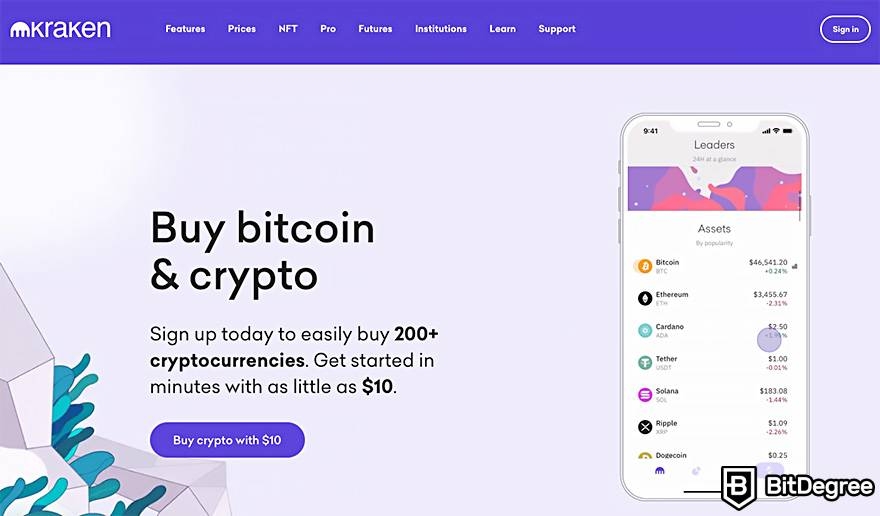 The fees can range from 0% up to 0.26% and are dependent on whether you are buying or selling. When buying, the fee is usually 0.16%, while when selling, the fee is usually 0.26%. The fees can also vary based on the currency pair being traded and your personal trading volume over a 30-day period.
Note that, if you plan to trade for free on Kraken, your trading volume will be limited. I mean, the 0% fee applies only to small amounts of cryptocurrencies.
Thus, high-volume traders won't benefit from this zero-fee structure. However, a 0.26% fee rate is still considered reasonable and affordable compared to many other crypto trading platforms in the market!
Now, regarding the range of crypto assets available, Kraken might not compare to exchanges like Binance and KuCoin, which offer more than 200 cryptocurrencies. However, Kraken is not bad either, as it still has some diversity - and, let's be real, most people focus on 2 or 3 assets, so having a huge range is not really necessary for most traders.
Moreover, one of the most important attributes of Kraken is its high level of security. The platform uses a multi-layered security approach to protect users' funds, including two-factor authentication, cold storage, and encrypted data storage.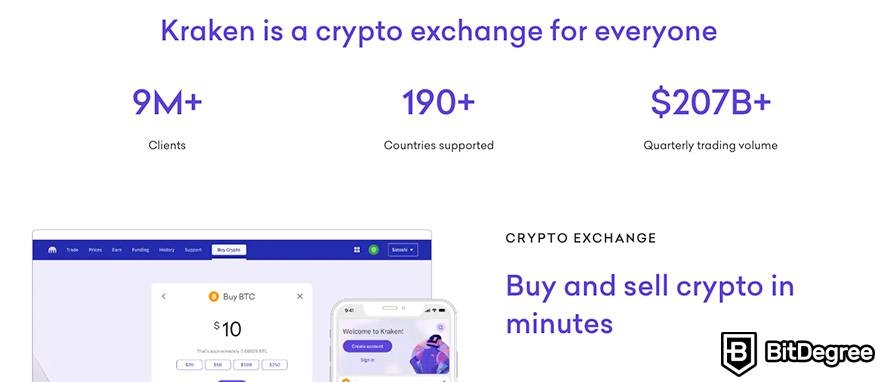 Additionally, Kraken is fully regulated and compliant with applicable laws and regulations, giving users peace of mind when it comes to the safety of their funds.
It also offers advanced trading features, such as margin trading and futures trading.
On the other hand, Kraken's customer support has been criticized as less than optimal compared to other platforms. However, it is worth noting that the company is actively working to improve it, and the situation may change in the future!
Overall, Kraken is an excellent choice, as it allows cryptocurrency trading free-of-charge, as well as provides secure and advanced trading tools, making it an attractive option for traders of all skill levels.
Ranks #6 out of 8 Crypto Exchanges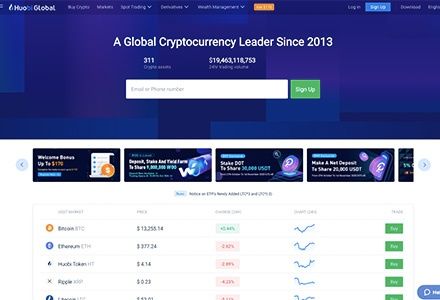 Things we liked:
+ Very low fees
+ User-friendly interface
+ Most crypto assets are stored offline
+ 24/7 customer support
Things we didn't like:
- Only crypto assets available to be exchanged
- Not regulated
Huobi, established in 2013, is one of the longest-running cryptocurrency exchanges in existence. Its longevity is a testament to its efficiency and safety. What's more, Huobi's fee structure further justifies its inclusion on our list of the best free crypto trading platforms.
And here's why: Huobi charges a maximum fee rate of 0.2% for both market makers and takers. Note that I said 'maximum' - that's right, It doesn't go beyond that!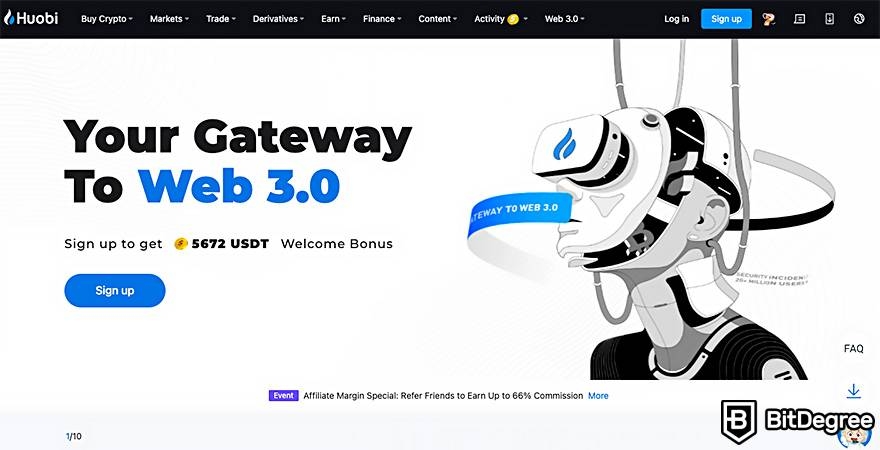 If you already think this is good, would you believe it if I told you that it actually gets better? That is because holders of Huobi tokens (HT) are provided with a unique benefit: the more HT held in their account, the more the fees can be reduced!
Pretty interesting, right?
Besides that, professional traders have access to different fee levels that are determined by the volume of crypto traded in a 30-day period, measured in BTC.
Well, beyond its great fee rates, Huobi also has other good qualities, such as its security features. The platform has a range of multi-layered security protocols designed to safeguard both user funds and personal information.
One of them is regarding the use of cold wallet devices, where up to 98% of users' crypto assets are stored. This provides a robust layer of protection against potential security breaches, further solidifying Huobi's commitment to safeguarding user funds.
Additionally, Huobi's User Protection Fund provides insurance coverage in the unlikely event of a security compromise, ensuring that users are compensated for any losses incurred.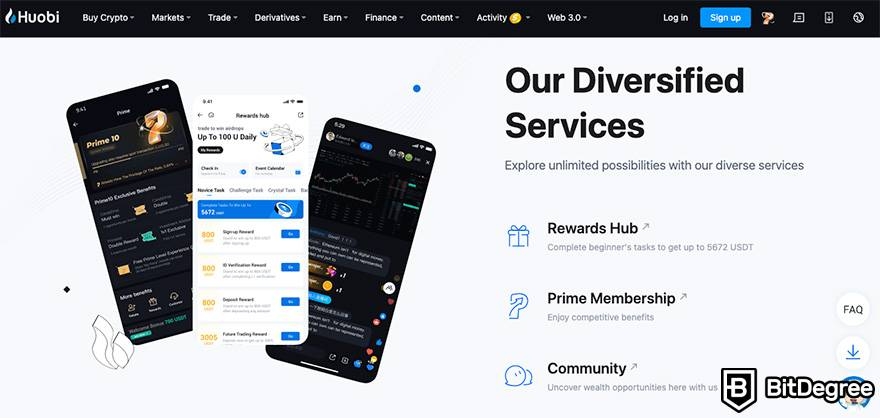 Another noteworthy feature is Huobi's live customer support, which is quite uncommon when it comes to cryptocurrency platforms. Thus, Huobi's users don't have to worry about extensive waiting, as the platform provides support 24/7.
Beyond that, Huobi offers an extensive selection of over 300 different cryptocurrencies available for trading. However, one potential drawback is that the platform only supports cryptocurrency trading, with no options for fiat or another asset trading.
That surely elicits mixed feelings among users, as some traders may perceive it as a disadvantage, while others who exclusively trade in cryptocurrencies may not find it problematic at all!
While there are some potential drawbacks, the platform's ease of use, security features, and low fees make it an excellent choice for anyone looking to trade cryptocurrencies. In other words, Huobi is definitely a very good option for users who are looking for the best free crypto exchange as it charges only pennies.
Ranks #7 out of 8 Crypto Exchanges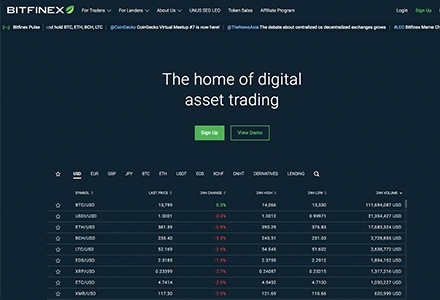 Things we liked:
+ More than 170 crypto assets to trade with
+ Supports fiat deposits
+ Advanced trading tools
+ Small fees
+ Highly-improved security features
Things we didn't like:
- Controversial past
- Might not be suitable for beginner traders
Bitfinex is one of the the veterans in the cryptocurrency world. Thus, over the years, Bitfinex has become one of the best free crypto trading platforms, offering traders a wide range of features that make it stand out from the competition.
Hence, one of the biggest advantages of Bitfinex is its low fee structure. The exchange charges a maker fee of 0.1% and a taker fee of 0.2%, which is significantly lower than most exchanges.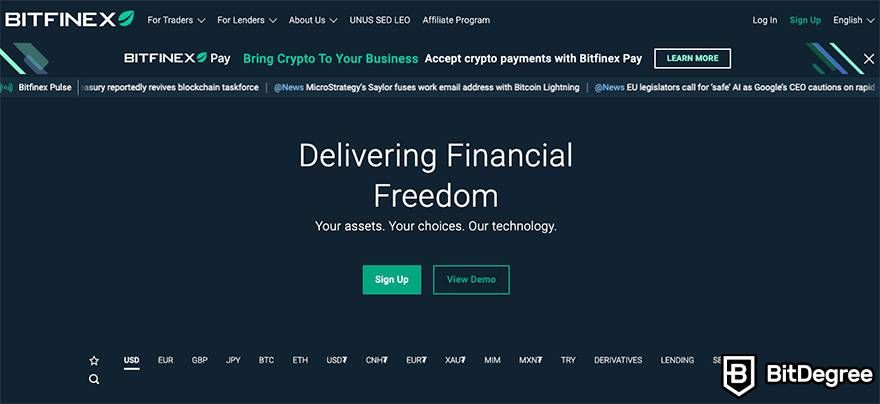 What's even better, the bigger the amount being traded, the lower the rates, for both makers and takers! Though, it takes more money for the taker's fee to drop.
Thus, for high-volume traders, Bitfinex is in fact one of the best free crypto exchanges.
Related to that, there is the fact that Bitfinex is especially good for experienced traders, due to its advanced-level functionality - besides its high-volume trading. Moreover, Bitfinex offers another advantage to advanced crypto traders by allowing them to customize their trading interface according to their preferences.
This feature is especially valuable because it gives you access to more informative charts that aren't always available on other trading platforms. This is something that definitely makes Bitfinex stand out!
Given that, however, Bitfinex may not be as suitable for beginners compared to other platforms, particularly the best free cryptocurrency trading platforms included in our list.
Of course, this is not necessarily a bad thing since it depends on your profile and specific needs. Besides, maybe you are a beginner who tends to go big or go home? Then, Bitfinex is great for you!
Well, beyond that, Bitfinex has other remarkable features. First, it offers a wide range of cryptocurrencies (170+), and an even bigger amount of trading pairs (400+), which includes both fiat-to-crypto and crypto-to-crypto pairs.
By the way, the platform supports 5 different fiat currencies - USD, EUR, GBP, JPY, and CNH!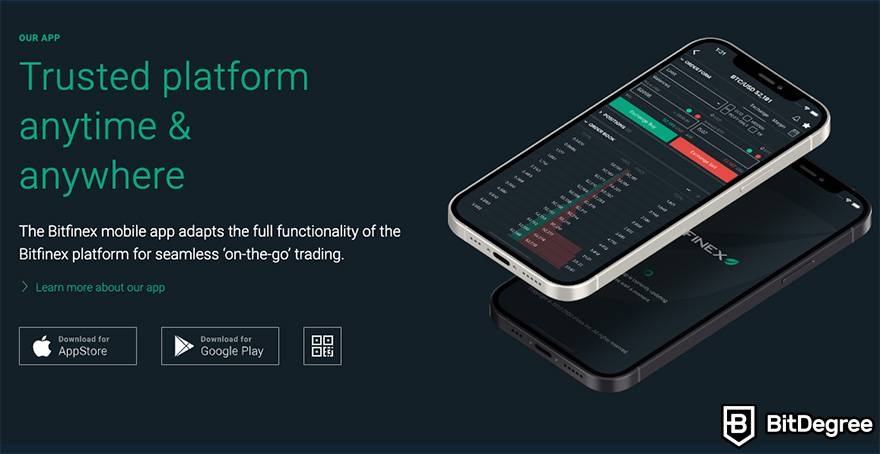 What's more, Bitfinex provides other trading options, including the ability to trade derivatives - derivatives trading allows traders to invest in an asset without the need to purchase it directly.
Now, when it comes to security, there is an issue worth mentioning: Bitfinex has a controversial past regarding two historical break-ins. However, it's worth noting that those breaches happened back in 2015 and 2016, and since then, Bitfinex has made significant efforts to improve its security measures.
In fact, many current users have reported feeling confident in the platform's security features!
Thus, although this is something important to know, you can rest assured, because now the platform has good safety protocols, such as two-factor authentication (2FA), email encryption with OpenPGP (Pretty Good Privacy), and withdrawals protection, among other features!
So, don't let the past come in the way of investing in Bitfinex, if the platform's opportunities have piqued your interest! It's definitely one of the best free crypto exchanges available today (or, at least, almost free), offering traders a low fee structure and a wide range of trading pairs!
Ranks #8 out of 8 Crypto Exchanges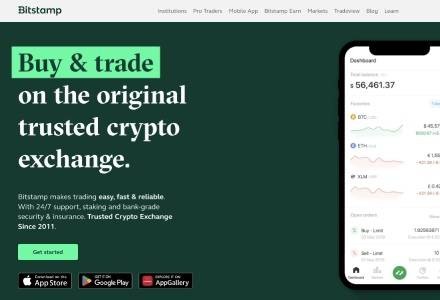 Things we liked:
+ Helpful customer support
+ Fiat payments are accepted
+ Reliable and established
+ Low trading fees
Things we didn't like:
- Not the best option for beginners
- Small number of supported cryptos
$50 Bonus Code
Special Bitstamp Promotion
Bitstamp code hunt is here! 9 different Bitstamp bonus codes are available online with the value of $50. Follow this coupon link to learn more.
Expiration date: 02/06/2023
1033 People Used
Only 27 Left
Bitstamp is currently considered one of the best free crypto trading platforms available, but what sets it apart from other exchanges? Allow me to tell you.
Well, first of all, it supports fiat currencies, which makes it ideal for beginners who are just starting out in the world of crypto. This excludes the need to depend on different platforms to buy and trade your digital assets!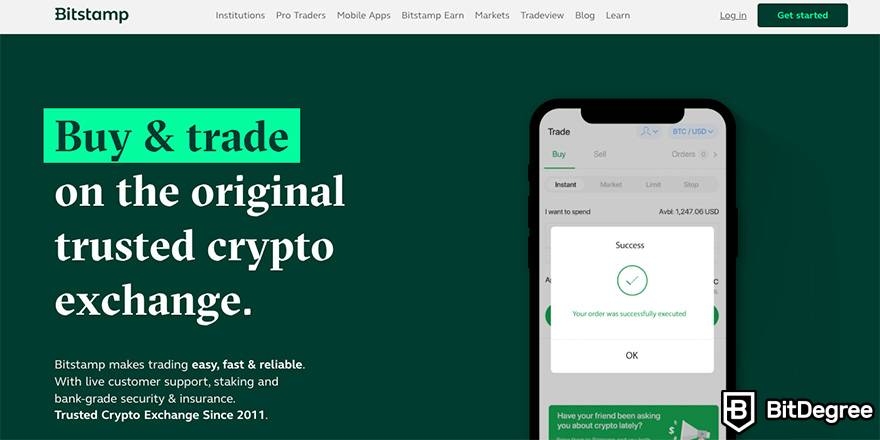 Another significant advantage of Bitstamp is its security features. The platform uses cold storage to keep its users' assets safe from hackers. It is also fully insured and has two-factor authentication and text message alerts, which add an extra layer of security.
Additionally, Bitstamp uses PGP (Pretty Good Privacy) to encrypt its communications!
Seems reliable, right? And, it is! Though, it is essential to know that Bitstamp was actually hacked in 2015. It resulted in significant damage to the platform at the time.
However, the team at Bitstamp acted quickly and responsibly and, due to that, no customer funds were lost. What's more, the platform was entirely rebuilt to prevent a similar attack from happening again!
So, this event did not harm Bitstamp's reputation in any way, indicating the company's strong commitment to its community.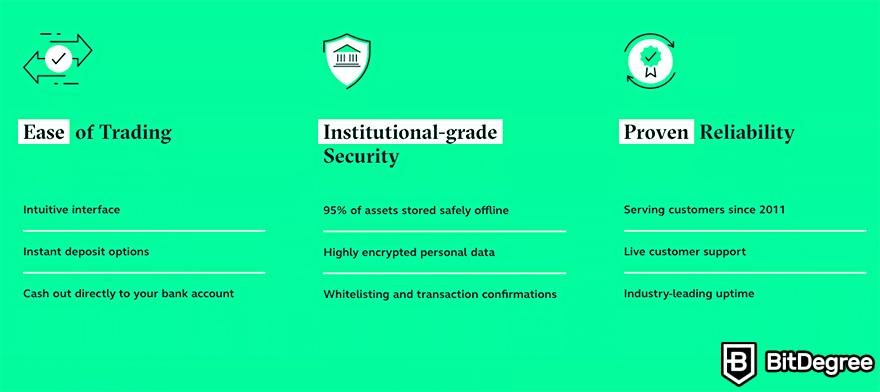 Now, regarding the most significant aspect of our review, Bitstamp's fees range from 0.05% to 5%.
If you land on the lower end of the fee spectrum, Bitstamp is undoubtedly a crypto exchange with the some of the lowest fees. But how can you achieve the cheapest fee possible?
Basically, Bitstamp fees depend on which payment method you use, and the best option for this case is the International Wire Transfer method. By depositing funds, you are charged with a fee of only 0.05%, whereas to withdraw, you need to pay a fee of 0.1%. That's a pretty good deal, isn't it?
On the other hand, though, if your transaction falls more toward the "5%" part, it can get pretty expensive.
Nonetheless, this is still a good range and a great baseline for fees. Given that, Bitstamp definitely earns a spot in our list of the best free exchanges!
The only disadvantage of Bitstamp is that it might fall a bit short compared to other exchanges on this list in terms of its limited selection of cryptocurrencies and trading pairs.
However, its broad range of fees makes Bitstamp a good option for an almost free cryptocurrency trading platform, but users should be aware of the potential for high fees! What's more, while the platform has a limited amount of cryptocurrencies, it still offers enough variety for most traders.
Overall, Bitstamp is a reliable and trustworthy cryptocurrency trading platfrom that is close to being free-of-charge.
Conclusions
Finding the best free crypto trading platform can be quite a challenging task, but it's crucial for managing your cryptocurrency investments efficiently!
With this list of the best free crypto exchanges, you can explore some of the most reliable and cost-effective platforms available today, such as Binance, Bybit, or Kraken. Whether you're a seasoned trader or a beginner, utilizing one of these platforms can help you maximize your profits and achieve your trading goals more efficiently.
Just remember, no platform is perfect for everyone, and what works for one person may not work for another! Therefore, it's essential to consider your individual preferences and priorities when making your decision.
In any case, I hope that this article has provided valuable insights and guidance in selecting the best free crypto trading platform for your needs. Good luck with your trades!
The content published on this website is not aimed to give any kind of financial, investment, trading, or any other form of advice. BitDegree.org does not endorse or suggest you to buy, sell or hold any kind of cryptocurrency. Before making financial investment decisions, do consult your financial advisor.
Leave your honest Best Free Crypto Trading Platform in 2023 review
Leave your genuine opinion & help thousands of people to choose the best crypto exchange. All reviews, either positive or negative, are accepted as long as they're honest. We do not publish biased reviews or spam. So if you want to share your experience, opinion or give advice - the scene is yours!
---
TOP3 Most Popular Coupon Codes