If you are interested in learning about the best crypto trading platform, then there are a range of fantastic exchanges that you should get acquainted with. This is a vast and highly accomplished industry, and so there are a variety of great platforms to keep an eye out for, such as Binance, KuCoin, Coinbase, ByBit, etc. But, of course, each exchange has its own strengths and weaknesses and so you need to practice your own discretion.
Despite there being many fantastic choices out there, each individual trader will have different intentions and ideas, so in one sense, you must find out what is the best platform for trading crypto that suits your specific needs, not just the needs of the overall trading public.
While figuring this out for yourself might take some inward contemplation, this guide will help narrow your search by exposing you to the best crypto trading platforms in a more generalized sense.
To kick off our investigation into what is the best crypto trading platform, let me list out the exchanges that I'll be covering:
How To Measure Each Platform
Once you start playing around with a couple of these exchanges, there is a high chance that you'll begin to notice huge overlaps in what they offer and how well they all perform. This can make the process of figuring out which ones are better than each other very complex. And so, for this reason, it is good to understand how I will be measuring them so that you can learn why these were chosen as the best crypto trading platforms.
When assessing this, I look for a range of factors. Fees and pricing structure is important, especially because the crypto industry is very retail trader-heavy, and so not everybody has a huge fund of cash they can burn through as they transact. Another major aspect that plays a part in this guide is each platform's features and level of usability, as some platforms are more feature-rich and user-friendly than others.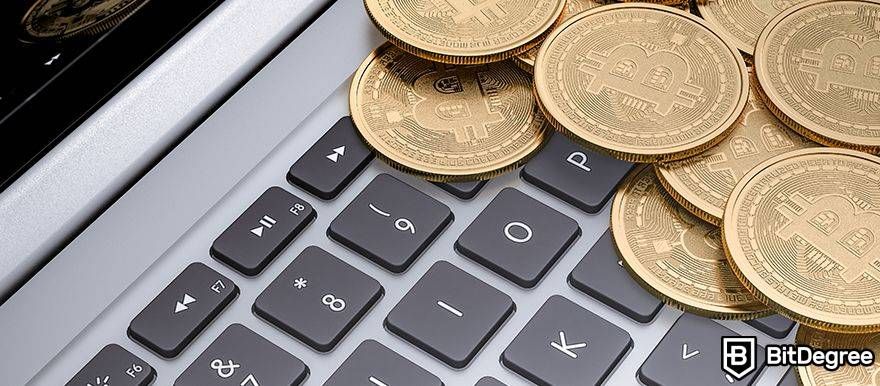 Along with these, there is special emphasis placed on security and trust. This is arguably the most important element to consider when investigating what is the best crypto trading platform. This means that the exchanges must have a good track record, care about creating a secure system, and have trustworthy protocols in place.
There are various other elements that are considered, and it would be impossible to list them all as this is a highly varied industry that is teeming with innovation. But these are the main elements that must be satisfied when trying to find the answer to the question of what is the best crypto trading platform.
Ranks #1 out of 9 Crypto Exchanges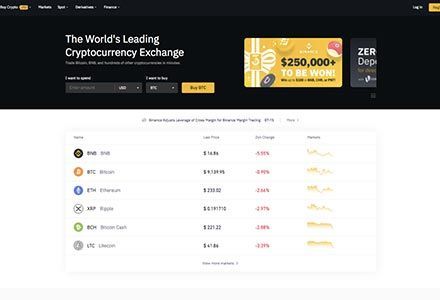 Things we liked:
+ A very well-known crypto exchange platform
+ More than 500 different cryptos available
+ Two-factor authentication
+ P2P trading option
+ Emphasis on security and KYC
+ Supports fiat-crypto acquisitions
Things we didn't like:
- Might be a bit difficult for beginners
CLAIM $600 BONUS
Exclusive $600 Binance Offer
Don't miss this limited-time deal that's only available for our readers. Follow the Binance referral code link & receive up to $600 in rewards and bonuses!
Expiration date: 02/06/2023
7847 People Used
Only 49 Left
Binance is such a well-known company that you could almost call it a household name. If you have ever traded crypto or have ever tried to find out what is the best crypto trading platform for beginners, then you will likely have heard of it, and perhaps even used it from time to time. This is because Binance has a lot of fantastic features that are worth considering.
One of Binance's many strengths is its very low fees. For instance, you'll pay up to 0.1% in fees, regardless of what crypto you are trading. This is a huge positive, as it means you do not have to account for huge amounts of money getting eaten up in the transaction and trading process. This is a very big deal for retail traders!
Not only this, but Binance has impressive trading volumes. If you're new to crypto trading or trading in general, you may not fully appreciate the significance of this factor, but high trading volumes indicate a high level of trust in the exchange, and make for a constant flow of cryptocurrencies passing through.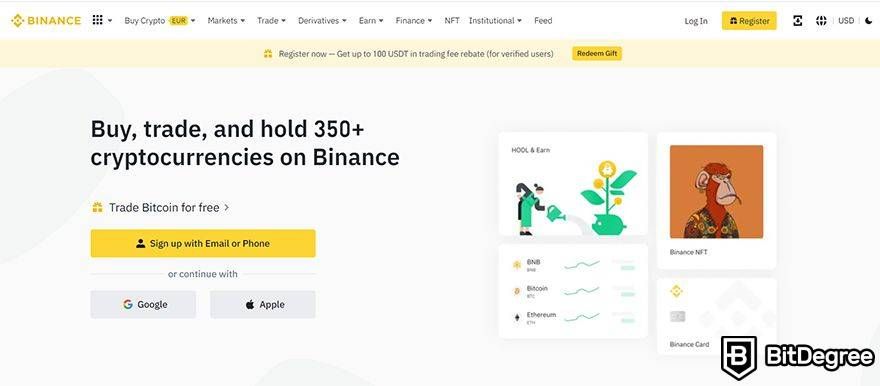 What's more, these high trading volumes mean that there are always competitive prices to analyze and potentially take advantage of if you act quickly. On the other hand, if you were to choose an exchange with little to no trading activity, you would likely struggle to buy or sell your digital assets at reasonable prices.
Another advantage of Binance is its use of 2FA (two-factor authentication), which demonstrates its commitment to security. While the exchange faced security issues in the past, it has taken some very important measures to strengthen this.
Along with this, Binance is also considered an innovator in this space, which means, despite it being a centralized exchange, it also engages in decentralized activity, and even runs its own decentralized blockchain. This is a huge deal to anybody who wants to use an affordable and reliable exchange, whilst also trying out some of the more cutting-edge elements of the crypto world.
Ranks #2 out of 9 Crypto Exchanges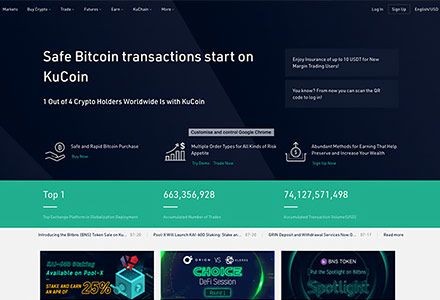 Things we liked:
+ Anonymous trading
+ Secure
+ Supports a variety of cryptocurrencies
Things we didn't like:
$500 BONUS
For New Kucoin Users
Use this Kucoin Coupon & get up to $500 in rewards. Sign up to Kucoin for huge perks & limited-time offers!
Expiration date: 02/06/2023
3984 People Used
Only 27 Left
KuCoin has established itself as a prominent figure in the cryptocurrency industry, thanks to the plethora of products and services it offers beyond its typical crypto trading features. This includes its cloud mining capabilities, wealth structuring suite, and NFT investment tools. In other words, it has branched out beyond trading to provide a more well-rounded experience.
Let's zoom in on a couple of these. KuCoin's wealth structuring suite is a fascinating toolkit that helps users become more conscious of their financial actions. The aim is to help with risk management by allowing individuals to put measures in place that might protect their money. The two major tools it offers are its Protective Earn and Twin Win protocols. The former helps manage against fluctuation, and the latter helps leverage returns against volatility.
Zooming out a little and looking at the bigger picture allows us to see that one of the standout offerings of KuCoin is the ability to trade a diverse range of cryptocurrencies, which even includes many fringe, up-and-coming, and lesser-known coins. This allows traders to expand their investment portfolios and take advantage of different market trends.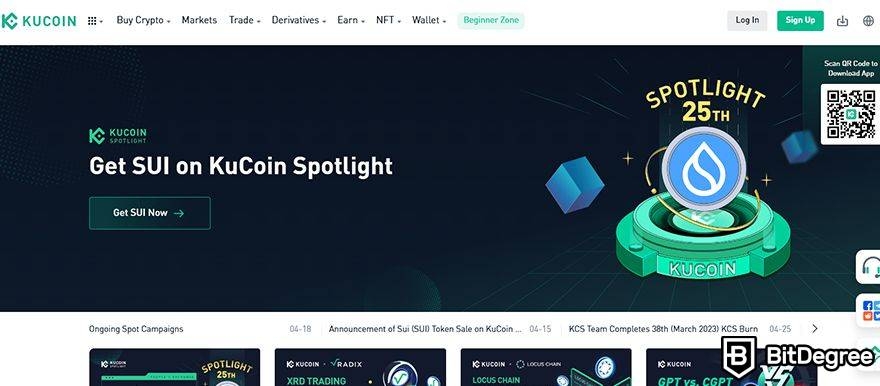 This is perfect for people who are always looking for the next best thing and want to find cryptocurrencies that have a good chance of exploding in value but yet have not become public knowledge in the trading world. It is undeniable that there is something thrilling about finding these rare gems, and so it is great to know that there is a platform that can help facilitate that.
Furthermore, KuCoin boasts some of the most competitive trading fees in the industry, starting at just 0.1% for both market makers and takers. With the possibility of lowering these fees further by increasing your trading volume, KuCoin is definitely an attractive option for traders looking to maximize their profits.
In addition to its low fees, KuCoin also offers interest-earning options, advanced trading tools, and even accepts five different fiat currencies. With a strong community backing the exchange, KuCoin should definitely be on the radar of anyone seeking the best crypto trading platform available.
Ranks #3 out of 9 Crypto Exchanges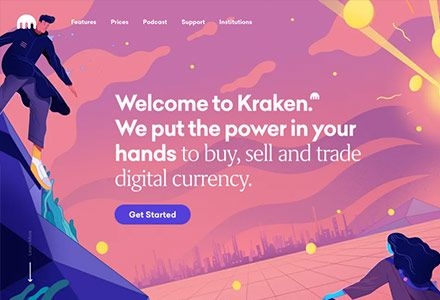 Things we liked:
+ Secure and reliable
+ Low fees
+ A good amount of fiat currencies accepted
Things we didn't like:
- Not the most helpful customer service
Fees As Low As 0%
Get 0% Fees By Trading With Kraken
Join Kraken today & start trading with fees as low as 0%! Save money with one of the top-rated crypto exchanges on the market.
Expiration date: 02/06/2023
2938 People Used
Only 47 Left
If you're in search of the top-performing cryptocurrency exchange, Kraken is definitely a contender for this position. It is hard to answer the question of what is the best crypto trading platform without at least giving this project a mention, as it has become a major player in this industry.
So, what sets Kraken apart from many other platforms? To begin with, the exchange offers more than 150 different cryptocurrencies for users to trade, buy, and sell. While this might not seem like a lot compared to the thousands of crypto assets available today, it is worth remembering that many cryptocurrencies have been abandoned by their initial team and do not have a solid user base or use case. This is not to say that only approximately 150 cryptocurrencies are worthwhile, but numerous bear markets and changes to the industry will cause a lot of projects to lose their utility and become defunct.
But most of the coins and tokens that do are listed on Kraken. This means that, while the number might feel low when looking at the entire crypto sphere, if you filter out the dead and low-performing projects, you will find that practically all that is left behind will be there.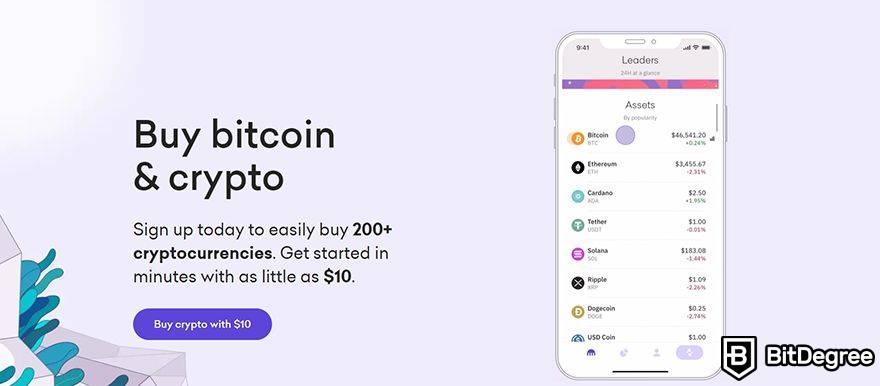 One of the standout features of Kraken is that it allows users to purchase cryptocurrencies with fiat, which makes the whole process a lot simpler. You could actually consider this point to be a demerit to the world of decentralized cryptocurrency trading as-a-whole, as most of those projects do not allow fiat transactions, which makes them hard to navigate for beginners.
The exchange also boasts of a great mobile app that is both easy to use and intuitive, as well as top-quality customer support (something that is often forgotten about unless required). Needless to say, these elements alone make it one of the best crypto trading platforms for beginners.
When it comes to fees, Kraken is very competitive. They charge anywhere from 0% to 0.26% for transactions, which is much lower than what some other crypto exchanges charge. So, if you're looking for a reliable and affordable platform for your cryptocurrency trading needs, Kraken is definitely worth considering.

Did you know?
Ranks #4 out of 9 Crypto Exchanges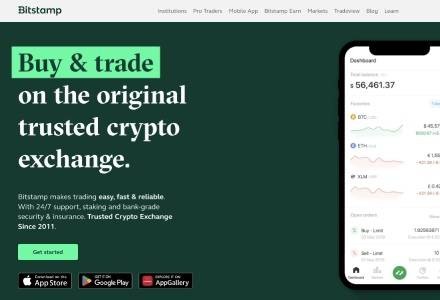 Things we liked:
+ Helpful customer support
+ Fiat payments are accepted
+ Reliable and established
+ Low trading fees
Things we didn't like:
- Not the best option for beginners
- Small number of supported cryptos
$50 Bonus Code
Special Bitstamp Promotion
Bitstamp code hunt is here! 9 different Bitstamp bonus codes are available online with the value of $50. Follow this coupon link to learn more.
Expiration date: 02/06/2023
1033 People Used
Only 27 Left
Undeniably, Bitstamp may not be as widely discussed as other cryptocurrency exchange platforms on this list. Nevertheless, it has gained a highly dependable and trustworthy reputation among veterans in the industry!
Bitstamp has truly earned this honor, which is not an easy accomplishment, by any means. The exchange had to overcome security vulnerabilities and adapt to the ever-evolving crypto landscape. Today, regardless of the aspects that you evaluate it over (customer service, fees, security, or otherwise), Bitstamp is consistently held in high regard.
This cryptocurrency exchange is commonly viewed as a better option for experienced traders seeking professional-grade functionality to match their trading skills, rather than beginners. This means Bitstamp offers advanced features, enabling users to trade crypto professionally. This is, in part, because it has a long-standing history in this space, with many people who would confidently consider it to be the best platform for trading crypto.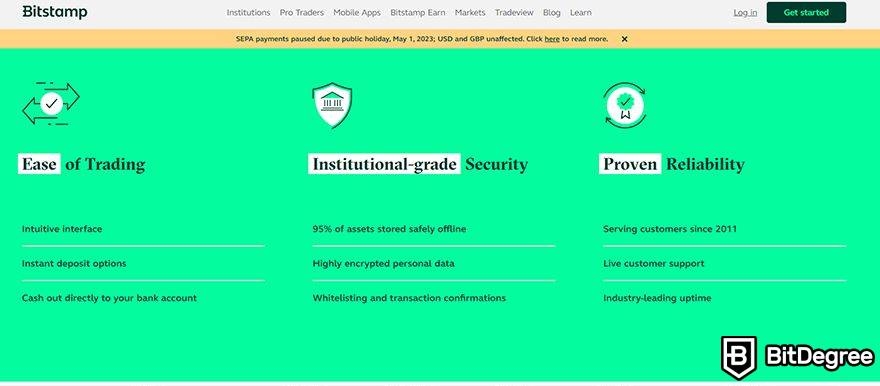 This naturally means its user base is more professional as they have stuck with it over a long time, and so they have improved their capabilities, too. However, this is not to say that Bitstamp does not have beginner-friendly tools within its infrastructure. For starters, its mobile app is simple, effective, and well-regarded in the space. However, sadly, it is not available for US and UK traders, although it is very much accessible to the rest of the world.
Another huge feature is its Lightning Network integration. This is a tool that is loved by beginners and experienced users alike. The inner workings of Lightning Network are beyond the scope of this piece, but in broad strokes, it is a Bitcoin layer that allows for fast and affordable transactions to take place without incurring the traditional transaction fees and times that veteran users are accustomed to.
The fact that a major exchange like Bitstamp is integrating with Lightning Network is a sign that they are firmly on the side of innovation, and wholeheartedly support updates and edits to the Bitcoin network. Not only this, but it ensures that complete beginners can engage with Bitcoin by trading low quantities without having to be scared of huge fees.
Experienced traders may have forgotten this, but many retail traders who are just starting out simply want to put a few dollars into a coin to test the waters, but fees have a tendency to scare them and put them off from engaging. Taking a look at fees built within the platform itself, Bitstamp offers a fee range from 0.05% to 5%. The actual fee charged depends on the user's preferred payment method. As you have probably recognized, this is a fairly competitive range.
Ranks #5 out of 9 Crypto Exchanges
Things we liked:
+ Fiat currencies - accepted
+ Simple to use
+ Accepts only the most trustworthy cryptocurrencies
+ Very secure
Things we didn't like:
- Not available in all countries
- Some of the less-known coins aren't supported
$5 BTC BONUS
For New Verified Coinbase Users
Receive your $5 bonus in BTC when you sign up for a new Coinbase account & complete all photo verification steps. Follow this Coinbase referral link to activate the deal!
Expiration date: 02/06/2023
4989 People Used
Only 11 Left
If you've been on the hunt for the best crypto trading platform, you've likely stumbled upon Coinbase more than once. This is no surprise as Coinbase is often hailed as the go-to spot for buying and selling cryptocurrency.
So what sets Coinbase apart from the competition? For starters, it is incredibly user-friendly. Signing up and getting verified is simple, and the platform's interface is sleek and easy to navigate. Unlike other exchanges, you won't be inundated with a million different hoops to jump through. Naturally, this makes it the perfect contender for the position of best crypto trading platform for beginners.
But the real selling point of Coinbase is its security. Despite numerous attempts to hack the platform, it is yet to suffer a major breach. Not only this, but it is trustworthy enough to even be a publicly listed company. This is a big deal as it means that the SEC and other regulatory bodies are monitoring it.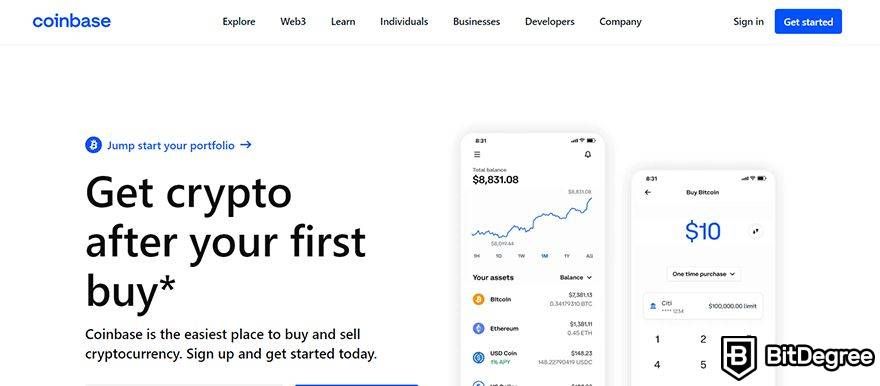 The fact that it is publicly traded means that these institutions see it in a positive light. Regulatory giants are not easy to please, especially if you're a cryptocurrency company, and so the fact that it is publicly listed, with SEC filing reports that are open to the world to read, is a massive sign that they are deserving of the trustworthy reputation they have established.
Of course, no platform is perfect. One major drawback of Coinbase is its limited selection of cryptocurrencies. While you can buy some of the biggest names in the industry, like Bitcoin and Ethereum, others (like Monero and Tron) are notably absent. While this can certainly be frustrating for some, Coinbase arguably makes up for this by offering a powerful application that supports various other huge names, meaning that most people will find a handful of coins or tokens they want to invest in.
It is also worth giving you a heads-up about fees. In truth, Coinbase is not the most cost-effective option out there. Depending on your country and the amount you're trading, fees can range from 1.49% to 3.99%. That is problematic for some. But for many users, the peace of mind that comes with Coinbase's top-quality security is well worth the extra cost.
Ranks #6 out of 9 Crypto Exchanges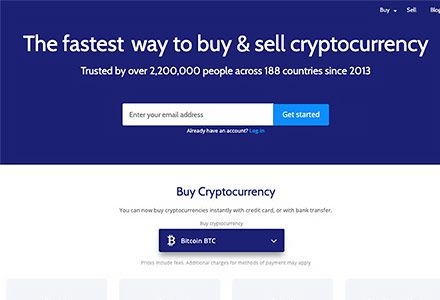 Things we liked:
+ High levels of security
+ Helpful customer support
+ User-friendly platform
+ Available in 188 countries, and most US states
+ Accepts credit/debit cards
Things we didn't like:
- No way to call the support via phone
- Limited amount of cryptocurrencies
GET UP TO 25% OFF
Coinmama Loyalty Program
Get a huge discount of 25% on your Coinmama trading fees. Access this Special Loyalty Program Coinmama deal for a limited time only!
Expiration date: 02/06/2023
2375 People Used
Only 92 Left
When it comes to finding the best crypto exchange, Coinmama is definitely a name that should come up. While it is not mentioned by the public as often as some other platforms on this list, it is well worth being considered up there with them. It is an overall well-rounded platform, although there are a couple of standout features that are worth pointing out.
Firstly, Coinmama is known for having some of the best customer support around. Its team is highly accomplished and extremely helpful if you have any questions or concerns about your trading activity or behavior. This is unbelievably important as this industry is undeniably hard for some newcomers. Not only this, but the fact that crypto is so new, technologically, means there are bound to be problems at times. Having a strong team who will help their customer base navigate these situations is great.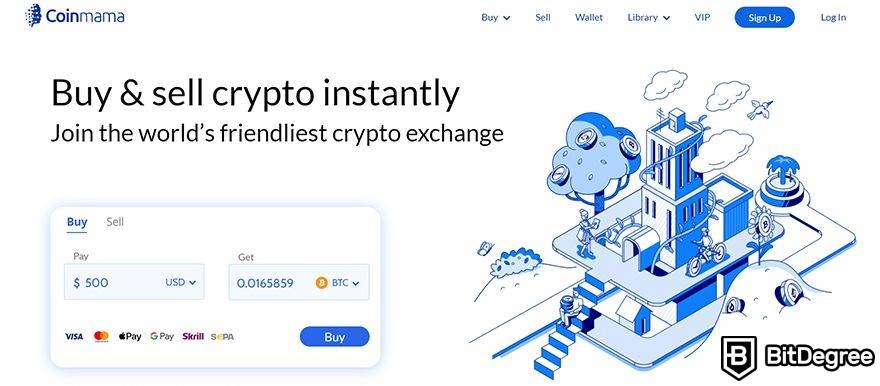 On top of that, the platform is user-friendly, with all its features being easy to find and use. In fact, one of the company's overall goals is to stimulate adoption on a global scale. This essentially translates into being beginner-oriented, making it a perfect spot for those just starting out in the space who want to learn the ropes and test out the industry.
However, the fees are a major concern for some users. Coinmama charges a hefty fee of up to 3.99%, which is definitely not ideal, especially for experienced and institutional investors. However, for novices and newcomers, this percentage might not be too worrisome, if you simply want to try your hand at trading to see if you like it. This means that, even in spite of this, it could still be an answer to the question of "what is the best crypto trading platform"?
Ranks #7 out of 9 Crypto Exchanges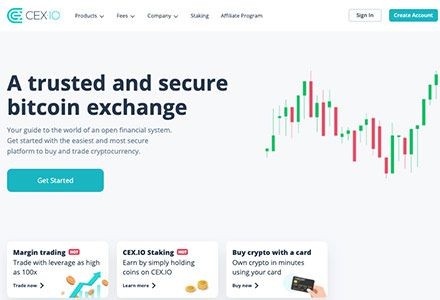 Things we liked:
+ Easy to figure out
+ Different trading pairs
+ Great support
Things we didn't like:
- Might lack coin options
CEX.IO is recognized as one of the most user-friendly and uncomplicated cryptocurrency exchanges available today - naturally making it a contender for the best crypto trading platform for beginners. This is noticeable at first glance due to its friendly aesthetic, but it is best exemplified by its instant buying feature and its upcoming crypto debit card that aims to simplify the act of buying goods with crypto.
Not only this, but it cannot be ignored that CEX.IO also has a strong reputation for being highly secure. The platform has stringent security measures, such as 2FA and email notifications for all login attempts; two elements that are seen as necessary nowadays as we live in an era of fervent crypto scammers.
These features are especially valuable to users who prioritize the protection and safety of their digital assets, and their existence encourages businesses to use CEX.IO for their own trading and storage needs. Even if you are not a business or institutional trader, this is good news as high-level investors bring more liquidity to the market. This means that even novice traders can benefit from CEX.IO's encouragement of whales using their platform.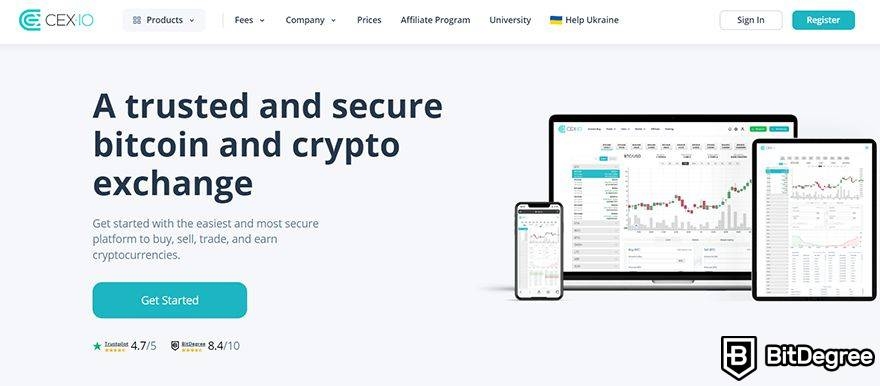 Moreover, CEX.IO provides favorable fees to its clients, with rates ranging from 0% to 0.25%. For high-level traders who invest a lot of money, this is a huge benefit as low fees become more important as you deal with higher numbers. And so, with all of this in mind, CEX.IO is a highly favorable option for a range of people, including beginners and advanced individuals.
Ranks #8 out of 9 Crypto Exchanges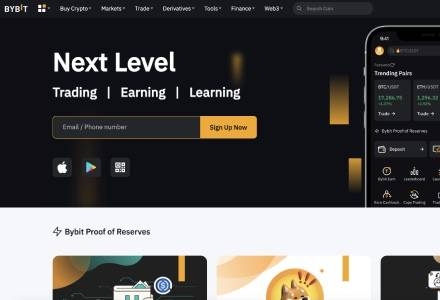 Things we liked:
+ Very low trading fees
+ Exceptional functionality
+ Mobile trading app
+ Helpful customer support
+ Up to 100x leverage
Things we didn't like:
- Might have a steep learning curve
Established in 2018, Bybit is a cryptocurrency derivatives exchange that has quickly gained respect and recognition in the market. Although the exchange started by exclusively offering its clients crypto derivative products, it now provides a host of features and benefits that include a state-of-the-art trading interface, beginner-friendly functionality, and a dedicated mobile app.
Bybit's fee models are among the best in the industry, with spot market fees ranging from 0.1% to 0% for market makers. However, bear in mind that actual fees can change depending on some gamified features that have been implemented to ease the lives of traders, whilst also adding a fun spin to the platform. In particular, your VIP level can affect what you pay in trading fees.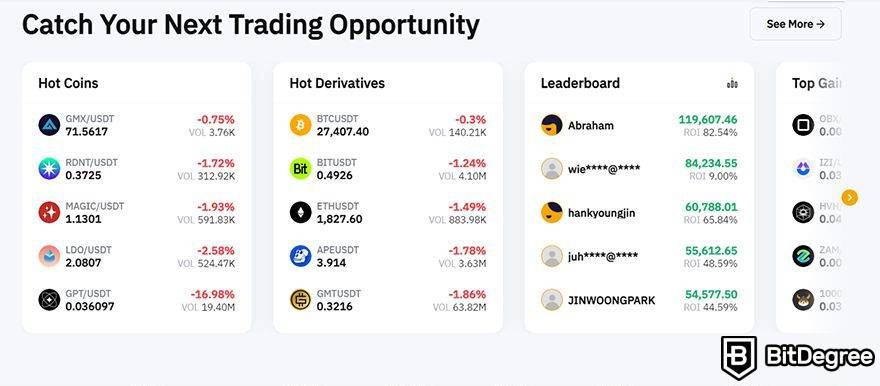 Eligibility for these VIP levels is dependent on the amount of trading volume you can account for, so the more you trade with ByBit, the more benefits and rewards will come your way. However, even if you consider yourself to be a casual trader who might never hit such high numbers, do not worry, as ByBit is a robust and impressive enough platform that you can have a great time trading even if you disregard this!
Do not be daunted if you are a complete beginner, as nowadays this platform also offers simple trading options, not just perpetual and derivatives markets. In case of any issues, you can always rely on Bybit's helpful customer support agents, which is a notable feature when it comes to the best crypto trading platforms, and must never be forgotten.
Ranks #9 out of 9 Crypto Exchanges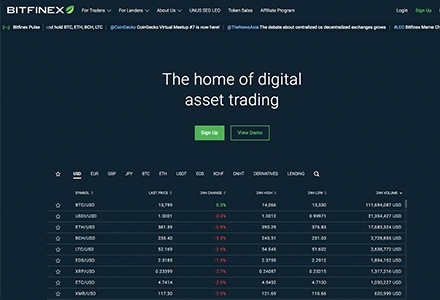 Things we liked:
+ More than 170 crypto assets to trade with
+ Supports fiat deposits
+ Advanced trading tools
+ Small fees
+ Highly-improved security features
Things we didn't like:
- Controversial past
- Might not be suitable for beginner traders
Bitfinex is a well-established cryptocurrency exchange that is widely recognized in the industry. It offers a range of top-notch features that you'd expect from a premier exchange, such as low trading fees, fiat on-ramp, and support for a wide variety of crypto assets.
With over 170 different coins and tokens supported, Bitfinex caters to both beginners and experts in the field. However, the exchange seems to be more geared toward experienced traders, who are looking for advanced-level functionality. Bitfinex provides various trading tools and products, such as spot and perpetuals, to meet the requirements of these traders.
Although Bitfinex has had a turbulent past, recent user reviews suggest that the platform has significantly improved its security measures. The exchange is committed to safeguarding the security and integrity of its users' accounts, as evidenced by its extensive safety features, such as two-factor authentication, IP whitelisting, email encryption, and cold storage.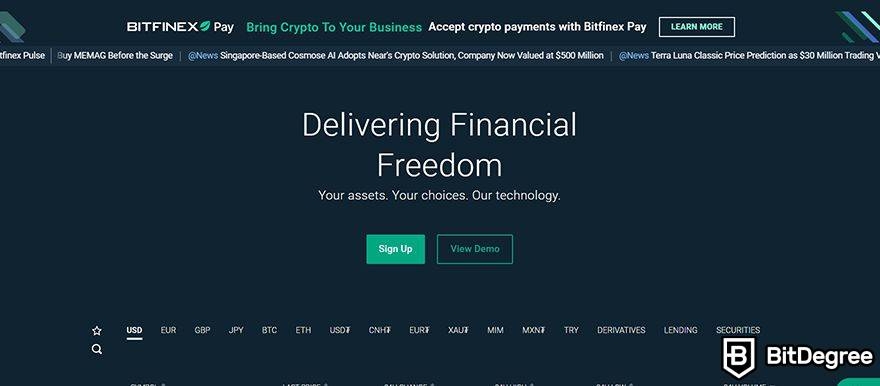 It would be hard to list every single feature that Binfinex has, as it has been expanding its toolkit for some time, but there is one feature that is definitely worth highlighting. This is its ability to customize the trading inference that people use with it. It goes without saying that, if this company has been adding a plethora of features to its infrastructure, then some will be more relevant to some traders than others.
For this reason, customization is a huge plus for serious investors who would prefer a streamlined experience. It may come as a surprise to casual members of this community, but even highly experienced people get overwhelmed by trading interfaces, especially when they contain elements that are not relevant to them. For this reason, it is fantastic that Binfinex offers this level of modulation and change to their user base.
Another feature that is aimed at the advanced user is its API capabilities. In a nutshell, an API allows for programmable elements to interact with the exchange, on behalf of the end user. They are great for those looking to use bots to aid in their investment activity. Naturally, these are hard to set up and maintain, so beginners rarely interact with them, but for seasoned traders, a dedicated API can be a godsend!
Conclusions
Figuring out the best crypto trading platform can be tough, not only because there are so many exchanges on the market, but also because of the sheer range of differences and features they have. The aim of this guide has been to arm you with the knowledge to make an informed decision yourself and form your own opinions about what suits you best.
This idea is, in fact, at the heart of my discussion. In truth, every crypto trading platform listed here could be considered the best, as they are all highly accomplished and robust. They are the best in the entire industry. And so, the only thing that truly separates them is personal opinion and your own aims and desires as a trader.
Some of these will be the best crypto trading platforms for beginners, some for advanced users, and some will be perfect for certain fringe aims and desires. It all comes down to finding the right fit for the type of financial activity you are aiming to perform. Not only that, but the look and feel of a platform will play a role in how each person ranks them, and due to the huge range of differences in aesthetics they can have, this will be highly variable and changing with each person's specific tastes.
With this in mind, the clearest way of discovering the best crypto trading platform for yourself is to try some of them out. Sign up for a handful and see how they feel. This is a necessity, as a description of a platform will never match the inward feeling that comes from actually using one. Platforms like Binance, Coinbase, and KuCoin all have an easy onboarding process, as do several others on this list, so it is worth giving them a try!
The content published on this website is not aimed to give any kind of financial, investment, trading, or any other form of advice. BitDegree.org does not endorse or suggest you to buy, sell or hold any kind of cryptocurrency. Before making financial investment decisions, do consult your financial advisor.
Leave your honest Best Crypto Trading Platform review
Leave your genuine opinion & help thousands of people to choose the best crypto exchange. All reviews, either positive or negative, are accepted as long as they're honest. We do not publish biased reviews or spam. So if you want to share your experience, opinion or give advice - the scene is yours!
---
TOP3 Most Popular Coupon Codes