Don't have the knowledge or the time to investigate and study the whole cryptocurrency market in order to make wise trading choices? Do you wish there was a quicker way? Well, that's where the best copy trading crypto platforms come in.
In essence, they allow you to either manually or automatically copy other traders' techniques, saving you the hassle of doing your own extensive market analysis. So, in this article, I'll explain to you what copy trading is, how can it make your life easier, and what are the greatest platforms for copying others.
Though, whether you're using Binance, Bybit, or KuCoin, copy trading surely is an excellent way to gain exposure to the market without having to invest time in learning all the ins and outs of trading.
Here is the list of the top copy trading exchanges I'll be reviewing in this article:
So, if you're ready to explore the world of copy trading, let's dive right in!
Best Copy Trading Crypto Platform: What is Copy Trading?
Before discussing the rank of the best copy trading crypto platforms, you must first understand what copy trading is exactly.
Just as the name suggests, it allows users to copy the trading techniques of experienced traders. How does it work?
Well, if we're talking about automated copy trading (because you can do it manually), firstly, you have to choose a professional trader you want to follow. Once you do that, you have to set copy trading parameters, such as the maximum investment amount, how much you want to invest in each order, and so on. That's it, the platform will automatically replicate the trades made by the trader of your choice.
The automation is done using specific software tools. Though, there are different types of copy trading software available in the market, including social trading platforms, mirror trading platforms, and signal copying platforms.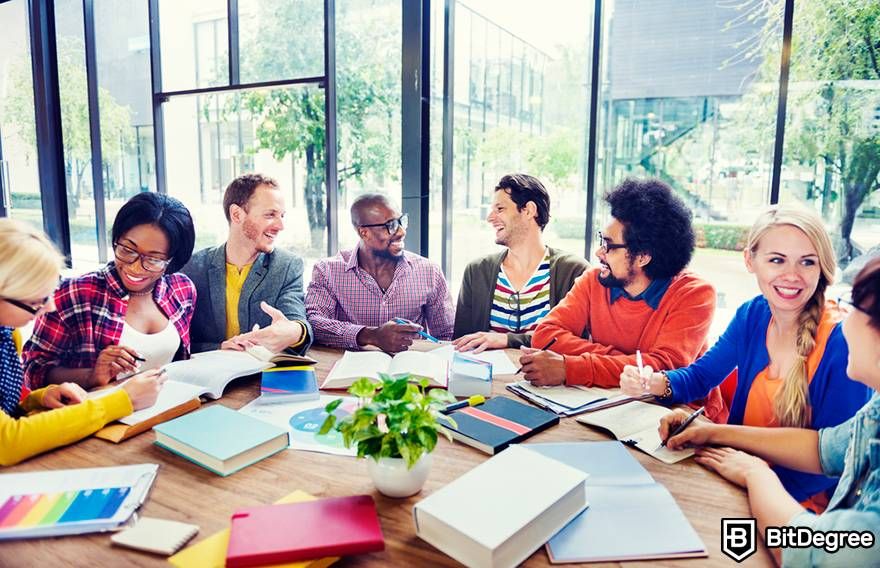 Social trading platforms are more interactive as they allow users to communicate with other traders, whereas mirror trading platforms focus on replicating the trades of selected professional traders. Signal copying platforms, on the other hand, rely on algorithms to select the trades to copy.
Apart from those distinctions, copy trading tools are usually classified by how they relate to the platform you're using. Specialized crypto exchanges can offer their own copy trading tools, while third-party companies offer trading bots that can be integrated with certain crypto exchanges.
Copy trading surely has various benefits. First and foremost it's great for beginner traders because they don't need to have any expertise in crypto trading. Also, they can take this as a learning opportunity. Besides that, most copy trading platforms provide automated trading, which means that you don't really have to put in much effort apart from choosing the right trader to follow.
However, just as there are benefits, there are also drawbacks. For one, even after researching or getting to know the trader you want to copy, you are not guaranteed that the trades you decide to copy will turn out to be profitable. The crypto market is a very volatile and unpredictable place, so, even the most experienced traders could suffer losses.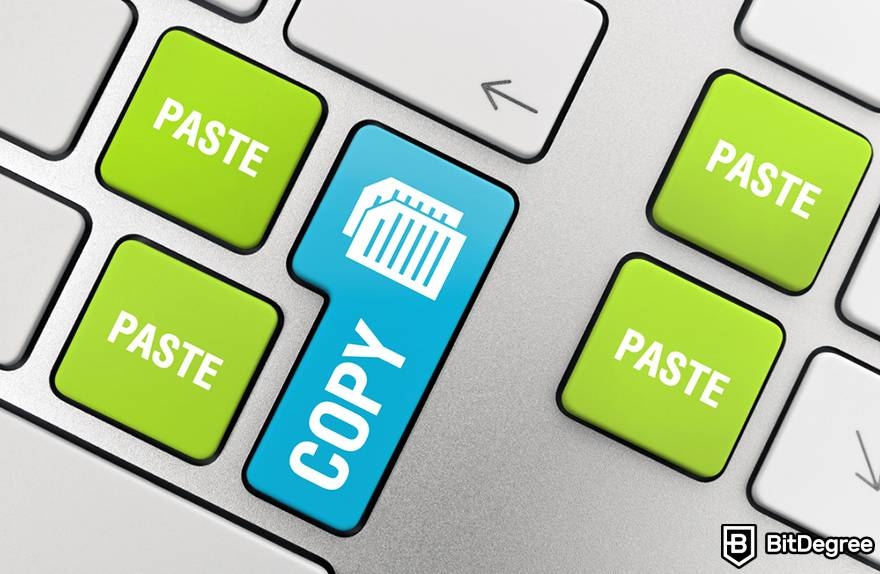 Another drawback is that, if a trader relies on copy trading too much and doesn't plan to put much effort into actually learning how to trade, they might waste the potential of earning even more profits. What I mean is that, with your own knowledge, you have the potential of making even better trades than those you make based on others.
Lastly, do note that copy trading comes with a price. Even though there are many platforms that don't charge much for participating in the copy trading itself, you usually have to share your profit with the traders you chose to copy. This, of course, is reasonable and fair. However, you might not think that when you have to give a portion of what you have to another person.
Everything put aside, copy trading is an excellent way to gain exposure to the cryptocurrency market without having to invest time in learning how to trade. In the following chapters, we will explore the best copy trading crypto platforms available in the market, as well as the features that make them stand out.
Ranks #1 out of 8 Crypto Exchanges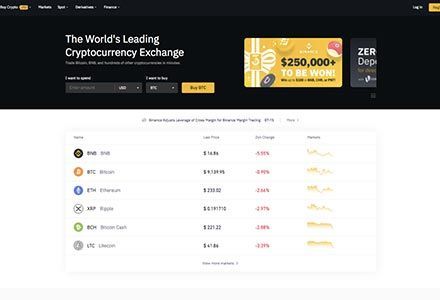 Things we liked:
+ A very well-known crypto exchange platform
+ More than 500 different cryptos available
+ Two-factor authentication
+ P2P trading option
+ Emphasis on security and KYC
+ Supports fiat-crypto acquisitions
Things we didn't like:
- Might be a bit difficult for beginners
CLAIM $600 BONUS
Exclusive $600 Binance Offer
Don't miss this limited-time deal that's only available for our readers. Follow the Binance referral code link & receive up to $600 in rewards and bonuses!
Expiration date: 02/06/2023
7847 People Used
Only 49 Left
Binance is a leading cryptocurrency platform that is always searched for when one's after the best copy trading crypto exchange. That is because the exchange offers a wide range of services to its users.
Even so, one of the features that Binance does not offer natively is copy trading. Why is it on this list, though? Well, because it does allow users to connect to third-party copy trading platforms, which do offer this functionality.
So, to use copy trading on Binance, you first need to choose a third-party platform that offers this service.
There are many tools available that integrate with Binance, such as Zignaly, 3Commas, and Shrimpy. Besides, in addition to copy trading, these applications offer a range of other features, such as automated trading, portfolio management, and signals trading.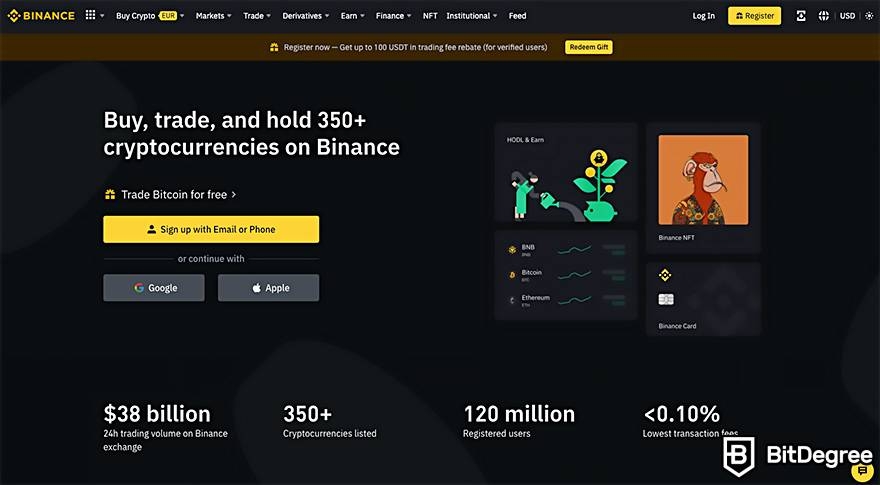 Now, once you chose a third-party copy trading platform, you can connect it to your Binance account. To do this, you need to provide your Binance API key to the third-party platform. This will enable it to access your Binance account and execute trades on your behalf.
After connecting your Binance account to the third-party copy trading platform, what is left is choosing the traders you wish to follow. As mentioned before, these traders are typically ranked by their trading performance, with the most successful ones appearing at the top of the rankings.
Okay, if we're talking about third-party tools, why should you integrate them into Binance specifically?
Well, because Binance is one of the best crypto exchanges in the whole industry. And, even if it does not have all features the crypto world has to offer natively, it doesn't mean you have to switch to another platform. After all, you do have all the necessary tools to integrate these missing features into your Binance account.
Now, do note that with these tools integrated into Binance, you can copy the trades of more than one trader. Besides that, you can also choose whether you want to copy them manually or automatically.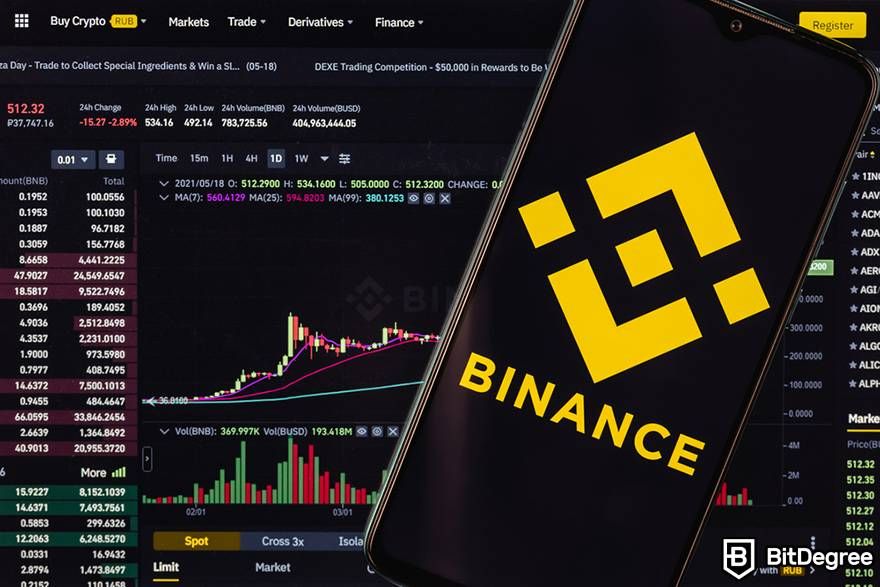 If you choose to copy trades manually, you will receive notifications whenever the trader you are following makes a trade. Then, you'll have to execute these trades on Binance yourself. However, if you choose to copy trades automatically, the third-party platform will execute them through your Binance account on your behalf.
So, overall, copy trading can be a helpful technique for traders looking to benefit from the experience of more seasoned ones. However, you must thoroughly assess and analyze the traders you plan to follow. Besides that, you should also use additional strategies offered by Binance to reduce your risks, such as, for example, stop-loss orders.
In conclusion, while Binance does not offer a native copy trading platform, it does allow users to connect to third-party platforms that offer this service. That, along with Binance's popularity and huge liquidity, makes the exchange a strong contender when searching for the best copy trading crypto platforms.
Ranks #2 out of 8 Crypto Exchanges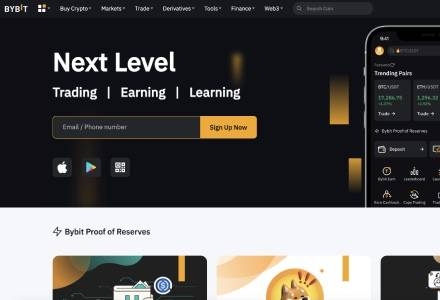 Things we liked:
+ Very low trading fees
+ Exceptional functionality
+ Mobile trading app
+ Helpful customer support
+ Up to 100x leverage
Things we didn't like:
- Might have a steep learning curve
Bybit is a one-stop cryptocurrency exchange that offers a range of trading options including, of course, one of the best copy trading crypto features in the market. With over 220+ coins available for trading, low fees, and a wide range of trading options, Bybit is a popular choice for crypto traders worldwide.
Copy trading on Bybit is designed to provide a hassle-free trading experience. According to Bybit, over 150,000 traders have joined their copy trading program. The exchange enables traders to research and compare various professional traders and, of course, copy the ones with the best historical trading results.
On top of that, Bybit offers an autopilot mode, which allows you to automatically open and close your trades, making it a beginner-friendly interface for those new to trading.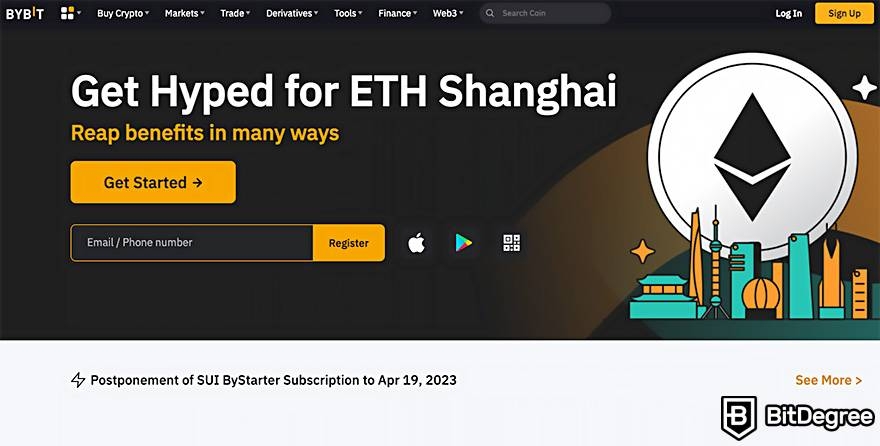 The copy trading feature on Bybit allows you to have complete control over your trades and tailor them to your specifications. You can configure the copy trading service to match your preferred leverage, order types, and other settings after picking a trader to copy. Then, once your chosen trader places a market order, all new copy trades are started immediately with market orders that meet the criteria you set.
To make things even easier, Bybit allows you to apply search filters when looking for copy traders, so that you can see the top performers, based on their 7-day win rate, 3-week win rate, or 7-day profit/loss. This option allows you to quickly identify traders with the most successful track records.
Though, you can also stand on the other side of the barricade. For expert traders, Bybit offers the opportunity to become a principal trader and earn a 10% commission on trades you execute for each copier. This can potentially add up to a sizable income if your trading strategy attracts a lot of other traders who want to copy your trades.
However, Bybit imposes certain requirements on principal traders to enhance their followers' security. For example, a principal trader cannot hold a losing position (with a 30% loss) for more than 7 days, as it is considered malicious trade and can lead to a ban.
Bybit also calculates the principal trader's performance using various metrics such as ROI, cumulative profit, max drawdown, followers, win rate, total trades, average P&L, average position holding time, and trading frequency. This helps traders to make informed decisions when choosing the right trader to copy.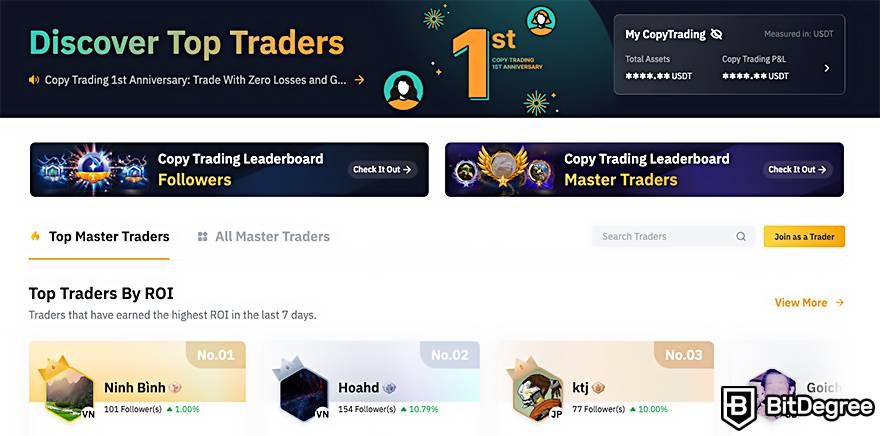 As for the copy trading fees on Bybit, the copy trading itself is free. However, users have to contribute 10% of their profits to the traders they chose to copy.
It's also worth noting that there is a referral program for copy trading. So, users can invite their friends to earn additional income. They can earn up to 500 USDT bonuses, as well as up to 30% in commissions.
Overall, Bybit is a reliable and user-friendly platform for copy trading in the cryptocurrency market. Its intuitive interface, low fees, and other useful features make it a popular choice among copy traders.
By allowing users to select from a variety of alternatives, customize transactions to their needs, and gain commissions as a principal trader, Bybit strives to provide a profitable cryptocurrency trading experience for all users.
Ranks #3 out of 8 Crypto Exchanges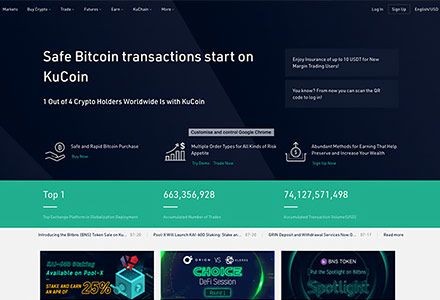 Things we liked:
+ Anonymous trading
+ Secure
+ Supports a variety of cryptocurrencies
Things we didn't like:
$500 BONUS
For New Kucoin Users
Use this Kucoin Coupon & get up to $500 in rewards. Sign up to Kucoin for huge perks & limited-time offers!
Expiration date: 02/06/2023
3984 People Used
Only 27 Left
KuCoin is among the best crypto platforms out there. However, it also aims to be recognized as one of the best copy trading crypto exchanges. To do that, KuCoin has partnered with Alpha Impact, which is a social trading platform. Together, they released a social trading offering named KuCoin Auto-Copy Trading.
The program allows KuCoin traders to showcase their trading abilities, attract subscribers, and earn FOLO tokens or FOLO credits. Although KuCoin does not directly support copy trading, Alpha Impact's third-party program offers a way to replicate top traders' trades easily.
To get started with the KuCoin Auto-Copy trading, users first need to monetize their portfolio. This step allows them to set their own subscription fee, agree to the terms and conditions, and enable automatic copying for all their subscribers.

Monetized traders can access the "Earnings" tab in their profile, which provides a breakdown of their earnings, including "All-time Earnings" and "Estimated Earnings" available in US dollars and FOLO.
Subscribers, on the other hand, can effortlessly replicate the trades of top KuCoin traders who have monetized and enabled their auto-copyable portfolios. To auto-copy a KuCoin trader, subscribers must first link their KuCoin account to Alpha Impact.
Once linked, they can mirror the trades of the KuCoin trader they choose by selecting the auto-copy button without any hassle or manual intervention. So, by subscribing to a trader's portfolio and enabling auto-copying, subscribers can effectively remove the guesswork from trading.
KuCoin offers three types of trading accounts: Main, Trading, and Margin. Alpha Impact's account overview shows a combined view of all three accounts. To ensure a smooth auto-copying process, subscribers need to transfer funds from their "Main KuCoin Account" to their "Trading KuCoin Account."
Apart from the Auto-Copy program, KuCoin also offers compatibility with APIs that can be used to connect to third-party copy trading platforms, like 3Commas or Shrimpy.

Additionally, the mobile version of the KuCoin exchange also provides users with KuCoin S, which is a social trading feature. Though, it's not like an actual automated copy trading feature, it's more of a hub where traders can share information with one another about making better copy trading decisions.
On the platform, users can access various crypto news, listings of new coins, market trends, and so much more. So, in essence, KuCoin S is a place where traders share insights with one another by directly communicating and then can make trades based on their discussions. Do keep in mind, though, that this feature is available on the KuCoin mobile app only.
So, in conclusion, Kraken can surely be considered one of the best copy trading crypto platforms due to all the different approaches to copy trading it offers, including third-party support, auto copy trading feature in partnership with Alpha Impact, and its own social trading mobile-exclusive feature called KuCoin S.

Did you know?
Ranks #4 out of 8 Crypto Exchanges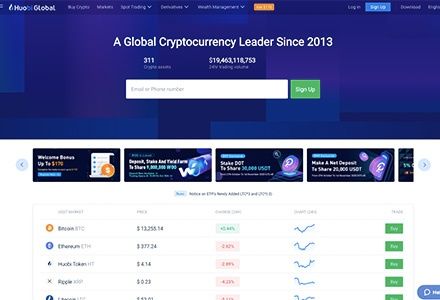 Things we liked:
+ Very low fees
+ User-friendly interface
+ Most crypto assets are stored offline
+ 24/7 customer support
Things we didn't like:
- Only crypto assets available to be exchanged
- Not regulated
Huobi is a cryptocurrency platform that surely offers one of the best copy trading crypto services to its users. The exchange allows traders to replicate the trading strategies of more experienced traders and earn similar profits without in-depth knowledge of trading.
This is done simply. Followers match their trades with those of copied traders to obtain the same yields. In turn, the copied traders earn a percentage of the followers' profits.
To start copy trading on the Huobi app, the user must navigate to the "Copy Trading" page. This can be accessed by logging in to the Huobi website and clicking "Derivatives" in the upper navigation menu, then selecting "Copy Trading".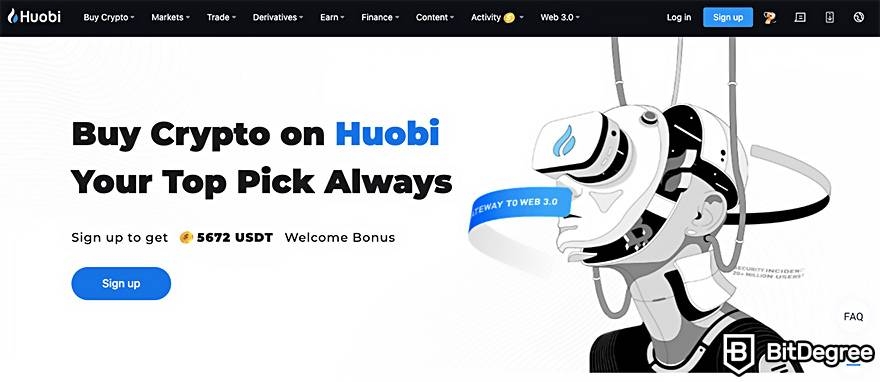 Once on this page, the follower must select a trader and click "Follow." The user must set the copy unit and accept the Copy Trading User Agreement. Note that, at Huobi, you can only follow one trader at a time.
In futures copy trading, the follower's tradeable amount is calculated based on the follower's available funds and futures leverage. If the copy trading amount is equal to or less than the follower's tradeable amount, the copy trade is made. Otherwise, the copy trade fails.
Huobi currently offers copy trading for BTC and ETH futures contracts. The profit-sharing ratio is set by the trader and cannot be changed by the follower. The leverage for copy trading is also set by the trader and copied by the follower in their copy trades.
The follower must visit the Copy Trading website and merely click the "Unfollow" option in order to unfollow a trader. By taking this step, the existing copy-trading relationship will come to an end, and the open copy-trading positions will be settled in accordance with the trader's profit-sharing ratio at the market price.
When all the copy-trading positions are closed, a portion of the net profits gets frozen in advance and is distributed to the trader after settlement that happens the next day. However, if the trader is unfollowed, the profit-sharing settlement gets conducted immediately, and the remaining funds after the settlement get returned to the follower's futures account.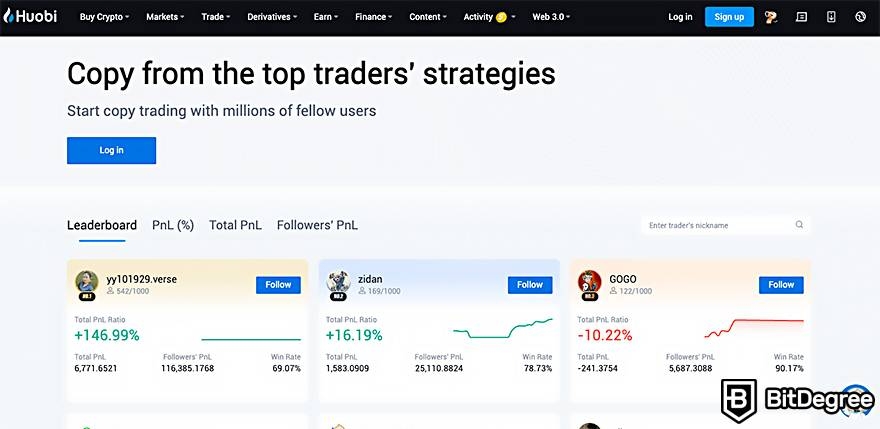 Followers can check the profit details of every copied trade via the Huobi app by clicking on the Futures tab and the record icon in the lower right corner, then selecting "Capital Flow."
There are several important notes to keep in mind when using the Huobi copy trading service. Namely, a change of parameters in the middle of copy trading is not supported at the moment.
There are also "spots" that can be filled, so a "fully-followed" trader has no vacancy and is, therefore, unavailable to be followed by more people.
In conclusion, Huobi offers a simple and transparent copy trading service that is beneficial to both novice and experienced traders. By following the steps described here, you can easily start copy trading on the Huobi app and earn profits without deep knowledge of trading.
Ranks #5 out of 8 Crypto Exchanges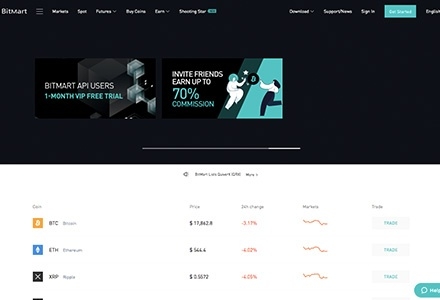 Things we liked:
+ Low trading and withdrawal fees
+ Beginner-friendly
+ Buy crypto with credit & debit cards, PayPal, bank transfer
+ Secure, many extra features
+ A wide selection of cryptocurrencies
Things we didn't like:
- Not that many user reviews found online
BitMart is a popular crypto exchange that recently introduced one of the best copy trading crypto dedicated tools, named Futures Copy Trading. BitMart's Copy Trading service is an extension of its existing trading platform.
Futures trading involves futures contracts, which are legally binding financial agreements that impose a requirement on traders to purchase a particular asset or commodity at a predetermined time in the future for a predetermined price.
Getting back to copy trading itself, one of the biggest advantages of it is the convenience it brings to followers who can earn profits without doing much research but simply following and copying the trades of master traders.
BitMart's Copy Trading service is no exception. The platform offers a selection of master traders to choose from, each with a proven track record of success.
Master traders must go through a rigorous vetting process before they are allowed to participate in copy trading, ensuring that the trades being copied are from legitimate individuals.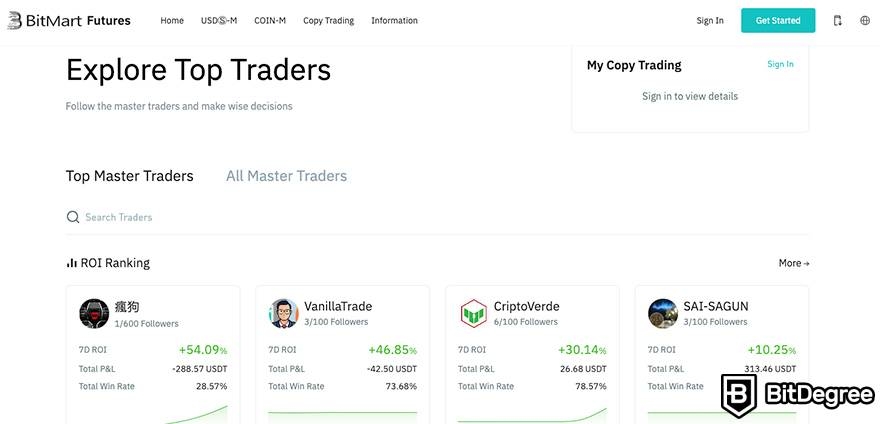 Followers can set limits on the number of assets they invest in each trader and adjust those limits as needed. This, alongside stop-loss and take-profit orders, helps to minimize the risk of losses and potentially increase profits.
For master traders, the platform provides an opportunity to gain additional exposure and earn commissions based on the performance of their trades. Master traders with a proven track record can attract more followers, which can ultimately lead to more profits.
BitMart's copy trading service also offers master traders the ability to set their own profit-sharing ratio, allowing them to earn a custom share of commissions from followers' successful trades.
Though, it is important to note that copy trading does carry risks, so you should carefully consider these risks before engaging in copy trading. BitMart's copy trading service acknowledges that, and offers a comprehensive guide to copy trading, including a detailed explanation of the risks involved and how to mitigate them.
In conclusion, BitMart offers users a convenient and reliable way to potentially earn profits in the financial markets. The platform provides a vast selection of experienced traders to choose from, each with a proven track record of success.
Ranks #6 out of 8 Crypto Exchanges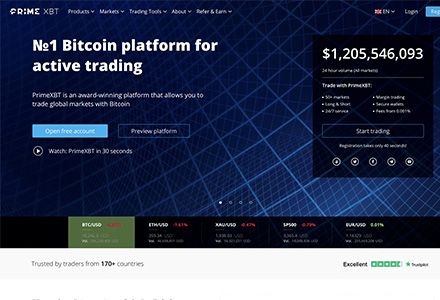 Things we liked:
+ Decent fees
+ Very secure
+ Different assets available to be traded
+ Accepts fiat (credit/debit card) deposits
+ Relatively simple to use
Things we didn't like:
- Limited cryptocurrency choices
- Does not operate in the US and Canada
A multi-asset broker called PrimeXBT concentrates on its derivatives market and cryptocurrency margin trading platform. However, it has a partnership with a social and copy trading platform called Covesting, through which it allows users to copy trade directly on the exchange. Thus, it makes it a noteworthy contender in this best copy trading crypto platforms list.
It's also worth noting that PrimeXBT offers high leverage, which means you can trade by investing only a share of your actual trading funds.
Now, through the copy trading feature powered by Convesting, users can buy and sell various cryptocurrencies like Bitcoin, Ethereum, Litecoin, Ripple, and more. Besides, one of the cool things about PrimeXBT is that you can start trading in just 40 seconds without going through a complicated KYC process.
You can find the PrimeXBT copy trading feature under the Trading Tools menu. However, this copy trading feature differs a bit from the others as it allows experienced traders to create sets of strategies and this is what those who want to copy have to employ.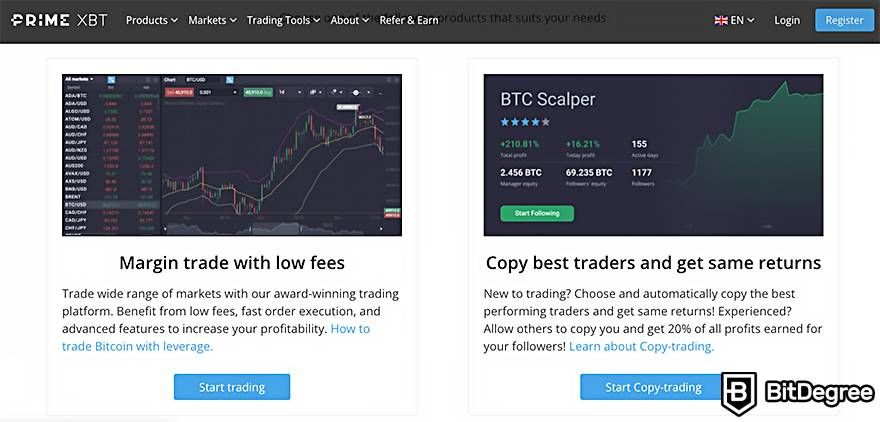 So, you don't copy the actual traders of the users, instead, you employ their strategies. Besides, you can copy more than one strategy at once. Experienced traders receive a percentage of the profits they make for their followers.
There is a fee for using the copy trading feature, but it's only charged when the trader you copy makes a good deal. The fee depends on the amount of money you allocate for copying, and the broker takes a percentage of the profits gained from copying other traders. The commissions start at 0.0001%. Besides, there is a 1% entry fee.
Though, do note that you can get a discount on fees by covering them using the COV token, which is the native token of Covesting.
So, in summary, PrimeXBT is a crypto broker that offers a wide variety of cryptocurrencies, while also enabling its user to enjoy a built-in copy trading feature. Thus, PrimeXBT is definitely worth checking out when looking for the best copy trading crypto platform!
Ranks #7 out of 8 Crypto Exchanges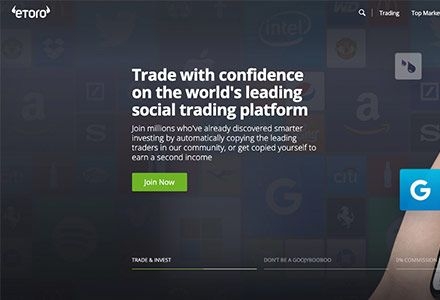 Things we liked:
+ Copy trading service available
+ A variety of cryptocurrencies to choose from
+ Beginner-friendly
Things we didn't like:
- Withdrawals can be slow
- Slow verification process
Cryptoasset investing is highly volatile and unregulated in some EU countries. No consumer protection. Tax on profits may apply.
Get $10 Bonus
Limited-time eToro Coupon
Take advantage of this eToro coupon. Deposit $100 - get a $10 Bonus, trade $100 - get a $10 Bonus! Act now while this eToro deal is still valid. The Bonus is only available for US users.
Expiration date: 02/06/2023
657 People Used
Only 92 Left
eToro's copy trading feature is clearly along the best copy trading crypto features on the whole market. It brands itself as the perfect way to start investing without prior experience or knowledge.
By definition, eToro is a multi-asset social trading platform that allows you to trade Forex, commodities, stocks, ETF contracts, and over 16 cryptocurrencies. The copy trading feature on the platform allows you to imitate other traders' actions with adjustable levels of risk and exposure.
The platform asserts that by copying the top 50 traders on its platform, portfolios grew by over 30% in 2021. It doesn't charge management or hidden fees for its copy trading service; you only need to pay the commission of the principal trader to move forward.
However, there are inactivity fees in place, as well as many unknown traders at the bottom of their tier lists, who may be unprofessional. To start copy trading on eToro, you need a minimum deposit of $200, and withdrawals incur a fee of $5, with eToro charging for spreads.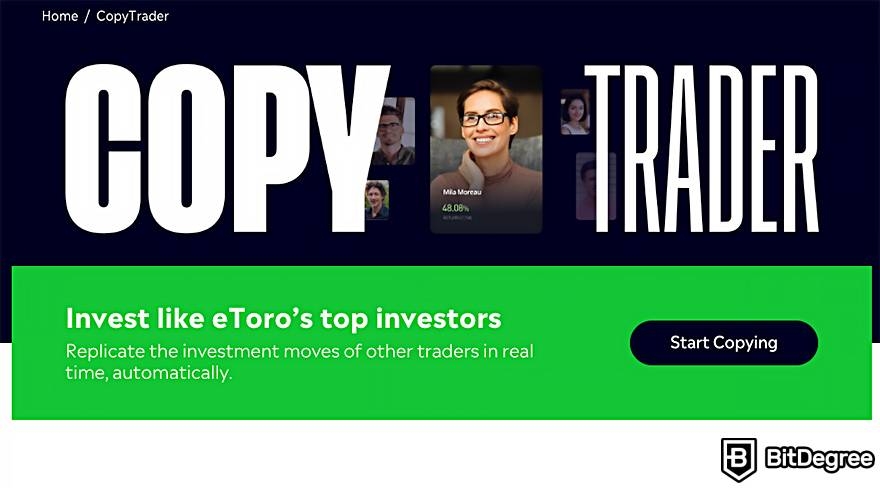 Now, one of the most unique and appealing aspects of copy trading on eToro is the ability to chat with principal traders. So, before deciding to copy trades, users can communicate with expert traders and ask them questions to establish trust and minimize risk, all this in the same environment.
The platform provides a list of all the available principal leaders, their ranks, and their win percentage to evaluate their trading abilities.
Apart from that, eToro is fully regulated by the FCA and CySec, as well as employs industry-leading security protocols to protect users' funds.
Overall, eToro is a great platform for social and copy trading, with a user-friendly interface, outstanding customer support, and educational material. So, there is no doubt that eToro is one of the best copy trading crypto platforms.
Visit eToro
...or read our eToro review
Cryptoasset investing is highly volatile and unregulated in some EU countries. No consumer protection. Tax on profits may apply.
Ranks #8 out of 8 Crypto Exchanges
Things we liked:
+ A wide selection of cryptocurrencies
+ Decent security features
+ Great fees
Things we didn't like:
- Has had its security breached
- Unlicensed (unregulated)
- Does not support fiat currencies
Gate.io is a relatively new platform, but it has already risen among the best copy trading crypto exchanges, popularized due to a large number of well-performing traders.
The platform offers over 1,000 coins, which you can trade with the help of principal traders. Overall, it provides users with over 1,600 spot copy trading and 33 futures copy trading pairs.
You can choose from a variety of principal traders based on their return, winning percentage, managed assets, and amount of transactions executed.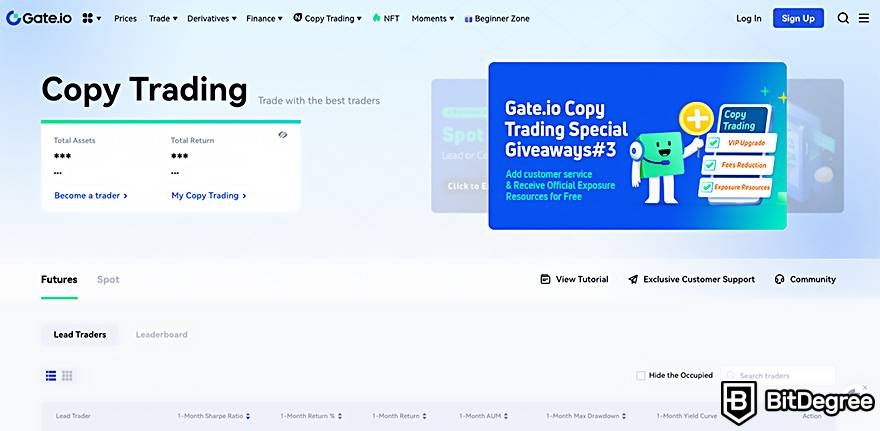 Each trader has a detailed profile containing all their information, including their rate of return, the total number of trades, trading history, popularity among traders who copy them, the total amount invested with them, and their total return. Also, do note that each trader has their own fee charged for copying them.
The exchange also offers an automated trading feature that allows you to use your own strategies and market knowledge to guide the algorithm. Besides that, Gate.io has an NFT market where you can purchase and trade NFTs. Additionally, Gate.io offers leveraged trading.
Overall, Gate.io is a great trading platform with a huge selection of trading pairs and an easy-to-use copy trade feature for both spot and futures trading pairs. So, it surely is one of the best copy trading crypto platforms.
Conclusions
In conclusion, copy trading, also referred to as "social trading", is an innovative and accessible method of gaining exposure to the cryptocurrency market without requiring extensive knowledge or time commitment.
The use of copy trading tools is not limited to specialized crypto exchanges like Bybit or Huobi, as there are also third-party companies that offer trading bots that can be integrated with other crypto exchanges like Binance, KuCoin, or Kraken.
Overall, copy trading offers a simplified and automated approach to cryptocurrency trading, which can be particularly useful for novice traders. With all this information, you will now have a walk in the park while dealing with copy trading and everything around it!
As a side note, you should also consider getting a reliable and secure crypto wallet for storing the earnings you manage to get from copy trading. For example, Ledger Nano X and Trezor Model T are some of the safest hardware wallets out there.
The content published on this website is not aimed to give any kind of financial, investment, trading, or any other form of advice. BitDegree.org does not endorse or suggest you to buy, sell or hold any kind of cryptocurrency. Before making financial investment decisions, do consult your financial advisor.
Leave your honest Best Copy Trading Crypto Platform: Top 8 Picks review
Leave your genuine opinion & help thousands of people to choose the best crypto exchange. All reviews, either positive or negative, are accepted as long as they're honest. We do not publish biased reviews or spam. So if you want to share your experience, opinion or give advice - the scene is yours!
---
TOP3 Most Popular Coupon Codes